Tag: experimental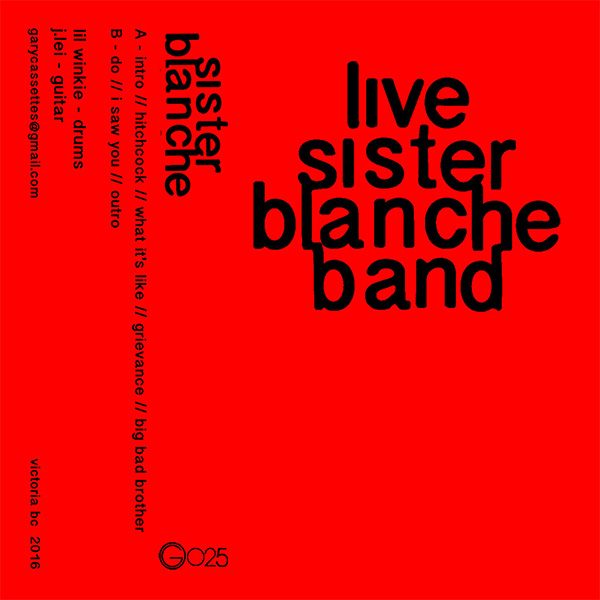 Sister Blanche
Live Sister Blanche Band
Victoria, BC
From the demonic haze of Mark Gillis:
Buried in the heart of the pit, the snarls of Sister Blanche carve through your skin and grind themselves deep inside your soul. With every abrasive noise, the mechanized monster that is Sister Blanche grows larger. As the gears turn, the entire system overheats, spewing smoke and ash. Burnt to a crisp, the remnants of Sister Blanche emit a thick, demonic haze of smog while the world plummets into a deeper despair. No light, no hope.
Du brouillard démoniaque de Mark Gillis:
(Traduit par les déambulations nocturnes de Julie Mayer)
Enterrés au cœur du puits, les hurlements de Sister Blanche transpercent votre peau pour s'enraciner profondément dans votre âme. Chaque bruit abrasif fait grossir le monstre mécanique qu'est Sister Blanche. Tandis que les engrenages tournent, le système tout entier surchauffe, crachant de la fumée et des cendres. Carbonisés, les restes de Sister Blanche émettent un épais brouillard démoniaque alors que le monde plonge dans un désespoir plus profond. Sans lumière, pas d'espoir.
Sister Blanche – Intro//Hitchcock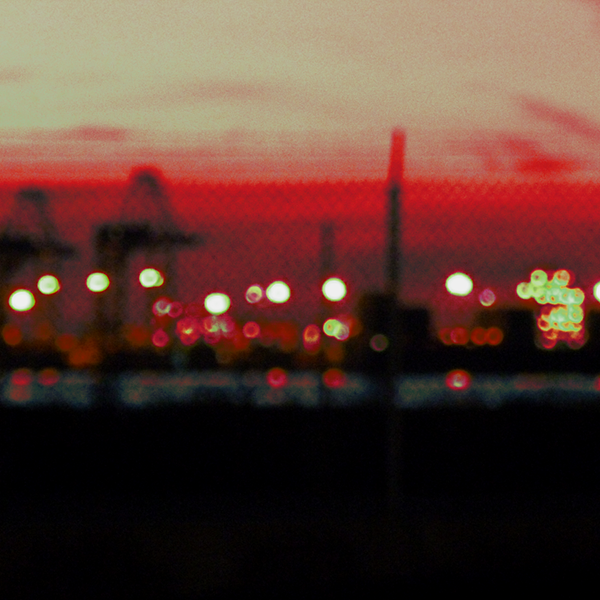 Atrum Machina
Machine Breathing
Self-released
Victoria, BC
From the languid sine wave of Teddie Brock:
Atrum Machina's sonic shadows lurk amidst a graveyard of flickering neon signage and cracked plasmic tubing. Parasitic worms lurch themselves into gutters cratering the stale concrete. Here, damage and rot are imminent as industrial structure gives form to a mycotoxic playground. The evolutionary circuit opens, then closes. Beyond the rusted fence-links, stifled machinations seep from a grey warehouse. The fossil transmissions of Machine Breathing weave a blanket of warm static – as the heartbeat falters, oscillations slow.
De la vague sinusoïdale languide de Teddie Brock:
(Traduit par la tangente hyperbolique de Julie Mayer)
Les ombres acoustiques d'Atrum Machina rôdent parmi un cimetière d'enseignes aux néons vacillants et de tubes plasma craquelés. Des vers parasites rampent dans les caniveaux cratérisant le béton plat. Ici, les dommages et la pourriture sont imminents alors que la structure industrielle donne forme à un terrain mycotoxique. Le circuit révolutionnaire s'ouvre, puis se referme. Au-delà du grillage rouillé, des machinations étouffées suintent d'un entrepôt gris. Les transmissions fossiles de *Machine Breathing* tissent une couverture d'électricité statique chaude. À mesure que le pouls faiblit, les oscillations ralentissent.
Atrum Machina – Grow (Trophus)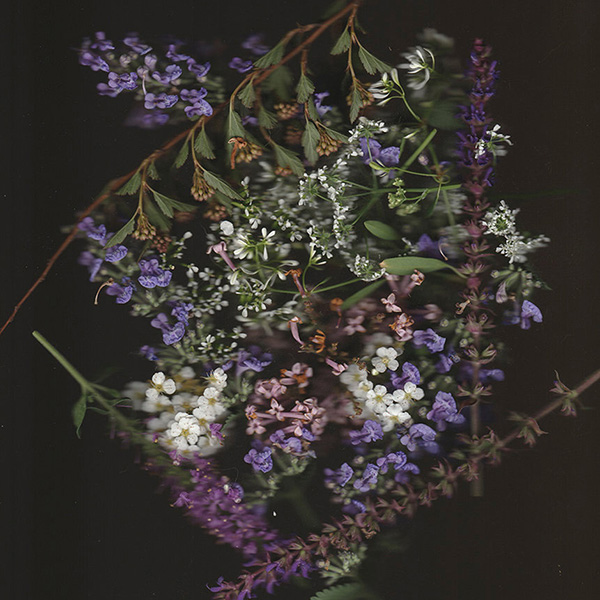 Pyramid//Indigo & SKIN
Split
Self-Released
Edmonton, AB // Montréal, QC
From the ever-expanding skies of Brian Fauteux:
Radio static is how we'll know we're eventually alone. That everything is over. Here is where Pyramid//Indigo's "Lydian Grains" begins. A slight crescendo, disconcerting, leads to "Hands, Bursting with Light." Sounds gleaned from frosted prairie fields build atmospheric swells that call the wild. A long final glance of pink and gold before the graying of sky.
Flip the split.
SKIN calls forth a soundscape marked by the hum of arthropod wings, wind seeping through a window's breach, and the lure of a music box melody. Perhaps there are signs of life after all.
Des cieux toujours grandissants de Brian Fauteux:
(Traduit par les lèvres gercées de Julie Mayer)
Des bruits parasites, voilà comment nous saurons que nous sommes éventuellement seuls. Que tout est fini. C'est ici que « Lydian Grains » de Pyramid/Indigo commence. Un léger crescendo, déconcertant, mène à « Hands, Bursting with Light ». Des sons glanés dans les champs de prairie givrés érigent des remous atmosphériques interpellant la campagne : un long coup d'œil ultime rose et or avant que le ciel vire au gris.
Changez de face.
SKIN évoque un paysage sonore marqué par le bourdonnement d'arthropodes ailés, le vent s'infiltrant par la craque d'une fenêtre et l'attrait suscité par la mélodie d'une boîte à musique. Peut-être y a-t-il des signes de vie après tout.
Pyramid//Indigo – Lydian Grains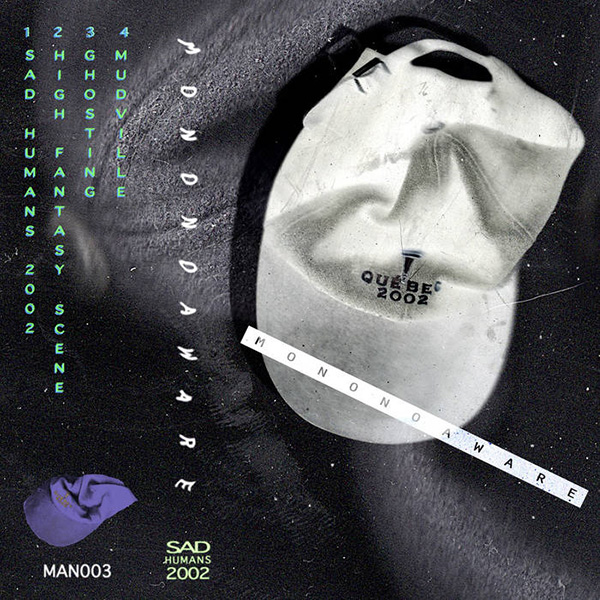 Mono No Aware
SAD HUMANS 2002
Mannequin Tan
Montréal, QC
D'un triste café de banlieue:
Il pleut, la serveuse du café prépare tristement des cupcakes qui seront jetés à la fin de la journée. L'odeur du ruban magnétique encombre mystérieusement les narines des trois clients. Ils s'arrêtent de lire le Journal de Montréal et constatent, en coeur, la fluidité des belles choses. Soudainement, la chanson s'arrête sans crier gare et on retourne à la normalité. 2002 n'aura duré que 6 minutes.
From a sad suburban café:
(Traduit par Alison McReynolds)
It's raining, the café waitress sadly prepares cupcakes that will be thrown out at the end of the day. The scent of a cassette tape mysteriously fill the nostrils of three patrons. They stop reading Le Journal de Montréal and make note of, in their heart of hearts, the fluidity of good things. Suddenly, the song stops without warning and things return to normality. 2002 didn't last more than 6 minutes.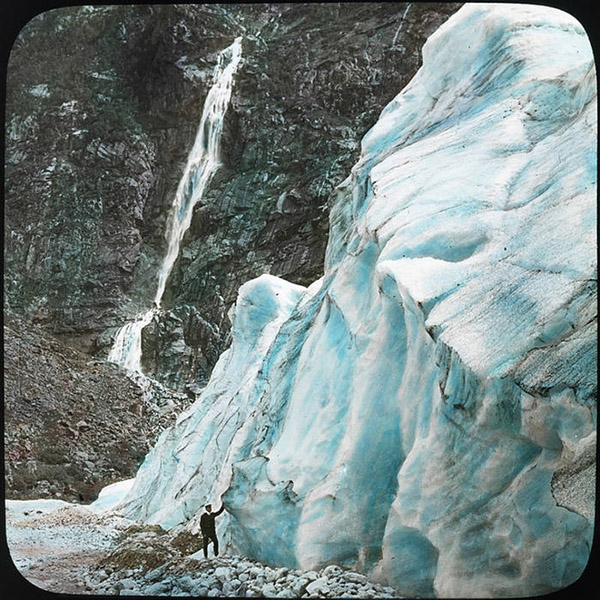 Man Meets Bear
I Want to Be a Gallant Rider Like My Father Was Before Me
Toronto, ON
From the S.A.D. mind of Laura Stanley:
Winter is steadily encroaching; I can see it on the lake. Its once affable body has grown cold and still. Man meets Bear speaks of this change. The swirling reluctance of autumn to end ("Elm"), the ice glistening on the lake's exterior ("Garrison Creek"), how an icy arm will plunge deep below the surface ("The Humber"). Despite the melancholy caught in their talk, Man meets Bear also presents small comforts for those who dread the dark days ahead. They remind us of the warmth of the holidays ("Xmas at Palais Royale"), how Spring always surfaces ("Fortunately, We Survived") and the world blooms anew once again ("Sun's Back").
De l'esprit triste de Laura Stanley:
(Traduit avec de la reconnaissance par Traducteur Interne)
L'hiver s'en vient. C'est constant. La surface du lac en témoigne. Une masse affable devint froide. Man meets bear parle de ce changement. De la réticence tourbillonnante d'automne qui s'éteint : (« Elm »). La glace étincelante du lac : (« Garrison Creek »). Comment un bras refroidi plongera profondément en dessous de la surface (« The Humber »). Malgré l'évidence de la mélancolie, Man meets Bear présent aussi des petits réconforts pour ceux et celle qui redoutent les journées sombres qui s'en viennent. Ils nous rappellent la chaleur des Fêtes: ('Xmas at Palais Royale »), que le printemps refleurit toujours (« Fortunately, We Survived ») et du fait que le monde s'épanouit de nouveau (Sun's Back »).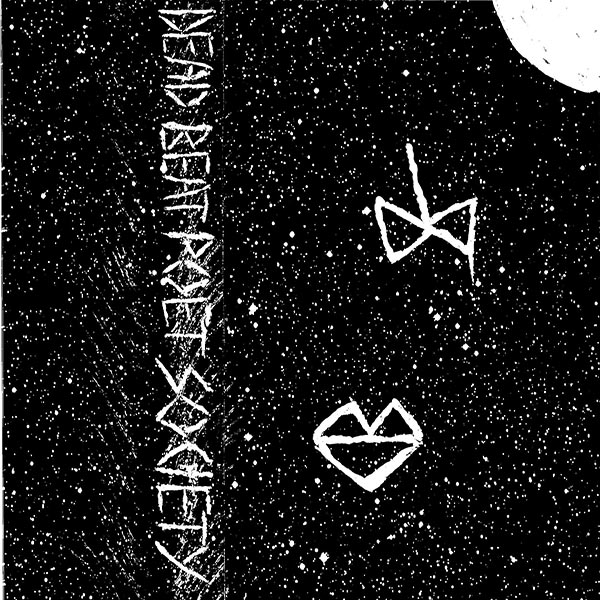 Dead Beat Poet Society
Deimos
(Self-Released)
Montréal, QC
From the gnarled heartbeat of Justin Crowe:
Far from dead and on the beat, these mysterious souls wail from beyond, rocking into the sun and then crawling back into the shadows. A vision of tiptoeing through a darkened house while a secret performance is happening in the next room; sensing a hidden beauty. Spider-like guitar affectionately weaving through words of devotion that are not afraid of dipping toes into colder water. Avoiding the total dark, these songs could easily be heard under brighter skies, behind the garage, eyes focused on the ones you love.
Des battements coeur noueux de Justin Crowe:
(Les lamentations de l'au-delà d'Odile Leclerc)
Loin d'être mortes et sur la touche, ces âmes mystérieuses se lamentent de l'au-delà, se bercent au soleil avant de ramper pour retrouver les ombres. L'impression d'être en train de marcher sur la pointe des pieds dans une maison sombre pendant qu'une performance secrète a lieu dans la pièce d'à-côté; la sensation d'une beauté cachée. Telle une araignée, une guitare tisse affectueusement avec des mots de dévouement qui n'ont pas peur de se tremper les orteils dans des eaux plus froides. Évitant la noirceur totale, ces chansons pourraient facilement être entendues sous des ciels plus clairs, derrière le garage, les yeux fixés sur ceux qu'on aime.
Dead Beat Poet Society – Fly Fly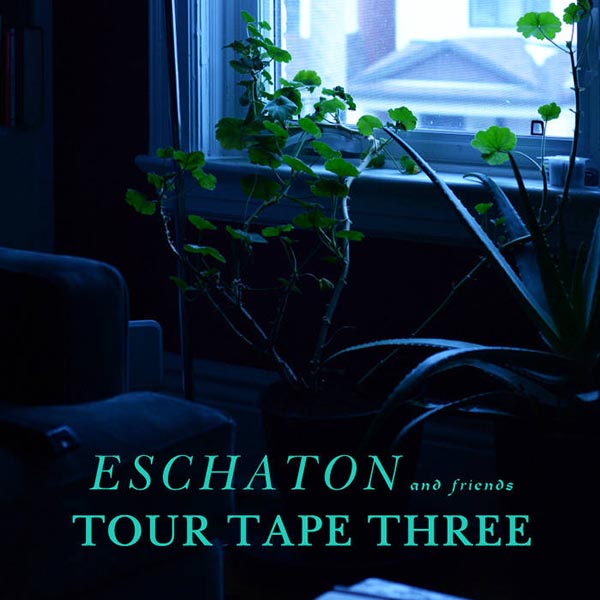 Eschaton
Tour Tape Three
Hamilton, ON
From the bottom line of Rolf Carlos Klausener:
You're in a pitch black room as time slows. A flash goes off. As each fraction of a second passes, a scene reveals itself: colourless shapes, then a face, shadows, furniture, the texture of the stucco ceiling, dust and flakes of dead skin floating weightless past your eyes. Fast or slow, mercilessly loud or impossibly quiet, improvised music is a slow reveal. In this live tour series, Hamilton's Eschaton and friends Strangebarn bask in the resonance of brass bells before sinking into a tension-filled horror show of grinding electric drones, cursing saxophones, and vulgar percussion on the verge of manic violence. A slow-motion assault, perhaps a reflection of ancient tensions, the kind that even among earth's most peaceful denizens emerges when the wrong buttons are pushed.
De la ligne du bas de Rolf Carlos Klausener:
(La résonnance des cloches de Odile Leclerc)
Tu es dans une pièce complètement noire alors que le temps ralentit. Un flash apparaît. À chaque fraction de seconde qui passe, une scène se révèle : des formes sans couleurs, puis un visage, des ombres, des meubles, la texture d'un plafond stuc, de la poussière et des résidus de peau morte flottent légèrement devant tes yeux. Rapide ou lente, cruellement bruyante ou impossiblement silencieuse, la musique improvisée est une révélation lente. Dans ces suites de visites en direct, Eschaton de Hamilton et amis Strangebarn se prélassent dans la résonance des cloches en laiton avant de s'enfoncer dans un spectacle tendu d'horreur de drones électriques grinçant, de saxophones qui jurent et de percussions vulgaires au bord d'une violence maniaque. Un assaut au ralenti, peut-être une réflexion d'anciennes tensions, du genre qui même parmi les habitants les plus paisibles de la terre émergent quand on appuie sur les mauvais boutons.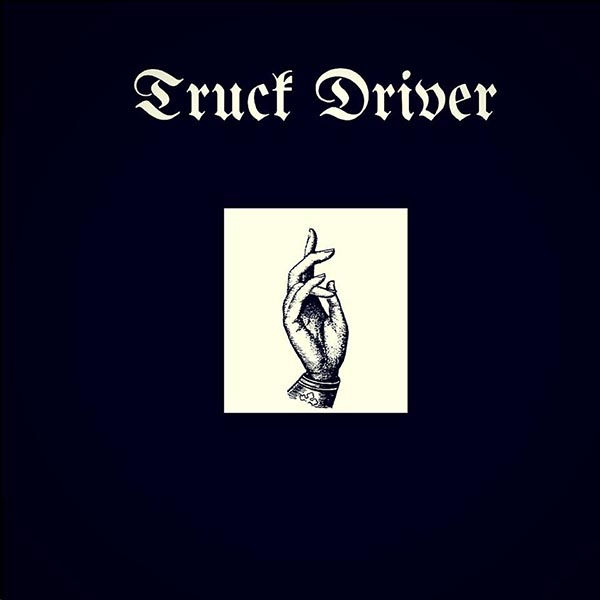 Truck Driver
Truck Driver
Montréal, QC // Kitchener, ON
From the peripatetic mind of Jason Rule:
Another night of endless exams, revising, staring at the wall, drowning your sorrows. Locked out of the club yet again; a red velvet curtain has smothered your senses. Sitting on a bench at 3 AM near St. Joseph's Oratory with a pack of cigarettes, listening to your dad's old folk cassettes. Occasionally a quiet voice rises up through interference, low organ drones, and gentle guitar riffs; other times it mumbles about how being cool is really important, warped with severe granular synthesis pulsating around the mainframe, sharp attack, no decay, no sustain, no release. It's not your fault. C'est dans tes yeux.
De l'esprit péripatétique de Jason Rule:
(Traduit par l'âme urbaine de Maya Keshav)
Une autre soirée d'examens interminables, tu étudies, tu fixes le mur, tu noies ton chagrin. T'es encore enfermé à l'extérieur de la boîte de nuit; un rideau de velours rouge a étouffé tes sens. T'es assis sur un banc à 3 h du mat près de l'Oratoire Saint-Joseph avec un paquet de cigarettes, t'écoutes les vieilles cassettes folk de ton père. De temps en temps, une petite voix émerge de l'interférence, des drones d'orgues basses et des riffs doux de guitare; d'autres fois, elle marmonne qu'il est vraiment important d'être cool, tordue avec la forte synthèse granuleuse qui palpite autour de l'unité centrale, l'attaque soudaine, aucune chute, aucune décomposition, aucun soutien, aucun relâchement. C'est pas ta faute. It's in your eyes.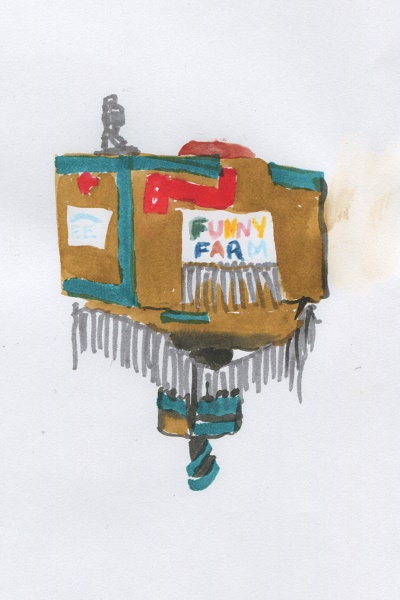 Electric Eclectics
(Illustrations by: Megan Arnold // Photos by: Josh Cwintal)
Meaford, ON
Various Artists: Jennifer Castle, Scott Hardware, Castle If, Ice Cream, Sourpussy, Darknesses, HSY, Bile Sister, Scattered Clouds, Doom Tickler, Xuan Ye
From the mydriasis of Sara Bortolon-Vettor:
We are at the peak of Scotch Mountain. Beings of the weirdo variety, charming locals of Meaford and the artists within us all are called to the funny farm to gather. As the sun sets, beautiful beings adore the fuscia lit sky while our auditory senses are tickled with wonder. Electric Eclectics is a fantasy world to many who seek to escape their concrete surroundings and experience artistry in nature.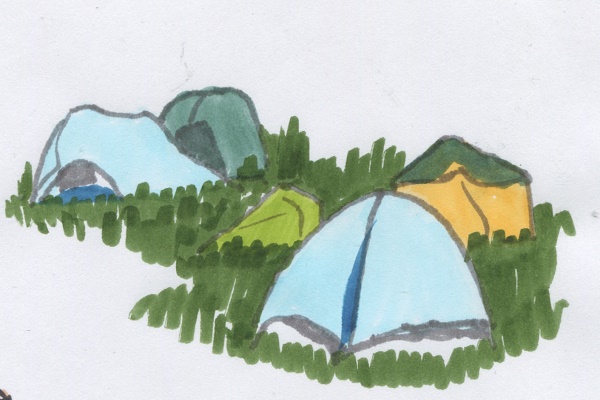 Camping on top of Scotch Mountain.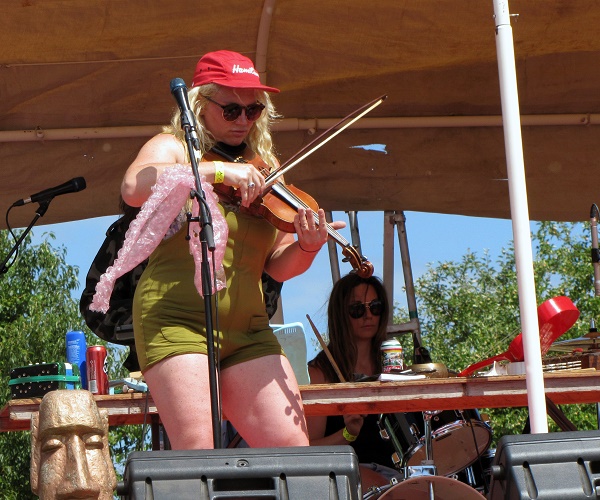 Sourpussy brings humor and cacophony to any willing ear.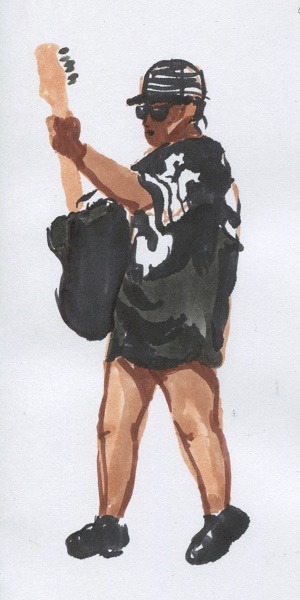 Darknesses performs a noisy-sludge of dark-pop on the EE mainstage.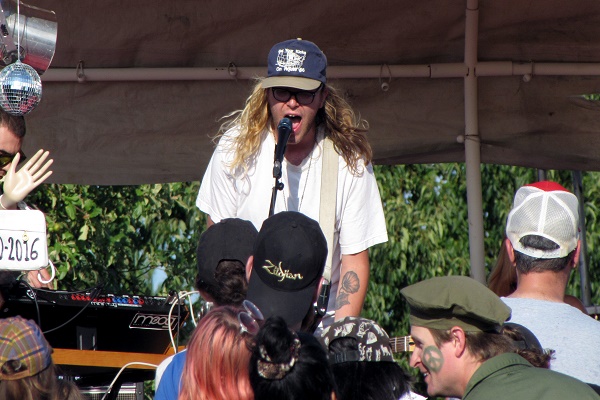 HSY coaxed the relaxed crowd into a captivated fervor.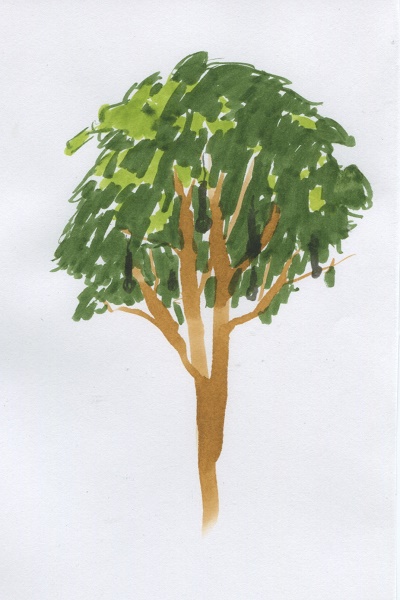 A single tree amidst the fields of wheat and grass.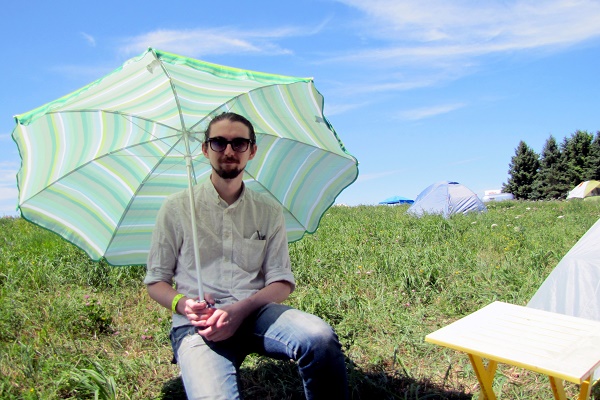 Taking a much needed retreat from the unrelenting heat rays.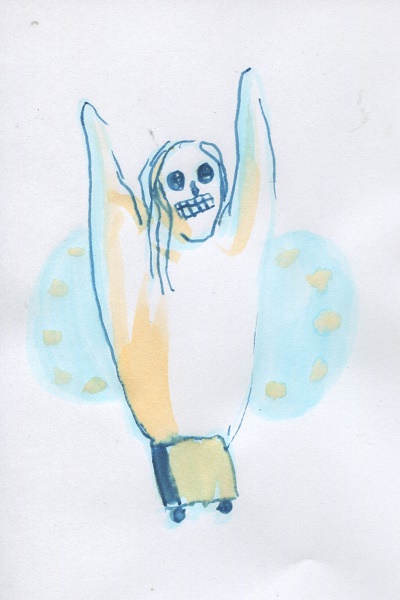 Apetechnology's ghostly being welcomes the crowd at EE mainstage.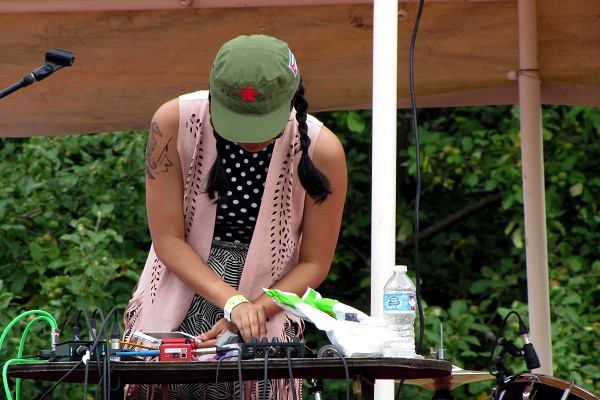 "This isn't working" Xuan Ye said right before leaving the knobs behind and asking the crowd if she should sing instead.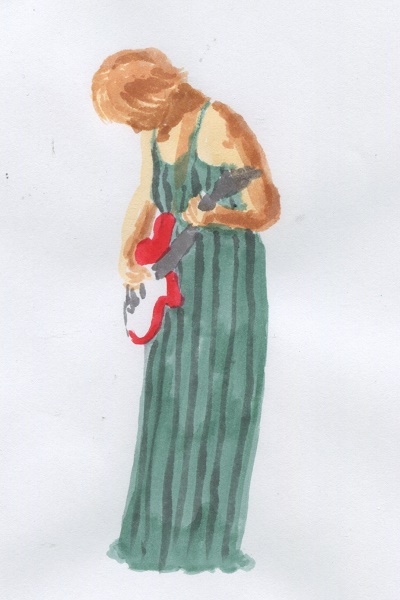 Audience members listen intently to the warm voice of Jennifer Castle.
EE's curation by Chris Worden (Co-director/Natural Thirst) is eccentrically diverse and distinctive. Thanks to the incomparable artists, Gordon Monahan (Co-director/Sound Artist/Owner) and Laura Kikauka (Performance Artist/Owner) for welcoming us all to their funny farm.
De la mydriase de Sara Bortolon-Vettor:
(Traduit par le paysage sonore de Maya Keshav)
On est au sommet de Scotch Mountain. Les drôles d'êtres, les résidents charmants de Meaford et les artistes que nous conservons à l'intérieur se ressemblent à la maison de fous. Au coucher du soleil, les belles âmes adorent le ciel illuminé en fuchsia, pendant que nos sens auditifs sont chatouillés par l'émerveillement. Electric Eclectics est un monde fantastique pour ceux qui cherchent à échapper leurs environs en béton pour vivre l'art dans la nature.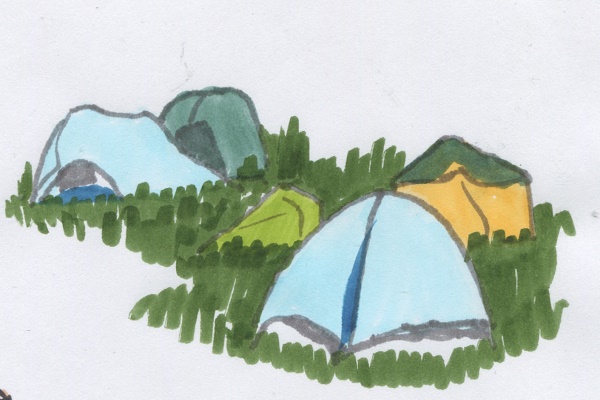 Le camping au sommet de Scotch Mountain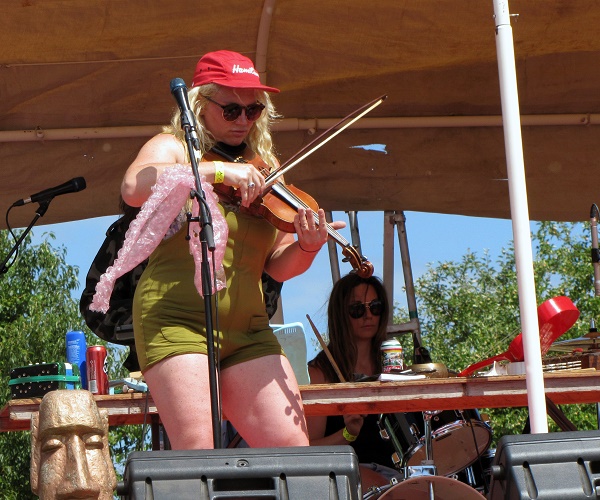 Sourpussy apporte l'humour et la cacophonie à n'importe quelle oreille enthousiaste.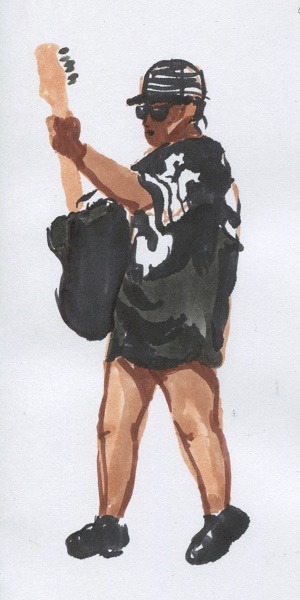 Darknesses joue une boue bruyante de dark-pop sur la scène principale d'EE.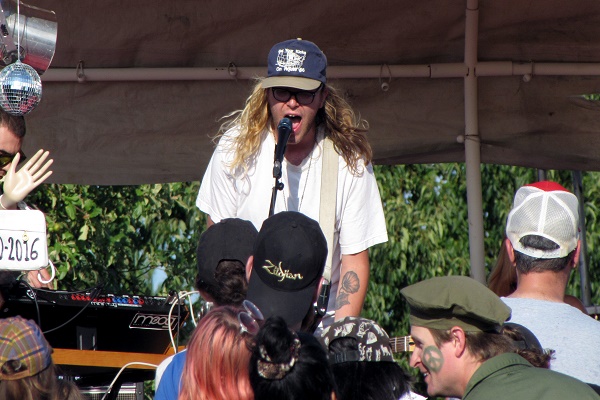 HSY provoque une ferveur captivée dans la foule détendue.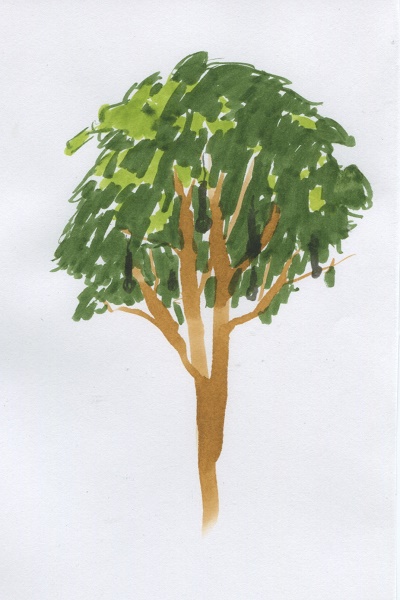 Un seul arbre parmi les champs de blé et d'herbe.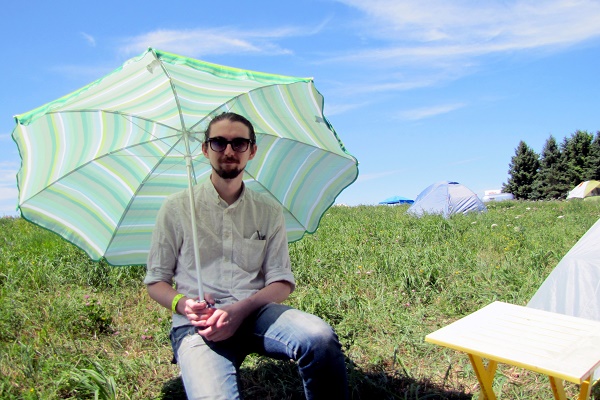 En faisant une pause bien nécessaire de la chaleur continuelle.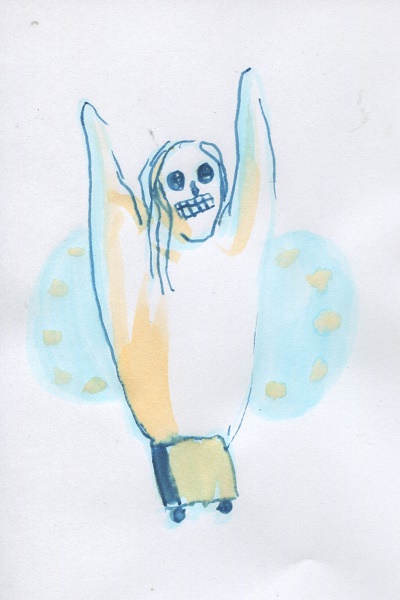 L'être fantomatique d'Aptechnology accueille la foule sur la scène principale d'EE.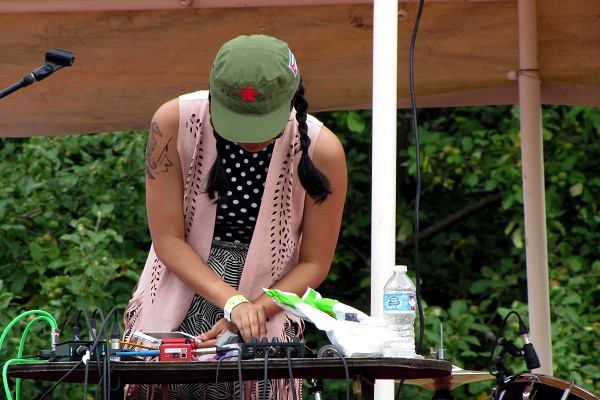 Xuan Ye a dit « Cela ne marche pas » avant qu'elle ait quitté les boutons et demandé à la foule si elle pouvait chanter à la place.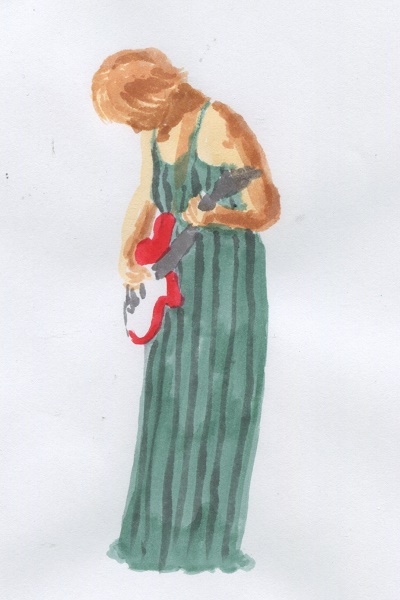 Les membres de l'auditoire écoutent attentivement la voix chaleureuse de Jennifer Castle.
Conclusion— La gamme de musique à EE organisée par Chris Worden (co-réalisateur/ Natural Thirtst) est excentriquement diverse et distincte. Merci aux artistes incomparables, à Gordon Monahan (co-réalisateur/ artiste sonore/ propriétaire) de nous avoir accueilli à leur maison de fous.
Cuchabata Records
David Dion
(Header photo by: Mertin Hoëk)
Montréal, QC
From the national geography of Christina Bell:
Cuchabata records began approximately 25km away from the island of Montréal in a small francophone town called Salaberry-de-Valleyfield, Quebec. In the early 2000s, Valleyfield incubated a particular bout of weirdness resulting in some of the cool and unusual work featured on Cuchabata. This weirdness nurtured the strange sounds of Valleyfield native and Cuchabata founder David Dion.
Now residing in Montréal, Dion is the renaissance man organizing and operating most of this DIY dance voluntarily (and often single-handedly). He began the label, unbound by any expectations of gross success, as a means to put out his own work. Dion quickly partnered up with many like minded musicians to create a community based on spontaneity, experimentation, and DIY ethics.
We met to converse on getting started, building a community beyond the confines of monetary exchanges, and bridging the perceived void between Montréal's francophone and anglophone art scenes.

(Illustration by: David Dugas Dion)
Why did you start Cuchabata Records in 2003, and why do you keep going? Have the reasons changed?
In the beginning I wanted to produce my own stuff. I never had an expectation of making money or signing a huge number of bands; it was mostly just for my own bands and friends who play music.
Then I moved to Montréal and became friendly with many more musicians. I was interested in producing their work because the label had turned into a community, not a business. It's mostly about friendship. I still produce a lot of my own stuff, but I've also met a lot of new people and bands through the label. I want to put out bands that I think are great. Through this process, friendships grow. It's not much more complicated than that. It's really about passion.
What does curation mean to you when it comes to your label?
There isn't a typical style of music on the label. There's folk, noise, free improv, punk, etc. It's all about my own perception, because I like all of these genres. I mostly encourage music that is not conventionally considered "easy listening," because there are plenty of labels that produce music that's easy to listen to. However, I'm still open to conventional rock, folk, or whatever, if it's good and the people in the band are like-minded.
I don't really search for new bands, simply because I'm really busy with the label. I don't have to do a lot of searching – there is always new stuff to produce, even without bringing new people onto the label. Many people on the label have several bands. Sometimes it doesn't work, but most of the time it does, because people know what to expect.
Once you've determined that a band is a good fit, how do you decide how involved you will be in their process?
When I meet a band, I tell them that I will do what I can with the time and energy that I have. They tell me their plan for the next year, and I work with them to accomplish that. I can help them with booking, touring, recording, or mixing.
Outside of the label, I work 40 hours per week in an office, plus I have the bands that I play in. I also have a life.
The bands know it's a community, and they're expected to participate too. I try to put the same energy into every band, but it's easier if the band does a lot for the community by sharing on social media, mentioning the label frequently, supporting other bands on the label, and so on. There are some bands that don't do this as readily as others.
What advice do you have for a band who has never worked with a label before? What behaviours make a band easy or desirable to work with?
Everyone can give something. If a band is searching for a certain service, an artist might connect people. If a band is coming from out of town, someone on the label might offer a place to stay. For another example, if someone in a band also writes for a publication, I can give them a tape and they will definitely write about it. Just simple things that create relationships of sharing between people.
The only thing I ask of the bands is that I am the only person who manages outreach, like newsletters and emails. We don't want to flood people with information, so I know that if I'm the only one handling communications with media we won't overwhelm people with our outreach. I'm the sole communicator between media and the bands, and I'm the only one who manages the label's Facebook, Bandcamp, and newsletter.
After twelve years, it's getting to the point where people are beginning to know who our label is, and I'm really proud of that.

Photo by: Mertin Hoëk
Tell me about Cuch Fest.
In 2006 the first Cuch Fest took place. At that time, the label was still operating out of Valleyfield. I didn't plan to do it every year, but we have been doing it every year since. It's usually at the end of the year, and it's sort of a party to celebrate everything that we have done.
We host it in a different place every time. The first one was at a buffet restaurant in Valleyfield. Bars wouldn't host it because patrons at the bars would think that most of our music was garbage. They wanted ACDC cover bands – the kind of thing that's hot in Valleyfield.
Up until two years ago, it was always a one night thing.Two years ago it was two nights, and last year it was four nights. So it continues to grow.


(Poster by: Tommy Johnson)
What is it like working with both French and English bands in Montréal?
I think it's a reality that sometimes there are two solitary communities. However, there are some people who are making an effort to book these nights with French and English bands together at venues like Brasserie Beaubien. At these shows, people just have to be in the same room together and they have to meet each other. At one point they find out that it's only a language barrier and the cultural difference is not so big.
(For a cinematic exploration of the bilingual scene, you can check out the documentary Montreal Underground on Dion's recommendation.)
What other local, DIY-style labels are you excited about?
Misery Loves Company and Talking Skull.
So, where is Cuchabata Records at now?
When I started in 2003, I had a little 4-track at home. I wanted to record my music and produce it on a CD-R to send music to labels and things. But I realized that if I'm going to produce myself, it's cooler to have a label. I learned all of these things as I went. The first couple of years I sucked at everything. The recordings are awful and the artwork isn't great. I think that it took a good five to seven years to make something good. I took that time to learn about doing press, booking tours, and all of that kind of stuff, and I'm still learning. It's an ongoing process. The label is le petit train va loin: the small train doesn't go very fast, but it goes. In regards to Cuchabata Records: right now it's better than ever in every way.
De la géographie nationale de Christina Bell:
(Traduit par le très campivallensien Mathieu Bédard)
Cuchabata Records a démarré à 25 km de l'île de Montréal approximativement, dans une petite ville francophone appelée Salaberry-de-Valleyfield, Québec. Au début des années 2000, Valleyfield a couvé une poussée de bizarrerie particulière, qui a mené à certaines des oeuvres cools et insolites parues chez Cuchabata. Cette bizarrerie a façonné les sons étranges du fondateur de Cuchabata, David Dion, un natif de Valleyfield.
Résidant maintenant à Montréal, Dion est l'homme à tout faire qui organise et opère volontairement (et le plus souvent seul) le plus gros de ce ballet DIY. Libre de toute attente de succès brut, le label a été lancé initialement comme une façon de faire paraître son propre travail. Rapidement, Dion s'est allié à d'autres musiciens partageant des affinités d'esprit, pour créer une communauté fondée sur la spontanéité, l'expérimentation et l'éthique DIY.
On s'est rencontrés pour parler de se lancer et de bâtir une communauté par-delà les limites des échanges monétaires, ainsi que de combler le fossé qui est perçu entre les scènes artistiques francophone et anglophone de Montréal.
(Photo par: David Dugas Dion)
Pourquoi as-tu lancé Cuchabata Records en 2003, et pourquoi continuer? Les raisons ont-elles changé au fil du temps?
Au début, je voulais produire mes propres affaires. Je ne me suis jamais attendu à faire de l'argent ou à signer un grand nombre de groupes; c'était surtout juste pour mes propres groupes et des amis qui jouaient de la musique.
Puis j'ai déménagé à Montréal et je me suis lié d'amitié avec encore plus de musiciens. Produire leurs oeuvres m'intéressait parce que le label était devenu une communauté, pas une entreprise. C'est surtout une question d'amitié. Je produis encore beaucoup de mes propres trucs, mais j'ai rencontré aussi un grand nombre de gens et de groupes via l'étiquette. Je veux mettre de l'avant les groupes que je trouve très bons. À travers ce processus, des amitiés se développent. C'est pas bien plus compliqué que ça. C'est une question de passion.
Qu'est-ce que la direction artistique signifie pour toi, quand il s'agit de ton label?
Il n'y a pas un style de musique typique sur le label. Il y a du folk, du noise, de l'improvisation libre, du punk, etc. Ça repose sur ma propre perception, parce que j'aime tous ces genres. J'encourage surtout la musique qui n'est pas conventionnellement considérée comme « facile d'écoute », parce qu'il y a beaucoup d'étiquettes qui produisent de la musique facile à écouter. Néanmoins, je demeure ouvert au rock et au folk conventionnels – ou autres, peu importe – pourvu que ça soit bon et qu'il y ait des affinités avec les membres du groupe.
Je ne cherche pas vraiment de nouveaux groupes, simplement parce que je suis très occupé avec le label. Je n'ai pas à faire beaucoup de recherche : il y a toujours de nouveaux trucs à produire, même sans ramener de nouveaux individus au sein du label. Plusieurs personnes sur l'étiquette ont plusieurs groupes. Parfois, ça ne fonctionne pas, mais la plupart du temps ça marche, parce que les gens savent à quoi s'attendre.
Après avoir déterminé qu'un groupe a le bon profil, comment définis-tu ton niveau d'implication dans leur travail?
Quand je rencontre un groupe, je leur dis que je ferai ce que je peux avec le temps et l'énergie que j'ai. Ils me font part de leur plan pour l'année à venir et je travaille avec eux pour qu'il s'accomplisse. Je peux les aider avec le booking, les tournées, l'enregistrement ou le mixage.
En dehors du label, je travaille 40 heures par semaine dans un bureau, en plus des groupes dans lesquels je joue. Et j'ai une vie, aussi.
Les groupes savent que c'est une communauté et qu'il est attendu qu'ils participent également. J'essaie de fournir autant d'énergie à chaque groupe, mais c'est plus facile si le groupe en fait lui-même une bonne part pour la communauté en partageant sur les réseaux sociaux, mentionnant l'étiquette fréquemment, soutenant les autres groupes du label, etc. Il y a des groupes qui ne le font pas aussi volontairement que d'autres.
Quel conseil donnerais-tu à un groupe qui n'a jamais travaillé au sein d'un label auparavant? Quels comportements rend faciles ou désirables le fait de travailler avec un groupe?
Tout le monde peut apporter quelque chose. Si un groupe est à la recherche d'un service en particulier, un des autres artistes peut s'occuper de connecter les bonnes personnes. Si un groupe n'est pas de la ville, quelqu'un sur l'étiquette peut offrir le gîte. Pour donner un autre exemple, si quelqu'un dans un des groupes écrit aussi pour une publication, je peux lui donner une cassette et il va assurément écrire là-dessus. Des choses toutes simples qui créent des relations de partage entre les individus.
L'unique chose que je demande aux groupes, c'est d'être la seule personne qui gère les communications externes, comme les bulletins d'information et les courriels. On ne veut pas inonder les gens d'information, donc si je suis le seul à manier les relations médiatiques, je sais qu'on ne surchargera personne avec nos communications. Je suis le seul intermédiaire entre les médias et les groupes et le seul qui gère la page Facebook, la page Bandcamp et le bulletin d'information du label.
Après douze ans, on en arrive au point où les gens commencent à savoir qui nous sommes en tant que label et j'en suis très fier.

(Photo par: Mertin Hoëk)
Parle-moi du Cuch Fest.
Le premier Cuch Fest a eu lieu en 2006. À cette époque, l'étiquette opérait encore à partir de Valleyfield. Je ne planifiais pas de le faire chaque année, mais depuis on le fait tous les ans. C'est en général vers la fin de l'année; c'est une sorte de fête qui célèbre tout ce qu'on a réalisé.
On l'organise dans un lieu différent chaque fois. Le premier était dans un buffet, à Valleyfield. Les bars ne voulaient pas l'accueillir parce que leurs propriétaires trouvaient que notre musique méritait d'être jetée aux poubelles. Ils voulaient des groupes qui font des hommages à ACDC – le genre de chose qui avait la cote à Valleyfield.
Jusqu'à il y a deux ans, c'était toujours l'affaire d'une seule soirée. Il y a deux ans, ça a été deux soirs, et l'an dernier, quatre. Donc, ça continue de croître.


(Affiche par: Tommy Johnson)
C'est comment de travailler avec des groupes autant francophones qu'anglophones à Montréal?
Je pense que c'est bien une réalité, qu'il y a parfois deux communautés solitaires. Il y a toutefois certaines personnes qui s'efforcent d'organiser des soirées avec des groupes francophones et anglophones ensemble, dans des salles comme la Brasserie Beaubien. Dans ces concerts, les gens doivent partager la salle et se rencontrer. À un certain point, ils se rendent compte que ce n'est qu'une barrière linguistique et que la différence culturelle n'est pas si grande.
(Pour une exploration cinématographique de la scène bilingue, Dion vous recommande de jeter un coup d'oeil au documentaire Montreal Underground.)
Quels autres labels locaux de style « DIY » t'enthousiasment?
Misery Loves Company et Talking Skull.
Avec tout ça, où en est Cuchabata Records en ce moment?
Quand j'ai commencé en 2003, j'avais un petit « 4-track » à la maison. Je voulais enregistrer ma musique et la produire sur CD-R, pour envoyer de la musique à des labels, ce genre de choses. Mais j'ai réalisé que si j'allais m'autoproduire, c'était plus cool d'avoir mon label. Les premières années, j'étais nul dans tout. Les enregistrements sont terribles et le graphisme, pas génial. Je pense que ça a pris un bon cinq à sept ans avant de faire quelque chose de bien. J'ai pris ce temps pour apprendre à gérer les relations de presse, organiser des tournées, tout ce genre de trucs, et j'apprends encore. C'est un processus continu. Notre label est un petit train qui va loin : le petit train ne roule pas très vite, mais il roule. En ce qui concerne Cuchabata : c'est mieux que jamais, en ce moment, sur tous les plans.
---