Tag: experimental music
Composing Sabbath Spaces:
Thoughts and Reflections on Making Quiet Music
Daniel Brandes
Victoria, BC
illustration by Tobin Louise Reimer
From Daniel Brandes:
Abstract:
In "Composing Sabbath Spaces: Thoughts and Reflections on Making Quiet Music" I meditate upon my experiences (as a composer, performer, listener, and concert presenter) working within and around the Wandelweiser experimental music community.
This article deals with a very particular kind of experimental music making known as Wandelweiser. Put most basically, Wandelweiser is an international community of experimental musicians, as well as visual and conceptual artists and poets, who are all (in similar and different ways) interested in very quiet music making. We are all, in our own ways, exploring what it means to create music and sound-art that offers the experience of quiet and immersed listening.
This kind of music is a deeply experiential kind of art. Even more than the sounds produced, it has so much to do with how it feels to sit quietly—silently—in a room with other people; to watch a musician sit in silence, and then conjure a single soft tone, sustain it, and then return to silence; to experience the way a single tone can radically—poetically—change your sonic environment.
Because this is such an experiential kind of music, prose feels (to me) like an unsatisfactory way of introducing someone to this little world of music making. This is because we are dealing with ideas about the thing, but not the thing itself. And, as with all things in life, the thing itself is always far more wonderous.
For that reason, I encourage you to spend some time here, and here, and here—some time listening, and watching, and pondering. You may even choose to play some of these pieces softly in the background as you read. As you read through this series of brief stories and reflections—and spend time listening and watching—I hope you find an engaging and welcoming place within.

* * *
On July 10th 2012, I spent several hours wandering around Düsseldorf's K21 art gallery. This extraordinary gallery is dedicated to living artists—specifically artists whose work would be classified as conceptual or experimental.
I arrived early in the morning, as the doors were being opened, and had the place entirely to myself for nearly two hours. On the third floor, I found myself in a spacious room surrounded by approximately 25 sculptures. Made of fabric and resin, and brownish-grey in colour, these sculptures were of diminutive people (perhaps four-feet tall). All were ambiguous in gender, age, and race. Each one wore the same non-descript outfit and none had feet. All were entirely bald. They were standing around, exactly in the manner that one would imagine a group of people to stand if given no outside control. Signs explained that these sculptures were extremely fragile: under no circumstances could they be touched.
The longer I stood in the room, towering over this curious group (I stood with this strange congregation for 30 minutes or so), the more attuned I became to my own size…my physicality…my capacity to harm — our capacity, as humans, to cause harm.
This experience (which is so reminiscent of my experiences performing and listening to quiet music) taught me a great deal about the importance of gentleness.

* * *
To softly touch a piano key, and coax out a sound that is only audible to those within close proximity to the instrument, moves me in a way that I cannot fully explain. The best I can say is this: when I allow myself to be exposed and vulnerable in this way—and when, through my compositions, I invite other musicians to join me in this experience—I feel deeply human. Even more, through these experiences I have discovered, and continue to discover previously unknown ideas of what it means to be human together.
Performing the music of my wandelweiser collaborators has taught me a great deal about vulnerability.

* * *
Much (though not all) wandelweiser music exists in the boundary between sounding and non-sounding. This boundary is a tenuous space that invites the performer(s) to live vulnerably—to be open and exposed with an audience.
To linger in this space is an act of trust and courage.
The listener(s) are also invited into this exposed and vulnerable space, for the quietness and silence of the music reveals our own physical presence. (The slow, deep rhythm of our breathing, the shifting of our weight, the soft, distant beating if our hearts…all of this becomes part of the musical landscape….)
This radical quietness allows the music to traverse the barriers between creator, performer, and listener, and through a shared experience of deep listening, create a "we".
Composing and performing quiet music has taught me a great deal about community.

* * *
Much of the music by composers working in and around the wandelweiser community invites the performer(s) and listener(s) into an altogether new experience of musical time, which immerses the listener in a deep sense of "now"[1].
Because the temporality of this music presents something that is otherwise to the relentless pace fostered by our digitally mediated lives, I have come to think of this music as a "sabbath space".
A welcome dwelling of deep calm.
After all, what is "the Sabbath"? It is, I think, a time set apart from time. A time that allows for a radical slowing down. A time for returning to oneself.
And that is what this musical practice is about.
I have had several experiences since Laura Brandes and I launched A Place to Listen in 2012, where following a concert I have no conception of how long a piece of music lasted for. There was one concert in particular, where Laura performed after the middle a silence follows, an elegy (dwelling quietly at the edge) [2] by Antoine Beuger. Following this powerful performance, which lasted just over one-hour, numerous people in the audience could not believe that 60 minutes had passed. There were some who said it felt as though the piece was maybe 10 minutes long.
This music has taught me great deal about how we use and experience time.

* * *
To compose/perform/listen to a piece of (very) quiet music, is to make a space for letting the outside world into the musical space.
When this happens, a beautiful and spontaneous counter-point occurs between exterior and interior—each (re)-contextualizing the other.
Each time I am involved with quiet music making—either as composer, performer, or listener—I experience anew the soundscape of my environment.
Quiet music making has taught me a great deal about how I engage with my soundscape—as well as the beauty of non-intention.

* * *
In our current culture of hyper-stimulation and saturation—which attempts to colonize our imaginations and demands that we not look too closely, or feel too deeply—this kind of musical practice is, for me, essential. It feeds a part of us that, more and more, we are learning to neglect.
The part that needs quiet.
Making quiet music has taught me that every human activity is political. (How beautifully subversive (and life affirming) to cultivate a practice of quietness and deep listening…perhaps we may begin again to hear gentle whispers, and small still voices, asking urgent and important questions…)

* * *
There is a beautiful story in Hebrew scripture, from the book 2nd Samuel, that tells of a great famine that was the result of blood feud between the Gibeonites and Israel. A feud dating back to the reign of Saul. In an attempt to appease the Gibeonites, David has seven boys from the house of David brutally killed—impaled on the side of a mountain.
Rizpah, mother of two of the boys, brings a blanket to the side of the mountain and sits with the bodies of the boys for an entire season. Guarding the bones from vultures and scavengers.
Imagine this for a moment. Rizpah with her blanket. Sitting with the bones.
When David hears what Rizpah has done, he is so deeply moved that he gathers the bones of the seven boys and gives them proper burial.
Rizpah does not ask for revenge. For more children to be killed. For more blood to be spilled.
One woman, who chose to not ask for revenge, who chose instead to sit and bare witness to a deep and terrible wounding, ended a vicious cycle of violence.
For me, this music—this experience of sitting with and tending to these quiet and fragile sounds—is like Rizpah sitting with the bones. That is the gift of this music: allowing for the opportunity to bare witness to our humanness: both broken and beautiful.
---
[1] It is not unusual for a piece of Wandelweiser music to last over 30 min, during which time, only a handful of soft, delicate sounds occur. For example:
http://www.youtube.com/watch?v=yJj0wdQCPaw
[2] An extraordinary 66 min piece of music by Antoine Beuger for singing, speaking, writing, playing soloist, two musicians, and cd playback. The score for after the middle… consists entirely of text fragments from a variety of sources—poets and prophets, theologians and secular philosophers—including Judith Butler, Ulrike Bail, the Bible (prophet Micah), Nelly Sachs, Ingeborg Bachmann, Anne Michaels, Primo Levi, Jacques Derrida, and Edmond Jabès. These text fragments constitute a kind of abstract treatise on human vulnerability, on our interconnectedness and relationship to others, on our humanity (both beautiful and broken). The soloist for nach der mitte… is invited to navigate this deeply existential landscape by softly speaking the texts while writing them down, by very softly singing them one tone/syllable at a time, or by playing them on a decaying instrument.
Daniel Brandes is an experimental musician, teacher, and concert presenter who lives in Equimalt, BC. Daniel's music explores human vulnerability and new ways of imagining community. Daniel's music has been recorded/released by Montreal's Quatuor Bozzini, Toronto's Bespoken, and LA-based voice/electronics artist Andrea Young. His scores are published by Edition Wandelweiser.
De Daniel Brandes:
(Traduit par Jessica Grenier)
Résumé :
Dans « Composer des espaces de Sabbat : réflexions sur la création de Quiet Music », je médite sur mes expériences de travail et de collaboration (en tant que compositeur, interprète, auditeur ou paneliste de concert) avec le collectif de musique expérimentale Walderweiser.
Cet article traite d'une façon très particulière de faire de la musique expérimentale – connue sous le nom Wandelweiser. Il s'agit essentiellement d'un collectif international de musiciens expérimentaux, auquel se joignent poètes et artistes visuels et conceptuels, qui s'intéressent tous (d'une façon ou d'une autre) à faire de la musique très calme. Chacun à notre façon, nous explorons ce que cela veut dire que de créer une musique et un son-art qui peuvent offrir une expérience de calme et d'écoute immersive.
Ce type de musique est un art profondément expérimental. Au-delà des sons produits, il a beaucoup à voir, avec la sensation d'être assis calmement, silencieusement, dans une pièce avec d'autres personnes; de regarder un musicien qui reste assis en silence, puis qui conjure une seule douce note pour la maintenir, puis retomber silencieux; de faire l'expérience du changement (poétiquement) radical qu'une simple note peut amener à notre environnement sonore.
Puisque c'est un genre très expérimental, (j'ai l'impression que) la prose est un moyen insatisfaisant pour présenter à quelqu'un ce petit monde de création musicale. Cela tient au fait que nous parlons de l'idée d'une chose, mais pas de cette dernière. Et comme toutes choses dans la vie, elle est toujours beaucoup plus merveilleuse en elle-même.
Pour cette raison, je vous encourage à passer quelque temps ici, ici ou ici – à écouter, regarder et réfléchir. Vous pourriez même choisir d'écouter quelques-unes de ces pièces comme musique d'ambiance pendant votre lecture.
J'espère qu'en parcourant cette série d'histoires et de réflexions brèves (et en écoutant et regardant les liens), vous trouverez un endroit intérieur chaleureux et engageant.

* * *
Le 10 juillet 2012, j'ai erré quelques heures dans la galerie K21 de Düsseldorf. Cet endroit extraordinaire est réservé aux artistes vivants, principalement ceux dont le travail peut être catégorisé comme conceptuel ou expérimental.
J'étais arrivé tôt le matin – on était en train d'ouvrir les portes –, alors pendant près de deux heures, j'ai eu la galerie entière juste pour moi. Au troisième étage, je me suis retrouvé dans une vaste pièce, entouré d'environ 25 sculptures d'un gris brunâtre faites de tissus et de résine. Elles représentaient des personnes toutes petites (environ quatre pieds). Elles étaient toutes chauves, et leur genre, leur âge et leur race étaient ambigus. Elles se tenaient en cercle; exactement comme l'aurait fait un groupe imaginaire à qui on n'aurait donné aucune indication spécifique. Des affiches expliquaient que les sculptures étaient extrêmement fragiles : on ne pouvait les toucher en aucun cas.
Plus je passais de temps dans la pièce à surplomber ce curieux groupe (je suis resté avec cette congrégation étrange durant environ 30 minutes), plus je devenais conscient de ma propre taille… de ma corporalité… de ma capacité à causer du tort : de notre capacité, en tant qu'humains, de blesser.
Cette expérience (qui me rappelle tellement ce que je ressens en jouant et en écoutant de la Quiet Music) m'a appris beaucoup sur l'importance de la douceur.
Effleurer doucement la touche d'un piano pour en soutirer un son audible uniquement pour ceux qui sont tout près de l'instrument m'émeut d'une façon que je n'arrive pas totalement à expliquer. Le mieux que je peux en dire est que : quand je me permets d'être exposé et vulnérable de cette façon (et quand j'invite par mes compositions d'autres musiciens à me rejoindre dans cette expérience), je me sens profondément humain. Plus encore, à travers ces expériences, j'ai découvert et je continue de découvrir des idées inédites sur ce que signifie le fait d'être humains ensemble.
Interpréter la musique de mes collaborateurs wandelweiser m'a appris beaucoup à propos de la vulnérabilité.

* * *
Une grande partie de la musique wandelweiser – mais pas toute – existe dans la limite entre le sonore et le silencieux. Cette limite ténue invite le ou les interprètes à vivre vulnérablement : à s'ouvrir et à s'exposer au public.
S'attarder dans cet endroit est un acte de confiance et de courage.
Le ou les auditeurs sont aussi invités dans cet espace exposé et vulnérable, puisque le calme et le silence de la musique révèlent notre propre présence physique. (Le rythme lent et profond de notre respiration, le repositionnement du corps sur la chaise, le battement doux et distant de notre cœur… tout cela devient partie intégrante du paysage musical…)
Ce calme radical permet à la musique de traverser les barrières entre créateur, interprète et auditeur pour créer, à travers l'expérience partagée de l'écoute profonde, un « nous ».
Composer et interpréter de la Quiet Music m'a appris beaucoup sur la communauté.

* * *
Une grande partie de la musique faite par les compositeurs travaillant ou collaborant avec le collectif Wandelweiser invite interprète(s) et auditeur(s) à une toute nouvelle expérience du temps musical, qui submerge l'auditeur d'un profond sens de « maintenant » [1].
Puisque la temporalité de cette musique présente quelque chose de tout autre que la cadence incessante entretenue par le média numérique de nos vies, j'en suis venu à percevoir cette musique comme un « espace de Sabbat ».
Une demeure accueillante de calme profond.
Après tout, qu'est-ce que le Sabbat, si ce n'est, selon moi, un temps séparé du temps; un temps permettant un ralentissement radical, un retour vers soi.
Et c'est l'objet de cette pratique musicale.
Depuis que Laura Brandes et moi avons lancé A Place to Listen en 2012, il m'est arrivé à plusieurs reprises de sortir d'un concert en ne sachant pas la durée d'une pièce de musique. Il y a eu un en particulier où Laura a interprété after the middle a silence follows, an elegy (dwelling quietly at the edge) [2] d'Antoine Beuger. Après cette performance épatante qui a duré un peu plus d'une heure, de nombreuses personnes dans le public n'arrivaient pas à croire que 60 minutes étaient passées : quelques-unes ont dit avoir eu l'impression que seulement une dizaine de minutes s'étaient écoulées.
Cette musique m'a appris beaucoup sur notre façon d'utiliser le temps et de le vivre.

* * *
Composer/interpréter/écouter une pièce de musique (très) calme, c'est aménager un espace pour laisser le monde extérieur entrer dans l'espace musical.
Cela produit un beau contrepoint spontané entre l'intérieur et l'extérieur; chacun (re)contextualisant l'autre.
Chaque fois que je participe à la création de Quiet Music – en tant que compositeur, interprète ou auditeur – je refais l'expérience du paysage sonore qui m'entoure. La création de Quiet Music m'a appris beaucoup sur la façon dont j'aborde mon environnement, ainsi que sur la beauté de la non-intention.
* * *
Dans notre culture actuelle d'hyperstimulation et de saturation – qui essaye de coloniser nos imaginaires et nous demande d'éviter de regarder de trop près ou de ressentir trop profondément –, ce genre de pratique musicale est, à mon avis, essentielle. Elle nourrit une partie de nous-mêmes que nous négligeons de plus en plus : celle qui a besoin de calme. Faire de la Quiet Music m'a appris que chaque activité humaine est politique.
(Comme c'est joliment subversif (et vivifiant) d'entretenir une pratique de calme et d'écoute profonde… peut-être pourrons-nous recommencer à entendre les faibles murmures et les petites voix tranquilles qui nous posent urgemment des questions importantes…)
* * *
Une belle histoire tirée des Écritures hébraïques, dans le Deuxième livre de Samuel, raconte une grande famine résultant des luttes fratricides entre les Gabaonites et Israël; un conflit remontant au règne de Saül. Pour tenter d'apaiser les Gabaonites, David ordonne le meurtre de sept garçons de sa Maison. Ils sont empalés à côté d'une montagne. La mère de deux d'entre eux, Ritspa, apporte une couverture puis s'assoit auprès des corps durant une saison entière pour protéger les os des vautours et des charognards.
Imaginez cette image un instant : Ritspa sur sa couverture, assise avec les os.
Quand David entend parler de ce qu'elle a fait, il est si ému qu'il recueille les os des sept garçons pour leur donner une sépulture convenable.
Ritspa ne demande pas de revanche, d'autres enfants à tuer, davantage de sang à renverser. Une femme ayant choisi de ne pas exiger vengeance, mais plutôt de s'asseoir pour témoigner d'une blessure profonde et terrible, a mis fin au cycle vicieux de la violence. Pour moi, cette musique – cette expérience de s'asseoir parmi ces sons calmes et fragiles et de les soigner – évoque Ritspa parmi les os. C'est le cadeau de cette musique : offrir l'opportunité de témoigner de notre humanité, belle et brisée.
---
[1] Il n'est pas rare qu'une pièce de musique Wandelweiser dure plus de 30 minutes; temps durant lequel seulement une poignée de sons doux et délicats ont lieu. Par exemple :
http://www.youtube.com/watch?v=yJj0wdQCPaw
[2] Il s'agit d'une pièce de musique extraordinaire écrite par Antoine Beuger, touchant au chant, à la parole, à l'écriture ainsi qu'à l'interprétation en solo/duo/lecture de cd. Elle est entièrement composée de fragments de textes de sources variées – poètes et prophètes, théologiens et philosophes profanes – dont Judith Butler, Ulrike Bail, la Bible (prophète Michée), Nelly Sachs, Ingeborg Bachmann, Anne Michaels, Primo Levi, Jacques Derrida et Edmond Jabès. Ces fragments constituent une sorte de traité abstrait sur la vulnérabilité humaine, sur nos relations avec les autres et ce qui nous relie entre nous : sur notre humanité, aussi belle que brisée. Le soliste pour nach der mitte… est invité à naviguer ce paysage éminemment existentiel en lisant doucement les textes à mesure qu'il les écrit, en les chantant très doucement – une syllabe/sonorité à la fois – ou en les jouant sur un instrument déclinant.
Daniel Brandes est musicien expérimental, professeur et paneliste de concert. Il vit à Equimalt (C.-B.).
Sa musique explore la vulnérabilité humaine et de nouvelles façons d'imaginer la communauté.
Elle a été enregistrée puis mise en marché par Quatuor Bozzini (Montréal), Bespoken (Toronto) ainsi que l'artiste de voix et d'électroniques Andrea Young (Los Angeles).
Ses partitions sont publiées aux éditions Wandelweiser.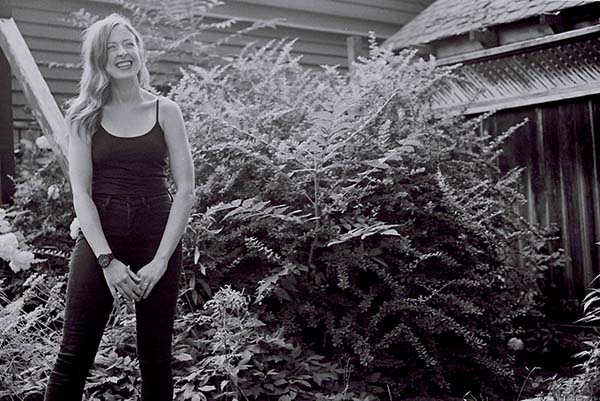 Ephemera of: Brooke Manning
Existing during the recording of: LOOM's Epyllion
Toronto, ON
Photos by: Brad Casey
From Brad Casey:
There is something incredibly delicate at the core of the music made by LOOM, like the ache that follows falling in love or the floating feeling of falling out of it. Brooke Manning, who is the main songwriter and driving force of LOOM, released a quiet, swirling EP in 2009. It was recorded in her living room with Thom Gill as well as Dan and Matt Pencer who improvised behind the songs on subtle, sweet keyboards and horns. A meditative collection with a strong focus on songwriting, it laid the foundation for what would become her full length, Epyllion, recorded on Toronto Islands. Made up of new songs and reworked songs from her EP, Epyllion featured a heavier, darker side of LOOM brought out with tunnel-reverb harps, frightening, distortion soaked synths and, at times, war-like percussion. Since Epyllion's release LOOM has expanded into a backing band with members of Silver Pools and Gates to work on a follow up. LOOM's words, her slow ease into a vibe, create a settling. Sit and breathe.
Weird Canada asked Brooke to show us objects that she holds sacred. She allowed us into her Toronto home and showed us things nostalgic, painful and held dear, all of which contribute to the words and music made by her slow and gentle hand.
Feel free to listen to these two songs from Epyllion as you view these photos. All words were dictated by Brooke, recorded and transcribed by Brad Casey.
Loom – There is Blood in My Body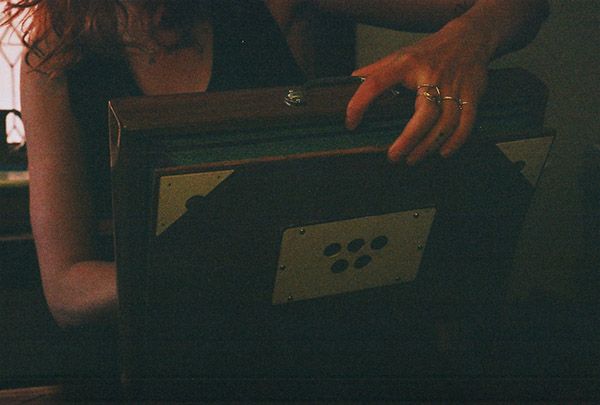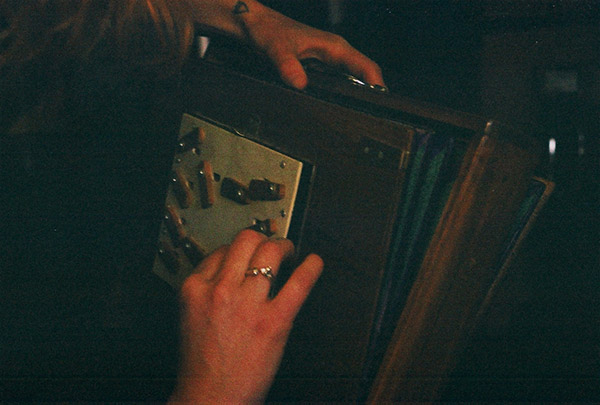 Shruti box
Sometimes if I'm feeling a block I sit with this for a while. It's like a drone machine. I bought it at the Musideum in the Richmond building back in 2008. A friend also gave me another one in different key 5 months ago. I find them really nice to sing to.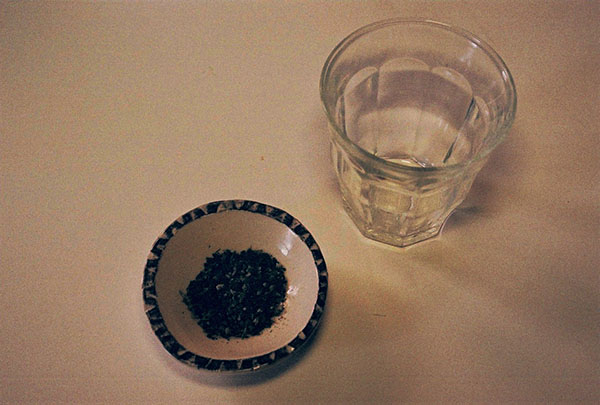 Uninhibitors
When I'm writing, if I feel nervous, I have some smokables and some wine. I don't have any wine right now but I drink it out of this cup.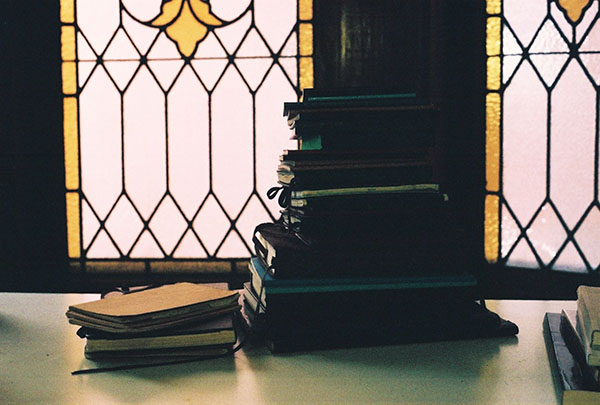 Journals
If I'm having problems lyrically, which rarely happens, I flip through old journals and old books of poetry that I wrote. I try to channel what's happening in that moment but sometimes if I'm wishing to speak about a certain moment or thing or cause or idea and I can't get there I'll go to my books.
Tinctures
Sometimes my anxiety gets in the way. It used to more when I was younger. I had a hard time performing knowing that someone was in my house, like my Mom or roommates, so I'd cloister myself in small spaces. Now things are better but when my anxiety comes back I take these tinctures and I swear they work. I know this older woman, she's this amazing mystic, she makes this tulsi tincture for women.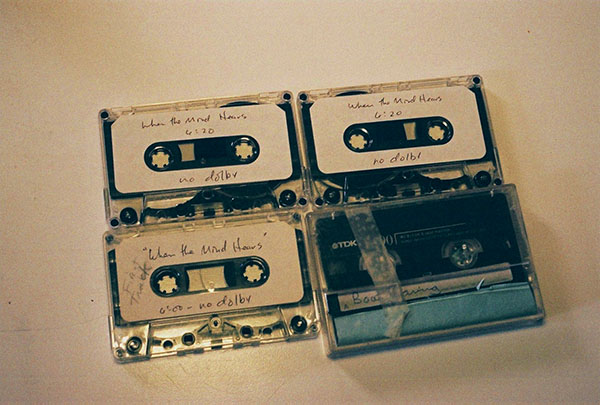 Deaf Recordings
A teacher of mine gave me these tapes. They're recordings of her daughter, who is deaf, just being around the house playing. They were part of a project she did and she thought I could use these. I grew up around a lot of deaf people because my parents worked at a school for the deaf. I went to kindergarten with a lot of deaf kids. I feel like there's a different, more mindful way of listening to them. I use these tapes for inspiration. It's good to hear that sense of silence when you're trying to create something with sound.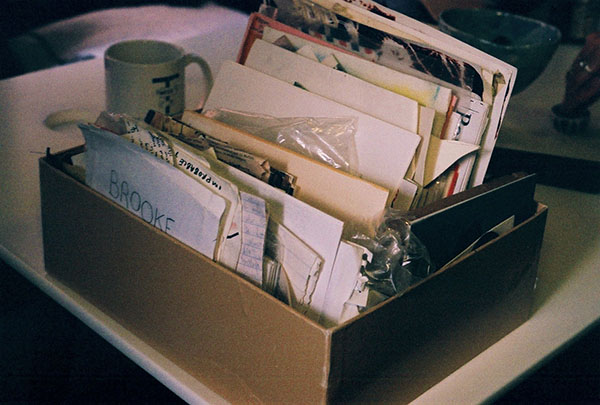 Love Letters
This is a box of notes from friends, family, lovers and people who have deeply influenced me. Sometimes I look through it but very rarely.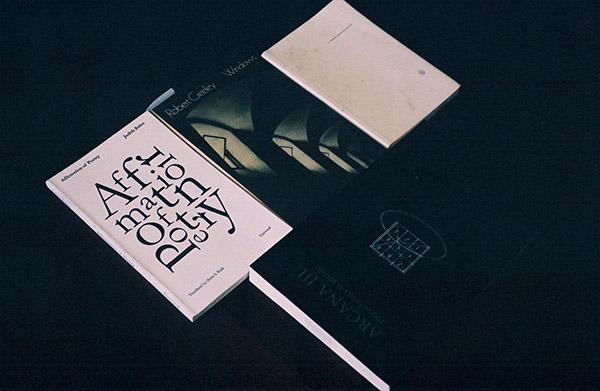 Books
These are my favourite books. Sometimes I open it up and read a page and try to place myself on that page, with the idea. I try to envision what's written about and it sets the tone for awareness in my body. It's a great thing for visualizing.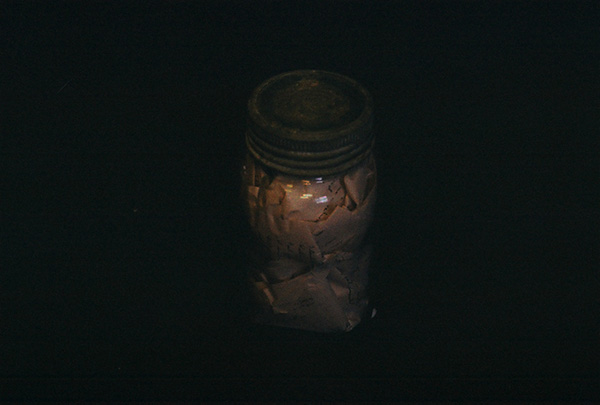 Jar of Souls
This is something I've had since I started playing and I'd bring it to shows. I did this funny project where I'd ask people if they could imagine their soul as something in a vessel, what would it be? I put an ad on craigslist and I got people to send them to me, these pieces of paper, and held them for a year and cared for them. I was never allowed to open the vessels because the vessels would release the soul. I've never opened it.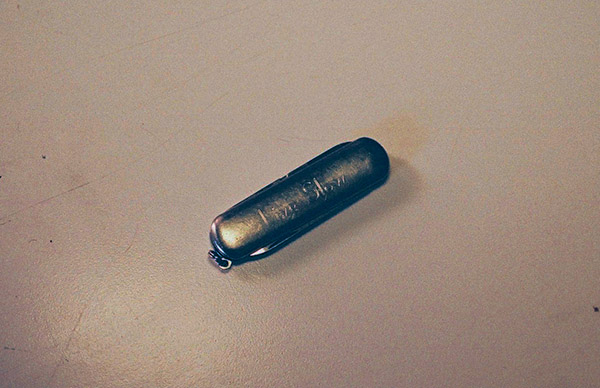 Live Slow Knife
This was my Grandpa's. Right before he died he was watching boats and I think he knew he was going to pass away. There a boat that kept travelling back and forth past the harbour and he would call me whenever he saw it and on the back it said 'Live Slow.' We had a lot of conversations then about what it meant to live slow and how he wished he had lived slower. Sometimes I lose it but it always gets sent back to me.
De Brad Casey:
(Traduit par Chantale Renée)
Il y a quelque chose d'incroyablement délicat au cœur de la musique de LOOM, comme la douleur qui suit le sentiment de tomber en amour ou la sensation de flottement lorsqu'on ne l'est plus. Brooke Manning, compositrice et force motrice de LOOM, a publié un EP calme et tourbillonnant en 2009. Il a été enregistré dans son salon avec Thom Gill ainsi que Dan et Matt Pencer, qui ont improvisé derrière les chansons avec des claviers subtiles et de douces cornes. Une collection méditative avec un fort accent mis sur ​​l'écriture, il a jeté les bases de ce qui allait devenir son album, Epyllion, enregistré sur les îles de Toronto. En constituant de nouvelles chansons et des chansons retravaillées de son EP, Epyllion présente un côté plus lourd et sombre que LOOM, avec des réverbérations de harpes, des synthés imbibés de distorsion, et, parfois, des percussions aussi effrayantes que la guerre. Depuis la sortie d'Epyllion, LOOM est devenu un back up band avec des membres de Silver Pools et Gates pour travailler sur un autre album. Les mots de LOOM, ainsi que sa facilité à créer une atmosphère, vous convient de vous Asseoir et de Respirer.
Weird Canada a demandé à Brooke de nous montrer des objets qui lui sont sacrés. Elle nous a permis de la rencontrer dans sa maison de Toronto et nous a presenté des choses qui pour elle sont nostalgiques et douloureuses, des objets qui lui tiennent à cœur et qui contribuent aux paroles et à la musique établi par sa tendresse.
N'hésitez pas à écouter les deux chansons de Epyllion pendant que vous regardez ces photos. Ce texte a été dicté par Brooke, et enregistré et transcrit par Brad Casey.
Boite Shruti
Parfois, si je me sens comme un bloc, je m'assois avec ça pour un moment . C'est comme une machine de drone. Je l'ai acheté au Musideum dans le bâtiment Richmond en 2008. Un ami m'en a aussi donné un autre, il y a cinq mois. Ils sont vraiment agréables à utiliser en chantant.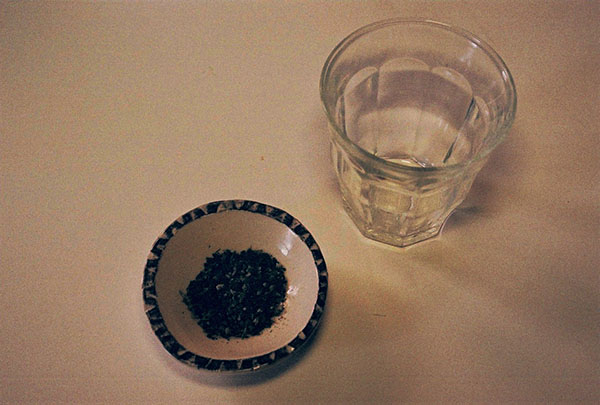 Uninhibitors
Quand j'écris, si je me sens nerveuse, je fume quelques cigarettes et bois du vin. Je n'ai pas de vin en ce moment, mais je le bois de cette tasse.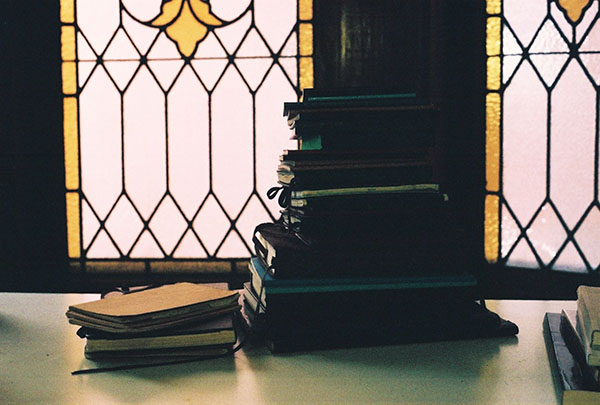 Journals
Si j'ai des problèmes à trouver des paroles, ce qui arrive rarement, je feuillette mes anciens journaux et vieux livres de poésie. J'essaie de canaliser ce qui se passe dans ce moment précis, mais parfois si je désire parler d'un certain moment, d'un objet, d'une cause ou d'une idée et que je ne peux pas y arriver, je retourne à mes livres.
Tinctures
Parfois, mon anxiété prend trop de place. Elle était souvent présente quand j'étais plus jeune. C'était difficile de pratiquer sachant que quelqu'un était dans la maison, soit ma mère ou mes colocataires, donc je me cloitrais dans des petites espaces. Maintenant, les choses vont mieux, mais quand mon anxiété fait surface, je prends ces teintures et je jure qu'elles fonctionnent. Je connais une femme plus âgée, elle est incroyable et mystique, elle fabrique cette teinture Tulsi pour les femmes.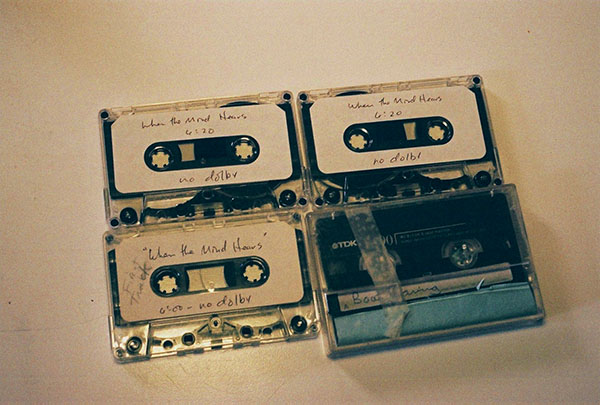 Deaf Recordings
Ceci appartenait à mon grand-père. Juste avant sa mort, il regardait attentivement des bateaux et j'imagine qu'il se doutait que sa vie s'achevait. Il y avait un bateau en particulier qui passait souvent dans le port. À l'arrière du bateau, on pouvait lire les mots "Vivez Lentement". Nous avons eu beaucoup de discussions à ce sujet, car mon grand-père souhaitait avoir pris plus son temps pour vivre. Parfois, je perds cet objet, mais il me revient toujours de nouveau.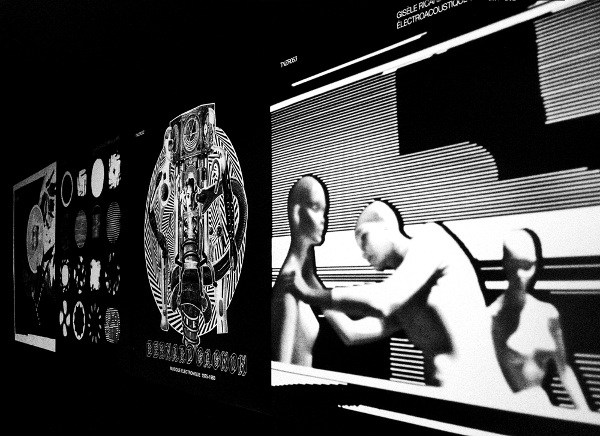 From the immersion therapy of Jesse Locke:
Montreal's Tenzier states its aims plainly: "To preserve, celebrate and disseminate archival recordings by Quebec avant-garde artists." From the jump-cut plunderphonics of Étienne O'Leary to the electroacoustic fever dreams of Gisèle Ricard, these anomalous offerings from the 1960s, '70s and '80s provide a fascinating glimpse into an unheralded history. Tenzier's four LPs (to date) are not simply reissues, but instead sonic pearls scooped up from private collections and made available for the first time. Weird Canada spoke to Eric Fillion, the chief archivist of Quebec's avant past.
Étienne O'Leary – Day Tripper (excerpt)
Le Quatuor de Jazz Libre du Québec – Sans Titre
Jesse Locke: What inspired you to start this project with such a specific regional focus?
Eric Fillion: I'm from Montreal, and have a clear attachment to Quebec. I've been playing music here for many, many years, and had the sense that there was a history that needed to be uncovered. Doing Tenzier is a way of allowing connections to be made. For each of the releases, I try to match an older musician with a current visual artist. For example, Sabrina Ratté did the artwork for the Gisèle Ricard LP, and Felix Morel did the collage for Bernard Gagnon. Match made in heaven there!
The regional focus also allows me to meet the musicians, not just communicate by email or phone. Gisèle Ricard is in Quebec City, so it's a short drive there to meet with her. Bernard Gagnon and former members of the Quatuor De Jazz Libre Du Québec are in Montreal. Lunch is always an option and we try to meet regularly. The human component of the project is huge, and it's something I didn't really understand at first or anticipate. The ability to work directly with these artists is something that I wouldn't change. I'm also conducting doctoral research in history, and my interests deal with Quebec's cultural production. The music I research for Tenzier is sort of out there compared to what I'm studying at a university level, but there's still a connection.
Ultimately, I think it would be great if other people did similar projects. If 10 or 15 people in Canada wanted to set up labels or organizations to focus on their specific cities or provinces, you would get a much more complete history of avant or underground music. Maybe I'm dreaming here, but I think there's a possibility to do this in other places. Montreal and Quebec have had a dynamic music scene for decades, but I know many other areas have that as well.
Besides the artists' location, what other criteria do you have for the music you choose to release?
Tenzier's releases are not reissues — they are archival recordings that have never been made available. I'm interested in voices from the margins, meaning artists that don't really fit the dominant narratives about Quebec's cultural production for the period I'm interested in: the '60s, '70s and '80s. Often, it comes from people making experimental music that didn't end up teaching in universities or refused, for one reason or another, to associate with the province's key cultural institutions. As such, their contributions may have gone unnoticed or undocumented for the new generations to explore.
One good example is Bernard Gagnon, who's been active since the late 1960s. He had been involved in every major experimental or underground scene in Quebec, and contributed to several Musique Actuelle LPs, but never released a record under his own name. Going through his archives was great, because he had tons of reels. Gisèle Ricard had also been really active in Quebec City, but never released anything outside of the Capac 7".
Releasing records is only part of Tenzier's mandate, though. I try to put out one LP each year, usually in the fall, but parallel to that I'm also collecting material – recordings, visuals, correspondence – when I can and slowly digitizing things for future releases or research purposes. At some point, I would love to turn Tenzier into some kind of research center. The records are a way of making sure there's a trace left in the present, and we deposit a copy at the National Library in Ottawa, as well as the Quebec National Library. All of a sudden, these artists and their music exist, making it possible for people like me who are doing research to have access much more quickly to a growing body of works. Ultimately, I would like to make all the documents that have been digitized but not released available to people.
Last summer, I partnered with the Videographe, which is a video co-op set up in 1971 through the NFB. In 1973 it became a non-profit organization, and they have tons of experimental videos that combine experimental music. Tenzier prepared a short program titled Québec électronique for the 2013 edition of the Suoni Per Il Popolo. It featured people like Richard Martin, who went to the U.S. and studied with Alvin Lucier. I'm working with the Videographe to disseminate those videos online, and have interviewed Richard Martin and added that to the archive. All of this falls under Tenzier's mandate.
So far, your releases have come out in chronological order, from Etienne O'Leary in the 1960s to Gisele Ricard in the 1980s. Will you continue this pattern, or start bouncing around in time?
I didn't realize I was doing that [laughs]. That was a total accident and I didn't plan it that way, so yes, I am going to start bouncing around. Tenzier will never go past the 1980s, as it became much easier from the '80s onward for artists to release their own tapes or records. In Quebec, you had Ambiances Magnétiques, which did a fantastic job of documenting whole spectrums of experimental or weird music, but before that there was really nothing. The NFB put out a soundtrack and that was great, but it was a one-off project. Otherwise, McGill had a record label putting out material recorded in the university's electronic music studio, and Radio Canada International released a few records of electroacoustic compositions. Aside from that, there were no small labels, so there is a lot of music made in the '60 and '70s recorded on 1/4" tapes that are just sitting in boxes. I think I'll be busy enough focusing on those three decades.
I also wanted to ask about the numbering of your releases. On Discogs, your trio CD with Dominic Vanchesteing and Alexandre St-Onge is listed as TNZR001, and then it jumps straight to TNZR050. Are there 49 lost releases floating in the ether?
Nothing is missing. Initially, when I started Tenzier it was towards the end of Pas Chic Chic, and I wanted to set up an infrastructure for musicians to collaborate. This included myself, and I wanted to reach out to musicians that I had a tremendous respect for, but hadn't had the chance to work with. The mini-CD series, numbers one to 49, was meant to serve that purpose. At the same time, I started working on the Etienne O'Leary LP and decided that #50 onward would be the historical releases from Tenzier. Within four or five months of that time, I made the decision to go back to school to continue graduate work. I subsequently quit playing music to focus on my research. It became apparent to me that Tenzier could become a vehicle to reconcile my academic interests with my background as a musician. This allowed me to stay in touch with musicians and visual artists, and contribute something concrete. After Tenzier 001, I stopped playing music and that series ended there.
What plans do you have moving forward? Can you give us a sneak peek into any upcoming releases or activities?
I can't really talk about releases yet because I haven't had a chance to sit down with the interested parties. I do plan on releasing another LP in the fall though, and am currently digitizing a bunch of material that I'm super excited about. Each year I try to organize an event or kind of retrospective as well, and this fall I'm working with Jean-Pierre Boyer, who made experimental videos in the early '70s. He invented his own video-synthesizer, which he named the Boyétizeur, so we're going to show his work and have a live performance.
I was really excited to see Gisèle Ricard's collaboration with Bernard Bonnier on the new Tenzier LP. Casse-Tête Musique Concrète is so wild. Do you know about any more music that he recorded?
That's an amazing record. There's also the Capac 7", but nothing else in terms of official releases. I would assume he has other material recorded, as Bernard Bonnier and Gisèle Ricard owned a studio together. Bernard passed away, but his son probably has reels stored somewhere in a basement. That would be worth looking into at some point.
What's the weirdest music from Quebec you've ever heard?
To me, weird music is not a pejorative term. It's brilliant music because it forces you to listen differently and takes you to new places. Quebec had so much weird music, especially in the 1980s. A lot of people were releasing cassettes back then (like nowadays, I guess) and you could find amazing stuff, demos and other strange sound objects, at L'Oblique. The first name that comes to mind is Les Biberons Bâtis, which was the project of Bruno Tanguay, also known as Satan Bélanger. Before Les Biberons Bâtis, Bruno was in a group called Turbine Depress, which is also truly singular music. I think you will enjoy Les Biberons Bâtis.
Tenzier Discography (To Date)
TNZR001 – Dominic Vanchesteing, Eric Fillion, Alexandre St-Onge – Untitled [Mini CD, 2010]
TNZR050 – Étienne O'Leary – Films Et Musiques Originales (1966 – 1968) [LP, 2010]
TNZR051 – Le Quatuor De Jazz Libre Du Québec – 1973 [LP, 2011]
TNZR052 – Bernard Gagnon – Musique Électronique (1975-1983) [LP, 2012]
TNZR053 – Gisèle Ricard – Électroacoustique (1980-1987) [LP, 2013]
De la thérapie immersive de Jesse Locke:
(Traduit par AnneMarie Papillon)
L'étiquette montréalaise Tenzier exprime pleinement ses objectifs: ''Préserver, célébrer et propager les enregistrements d'archives des artistes avant-gardistes du Québec.'' Des phonétiques saccadées d'Étienne O'Leary aux rêves électro-acoustiques fièvreux de Gisèle Ricard, ces anormales offrandes des années 60, 70 et 80 pourvoient un aperçu fascinant à travers ces parcours méconnus. Les quatre LPs de Tenzier (jusqu'à maintenant) ne sont pas seulement des ré-éditions mais plutôt des perles sonores dénichées dans des collections personnelles et mises à notre disposition pour la première fois. Weird Canada a discuté avec Eric Fillion, l'archiviste en chef du passé avant-gardiste du Québec.
Étienne O'Leary – Day Tripper (excerpt)
Le Quatuor de Jazz Libre du Québec – Sans Titre
Jesse Locke: Qu'est-ce qui t'as inspiré à démarrer ce projet avec un focus régional si spécifique?
Éric Fillion: Je viens de Montréal et j'ai un attachement clair pour Québec. Je joue de la musique depuis plusieurs années et j'avais le sentiment qu'une histoire avait besoin d'être découverte. Tenzier est une manière de créer des connections. Pour chacune des sorties, j'essaie de joindre un musicien plus âgé avec un artiste en art visuel. Par exemple, Sabrina Ratté a créé la couverture pour le LP de Gisèle Ricard et Felix Morel a fait le collage pour Bernard Gagnon. Deux superbes harmonies!
Le focus régional me permet aussi de rencontrer les musiciens, pas seulement par courriel ou par téléphone. Gisèle Ricard habite la ville de Québec alors ce n'est qu'une courte promenade en voiture pour la rencontrer. Bernard Gagnon et les anciens membres du Quatuor De Jazz Libre Du Québec sont à Montréal. On peut toujours aller dîner et on essaie de se voir souvent. Le contact humain est un aspect important du projet et ce n'est pas quelque chose auquel je pensais au début, que j'anticipais. L'opportunité de travailler directement avec les artistes n'est pas quelque chose que je changerais. J'effectue aussi des recherches doctorales en histoire et mes intérêts se concentrent sur la production culturelle québécoise. La musique que je recherche pour Tenzier est un peu intense comparé à ce que j'étudie à l'université mais il y a tout de même une connection.
Ultimement, je pense que ce serait génial si d'autres gens travaillaient sur des projets similaires. Si 10 ou 15 personnes au Canada voulaient démarrer des étiquettes ou des projets avec un focus sur leur ville ou leur région, nous aurions un catalogue beaucoup plus complet de la musique avant-gardiste et indépendante canadienne. Peut-être que je rêvasse, mais je pense qu'il y a une possibilité de le faire ailleurs. Montréal et Québec possèdent une scène musicale dynamique depuis des décennies, mais je sais que plusieurs autres endroits aussi.
À part la provenance des artistes, quels sont les autres critères selon lesquels tu choisis la musique à publier?
Les sorties de Tenzier ne sont pas des ré-éditions, ce sont des enregistrements d'archives qui n'ont jamais été disponibles. Je m'intéresse aux voix marginales, souvent des artistes qui ne concordent pas vraiment avec les dominantes narratives de la production culturelle Québécoise de cette période (1960-1970-1980). Souvent, ce sont des gens qui font de la musique expérimentale et qui n'ont pas réussi à enseigner à l'université ou qui, pour une raison ou une autre, ont refusé de s'associer avec quelconque institutions culturelles de la province. Leur contribution a pu passer inaperçue ou ne pas avoir été documentée pour les générations futures.
Un bon exemple est Bernard Gagnon, qui est actif depuis la fin des années 60. Il s'est impliqué dans chacune des importantes scènes expérimentales et underground du Québec et a contribué à plusieurs des long-jeux ''Musique Actuelle'' mais n'a jamais sorti un album sous son propre nom. Parcourir ses archives était génial, parce qu'il a une tonne de bobines. Gisèle Ricard a aussi été très présente dans la ville de Québec mais n'a jamais sorti autre chose que Capac 7".
Publier des disques n'est qu'une partie du mandat de Tenzier. J'essaie de sortir un LP chaque année, habituellement en automne, mais parallèlement je collectionne aussi du matériel – des enregistrements, du visuel, des correspondences – autant que possible et je le digitalise pour de futures publications ou pour la recherche. Un jour, j'aimerais que Tenzier devienne un genre de centre de recherche. Les LPs sont une façon de s'assurer qu'il y ait une trace dans le présent et nous déposons une copie à la Bibliothèque Nationale d'Ottawa et à celle du Québec. Soudainement, ces artistes et leur musique existent, ce qui permet aux gens comme moi qui font de la recherche, d'avoir accès plus facilement à ces informations. Ultimement, j'aimerais que tous les documents qui ont été digitalisés soient accessibles à tous.
L'été dernier, j'ai créé un partenariat avec le Vidéographe, une coopérative de production vidéo démarrée en 1971 à travers l'ONF. En 1973, c'est devenu un organisme à but non-lucratif et ils ont une tonne de vidéos expérimentaux qui combinent la musique expérimentale. Tenzier a préparé un court programme intitulé Québec électronique pour l'édition 2013 de Suoni Per II Popolo. Le programme présentait des gens comme Richard Martin, qui a passé du temps au États-Unis et a étudié avec Alvin Lucier. Je travaille avec le Videographe afin de distribuer ces vidéos sur le web et j'ai interviewé Richard Martin et ajouté le tout aux archives. Tout cela fait partie du mandat de Tenzier.
Jusqu'à maintenant, vos parutions sont sorties en ordre chronologique, d'Étienne O'Leary dans les années 60 à Gisèle Ricard dans les années 80. Vas-tu continuer avec ce modèle ou bondir d'années en années?
Je n'ai pas remarqué que je faisais ça [rires]. C'est un accident, je n'ai pas du tout planifié cela alors oui, je vais commencer à bondir d'années en années. Tenzier ne va jamais aller plus loin que les années 80, parce que c'est devenu beaucoup plus facile, à partir des années 80, de publier ses propres cassettes et albums. Au Québec, il y avait Ambiances Magnétiques, qui faisait un travail fantastique à documenter un large spectrum de musique bizarre et expérimentale, mais avant eux, rien. L'ONF a sortie une bande-sonore et c'était génial mais ce n'était qu'un truc unique. Par ailleurs, McGill avait sa propre étiquette qui publiait du matérial enregistré dans les studios de l'université et Radio-Canada International a publié quelques compositions électro-acoustiques. À part de cela, il n'y avait pas de petites maisons de disques, alors il y a beaucoup de musique enregistrée dans les années 60 et 70, sur des cassettes 1/4'', qui ne font que dormir dans des boîtes. Je pense que je serai assez occupé en focusant sur ces trois décennies-là.
Je voulais aussi te parler de la numérotation de tes parutions. Sur Discogs, ton triple CD avec Dominic Vanchesteing et Alexandre St-Onge est listé TNZR001 et ensuite ça passe à TNZR050. Est-ce qu'il y a 40 copies flottant dans l'éther?
Rien n'est perdu. Initialement, j'ai commencé Tenzier à la fin de Pas Chic Chic, et je voulais mettre en place une infrastructure qui favorise la collaboration entre musiciens. Cela m'incluait et je voulais faire appel à des musiciens pour lesquels j'ai un immense respect mais avec lesquels je n'avais pas eu la chance de travailler. La mini-série CD, numéroté 1 à 49, a servi à cela. Au même moment, je commencais à travailler sur le LP d'Étienne O'Leary et j'ai décidé que tout ce qui sortirait à partir du numéro 50 serait les sorties historiques de Tenzier. Quatre ou cinq mois après, j'ai pris la décision de retourner à l'école pour poursuivre mes études doctorales. Subséquemment, j'ai arrêté de jouer de la musique pour me concentrer sur mes recherches. C'est devenu évident que Tenzier serait un véhicule parfait pour réconcilier mes intêrêts académiques et mon passé de musicien. Ça m'a permis de garder le contact avec des musiciens et des artistes en art visuel et d'y contribuer quelque chose de concret. Après Tenzier 001, j'ai arrêté de jouer de la musique et la série s'est arrêté là.
Quels sont tes plans futurs? Peux-tu nous donner un petit aperçu de tes prochaines parutions et activités?
Je ne peux pas vraiment discuter des parutions puisque je ne me suis pas encore assis pour en discuter avec les parties intéressées. J'ai l'intention de publier un LP cet automne et je suis présentement en train de digitaliser beaucoup de matériel super intéressant. Chaque année, j'essaie d'organiser un évènement ou une sorte de rétrospective et cet automne, je travaille avec Jean-Pierre Boyer, qui produisait de la vidéo expérimentale au début des années 70. Il a inventé son propre synthétiseur vidéo, qu'il a nommé le Boyétizeur, alors nous allons présenter son travail et des performances live.
J'étais super content de voir une collaboration entre Gisèle Ricard et Bernard Bonnier sur le nouveau LP de Tenzier. Casse-Tête Musique Concrète est si déjanté. Connais-tu d'autre musique qu'il a enregistré?
C'est un album génial. Il y a aussi le Capac 7", mais aucune autres parutions officielles. Je présume qu'il a d'autres matériel enregistré parce que Bernard Bonnier et Gisèle Ricard possèdaient un studio ensemble. Bernard est décédé, mais son fils a probablement des bobines quelque-part dans un sous-sol. Ça vaudrait la peine d'y jeter un coup d'oeil.
Quelle est la musique du Québec la plus bizarre que tu aies écouté?
Selon moi, le terme 'musique bizarre' n'est pas péjoratif. C'est de la musique intelligente parce qu'elle force l'auditeur à écouter différemment et le transporte ailleurs. Le Québec a tellement produit de musique bizarre, en particulier dans les années 80. Beaucoup de gens sortaient des cassettes (comme maintenant, je pense) et on peut trouver des trucs vraiment formidables, des démos et d'autres échantillions sonores étranges, à l'Oblique. Le premier nom qui me vient en tête est Les Biberons Bâtis qui était le projet de Bruno Tanguay, aussi connu sous le nom Satan Bélanger. Avant Les Biberons Bâtis, Bruno était dans un groupe appelé Turbine Depress, de la musique aussi très singulière. Je pense que tu aimerais beaucoup Les Biberons Bâtis.
Discographie de Tenzier (Jusqu'à maintenant)
TNZR001 – Dominic Vanchesteing, Eric Fillion, Alexandre St-Onge – Untitled [Mini CD, 2010]
TNZR050 – Étienne O'Leary – Films Et Musiques Originales (1966 – 1968) [LP, 2010]
TNZR051 – Le Quatuor De Jazz Libre Du Québec – 1973 [LP, 2011]
TNZR052 – Bernard Gagnon – Musique Électronique (1975-1983) [LP, 2012]
TNZR053 – Gisèle Ricard – Électroacoustique (1980-1987) [LP, 2013]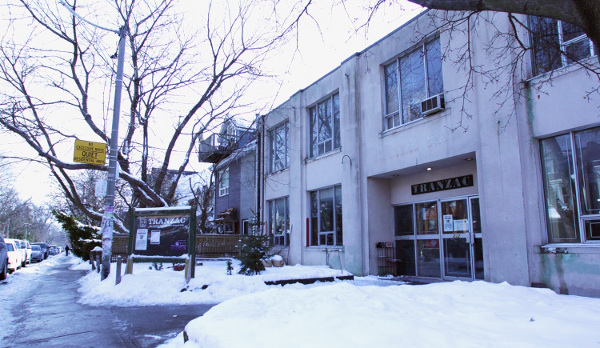 Robbie Luster
Manager / Booker of the Tranzac
(Photo: Jackson Fishauf)
Toronto, ON
From the southern cross of Gabe Girard:
Toronto has long been a home away from home for expats from Australia and New Zealand. In 1931, a community space for these nationalities was founded, preserving their culture while functioning as a co-op and general club. The Tranzac (an abbreviation of "Toronto Australia New Zealand Club") has gone through many incarnations and locales over the years, gradually broadening its horizons and becoming more inclusive of other nationalities and practises. Today, the Tranzac is one of the city's most versatile live music and arts venues. It caters to just about all styles of music, while being slightly partial to the avant-garde and experimental scenes. The Tranzac is known as a non-profit community center, zine library, theatre, music venue, and artistic hotbed of creativity. What holds all the disparate aspects of this space together? A DIY approach and spirit of independence are characteristic of the club. Combine that with positive community relations and an open-minded approach to the arts, and the picture starts to become clear. We caught up with manager/booker Robbie Luster to set us straight.
Gabe Girard: The Tranzac began as a community space for immigrants from New Zealand and Australia. Is this rich history still present today?
Robbie Luster: The Tranzac was founded in 1931 by Aussies and Kiwis, and its association with them is still going on. For decades it was devoted solely to them. There were rugby teams, Maori dances and other things that preserved their culture. The Tranzac was also associated with a big festival called Caravan, representing different cultures in pavilions all across the city. The biggest pavillion was the Aussie one at the Tranzac where they held sheep shearing competitions. The Tranzac's participation in Caravan was the start of the transition where it became more inclusive of other nationalities… and other people in general.
When did the Tranzac start featuring live music? When did it start branching off into avant-garde jazz?
There has always been live music here. Slowly, in the past 20 years, it started catering to more avant-garde music. The managers, Sandra and Cassandra, changed the focus of the musical acts. It was an organic transition. It always catered to DIY, independent sort of acts. Music that might not be found elsewhere. It took off when Saint Dirt Elementary School started playing. That's when the balance tipped and started getting associated more with that scene.
What kinds of music do you cater to the most?
We cater to all kinds of music. Programming in our Southern Cross room has a big focus on avant-garde jazz, quirky indie pop, and alt folk. We really do have everything, all kinds of music, the whole gamut. From classical to opera to hip hop. Anything with a spirit of independence, and a DIY ethos. Since we're a non-profit organization on a shoestring budget, it's only natural that we would gravitate towards the DIY indie scene.
The Tranzac is a community hub for a lot of groups and organizations. You have partnerships with the Toronto Zine Library, Blocks Recording Club and other labels such as Barnyard and Rat-Drifting. How does this help the organization and the community itself?
We're trying to build a community, and all trying to help each other. It's important to have relationships with the labels, zine library, as well as traditional folk music groups. The Morris Ale dancers are a big part of the club. Our chief goal as a non-profit is to foster and contribute to the arts community, particularly on the more avant-garde/independent/DIY side of things, whenever we see a vital and important niche that might be overlooked by more corporate interests. As Toronto's downtown core becomes increasingly expensive and caught up in the rat race, the need to fill such a niche is more vital now than ever, for the health of the arts and our neighbourhoods.
What do you think sets the Tranzac apart from more profit-driven music venues?
I think what sets us apart is the fact that our primary objective is fostering the arts community — we even have a mandate in our "constitution" to do so — as opposed to a drive for profit. Although, of course, we are always working to keep revenue up!
Does being a non-profit organization give you any advantages or disadvantages?
The fact that we're non-profit is the most important thing about the Tranzac, I'd say. You can sense it in the attitude and spirit of the volunteers; it really shows that we're a non-profit. It means we have no budget or a very limited budget, and get the benefit of volunteers who are eager to help out. Overall there is a good vibe.
If someone were looking to book an event at The Tranzac – in any of the spaces you offer – what would you recommend they do?
If one were looking to book an event at the Tranzac — any size! any kind of event! — they can contact me (Robbie) at booking (at) tranzac (dot) org.
De l'enceinte avant-gardiste de Gabe Girard:
(Traduit par la plume et l'encre d' Aliké Harel)
Toronto est depuis longtemps la terre d'accueil des expatriés d'Australie et de la Nouvelle-Zélande. Un centre communautaire a été fondé dès 1931 pour les nouveaux arrivants de ces pays afin de préserver leurs cultures. Le centre a également rempli les fonctions de coopérative et de club. Le Tranzac, acronyme de « Toronto Australia New Zealand Club », s'est réincarné sous plusieurs formes et a été le théâtre de nombreux types de scène. Au fil du temps, le Tranzac a élargi ses horizons et a ouvert la porte à d'autres nationalités et à d'autres traditions culturelles. Le Tranzac est maintenant une salle de spectacle des plus hétéroclites de la scène musicale et artistique. Le club présente pour ainsi dire tous les styles de musique, quoique particulièrement enclin à mettre sur scène de la musique expérimentale ou avant-garde. Le Tranzac est connu comme un centre communautaire, un organisme à but non-lucratif (OBNL), un centre d'archivage de zines, un théâtre, une salle de spectacle et espace de création bouillonnant. Comment parvient-on à former un tout de ces ingrédients éclectiques? L'approche DIY et l'esprit d'indépendance font déjà l'apanage du club. S'ajoutent à la toile une relation harmonieuse avec le milieu et une vision de l'art à large déploiement… alors, le portrait commence à se raffiner. Nous avons rencontré le gérant et planificateur, Robbie Luster, pour avoir l'heure juste.
Gabe Girard: Le Tranzac a d'abord été un lieu communautaire pour les immigrants d'Australie et de la Nouvelle-Zélande. Ce riche passé a-t-il laissé une trace jusqu'à nos jours?
Robbie Luster: Le Tranzac a été fondé en 1931 par des Oz et des Kiwis, et l'association originale existe toujours. Pendant plusieurs décennies, le club s'occupait uniquement de ce groupe culturel. Il y avait des parties de rugby, de la danse maorie et d'autres activités pour préserver leur culture. Le Tranzac collaborait aussi à Caravan, un festival de grande envergure, au cours duquel on érigeait des scènes à l'effigie des différentes cultures dans toute la ville. La plus grande scène était celle des Australiens au Tranzac, où des concours de tonte de mouton avaient lieu. La participation du Tranzac au festival Caravan constitue le début de l'inclusion d'autres nationalités… et l'ouverture à l'ensemble du milieu.
Quand le Tranzac a-t-il commencé à présenter des performances musicales? À quel moment s'est-il tourné vers l'avant-garde jazz?
Les performances musicales ont toujours eu une place ici. Depuis les 20 dernières années, le Tranzac a tranquillement commencé à mettre de l'avant plus de musique d'avant-garde. Les gérantes, Sandra et Cassandra, ont changé le style des performances au menu. La transition s'est faite de façon naturelle. Le Tranzac avait toujours accueilli des performances de type DIY, du milieu indépendant. De la musique qu'on n'entend pas ailleurs, quoi! L'étincelle a jailli lorsque Saint Dirt Elementary School a commencé à jouer ici. C'est alors que le Tranzac a pris un virage vers la scène émergente.
Quels types de musique présentez-vous le plus?
Nous présentons de la musique de tout genre. La programmation de la salle Southern Cross comprend beaucoup de jazz avant-gardiste, du indie pop émergeant et du folk alternatif. Toutefois, on en a vraiment pour tous les goûts, de tous les genres de musique! Notre gamme musicale est vaste : classique, l'opéra, hip-hop… Tout groupe avec un esprit d'indépendance ou une philosophie DIY est le bienvenu. Puisque nous sommes un OBNL, avec budget serré, il est tout naturel que nous gravitions autour de la scène de la musicale indépendante.
Le Tranzac est un phare pour de nombreux groupes et organismes. Vous collaborez avec la Toronto Zine Library (une fanzinethèque torontoise), le Block Recording Club et d'autres producteurs, dont Barnyard et Rat Drifting. Quels rôles jouent ces collaborations pour votre organisme et pour le milieu?
Nous contribuons tous ensemble à bâtir une communauté et nous nous entraidons les uns les autres. Il est important d'entretenir des relations avec les producteurs, le milieu du zine ainsi qu'avec les groupes de folk traditionnel. La troupe de danse Morris Ale est un partenaire majeur du club. Notre mission est de promouvoir et de soutenir le milieu artistique. Nous sommes interpellés à chaque fois que nous dénichons un créneau incontournable qui pourrait passer sous le nez des grandes corporations, tout particulièrement lorsqu'il s'agit des représentants de l'avant-garde, du DIY et des artistes indépendants. Aux prises avec une opération de nivelage vers le haut, il devient de plus en plus cher de vivre au cœur du centre-ville de Toronto, de sorte qu'explorer ce créneau devient une nécessité plus que jamais, afin de maintenir un milieu artistique et humain équilibré.
Qu'est-ce qui distingue, selon vous, le Tranzac des autres salles à vocation lucrative?
Je crois que c'est notre mission de promouvoir le milieu artistique, qui nous distingue de ceux qui, pour leur part, s'intéressent aux profits. Cette mission est même inscrite dans le mandat que nous nous sommes donné dans notre « constitution ». Évidemment, nous cherchons, tout de même, à constamment générer des revenus!
Être un OBNL comporte-t-il certains avantages ou désavantages?
Le fait d'être un OBNL est, je pense, déterminant pour le Tranzac. C'est palpable dans l'attitude et l'énergie des bénévoles, notre travail respire le dévouement. Une constitution en OBNL signifie avoir peu ou pas de budget et bénéficier de l'aide de bénévoles motivés. En somme, notre environnement est rempli de bonnes ondes.
Que recommandez-vous à quiconque souhaiterait organiser un spectacle au Tranzac, dans n'importe quelle de vos salles?
Vous souhaitez jouer sur une scène du Tranzac? Quelque soit l'envergure ou le style de votre projet, communiquez avec moi (Robbie) au booking (at) tranzac (dot) org.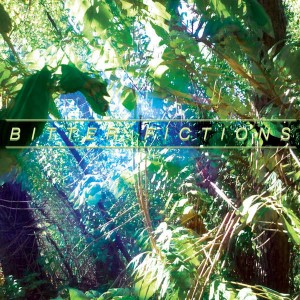 Bitter Fictions
Bitter Fictions
Calgary, AB
From the drifting cacophony of David Ferris:
For a guy who spends all day selling / writing about records — working at the much beloved Sloth and penning his weekly column for FFWD, Calgary's arts and news rag — Devin Friesen must relish the opportunity to revel in the disruption of the self-repressive fictions of "one-person/one-guitar," which he lays to waste in his Licht-ian/Niblock-ian efforts. Instead of singer-songwriter sensitivities, post-rock's predictable set-plays of major key peaks and valleys (or anything else generally expected), we are given eight patient and slow-burning pieces for chiming guitars, stochastic piles, negative space, extended technique, needles and pins, dense haze, ringing tones and expansive drones. Unpredictable, but not frenetic: one man's love affair with feedback, documented with the discerning expertise of when to dog-pile sounds and when to let them breathe.
De la dérive cacophonique de David Ferris:
(Traduit par Vincent Rondeau)
Pour quelqu'un qui passe ses journées à vendre des disques au comptoir bien-aimé de Sloth et à écrire des critiques musicales hebdomadaires pour le magazine culturel de Calgary FFWD, Devin Friesen doit se délecter de pouvoir détruire à souhait les fictions auto-répressives qui entourent « un homme et sa guitare », ce qu'il fait avec un effort lichtien, voire niblockien. Plutôt qu'une sensibilité d'auteur-compositeur-interprète ou de post-rockiste prisonnier des accords majeurs, des crêtes et des creux propres au genre, on a droit à huit pièces, à combustion lente et délibérée, pour guitares sonnantes, accumulations stochastiques, espaces négatifs, techniques étendues, fourmillements, brouillards denses, sonorités brillantes et bourdonnements. Le tout est imprévisible, mais pas frénétique. C'est l'histoire d'amour passionnée entre un homme et le feed-back, ayant pour pierre d'assise l'expertise judicieuse de Friesen, qui sait quand empiler les sons et quand les laisser respirer.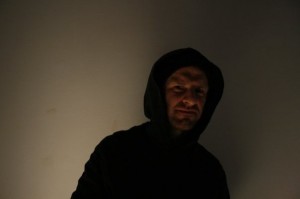 Darcy Spidle
Creative Director of OBEY Convention
Halifax, NS
From the heart of Marie LeBlanc Flanagan:
As OBEY Convention, Canada's "most important musical happenings"[1] emerges for its sixth weekend of furious glory, Marie LeBlanc Flanagan sat down with Darcy Spidle, OBEY's Creative Director, to discuss no-internet small towns, Halifax, Torso, OBEY's recent not-for-profit status, and the upcoming convention.
Marie LeBlanc Flanagan: Where does your excitement about music come from?
Darcy Spidle: I've been involved with music in one way or another since I was a toddler and have recorded and played in bands for most of my life. I was releasing and selling self made tapes in early junior high. Music is fascinating to me on both a conceptual and emotional level. It can seriously alter your state of mind and even change your life, especially in a live setting. And yet, it's all just this invisible, abstract entity. What's not to like?
As for running a label and festival, I guess that all stems from an interest in DIY projects. There's nothing more satisfying to me than seeing a plan come to life. Although I love playing music, I've never been the most talented musician. OBEY and DIVORCE are places I found in the music community where I can make a decent offering to people and utilize my skills. And despite the administrative elements, I look at both the festival and label as art projects similar to an album, movie, or painting.
Do you have any stories about early musical formative experiences? Were there any strong figures in your life that pushed you in this direction?
Sure, my mom and dad were big into music, mostly through their church. My brother and I grew up around guitars and singing. We were playing music for full church services and Sunday Schools as pre-teens. haha… Of course, we could only listen to Christian music, so we had a secret tape collection of rock and heavy metal that would sometimes get raided and destroyed. I remember being forced to read Guns and Roses lyrics out loud as a way of being shamed. Funny stuff. But yeah, my parents were always supportive in their own way.
It took awhile to really learn anything at all about music (still learning). I grew up with no internet in a small town. Early musical influences were limited to what I heard from friends, magazines, the local Radio Shack and Much Music. I watched City Limits religiously. I remember the "Dirty Boots" video from Sonic Youth being a big moment. Also, an older skateboard friend let me listen to half a Dead Kennedy's song on his walkman outside the Bank of Montreal when I was 12 or 13. That really blew my mind. I'd never heard anything like it. As I got older, I started buying tapes of local bands during rare trips to the city. One of my most cherished was the Eric's Trip – Peter cassette. I bought it on a church trip to Moncton.
Haligonians have migrated all across Canada. Why have you stayed? Is there something special about the city?
I'm a bit of a hermit and definitely have Nova Scotia and the sea in my blood. I'm very happy here and have never considered moving. If playing in a band or being social were my main pursuits, I suppose moving would be a good option, but I can live cheap and run a label and festival from here. Although I now reside a bit outside of Halifax, I do very much consider myself a Haligonian. Like a lot of arty teenagers from small towns, I felt like an outsider during my high school years and into early adulthood. Moving to Northend Halifax changed all that. It was the first time I'd ever felt like I belonged. I think Halifax is that way for a lot of people. Considering its small size, Halifax is a very cultural town that affords artists an opportunity to thrive and be seen and heard. And of course, we've always had an amazing music scene. This community is a very important part of my life, and I'm grateful to have a small role in it.
Tell us about Obey.
The OBEY Convention was started in 2007 by Sandy Saunders (aka Torso) and myself. I was doing the odd experimental shows at a place called Salvation in Halifax. DIVORCE put out a local experimental comp and some Torso releases around that time. I was also recording and performing an experimental solo thing called Shit Cook. The time was right. Sandy was pals with Bastard Noise from San Francisco. They decided to come up here, so we built a festival around it. No one in town was really offering a space for that kind of punk inspired experimental stuff, so we did it.
Obey Convention doesn't adhere to any single genre or sound. What's your curatorial process? What do you love?
Well, I subscribe to a very loose criteria, and I believe that it is important to let things evolve naturally with OBEY. It gets called an experimental music festival quite often, but I try not to ever categorize it that way. I know the purists roll their eyes when they see that tag applied. However, I do think the experimental flavour is an important characteristic of our program. And I look for bands and artists that are experimenting in some way, whether it's a band like Pissed Jeans who push past the restrictions of hardcore punk, or an artist like Pete Swanson who explores the intersection of noise and minimal techno. I believe that all our artists are bringing something new to the table. And gathering all these genres and ideas together for one intimate weekend is bound to further perpetuate this sort of exploration.
The curatorial process for me is very organic. I sometimes chat with artists for a number of years about coming to Halifax. That was the case with Corsano and Pissed Jeans. I also chat with friends from around North America who have eyes and ears on the ground. My partners at the fest and knowledgeable friends also help with these decisions.
I like to have someone somewhere vet the live show of each of our artists, especially the headliners. And, of course, I have to really like what I hear and be excited about it. So things just start to take form and I go. I never have a preconceived idea of what OBEY will look like by the time we announce. There's no agenda. People can complain that there's not enough of this or that, but I don't go into it with any overall plan. I try to let each installment take its own form.
Once I have a rough lineup, it becomes this puzzle in my mind. I usually don't sleep much for a couple of weeks as I try to schedule the festival and fill in the blanks. It's probably one of the most painful parts of the process. Since the festival follows from one event the next, it really needs to work as an entire movement. That takes a lot of work and thought. I can tell it's done when I start to feel some psychological relief.
As for what I love, it can be anything. I'm not interested in one particular genre or sound. I do try to book some kind of virtuoso every year. This year it's Chris Corsano. I'm fascinated by the idea of someone dedicating their life to the perfection of an instrument. I also like sonically intense live performances and studies in volume. I'm expecting Swanson to come through on that one. And of course, punk in one form or another will hopefully always play a role at our festival. I think the DIY ethic and anti-mainstream agenda of the early American punk movement is really the starting point for many of the genres we present.
Who helps with Obey Convention? What do they do?
It's a big list at this point. Matthew Samways from Electric Voice is the assistant director. He helps with curation and all the artist needs logistics. He's much more organized than me, and I couldn't do it without him. Evan Cardwell has been with the fest since early on. He manages sound and other tech needs for every event. During the weekend, he has the most intense job. Evan also helps with curation and presentation ideas. I usually go to him when I'm really stuck. Seth Smith does all our design. I think it is important for the festival imagery to be more about art than marketing. The imagery he comes up with represents us perfectly. Kat Shubaly is another one of our super organized people. She runs all the box office ticketing stuff during the festival. Meg Yoshida does our layout and puts together our festival guide. Andrew Patterson is one of our writers and the all around man. The list goes on, and we have any amazing and supportive board of directors as well – Nancy Urich, Natalie Slater, Matt Charlton, Dan Joyce, and Derrick Hiltz.
Attending Obey we've witnessed the incredible support from the arts community in Halifax. What kind of relationship does Obey have to the community? Is it growing? Where will it go next?
As I mentioned, Halifax is a special place. The arts community is so welcoming and supportive. I feel like a little kid sometimes, always asking more knowledgeable people for help and advice. The festival is growing, and that wouldn't be happening without this guidance and support. Again, I feel so lucky to be a part of it all. If you take a look at our sponsors, you'll see just how many people pitch in. It's remarkable to me, especially considering the obscure nature of some of our presentations.
And yes, we feel a sense of love for OBEY from the attendees and the artists. It's not always been easy to pull off. When it becomes a real struggle, it's all the people who look forward to the festival and offer their help that keep us on track.
I am motivated to make the OBEY Convention grow, for sure. Being as passes and some shows have been sold out for more than a month, it's become obvious that we have, in some ways, out grown our venues and need to look at ways to accommodate more people. That's exciting, but also challenging. It's that sense of community and intimacy that is so important to OBEY. I could see it all being lost by growing in the wrong direction. We'll all get together in the summer and figure out the right way forward. We have some ideas.
Tell us about your hardest Obey moment.
There have been many hard moments, especially in the planning stages. It can be a real challenge on many levels. As far as an actual event, we had someone smash out a huge window at one of our venues during OBEY II. It was a weird situation that cost us a lot of money that we didn't have. It was both an emotional and financial slap in the face after a tough few months of work.
And the Obey moment(s) that made it all worth it.
A defining moment for OBEY was when that very window was paid for within 24 hours by donations from the audience and supporters from across the country. haha… It was very overwhelming for me to see it happen. I'm pretty sure that experience has something to do with why the OBEY Convention still exists. That feeling of support really stuck with me.
Besides that, there have been just so many amazing performances over the years. I can't begin to list them all. I'd feel a real loss if I didn't have these shows to look forward to each spring.
Fast Five
Favorite release forever: Alice Coltrane – Journey in Satchidananda
Favorite live music moments forever: hmm… recent highlights – Bastard Noise – OBEY I, Michael Hurley – Sappy 7, Pierre Bastion – OBEY IV, Merzbow – Reflux, Eric Copeland – OBEY – 5, Dirty Beaches – OBEY 4, Grouper – St. David's, Willie Nelson – Metro Centre, Colin Stetson at Halifax Jazz Fest and on and on…. I could never pick one, and my memory doesn't go back too far!
Favorite spots in Halifax: The Khyber, Java Blend, Point Pleasant Park, Barrington St, Fuller Terrace
Favorite surf spot: If I told, I'd be run out of the Eastern Shore.
Favorite living human: Aaron Levin
(Traduit par Catherine Debard et Jean-Étienne Sheehy)
Marie LeBlanc Flanagan: D'où provient ton excitement envers la musique?
Darcy Spidle: J'ai fréquenté la musique d'une façon ou d'une autre depuis que je suis enfant et j'ai enregistré et joué dans des groupes la majorité de ma vie. Je sortais des cassettes que j'avais faites et les vendais lorsque j'étais au secondaire. La musique me fascine à la fois au niveau conceptuel et émotionnel. Elle peut carrément altérer ton état d'esprit, et même changer ta vie, et ce, particulièrement dans un contexte live. Et pourtant, c'est seulement une entité abstraite invisible. Qu'est-ce qu'on peut ne pas aimer?
Pour ce qui est de faire rouler une compagnie de disques et un festival, je crois que ça découle d'un intérêt pour les projets DIY (fais-le toi-même). Il n'y a rien de plus satisfaisant pour moi que de voir un projet prendre vie. Même si j'adore faire de la musique, je n'ai jamais été le plus talentueux. J'ai trouvé en OBEY et DIVORCE l'endroit dans la communauté musicale où je peux offrir quelque chose de décent et utiliser mon savoir-faire. Malgré le côté administratif, je perçois le festival ainsi que le label comme des projets artistiques au même titre que créer un album, un film, ou une peinture.
As-tu des histoires d'expériences formatrices lors tes débuts avec la musique?
Certainement, ma mère et mon père étaient des adeptes de musique, surtout à travers leur église. Mon frère et moi avons grandi parmi les guitares, à chanter. Lorsqu'on était préadolescents, on faisait de la musique pour les messes et l'école du dimanche. Haha… Évidemment, on ne pouvait qu'écouter de la musique chrétienne, donc, on avait une collection secrète de cassettes de rock et de heavy metal qui éventuellement se faisait traquer et détruire. Je me souviens avoir été obligé de lire à voix haute les paroles d'une chanson de Guns and Roses afin de ressentir la honte. Assez drôle. Mais oui, à leur façon, mes parents ont toujours été un support.
Ça m'a pris du temps avant de vraiment apprendre quelque chose sur la musique (j'apprend encore). J'ai grandi sans internet dans une petite ville. Mes influences étaient à l'époque ce que j'avais entendu par des amis, dans les magazines, le Radio Shack local et Much Music. J'ai regardé City Limits religieusement. Un moment fort pour moi, je me souviens, est de voir le vidéo de "Dirty Boots" de Sonic Youth. Également, un ami skateboarder plus âgé m'a laissé écouté la moitié d'une chanson de Dead Kennedys dans son walkman en-dehors de la Banque de Montréal, quand j'avais 12 ou 13 ans. Ça m'avait totalement stupéfié. Je n'avais jamais rien entendu comme ça. Plus vieux, j'ai commencé à acheter des cassettes de groupes locaux lors des rares voyages en ville. Celle que je chérissais le plus était Peter cassette de Eric's Trip. Je l'ai acheté lors d'un voyage organisé par l'église, à Moncton.
Des Haligoniens ont migré partout au Canada. Pourquoi es-tu resté à Halifax? Il y a quelque chose de spécial dans cette ville?
Je suis un peu un ermite et j'ai définitivement la Nouvelle-Écosse et la mer dans le sang. Je suis très heureux ici et je n'ai jamais considéré déménager. Si mon but était de jouer dans un groupe ou d'être socialement actif, je suppose que déménager serait une bonne option, mais d'ici, je peux vivre pour pas cher, avoir une compagnie de disque et un festival. Quoique maintenant je réside un peu en dehors de la ville, je me considère toujours comme Haligonien. Comme beaucoup d'adolescents artistiques qui grandissent dans de petites villes, je me suis senti comme un étranger durant mes années d'école secondaire et mes débuts de vie adulte. Déménager à Northend Halifax a totalement changé ma vie. C'était la première fois que je sentais que j'appartenais à quelque chose. Je crois que pour beaucoup de gens, Halifax représente le même refuge. Considérant sa petite superficie, Halifax est une ville très culturelle qui offre une opportunité aux artistes de travailler et d'être vus et entendus. Et naturellement, nous avons toujours eu une excellente scène musicale. Cette communauté est une importante partie de ma vie et je suis reconnaissant d'y avoir un petit rôle.
Parle-nous de Obey.
OBEY Convention a été créé en 2007 par Sandy Saunders (aka Torso) et moi-même. Je faisais des shows expérimentaux étranges dans un endroit nommé Salvation, à Halifax. À cette époque, DIVORCE avait sorti une compilation de groupes locaux expérimentaux et quelques disques de Torso. J'enregistrais moi-aussi et performais solo sous le nom de Shit Cook. L'alignement était parfait. Sandy était ami avec Bastard Noise de San Francisco. Ils ont décidé de venir alors on a bâti un festival autour de leur passage. Personne en ville n'offrait vraiment de place pour ce genre de musique punk expérimental alors on l'a fait.
Obey Convention n'adhère à aucun genre en particulier, à aucun son. Quelle est votre vision? Qu'aimez-vous?
Eh bien, mes critères sont assez larges, et je crois qu'il est important que les choses évoluent naturellement avec OBEY. On en parle souvent comme d'un festival de musique expérimentale mais j'essaie de ne pas trop le catégoriser ainsi. Je sais que les puristes roulent les yeux vers le ciel lorsqu'ils voient ce type de tag. Cependant, je crois que la saveur expérimentale est une caractéristique importante de notre programmation. Et je cherche des groupes et des artistes qui expérimentent d'une façon ou d'une autre, que ce soit un groupe comme Pissed Jeans qui pousse sa musique au-delà des restrictions du punk hardcore, ou un artiste comme Pete Swanson qui explore l'intersection entre le noise et le techno minimal. Je crois que tous nos artistes apportent quelque chose de neuf. Et l'action de rassembler tous ces genres et toutes ces idées pour une fin de semaine intimiste est vouée à perpétuer cette sorte d'exploration.
Le rôle de curateur, pour moi, est très organique. Je corresponds parfois avec des artistes durant des années, à propos de venir à Halifax. C'était le cas à propos de Corsano et de Pissed Jeans. Je chat aussi avec des amis de partout en Amérique du Nord qui sont à l'affut du milieu musical. Mes partenaires au festival et amis avisés m'aident dans ces décisions.
J'aime avoir quelqu'un, quelque part, qui sait où se déroulent les concerts de tous nos artistes, spécialement les têtes d'affiches. Et, évidemment, je dois adorer ce que j'entends et être vraiment excité de les voir jouer. Alors les choses prennent forme et ça décolle. Je n'ai jamais d'idée préconçue quant à la programmation en général d'une édition d'OBEY, au moment de son annonce. Il n'y a pas d'agenda. Les gens peuvent se plaindre qu'il n'y a pas assez de ci ou de ça, mais je n'y vais jamais avec un plan d'ensemble. J'essaie de laisser chaque édition prendre sa propre forme.
Dès que j'ai une idée brouillonne de l'alignement, ça devient un casse-tête dans mon esprit. Je ne dors généralement pas trop durant les semaines où j'essaie de programmer le festival et remplir les trous. C'est probablement la partie la plus douloureuse du processus. Puisque le festival est un enchainement d'évènements, il doit être construit comme un mouvement entier. Ça demande beaucoup de travail et de réflexion. Je peux dire que c'est fait lorsque je sens un relâchement et un soulagement psychologique.
Pour ce qui est de ce que j'aime, ça peut être n'importe quoi. Je ne suis pas intéressé à un son ou genre en particulier. J'essaie cependant de booker un virtuose au moins à chaque année. Cette année, c'est Chris Corsano. Je suis fasciné par l'idée d'un musicien qui consacre sa vie entière pour le perfectionnement d'un instrument. J'aime également les performances et études sonores intenses. Je m'attends à ce que Swanson nous offre exactement ça. Et bien sûr, le punk, sous une forme ou une autre, jouera toujours un rôle important dans notre festival. Je crois que l'éthique DIY et l'anti-mainstream des débuts du mouvement punk américain est réellement le point de départ de plusieurs genres que nous présentons.
Qui vous aide avec Obey Convention? Que font-ils?
C'est une longue liste. Matthew Samways d'Electric Voice est le directeur adjoint. Il aide à la programmation et coordonne tous les besoins des artistes au niveau logistique. Il est beaucoup plus organisé que moi et je ne pourrais pas le faire sans lui. Evan Cardwell a été avec le festival depuis les débuts. Il gère le son et autres besoins techniques pour chaque évènement. Durant la fin de semaine, il a le travail le plus intense. Evan aide également à la conception de la programmation et à la présentation. Je vais généralement le chercher quand je suis bloqué. Smith fait l'entièreté de notre graphisme. Je crois qu'il est essentiel que le visuel du festival soit davantage de l'art que du marketing. Le visuel qu'il apporte nous représente parfaitement. Kat Shubaly est une autre de nos personnes super organisées. Elle s'occupe de la vente des billets et autre durant le festival. Meg Yoshida s'occupe de l'infographie et met sur pied le guide du festival. Andrew Patterson est l'un de nos auteurs et homme à tout faire. La liste continue, et nous avons un extraordinaire conseil d'administration qui nous soutien – Nancy Urich, Natalie Slater, Matt Charlton, Dan Joyce, and Derrick Hiltz.
Lorsque nous étions à Obey, nous avons été témoins d'un support incroyable de la part de la communauté artistique de Halifax. Quelle sorte de relation a Obey avec la communauté? Est-ce qu'elle grandit? Où se dirige-t-elle?
Comme je l'ai mentionné, Halifax est un endroit spécial. La communauté artistique y est vraiment accueillante et d'un grand soutien. Je me sens parfois comme un enfant, demandant sans cesse des conseils et de l'aide à des personnes plus expérimentées. Le festival grandit et ça ne pourrait arriver sans ces conseils et ce support. Je me sens privilégié de faire partie de tout ça. Si vous regardez qui sont nos sponsors, vous verrez la quantité de gens qui s'investissent dans le projet. C'est remarquable, pour moi, spécialement en considérant la nature obscure de certaines de nos présentations.
Et oui, nous ressentons un sentiment d'amour de la part des participants et artistes. Ça n'a pas toujours été facile de monter tout ça. Quand ça devient un vrai combat, ce sont tous les gens qui ont hâte au festival et offrent leur soutient qui nous gardent sur la bonne voie.
Je suis motivé à faire grandir OBEY Convention, certainement. En voyant la quantité de passes vendues et de shows sold out, il est devenu évident que nous avions, en quelque sorte, dépassé la capacité des salles dans lesquelles nous présentions et que nous devions trouver des manière d'accommoder plus de gens. C'est excitant mais c'est aussi un défi. C'est ce sentiment de communauté et d'intimité qui est si important pour OBEY. Je pourrais voir tout ça être perdu si nous grandissions dans la mauvaise direction. Nous allons tous nous rassembler cet été et tenter de trouver une bonne manière d'évoluer. Nous avons quelques idées.
Parle-nous de ton moment Obey le plus difficile.
Il y a eu beaucoup de moments difficiles, spécialement lors de la planification. Ça peut être vraiment ardu à plusieurs niveaux. Lors d'un évènement, quelqu'un a fracassé une énorme fenêtre dans une des salles de spectacles. C'était une situation bizarre qui nous a couté beaucoup d'argent que nous n'avions pas. C'était une gifle à la fois émotionnelle et monétaire après les quelques mois de travail acharné.
Et le moment Obey qui fait que ça en vaut la peine.
La réparation de cette même fenêtre dans les 24 heures après l'incident, grâce aux dons du public et de personnes provenant de partout au pays est un moment clé pour OBEY. Haha… C'était vraiment incroyable pour moi de voir ce qui se produisait. Je suis certain que cette expérience a à voir avec pourquoi OBEY existe encore aujourd'hui. Ce sentiment de soutien est vraiment resté avec moi.
Mise à part ça, il y a juste eu tellement de performances exceptionnelles au fil des années. Je ne peux même pas commencer à les énumérer. Je ressentirais un vrai manque si je n'avais pas, à chaque printemps, hâte de voir ces spectacles.
Rapidement, 5 questions
Meilleur album à vie: Alice Coltrane – Journey in Satchidananda
Meilleur moment lors d'un spectacle: hmm… les points forts récents – Bastard Noise – OBEY I, Michael Hurley – Sappy 7, Pierre Bastion – OBEY IV, Merzbow – Reflux, Eric Copeland – OBEY – 5, Dirty Beaches – OBEY 4, Grouper – St. David's, Willie Nelson – Metro Centre, Colin Stetson au Halifax Jazz Fest et ça continue…. Je ne pourrais jamais en choisir un, et ma mémoire ne recule pas si loin!
Meilleurs endroits à Halifax: The Khyber, Java Blend, Point Pleasant Park, Barrington St, Fuller Terrace
Meilleur endroit de surf: Si je le dis, je suis barré de la côte est.
Être humain favori: Aaron Levin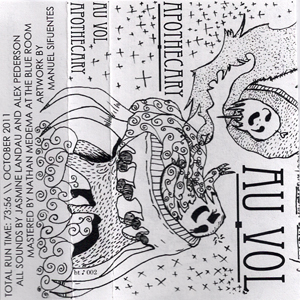 Au Vol
Apothecary
(Self Released)
Thunder Bay, ON // Ottawa, ON
From the twisted Messendres of Aaron Levin:
Canada's cantankerous centrifuge (read: Thunder Bay) births another industrial mammoth. Rolling in throws of topological warble and droning magnificence, Au Vol soaks the diligent mind in patterns of pseudorandom bliss. Apothecary is not without its minimal ambience, bringing a truer vision into the audio dialog coursing through the Canadian Shield.
Des Messendres tordues d'Aaron Levin: (Traduit par la baie de tonnerre de Maya Keshav)
La centrifugeuse acariâtre du Canada (ça veut dire: Thunder Bay) donne naissance à un autre hercule industrial. En se vautrant dans les couches de gazouillis topologique et de splendeur bourdonnante, Au Vol trempe le cerveau numérique des motifs de joie pseudo-aléatoire. Apothecary n'est pas sans son ambiance minimale, en apportant une vision plus vraie au dialogue audio qui coule dans le Bouclier canadien.
---