Tag: ex libris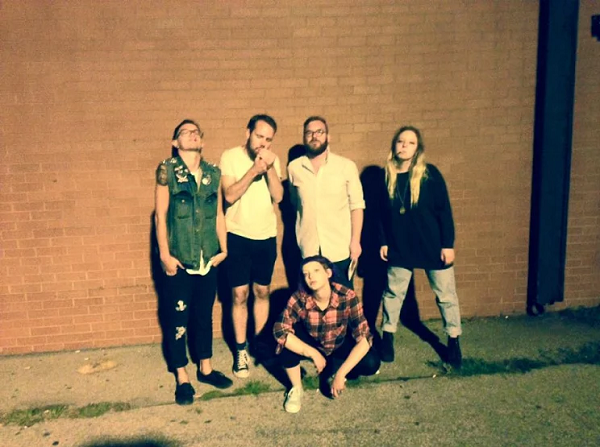 Worst Case Ontario
(Photo by: Madi Moon)
Various, Canada
From the hyperbolic manifesto of Eileen Wennekers:
Worst Case Ontario is a poetry reading tour covering the St. Lawrence basin and the Northeastern USA. The tour wound down in Ottawa on August 29th. While in Toronto, wordsmiths dalton derkson, Jessica Berbenek, JC Bouchard, Julie Manell, and JM Francheteau spoke to us about their trek:
Your work seems to hold a peculiar fascination for having nasty, messy, meaty, pointy bodies in pathological spaces. Thanks.
JB: I don't think we could say it much better than that. I definitely think that's something that ties us together in terms of the subject matter. Dalton and JC chose everyone for the tour.
dd: There's a gutter, small town, grittiness in all of our works, so good eye on that.
JMF: I think a lot of writing, or creative writing, comes from feeling different from people, or from feeling that you can't explain some aspect of your experience to others, so I think in my case poetry came out of not wanting to constantly be explaining myself. I could just take things that were powerfully and at times inexplicably charged with significance to me, that suggested something that I couldn't quite articulate, and then share that. So that fits with those elements of anxiety about the body, or about how you socially fit in with other people.
What happens when all of that gets in the van?
JB: It's what we're all scared of.
JCB: We actually don't know yet. This is the first time we've all been together outside of a chat or a digital communication, JM: It worked out well in the virtual van
JCB: In the virtual van, it worked out well. We don't know what will happen, but I think it will be just as good.
dd: It's going to be a real fun Ford Fusion, for sure
JMF: Or something like that.
JB: We only have the one driver, which I think will be interesting.
Do you have a dream tour manifesto? If you were going to be like the Futurists and say why you're doing this tour, to put it in really hyperbolic language, what would you say?
JCB: Should we huddle first?
dd: I'm just gonna throw one thing, and then just people fuckin' spitball off it or whatever. So my whole thing with JC was: don't wait around for someone else to do it, just do it. Do it yourself. Set it up and go with it. If it's something you want to do, then put in the effort and do it, and it will probably turn out.
JM: We're more powerful together than we are alone at this stage in our writing.
JCB: I hope in the future it may serve as an example to young or emerging poets – or whoever – that they can do the same too, and it's not as hard and daunting as some people might think. I mean, it takes a lot of work, but it's doable. So don't be afraid.
JM: But also no one will ever do it again.
Du manifesto excessif de Eileen Wennekers:
(Du poète traducteur Kevin Godbout)
Worst Case Ontario est une tournée de lecture de poésie qui s'est donnée dans le bassin du Saint-Laurent et dans le nord-est des États-Unis. La tournée a pris fin à Ottawa le 29 août dernier. Lorsqu'ils étaient de passage à Toronto, les artisans des mots dalton derkson, Jessica Berbenek, JC Bouchard, Julie Manell, et JM Francheteau se sont entretenus avec nous pour nous parler de leur périple:
Votre travail semble vouer une fascination particulière aux corps sales, désordonnés, étoffés et pointus au sein d'espaces pathologiques. Merci.
JB: Je ne crois pas que nous pourrions mieux le dire. Je crois définitivement que c'est quelque chose qui nous unit ensemble par rapport à notre matière. Dalton et JC ont choisi toutes les personnes pour la tournée.
dd: Il y a bel et bien un élément de gouttière, de petite ville, de quelque chose qui grince dans toutes nos oeuvres, bien vu.
JMF: Je crois que beaucoup d'écriture, ou d'écriture créative viennent quand on se sent différent des autres, ou quand on se sent incapable d'expliquer un aspect de nos expériences aux autres. Alors je pense que dans mon cas, la poésie est sortie de mon désir de ne pas avoir à constamment m'expliquer. Je pouvais simplement prendre des choses qui étaient puissantes et parfois très chargées de signification pour moi, qui suggéraient quelque chose que je ne pouvais articuler, et ensuite partager tout cela. Alors, ça permet d'expliquer ces éléments d'anxiété à propos du corps, ou de la façon dont on s'adapte socialement avec d'autres personnes.
Qu'arrive-t'il quand tout cela entre dans la fourgonnette?
JB: C'est ça qui nous fait peur.
JCB: Nous l'ignorons en ce moment. C'est la première fois que nous sommes ensemble en dehors d'une causerie, d'une discussion électronique.
JM: Ça fonctionnait bien dans la fourgonnette virtuelle.
JCB: Là, c'était correct, nous ne savons pas ce qu'il arrivera, mais je crois que ce sera aussi bon.
dd: Ce sera une Ford Fusion plaisante, c'est certain.
JMF: Ou l'équivalent.
JB: Et nous avons un seul conducteur, ce qui promet d'être intéressant.
Avez-vous un rêve d'une tournée de genre manifeste? Si vous étiez comme des Futuristes, et disiez pourquoi vous faites cette tournée, pour l'expliquer en langage compliqué, que diriez-vous?
JCB: Est-ce qu'on fait un caucus?
dd: Je vais lancer une autre chose, et les gens pourront l'utiliser pour brainstormer, ou peu importe. Mon affaire avec JC est ceci: n'attend pas que quelqu'un d'autre le fasse, fais-le. Fais-le toi-même. Prépare le nécessaire et va. Si c'est quelque chose que tu veux faire, mets l'effort et fais-le, et ça ira certainement bien.
JM: Nous sommes plus puissants ensemble que seuls à cette étape de notre écriture.
JCB: J'espère que dans le futur, ce sera un exemple aux jeunes ou nouveaux poètes, ou peu importe, qu'ils peuvent faire pareil, et que ce n'est pas aussi difficile et intimidant que les gens croient. Je veux dire, c'est du travail, mais c'est faisable. Il faut ne pas avoir peur.
JM: Mais aussi, personne ne le fera de nouveau.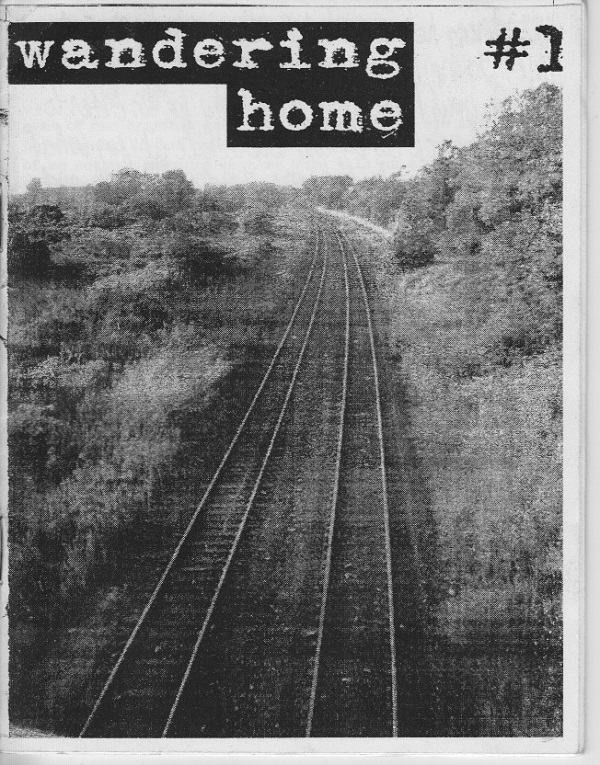 Michelle Pentland
Wandering Home #1
(Self-Published)
Niagara Falls, ON
18 pages saddle stitch stapled
From the zine-filled bedroom of Erin War:
Have you wandered before? Taken your time to get home? Stopped to pet the cats along the way? Lingered to read bits of paper tacked to telephone poles? It's not the destination that is important, but how you get there; the trip and what happens during it.
Wandering Home is based on a collection of journal entries Michelle Pentland wrote at the age of sixteen. Pentland matter of factly recounts the beauty and challenges discovered during the firsts of life – first trip across Canada, first apartment, first memories – reaching back into memory and pulling out the tiny details that make up our tiny lives – the smells, the sounds, and the good the bad feelings.
This quarter-sized zine's gritty, grainy, and cut and paste aesthetic works journal entries and internal, reflective thought into an homage of the perzine form. Wandering Home is about being present during these wanders, taking those moments (heartwarming and heartbreaking) and experiencing them in earnest because these are the bits that make up the bigger bits of our lives.
This is just the first issue of many to come.
De la chambre remplie de zines d' Erin War:
(Traduit par Kevin Godbout)
As-tu déjà erré? Pris ton temps en rentrant à la maison? Ralenti pour flatter les chats le long du trajet ou pour lire des feuilles agrafées sur les poteaux de téléphone? Ce n'est pas la destination qui compte, mais la façon de s'y rendre; le voyage et ce qui s'y passe.
Wandering Home est une collection d'entrées de journal que Michelle Pentland a écrites quand elle avait seize ans. Sur un ton neutre, elle raconte les défis et la beauté des premières — les premiers souvenirs, le premier appartement, le premier voyage à travers le Canada —, fouillant dans sa mémoire pour y puiser tous les petits détails qui composent nos petites vies — les sons, les odeurs, les bonnes émotions et les mauvaises.
Cette toute petite publication au fini granuleux et à l'apparence rapiécée transforme les textes et les pensées qui l'habitent en un hommage du style perzine. Lire Wandering Home, c'est être présent durant ces promenades, c'est prendre ces moments (qui réchauffent le cœur ou qui le brisent) et les vivre sincèrement, car ce sont tous ces petits morceaux qui composent en grande partie nos vies.
Ce n'est que le premier volume de plusieurs à venir.
Jay Winston Ritchie
Something You Were, Might Have Been, Or Have Come to Represent
Montreal, QC
From the caricature of Dianne Lalonde:
"The idea of encountering another human being seemed paradoxical to being human." A person-shaped hole is formed for each individual by others – expectations coalescing to fit perfectly the physical body. Jay Winston Ritchie details how the productions of Something You Were, Might Have Been, Or Have Come to Represent pummel the body like hundreds of fish rocketing out of a tube to reinforce their stock. Blows mold you in accordance to what the other's desire projects onto you. You're nothing but signifiers: your neighborhood, the music you play, the hummus you brought to the party Immersion into your hole lessens the brain noise, but not the frustration when confronted with something that cannot be rehearsed or pre-empted. By those words that cannot be easily translated into the symbolic order—stuck in your throat—I meant to say…
De la caricature de Dianne Lalonde: (De la fren-caricature de Kevin Godbout) « The idea of encountering another human being seemed paradoxical to being human. » Chaque individu crée un trou de la taille d'une personne pour y enfouir les autres – les attentes s'unissant jusqu'à former parfaitement l'enveloppe physique. Jay Winston Richie détaille comment les productions de Something You Were, Might Have Been, Or Have Come to Represent labourent le corps comme des centaines de poissons projetés dans un lac pour le réensemencer; les coups te modelant en fonction des désirs que l'autre projette sur toi. Tout ton être n'est que signifiants : ton quartier, la musique écoutée, l'hummus apporté à la soirée. L'immersion dans ton trou réduit les bruits dans ta tête, mais pas la frustration éprouvée quand tu fais face à une chose ne pouvant être répétée ou anticipée. Par ces mots pris dans ta gorge que l'ordre symbolique n'arrive pas à traduire facilement… Ce que je voulais dire c'est…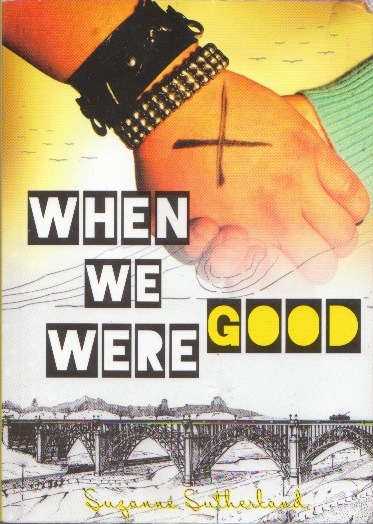 When We Were Good
Suzanne Sutherland
Toronto, ON
227 pp., perfect bound
From the out of step heart and head of Annelise Dowd:
Stand in any busy hallway, whether it's comprised of doctors or students or the recently bereaved, and you're guaranteed to hear a word so many times its one syllable no longer makes sense. A word so overused and meaningless that it feels gaseous and light between your teeth because it constantly occupies space there. This word is "good." But what truly entails being "good"? The clean and hollow euphoria of puritanical ethics? Or simply, to feel "good" within oneself? During teenage-hood, as the main character of Suzanne Sutherland's excellent When We Were Good attests, it's difficult to feel anything but "lying-in-my-room-alone-with-a-CD-on-good."
Sutherland's decidedly queer/feminist YA novel follows Katherine Boatman, a sixteen-year-old Torontonian grappling with depression in the wake of familial loss. A disillusioned Katherine parts through grief's thick fog to find a mysterious straight edge punk named Marie and a place where lyrics are poetry, X's on hands are religious iconography, and punk shows can shake one's innermost being with spiritual fervor. The strictly punk soundtrack (think Jawbreaker, Sonic Youth, and Minor Threat references) Marie introduces is raw and visceral, mirroring the electricity of teenagehood's first touches, heartbreaks, and unbridled rage.
When We Were Good doesn't eschew teenage romance and bildungsroman narratives, but instead employs them through the lens of queerness and mental health, transforming them into something new and gleaming and important. With every mixtape exchanged Katherine's relationship with Marie moves through mild fascination, to steadfast friendship, to love. Katherine finds that if to be "good" is to be at home, then home is not found between the words of any straight edge rulebook, but instead lies within the recesses of the identity she accepts herself. And it is here where Sutherland transfigures the classic Salinger "Who am I?" for a more timely and significant sentiment: "How can I figure out who I am and be okay if everyone is calling me a slut and a dyke?"
Du coeur et de la tête déconnectés de Annelise Dowd:
(Des pensées quasi-francophones de Kevin Godbout)
Tenez-vous au milieu d'un couloir occupé, que vous y voyiez des docteurs ou des étudiants ou des récemment endeuillés, vous êtes garanti d'entendre un mot tellement souvent que sa seule syllabe perd tout son sens. Un mot tellement surutilisé et dépourvu de sens qu'il ressemble à une forme gazeuse et légère entre vos dents, car il occupe toujours un espace dans votre bouche. Ce mot est ­«bon» (good). Mais qu'entend-on par être «bon»? L'euphorie nette et vide d'une éthique puritaine? Ou tout simplement, de se sentir «bon» soi-même? Durant les tristes moments de l'adolescence, comme le dit le personnage principal de l'excellent roman When We Were Good de Suzanne Sutherland, il est difficile de se sentir autre que «à-terre-dans-ma-chambre-seul-avec-un-CD-bon» (lying-in-my-room-alone-with-a-CD-on-good).
Ce roman pour jeunes adultes, aux tons décidément féministes/queer de Sutherland, suit Katherine Boatman, une adolescente de seize ans de Toronto aux prises avec une dépression à la suite d'un deuil familial. Désillusionée, elle diffuse l'épais brouillard de sa tristesse pour trouver une punk mystérieuse nommée Marie, et un endroit où les paroles de chansons sont des poèmes, des ­«X» sur les mains sont des icônes religieux, et des concerts punk peuvent secouer l'être intérieur de tous avec une ferveur spirituelle. La bande sonore strictement punk (il faut penser aux groupes Jawbreaker, Sonic Youth, and Minor Threat) introduite par Marie est brute et viscérale, en plus de refléter les premiers contacts électriques de l'adolescence, les coeurs brisés et la rage pure.
When We Were Good ne rejète pas l'amour entre des ados, ni la narrative d'un bildungsroman, mais utilise ces éléments perçus à travers la lentille d'une réalité queer et de problèmes de santé mentale. Cet état les transforme en quelque chose de nouveau, étincelant et important. Avec chaque mixtape qu'ils s'échangent, la relation de Katherine envers Marie évolue de la fascination, vers une grande amitié, et même jusqu'à l'amour. Katherine réalise que si pour être ­«bon» il faut être chez soi, alors ce chez-soi ne se trouve pas dans un livre de règles, mais existe plutôt à l'intérieur des cavités de l'identité qu'elle accepte elle-même. Et c'est ici que Sutherland transfigure le ­«qui suis-je» (Who am I) de Salinger pour un sentiment plus contemporain et significatif: «Comment vais-je découvrir qui je suis et l'accepter si tout le monde m'appelle une pute et une gouine?»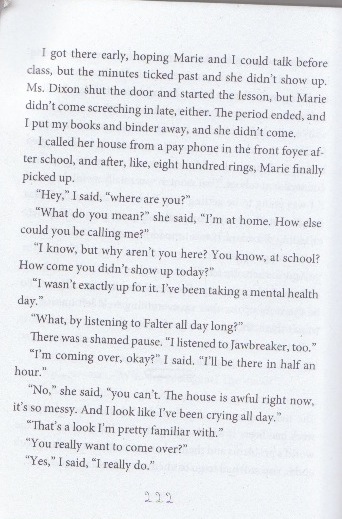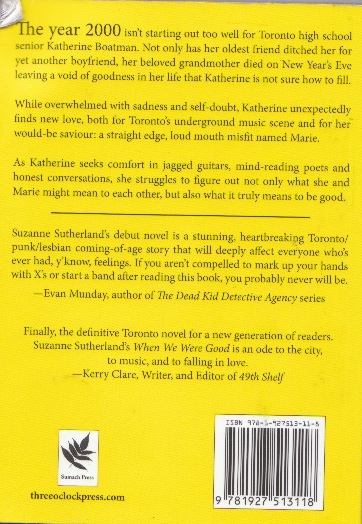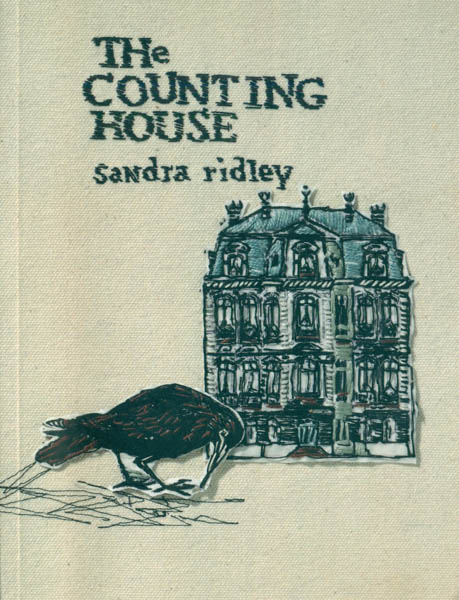 Sandra Riley
The Counting House
(BookThug)
Toronto, ON
96 pages, perfect bound
From … Dianne Lalonde:
Room to breathe in Sandra Riley's writing – slack action – a courtesy not often afforded. Not being one of two witnesses in love and domination, we are offered glimpses into elements of the unconscious all too familiar. Projection, rejection.
Questions regarding the productive nature of violence/docility. Who I am after you? Eventually only ghosted – thoughts, a voice, a presence long after.
"I deny I fell – I curtsied."
De … Dianne Lalonde:
(Traduit par Jessica Grenier)
Les écrits de Sandra Riley laissent un peu de place pour respirer, un luxe que l'on se permet rarement – de l'action épisodique. N'étant pas l'un des deux témoins de l'amour ou de la domination, on peut apercevoir des éléments d'un inconscient déjà trop familier. Projets, rejets…
Un questionnement sur la nature productive de la docilité/violence. Qui suis-je après toi? Et puis, un jour, seulement le fantôme d'une idée, d'une voix, d'une présence qui nous manque.
« Je n'ai pas chuté – j'ai tiré ma révérence. »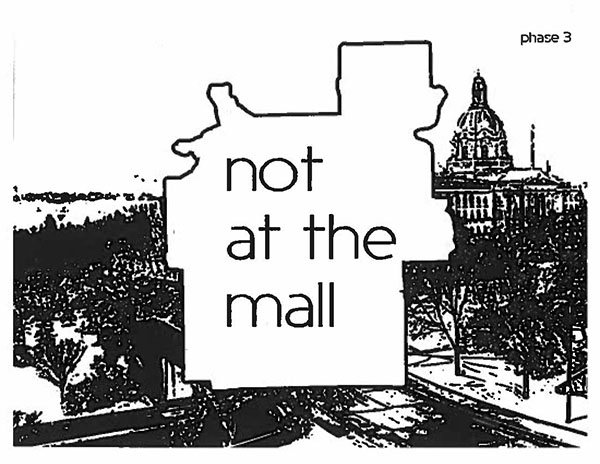 Not at the Mall – Phases 3-6
One born and raised Edmontonian and one transplanted Southern Albertan
4 issues, 8 pages each, saddle stitch by thread
(Self Released)
Edmonton, AB
From the cartographies of Brian Fauteux:
Sometimes we need to be reminded about where and how to locate culture and have experiences outside of places that beg, "You need to be here, you need to shop here, you need to be seen here."
Recalling the Situationists' derive, Not at the Mall contains traces, maps, fragments, soundtracks, and guides for locating one's self in Edmonton, calling attention to our presence in the city, peeling back the spectacle's veneer to release "everything in this northern, land-locked island town, that's not at the mall."
Readers are invited to search and explore the city. An image of a painted flamingo, in-flight, soars across a building's facade, asking us, "Can you find this door?"
"One of the greatest moments of winter is the moment just before you get on the ice." Yes, it's cold here, most of the time. But there's beauty in this frozen landscape. We learn this from the black-billed magpie, a long-time permanent resident who navigates the Edmonton winter eating seeds, rodents, and the garbage that's been left outside.
De la cartographie de Brian Fauteux:
(Traduit par Jessica Grenier)
Nous avons parfois besoin de nous faire rappeler comment – et où – trouver de la culture et avoir des expériences ailleurs que dans les endroits qui nous supplient : « Vous devez venir ici / acheter ici / être vus ici ».
Gardant en tête la dérive des Situationnistes, Not at the Mall contient des cartes, des fragments, des trames sonores et des guides pour se localiser à Edmonton tout en focalisant l'attention sur notre présence géographique et en retirant le vernis spectaculaire pour tout libérer « dans cette ville-île nordique encrée sur terre, qui n'est pas au centre commercial. »
Les lecteurs sont invités à chercher en ville pour l'explorer : le dessin d'un flamand rose en plein vol sur la façade d'un immeuble nous demande « Pouvez-vous trouver cette porte? ».
« Un des meilleurs moments de l'hiver est celui juste avant de monter sur la glace. » Oui, il fait froid la plupart du temps ici, mais il y a de la beauté dans ce paysage gelé. C'est ce que nous apprend la pie d'Amérique, qui réside ici depuis longtemps et qui passe l'hiver à manger des graines, des rongeurs et les poubelles qui traînent dehors.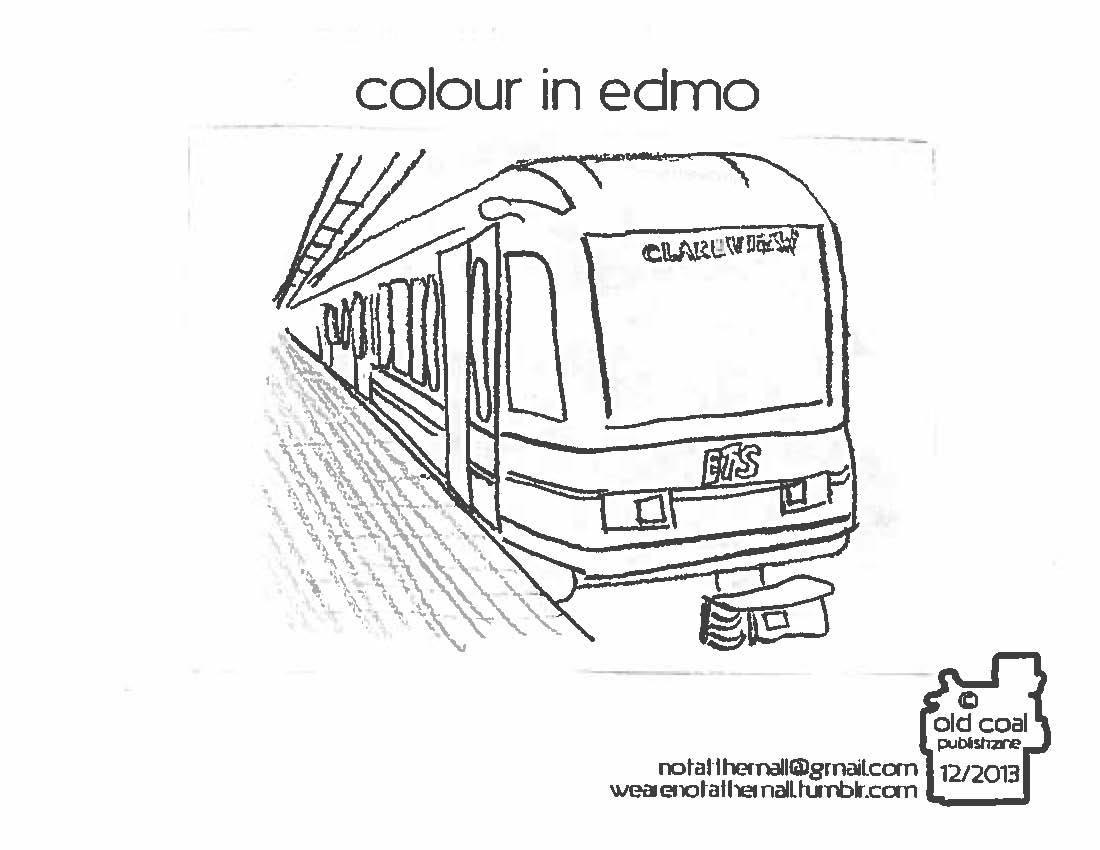 From the zine filled bedroom of Erin War:
Zine introductions usually start out sounding something like this: "I'm sorry for getting this out so late" or "this zine took so long to finally get together." But not the one for Humor -vs- Hell. Aaron dives right in but not without warning. Writing that this was their plan the whole time, Aaron presents us with a drunk introduction that is not as incoherent and regretful as you might think.
HvsH is only thirteen pages long but it's stacked. The Greatest Giggle in History is a fable about a great cloud of gloom that threatens a population of pot smoking hippies with its negative thoughts and bad trips. Ham sandwiches are thrown into a Glowing Triangle to make it funny. Themes that seem obscure in the beginning of Aaron's pieces show themselves before the conclusion and come full circle.
The futuristic kittens, humorous ham sandwiches, and talking household appliances that populate Aaron's writing show up through a combination of a few different styles of writing and genres that are commonly found in zines, but not usually combined. Aaron keeps the reader focused and resists the temptation to wander off into convoluted imagery that no one understands but the author. It's not something you would normally find me picking up at a zine fair, but having selected it at total random, I enjoyed it. Playful, creative, and with good formatting, HvsH is a great contribution to the East Coast zine scene.
De la chambre remplie de magazines d'Erin War:
(Traduit par Jessica Grenier)
Les introductions des fanzines commencent souvent par quelque chose du genre « Désolé pour le retard de ce numéro » ou « ça a finalement été très long avant de réussir à monter ce fanzine », mais ce n'est pas le cas avec Humor -vs- Hell. Aaron plonge au cœur du sujet, mais pas sans avertissement : il nous offre une introduction enivrée qui n'est pas aussi remplie de regret et d'incohérence qu'on le pourrait penser.
HvsH ne fait que 13 pages, mais elles sont pleines à craquer. The Greatest Giggle in History est un conte à propos d'un énorme nuage de morosité qui menace une population de hippies fumeurs de pot avec des pensées négatives et des bad trips. Dans Glowing Triangle, les lancers de sandwichs au jambon le rendent divertissant. Des sujets qui semblent obscurs au début des textes choisis se dévoilent avant la fin, bouclant ainsi la boucle.
Les chatons futuristes, les sandwichs au jambon humoristiques et les électroménagers parlants qui peuplent l'écriture d'Aaron parsèment une combinaison de divers genres littéraires et styles d'écriture que l'on retrouve souvent dans les fanzines, mais rarement combinés ensemble. L'auteur sait conserver l'attention du lecteur tout en résistant à l'envie de se perdre dans des images alambiquées qu'il serait le seul à comprendre. C'est un magazine que je n'aurais pas spontanément choisi dans un salon en temps normal, mais je l'ai choisi au hasard, et j'ai bien aimé. Joyeux, créatif et avec un bon format, HvsH est une belle contribution aux fanzines de la côte est.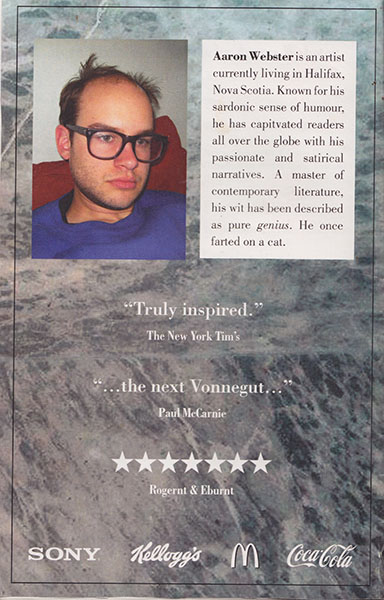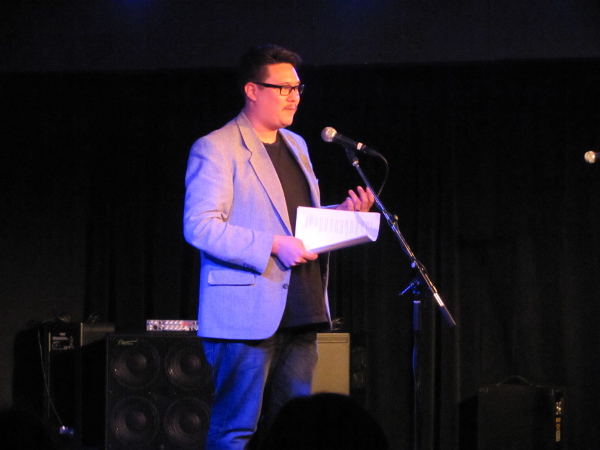 Jordan Abel
Poet, Writer, Eraser
Vancouver, BC
From the poignant foray of Joshua Robinson:
The craft of erasure poetry – the process of reconstituting pre-existing public domain works – is one of the insertion of oneself into the work of another, meticulously absorbing this content and inferring personalized meaning that directs one in their engagement of implicit poetics. Vancouver's Jordan Abel, in his recently published works The Place of Scraps and the chapbook Injun, applies his quiet art of erasure, yielding a poetic voice empowered by cultural heritage, the engagement of one's familial past, and the reformation of self-identity.
Could you give us an idea of how The Place of Scraps and Injun were conceived? What sort of role did the written works of Marius Barbeau and the authors of 20th Century Western novels play in the development of your recent publications?
Jordan: The Place of Scraps originated from a moment of pure frustration. I had been reading Marius Barbeau's book Totem Poles and was trying (unsuccessfully) to find a creative way to interpret that text. I was interested in the core content of Totem Poles, because Barbeau was writing about the First Nations in the Pacific Northwest in way that was unlike any other author I had read. I was particularly interested in Barbeau's representations of the Nisga'a Nation, as I had been disconnected from my Aboriginal roots at a very early age. So after trying many different methods of writing, I finally stumbled upon erasure. The Place of Scraps started to take shape immediately after I began erasing Barbeau's words.
After I had written The Place of Scraps, I became acutely aware of how I had repositioned another author's words and constructed a book almost entirely out of found text. I had found Barbeau's work because I was searching for glimpses of my ancestral heritage, and I began to wonder about the other representations of Indigenous peoples that might exist. Which lead me directly to Project Gutenberg: an archive of public domain texts.
One of the "Bookshelves" on Project Gutenberg was the Western. I've always had a fascination with the Western as a genre and was interested in how the 91 novels on the Western "Bookshelf" represented Indigenous peoples. So I copied and pasted all of those novels into a single Word document (totalling over 10,000 pages of source text) in order to search all of the novels simultaneously. One of the terms that I searched for was the word "injun." I was curious about the context surrounding this word, and I found that there were 512 instances of the word "injun" appearing across the 10,000 pages of source text. I copied and pasted those 512 sentences into a separate document and printed it out in 26 pages. Then I cut-up each page into an individual piece of a poem. Once I was finished, I had a 26 part poem called Injun.
Both the Western "Bookshelf" and Barbeau's Totem Poles were essential to my writing process. My writing is literally a reconstruction of the textual formations of both of those sources.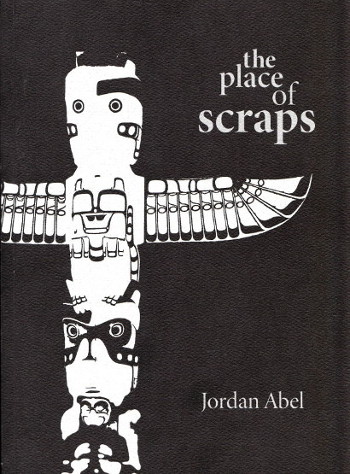 The Place of Scraps is a poignant foray into the semantics and dissemination of interpretations of oral histories through an anthropological lens. What sort of significance does ontology play in an understanding of one's own cultural history?
One of the original reasons why I was compelled by Barbeau's writing was because he was representing pieces of Aboriginal culture that were no longer actively circulating. In his words, I could see glimpses of my past and my heritage. I wanted to hold on to that for as long as I could.
But, after a while, I realized that I needed more. I realized that his perspective was skewed and that his curation of First Nations stories and traditions was painfully transparent. I began to think that somewhere in Barbeau's words there may be some hidden truths about my ancestral history, but that those truths would always be obscured by his Anthropological methodologies and intentions.
Every now and then, though, a genuine sliver of truth seemed to emerge. In those moments I felt as though I could finally see through everything: myself, my ancestral community, and Barbeau.
The thing is … I didn't remember seeing this pole. I still don't remember seeing it. But I must have seen it. The pole is impossible to miss. If you're ever in the ROM, it's the pole that towers through the centre of a staircase that is connected to all four floors. I was in this museum countless times a kid. I remember so many other parts of the museum. But I don't remember this pole. It's not there in my memory. It's not there in my community.
Barbeau's work seems to be very much rooted in the paradox of acculturation cast in the vestiges of 'cultural preservation'. How did the process of cultural reconstruction strengthen your connection with your Nisga'a Nation ancestry?
When I began piecing together the scraps of narrative and traditions that Barbeau left for me in Totem Poles, I legitimately felt as though I may at some point get closer to understanding the Nisga'a Nation. And, in a way, I did. Except that the Nisga'a Nation that Barbeau was writing about is not the same nation that exists today. A lot has changed since then.
After writing the book, it was very clear to me that I was just as disconnected from the Nisga'a as ever. But I understand myself better now. I am still on a journey that is leading towards a greater understanding of my connection to the Nisga'a Nation. I was talking with an elder recently about this. I was telling him that my experience as an intergenerational survivor of the Residential School System is one built exclusively on dislocation. I didn't grow up with the Aboriginal side of my family. I didn't know anyone from the Nisga'a Nation. My entire cultural experience was spent wondering who I was supposed to be, what I was supposed to do. I was blind to my ancestry and it seemed to be impossible to access. I am told that this experience is it not uncommon. But that kind of dislocation made me feel like I was completely alone.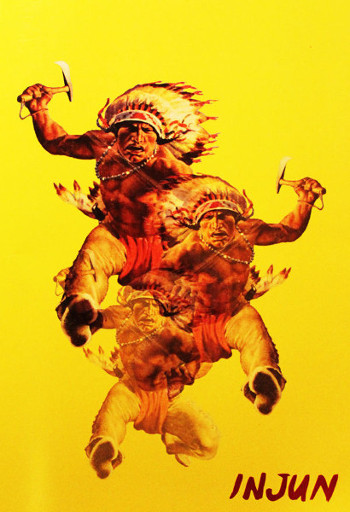 The Place of Scraps is a series of erasure poems. Can you elaborate on how this form of poetics contributed to the context, content, and meaning embedded inside the book?
Before The Place of Scraps was a book of erasure poems, it was a collection of essays, a book of historical fiction, and a collection of lyrical poetry. However, in all of those other incarnations of the book, there were problems. None of those forms accurately represented the complexity of the project. I wanted to write a book about: 1) the First Nations narratives I had uncovered in Totem Poles, 2) Marius Barbeau and his understanding and cataloguing of the First Nations peoples in the Pacific Northwest, and 3) my personal understanding of all of that. Each genre was capable of addressing certain aspects of those topics, but none of them felt complete.
After I finally stumbled on erasure, I realized that the missing aspect of the book was the textual reproduction of Barbeau's writing. In all of the preceding forms, Barbeau's writing itself was inaccessible. By using his writing as a canvas, I was finally able to start tying together all of these elements that I originally wanted to write about.
Erasure also has political implications. I was erasing Barbeau's words. I was readjusting Barbeau's phrasing to fit in with my intentions. By selectively representing parts of Barbeau's writing, I was removing his writing from his intended context. In many ways, the process of erasure became a process that mirrored Barbeau's own Anthropological process.
What do you feel is the role of culture in present-day society? Ethnographically speaking, what are the implications of the erosion of socio-cultural customs and traditions, such as oral storytelling?
My understanding of culture is that it is constantly evolving and shifting. It's true that the oral tradition doesn't exist in the same way that is used to. Part of that is the result of acculturation and the colonization of First Nations social spaces. But culture is meant to evolve. If colonization hadn't happened (or if it hadn't happened in the same way) the oral tradition could have evolved or devolved in a completely different way.
My thinking is that active, healthy cultures will grow and change. I'm hopeful that the erosion of oral traditions may lead to growth in other areas.
Regarding culture, our pasts, and our respective formations of cultural self-identity, do you have any words of wisdom?
The best words of wisdom that I've ever received were "keep asking questions." All of my understandings of culture, history and identity have started with a question. That question usually leads to another and another. But eventually, somewhere down the line, there is an answer.
De l''essai éprouvant de Joshua Robinson:
(Traduit par Jacinthe Laplante)
L'art de la poésie de l'effacement – ce procédé qui vise à reconstruire une œuvre appartenant au domaine public – consiste à s'immiscer dans l'œuvre d'un autre, de s'imprégner méticuleusement de son contenu et d'en suggérer une interprétation personnalisée qui oriente notre représentation de la poésie implicite. Le Vancouvérois Jordan Abel, grâce à ses dernières œuvres publiées The Place of Scraps et son livre « de colportage » Injun, met en pratique l'art silencieux de l'effacement, ce qui permet de laisser la place à une voix poétique renforcée par un héritage culturel, par la représentation d'un passé familial et par l'amélioration de sa propre identité.
Peux-tu nous expliquer rapidement comment tu as conçu The Place of Scraps et Injun? Quel a été le rôle des écrits de Marius Barbeau et des auteurs de romans occidentaux du XXe siècle dans la création de tes dernières publications?
Jordan : The Place of Scraps est né d'un moment de pure frustration. J'étais en train de lire Totem Poles de Marius Barbeau et j'essayais, sans grand succès, de trouver un moyen créatif d'interpréter ce texte. Je m'intéressais à son élément central parce que Barbeau écrivait à propos des Premières Nations du nord-ouest du Pacifique d'une façon que je n'avais jamais vue en lisant d'autres auteurs. Je m'intéressais particulièrement à ses représentations de la Nation Nisga'a étant donné que j'avais perdu contact avec mes racines autochtones à un très jeune âge. Après avoir essayé différentes façons d'écrire, j'ai finalement trouvé l'effacement. The Place of Scraps a commencé à prendre forme dès que je me suis mis à effacer les mots de Barbeau.
Après avoir terminé l'écriture de The Place of Scraps, je suis devenu très sensible à la façon dont j'avais repositionné les mots d'un autre auteur et dont j'avais construit un livre presque entièrement à partir d'un texte trouvé. Je suis tombé sur le livre de Barbeau en cherchant des informations sur mon héritage ancestral , et je me suis mis à me questionner sur les autres représentations possiblement existantes des peuples autochtones. Ça m'a mené directement au Projet Gutenberg qui regroupe des archives du domaine public.
Un des « rayons » du Projet Gutenberg s'intitulait Western. J'ai toujours eu une fascination pour le western comme genre littéraire et je me demandais comment les 91 livres de ce rayon représentaient les peuples autochtones. J'ai donc copié et collé tous les romans dans un seul document Word (un total de 10 000 pages de texte source) pour me permettre de faire des recherches dans tous les romans en même temps. J'ai cherché entre autres le mot « injun ». J'étais curieux de connaître le contexte qui entourait ce mot et je l'ai trouvé à 512 reprises dans les 10 000 pages du texte source. J'ai copié et collé ces 512 phrases dans un autre document et j'ai imprimé ces 26 pages. J'ai ensuite découpé chaque page pour en faire des parties distinctes d'un poème. À la fin, j'avais un poème de 26 parties intitulé Injun.
Le « rayon » Western et le texte Totem Poles de Barbeau ont tous deux été essentiels à mon processus d'écriture. Mes écrits sont littéralement une reconstruction des formes textuelles de ces deux sources.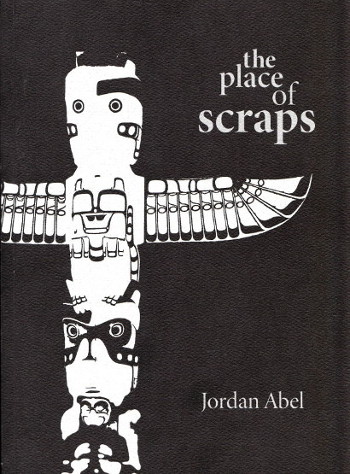 The Place of Scraps est une incursion éprouvante dans la sémantique et la dissémination des interprétations de l'histoire orale à travers une lunette anthropologique. Quelle importance peut avoir l'ontologie dans la compréhension de notre histoire culturelle ?
Une des premières raisons pour lesquelles j'ai été attiré par l'écriture de Barbeau est qu'il représentait des morceaux de la culture autochtone qui ne circulaient plus activement. Dans ses mots, je pouvais voir des éléments de mon passé et de mon héritage. Je voulais m'y accrocher aussi longtemps que possible.
Mais, après un moment, j'ai réalisé que j'avais besoin de plus. J'ai réalisé que sa perspective était faussée et que sa conservation des histoires et des traditions des Premières Nations était terriblement transparente. Je me suis mis à penser qu'il pourrait y avoir des vérités cachées quelque part dans les mots de Barbeau à propos de mon histoire ancestrale, mais que ces vérités seraient toujours embrouillées par ses méthodologies et ses intentions anthropologiques.
Or, de temps en temps, un réel morceau de vérité semblait émerger. Dans ces moments, je me sentais comme si je pouvais voir à travers tout : moi-même, ma communauté ancestrale, Barbeau.
Le problème c'est que… je ne me rappelais pas avoir vu ce poteau. Et je ne m'en souviens toujours pas. Mais j'ai dû le voir. Ce poteau est impossible à manquer. Si jamais vous allez au Musée royal de l'Ontario, c'est le poteau qui traverse le centre de l'escalier qui est rattaché aux quatre planchers. Je suis allé à ce musée de nombreuses fois quand j'étais jeune. Je me souviens de plusieurs autres parties du musée. Mais je ne me souviens pas de ce poteau. Il n'est pas dans ma mémoire. Il n'est pas dans ma collectivité.
Le travail de Barbeau semble bien enraciné dans le paradoxe de l'acculturation jetée dans les vestiges de la « préservation culturelle ». Comment le processus de reconstruction culturelle a-t-il renforcé ton rapport avec tes ancêtres de la Nation Nisga'a ?
Quand j'ai commencé à mettre ensemble les morceaux des récits et des traditions que Barbeau m'a laissés dans Totem Poles, je pensais vraiment (et avec raison) qu'un jour, je pourrais être près de comprendre la Nation Nisga'a. Et d'une certaine façon, j'y suis arrivé. Le problème c'est que la Nation Nisga'a que Barbeau décrivait n'est pas celle qui existe aujourd'hui. Les choses ont beaucoup changé depuis.
Après avoir écrit le livre, il était très clair pour moi que j'étais plus éloigné que jamais des Nisga'a. Mais je me connais mieux maintenant. Je continue ma quête vers une meilleure compréhension de mon lien avec la Nation Nisga'a. J'en parlais avec un ancien récemment. Je lui racontais que mon expérience en tant que survivant intergénérationnel du système des pensionnats est construite exclusivement sur la mise à l'écart. Je n'ai pas grandi avec les membres autochtones de ma famille. Je ne connaissais personne de la Nation Nisga'a. Toute mon expérience culturelle est basée sur mon questionnement à savoir qui je devais être, ce que je devais faire. Je ne voyais pas mes ancêtres et ils semblaient impossibles à atteindre. On me dit que cette expérience n'est pas unique. Mais cette mise à l'écart m'a fait sentir complètement seul.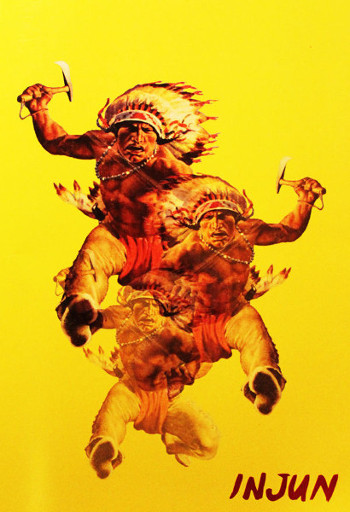 The Place of Scraps est une série de poèmes de l'effacement. Peux-tu expliquer comment cette forme de poésie a contribué au contexte, au contenu et à la signification qui y sont ancrés ?
Avant que The Place of Scraps soit un livre de poèmes de l'effacement, c'était une collection d'essais, un livre de fiction historique et une collection de poèmes lyriques. Toutefois, il y avait des problèmes dans toutes ces autres formes littéraires. Aucune ne représentait de façon juste la complexité du projet. Je voulais écrire un livre sur : 1) les récits des Premières Nations que j'avais découverts dans Totem Poles, 2) Marius Barbeau et sa compréhension et son inventaire des peuples des Premières Nations du nord-ouest du Pacifique, et 3) ma compréhension personnelle de tout ça. Chaque genre littéraire pouvait traiter de certains aspects de ces sujets, mais aucun ne semblait pouvoir le faire complètement.
Après être finalement tombé sur l'effacement, j'ai réalisé que ce qui manquait au livre c'était la reproduction textuelle de l'écriture de Barbeau. Elle était inaccessible dans toutes les formes précédentes. En utilisant son écriture comme canevas, je pouvais enfin commencer à relier tous les éléments sur lesquels je voulais écrire depuis le début.
Il y a aussi des implications politiques à l'effacement. J'effaçais les mots de Barbeau. Je réajustais la formulation de Barbeau pour qu'elle corresponde à mes intentions. En utilisant des extraits sélectionnés de son œuvre, je les retirais de leur contexte visé. À bien des égards, le mécanisme de l'effacement est devenu un miroir du processus anthropologique de Barbeau.
Selon toi, quel est le rôle de la culture dans la société d'aujourd'hui ? D'un point de vue ethnologique, quelles sont les implications de l'érosion des habitudes socioculturelles et des traditions, par exemple la tradition orale ?
Ce que je comprends de la culture c'est qu'elle évolue et qu'elle change constamment. C'est vrai que la tradition orale n'existe plus de la même façon. C'est en partie à cause de l'acculturation et de la colonisation des espaces sociaux des Premières Nations. Mais la culture est faite pour évoluer. S'il n'y avait pas eu de colonisation (ou si elle avait été faite différemment), la tradition orale aurait pu évoluer ou se transmettre d'une tout autre façon.
Ma réflexion est dynamique, les cultures saines évolueront et changeront. J'ai espoir que l'érosion des traditions orales mènera à un épanouissement sur d'autres questions.
As-tu quelques mots de sagesse par rapport à la culture, au passé et aux formations respectives de notre identité culturelle ?
Les meilleurs mots de sagesse que j'ai reçus sont « continue de poser des questions ». Tout ce que je comprends de la culture, de l'histoire et de l'identité provient d'une question. Cette question mène habituellement à une autre question, puis à une autre. Puis, éventuellement, il y a une réponse.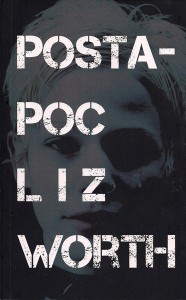 PostApoc
Written by Liz Worth
Toronto, ON
From the left-hand belief of Jesse Locke:
Liz Worth made her name with the Toronto/Hamilton punk tome Treat Me Like Dirt, and this poetic death trip is its illogical extreme. PostApoc's rapidly unraveling plot is seen through the twitching eyes of a suicide pact survivor in the midst of a music scene taking no future to heart. Make-believe bands like Valium serve as stand-ins for the Viletones, Girl for the B-Girls, and Shit Kitten for Simply Saucer, providing the soundtrack for an unholy bender in bizarro Toronto after the world's end.
As the second page explains, "it started with the earth sucking all the moisture back into the ground and replacing it with a slow, quiet dread that hung over the city like a veil." But drought is the least worrisome thing in this dystrophic dystopia run rampant with flesh-eating canines, imploding chests, and the cries of the dead. The first-person narrative switch-turns from an amplification of the unreliable into a drug-addled nightmare; Visions of two-faced praying mantis people, black magic beach houses, and animals with fungus for brains flickering between intervals of true desperation.
Here in the real world, the flip from music journalist to fictional weaver has roots of platinum logic. Liz Worth's blackened prose shoots up from six feet underground, and her characters still get treated like wormfood. Dig!
Des croyances de gauche de Jesse Locke:
(Traduit par les mains effrénées de Joannie Pharand)
Liz Worth s'est fait connaître avec son tome punk en provenance de Toronto/Hamilton Treat Me Like Dirt. Ce présent délire mortel et poétique est extrêmement illogique par rapport à ce tome. Le dénouement rapide de l'intrigue de PostApoc se fait connaître à travers les yeux tremblants d'un survivant à un pacte suicidaire au beau milieu d'une scène musicale ne prenant espoir en aucun futur. Des groupes de musique inventés, tels que « Valium », servent de remplaçants pour the Viletones, Girl pour B-Girls et Shit Kitten pour Simply Saucer. Ils offrent la trame sonore d'une beuverie démente dans la ville bizarroïde de Toronto, après la fin du monde.
Comme la seconde page l'explique, « ça a commençé avec la Terre qui aspira toute l'humidité et la remit dans le sol pour la remplacer par un effroi silencieux suspendu sur la ville comme une voile » (NDT ceci fut traduit par la traductrice de cette critique. Voici le passage en langue originale anglaise : « it started with the earth sucking all the moisture back into the ground and replacing it with a slow, quiet dread that hung over the city like a veil. ») Mais, la sécheresse est la dernière inquiétude à avoir dans cette dystopie dystopique remplie de canidés mangeurs de chair, de poitrines en éclats et de cris de morts. La narration à la première personne oscille entre amplifications invérifiables et cauchemars embrouillés induit par la drogue: des visions de mantes religieuses humaines à deux visages, des maisons ensorcelées au bord de l'eau et des animaux ayant des moisissures en guise de cerveau qui clignote en intervalles de véritable désespoir.
Ici, dans le vrai monde, la journaliste musicale devenue une tisserande de fiction a des racines logiques et exubérantes. La sombre prose de Liz Worth ressort de six pieds sous terre et ses personnages se font encore traiter comme des appâts pour vers de terre. Ça vous plaira !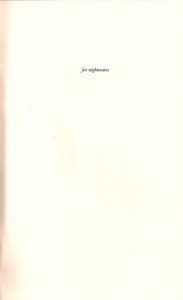 RUT Magazine: Medical Mud
Written and illustrated by Justin Gradin
(Self Published)
Vancouver, BC
From the fever dream narrative of Don L'Orange:
Dead Meat and Spider Eggs spent their time at soccer camp wishing for a bottomless serving of Demerol, only to wind up under the knife for all the wrong reasons. After repeated operations, the honourable Devilock delivered everyone from the sports complex into a stark afterworld of corrective facial surgery. It may seem like a chopped face would cut it, but a name change is also vital for the new religion imposed on us. An influx of applications has made the state think twice and (illegally) revoke funding for any upcoming reassignment. Why is everyone surprised at the corruption?! Are we sucking out the bones? Bleaker than a visit to the Meguro Parasitological Museum and yet no sadness. These worms smile ear-to-ear as if cut by Danzig himself, and, in the end, it's Justin Gradin who's kicking around severed heads. "Medical Mud" is one of many issues of Gradin's RUT Magazine.
Du récit halluciné de Don L'Orange:
(Traduit par Andréanne Dion)
Dead Meat et Spider Eggs passent leur temps au camp de soccer, rêvant de Demerol à volonté, seulement pour finir sous le bistouri pour toutes sortes de mauvaises raisons. Après plusieurs opérations, l'honorable Devilock a délivré tout le monde du complexe sportif dans un monde austère de chirurgie corrective. On pourrait penser qu'un visage déchiqueté serait suffisant, mais un changement de nom est aussi indispensable dans cette nouvelle religion qu'on nous impose. Après un afflux de demandes, l'État a (illégalement) révoqué le financement des réaffectations imminentes. Pourquoi est-ce que tout le monde est surpris par la corruption?! Est-ce qu'on profite de la vie? Plus lugubre qu'une visite au Musée du Parasite de Meguro, mais pourtant sans tristesse. Ces vers ont le sourire fendu jusqu'aux oreilles comme s'ils avaient été disséqués par Danzig lui-même, et au final, c'est Justin Gradin qui joue avec des têtes tranchées. « Medical Mud » est l'un de plusieurs volumes de RUT Magazine de Gradin.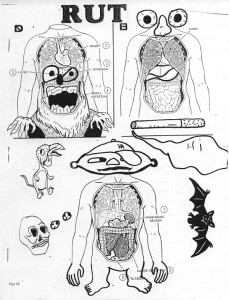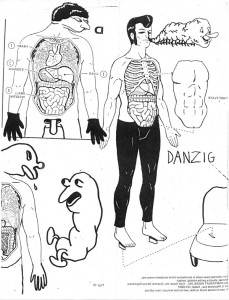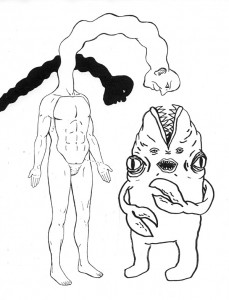 ---