Tag: evan matthews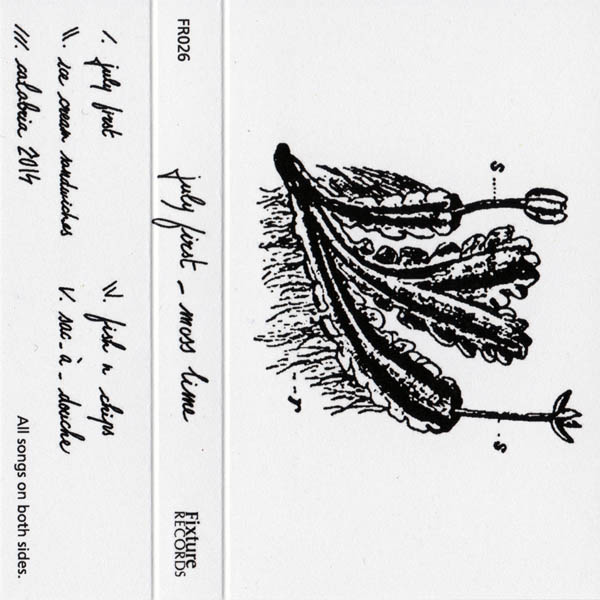 Moss Lime
July First
Montréal, QC
From the lounging sprawl of Evan Matthews:
Moss Lime are a characteristicly cosmopolitan Montreal crew, formed in spare time while hanging through the city's playground summer. Murmuring chants calling back and forth over angle-surfing guitars and an ESG-sensible rhythm section recall double dutch tall cans in a parc before a late night swim in someone else's pool. These songs have an influence-honest, naturalistic vibe. From the call & response lilt of "Ice Cream Sandwiches" to the tape-delay drone of "Fish N Chips" to the reimagining/improvement of Euro-pop song "Calabria", each one will charm you with a shared memory of wet heat, cutoffs and iced coffee.
Du divan où est avachi Evan Matthews:
(Traduit par l'orteil étiré vers la télécommande de Jessica Grenier)
Moss Lime est un groupe montréalais typiquement cosmopolite, formé lors des temps libres passés à profiter des terrains de jeu urbains durant l'été : des murmures se répondent par-dessus des guitares qui surfent en équilibre ainsi qu'une section rythmique rappelant ESG évoquent une soirée dans un parc à boire des grosses cannettes de Double Dutch avant d'aller squatter la piscine de quelqu'un d'autre. Ces chansons exhalent des ondes de naturalisme et d'honnêteté. De la cadence question-réponse de « Ice Cream Sandwiches » au drone en boucle de « Fish N Chips » en passant par la reprise/amélioration de la chanson pop européenne « Calabria », chaque pièce vous séduira en partageant un souvenir de chaleur humide, de shorts en jean et de cafés glacés.

Moss Lime – Ice Cream Sandwiches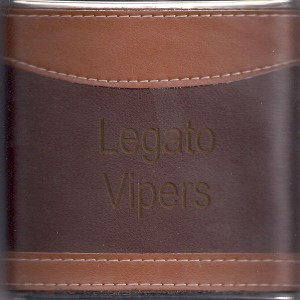 Legato Vipers
Quick Slug EP
Guelph, ON
From the church key of Evan Matthews:
Legato Vipers are a gang of crack Toronto musicians having a blast. Between them, Mike Brooks, Tyler Belluz, Jordan Howard, AJ Johnson and Jay Anderson have been in dozens of great bands over the years. Legend has it that the Vipers started with the acquisition of a reverb pedal, and since then it's been top-shelf surf riffs over a deep-pocketed rhythm section. Filtered through producer Don Pyle, this EP nails the sounds of '60s surf while smoothly inserting modern chord changes ("Sweet 16") and time switches ("Spy vs Spy") to keep it interesting. It's all Tele all the time, and it's amazing. Don't forget your church key!
Du décapsuleur d' Evan Matthews:
(Traduit par le temps de Julie Forget)
Legato Vipers est un groupe de musiciens torontois fêlés qui s'éclatent. Parmi eux se trouvent Mike Brooks, Tyler Belluz, Jordan Howard, AJ Johnson et Jay Anderson, qui ont fait partie d'une douzaine d'excellents groupes au fil des années. D'après la légende, les Vipers ont commencé avec l'acquisition d'une pédale de reverb et depuis ce temps, il n'a été question que de riffs surfs de qualité sur une section rythmique foisonnante. Dirigé par le producteur Don Pyle, ce EP reproduit avec succès les sons du surf des années 60 tout en y introduisant doucement des changements d'accords modernes (« Sweet 16 ») et des variations de tempo (« Spy vs Spy ») afin de garder le tout intéressant. C'est Tele tout l'temps et c'est génial. N'oubliez pas votre décapsuleur !
---