Tag: eric rumble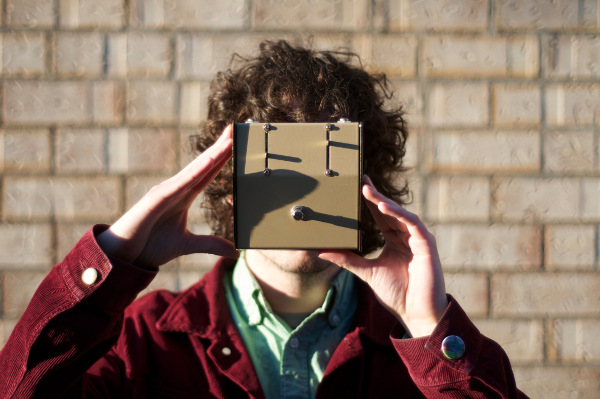 Perpetual arranger of words, recordings and epic experi-riffs Devin Friesen says the month he crafted The Life Story of the Fish was one "of many disappointments, more isolation than usual, and being frugal after an exhausting, long and bitter winter." Dribbled-together, guitar pedal-painted assemblages eke out the grainy hot flash of elsewhere, an ever-melting taste of connectivity. Each hovering pluck is a suture; each distortion wave a snug wound dressing; each grey-sky glaze of drone a tender bite of anesthesia. The album's name taps a gurgled lyric on Friesen's 2011 tape, Looper Pedal Blues, but his fishbowl-trapped feedback trips are the sound of a seething need to leave oil-city purgatory.
Ephemera of Devin Friesen (Bitter Fictions)
Existing during the recording of The Life Story of the Fish
Calgary, AB
From the escape hatchery of Eric Rumble:
Perpetual arranger of words, recordings and epic experi-riffs Devin Friesen says the month he crafted The Life Story of the Fish was one "of many disappointments, more isolation than usual, and being frugal after an exhausting, long and bitter winter." Dribbled-together, guitar pedal-painted assemblages eke out the grainy hot flash of elsewhere, an ever-melting taste of connectivity. Each hovering pluck is a suture; each distortion wave a snug wound dressing; each grey-sky glaze of drone a tender bite of anesthesia. The album's name taps a gurgled lyric from Friesen's 2011 tape, Looper Pedal Blues, but his fishbowl-trapped feedback trips are the sound of a seething need to leave oil-city purgatory.

Bitter Fictions – a vision of vision
The Library window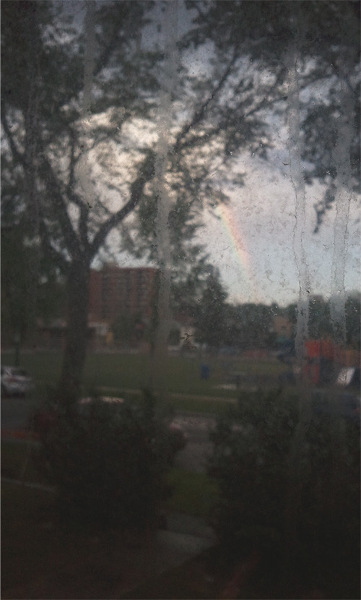 Devin Friesen: "The Library is the name Kevin Stebner (my roommate) and I gave our house when we moved in here about four years ago. Both of us run record labels (Shaking Box Music for me, Revolution Winter/Bart Records for Kev), meaning there's a room in our house that's just boxes and boxes of unsold LPs. We both also have (frankly) ridiculous amounts of music in our possessions – in addition to my working in a record store for many years, Stebs has been working in book stores for many years, so we've amassed a lot of cool stuff. The basement is where all of our music happens. Stalwart Sons and Extra Happy Ghost!!! jammed there for a while, Cold Water jams there now, and most of the Bitter Fictions recordings have been done there."
The view out the living room window of The Library – "when it's 'nice' out," notes Friesen – will be part of the artwork from a forthcoming Bitter Fictions release, No Fun in the Sun, which was recorded a few months after The Life Story of the Fish (TLSOTF).
Studio corner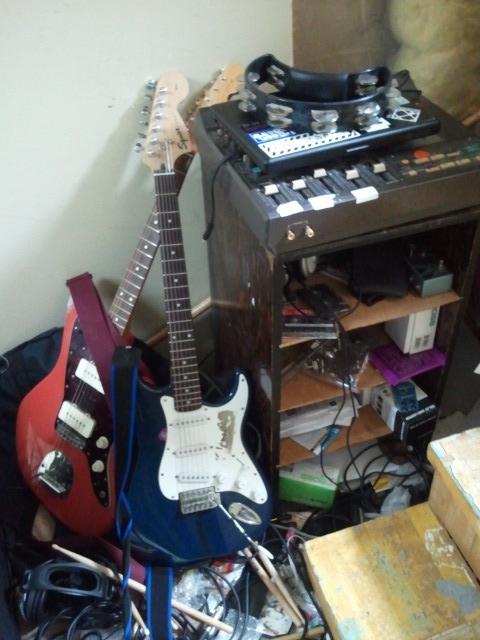 DF: "The Library basement is a small, cramped room, especially with Stebner's wall of amplifiers and drum kit taking up most of it. It's crazy that we've fit bands in there at all, since it's basically just an expanded hallway that leads to our bedrooms and the bathroom. Works great for me, being solo, anyways. We have a Tascam 244 four-track from the '80s set up in the corner, and a couple of condenser mics. Most of what I do is improvised, so I usually just record everything and return to those recordings later. This is the 'studio corner,' I guess. Those are my two guitars, a bunch of drumsticks, tapes, boxes and the Tascam. Both guitars could use tuneups – the Strat only has one working pickup selector, and the Jazzmaster won't ring out if you play it high on the neck. But on the other hand, those limitations can sometimes produce more interesting results."
<<< read more >>>
Basement inspiration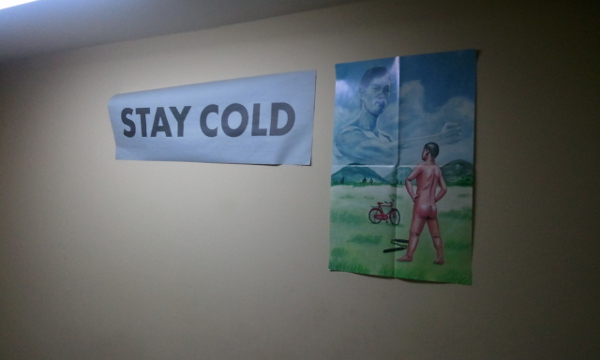 DF: "On one of the walls of the basement: a Stay Cold banner from the Stalwart Sons LP of the same name, and the Bruce Lee poster insert from LP editions of Jim O'Rourke's Eureka. Endlessly amused by that kid's neck wrinkles. I also really dig Stay Cold, and not just because there's an essay I wrote for it on the back cover. I think that banner might be there more for Kevin's bands, mind you… It gets very cold downstairs, especially in the winter – there are no windows in the recording space, but if one leaves a glass of water near the window in my room overnight, it'll be ice in the morning."
bpNichol books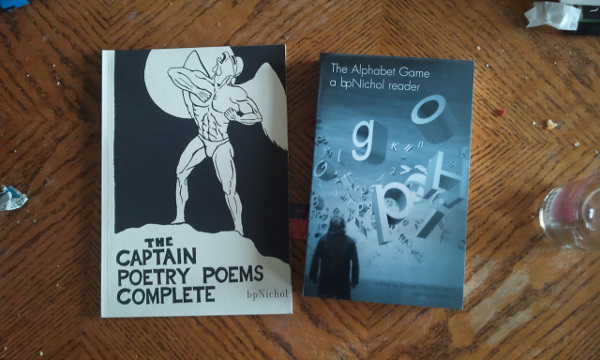 DF: "These are some books from bpNichol. My attitude towards song titles is that they're often rather arbitrary, so I've occasionally turned to what I've been reading to mark them – call it the ephemeral bookmark. A bunch of the track titles on TLSOTF are from bpNichol poems collected in The Alphabet Game; EP no. 2 was all chapter titles from Luigi Pirandello's The Late Mattia Pascal; and the Bitter Fictions 10" lathe, Journeying and the Returns, is a bpNichol reference too. I've named several of my tracks without stealing titles, but I like taking references from works around me. bpNichol is great for more reasons than I can get into here – he may as well be a Weird Canada section unto himself, with all the ground he covered across literary/visual/sound/etc. fields."
Harmonic Percolator and Walkman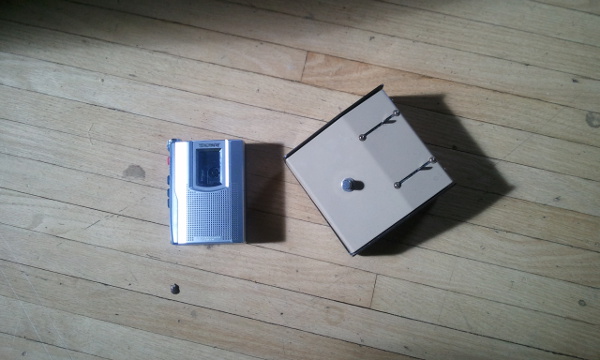 DF: "Rather than describing my whole pedal setup – which is kinda dull: 'Look, a delay pedal!' – I'll just describe my favourite pedal. The tan box on the right is the Harmonic Percolator, one of two distortion pedals I use on the regular. The gear-curious usually ask about either the Percolator or the Feedbacker first, since I use both so frequently – and, y'know, one of them is an unmarked box. For the tech schematics of what it is, you should just watch this video of Steve Albini talking about it. I bought mine around 2007 from a fellow named Chuck Collins out of Milwaukee, and haven't looked back since. There's also a Sony Walkman in there with a built-in microphone recorder. This thing has seen all kinds of use: guitar pick, tape decay mixer, interview transcription, vocal mic, something handy to record choice quotes from movies with, etc. It's usually kicking around somewhere…"
Records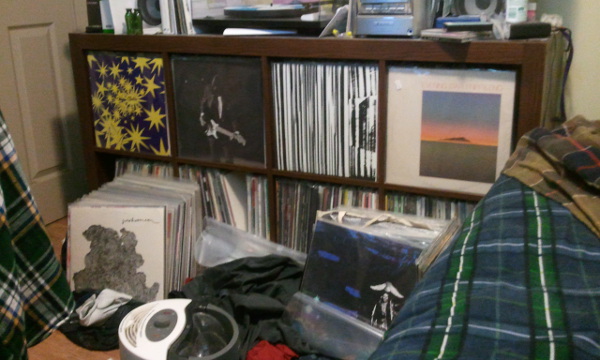 (L-R: Cluster – II; Loren Connors – The Departing of a Dream; The Dead C – Harsh 70s Reality; Fripp & Eno – Evening Star)
DF: "I can't remember exactly what I was listening to around [the recording of TLSOTF], but I can go into a few things I was probably spinning. The weight of my record collection bears on my creative process to some extent – if you're going to go out and make music worth hearing these days, you'd better have a damn good idea of what's already been done.
"Cluster II is a personal favourite. I really like much of the German duo's output – as well as the Harmonia records with Neu!'s Michael Rother – but II satisfies the most on the whole space/noise/drone drift. I appreciate the duo's ear for tone, and since this LP sits nicely between the more structured/'pop' leanings of Zuckerzeit and the free noise of Kluster, I find myself returning to it quite often. I think much of the music I enjoy can be traced back to this record, frankly.
"Loren Connors is an especially huge one for me. He was one of the first names I came across as a teenager branching out from Sonic Youth records into the larger world of free improv/outré music – the Harmony of the Spheres box set comes to mind, where he appears alongside other huge favourites/likely influences such as Roy Montgomery and Flying Saucer Attack. So there's that, but more important is the way Connors commands sound so distinctly. On his own, as on any number of his masterful solo electric guitar suites throughout the '90s, his guitar can be the most desolate and harrowingly lonesome sound in existence. It also manages to be light and ghostly, but also crushingly heavy and textural, as on The Bridge – which I named "& under the bridge" in slight homage to. Loren Connors proves that one doesn't need crushing volume to be 'heavy.' In fact, the absence of volume can be just as startling. When one talks about 'soulful playing,' Connors is the first name I always think of – I don't think of the instrument, I think of the soul enveloping a room. The loneliest guitar.
"I'm not a huge King Crimson fan – frankly, outside of American Primitivism I usually don't care when the guitar is played 'well,' and most '70s rock flat-out nauseates me, but I can dig on the Fripp & Eno LPs. Like Cluster, super formative recordings here. I bought Evening Star from the record store near my house, and I still find it quite funny that for almost a year afterwards the owner kept trying to 'High Fidelity' Robert Fripp solo albums on me – that's record store clerk slang for 'play in store so I'll buy it.'
"Calgary isn't as isolated from the world as New Zealand, but it sure feels like it sometimes, especially if your interests fall outside of getting drunk and 'party rock.' That's partly why I find the Dead C endlessly fascinating – I love their records, but I also love how they've been making their noise on the edge of the world for longer than I've been alive. I once interviewed their amplifier player, Bruce Russell, and some of the things he wrote have stuck with me: BR: We were doing the right thing (however you describe it) out to the weird side of Sonic Youth, where noise, rock, improv and industrial all kind of ran out of steam together, leaving us charging towards the edge of the fucking universe. DF: "Plug in, play, see what happens. Maybe record it with a mic in a room.
BR: That's the big difference between what we do and groups who 'write songs' or even 'write pieces' – we don't write them, they quite literally 'just happen.' DF: "This type of music can be a largely transient and experiential; sometimes it gets captured to tape, other times lost to memory. Such is life, I suppose. Now that I'm well beyond accepting that guitar feedback is my favourite sound, I'm just happy that tape lends itself so well to all kinds of feedback work."
De l'élevage d'évasion d'Eric Rumble:
(Traduit par la fantaisie acidulée de Jessica Grenier)
Arrangeur infatigable de mots, d'enregistrements et de riffs expérimentaux épiques, Devin Friesen explique que le mois où il a façonné l'album The Life Story of the Fish en était un qui était alourdi par de nombreuses déceptions, un isolement plus grand que de coutume et des dépenses restreintes par un hiver long et glacial. L'assemblage de sonorités superposées, teinté par la pédale de guitare, fait durer la bouffée de chaleur granuleuse d'un ailleurs, le goût d'une connectivité fondant à l'infini. Chaque vibration planante est un point de suture; chaque vague de distorsion, un pansement bien ajusté; chaque bourdonnement d'acier, la douce morsure d'un analgésique. Le titre de l'album prend source dans un borborygme, des paroles de Looper Pedal Blues (2011), mais ce feedback dérapant confiné dans un aquarium est le son d'un violent besoin de fuir le purgatoire de la ville pétrolière.

Bitter Fictions – a vision of vision
La fenêtre Bibliothèque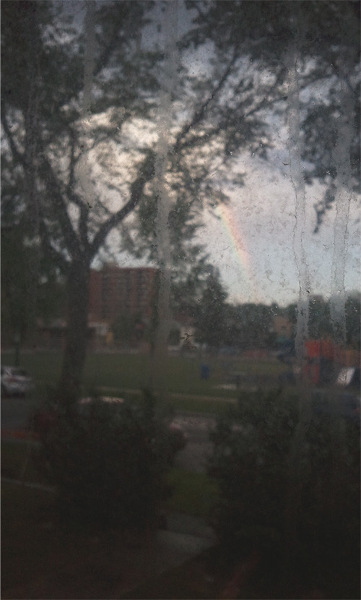 Devin Friesen : « La Bibliothèque. C'est le nom que nous avons choisi – Kevin Stebner, (mon colocataire), et moi – pour notre maison quand nous y avons aménagé il y a quatre ans. Nous dirigeons chacun notre maison de disque (j'ai Shaking Box Music et Kev a Revolution Winter/Bart Records,ce qui veut dire qu'une pièce dans notre maison est remplie par des boîtes et des boîtes de vinyles invendus. Nous avons aussi tous les deux une quantité (ridiculement) impressionnante de musique – j'ai travaillé dans un magasin de disques pendant plusieurs années, et en plus Kev travaille depuis longtemps dans une librairie, alors on a amassé beaucoup de trucs vraiment bien. C'est au sous-sol que se fait toute la musique. Stalwart Sons et Extra Happy Ghost!!! y jammaient pendant un moment, maintenant c'est Cold Water. La majorité des enregistrements de Bitter Fictions ont aussi été faits là. »
Une photo de la vue depuis la fenêtre du salon de la Bibliothèque – quand il fait « beau » dehors, ajoute Friesen – fera partie des illustrations du prochain album de Bitter Fictions, No Fun in the Sun, qui a été enregistré quelques mois après The Life Story of the Fish (TLSOTF).
Coin studio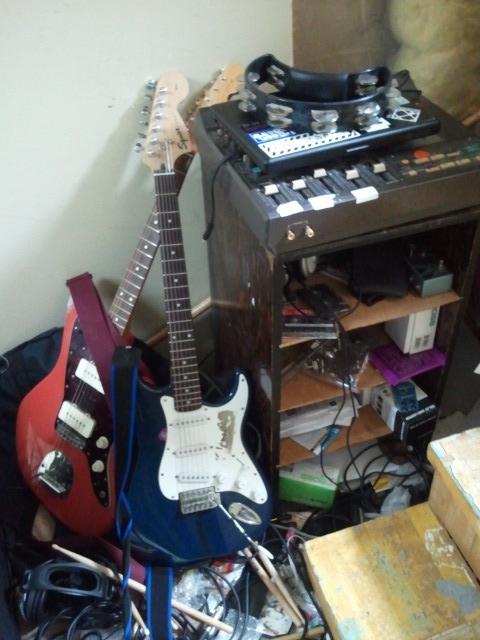 DF : « Le sous-sol de la Bibliothèque est petit. On y est à l'étroit, surtout avec la batterie de Kev et son mur d'amplificateurs. C'est fou de penser qu'on a réussi à y faire entrer des groupes – en gros, c'est juste un couloir élargi qui mène à nos chambres et à la salle de bain. Mais, ça marche bien pour moi, je joue solo. Nous avons une Tascam 244 quatre pistes des années 80 installée dans un coin avec quelques condensateurs et des micros. Comme je fais surtout de l'improvisation, je vais généralement enregistrer tout ce que je fais puis écouter les enregistrements plus tard. C'est ce qu'on pourrait appeler le « coin studio ». Il y a mes deux guitares, un paquet de baguettes, des cassettes, des boîtes et la Tascam. Les guitares auraient besoin d'une mise au point – il n'y a qu'une des sélections de micros qui fonctionne sur la Strat et si on joue trop haut sur le manche de la Jazzmaster, le son ne va pas sortir. Mais d'un autre côté, ces limites peuvent parfois donner des résultats intéressants. »
<<< la suite >>>
Affiches motivationnelles au sous-sol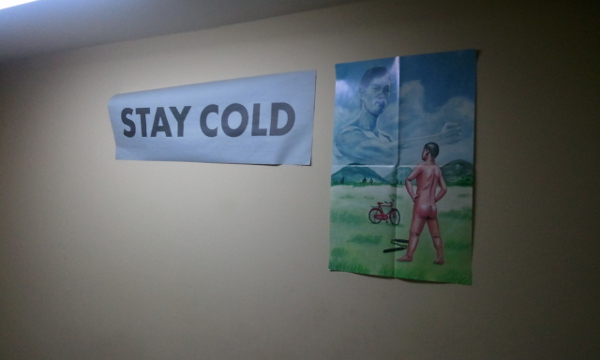 DF : « L'affiche de l'album Stay Cold de Stalwart Sons et celle montrant Bruce Lee, qui était dans l'édition vinyle de Eureka de Jim O'Rourke, sont sur un des murs du sous-sol. Les rides dans son cou me font toujours rire. J'aime aussi beaucoup Stay Cold, et pas simplement parce que j'ai écrit l'essai qui est au verso de la pochette. Ceci étant dit, je pense que l'affiche est surtout là pour le groupe de Kevin… La température devient très froide au sous-sol, surtout l'hiver – il n'y a pas de fenêtre dans le studio, mais si on laissait un verre d'eau une nuit près de la fenêtre de ma chambre, il serait gelé le lendemain matin. »
Livres de bpNichol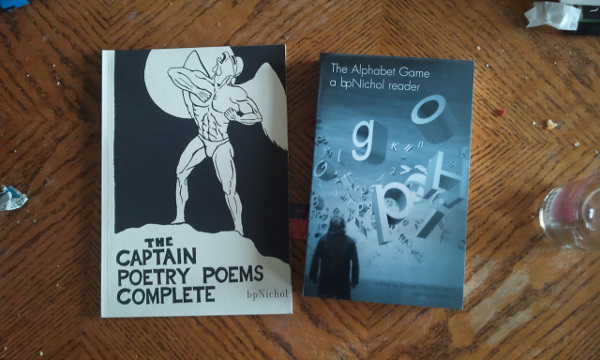 DF : « Ce sont des livres de bpNichol. De façon générale, je préfère donner aux pistes des titres arbitraires. Il m'est arrivé de m'inspirer de ce que j'étais en train de lire pour les marquer – comme un signet éphémère. Plusieurs titres sur TLSOTF sont tirés des poèmes parus dans The Alphabet Game de pbNichol; ceux du EP no. 2 étaient tous des titres de chapitres de The Late Mattia Pascal, écrit par Luigi Pirandello; et Journeying and the Returns, le vinyle de Bitter Fictions, fait aussi référence à bpNichol. Sans voler les titres, j'ai nommé plusieurs de mes pistes ainsi parce que j'aime faire des références aux œuvres qui m'entourent. J'adore pbNichol – je n'aurais pas le temps d'expliquer toutes mes raisons ici –, mais il pourrait constituer une section entière de Weird Canada à lui tout seul vu tout le terrain qu'il a couvert dans les domaines de la littérature, de l'art visuel/sonore, etc. »
Walkman et Harmonic Percolator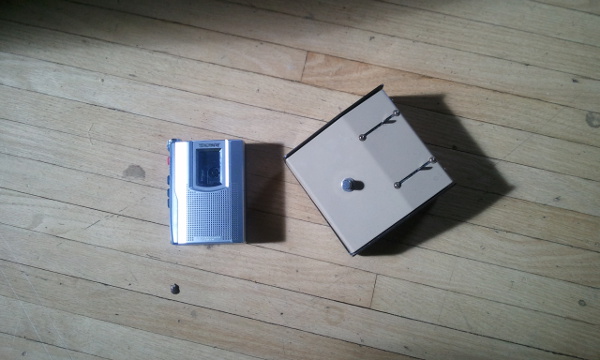 DF: « Plutôt que d'expliquer comment j'ai installé mes pédales – ce qui est assez ennuyeux : 'Regardes, une pédale de délai! ' – je vais juste décrire ma pédale préférée. La boîte brune sur la droite, c'est le Harmonic Percolator , un des deux accessoires que j'utilise le plus souvent. Les fans de matériel demandent généralement tout de suite des détails sur le Percolator ou sur le Feedbacker, puisque je les utilise très souvent et puis, vous savez, l'un des deux est une simple boîte. Si vous voulez les détails techniques, vous pouvez simplement regarder cette vidéo de Steve Albini qui en parle. J'ai acheté le mien en 2007 d'un homme qui arrivait du Milwaukee, Chuck Collins, et je ne l'ai jamais regretté. À l'intérieur, il y a aussi un Walkman Sony avec un enregistreur intégré. Je l'ai utilisé comme micro, pic de guitare, mixeur de déclin sur cassette, et aussi pour transcrire des entrevues, enregistrer des citations de films, bref pour faire toutes sortes de choses. Il traine toujours, quelque part… »
Disques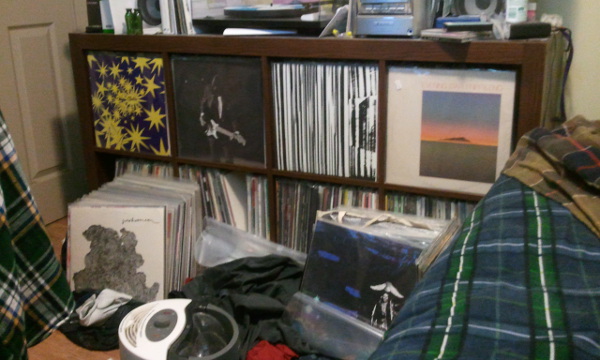 (L-R: Cluster – II; Loren Connors – The Departing of a Dream; The Dead C – Harsh 70s Reality; Fripp & Eno – Evening Star)
DF : « Je ne me rappelle pas de ce que j'écoutais précisément au moment où [j'enregistrais TLSOTF], mais je peux deviner quelques pièces qui me tournaient sûrement en tête. Le poids de ma collection de musique laisse une empreinte sur ma créativité – aujourd'hui, si on veut sortir et faire de la musique qui mérite d'être entendue, on est mieux d'avoir une très bonne idée de ce qui a déjà été fait. » « Cluster * II* est un de mes albums préférés. J'aime presque tout ce que fait le duo allemand – tout comme les enregistrements de Harmonia qu'ils ont fait en collaboration avec Michael Rother de Neu! –, mais II est plus satisfaisant côté espace/bruit/dérive bourdonnante. Ils ont l'oreille pour le ton, et comme ce vinyle est à mi-chemin entre Zuckerzeit, qui est plus structuré, plus pop, et le free noise de Kluster, je le réécoute souvent. En fait, je pense qu'une grande partie de la musique que j'écoute a un lien avec cet enregistrement. » « Loren Connors est vraiment quelqu'un d'important pour moi. C'est un des premiers noms que j'ai croisé quand j'ai commencé, adolescent, à diversifier la musique que j'écoutais, en m'éloignant de Sonic Youth. Je me lançais dans le monde beaucoup plus vaste de l'improvisation libre et de la musique expérimentale. Le coffret Harmony of the Spheres me revient en tête, où il joue avec d'autres grands noms que j'adore, comme Roy Montgomery et Flying Saucer Attack. Il y a ça, mais c'est surtout la façon particulière qu'il a de jouer avec le son. Jouant seul – comme dans n'importe lequel de ses solos magistraux de guitare électrique des années 90 – sa guitare peut être le son le plus désespéré de l'univers, une musique infiniment triste. Il est également léger et fantomatique, ou incroyablement lourd et texturé – comme dans The Bridge, auquel j'envoie un clin d'œil par son titre & under the bridge. Loren Connors prouve qu'il ne faut pas nécessairement un volume assourdissant pour être 'lourd'. En fait, l'absence de volume peut être tout aussi surprenante. Quand on parle de jouer avec son âme, c'est toujours le premier nom auquel je pense – je ne pense pas à l'instrument, je pense à l'âme qui enveloppe la pièce, à la guitare esseulée. »
« Je ne suis pas un grand fan de King Crimson – pour être honnête, à part le primitivisme américain, ça ne m'intéresse pas vraiment quand la guitare est « bien » jouée, en fait la majorité du rock des années 70 m'écœure, mais j'aime bien les vinyles de Fripp & Eno. Comme ceux de Cluster, ces albums ont été formateurs pour moi. C'est drôle parce que j'ai acheté Evening Star dans un magasin de disque près de chez moi et pendant l'année qui a suivi, le propriétaire essayait de me vendre des albums solos de Robert Fripp en faisant jouer la musique dès que j'entrais dans le magasin. » « Calgary n'est pas aussi isolée du monde que la Nouvelle-Zélande, mais on en a l'impression parfois, surtout si on s'intéresse à autre chose que se soûler en écoutant du 'party rock'. C'est en partie pour ça que Dead C me fascine. J'adore leurs albums, et aussi le fait qu'ils faisaient déjà leur noise à la limite du monde avant même que je ne sois né. J'ai déjà interviewé Bruce Russell, le joueur d'amplificateurs, et certains trucs qu'il a écrits me sont entrés dans la tête : BR : On faisait la bonne chose (peu importe ce que ça veut dire) dans le côté étrange de Sonic Youth, où le bruit, le rock, l'industriel et l'improvisation ont manqué de souffle comme tous ensemble, nous laissant seuls, fonçant vers la limite de cet univers merdique. DF : « Branchez les instruments, jouez et voyez ce qu'il va se passer. Peut-être l'enregistrer dans une pièce avec un micro. »
BR : C'est la grande différence entre ce qu'on fait et les groupes qui 'écrivent des chansons' ou même 'écrivent des pièces' – on n'écrit pas, ça se passe, tout simplement. DF : « Ce style de musique peut être très éphémère et expérimental; parfois il est enregistré sur une cassette, parfois juste dans les mémoires. C'est la vie, j'imagine. Maintenant que j'ai réussi à accepter que mon son préféré est le feedback d'une guitare, je suis juste heureux que la cassette permette de le travailler de plein de façons. »
Dan Galway
Human Feelings
(Self Released)
Iqaluit, NU
From the stunned phasers of Eric Rumble:
Submerged. A yawp from the deep, bubbling up to tundra. Time-lapse low tones and light tracers that liquefy the day under cover of night. A droning from the planet's tipping point, coloured by the murky daydream of some suburban gymnasium slow dance.
Dan Galway unpacks the space between anxiety and intent – the tricky idea that "being human is difficult because we have to feel" – with the riddled atmospherics of his remote outpost: a single bulb in an uncluttered room; his stored motorbike's dormant heat; sled dogs howling at the abyss of snow and sky outside; trans-zen-dental single notes and strong cadences decoded through a pair of headphones; his family sleeping down the hall. Galway says his four-month-old likes watching the computer screen but is startled by loud noises, "so he is a harsh critic."
The Iqaluit-based artist gives the scoop on his song titles and what they grapple with.
This song is one of Galway's favourites and the CD-R's title track because it speaks to the prevailing theme of his music: the complexity of emotions. "Human interaction is difficult. We are unable to express ourselves save for a setting in which that is implied. This is resolved by being honest to ourselves and others."
Galway: "This track speaks to the inherent tension within true happiness. The dissonant low tones sound both in opposition to and in harmony with each other. Feeling truly happy is a miracle, but it is not free from self doubt and anxiety."
"Music is a natural process for me – I generally build on an idea I have in my head for how I want a track to flow. This track, like a lot of my music, is based on the layering and manipulation of repetitive rhythms and melodies. At what point does this no longer challenge the listener? Is that the purpose of this music? If it isn't, then what is? This must be something all creative types feel – the nagging idea that what you produce is not special, merely mediocre."
The "slow, lumbering and uncomfortable" jam set against a 7/8 beat that repped Nunavut on the Wyrd Distro coast-to-coast-to-coast launch comp cassette. Galway calls it an experiment with "the juxtaposition of what we say versus how we really feel. Behind the facade we are people who may never truly know each other. The reason this is so troubling is because we need to exist outside of ourselves. But how well can we really know anyone?"
Des lasers stupéfiés d'Eric Rumble:
(Traduit par l'incapacité de Vincent Rondeau à traduire des jeux de mots)
Submersion. Un gémissement venu des profondeurs bouillonne dans la toundra. Des basses en accéléré, des traînées de lumière qui liquéfient le jour à la faveur de l'obscurité. Un ronflement issu du pivot de la planète, coloré par la fantaisie glauque d'un slow de gymnase en banlieue.
Dan Galway déploie l'espace entre l'angoisse et l'intention, l'idée retorse selon laquelle « être humain, c'est difficile parce qu'il faut tout ressentir », à l'aide des atmosphères déchirées de son emplacement reculé : une ampoule seule dans une pièce épurée, la tiédeur latente de sa moto rangée, le jappement des chiens de traîneau dans l'abîme de neige et de ciel, des cadences fortes et des notes solitaires transcendantales décodées par une paire d'écouteurs, sa famille endormie au bout du couloir. Galway mentionne que son fils de quatre mois aime regarder l'écran de l'ordinateur mais que les bruits forts l'effraient : « c'est un critique impitoyable ».
L'artiste et résident d'Iqaluit nous explique les titres de ses chansons et leur signification.

"Human Feelings" (« Sentiments humains »)
C'est une des chansons favorites de Galway et la chanson-titre du CD-R parce qu'elle traite du thème principal de sa musique : la complexité des émotions. « L'interaction entre êtres humains est difficile. On est incapable de s'exprimer en dehors de certains contextes où cette difficulté est sous-entendue. La solution, c'est d'être honnête avec nous-mêmes et avec les autres ».

"Latest Triumphs" (« Triomphes récents »)
Galway : « Cette pièce parle de la tension inhérente au vrai bonheur. Les basses dissonantes sonnent à la fois en opposition et en harmonie entre elles. Le sentiment du bonheur réel est un miracle, mais il ne nous libère ni du doute que l'on ressent à propos de soi ni de l'angoisse ».
« Pour moi, la musique est un processus naturel. D'habitude, je commence à partir d'une idée générale du mouvement de la pièce. Celle-ci, comme plusieurs de mes autres pièces, manipule des mélodies et des rythmes répétitifs et les dispose en couches. Mais jusqu'à quel point est-ce stimulant pour l'auditeur? Est-ce le but de cette musique? Sinon, quel est-il? J'imagine que tous les créateurs ont le même sentiment, la même idée tenace que ce que l'on produit n'est pas spécial, mais médiocre ».

"Real Talk" (« Paroles vraies »)
Ce morceau « lent, lourd et inconfortable » sur un rythme en 7/8 a représenté le Nunavut sur la cassette compilation du lancement de la Wyrd Distro aux quatre coins du pays. Pour Galway, c'est une expérience qui joue avec « la juxtaposition de ce que l'on dit et de ce que l'on ressent vraiment. Derrière la façade, nous ne nous connaîtrons peut-être jamais réellement. C'est troublant parce qu'on ressent le besoin d'exister hors de nous-mêmes, mais à quel point peut-on vraiment connaître qui que ce soit? ».
---