Tag: EP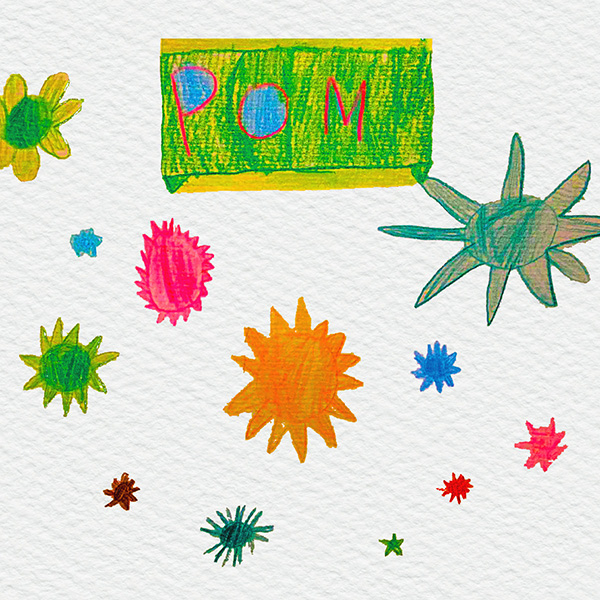 POM
POM EP
Self-released
Toronto, ON
From the archives of Mike Roi's Äppärät:
The Internet. Digital echoes become reflections of ourselves from the ideals (and flaws) of our bodies in the form of endless retweets, reactions and likes. This is nothing new, but POM find the beauty and horror lying in this relationship rallying to infinity. The syncopated rhythms of POM's instrumentals feel coolly calculated, but underscored by it all is the incongruent marriage of the real and the programmed. Its incompatibility knows no limits, but there is a thrill in the known and unknown beauty created by the shifting powers of control. "Take time to look inside – you're mine".
Archivée dans l'äppärät de Mike Roi:
(Traduit par l'encrier kaléidoscopique de Julie Mayer)
L'Internet. Les échos numériques deviennent les reflets de nous-mêmes, les idéaux (et les travers) de nos corps sous forme de gazouillis partagés, de réactions et de « J'aime » sans fin. Ça n'a rien de nouveau; POM a découvert la beauté et l'horreur se cachant derrière cette relation d'échanges à l'infini. Le duo semble avoir calculé de sang-froid sa musique instrumentale aux rythmes syncopés. Cependant, le tout met en évidence le mariage incongru du réel et du virtuel, de l'improvisation et de la programmation. Cette incompatibilité ne connaît aucune limite, mais un délicieux frisson réside dans la beauté connue et inconnue créées par le pouvoir changeant de l'emprise. « Prends le temps de regarder à l'intérieur; tu es à moi »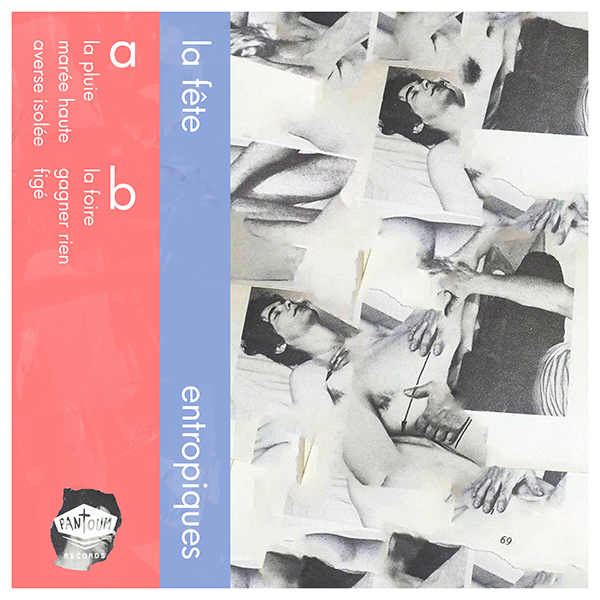 La Fête
Entropiques
Québec, QC
Du ressac lyrique de Mathieu Bédard:
*Entropiques* est un système qui se construit et se défait en permanence, alternant entre des rythmes bondissants et fragmentés et des explorations sonores planantes. Les instruments jouent parallèlement les uns aux autres, sans relâche mais sans se presser, pareils à des gouttes de pluie qui se répondent en tambourinant. L'élément liquide est partout, dans le flux et le reflux de la voix aussi, dont les trémolos agissent comme la marée, qui emporte ou dépose le ruissellement dissonant des guitares. Idéal pour méditer en regardant la pluie, ou pour courir en dessous les yeux fermés.
From the lyrical riptide of Mathieu Bédard:
(Traduit par Sergio Calla)
Alternating between the leaping and fragmented rhythms and soothing sound explorations
*Entropiques* is a system that is constantly created and destroyed. Tirelessly, the instruments calmly play in unison, similar to raindrops which sound like a beating drum. The liquid element is everywhere, in the ebb and flow of the voice too, whose tremolos carry or deposit the guitars' sour runoff like the tide. Ideal to meditate by rainfall, or to blindly run under it.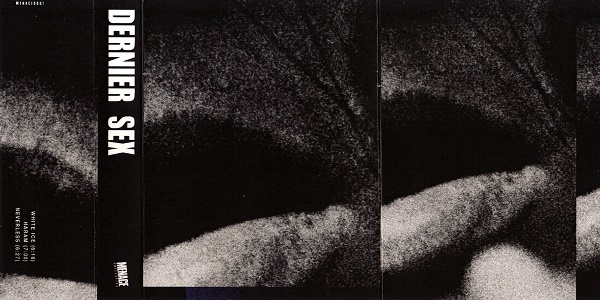 Dernier Sex
3-Song EP
Montreal, QC
From the ethereal web of Charlotte White:
Your blood thickens and the pavement feels warm on your bare feet. Humid air churns around your body creating eddies of fizzing ecstasy as your heartbeat slows to a near standstill.
This is where dreams become nightmares and nightmares become dreams. Here you are lifted above all pain and fears that ooze from dark corners like water seeping under bathroom doors.
At dawn you awake drenched in sweat and blood. You're unsure if it's your own.
Du site web paradisiaque de Charlotte White:
(Traduit par Sergio Calla)
Ton sang s'épaissit et la chaleur du pavé caresse tes pieds nus. L'air humide tourbillonne autour de ton corps générant un tourbillon, un vortex euphorique pétillant provoquant un ralentissement raide du rythme cardiaque.
Il s'agit d'un domaine où les rêves se transforment en cauchemars et les cauchemars en rêves. Ici, cesse la douleur et les craintes qui suintent de tous les coins sombres comme de l'eau qui s'infiltre sous les portes de salles de bains.
Vous vous réveillez à l'aube ensanglanté et en sueur, incertain de votre sort.
Johnny de Courcy
Master Manipulator
Montreal, QC
From the hoop earrings of Jesse Locke:
For his latest transformation, Johnny de Courcy peacocks through five songs of charisma-dripping glamorama. Side A crams in sexy sax and guitar scorch on the title track of the year plus a straight-played cover of Edwyn Collins' post-Orange Juice confectionary "A Girl Like You". The flipside sails back to Alien Lake with the melancholic "Teenage" and a spotlighted solo piano before the curtain drops.
Des créoles de Jesse Locke:
(Traduit par les oreilles envoûtées de Julie Mayer)
Pour sa plus récente réincarnation, Johnny de Courcy se pavane comme un paon à travers cinq chansons de glamourama dégoulinant de charisme. La face A case du saxo sexy et de la guitare roussie dans la chanson-titre de l'année plus une reprise exécutée avec justesse de « A Girl Like You », bonbon post-Orange Juice d'Edwyn Collins. La face B remonte à Alien Lake avec le mélancolique « Teenage » et un solo de piano mis sous la lumière des projecteurs avant la tombée du rideau.
Johnny de Courcy – Master Manipulator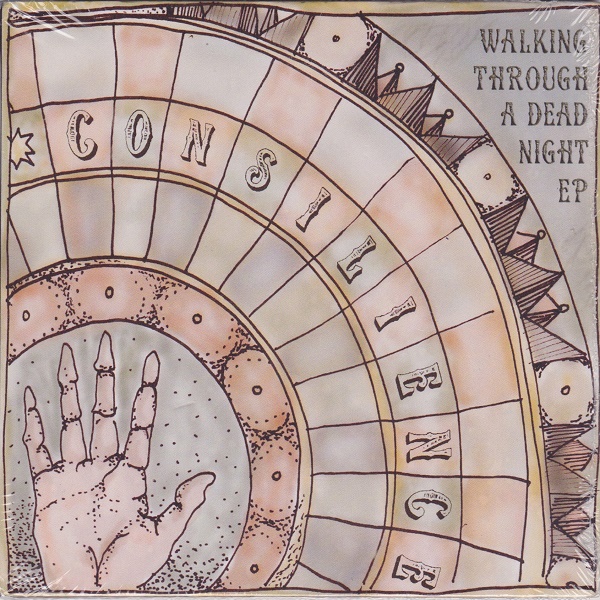 Consilience
Walking Through A Dead Night
(Self-Released)
Edmonton, AB
From the day-old cabinet of Jibril Yassin:
On Walking Through A Dead Night, Consilience are a band of gifted tricksters. What unfolds as gentle dream pop theatrics unfolds into something a lot more vital and energetic. Yet you can't shake off the hazy atmospherics sonic architect Tasy Hudson has grown so fond of incorporating into the songwriting. On "Proud Soul," the band cycle through its coda again and again, Hudson's vocals reaching for the sky as the band begins to erupt all around her. It's a conclusion that delivers.
Du cabinet d'un jour de Jibril Yassin:
(Traduit par Julie Mayer)
Sur l'album Walking Through A Dead Night, les membres de Consilience sont une bande d'arnaqueurs doués. Ce qui se dévoile comme étant une douce théâtralité pop onirique se révèle être une chose bien plus vive et énergique. Toutefois, tu ne peux pas te débarrasser de l'atmosphère brumeuse que l'architecte acoustique Tasy Hudson s'est peu à peu attachée à intégrer à la composition de ses chansons. Dans « Proud Soul », le groupe tourne autour de sa coda encore et encore. La voix de Hudson atteint les étoiles tandis que le groupe entre en éruption tout autour d'elle. Une conclusion libératrice.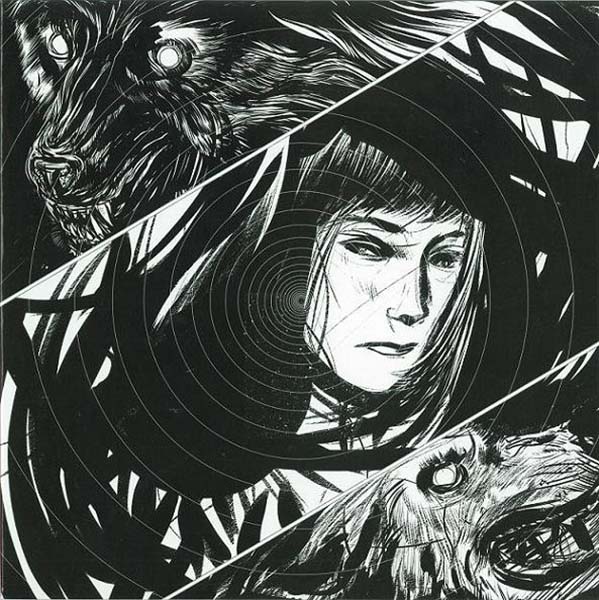 Terra
Couldn't Save This
Medicine Hat, AB
From the therapeutic helmet of Trevor Angst:
A herald abdicates his duties to become a harbinger. He gives an exit speech of honest introspection and narrates his inner conflicts to the hearkening convergence of the rank and file. His oratory is tonally commanding and it's mastered with a silver tongue. People discern the vocalized afflictions. It is sheathed like a cupped mic to make a bull horned public address of incurable conditions.
Du casque thérapeutique de Trevor Angst:
(Traduit par le clavier post-numérique de Mackenzie Smedmor)
Un héraut renonce à ses responsabilités afin de devenir un annonciateur. Il tient un discours de sortie d'une honnête introspection et narre ses conflits internes jusqu'à la convergence prêtant l'oreille du rang et du fichier. Son oratoire adopte un ton autoritaire et est maîtrisé avec une grande éloquence. Les gens distinguent les afflictions vocalisées. C'est recouvert comme un microphone enveloppé pour faire une allocution publique audacieuse à conditions irrémédiables.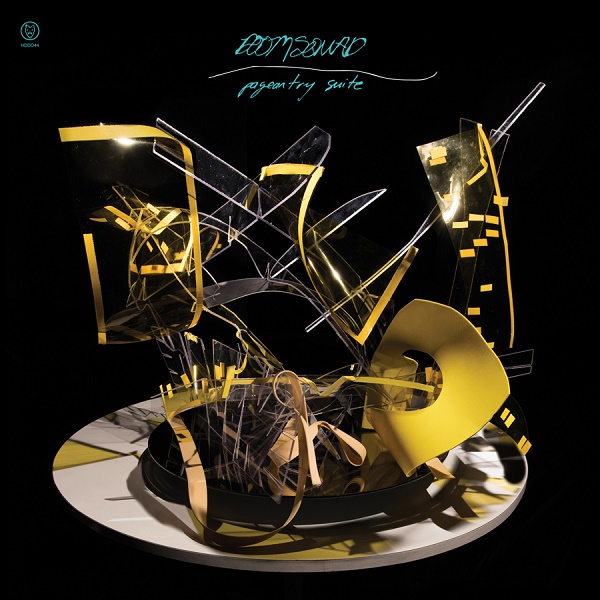 Doomsquad
Pageantry Suite
Toronto, ON
From the sleep deprived trips of Mitch Jackson:
There's a scene in what is objectively the greatest Canadian movie of all time, Hard Core Logo, where a goat is murdered in a bloody, drug induced ritual with a chainsaw. The scene is trippy, frightening and puts you in a weird kind of trance that you can't really escape; until you snap out of it and realize that a goat was murdered and you drank its blood. This EP is kind of like that.
Des voyages en manque de sommeil de Mitch Jackson:
(Traduit par les crises de somnambulisme de Julie Mayer)
Il y a une scène, dans ce qui est (d'un point de vue objectif) le plus grand film canadien de tous les temps, Hard Core Logo, où une chèvre se fait trucider à l'aide d'une tronçonneuse lors d'un rituel sanglant accompli sous l'influence de la drogue. La scène est trippante, épeurante et te plonge dans une sorte de transe bizarre de laquelle tu ne peux pas vraiment t'échapper; jusqu'à ce que tu t'en sortes et que tu te rendes compte qu'une chèvre s'est fait trucider et que tu as bu son sang. Cet EP, c'est à peu près ça.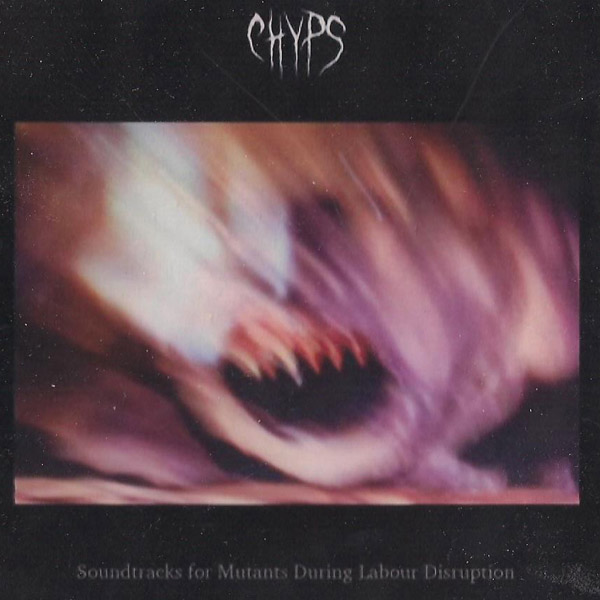 CHYPS
Soundtracks for Mutants During Labour Disruption EP
(Self Released)
Mississauga, ON
From the fingertips of Lauren Rabindranath:
Soundtracks for Mutants During Labour Disruption is also suitable for humans during summer afternoons. The 3-track EP creates space with sound, catapulting the listener into a sonically-driven contemplative journey. Contrast between methodical, calming instruments and tense, upbeat electronic tones form a balanced and coherent whole. Cryptic last (and only) lines provide personality. CHYPS embrace 'empty' space as part of the experience and use silence as effectively as sound. The tracks' raw edges leave the listener with an invitation to ascribe their own meaning – to fill or find comfort in their own silences.
Du bout des doigts de Lauren Rabindranath:
(Traduit par Julie Mayer)
Soundtracks for Mutants During Labour Disruption convient également aux humains pendant les après-midis d'été. Cet EP de trois pistes crée de l'espace avec du son et catapulte les auditeurs et les auditrices dans un voyage contemplatif mené par une motivation sonique. Le contraste entre les instruments méthodiques et apaisants et les tons électroniques, entraînants et tendus forment un tout équilibré et cohérent. Les dernières (et uniques) lignes cryptiques donnent du caractère. Pour CHYPS, l'espace « vide » fait partie de l'expérience et il utilise le silence aussi efficacement que le son. Le côté brut des pistes sonores invite l'auditeur à leur attribuer leur propre sens; remplir leurs propres silences ou y trouver du réconfort.
CHYPS – Soundtracks for Mutants During Labor Disruption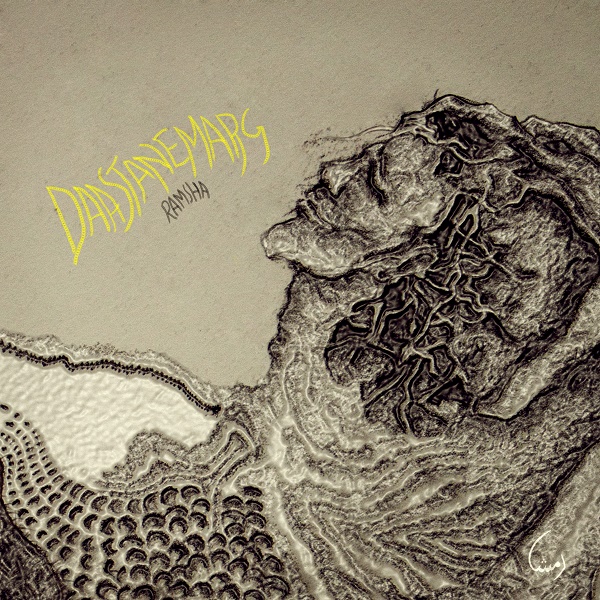 .ramsha
Daastanemarg EP
(Self-Released)
Mississauga, ON
From the sliding scales of Ana Lasevitch:
.ramsha journeys into the liminal state between wakefulness and sleep, bartering basslines for shreds of memories. The ebbs glaze your yawns and summon disquiet, preparing you for the drift into the hazy "other." As you lose sight of the shore, the skies glow with compassion. Dreams coil around your limbs, and keep you buoyed in the eye of the storm.
Des gammes galoppantes d' Ana Lasevitch:
(Traduit par l'hémisphère de Diane Beaupré)
.ramsha voyage entre le réveil et le sommeil, troquant une basse contre des bribes de souvenirs. Les marées étouffent vos bâillements et soulèvent l'inquiétude, vous préparant pour une dérive vers l'énigmatique « autre ». Alors que vous perdez de vue le rivage, les cieux brillent de compassion. Les rêves enveloppent vos membres et vous gardent à flot dans l'œil de la tempête.
.ramsha – Cosmic Meditation Killed Me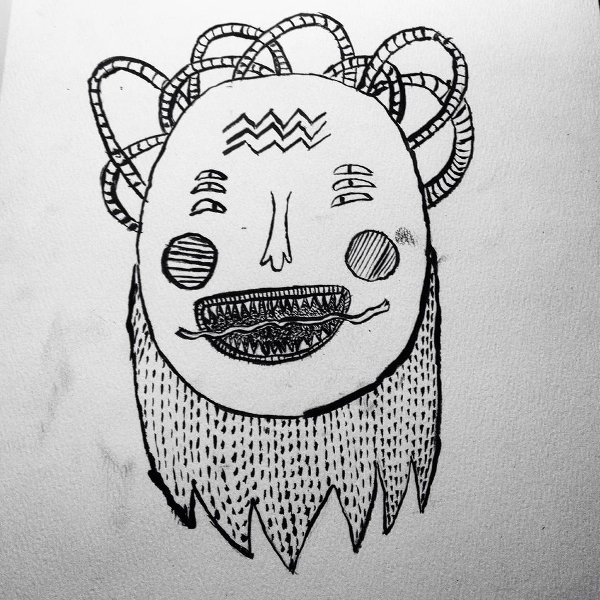 From the low tide of Brian Fauteux:
NVN's EP is more evidence that Saint John, New Brunswick is ripe with affective and atmospheric rock. The purveyor of EP, Sharktooth Records, is an active node at the centre of this sound. These four songs offer a momentary glimpse into an inviting soundscape shaped by bays and shores. Layered beneath wooly rhythms are inviting melodies that ignite feelings of warmth – impervious to the frigid fog banks of the salty Eastern Sea.
De la marée basse de Brian Fauteux:
(Traduit par Jessica Grenier)
Le EP de NVN est une nouvelle preuve que Saint John au Nouveau-Brunswick est rempli de rock affectif et atmosphérique. Le pourvoyeur de EP, Sharktooth Records est le centre névralgique de ce son. Ces quatre chansons permettent d'entrevoir un paysage invitant fait de baies et de rivages. Sous une couche de rythmes enveloppants se trouvent des mélodies qui irradient une sensation de chaleur – imperméables aux bancs de brouillard frigorifique de la mer orientale saline.
---