Tag: energetic action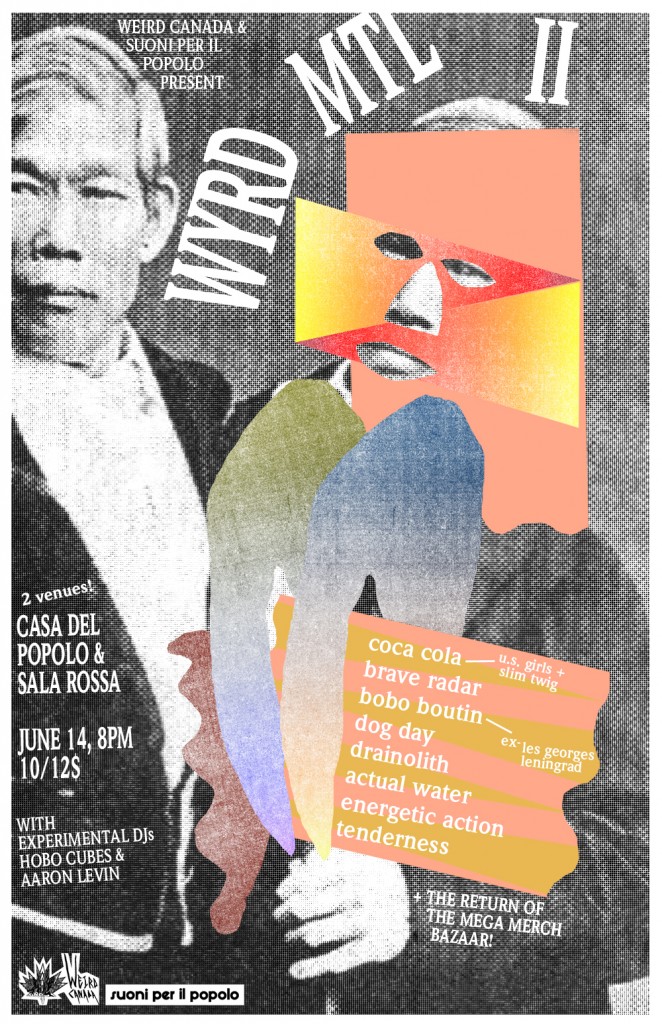 Wyrd MTL II
Thursday June 14, 2012
Montreal, QC
We are excited to announce the second annual
Wyrd Montreal
festival occurring
Thursday, June 14 2012
! Once again, we have teamed with beloved experimental music festival
Suono Per Il Popolo
to offer a multi-stage showcase of boundary pushing artists from the northernly fringes. Alongside the returning
Mega Merch Bazaar
(featuring a selection of Canada's best record labels) Weird Canada will be taking over both
La Sala Rossa
and
Casa del Popolo
simultaneously for a one-night-only cornucopia of sinusoidal delight. This will allow fans the chance to bounce back and forth between the two bars conveniently located across the street from one another. Should fans find themselves needing a respite between wondrous electronics and/or bludgeoning chaos, experimental DJs Aaron Levin and Hobo Cubes will take residency in Casa del Popolo delivering a strange brew of new age, electronic, and avant psychedelics.
Date: Thursday June 14, 2012
Venue #1: La Sala Rossa (4848 Boulevard Saint-Laurent, Montreal)
Venue #2: Casa del Popolo (4873 Boulevard Saint-Laurent, Montreal)
Cost: $10 (adv.) / $12 (door)
Doors: 8pm
Lineup
La Sala Rossa
Brave Radar
Dog Day
Actual Water
Coca Cola (U.S. Girls + Slim Twig)
Casa del Popolo
Drainolith
Energetic Action
Tenderness
Bobo Boutin
Artist Bios
Coca Cola (U.S. Girls + Slim Twig) (Toronto)
Continuing Wyrd's philosophy of unique collaborations, we're proud to include a rare performance by this duo known as Coca Cola. Combining the rhythmic polyphonies of Toronto's Slim Twig with the miasmic chaos of U.S. Girls, Coca Cola conjure an arpeggiated ethos of Cluster-inspired jammery. Expect a fantastic array of electronic drone and perturbed psychedelics.
Actual Water (Toronto)
Born in the depths of Ben Cook's (Fucked Up, Young Guv, Bitters) epic space in East Toronto, Actual Water's jangled power-pop transforms their 12-string anthems and insatiable marimba-laced punk into vocal bonanzas and summery attitudes. Every song is laced with their flowering '60s slacker vibes and live the whole calamity is wrapped by frontman Tony's enigmatic 'tude. Stoked!
Drainolith (Montreal)
Drainolith is the multi-throned oscillating 8-bit transmigration of Montreal native Alex Moskos (ex-guitarist for the now defunct AIDS Wolf). Diving deep into polyrhythmic hood jams and clamouring solos of synthetic marvel, Drainolith hams heavy, agnostic experimentalism into a creative vehicle the world may or may not be ready to digest.
Energetic Action (Edmonton)
Edmonton, Alberta is home to many improbable entities, and Energetic Action's revisionist goth-punk paradigm is no exception. Straddling the unknown line between The Pop Group and This Heat, their impossible rhythms and extravagant performances wrap an undisturbed nascency into music hardened by generations of nuclear waste. A certified western anomaly.
Brave Radar (Montreal)
Local Montreal darlings Brave Radar have kept quiet a long time. So long, in fact, that we reluctantly started to believe their demise. We can barely conceive they'll be back on stage with brand new oblique pop sweetness.
Bobo Boutin (Montreal)
Ex-Les Georges Leningrad drummer Bobo Boutin inhabits a delirious world of warped electronics. One man, yet an overwhelming performance slowly mounting into a frenzy of nightmarish proportions.
Dog Day (Halifax)
Dog Day's bent alt-rock resonates with grand designs. Seth and Nancy are husband and wife, a charming duo who constantly keep slinging sharp and heavy anti-heroic hooks at every corner.
Tenderness (Toronto)
With bizarre loop sampling wizardry, cracked electronics and sexy sax swoons, Chrissy Reichert redefines any conceivable notions of contemporary R & B. Tenderness is not to be missed, because true originality comes in small doses.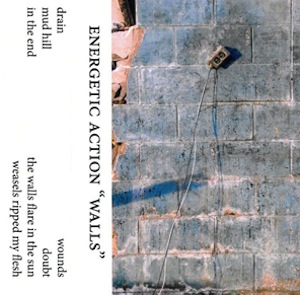 Energetic Action
Walls
(Self Released)
Edmonton, AB
From the Fantasyland Hotel of Jared Majeski:
What isolation inspires is what Walls captures. A quartet of young non-Mancs beholden to post-performance for an undivided past; mongo-beat slaves in (and to) a sincere place of revisionist zeitgeist. Keaton Bassett lays a thick vocal fabric, multidimensional in a nuclear sunlight — and the light's brighter. In all ways, music hardened from what might be generations of reflection rings with undisturbed nascency. This sooty pantomime — not time after time, but this time — plays in front and inside us. Slick packaging, Zappa rendition, GRIP.
De l'hôtel Fantasyland de Jared Majeski:
(Traduit par Odile Leclerc)
Ce que l'isolation inspire c'est ce que Walls capture. Un quartet de jeune non-Mancs redevable à la post-performance pour un passé unanime; un rythme mongo travaille dur dans (et à) une place sincère de révisionniste zeitgeist. Keaton Basset dépose un tissu de vocal épais, multidimensionnel dans la lumière du soleil — et plus brillant dans la lumière. De toutes les façons, de la musique endurcie de ce qui pourrait bien être des cercles de générations de réflexion avec une naissance non troublée. Ce pantomime cendré—pas encore et encore, mais cette fois—joue en face de nous et en nous. Astucieux emballage, interprétation Zappa. SAISISSEZ.
[audio:http://weirdcanada.com/binary/Weird_Canada_-_Energetic_Action_-_Mud_Hill.mp3|titles=Energetic Action – Mud Hill] Energetic Action – Mud Hill
[audio:http://weirdcanada.com/binary/Weird_Canada_-_Energetic_Action_-_Wounds.mp3|titles=Energetic Action – Wounds] Energetic Action – Wounds
---