Tag: emily traichel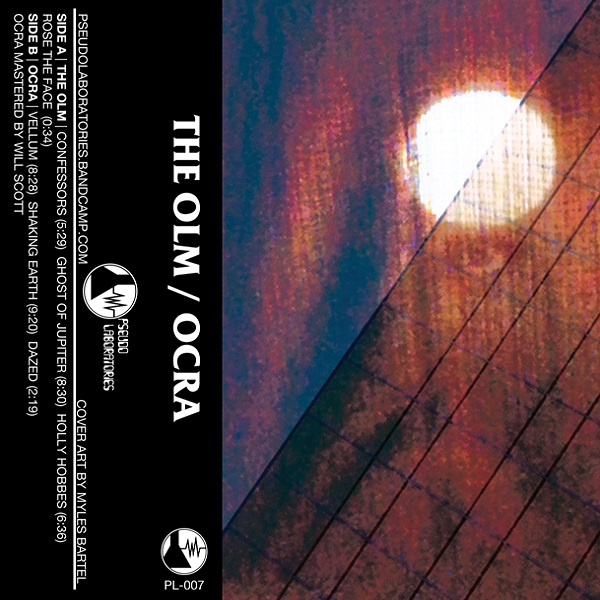 The Olm / Ocra
The Olm / Ocra
Edmonton, AB
From the timeluscent west of Heather Lune:
The Olm moans like a metal wraith, a fossil of the prehistoric ocean that lives in the mountains – badland epigrams malformed. They're a beacon sculling over the solid hide of the skyline, where the sea is held inside sun-risen fumes.
The Ocra hears a ghastly echo of our industrious carvings. Inscriptions knocking into the wind of falling bodies, the mechanisms used to slip through tap dancing waves. The scraping, digging, probing, mining. The generations, the millenia – waterbed bones compressing into an arid ocean floor.
Belonging to us, as we to it, a locked-soul.
Par l'ouest tempslucide de Heather Lune:
(Traduit par l'écho ésotérique des vents ténébreux d' Émily Traichel)
L'Olm gémit comme un spectre en métal, un fossile venu de l'océan préhistorique qui vit dans les montagnes – épigrammes malformées des badlands. Il y a un flambeau qui godille sur la peau solide de l'horizon, où la mer est enfermée dans des émanations solaires.
L'Ocra entend un écho épouvantable de gravures industrieuses. Des inscriptions cognent dans le vent de corps en chute, les mécanismes employés afin de glisser à travers les vagues qui dansent la claquette. Le grattage, creusage, sondage, l'exploitation minière. Les générations, les millénaires – les os du lit d'un fleuve qui se blottissent dans un fond d'océan aride.
Nous appartenant, comme on leur appartient, une âme-barrée.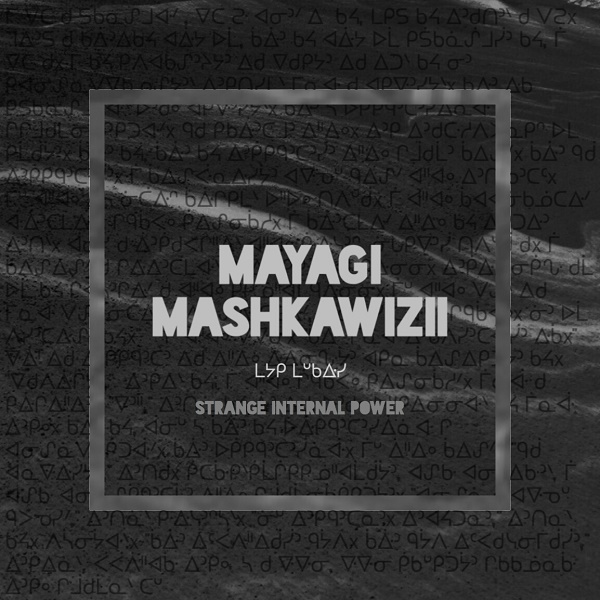 Ziibiwan
Mayagi Mashkawizii
(Self-Released)
Toronto, ON
From the unmuted spirit of Christina Bell:
Motion maker Ziibiwan crafts a private nostalgia that is deeply independent of genre, unmarried to any single narrative. Mayagi Mashkawizii walks you to the edge, where you can decide whether to clear your mind or consider the sum of everything you've ever done. Soothing melodies collaborate with glitchy beats in an elongated praise of momentum. Motion. Mayagi Mashkawizii is an audible testimony to the theory that humankind's prime mover must have had a sound.
Par l'esprit non-assourdi de Christina Bell:
(Traduit par les grandes questions d' Émily Traichel)
Créateur de mouvement, Ziibiwan élabore une nostalgie privée qui est profondément indépendante de genre, non mariée à aucune unique structure narrative. Mayagi Mashkawizii nous mène jusqu'au bord, où l'on peut choisir de se dégager l'esprit ou de considérer la somme de tout ce que nous avions vécu jusqu'ici. Des mélodies apaisantes collaborent avec des rythmes distorsionnés en une louange prolongée de momentum. Mouvement. Mayagi Mashkawizii est un témoignage audible à la théorie qui constate que le principal moteur de l'humanité doit avoir eût un son.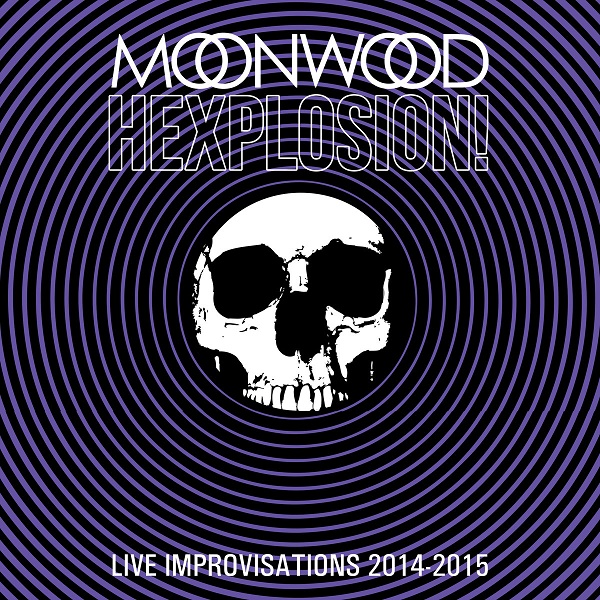 Moonwood
Hexplosion
Toronto, ON
From the impro-drone of Gabe Girard:
The world of improvised drone tends to employ the services of laptops, prerecorded samples and electronics in favour of live instrumentation. The world of impro-drone in the West is, for the most part, a digitized wonderland of electronics, synths and CPUS. Moonwood certainly use their share of binary vibrations, but to come across a live instrumental band that achieves that level of heart BPM reducing, out-of-body experience inducing, whimsically meandering drone that we all know and love is a rare thing indeed.
Par le drone-impro de Gabe Girard:
(Traduit par le méandrement fantasque d' Émily Traichel)
Le monde du drone improvisé a tendance à utiliser les services des ordinateurs portables, des échantillons pré-enregistrés et de l'électronique au profit de l'instrumentation en direct. Le monde du drone-impro dans l'ouest est, pour la plupart, un pays des merveilles de l'électronique, des synthés et des UCs. Moonwood se servent certainement de leur part de vibrations binaires, mais le fait de croiser un groupe live qui atteint un tel niveau de drone réducteur-de-BPM-du-coeur, inducteur-d'expérience-extra-corporelle et fantasquement méandre, que nous connaissons et aimons tous, est effectivement une chose rare.
Moonwood – Cosmic Ratio (2015.5.29)
Moonwood – Set the Overdrive For The Dark Side of the Nile (2015.01.09)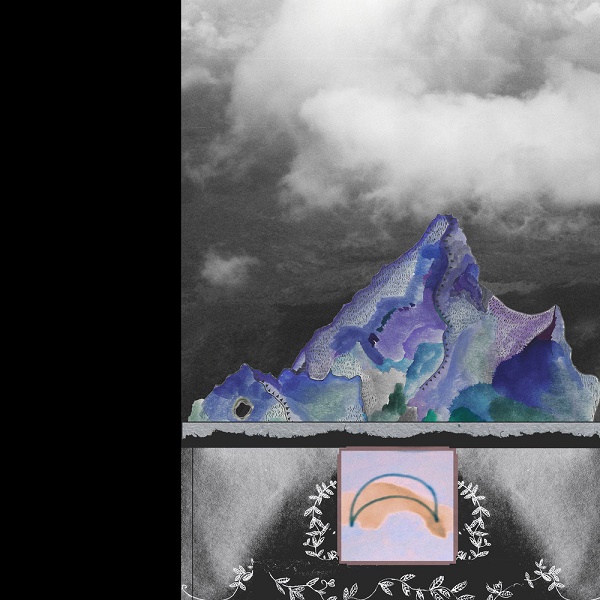 Kaine, Fili and the Believing Box
Free and Easy Wanderer
(Self-Released)
Montreal, QC
From the unwitnessed observations of Mark Anthony Brennan:
Kainé and Fili wander free and easy through a soundscape they seemingly create by magic. Unsullied by human discoloration, the experience is exquisitely primal, unblemished. The senses you've relied on become useless to you, so you allow your hand to be taken in the music's delicate grasp. It leads you, guides you. The secret of the cosmos is encapsulated in a single strident note. This mystery is further explored in a quiet conversation between violin and cello. Electronic murmurings remind you that you are indeed human, and that you are a sightless observer. Vocals echo your displacement.
Par les observations inaperçues de Mark Anthony Brennan:
(Traduit par les humeurs ensommeillées d' Émily Traichel)
Kainé et Fili vagabondent libre et aisé à travers un paysage sonore qu'ils semblent créer par magie. Non souillé par la décoloration humaine, l'expérience est exquisément primale, sans imperfections. Les sens sur lesquels vous aviez dépendu vous deviennent inutiles, alors vous vous permettez de vous faire prendre la main dans la prise délicate de la musique. Elle vous mène, vous guide. Le secret du cosmos est encapsulé dans une seule note stridente. Ce mystère est davantage exploré dans une conversation tranquille entre violon et violoncelle. Des murmures électroniques vous rappellent que vous êtes en effet humain, et que vous êtes un observateur aveugle. Les chants évoquent votre déplacement.
Kainé, Fili and the Believing Box – Crickets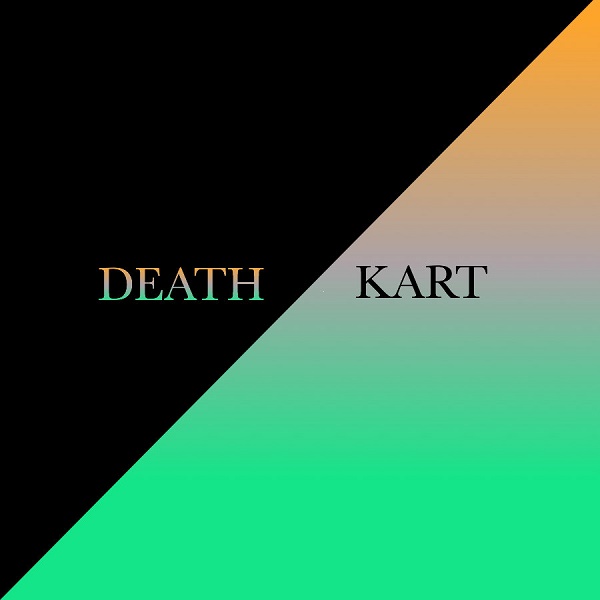 DEATH KART
DEATH KART
Victoria, BC
From the beach bum vigor of Joshua Robinson:
Super poppers from BC's Isle of Slack mix the fuzz with psych proclivities to make a sound brimming with the vigor of beach bummers and the steady flow of lo-fidelities. Down-tempo slackers spill their guts with the richness required to spin lysergic daydreams into hazy somnambulisms, replete with the rich overture of waking to repeat the cycle.
Par la vigueur de flâneurs de plage de Joshua Robinson:
(Par les rêveries lysergiques d' Émily Traichel)
Super poppers venu de l'île du Slack en Colombie-Britannique mixent les tendances fuzz et psych pour produire un son qui déborde de la vigueur de flâneurs de plage et du flux constant de basse-fidélités. Les slackers down-tempo vident leur sac avec la richesse requise pour faire tourner des rêveries lysergiques en somnambulismes vaporeux, remplis de la riche ouverture du réveil pour répéter le cycle.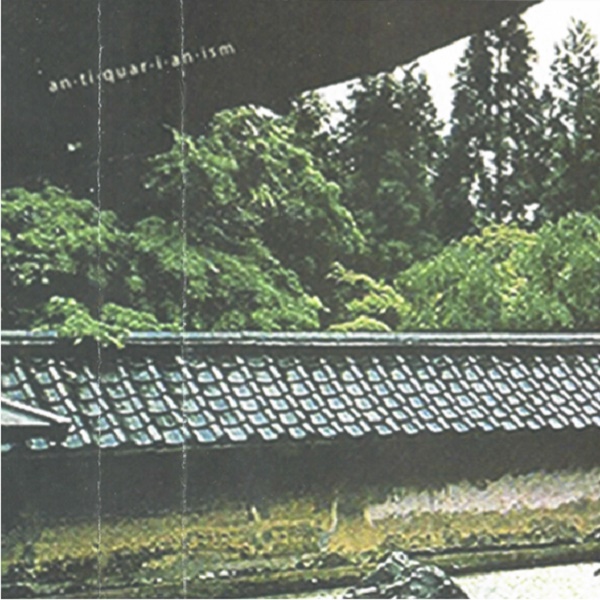 Spliff Jacksun
an·ti·quar·i·an·ism
(Self-Released)
Montreal, QC
From the screen burn of Cory Lefebvre:
Feel the click. Hear the magnetic sigh. Stare into a wave of static. A colour palette previously unknown emerges from a degraded tropical scale of tones. The long forgotten remnants of a screen burn stare back at you. Distorted by a sea of dead and dying phosphorous pixels, always looping back to the same fixed image. Every flaw reiterated and magnified in choral unison. The state of impermanence made permanent, imprinted on this tape of last week's Law & Order.
Par la brûlure d'écran de Cory Lefebvre:
(Par les papillons stomacaux réitérés d' Émily Traichel)
Ressentez le clic. Écoutez le soupir magnétique. Contemplez une vague de parasites statiques. Une palette de couleurs jusqu'alors inconnue émerge d'une échelle dégradée tropicale de tons. Tombés dans l'oubli, les restes d'une brûlure d'écran vous renvoient le regard. Distorsionnés par une mer de pixels phosphoreux morts et mourants, revenant toujours en boucle à la même image fixe. Chaque défaut réitéré et magnifié en choeur. L'état d'impermanence rendu permanent, gravé sur cette cassette du Law & Order de la semaine passée.
Spliff Jacksun – Emerald Formations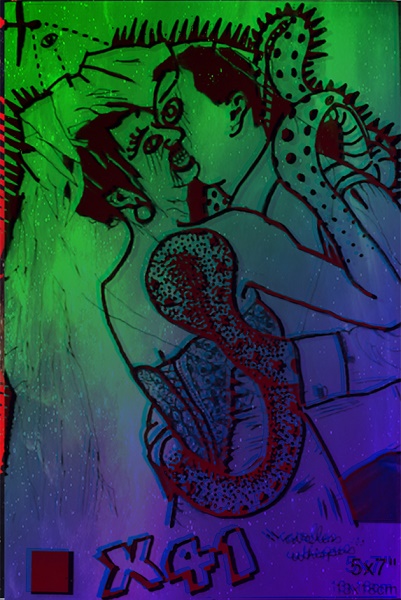 x41
S'up, Pluto?
Vancouver, BC
From the garbage dome of Katie Jensen:
The bedroom is a black hole. Dangling books with fluttering pages. Creased jeans crossing and uncrossing their worn out, indigo legs. A long-lost retainer, spackled with dried spittle and dust. Routine detritus shaken free by the swirling magnetism of a nameless void. Something stirring underneath the crumpled sheets and billowy comforter, pulsing with electromagnetic puffs. It struggles, whispering word-salad. Like an over-stuffed envelope, the bedroom collapses around itself. Contained, but bulging at the seams. Mail it away. Make it someone else's problem.
Venu du dôme d'ordures de Katie Jensen:
(Traduit par les facultés sacadées d' Émily Traichel)
La chambre à coucher est un trou noir. Des livres ballants avec des pages voltigeantes. Des jeans plissés se croisent et se décroisent les jambes indigo usées. Un appareil dentaire, perdu de vue depuis longtemps, enduit de crachat et de poussière. Détritus routiniers libérés par le magnétisme tourbillonnant d'un vide intersidéral sans nom. Quelque chose qui s'agite sous les draps froissés et la literie houleuse pulse avec des bouffées électromagnétiques. Elle a de la misère, murmurant une salade de mots. Comme une enveloppe surchargée, la chambre à coucher s'effondre sur elle-même. Close, mais pleine à bomber. Postez-la ailleurs. Rendez-la le problème d'un autre.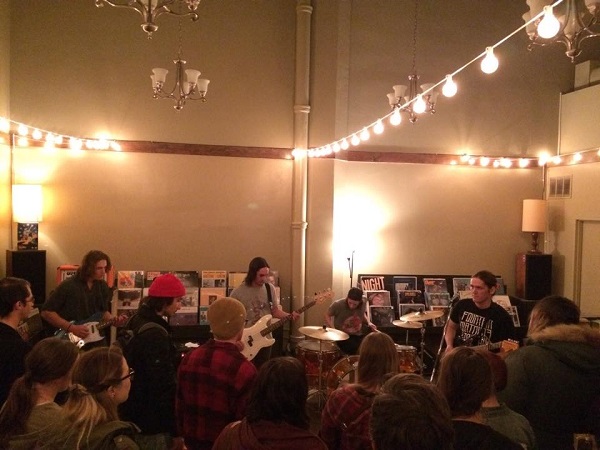 Weird Place :: Saskatoon, SK
Saskatoon, SK
From the whirring vituperations//wanting chronologies of Joshua Robinson:
All of this in loving, grateful, and ardent memory of Derek Bachman.
Saskatoon—that frigid, clandestine, temperamental spirit of sorts—masquerades paradoxically; caught in the confines of weather that seeps in through the cracks in floorboards and masonries, imbuing its denizens with the silent stutter-step of an enlivening cold-warmth.
It is a city landlocked in the expanse of the prairies, but it is much more than a mere point on the map. For many, it is a burgeoning creative community: lo-fi and humming with the rich analogues of the undercurrent of Canadian artistry. It is a city—as many cities are—with haunting histories, anxious presents, and hopeful futures. But for the musical, artistic, and creative sorts manifesting the city's virile spirit, Saskatoon is a place of welcoming; of communal warmth overpowering the whirring vituperations of its temperate climates.
The city's creativities seem forever influenced and inspired by the geographies surrounding them: space defined as place, rooms ripe with weathered canvas, aged musical stirrings, and invigorated poetics. Inasmuch, Saskatoon is the colorful conflagration of the seasons combined into one multi-spirited entity; raising and tempering its creative bodies; the kindling of our kindred fires, both present and enigmatic. Its defining spaces are many, but I've chosen to focus our lens on those places and events that exist to incubate and develop the communities for which they exist. And thusly, the calloused skin of an often misunderstood and underappreciated city will be pulled back, briefly, to expose it's circuitous and humbling personage (February 28, 2014). ______ and then I moved…………. ______
Now, I long for home. For those of you east of me, remember that Saskatoon is the birthplace of what you do and who you are. It is a comfort knowing that music, and its many stakeholders, is and are the result(s) of your variegated efforts.
Saskatoon: forever my spine, my whirling dervish; my root and my reason for leaving. (August 4, 2015).
This is not an exhaustive list. Rather, it is meant to reflect those places which meant the most to me while I was one lucky enough to be living in Saskatoon [September 23, 2015].
---
The Horse Room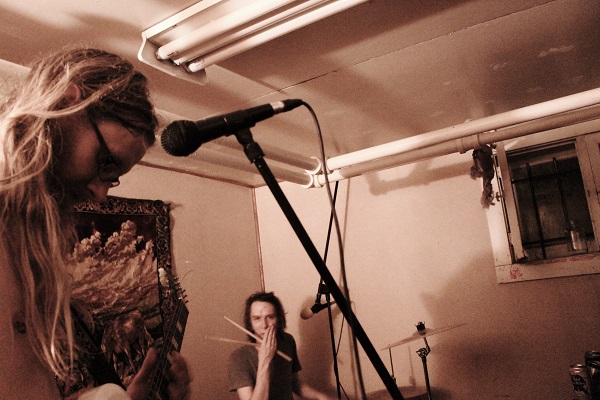 (Creative House/Local shows/Jam space/Glorified Party Dome)
Location: The sepulchral bowels of Saskatoon's belly-gut
Contact: Speak into the ground and wait for the dirt to spit back at you Was LGBTQIA+ friendly, was not wheelchair accessible.
What it was: the giant within the giant within the giant within the giant within the giant….
Picture the urban prairies in the throes of winter: scalpel-esque winds; biting cold; ice as dark as the nocturnal spread overhead.
Transplant this generalized imagery.
Suture it onto something more articulable. Something more… perfect.
Rickety wooden steps leading up to a screen door, the steel doorknob worn to translucent silver by frequent turning. Warmth and dim light emanating from the lower level, sneaking up the declining staircase; pushed forcefully by the sound of voices gathered en masse for yet another home concert.
This venue, The Horse Room, equine to the -nth degree, was nothing more than a 2.5 bedroom basement dwelling, complete with Mario Tennis and the fabric-endowed carnate form of The Big Comfy Couch.
Yet, for all it lacked in square footage and capacity to accommodate, housed it did.
This was the abode for musicians touring through Saskatoon.
This was the house that opened its doors to friends, strangers, and friendly strangers. Saskatoon grew, exponentially and musically, by virtue of this one household venue. It smelled of old books, soil-sodden vegetables, and stale beer—commixed to the point of sweet disarray.
Its upper floor was antiquated instruments, furniture, and open windows. The basement was Nardwuar's wet dream: all grime, gross, and noise. No longer breathing, this pony was put down and its denizens have moved on to other subterranean dwellings.
The Horse Room was the CBGB of Saskatoon-basement venues. It was my home away from home; the venue where I played my first solo show, and—literally—the venue where my best friends lived. It served as a redacted Nirvana, perfectly permanent to those who resided, frequented, and remember; brilliantly and ephemerally nostalgic for those who momentarily stepped inside it's glorious grime.
RIP, Ponyroom. You'll always be golden to me.
---
PAVED Arts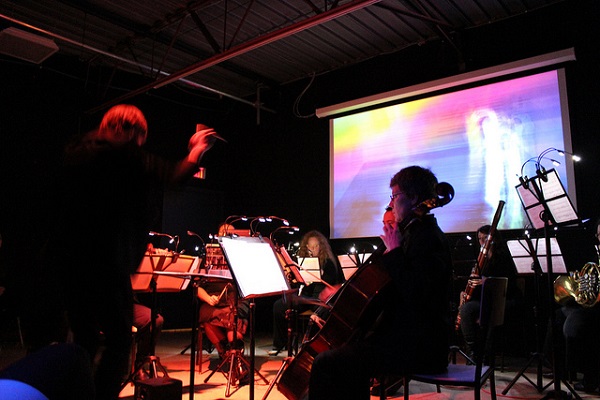 (Audio Suite/Video Suite/Digital Photo Suite/Darkroom/Film Processing/Event Space/Gallery)
Location: 424 20th Street W, S7M 0X4
Contact: [email protected]
Is LGBTQIA+ Friendly, is wheelchair accessible.
Quiet… Bed sheets hung from rafters, loose fabric rippling in the stagnant non-current of absent air conditioning. Populated by art and artist alike, the venue stirs with the whisperings of voices faint yet profound. Voices searching for something more than themselves in the form of community, safety, acceptance, and expression.
This place is a furnace.
But it doubles, triples—quadruples even—as an accessible venue for industry-grade audio and visual equipment, an accepting live venue space emphasizing the presentation and curation of the work and effort of marginalized communities and individuals, and it stands as a champion for the local arts.
The bottom floor is a tapestry of colours and styles; it is the housing of all things visual, cultural, and meaningful—meaningful in a counter-contemporary sense. It is art made by the people who understand the meaning of art. This work has meaning for the artists who create art and for the audience who benefit from its viewing.
The upper floor: a sprawling open event space. Cement floor and black walls; an expansive abyss until purpose challenges imposed limitations of identity. PAVED Arts supports and curates the most fragile yet poignant expressions of self: those which are rooted in culture, self-expression, identity, and reclamation.
'Bed of Mercury' was recorded by Reilly Forbes (Technical Coordinator w/ PAVED Arts) in the live-event space. Mixed by Reilly Forbes and Jeffrey Popiel.
---
Beaumont Film & Record (RIP)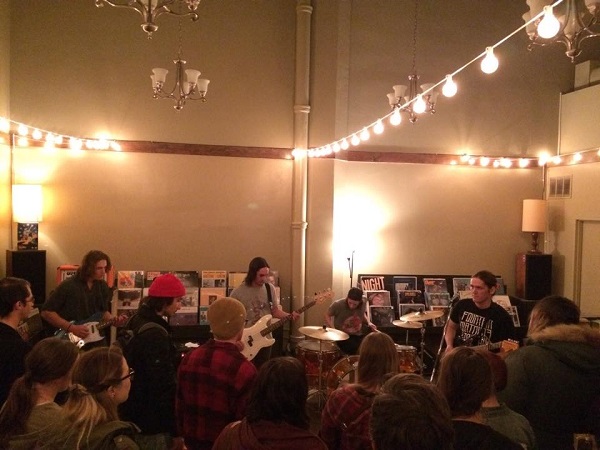 (Vinyl/Local Releases/DVDs/Shows)
Location: 100-220 3rd Avenue South
Contact: Scott Gowen – [email protected]
Was LGBTQIA+friendly, was wheelchair accessible. The record-label embodiment of the record store is still both of these things.
As Saskatoon grows—financially, geographically, and vertically—quiet charms are increasingly hard to come by. Caricatured walkways, silvered slush underfoot; a gradual countdown from the sound of the city to the sound of human-mediated expression looms. The whirring of The Smiths juxtaposed with the pitter-patter of leather-clad and busy feet. The jarring stir of Susan pressed firmly against the long-hanging smog of a city close to the breaking point. The iced South Saskatchewan yielding yet another flooding expulsion of seasonally influenced spates. For a while, this was the only all-ages venue in Saskatoon. More importantly, it was a place where all-ages bands and audiences performed and appreciated said performances. This was the home for many of the city's younger-than-us performers, opening their throngs to the likes of underaged-and-beyond-their-years Cookin' With Grandma, while at the same time serving as the inaugural stage for local emergent mainstays Black Tremor and Susan. It served as the home of Saskatoon's Wyrd Distro Launch Gathering (circa February 2014) and, as a record store, as the go-to purveyor of all materials lo-fi, ambient, punk, and otherwise. Owned by The Moas Scott Gowen, the former record store has transmorphed into Saskatoon's most prominent micro-independent label, dabbling in shoegaze, garage punk, ambient rock, and the variegated musical genres you can only find under your grandparent's shower rug or your younger sister's glue-bound word-stack of Vonnegut publications. What was once a beautiful record store has since become a stellar record label. Congratulations, Beaumont, on continuing to hold artistry above all else, even when the price-of-being becomes inexplicably untenable.
---
Vangelis Tavern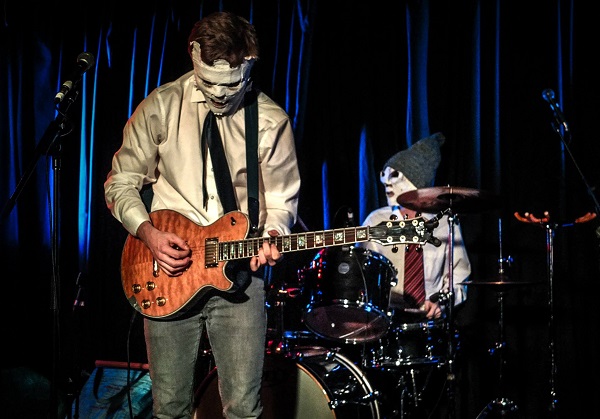 (Everything music… Literally)
Location: 801 Broadway Ave. Saskatoon, SK S7N 1B5
Contact: [email protected]
LGBTQIA+ friendly, wheelchair friendly. Friendly to out-of-towners, local noisemakers, and audiences in need of momentarily disembodied disintegration.
In situ nextdoor to a Subway, Vangelis Tavern is the public and open-staged venue that serves as an extension of—and main stage for—those many acts which graced the bellowing folds of The Horse Room. It was, in my mind now and in actuality then (when I still lived in Saskatoon), the most hospitable stage and venue the city had to offer. It was dingy. It was loud. It was open to all forms of musical fodder. From Michael Feuerstack to Thee Silver Mt. Zion. From Pandas In Japan to Little Criminals. Allow me a moment to wax nostalgic: this was the venue at which I performed my first show as part of a full-bodied band, impromptly named 'nvr mtns'.
It was, and has been, the furtive performance ground of countless initiatives driving to build ties and influence between local musicians and peoples-of-industry. Kiddy corner (almost) to the former body of Saskatoon's Lydia's and just down the street from Amigo's Cantina, Vangelis is still the warm coal on Broadway Avenue's cold winters.
It is, for lack of poetically descriptive prowess, the miner's jewel: brilliance for those who care enough to look for it ('it' being music). Somethin' special brews within the cauldrons of Vangelis Tavern. The name lacks uniform consensus regarding pronunciation, but it holds its own as an absolutely crucial venue for emerging, established, and real Saskatoon-based talent.
Par les vitupérations ronronnantes//chronologies en manque de Joshua Robinson:
(Traduit par le remous musical vieilli d' Émily Traichel)
Tout ce qui suit est à la douce et ardent mémoire et en reconnaissance de Derek Bachman.
Saskatoon, cet esprit frigide, clandestin et tempéramental, porte un masque paradoxal; coincé dans les limites de la température, qui se faufile entre les craques dans le plancher et dans la maçonnerie, imprégnant ses habitants du pas saccadé muet d'une froideur-chaleur vivifiante. C'est une ville enclavée dans l'étendue des prairies, mais c'est bien plus qu'un simple point sur la carte. Pour beaucoup, c'est une communauté créative bourgeonnante : lo-fi et bourdonnant par les riches analogues du sous-courant de talent artistique canadien. C'est une ville, comme le sont bien des villes, avec des passés qui hantent, de présents anxieux et des avenirs remplis d'espoir. Mais pour les types musicaux, artistiques et créatifs qui manifestent l'esprit viril de la cité, Saskatoon est une place de bienvenue; d'ardeur communautaire qui engloutit les vitupérations ronronnantes de ses climats tempérés.
Les créativités de la ville semblent influencées et inspirées à jamais par les géographies qui les entourent: un espace défini en tant que lieu, des chambres pleines de toiles usées, des remous musicaux vieillis et de poétiques revigorés. Dans cette mesure, Saskatoon est la conflagration colorée des saisons combinées en une entité à plusieurs esprits; s'élevant et tempérant ses corps créatifs; le petit bois de nos feux de parenté, à la fois présents et énigmatiques. Ses espaces déterminants sont nombreux, mais j'ai choisi de nous focaliser sur ces places et ces évènements qui existent pour incuber et développer les communautés pour lesquelles ils existent. Et ainsi, la peau calleuse d'une ville souvent méconnue et sous-estimée sera rétractée, brièvement, pour exposer son personnage tortueux qui rend humble (le 28 février 2014). ______ Et puis j'ai déménagé…………. ______
Maintenant, j'ai envie de chez moi. Pour ceux d'entre vous à l'est de moi, souvenez-vous que Saskatoon est le lieu de naissance de votre occupation et de votre identité. Il est réconfortant de savoir que la musique, et ses nombreuses parties intéressées, est, et sont, le(s) résultat(s) de vos efforts panachés. Saskatoon: mon épine dorsale à jamais, mon derviche tourneur; ma racine et ma raison de départ. (le 4 août 2015).
Ceci n'est pas une liste exhaustive. Plutôt, elle est destinée à refléter ces places qui m'étaient les plus chères pendant que j'étais de ceux ayant la chance d'habiter à Saskatoon [le 23 septembre 2015].
---
The Horse Room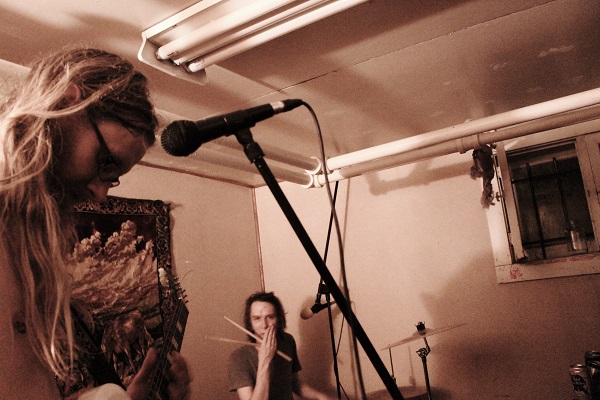 (Maison créative/concerts locaux/espace jam/dôme de party glorifié)
Lieu: Les entrailles sépulcrales de la bedaine de Saskatoon
Contact: Parlez dans le sol et attendez que la terre vous recrache une réponse Accueillait les personnes LGBTQIA+, n'était pas accessible aux fauteuils roulants.
Ce que c'était: le géant à l'intérieur du géant à l'intérieur du géant à l'intérieur du géant à l'intérieur du géant….
Imaginez des prairies urbaines dans les affres de l'hiver: des vents scalpel-esques; un froid mordant; de la glace aussi sombre que l'envergure nocturne au-dessus de la tête. Transplantez cette image généralisée. Suturez-la à quelque chose de plus articulable. Quelque chose de plus… parfait. Des marches en bois branlantes mènent à une porte-moustiquaire, la poignée en acier usée jusqu'à un argent translucide à force de la tourner. De la chaleur et un faible éclairage émanent de l'étage inférieur, grimpant furtivement l'escalier déclinant; poussés avec force par le son des voix rassemblées en masse pour encore un autre concert maison. Cette salle, The Horse Room, équine au xième degré, n'était rien de plus qu'une demeure à 2,5 chambres à coucher au sous-sol, équipée de Mario Tennis et la forme carnée et textile du Big Comfy Couch. Pourtant, malgré tout ce qu'il manquait en mètres carrés et en capacité d'accommoder, ça hébergeait quand même. Il s'agissait de la demeure des musiciens en tournée passant par Saskatoon. C'était la maison qui ouvrait ses portes aux amis, aux étrangers et aux étrangers sympathiques. Saskatoon a grandi, exponentiellement et musicalement, grâce à cette unique salle domestique. Ça sentait les vieux livres, les légumes boueux et la bière éventée – le tout mélangé au point de tendre désarroi. L'étage supérieur consistait de vieilleries d'instruments, meubles et fenêtres ouvertes. Le sous-sol était le fantasme de Nardwuar: toute chose crasse, dégueu et vacarme. Ayant cessé de respirer, ce poney fût euthanasié et ses résidents ont passé à d'autres demeures subtérannéennes. The Horse Room était le CBGB des salles sous-sol de Saskatoon. C'était mon chez-soi loin de chez soi; la salle où j'ai joué mon premier spectacle solo, et, littéralement la salle où mes meilleurs amis habitaient. Elle servait d'une Nirvana rédigée, parfaitement permanente à ceux qui résidaient, fréquentaient et se souviennent; brillamment et épheméralement nostalgique pour ceux qui entrèrent momentanément dans sa saleté splendide.
Repose en paix, Ponyroom. Tu seras toujours de l'or pour moi.
---
PAVED Arts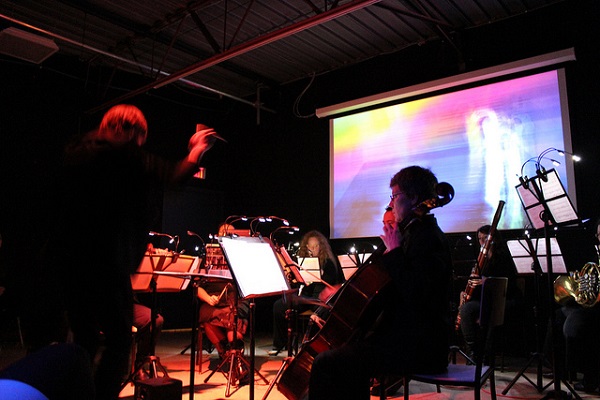 (Suite audio/suite vidéo/suite photo digitale/chambre noire/traitement des films/salle réservée aux évènements/galerie)
Lieu: 424 20th Street W, S7M 0X4
Contact: [email protected]
Accueille les personnes LGBTQIA+, accessibles aux fauteuils roulants.
Le calme… des draps suspendus au plafond, du tissu lousse, flottant dans le non-courant dormant d'air conditionné absent. Peuplée tant par l'art que par l'artiste, la salle nous réveille avec les chuchotis de voix faibles, mais profondes. Des voix à la recherche de quelque chose qui les surpasse dans la forme d'une communauté, d'une sécurité, de l'acceptation et de l'expression.
Cet endroit est une fournaise.
Mais elle agit également, ayant en fait plusieurs fonctions, en tant que salle accessible pour de l'équipement audio et visuel de qualité industrielle, lieu de spectacle en direct accueillant avec l'emphase sur la présentation et la sélection des oeuvres et des efforts des communautés et individus marginalisés, et elle se fait une championne pour les arts locaux.
Le rez-de-chaussée est une tapisserie de couleurs et de styles; elle abrite toute chose visuelle, culturelle et significative—significative dans le sens contrecontemporain. Il s'agit d'art créé par les personnes qui comprennent le sens de l'art. Cet ouvrage signifie quelque chose pour les artistes qui créent de l'art et pour le public qui bénéficient de son visionnement.
À l'étage supérieur: un espace réservé aux évènements ouvert et dégagé. Un plancher en ciment et des murs noirs; un abysse expansif jusqu'à ce que la raison d'être pose un défi aux limitations imposées sur l'identité. PAVED Arts soutient et organise les auto-expressions les plus fragiles, mais poignantes: celles qui sont enracinées dans la culture, dans l'expression individuelle, dans l'identité et la réclamation.
'Bed of Mercury' fût enregistré par Reilly Forbes (coordinateur technique chez PAVED Arts) dans le lieu de spectacle en direct. Mixé par Reilly Forbes et Jeffrey Popiel.
---
Beaumont Film & Record (RIP)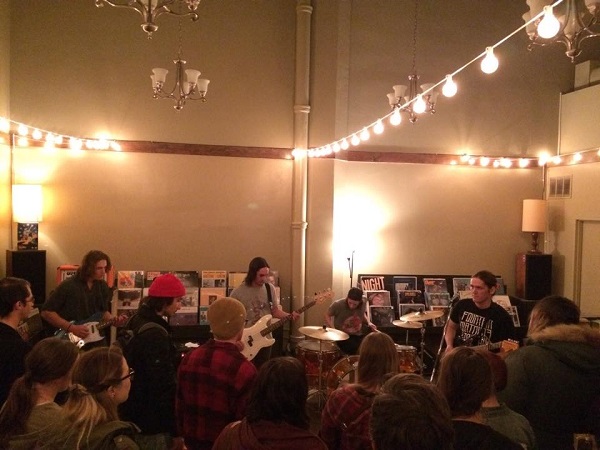 (Vinyl/Morceaux locaux/DVDs/spectacles)
Lieu: 100-220 3ème Avenue South
Contact: Scott Gowen – [email protected] Accueillait les personnes LGBTQIA+, était accessible aux fauteuils roulants. Le label discographique, l'incarnation du disquaire, est encore ces deux choses.
À fur et à mesure que Saskatoon se développe financièrement, géographiquement, et verticalement les p'tits trésors de tranquillité sont de plus en plus difficile à trouver. Des sentiers caricaturés, de la sloche argentée sous les pieds; un décompte graduel depuis le son de la ville jusqu'au son des métiers à tisser d'expression médiés par la main humaine. Le vrombissement de The Smiths juxtaposé aux petits pas de pieds pressés et vêtus de cuir. Le mouvement perturbant de Susan collé fermement contre le smog suspendu depuis longtemps dans une ville pas loin de son point de rupture. Le sud glacé de la Saskatchewan produit encore une autre expulsion débordante de déluges influencés par la saison. Pendant un bout de temps, ceci était l'unique salle tous âges à Saskatoon. Plus important encore, c'était une place où les groupes et spectateurs de tous âges performaient et appréciaient ces performances. C'était le foyer pour de nombreux musiciens plus-jeunes-que-nous, qui ouvrait ses foules aux mineurs-qui-dépassent-leurs-âges Cookin' With Grandma, tout en servant de scène inaugurale des piliers locaux émergents Black Tremor et Susan. La salle a servi de terrain d'accueil pour le lancement du Wyrd Distro à Saskatoon (circa février 2014) et, en tant que disquaire, de fournisseur de choix pour tous matériaux lo-fi, ambiant, punk et autrement. Propriété de Scott Gowen de The Moas, l'ancien disquaire a été transmorphé en label micro-indépendant le plus connu à Saskatoon, touchant au shoegaze, punk de garage, rock ambiant, et à des genres musicaux diversifiés qu'on ne peut trouver que sous le tapis de douche de nos grand-parents ou sous la pile de mots collés de publications de Vonnegut à votre soeur. Ce qui était une fois un magnifique disquaire est depuis devenu une étiquette de disque remarquable. Félicitations, Beaumont, de continuer de valoriser le talent artistique au-dessus de toute autre chose, même lorsque le coût d'exister devient inexplicablement insoutenable.
---
Vangelis Tavern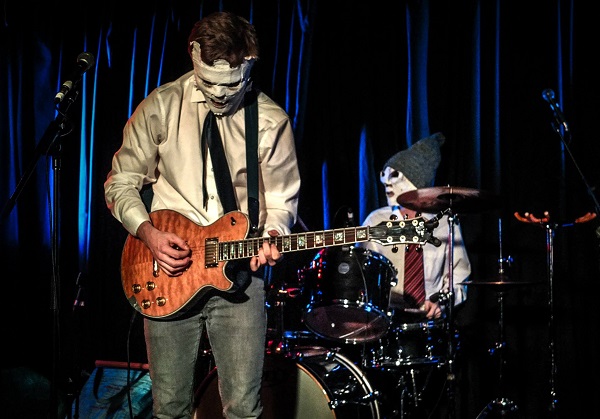 (Tout sur la musique… Littéralement)
Lieu: 801 Broadway Ave. Saskatoon, SK S7N 1B5
Contact: [email protected]
Accueille les personnes LGBTQIA+ et les fauteuils roulants. Accueille les étrangers à la ville, fabriqueurs de noise locaux, et spectateurs nécessitant une désintégration momentanément désincarnée.
In situ à côté d'un Subway, Vangelis Tavern est la salle publique et ouverte qui sert d'une extension ainsi que d'une scène principale pour ces nombreuses performances qui ont honoré les replis beuglant du Horse Room. C'était, dans mon esprit présent et dans l'actualité de ce temps (quand j'habitais encore à Saskatoon), la scène et la salle la plus accueillante que la ville avait à offrir. C'était miteux. C'était bruyant. C'était ouvert à toutes les formes de matière musicale. De Michael Feuerstack à Thee Silver Mt. Zion. De Pandas In Japan à Little Criminals. Permettez-moi un moment pour me dilater de nostalgie: il s'agit de la salle où j'ai joué mon premier spectacle dans un groupe à part entière, inpromptement nommé 'nvr mtns'. C'était, et a été, le terrain furtif de performances et d'innombrables initiatives qui poussent à former des liaisons et une influence entre musiciens locaux et personnes de l'industrie. À côté (quasiment) de l'ancien corps de Lydia's de Saskatoon et à quelques pas d'Amigo's Cantina, Vangelis est le charbon chaud des hivers froids sur l'avenue Broadway. Il s'agit, faute de prouesse poétiquement descriptive, du bijou du mineur: offrant une brillance pour ceux qui y tiennent assez pour la chercher (en voulant dire, la musique). Qu'que chose de spécial mijote dans les chaudrons de Vangelis Tarven. Le nom manque de consensus uniforme pour ce qui est de la prononciation, mais ça tient son rang en tant que salle absolument cruciale pour le talent émergeant, établie, et véritable de Saskatoon.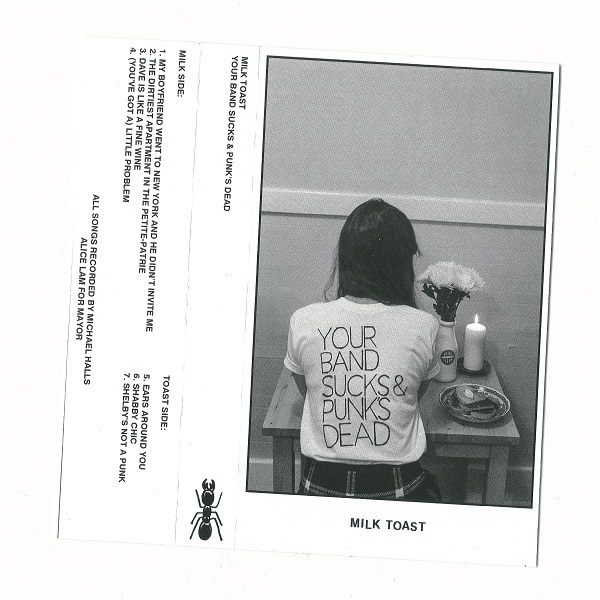 Milk Toast
Your Band Sucks & Punk's Dead
Calgary, AB
From the insulated Ontarios of Mitch Jackson:
What place does punk occupy within the spaces of aggregated, reblogged and retweeted content? Undead punks wander the streets of Canadian cities, looking like Canadian Classic cigs carrying Crass CDs, looking for authenticity. If Calgary's Milk Toast has any say, punk died, and it fuckin' sucked anyways. The only way to fight the surviving incestual punXXX and neo-grunge chic is snarky commentary and Montreal guitar pop with added bite from some westernly wit sculpted in the image of prairie circumpolar winds. Here is a much needed survival guide.
Par les Ontarios isolés de Mitch Jackson:
(Par les humeurs printanières d' Émily Traichel)
Quelle place occupe le punk parmi les lieux du contenu agrégé, rebloggué et retweeté? Les punks mort-vivants flânent dans les rues des villes canadiennes, avec l'air des cigarettes Canadian Classic portant des CDs de Crass, à la recherche d'authenticité. Si Milk Toast de Calgary a son mot à dire, le punk est mort, et c'était crissement nul de toute façon. Le seul moyen de combattre les incestueux punXXX et chic neo-grunge survivants, ce sont les commentaires narquois et le guitar-pop montréalais avec du mordant ajouté par un esprit de l'ouest sculpté à l'image des vents circumpolaires des prairies. Voici un guide de survie très attendu.
Milk Toast – My Boyfriend Went to New York and He Didn't Invite Me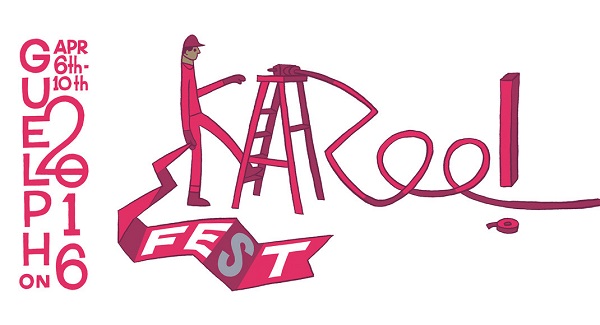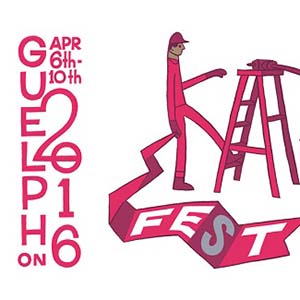 Kazoo! Fest 2016
Guelph, ON
From the ruling fingers of Sara Bortolon-Vettor:
Kazoo! Fest oozes out over 5 days in the intimate downtown core of Guelph. The 8th Kazoo! runs from April 6-10 2016, and soars to hit every weird sweet spot imaginable. An experiential annual delight, lifting our sneakers above the clouds.
What can you expect this year in the Royal City, where everything rules? A tightly curated lineup of everyone's favourite darlings, dreamers, stoners, visionaries, originators, best bad dads, experimenters, soul lifters, and heart tuggers are charming your ears over 5 blissed-out days.
Check out the Guelph Night Market (buy handmade stuff at night); Golden Bus Film Screenings (featuring Life of a Craphead's Bugs); contemporary dance; improv with The Making Box; the Kazoo! Print Expo; experiential art installations like the TrinkeTron 6750; plus live visuals and art gushing all over town.
Meet us at Vienna's for breakfast?
Par les doigts gouvernants de Sara Bortolon-Vettor:
(Traduit par les orifices fleurissants d'Émily Traichel):
Kazoo! Fest s'écoule le long de 5 jours dans l'intimité du coeur du centre-ville de Guelph. Le 8e Kazoo! a lieu du 6 au 10 avril 2016, et s'enligne pour toucher à tous les points forts du weird. Un délice annuel expérientiel, qui élève nos baskets par dessus les nuages.
À quoi pouvez-vous vous attendre cette année dans la cité royale, où régnent toutes sortes d'expression créative? Une programmation soigneusement sélectionnée des bien-aimés, rêveurs, stoners, visionnaires, initiateurs, méchants pères, expérimenteurs, leveurs d'esprit, et vibreurs de cordes sensibles préférés de tout le monde vous enchante les oreilles pendant 5 jours de félicité.
Découvrez le marché de nuit, le Guelph Night Market (achetez des items faits à la mains la nuit); les Golden Bus Film Screenings (en vedette, Bugs de Life of a Craphead); de la danse contemporaine; de l'impro chez The Making Box; l'exposition d'imprimerie de Kazoo!; des installations d'art expérientielles telle que le TrinkeTron 6750; et encore bien plus de montages visuels en direct et d'art qui jaillissent partout dans la ville. 
Rendez-vous chez Vienna pour le déjeuner?
---