Tag: eleanor wearing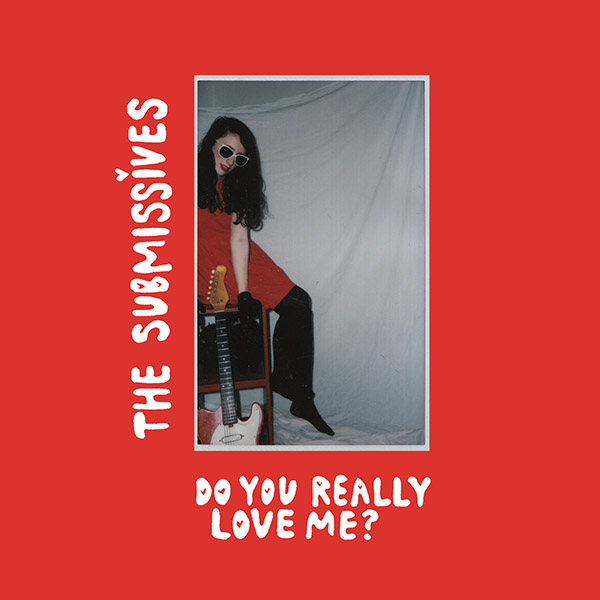 The Submissives
Do You Really Love Me?
Montréal, QC
From the Lovesick Daydream of Eleanor Wearing:
The Submissives' Do You Really Love Me? is the soundtrack to a never ending road trip towards an unreachable destination. Sun beats through dirty car windows. Soft air conditioning hums and sighs as the passengers do the same. Heat melts from a lazy blue expanse, conjuring highway mirages and lucid daydreams. Sweet stale air seeps and suffocates, whispering secrets to the reluctant beat of hands against knees. Finally, the sun slinks out of sight. Stars clatter and clink into place. But there is no rest for the lovesick so the car surges ahead, towards an elusive paradise.
Du rêverie languit d'amour du Eleanor Wearing:
(Traduit par Alison McReynolds)
Do You Really Love Me? de The Submissives est la bande-originale d'un road trip ayant une destination hors de portée. Le soleil tapait à travers des vitres sales. Un climatiseur doux chantonnait et soupirait pendant que les passagers faisaient de même. La chaleur fondait d'une étendue bleue et paresseuse évoquant des mirages de la grande route et de rêveries lucides. L'air doux et rassis coule et nous étouffe chouchotant des secrets aux battements réticents de mains qui frappent sur les genoux. Finalement, le soleil s'éclipse de vue. Les étoiles cliquettent et tintent en place. Mais il n'y a pas de repos pour celui qui souffre d'amour alors la voiture continue de l'avant vers un paradis élusif.
The Submissives – Do You Really Love Me?
Swim Team
Freedom/Constraint
(Self-Released)
Vancouver, BC
From the quarter life crisis of Eleanor Wearing:
"Are you filled with existential dread?
"Yes. Wait—no. Maybe? Things feel serious most of the time. Very serious. Slow lulls invoke a cloudy comatose state, only to be shot through and shattered by a harsh and unrelenting reality. Voices that once spoke softly surge louder, fighting to be heard."
"When darkness sets in, does obsession follow? Dominating every move you make? If you feel this way, it's ok. You are not alone. Look at the lows, carve out the highs. Push through. Drift beyond. Swim along."
De la crise de la vingtaine de Eleanor Wearing:
(Traduit par Alison McReynolds)
"Es-tu plein d'angoisse existentielle ?"
"Oui. Attend—non. Peut-être? On dirait que les choses sont sérieuses, du moins, la plupart du temps. Très sérieuses. Une douce accalmie invoque un état comateux voilé, pour bientôt être transpercée et mise en pièces par la dure et infatigable réalité. Des voix, qui discutaient doucement, surgissent désormais plus fortement, se battant pour être entendues.
"Lorsque l'obscurité s'installe, est-ce que l'obsession suit ? Dominant chaque geste que tu fais ? Si tu te sens comme ça, c'est correct. Non, tu n'es pas seul(e). Regarde les hauts, sculpte les bas. Passe à travers. Dérive au-delà. Nage avec le courant."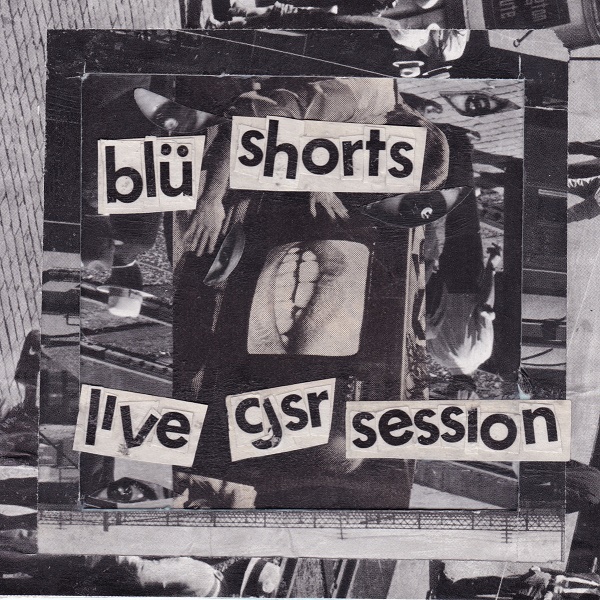 Blü Shorts
CJSR Session
(Self-Released)
Calgary, AB
From the joyful panic of Eleanor Wearing:
At the heart of an overcrowded amusement park is the messy, maniacal fun-house of Calgary's Blü Shorts. At its entrance, suspense tugs at an endless line of attendees as they feverishly await their taste of the upside down. Inside, Blü Shorts do not disappoint. The din of the park amplifies, distorts; laughter twists into screams, talking becomes nonsensical. Jagged smudged mirrors shoot grotesque faces across floors and walls that tilt and sink as they please. Joy crashes with panic, fear engulfs insanity. It is violent, it is unpredictable, it is sublime.
De la panique joyeuse d' Eleanor Wearing:
(Traduit par Sergio Calla)
Au cœur d'un parc d'attractions bondé se trouve la maison enchantée désordonnée et délirante de Blü Shorts, groupe de Calgary. La file interminable à l'entrée montre une foule attirée par l'angoisse qui attend fiévreusement sa dose de vertige. À l'intérieur, Blü Shorts ne déçoit pas. Le bruit du parc s'amplifie et se déforme. Le rire se transforme en cris, les paroles deviennent insondables.Les miroirs déformés tachés renvoient des visages grotesques sur les sols et les murs qui se penchent et sombrent comme bon leur semble. La joie se mêle à la panique, la peur engloutit la folie. C'est violent, c'est imprévisible, c'est sublime.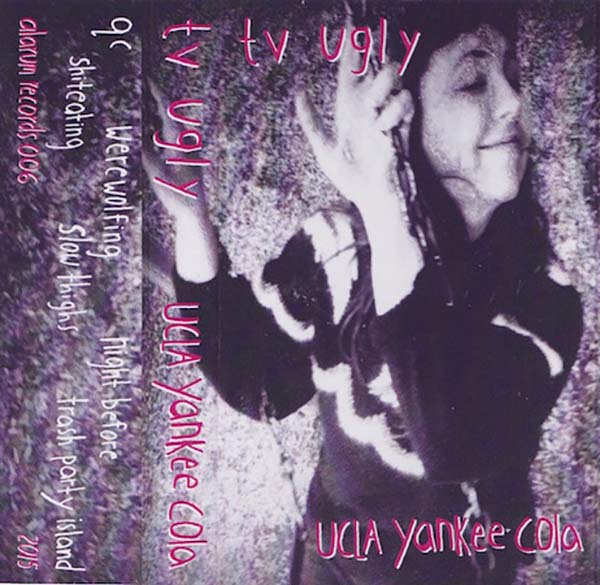 TV Ugly
UCLA Yankee Cola
Vancouver, BC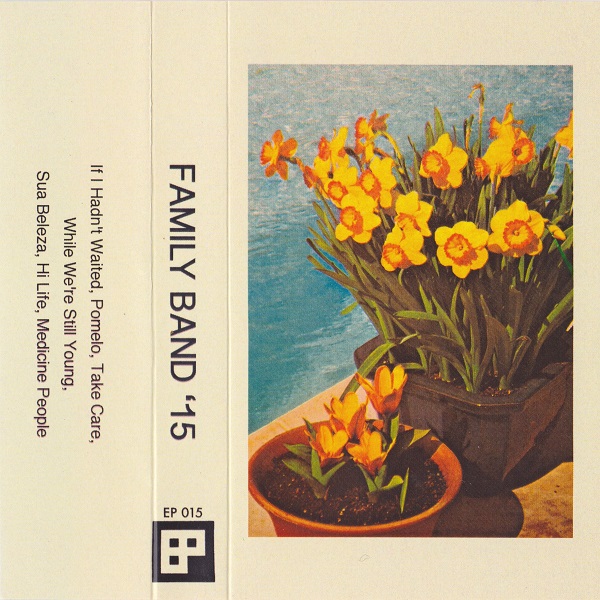 Family Band
Family Band '15
Montreal, QC
From the calculated chaos of Eleanor Wearing:
There is a lot going on here. Some feels old, some new. Some feels strangely familiar. Is it déjà vu or is your mind playing tricks on you?. Spurts of carefully calculated chaos follow lapses of calm. Every few moments it seems there can be no more surprises. No new sounds to add. Listen again. Dig your hands into the bottom corners of this goody bag, sugar sticking to your fingers, until you discover another gem hiding within the folds.
Du chaos calculé d' Eleanor Wearing:
(Traduit par les *paparmanes* de Julie Mayer)
Il se passe beaucoup de choses ici. Certains se sentent vieux, d'autres, neufs. Certains se sentent étrangement familiers. Est-ce une impression de déjà vu, ou serait-ce ton esprit qui te joue des tours?. Des giclées de chaos soigneusement calculé suivent des laps de calme. De temps à autre, il te semble que plus rien ne peut te surprendre. Aucun nouveau son à ajouter. Réécoute. Enfonce tes mains dans les coins inférieurs de cette pochette surprise, le sucre se collant à tes doigts, jusqu'à ce que tu découvres une autre perle cachée dans les replis.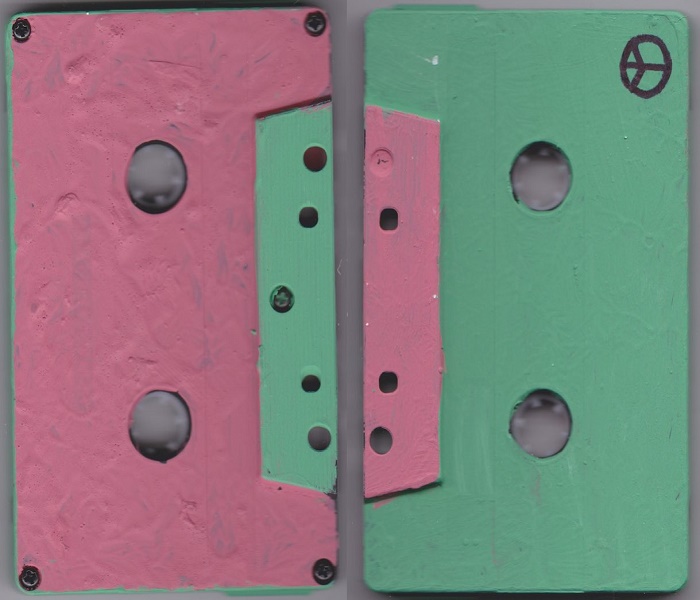 Leeky Tearducts
The Tape
(Self-Released)
Nelson, BC
From the frazzled socket of Eleanor Wearing:
The Leeky Tearducts don't really leak. Spit, churn, streak, explode? Yes. Bang, yell, thrash? Yes. Unfolding like a sudden thunderstorm, their notes strike with the power of a violent lightning bolt. Don't fear the storm. Don't run for cover. Let your body succumb to the short-circuiting sounds. Find yourself in a fast dancing frenzy. After all, sweat and rain are better than tears.
De la prise de courant sautée de Eleanor Wearing:
(Traduit par Zanoni Ngira)
Le tube « The leeky Tearducts » ne vous décevra pas. Ce morceau explosif vous fera chanter, vibrer et danser sans contrôle. Il fait du boucan et se fait entendre partout en battant des records. Comme une soudaine tempête, le morceau suit un rythme de tonnerre. N'ayez aucune crainte, laissez votre corps se faire guider aux sons court-circuit de la chanson, et vous serez pris d'assaut par une danse délirante. Après tout, la sueur et la pluie sont mieux que les larmes.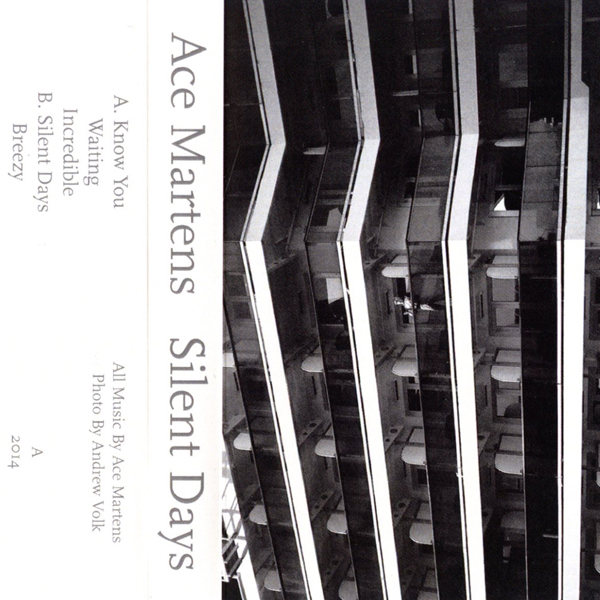 Ace Martens
Silent Days
(Self-Released)
Vancouver, BC
From the lunar daydream of Eleanor Wearing:
You've been invited to a beach party on the moon. When you arrive, Ace Martens are playing inside a sandy, spacious crater. You sit at the top, legs dangling over the edge. Fuzzy frequencies dart up around you, the space-air hums in response. Slowly, the hypnotizing rhythms pull you into a lunar daydream. Moonbeams collide with melodies. The space-air hums on.
De la rêverie lunaire d' Eleanor Wearing:
(Traduit par Mylene Quevillon)
Vous avez été invités à un beach party sur la lune. Lorsque vous arrivez, Ace Martens joue dans un large cratère sablonneux. Vous vous asseyez au bord en laissant vos jambes se balancer dans le vide. Des fréquences floues filent tout autour de vous et l'air spatial fredonne en guise de réponse. Tranquillement, le rythme hypnotique vous attire dans une rêverie lunaire. Des rayons de lune entrent en collision avec les mélodies. L'air spatial continue de fredonner.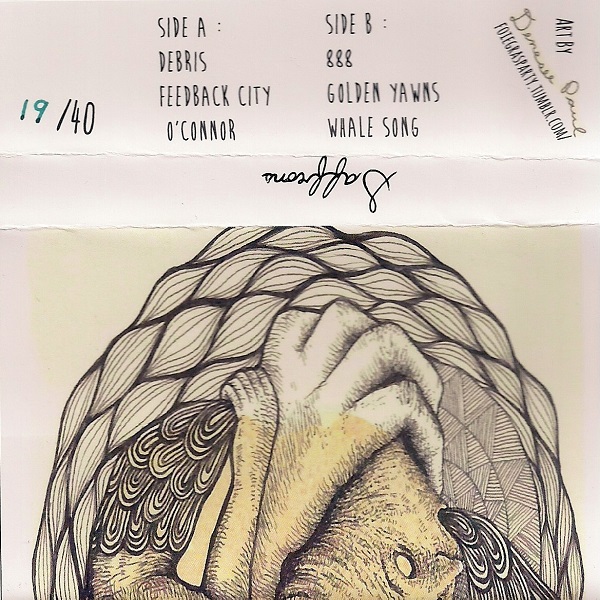 Saffrons
Saffrons
(Self-Released)
Halifax, NS
From the fruit looped spoons of Eleanor Wearing:
What are you waiting for? Plunge headfirst into a muddy whirlpool of bone-jangling reverbs until you are fully immersed in a cavern of swamp rock. A voice speaks to you through an invisible answering machine. It loops and echoes off the walls of the cave's rough interior, drawing you further into its depths. Twangy syllables bang around you, over you, through you. Your pulse increases, trying to match the capricious pattern. Slowly, the voice gets quieter. The whirlpool slows. Was it a dream?
De la cuillère fruitée bouclée d'Eleanor Wearing:
(Traduit par Mylène Moi Quevillon)
Qu'attendez-vous? Plongez tête première dans un obscur vortex de réverbérations [pétaradantes] jusqu'à ce que vous soyez complètement immergé dans une caverne de swamp rock. Une voix s'adresse à vous à partir d'un répondeur invisible. Elle tourne en boucle et son écho se répercute sur les parois inégales de la caverne, vous aspirant dans ses profondeurs. Les syllabes nasillardes se bousculent autour de vous, par-dessus vous, à travers vous. Votre pouls augmente, essayant de s'accorder à ce rythme fantasque. Et tout doucement, la voix se calme. Le tourbillon s'atténue. Était-ce un rêve?
---