Tag: eerie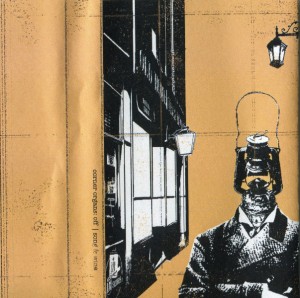 Corner Organs: Off
Songs & Wine
(Veverzay)
Halifax, NS
From the hazy fog of Joshua Robinson:
Rich with the warmth of unencumbered DIY, Nova Scotia's Corner Organs: Off rein in the damp chill of the Atlantic breeze with a basement alt-folk sound pushing these songs over cold sand, under grey skies, and through the hazy early morning fog. The minimalism of Songs & Wine is perhaps what renders it most captivating: a handful of discernible sounds bound together with threads of tape hiss soundscapes and whispered vocals begging for a reprieve from the overwhelming power of the Eastern shoreline. This juxtaposition of minimalist sounds with abstractions of austerity marks this as music not bound by geography, politics, or appropriated sentiment. This is truly Canadian gruff, with beards sweeping wood chips and dead leaves from cold cement floors. Yet the sternness and sorrow give way to a glowing pride in the knowledge that Nova Scotia's heart lies as much in its scenery as it does in the creative endurance of its inhabitants.
Du brouillard trouble de Joshua Robinson:
(Traduit par Jacinthe Laplante)
Débordant de chaleur faite maison et sans contrainte, le groupe néo-écossais Corner Organs: Off règne dans la brise fraîche et humide de l'Atlantique, avec un son alt-folk de sous-sol qui pousse ces chansons au-dessus du sable froid, sous un ciel gris et à travers le brouillard trouble de l'aube. Ce qui rend Songs & Wine si captivant, c'est peut-être son minimalisme : une poignée de sons distincts, liés par le paysage sonore du sifflement des cassettes et par les chants chuchotés qui implorent un répit de la force accablante du littoral de l'est. Cette juxtaposition de sons minimalistes et d'abstractions d'austérité révèle une musique qui n'est pas limitée par la géographie, la politique ou les sentiments appropriés. C'est de la vraie rudesse canadienne, avec des barbes balayant les planchers de ciment froids de leurs copeaux de bois et de leurs feuilles mortes. Et pourtant, l'austérité et le chagrin cèdent leur place à la fierté rayonnante de savoir que le cœur de la Nouvelle-Écosse réside autant dans son paysage que dans l'endurance créative de ses habitants.
Corner Organ: Off – All There Is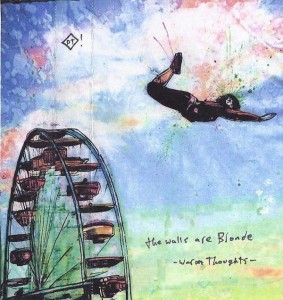 The Walls Are Blonde
Warm Thoughts
Toronto, ON
From the somber street parades of Javier Fuentes:
Yet another Montreal transplant, David Kleiser sends us tape-recorded messages straight from the mouth of an Elephant. Not content to write beautiful psych-tinged folk songs, Warm Thoughts narrates a voyage through somber street parades underneath a blue sky. Sounds of field recordings collide over bossa nova tracks in the distance. Tom Verlaine strums an acoustic guitar on a streetcar. There are even casualties along the way. Yes, you are now listening to the mayor of Kaleidoscope City.
Des sombres défilés de Javier Fuentes:
(Traduit par l'inconscient obscur de Julie Forget)
Encore un artiste d'origine montréalaise : David Kleiser nous envoie des messages enregistrés directement de la bouche d'un éléphant. Non satisfait de composer de belles chansons folk teintées de psychédélisme, il produit Warm Thoughts, qui raconte un voyage dans de sombres défilés de rue sous un ciel bleu Des sons enregistrés hors studio se heurtent à des rythmes de bossa nova en arrière-plan. Tom Verlaine gratte une guitare acoustique sur un tramway. On retrouve même des victimes en chemin. Oui, vous écoutez présentement Mayor of Kaleidoscope City.
The Walls Are Blonde – Mayor of Kaleidoscope City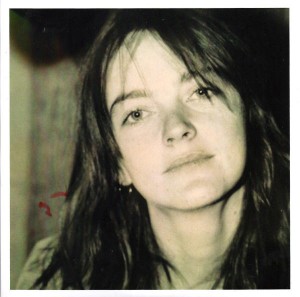 Dirty Beaches
Elizabeth's Theme
Montreal, QC
From the quiet storm of James Lindsay:
Alex Zhang Hungtai continues his lonely trek down the cinematic instrumental highway, a similar stretch of road that he drove with his synth-laden contribution to the Statement four-way split. For this one-sided 7", he makes a graceful left turn towards the quiet storm to a place few have been since the '70s, contemplative and almost completely obscured by clouds.
De la tempête tranquille de James Lindsay:
Alex Zhang Hungtai poursuit son périple solitaire le long de l'autoroute instrumentale cinématique, une portion de route similaire à celle qu'il a parcourue avec sa contribution saturée de synthés pour le split à quatre Statement. Pour ce sept pouces à face unique, il vire à gauche tout en douceur vers la tempête tranquille que peu ont daigné braver depuis les années 1970, un endroit propre à la contemplation et obscurci par les nuages dans sa quasi-totalité.
---