Tag: edmonton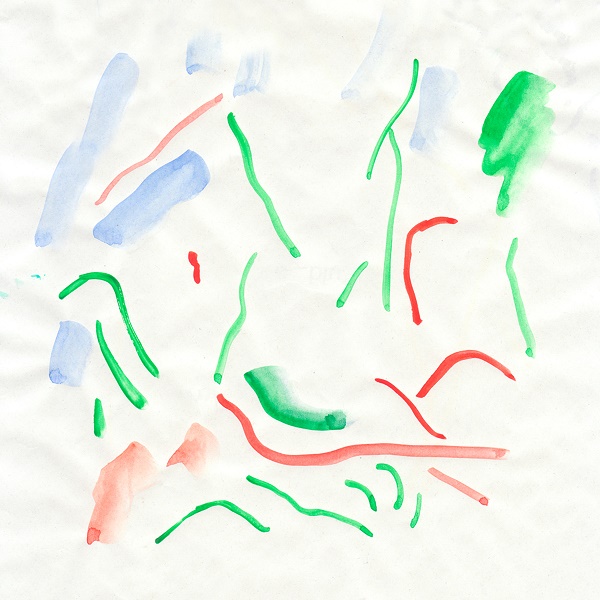 Khotin
Hello World
Edmonton, AB
From the analog system of Carmen Sandiego:
2014 was a great year for synthetic sounds and spearheading the Canadian campaign was Vancouver-based label 1080p Collection. Curating local and international artists the label has built a diverse, experimental, and dizzying catalogue of still catchy and accessible electronic music. Khotin's Hello World (re-released on vinyl by Fauxpas Musik) is a flight for those looking for a turbulent-free descent into 1080p International Airport. By choosing to fly Hello World Airlines under the direction of Captain Dylan Khotin-Foote (Normals Welcome, Common Edit), you are assured only the most light and billowing experience this side of the daydream world. Please enjoy our complimentary entertainment system, complete with grooves and warm blankets of synth dew courtesy of our completely analog system. Our flight attendants will be coming around shortly with complimentary beverages and snacks, so please, put your feet up, relax and submit yourself to the acidic aerial rhythms and dusty house of Hello World.
Du système analogique de Carmen Sandiego:
(Traduit par l'acrophobie chronique de Julie Mayer)
2014 a été une année formidable pour les sonorités synthétiques. Le label 1080p Collection de Vancouver, fer de lance de la campagne canadienne ainsi que conservateur d'artistes locaux et internationaux, a dressé un catalogue varié, expérimental et étourdissant de musique électronique accessible et toujours entraînante. Hello World de Khotin (ressorti en vinyle par Fauxpas Musik) est un vol pour ceux et celles qui sont à la recherche d'une descente sans turbulences vers l'aéroport international 1080p. En choisissant la compagnie aérienne Hello World et le capitaine Dylan Khotin-Foote (Normals Welcome, Common Edit) aux commandes, vous êtes assurés que seule l'expérience la plus légère et la plus soufflante pénètre dans le monde du rêve éveillé. Veuillez profiter de notre service de divertissement gratuit incluant des grooves et des couvertures chaudes de synthé condensé offerts par notre [système analogique] complet (http://www.residentadvisor.net/images/profiles/khotin.jpg). Nos agents de bord viendront vous servir sous peu des boissons et des collations sans frais. Donc, nous vous prions de reposer vos pieds, vous relaxer et vous soumettre à l'acidité des rythmes aériens et à la house empoussiérée de Hello World.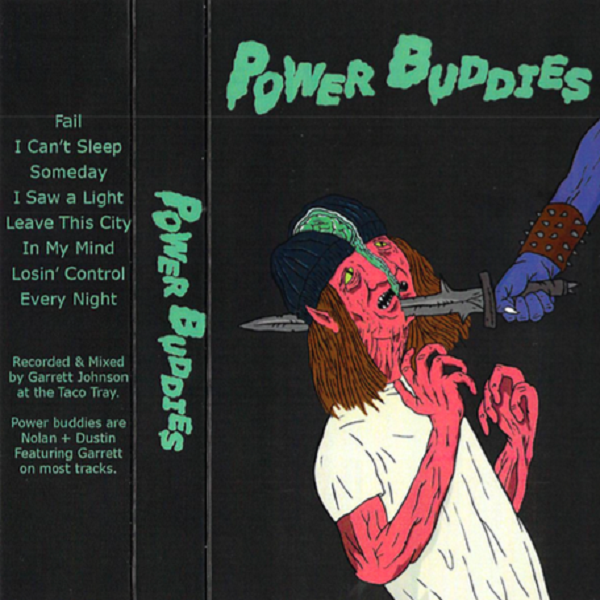 Power-Buddies
Power-Buddies
Edmonton, AB
From the refreshing jolt of Ali McReynolds:
Like pebbles between your toes, burger between teeth and peeling your legs off the sofa, Power-Buddies are a refreshing jolt in the sticky Alberta summer. The sonic clash of fuzzy guitar against an inviting rhythm will be enough motivation to get you out for river beers.
De la secousse rafraichissante d' Ali McReynolds:
Power-Buddies, c'est un peu comme avoir des cailloux entre les orteils, un burger dans la bouche ou le fait de détacher ses jambes collées sur le sofa : un choc rafraîchissant dans la moiteur de l'été albertain. Le clash sonique de la guitare fuzz associé à un rythme attrayant est une motivation suffisante pour vous faire sortir et aller boire des bières.
Power-Buddies – Leave This City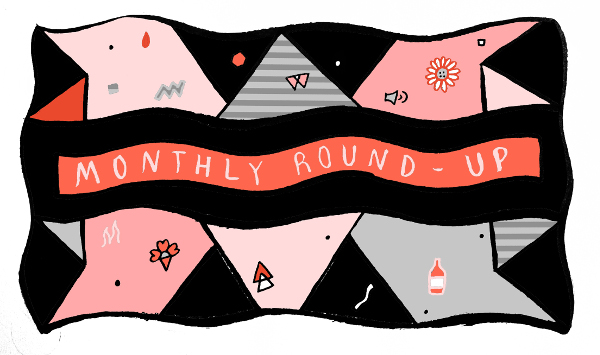 From the Lizard Cove:
In our ongoing pursuit to encourage, document, and connect creative expression across Canada, we cut through waves upon waves of ethereal sounds, wyld shreddery, and brooding drones. It is magnificent. Some of the best grips escape our grasping fists. We list them here:
Yankee Yankee – Segments (Calgary, AB)
Valiska – Shifts (Calgary, AB)
Gunwale – Red Earth (Edmonton, AB)
En Ami – En Ami (Edmonton, AB)
An Ant And An Atom – Overtones (Lethbridge, AB)
VIDEO: Stefana Fratila – memory ep (Vancouver, BC)
Nathan Shubert's Pirate Ship – Moorage, Captain, Port & Chambers (Vancouver, BC)
JOHN MUTTER WAS RAISED BY WOLVES – Up The Hill We Come (Vancouver, BC)
Skinny Kids – Strangers (Vancouver, BC)
The Repossessors – 20 Angry Months (Vancouver, BC)
Strange Fires – Walkabout EP (Edmonton, AB)
The Civil Dead – Bird Bones (Vancouver, BC)
the passenger – dreamland park (Vancouver, BC)
i.o – Parasite Architect (Victoria, BC)
pjs – sweet la vie (Victoria, BC)
Lizard Cove:
( )
Notre quête constante visant à encourager, à mettre en contact et à décrire les pratiques d'expression créatrice au Canada nous fait traverser vague après vague de sons éthérés, de shreds déchaînés et de sinistres bourdonnements; et c'est magnifique. De véritables joyaux échappent parfois à nos mains avides. Ils sont énumérés ici :
Yankee Yankee – Segments (Calgary, AB)
Valiska – Shifts (Calgary, AB)
Gunwale – Red Earth (Edmonton, AB)
En Ami – En Ami (Edmonton, AB)
An Ant And An Atom – Overtones (Lethbridge, AB)
VIDEO: Stefana Fratila – memory ep (Vancouver, BC)
Nathan Shubert's Pirate Ship – Moorage, Captain, Port & Chambers (Vancouver, BC)
JOHN MUTTER WAS RAISED BY WOLVES – Up The Hill We Come (Vancouver, BC)
Skinny Kids – Strangers (Vancouver, BC)
The Repossessors – 20 Angry Months (Vancouver, BC)
Strange Fires – Walkabout EP (Edmonton, AB)
The Civil Dead – Bird Bones (Vancouver, BC)
the passenger – dreamland park (Vancouver, BC)
i.o – Parasite Architect (Victoria, BC)
pjs – sweet la vie (Victoria, BC)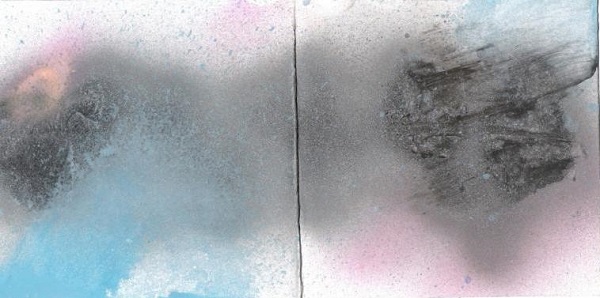 Virgins
Depressions
(Self-Released)
Edmonton, AB
From the discovered footage of Trevor Angst:
Depressions sounds old and hisses like AM radio in the evening. The bent circuits lend themselves to paranormal phenomena. The white noise and interference sounds like pareidolic screams. Maybe it's a recording of the discarnate people from the otherside. Depressions could be disguised as one of a hundred home recorded tapes of EVP, lost in the archives of a ghost hunter's basement. The ending of Radio Silence is a bone chilling lo-fi recording. It resembles black box auditory footage. With the last moments of activity recorded, the screams become nasal and shape shift in and out with the missiling pitch of a descending commercial airliner.
De l'enregistrement trouvé de Trevor Angst:
(Traduit par le goût de friture de Nicolas Coutlée)
Depressions sonne vieux comme le crachotement d'une radio AM en soirée. De pareils circuits tordus se prêtent aux phénomènes paranormaux. Des cris paréidoliques surgissent du bruit de fond et des interférences. Serait-ce les voix d'êtres désincarnées de l'au-delà? Depressions passe pour l'un de ces centaines d'enregistrements maison de voix électronique, perdus dans les archives du sous-sol d'un chasseur de fantômes. Pièce lo-fi à vous glacer le sang, la finale de « Radio Silence » s 'apparente au contenu sonore d'une boîte noire. Sur les derniers moments captés, les cris deviennent nasaux et se transforment en un va-et-vient suivant la trajectoire tonique d'un avion commercial en pleine descente.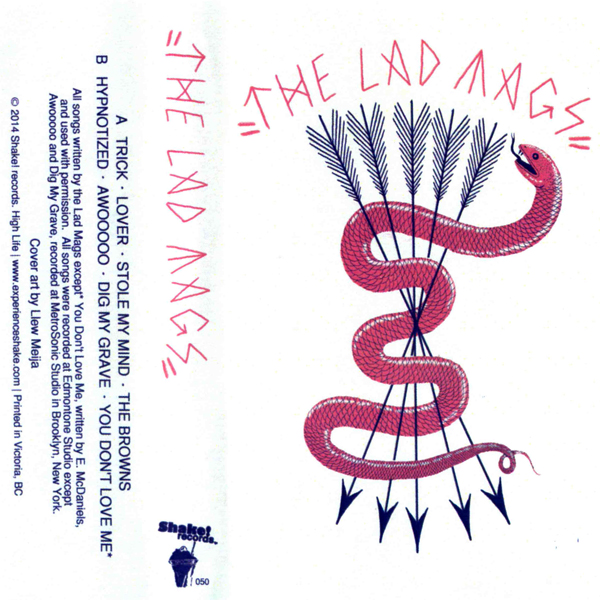 The Lad Mags
The Lad Mags
Edmonton, AB
From the exuberant excesses of Mark Anthony Brennan:
They all gathered round the beach fire on the shores of the North Sask River. Surfers and hippies. Hipsters and punks. Some mods and rockers started a fight in the sand.
It may have been the effects of the peyote being passed around, but no one was too upset when something undead emerged from the gloom and carried off the grunge kid, screaming Awhooooo.
A few of the Del-tone diehards were muttering that vocals had no place in real garage/surf music, but they quickly shut up when the gorgeous harmonies brought a tear to their eye. Somehow the mod/rockers fight turned into a drunken sing-along.
Des excès exubérants de Mark Anthony Brennan:
(Traduit par Jessica Grenier)
Ils s'étaient rassemblés autour des feux, sur une plage de la rivière Saskatchewan Nord. Des surfeurs et des hippies. Des hipsters et des punks. Des mods et des rockeurs ont commencé à se battre dans le sable.
C'était peut-être dû au peyotl passé de main en main autour du feu, mais personne n'a vraiment réagi quand quelque chose de pas tout à fait mort est sorti de la noirceur pour repartir avec le jeune grunge, qui criait Awhooooo](https://theladmags.bandcamp.com/track/awhooooo).
Quelques irréductibles de Del-Tone bougonnaient que dans de la vraie musique surf/garage, les paroles n'ont pas leur place, mais ils ont rapidement arrêté quand les sublimes harmonies leur ont fait verser une larme. Et la bataille entre les mods et les rockeurs s'est finalement transformée en ivresse de chansons à répondre.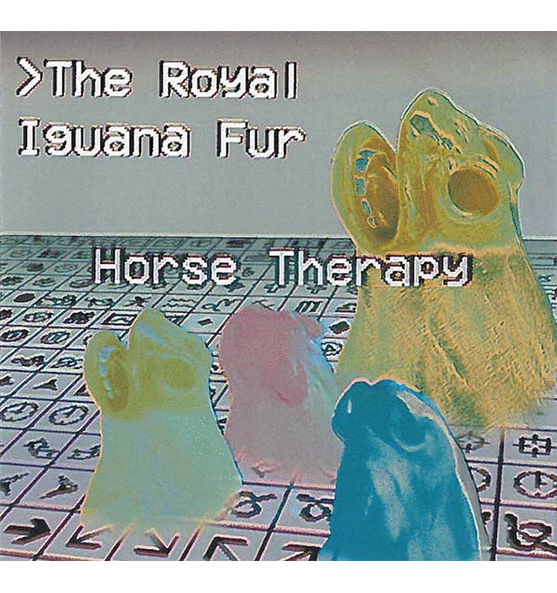 Royal Iguana Fur
Horse Therapy
Edmonton, AB
From the fascist groove of Jared MajeskI:
Physically resembling a Hackers vision of frozen horse surreality, Peace Country wayfarer Alex Linfield's latest vaporized totem delves through playful post-punk hypnosis, bedroom polyrhythms and fretless wormholes. There's a computerized sodality here, futuristically swirling with the punks and weirdos too cool for disco, but who still want to twinge and tweak on the dance floor. It's an interpretation geographically removed that maybe we start to wonder what "back in the day" actually means to people now. Do we appreciate and replicate, or do we make it our own?
Du groove fasciste de Jared MajeskI:
(Traduit par Jessica Grenier)
Ressemblant physiquement à une vision irréelle piratée de chevaux gelés, le dernier totem vaporeux du voyageur de Peace Country, Alex Linfield, réside quelque part entre une ludique hypnose post-punk, une polyrythmie de chambre et des trous de vers sans frette. On y retrouve une confrérie informatisée, en plein tourbillonnement futuriste avec des punks et des bizarroïdes, trop cools pour le disco, mais voulant quand même syncoper sur le plancher de danse. C'est une interprétation géographiquement éloignée invitant à se questionner : que signifie « dans mon temps », dit aujourd'hui? Est-ce qu'on apprécie/reproduit ou est-ce qu'on se l'approprie?

Royal Iguana Fur – Life at Sea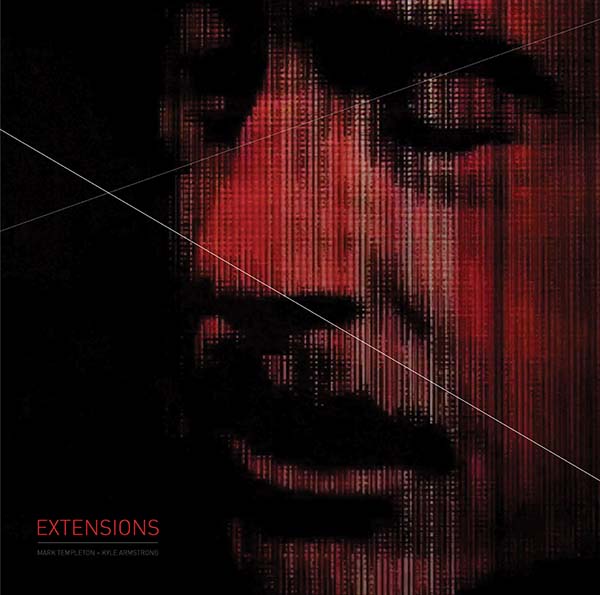 Mark Templeton and Kyle Armstrong
Extensions
Edmonton, AB
From the new flesh of Benjamin T. Maine:
Mark Templeton and Kyle Armstrong, modern media alchemists, have distilled the works and ideas of Marshall McLuhan into an embodied slice of the electric age. Extensions is an exploration of hot and cool media. One is fully immersed in the subjective experience of Templeton's auditory perceptual creation. Layers and textures of iconic sound samples, signal degradation and novel instrumentation evoke intense feelings of beauty, intrigue and nostalgia. Armstrong's film contribution invites an objective perspective and engages the analytical process. Analogue images transform, are recaptured and re-contextualized in a digital simulation of memory, or is it consciousness?
De la chair nouvelle de Benjamin T. Maine:
(Traduit par Jessica Grenier)
Mark Templeton et Kyle Armstrong, alchimistes des médias modernes, ont distillés les idées et le travail de Marshall McLuhan, les solidifiant en une tranche d'ère électronique. Extensions explore les médias chauds et froids. L'un est submergé par l'expérience subjective qu'est la création auditive perceptrice de Templeton : des strates texturées d'extraits sonores emblématiques, de dégradation du signal et d'instrumentalisation novatrice qui évoquent un profond sentiment de beauté, de nostalgie et de complot. L'autre, la contribution filmique d'Armstrong, invite une perspective objective, un processus analytique. C'est la transformation d'images analogiques d'abord récupérées puis recontextualisées dans la simulation numérique d'une mémoire… ou est-ce une conscience?

Mark Templeton and Kyle Armstrong – Side A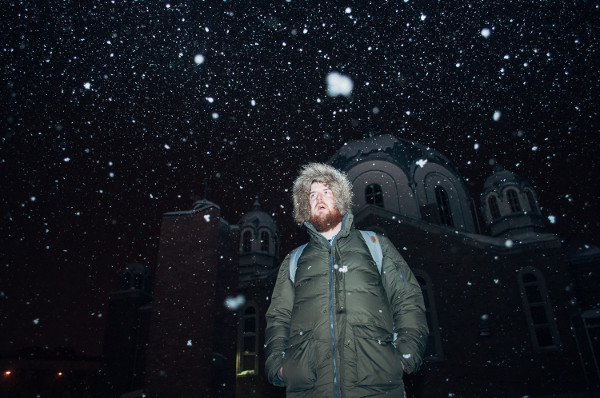 From the purple city of Jared Majeski:
Edmonton feels alone up north. Our geography, our isolation and our resources help shape us; there is an enduring adventurousness in the things created here. The pockets where society and expression percolate do so out of passion, fun and above all: survival.
So what is this place that's a bit too far north for many touring bands to come to? Edmonton is a small town. Edmonton is part work camp, a subtly aware and modern haven burgeoning; a youthful city eager to grow. The imminent changes (good or bad) from an ever-fracturing future help incubate energy and inspiration.
Before the arrival of explorers and immigration, the Edmonton area was home to tribes of Cree, Dene, Nakota Sioux, Saulteaux, Blackfoot and Metis people. In the early 1900s Alberta's economy, and inevitably its future, changed from respecting the land to resource extraction and influence-peddling from all corners of the globe. Our role as a confused world player in the oil game has thickened people's skin, for good and bad.
Along with the intended structures and tangible places that facilitate creative endeavour, inspiration penetrates through the intangible: seasons, geography and rural sensibilities. Our summers are fleeting and busy; our winters long and eerily comfortable, and more than you know were raised in small towns off secondary highways. Our public art and our distinctive architecture sheen metallic and utilitarian.
Thanks in part to the irreplaceable CJSR, and our remaining arts weekly, people soon find out there's an impressive genre-span in Edmonton. Delightfully opposite to the deep suburban "contributors", bands in town get 'er done at home, while the performance and pageantry bears out within intimate dwellings and in the Great Whyte Schlubbery.
Because Edmonton is geographically sheltered from many (most) major centres, there's an incubatorial element to this city. Artists and bands try anything they want, and if and when it catches on beyond Lloydminster, those that make their name beyond Alberta tend to relocate to larger places. There is money and opportunity for many; and dim prospects for the same. What manifests itself is creativity that's honest, supportive and grounded: working class. The winds of change are beginning to blow all around the province, and people here take what they know and what they love and just do their thing.

Rhythm of Cruelty – Nothing's Left
<<< read more >>>
Summer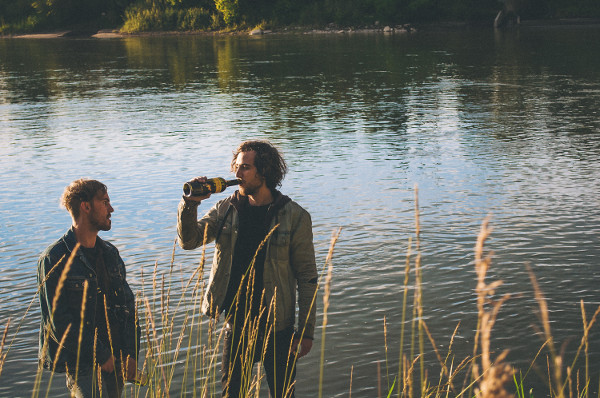 Summer is the comforting riposte to the (usually) soul-sucking, snail's-pace winter. Will summer be two months long this year, or three? Edmonton summers are green, invigorating and the best excuse to do as much as possible. Lots of time spent in our precious river valley, one of the largest urban green spaces around. It's part local lore, campsite, performance space and existential blanket.
Festivals
Hot Plains: http://hotplainsmusic.com/
Endless Bummer: https://www.facebook.com/endlessbummeredmonton
Bermuda Fest: http://bermudafest.com/
Interstellar Rodeo: http://interstellarrodeo.com/
Up + Downtown Festival: http://updt.ca/
Fringe Festival: https://www.fringetheatre.ca/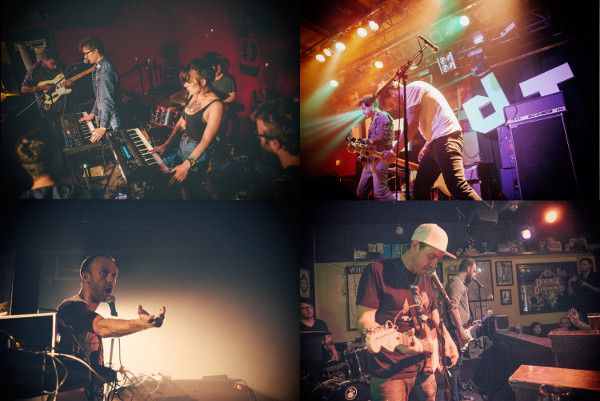 There's a
need
to be festive here, born from the geography and fleeting warm seasons. Bursts of creativity, loosening the blue and white collars (mostly blue) to celebrate all genres in groovy compartmentalization. These days, there's more thirst and more support for regularly large hoe-downs. Newer festivals continue to grow right along with the modern weirdness alive here today.
Wunderbar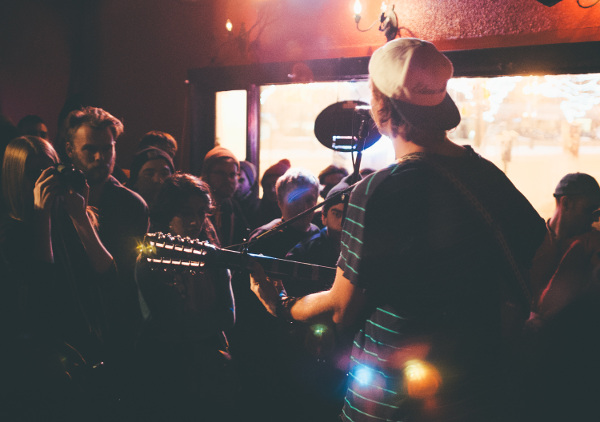 Address: 8120 101 Street
Contact: http://wunderbar-edmonton.com/
(LGBTQ friendly)
It's hard to put into words the personal and financial sacrifice that has gone into turning an old German soccer pub with
extremely
questionable clientele into a venue bands from around the country know about
(and love)
. But here goes: for almost half a decade, Martell and the fellas have been the doorway darkening facilitators for all kinds of music all across this damn northern epic, and around the world. In over four years, Wunderbar has become the epicentre of the weird, beautiful and unkempt musicians, artists, comedians and people who dig what they do. For bands who've had the task and pleasure of touring the country, Wundi is a very necessary stop. And for the uninitiated, show some passion, sensibility (and a with-it sound) and you may get a spot on a bill.
Update: As of this writing, Craig and his partners have officially put the Wunderbar up for sale.
Ramshackle Day Parade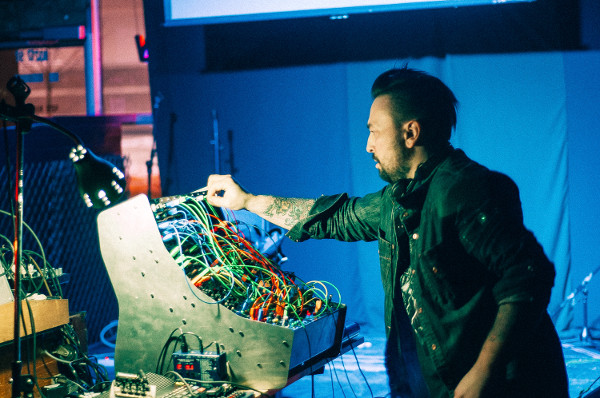 Contact: http://ramshackledayparade.wordpress.com/
(LGBTQ friendly)
Started around 2008, Ramshackle Day Parade (RDP) is the creation of
Parker James Thiessen
: a means to host performance,
release records
and expose the city to the outsiders and their experiments. Damn-near seven years later, RDP continues to be thee showcase of weirdness, mind expansion and destitute expression of those trapped in this icy fortress; sinistral cigarettes burn and the future looks unknowingly bright.
Whyte Avenue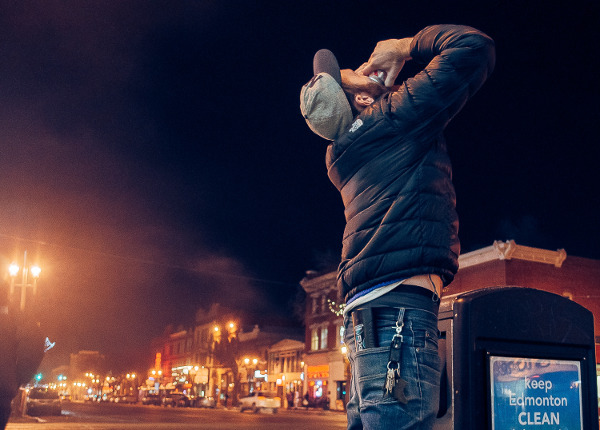 One of the more salient examples of our urbanity – Whyte Avenue – starts the day as a hub of shops, food, drink,
one-armed pushups
and buskers. At night, the historic strip turns into a haunted vestige of money, booze and disconcerting moments of stabby avoidance. Artists and musicians happily pass through the weekend; the drudgery and money is but a blip on the righteous path to good times.
The Log Cabin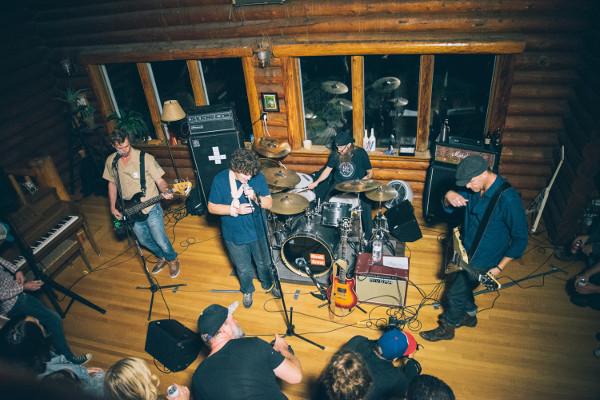 (LGBTQ friendly)
A fortunate situation has manifested itself in a safe, beautiful space to do the familiar things we enjoy – eat, drink, experience. Belonging to a local social worker, she along with family and friends have used this unique space, at one point to another, as a
vegan breakfast joint
, wedding venue, film set,
stand-in studio
and performance space. Edmonton has a tendency to put aside forethought and bulldoze irreplaceable structures. But here we are…a log cabin in the city, standing the test of time.
Listen/Freecloud/Blackbyrd

Blackbyrd: http://www.blackbyrd.ca/
Listen: http://listenrecords.net/
Freecloud: http://www.freecloud.ca/
Listen: Part of the underpinning of a renewed 124 Street west of downtown, Listen ain't large but there's a good chunk of everything there. Always good finds in the world music and international reissure section. Freecloud: Located across the street from the city's major arts high school (coincidence?!), Freecloud seems to have a classic, old punk record shop kind of vibe. Large curated used section and lots of local gems. Blackbyrd: Maintained by the consumers and creators, Blackbyrd's the magnet for neighbourhood dwellers and curios determined Northsiders. Located smack-dab in the midst of Whyte, stop by for a chat, and a dig through reissues and local sounds.
De la ville violette de Jared Majeski:
(Traduit par les curieuses mains d'AnneMarie Papillon)
Edmonton semble toute seule là-bas, au nord. Son emplacement géographique, son isolement et ses ressources nous façonnent : il y a une audace persistante dans toutes les choses créées ici. Société et expression s'animent dans ces creusets par passion, par plaisir mais surtout, pour survivre.
Alors, c'est quoi cet endroit, juste un peu trop au nord pour que les groupes viennent y jouer? Edmonton, c'est une petite ville c'est un havre moderne subtilement conscient, toujours en chantier : c'est une ville jeune qui ne demande qu'à grandir. Les changements imminents (bons ou mauvais) de son futur de plus en plus fragmenté aident à y faire éclore énergie et inspiration.
Avant l'arrivée des explorateurs et les vagues d'immigration, Edmonton était la terre des Cris, des Dénés, des Nakota Sioux, des Saulteaux, des Blackfoots et des Métis. Au début des années 1900, l'économie de l'Alberta – et inévitablement son futur – a changé. Elle est passée du respect de la terre) à l'extraction des ressources et au trafic d'influence venant de partout autour du globe. Son rôle en tant que joueur incertain dans le grand jeu du pétrole a endurci les gens, pour le meilleur et pour le pire.
En plus des structures et des lieux tangibles encourageant l'esprit créatif, l'inspiration provient de l'immatériel : les saisons, la géographie et la sensibilité rurale. Nos étés sont fugaces et sans repos, nos hivers sont longs et étrangement confortables. Plus de gens qu'on ne le pense ont grandi dans des villages sur le bord d'une route secondaire. Notre art public et notre architecture distincte ont le reflet métallique et utilitaire.
Les gens sont de plus en plus conscients de la panoplie de genres artistiques d'Edmonton, en partie grâce à l'irremplaçable CJSR et à notre dernier hebdomadaire artistique. S'opposant délicieusement à leurs collaborateurs des banlieues profondes, les groupes locaux remportent la coupe à la maison, comme dans le bon vieux temps.
Puisqu'Edmonton est éloigné géographiquement de nombreuses (presque toutes) grandes villes, on s'y retrouve comme dans un incubateur. Les artistes et les groupes essaient ce qu'ils veulent et si ça se rend jusqu'à Lloydminster; ceux qui ont réussi à se faire un nom au-delà des frontières de l'Alberta ont tendance à déménager vers de plus grandes villes.
Il y a de l'argent et des occasions pour plusieurs, mais le contraire est aussi vrai. Ce qui ressort est honnête, encourageant et solide : une créativité ouvrière. Les vents de changement commencent à souffler sur la province et ses habitants utilisent ce qu'ils connaissent et ce qu'ils aiment pour faire leurs trucs.

Rhythm of Cruelty – Nothing's Left
<<< la suite >>>
L'été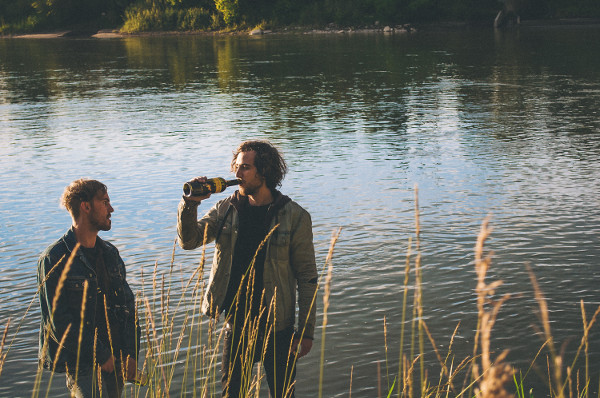 L'été est la riposte réconfortante à un hiver (trop) souvent éreintant et interminable. Est-ce qu'il durera deux mois cette année, ou trois? Les étés d'Edmonton sont verts et revigorants : la meilleure des excuses pour en profiter au max. On passe beaucoup de temps dans notre chère vallée fluviale, un des plus grands espaces verts urbains aux alentours. C'est tant une tradition locale, un terrain de camping et un lieu de performance qu'une doudou existentielle.
Festivals
Hot Plains : http://hotplainsmusic.com/
Endless Bummer : https://www.facebook.com/endlessbummeredmonton
Bermuda Fest : http://bermudafest.com/
Interstellar Rodeo : http://interstellarrodeo.com/
Up + Downtown Festival : http://updt.ca/
Fringe Festival : https://www.fringetheatre.ca/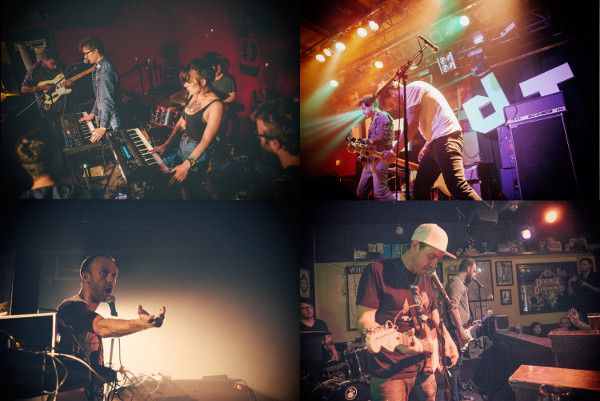 Ici, il y a un profond besoin d'être festifs causé par la géographie et la saison chaude fugace. Ces festivals sont des explosions créatives desserrant les cols bleus et blancs (surtout les bleus), pour célébrer tous les genres en morcellement groovy. Il y a aujourd'hui une plus grande soif et un meilleur soutien pour les festivals à grande échelle. Les festivals plus récents continuent de grandir au même rythme que la bizarrerie contemporaine caractéristique d'Edmonton.
Wunderbar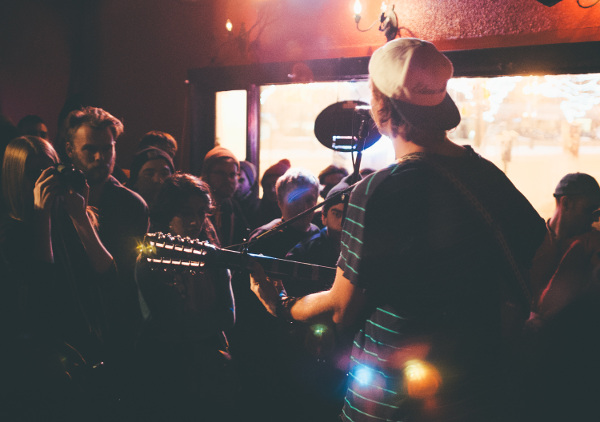 Adresse : 8120 101 Street
Contact : http://wunderbar-edmonton.com/
(Bienvenue aux LGBTQ)
Il est difficile de décrire tous les sacrifices personnels et financiers qui ont été faits pour ce projet : transformer un vieux pub sportif allemand, où on présentait des matchs de soccer à une clientèle
extrêmement
douteuse, en un lieu de spectacle connu (et
adoré
) par des groupes de partout au Canada. Mais je me lance : pendant près d'une demi-décennie, Martell et ses chums ont soutenu ce foutu bled nordique pour présenter de la musique de tout genre en provenance des quatre coins du globe. Sur plus de quatre ans, Wunderbar est devenu l'épicentre des musiciens, comédiens et artistes bizarres, superbes et débraillés; et des gens qui aiment ce qu'ils font. Pour les groupes qui avaient la mission (et le plaisir) de partir en tournée au Canada, Wundi est un arrêt incontournable. Et pour les non-initiés, si vous montrez de la passion, de la sensibilité et un son qui va avec, vous obtiendrez peut-être votre place pour une soirée.
Mise à jour : Au moment d'écrire ces lignes, Craig et ses associés avaient officiellement mis en vente le Wunderbar.
Ramshackle Day Parade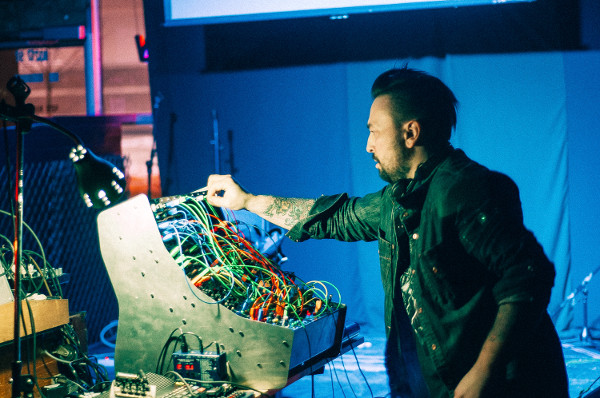 Contact : http://ramshackledayparade.wordpress.com/
(Bienvenue aux LGBTQ)
Ramshackle Day Parade (RDP) a été créé en 2008 par
Parker James Thiessen
. C'est un moyen de présenter des performances, de
sortir des disques
et d'exposer la ville à toutes ces expériences marginales. À peu près sept ans plus tard, RDP continue d'être la référence en matière de bizarre, d'ouverture d'esprit et de l'expression démunie de ceux prisonniers de cette forteresse de glace; une sinistre brûlure de cigarette et un futur semblant plus clair, à notre insu.
Avenue Whyte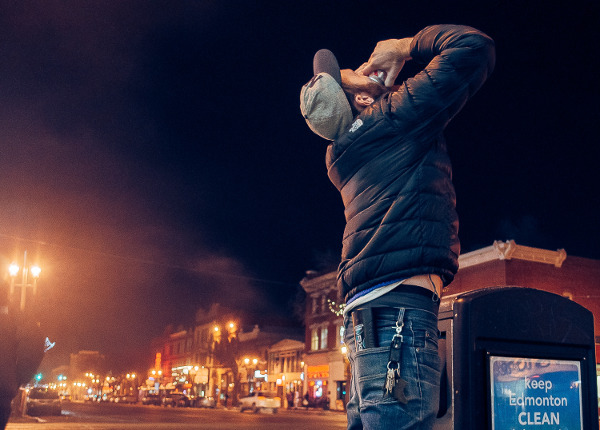 L'avenue Whyte est un des meilleurs exemples de notre urbanité : de jour, c'est un bourdonnement de boutiques, de nourriture, de boissons et de
pushups à un bras
; de nuit, ce coin historique devient un endroit hanté par les fantômes de l'argent, l'alcool et d'instants tranchants qu'on aimerait éviter. Les artistes et les musiciens passent des fins de semaine heureuses, la corvée et l'argent ne sont qu'un courant d'air sur le chemin menant au plaisir.
The Log Cabin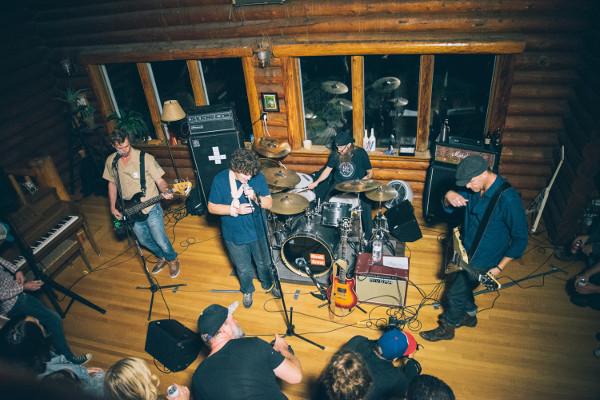 (Bienvenue aux LGBTQ)
Un évènement heureux s'est réalisé dans un bel endroit sécuritaire pour nous permettre de faire les choses que nous aimons : manger, boire, expérimenter. L'endroit appartient à une travailleuse sociale de coin, et à un moment ou un autre, elle et ses amis ont utilisé l'endroit comme
resto de déjeuners végétaliens
, salle de réception de mariage,
plateau de tournage
, et lieu de performance. Edmonton a cette tendance d'ignorer les prévisions et de détruire les structures indispensables. Mais nous voilà, une cabane en rondin au milieu de la ville, à l'épreuve du temps.
Listen/Freecloud/Blackbyrd

Blackbyrd : http://www.blackbyrd.ca/
Listen : http://listenrecords.net/
Freecloud : http://www.freecloud.ca/
Listen
: Faisant partie de la revitalisation de la 124e Ouest du centre-ville, Listen n'est pas très grand, mais on y trouve une bonne pelletée de tout. Il y a toujours des trouvailles dans les sections musique du monde et rééditions internationales.
Freecloud
: Situé en face d'une école secondaire spécialisée en art (coïncidence?!), Freecloud a une atmosphère classique, style vieux magasin de disques punks. On y trouve une superbe section de trucs usagés.
Blackbird
: Entretenu par ses fondateurs et ses clients, Blackbyrd est un aimant pour les citadins curieux. Fais-y un arrêt pour discuter et pour fouiller dans la section rééditions et découvertes locales.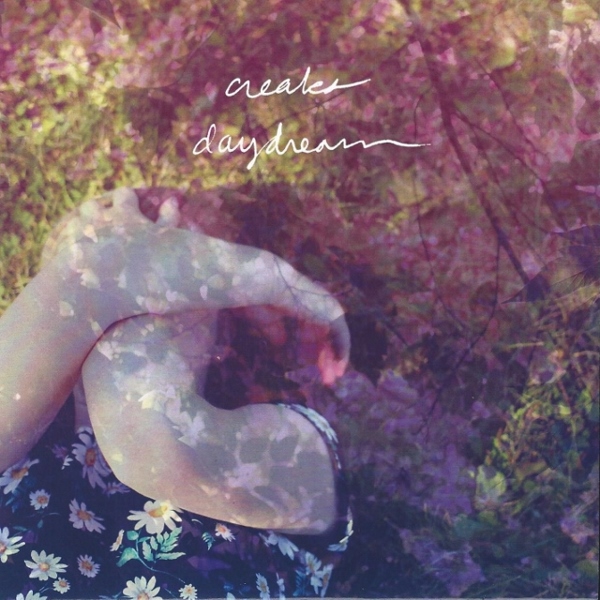 Creaks
Daydream
(Value Records)
Edmonton, AB
From the cold backyard of Shawna Naklicki:
The name Creaks might bring up imagery that gives you the chills, but in the cold of a Canadian winter Creaks is a warmth-inducing oasis of sun-drenched garage-pop melodies. Shield your eyes from the UV rays that percolate through the clouds. The day is hot. The time is mid-afternoon. Lay back on the grass. Drink some cheap beer. Or don't. Whatever. Have a daydream on us.
De la cours froide de Shawna Naklicki:
(Traduit par la canette tiède de Jessica Grenier)
Creaks. Le nom peut évoquer des images qui donnent la chair de poule, mais dans le froid de l'hiver canadien, c'est plutôt une oasis réconfortante de mélodies garage-pop baignées de soleil. La journée est chaude. On est en plein après-midi. Protège tes yeux des rayons UV qui passent à travers les nuages. Étends-toi sur l'herbe pour boire une bière de soif. Ou pas. Fais ce que tu veux : on t'offre la rêverie.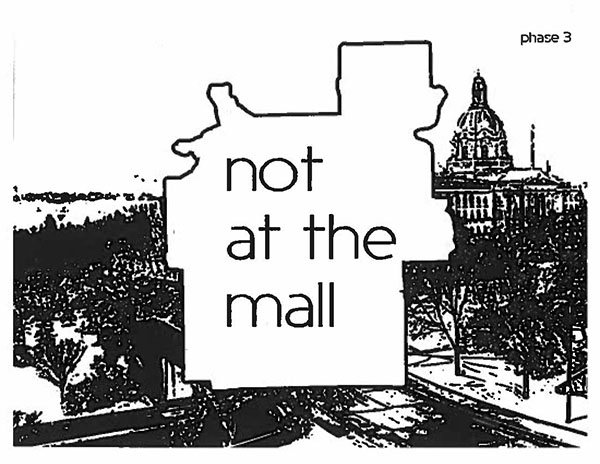 Not at the Mall – Phases 3-6
One born and raised Edmontonian and one transplanted Southern Albertan
4 issues, 8 pages each, saddle stitch by thread
(Self Released)
Edmonton, AB
From the cartographies of Brian Fauteux:
Sometimes we need to be reminded about where and how to locate culture and have experiences outside of places that beg, "You need to be here, you need to shop here, you need to be seen here."
Recalling the Situationists' derive, Not at the Mall contains traces, maps, fragments, soundtracks, and guides for locating one's self in Edmonton, calling attention to our presence in the city, peeling back the spectacle's veneer to release "everything in this northern, land-locked island town, that's not at the mall."
Readers are invited to search and explore the city. An image of a painted flamingo, in-flight, soars across a building's facade, asking us, "Can you find this door?"
"One of the greatest moments of winter is the moment just before you get on the ice." Yes, it's cold here, most of the time. But there's beauty in this frozen landscape. We learn this from the black-billed magpie, a long-time permanent resident who navigates the Edmonton winter eating seeds, rodents, and the garbage that's been left outside.
De la cartographie de Brian Fauteux:
(Traduit par Jessica Grenier)
Nous avons parfois besoin de nous faire rappeler comment – et où – trouver de la culture et avoir des expériences ailleurs que dans les endroits qui nous supplient : « Vous devez venir ici / acheter ici / être vus ici ».
Gardant en tête la dérive des Situationnistes, Not at the Mall contient des cartes, des fragments, des trames sonores et des guides pour se localiser à Edmonton tout en focalisant l'attention sur notre présence géographique et en retirant le vernis spectaculaire pour tout libérer « dans cette ville-île nordique encrée sur terre, qui n'est pas au centre commercial. »
Les lecteurs sont invités à chercher en ville pour l'explorer : le dessin d'un flamand rose en plein vol sur la façade d'un immeuble nous demande « Pouvez-vous trouver cette porte? ».
« Un des meilleurs moments de l'hiver est celui juste avant de monter sur la glace. » Oui, il fait froid la plupart du temps ici, mais il y a de la beauté dans ce paysage gelé. C'est ce que nous apprend la pie d'Amérique, qui réside ici depuis longtemps et qui passe l'hiver à manger des graines, des rongeurs et les poubelles qui traînent dehors.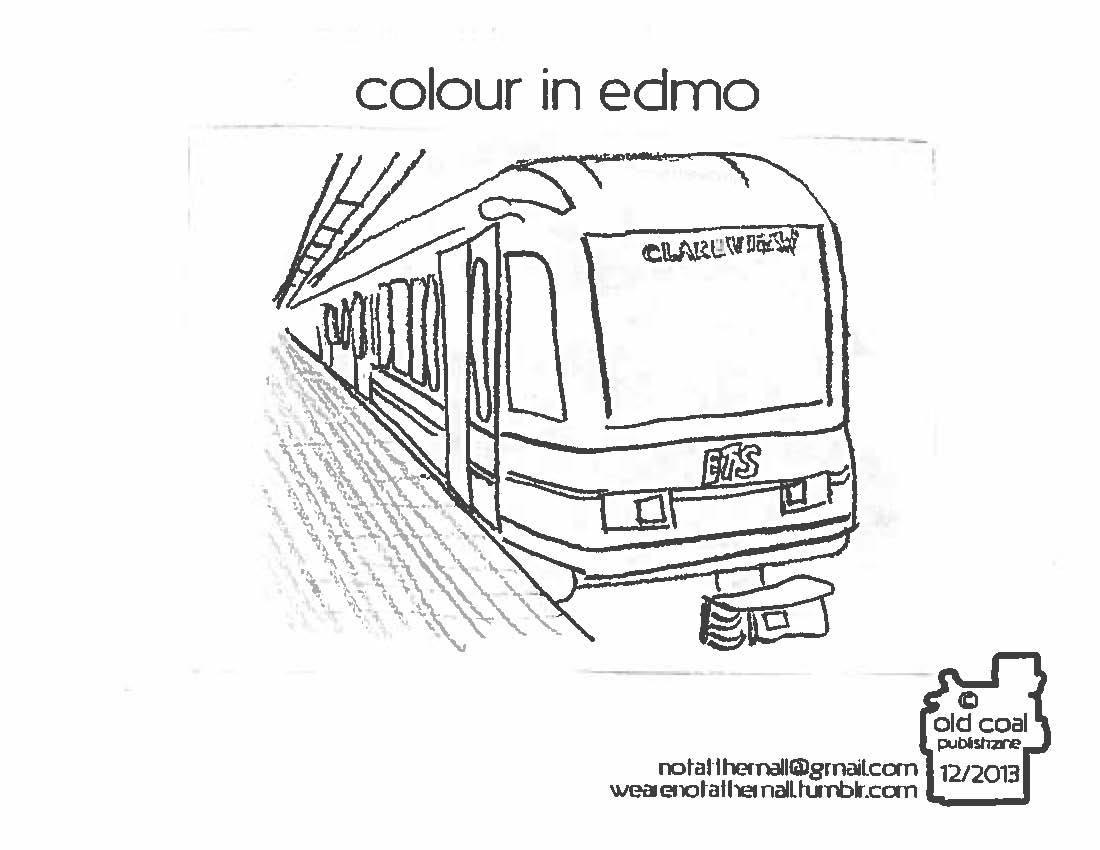 ---