Tag: edmonton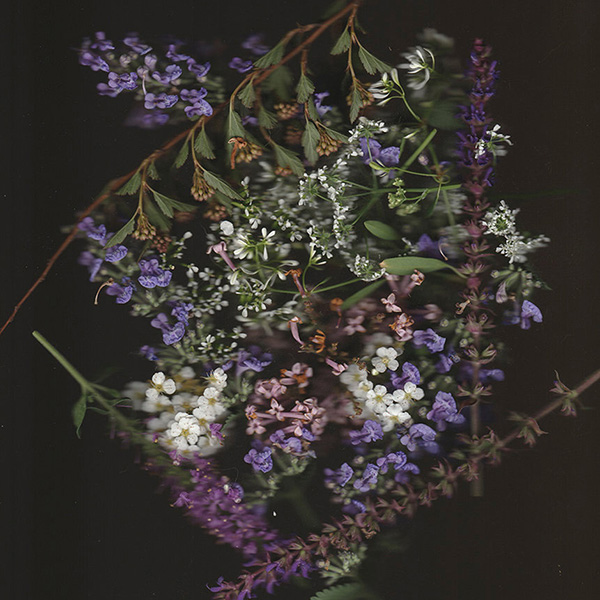 Pyramid//Indigo & SKIN
Split
Self-Released
Edmonton, AB // Montréal, QC
From the ever-expanding skies of Brian Fauteux:
Radio static is how we'll know we're eventually alone. That everything is over. Here is where Pyramid//Indigo's "Lydian Grains" begins. A slight crescendo, disconcerting, leads to "Hands, Bursting with Light." Sounds gleaned from frosted prairie fields build atmospheric swells that call the wild. A long final glance of pink and gold before the graying of sky.
Flip the split.
SKIN calls forth a soundscape marked by the hum of arthropod wings, wind seeping through a window's breach, and the lure of a music box melody. Perhaps there are signs of life after all.
Des cieux toujours grandissants de Brian Fauteux:
(Traduit par les lèvres gercées de Julie Mayer)
Des bruits parasites, voilà comment nous saurons que nous sommes éventuellement seuls. Que tout est fini. C'est ici que « Lydian Grains » de Pyramid/Indigo commence. Un léger crescendo, déconcertant, mène à « Hands, Bursting with Light ». Des sons glanés dans les champs de prairie givrés érigent des remous atmosphériques interpellant la campagne : un long coup d'œil ultime rose et or avant que le ciel vire au gris.
Changez de face.
SKIN évoque un paysage sonore marqué par le bourdonnement d'arthropodes ailés, le vent s'infiltrant par la craque d'une fenêtre et l'attrait suscité par la mélodie d'une boîte à musique. Peut-être y a-t-il des signes de vie après tout.
Pyramid//Indigo – Lydian Grains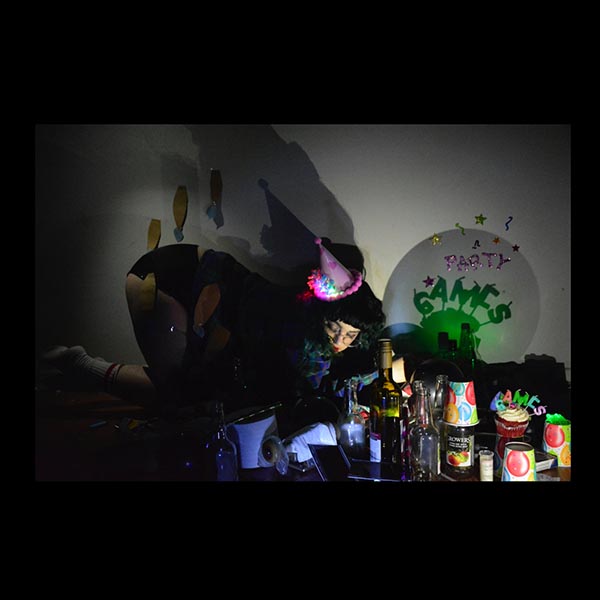 Caity Fisher
Party Games
(Self-Released)
Edmonton, AB
From the empty red cup of Laura Stanley:
There's a stain in the carpet, a drink in your hand, and out of someone's crappy computer speakers Caity Fisher plays her Party Games. Her pop has enough power to rise above the din of the drunken party goers; her fuzzy licks match the fuzz on your tongue. As Fisher croons about feeling good, you drink more and the room begins to spin. She convinces you to dance. At first you're alone but then others join in. You lock eyes with someone on the other side of the room…
The party ends and you don't go home alone. A cruel hangover, puke, and a stranger greet you in the morning, but the next round of Party Games is not too far away.
De la coupe rouge vide de Laura Stanley:
(Le lendemain de veille cruel d'Odile Leclerc)
Il y a une tache sur le tapis, un verre dans ta main et venant des haut-parleurs merdiques de l'ordinateur de quelqu'un, Caity Fisher joue sa Party Games. Sa pop a assez de puissance pour s'élever au-dessus des gens saouls qui font la fête, ses rythmes flous correspondent au duvet sur ta langue. Alors que Fisher roucoule à propos du fait qu'elle se sent bien, tu continues à boire et la pièce commence à tourner. Elle te convainc de danser. Au début, tu es seul, mais ensuite d'autres te rejoignent. Tu croises le regard de quelqu'un à l'autre bout de la pièce… La fête se termine fin et tu ne rentres pas seul chez toi. Un lendemain de veille cruel, de la vomissure et un étranger t'accueillent au matin, mais la prochaine partie de Party Games n'est pas trop loin.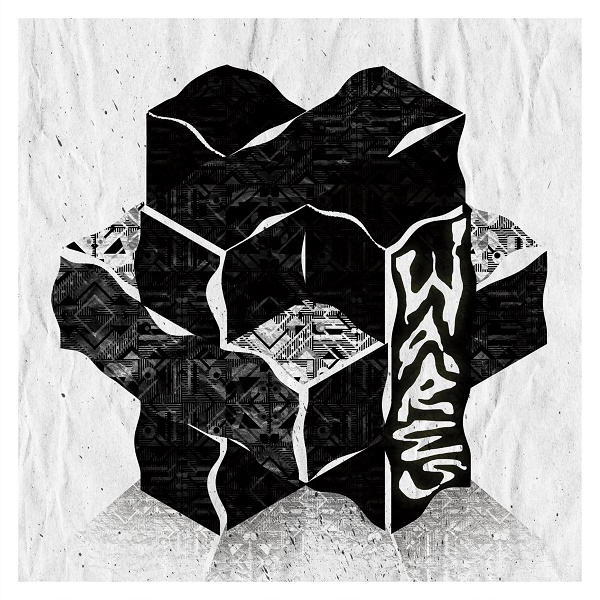 Wares
Missed the Point b/w Beach Date
Edmonton, AB
From the curtained catharsis of Josh Rohs:
School's in, city kids, and attendance is compulsory. On "Missed the Point", Wares' opening salvo of ring mod punk rock capitulates to capital-p Power pop. On the b-side: brass-coupled lakefront nostalgia, sunbleached ivories sufficiently tickled – now with extra curtain-drawn catharsis. Knock down the door and, fuck it, let 'em see you bleed.
De la catharsis garnie de rideaux de Josh Rohs:
(Traduit par la nostalgie académique de Maya Keshav)
L'école est ouverte, les enfants de la ville, et la présence est obligatoire. "Missed the Point" de Wares s'ouvre sur une salve de modulation en anneau (ring mod) punk rock qui capitule jusqu'à p-majuscule Power pop. Sur la face B: la nostalgie du bord du lac conjuguée aux cuivres, les ivoires blanchis au soleil assez chatouillés – maintenant avec plus de catharsis rideaux-fermés. Défoncez la porte et d'la marde, laissez-les vous voir saigner!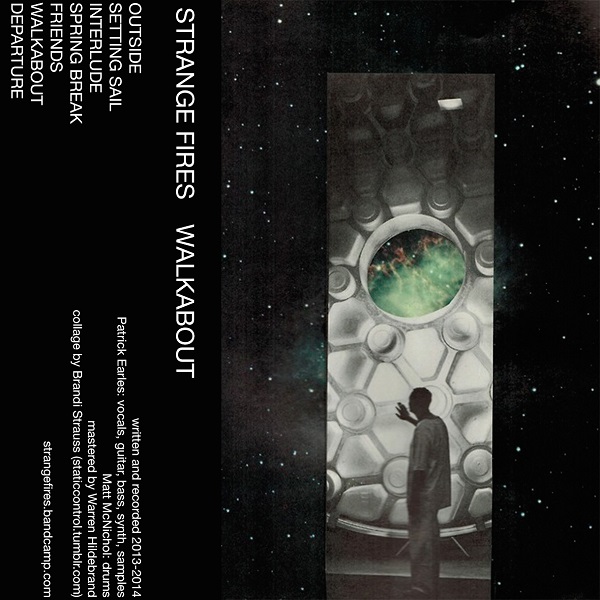 Strange Fires
Walkabout
Edmonton, AB
From the twinkly toes of Kelly MacNeil:
Walkabout is a tumble through town, showing us all of the secret and special places. Edmonton's Strange Fires yips into culverts, taping the echoes and keeping them warm in their front breast pocket. Together we wander, throw stones in ponds, staring at the ripples, watching fish dart. Walkabout is a time of solemn remembrance, the kind that fills your heart with sparks and makes your toes wriggle. Beneath layers of dust, dirt, and snow we come to see the beauty in the old places we know.
Des orteils brillants de Kelly MacNeil:
(Traduit par Julie Mayer)
L'album Walkabout nous montre tous les endroits secrets et spéciaux de la ville qu'il traverse à la course. Originaire d'Edmonton, le groupe Strange Fires jappe dans les caniveaux, enregistre les échos et les garde au chaud dans sa poche poitrine. Ensemble, nous vagabondons, nous lançons des cailloux dans les mares, nous fixons les ondes et regardons les poissons s'enfuir. Walkabout est un moment de commémoration solennelle, du genre qui remplit votre cœur d'étincelles et fait tortiller vos orteils. Sous les couches de poussière, de saleté et de neige, nous parvenons à voir la beauté des lieux qui nous sont bien familiers.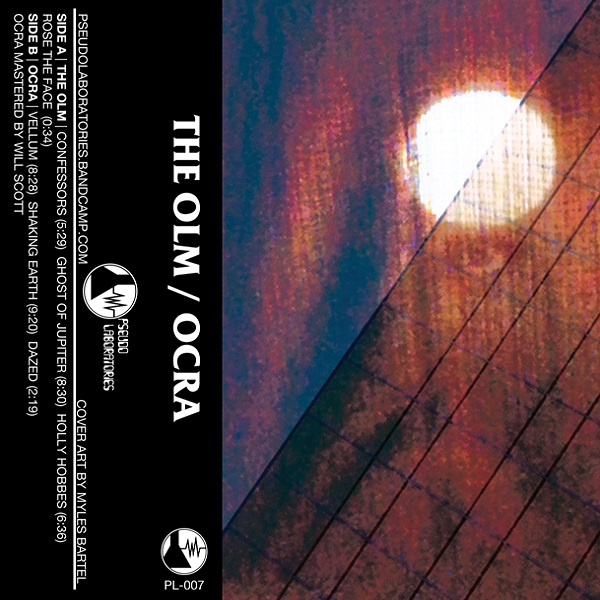 The Olm / Ocra
The Olm / Ocra
Edmonton, AB
From the timeluscent west of Heather Lune:
The Olm moans like a metal wraith, a fossil of the prehistoric ocean that lives in the mountains – badland epigrams malformed. They're a beacon sculling over the solid hide of the skyline, where the sea is held inside sun-risen fumes.
The Ocra hears a ghastly echo of our industrious carvings. Inscriptions knocking into the wind of falling bodies, the mechanisms used to slip through tap dancing waves. The scraping, digging, probing, mining. The generations, the millenia – waterbed bones compressing into an arid ocean floor.
Belonging to us, as we to it, a locked-soul.
Par l'ouest tempslucide de Heather Lune:
(Traduit par l'écho ésotérique des vents ténébreux d' Émily Traichel)
L'Olm gémit comme un spectre en métal, un fossile venu de l'océan préhistorique qui vit dans les montagnes – épigrammes malformées des badlands. Il y a un flambeau qui godille sur la peau solide de l'horizon, où la mer est enfermée dans des émanations solaires.
L'Ocra entend un écho épouvantable de gravures industrieuses. Des inscriptions cognent dans le vent de corps en chute, les mécanismes employés afin de glisser à travers les vagues qui dansent la claquette. Le grattage, creusage, sondage, l'exploitation minière. Les générations, les millénaires – les os du lit d'un fleuve qui se blottissent dans un fond d'océan aride.
Nous appartenant, comme on leur appartient, une âme-barrée.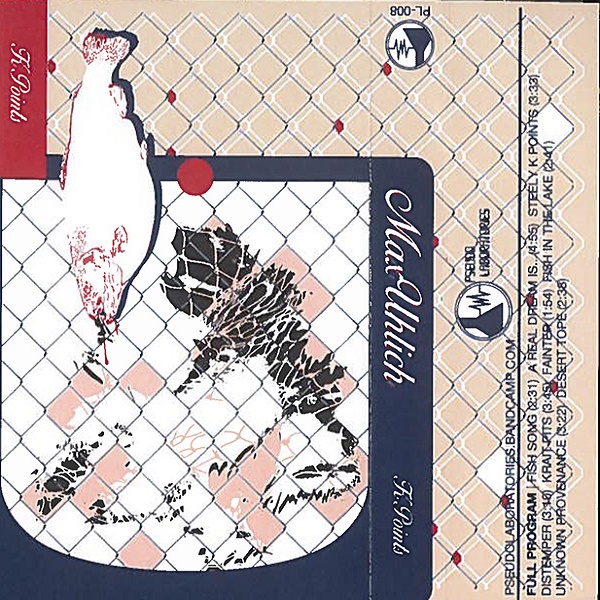 Max Uhlich
K Points
Edmonton, AB
From the negative geography of Jared Majeski:
The trappers' cabin, the anglers' wharf, the axiomatic loneliness of the barren and the beautiful. Here in the fertile twilight of K Points, the epicedium wafts light and airy. Like wet spiderwebs in the wind, smokey poems billow and twist and make us question the penetralia we don't yet know exists. Through comforting creaks, falsetto layers and upside-down counties, we begin to thirst for answers to our toponymous queries. As Max declares, "Why did we grow up so?/What gave us a heart and a soul?"
De la géographie en négatif de Jared Majeski:
(Traduit par Aliké Harel)
La cabane du trappeur, le quai du pêcheur, la solitude axiomatique du dénué et du beau. Ici, dans le crépuscule foisonnant de K Points, l'homélie insuffle lumière et légèreté. Comme des toiles d'araignée humides au vent, les volutes de vers tourbillonnent et se tortillent pour remettre en question le noyau dont nous ignorons encore l'existence. Grâce aux grincements réconfortants, aux voix de fausset en trame et aux comtés sens dessus dessous, nous devenons assoiffés de réponses pour assouvir nos quêtes toponymiques.Dans les mots de Max : « Why did we grow up so?/What gave us a heart and a soul? ».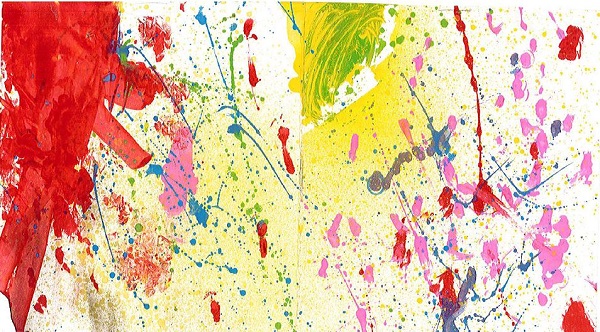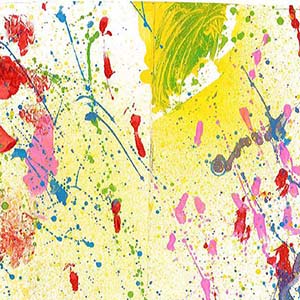 Virgins
Everyone Lost
(Self-Released)
Edmonton, AB
From the bleak worldview of Trevor Angst:
Be still, don't breathe. Doomsday is anthropogenic and takes the form of bio-cybernetic revolt. The planet is threatened and engages to resurrect its biomechanical engines of destruction from its underground dormancy to obliterate humankind. It's the found percussion of hard struck cathedral bells and the incline of a chain hill wooden roller coaster on Everything Dies that mimics dialogue and AI takeover. The droning, Tripod-bass growls are impending. Seismic strides can be mistaken for the sunken heart throbs of those who are enduring a post-apocalyptic world.
Du point de vue austère de Trevor Angst:
(Traduit par les soirées mentholées de Marie-Pier Chevrier)
Immobile, pas un souffle. L'apocalypse est anthropique et prend des airs de révolte biocybernétique. La planète est menacée et s'apprête à ressusciter de leur dormance souterraine ses engins de destruction biomécaniques pour anéantir l'humanité. La percussion retrouvée des cloches de cathédrale sonnées violemment et la pente d'une chaîne de montagnes russes de bois sur Everything Dies mimiquent les dialogues et conquêtes de l'IA. Le bourdonnement et les grognements de basse à Trépied survolent le tout, menaçants. Les éclats sismiques ressemblent à s'y méprendre aux battements de coeur en noyade de ceux qui perdurent dans un monde post-apocalyptique.
Virgins – The Air We Are Breathing (Be Still)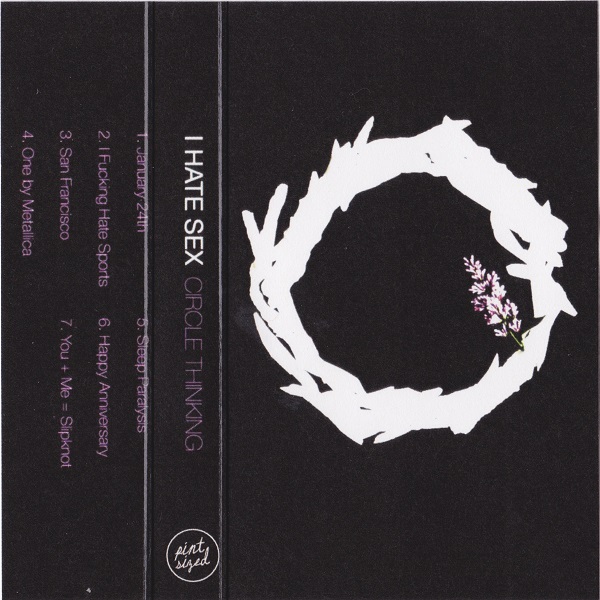 i hate sex
Circle Thinking
Edmonton, AB
From the blaaarrgh of Alec Lovely:
Edmonton's i hate sex are a whirlwind of emotion, raw and unfiltered. Life can be overwhelming, draining, and sad, but there's always comfort in the relationships – reminding yourself that they happened at all gives you solace, despite the cliches. The contrasting melancholic guitar riffs lay underneath the exasperated razor-edged vocals, and what's left is brutally honest and executed to perfection. Feeling totally overwhelmed by everything around, you need to scream for help even if you don't know what to say.
Du blaaarrgh de Alec Lovely:
(Traduit par Julie Mayer)
Le quatuor d'Edmonton i hate sex est un tourbillon d'émotions, crues et non filtrées. La vie peut être accablante, épuisante et triste, mais il y aura toujours moyen de se consoler à travers les relations qu'on a tissées. Le fait de te rappeler que ces dernières ont eu lieu te réconforte, malgré les clichés. Les riffs de guitare mélancoliques et contrastants reposent sous une voix exaspérée aussi tranchante qu'une lame de rasoir. Ce qui reste est brutalement honnête et exécuté à la perfection. Te sentant totalement dépassé par tout ce qui est aux alentours, tu as besoin de crier au secours même si tu ne sais pas quoi dire.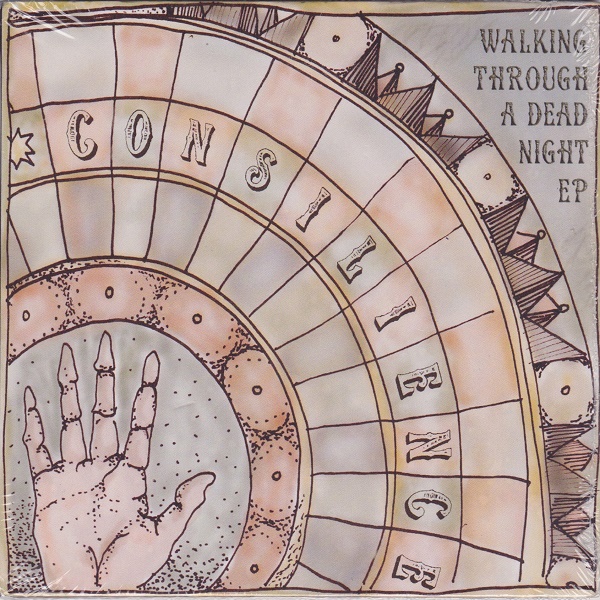 Consilience
Walking Through A Dead Night
(Self-Released)
Edmonton, AB
From the day-old cabinet of Jibril Yassin:
On Walking Through A Dead Night, Consilience are a band of gifted tricksters. What unfolds as gentle dream pop theatrics unfolds into something a lot more vital and energetic. Yet you can't shake off the hazy atmospherics sonic architect Tasy Hudson has grown so fond of incorporating into the songwriting. On "Proud Soul," the band cycle through its coda again and again, Hudson's vocals reaching for the sky as the band begins to erupt all around her. It's a conclusion that delivers.
Du cabinet d'un jour de Jibril Yassin:
(Traduit par Julie Mayer)
Sur l'album Walking Through A Dead Night, les membres de Consilience sont une bande d'arnaqueurs doués. Ce qui se dévoile comme étant une douce théâtralité pop onirique se révèle être une chose bien plus vive et énergique. Toutefois, tu ne peux pas te débarrasser de l'atmosphère brumeuse que l'architecte acoustique Tasy Hudson s'est peu à peu attachée à intégrer à la composition de ses chansons. Dans « Proud Soul », le groupe tourne autour de sa coda encore et encore. La voix de Hudson atteint les étoiles tandis que le groupe entre en éruption tout autour d'elle. Une conclusion libératrice.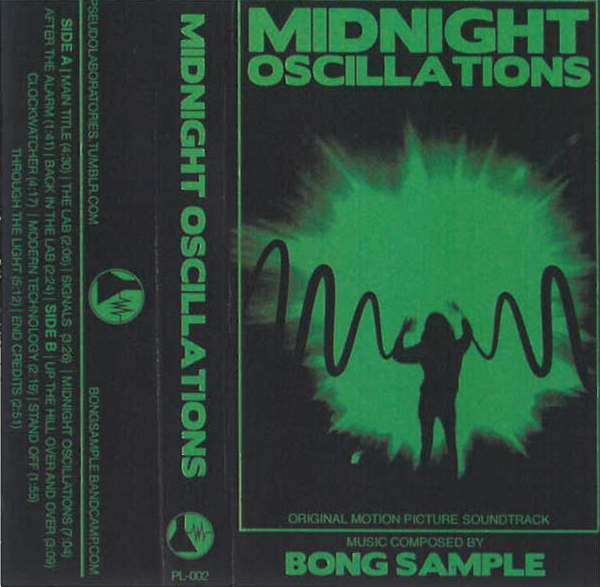 Bong Sample
Midnight Oscillations
Edmonton, AB
From the ferocious quest of Jared Majeski:
Here's a soundtrack to a film that only exists in a man's mind. Horrifically warm synth scores, channel sweeps like feathers on skin. Amid the slow freneticism and sonorous repetition, your answer(s) await amidst proprioceptive electrocution. Are we always running from something, even if we're not moving?
Par la quête féroce de Jared Majeski:
(Traduit par la grossesse sasquatchienne d'Émily Traichel)
Voici la bande-son d'un film qui n'existe que dans l'esprit d'un homme. De fiévreuses partitions de synthé, un balayage des canaux comme des plumes sur la peau. Parmi la frénésie tranquille et la répétition sonore, votre (ou vos) réponse(s) vous attend(ent) dans l'électrocution proprioceptive. Sommes-nous toujours en train de nous enfuir, même si nous sommes immobiles?
Bong Sample – Midnight Oscillations
---