Tag: eamon quinn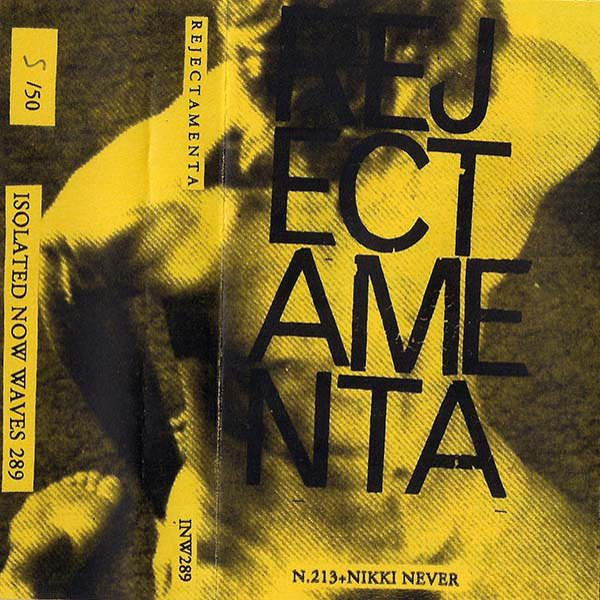 N.213 + Nikki Never
Rejectamenta
Vancouver, BC
From the bleary-eyed sub-dance of Eamon Quinn:
This edition of 50 from Nic Hughes' (of the Shearing Pinx) solo project features voice and "bonus synth" by the enigmatic Nikki Never (Terror Bird). More sprightly and pared down than last fall's Sungod Arena, Rejectamenta sets out a continuously disorienting tonal pattern over its 19 song miniatures. At base, wirey drum-machines vary between clipped, Nommos-esque time-keeping and fitful, post-industrial anti-grooves. Anxious melodic content is served by the uncanny tracing of disaffected vocals around bleary-eyed sub-dance Casio tones.
The claustrophobia of the formula enables an auto-song style that signals N.213's heritage in the Messthetics series and the whole UK DIY cassette movement more generally. That isn't to claim the tape is a retro-revivalist project. Though Hughes channels contemporary electronic music, those tones are run through the same warped Xerox-machine with which he makes all the Isolated Now Waves art. The result recreates the seductive danger of the formative, underground period of dance.
Even on the four Nikki Never-helmed tunes, the most tuneful and club-worthy, her forlorn contributions won't lift any spirits. Despite, say, the hummable melody to "Nightstalker," the lyrics recall darker themes. If anyone anywhere is cutting a rug to Rejectamenta, it'd be Sergent Galoup in that neverworld discothèque. The rhythm of the night, sure, but it's one cold, lonely night.
De la sous-danse à l'oeil hagard d' Eamon Quinn:
(Traduit dans les rubans magnétiques enchevêtrés de Benoit Arcand)
Ce lot de 50 issu du projet solitaire de Nic Hughes (autrement dans la bande de Shearing Pinx) est ponctué par la voix et le "synthé bonus" de la sibylline Nikki Never (de Terror Bird). Plus dépouillé et bondissant que l'antépénultième Sungod Arena, Rejectamenta tisse une trame tonale continument troublante autour de ses 19 miniatures musicales. À sa base, des drum-machines hirsutes oscillent entre rythmes saccadés, *Nommos*esques, et intermittents grooves post-industriels. Le propos, mélodique, anxieux, est livré par l'inquiétant spectre d'une voix maussade qui enrobe les notes d'un Casio sub-dance au regard trouble.
La claustrophobie inhérente à la formule induit une impression de chanson automatique signalant l'héritage que N.213 a reçu de la série Messthetics, et plus généralement de tout le mouvement britannique de cassette DIY. Ce qui n'est pas clamer que cette cassette-ci constitue un projet revivaliste. Bien que Hughes évoque l'esprit de la musique électronique contemporaine, ses tonalités passent par la même machine Xerox distortionnée avec laquelle il produit toute l'iconographie d'Isolated Now Waves. Le résultat suscite le séduisant danger des années liminaires, underground, du dance.
Même les quatre chansons avec une Nikki Never esseulée à la barre – les plus mélodiques et susceptibles de sortir en boîte – n'allégeront pas votre coeur. À l'encontre de, disons, la mélodie fredonnable de "Nightstalker", les paroles donnent chair à des thèmes plus sombres. De sorte que si quelqu'un esquisse un pas de danse sur Rejectamenta, ce sera le sergent Galoup dans cette discothèque de nulle part. Le rythme de la nuit, certain; mais froide, solitaire, la nuit.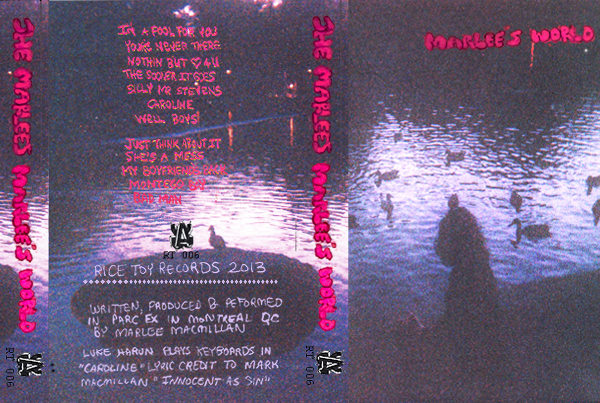 Whether breezily evoking a weary lo-fi Velvets or the Byrds-influenced strand of downer teenage garage, Marlee coats everything in the kind of murk characteristic of the best past and current NZ/Australian imprints.
The Marlees
Marlee's World
(Rice Toys)
Montréal, QC
From the murky mind of Eamon Quinn:
Whether breezily evoking a weary lo-fi Velvets or the Byrds-influenced strand of downer teenage garage, Marlee coats everything in the kind of murk characteristic of the best past and current NZ/Australian imprints. The near-boogie on the last two tracks suggest the tape a sleepier Marc Bolan might have cut for K with Stephen Pastel producing.
De l'esprit glauque d' Eamon Quinn:
(Traduit par Andréanne Dion)
Qu'il évoque avec désinvolture un Velvet lo-fi las ou un garage adolescent déprimé sous l'influence des Byrds, Marlee enveloppe tout des traits glauques des meilleurs sons néo-zélandais et australiens du passé et du présent. Les deux dernières chansons, qui inspirent presque la danse, rappellent ce qu'un Marc Bolan légèrement endormi aurait pu enregistrer pour K avec Stephen Pastel à la production.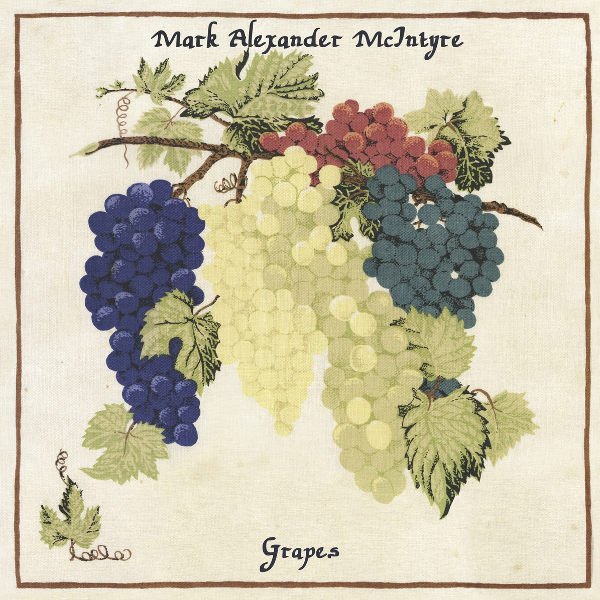 Mark Alexander McIntyre
Grapes
This spirit-crushing loner/lunar folk situates McIntyre as a geographically-displaced purveyor of the Texan outsider tradition.
Victoria, BC
From the blue hills of Eamon Quinn:
This spirit-crushing loner/lunar folk situates McIntyre as a geographically-displaced purveyor of the Texan outsider tradition. Imagine Roky Erickson spilling Townes' symbolisms over the foggy acoustic guitars of the sparse, folk-blues of Charalambides' debut. But bleaker. Returning repeatedly with the weariness of a Monte Hellman anti-hero to themes of death and fate, the disc is one of the few entries in whatever you'd call the genre Jandek created with "House of the Rising Sun".
Des collines bleues d' Eamon Quinn:
(Traduit par Andréanne Dion)
Ce folk solitaire/lunaire dévastateur présente McIntyre en tant que réfugié et fournisseur de la tradition texanne étrangère. Imaginez Roky Erickson répandant le symbolisme de Townes sur des guitares acoustiques brumeuses, dans le genre du blues folklorique épars du premier album de Charalambides. Mais en plus morne. Revenant à maintes reprises sur les thèmes de la mort et du destin avec la lassiture d'un des antihéros de Monte Hellman, ce disque est l'une des seules entrées dans le genre sans nom que Jandek a créée avec «House of the Rising Sun».

Mark Alexander McIntyre – Blue Hills and the Fallen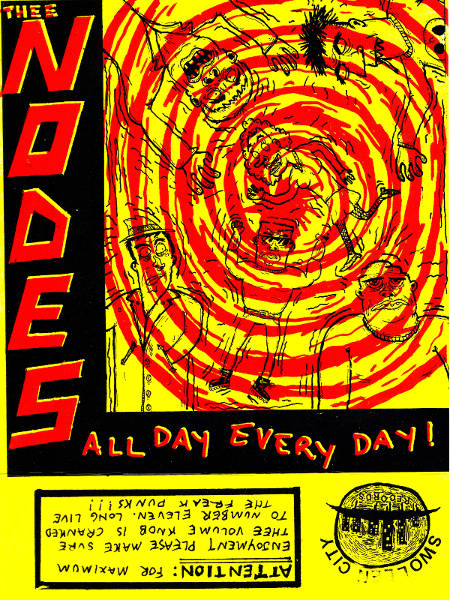 Thee Nodes
All Day Every Day!
Montréal, QC
From the paranoid sewage of Eamon Quinn:
The first release from Swollen City Records is already beyond sold out. Thee Nodes infect a mutant strain of performance-arty hardcore recalling the early '80s output of ROIR, with Mr. Node a misanthropic stand-in for HR, and the Brains' PMA swapped for the kinda furious paranoid sewage Flipper or Killdozer oozed over similarly confused/enthused audiences way back when.
Each of the six tunes, spread over "side dumb" and "side dumber", feature hilarious anti-social rants about hating the hip, smashing your head, breaking glass, and body issues — set over falling-over-itself high-gain riffage. The occasional panoramic dub vocal pops up, proving these dodes are savvier than the batstew of primitivist Dictators/Gizmos no-brain logic might imply.
It's tough to think of anything this side of the Butthole Surfers that can compete with Thee Nodes' gonzo live set for sheer menacing commitment to freaky R'n'R intensity. If you can't swing that, don't miss James "Uncle Sandy" Watts' bleak black & white depiction of our heroes roaming their depopulated concrete jungle home.
Des eaux usées paranoïaques d'Eamon Quinn:
(Traduit par l'arythmie de Geneviève Faubert)
Les exemplaires du premier album de l'étiquette Swollen City Records sont déjà tous écoulés depuis longtemps. La formation Thee Nodes, qui nous transmet une souche mutante de hardcore alliant art et prestation, rappelle l'univers du début des années 1980 de ROIR : Mr. Node agit à titre de doublure misanthrope d'HR, Flipper remplace les égouts paranoïaques et furieux de PMA (the Brains) et l'auditoire confus et enthousiaste évoque celui de Killdozer il y a de cela bien longtemps.
Les six chansons, réparties sur les deux faces « idiot » et « encore plus idiot » (« side dumb » et « side dumber ») contiennent des propos antisociaux hilarants qui traitent de haine envers le hip, du fait de vous cogner la tête, de briser des verres ou d'autres ennuis corporels, le tout orchestré au cœur de riffs ultrarapides à grand gain. On entend à l'occasion des voix panoramiques dub, preuve que les gars sont encore plus futés que le batstew des primitifs Dictators/Gizmos – aucune logique requise ici.
Depuis Butthole Surfers, difficile de penser à une formation pouvant rivaliser avec la folie scénique de Thee Nodes et son engagement brut et menaçant à rendre l'intensité dérangée du rock 'n' roll. Impossible d'assister à une prestation du groupe? Ne manquez pas le portrait glauque en noir et blanc que présente James « Uncle Sandy » Watts de nos héros vagabondant au cœur de leur jungle urbaine désertée.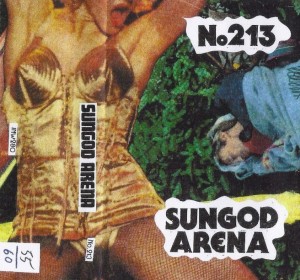 N.213
Sungod Arena
Vancouver, BC
From the string eruption of Eamon Quinn:
Vancouverite Nic Hughes (Shearing Pinx, Pompoir) has been hitting a peak-of-his-powers high for forever now (ca. 1996). Each release introduces devotees to another cast of terrified mutant denizens of the same cold, vicious subterranea that Chrome and Throbbing Gristle once inhabited. Sungod Arena is no exception. If anything, the claustrophobia occasioned by the violent meeting of no-technique basement drums, blown-out NZ-Underground string eruption, "parking lot sounds", and Hughes's pained, singular voice makes for an even more unsettling experience than the comparatively fun Shearing Pinx.
De l'éruption de cordes d' Eamon Quinn:
(Traduit dans les recoins souterrains de Vincent Rondeau)
Le Vancouvérois Nic Hughes (de Shearing Pinx et Pompoir) semble au sommet de ses capacités depuis toujours (ou environ 1996). À chaque offrande musicale, ses fidèles rencontrent une nouvelle gang de mutants terrifiés dans les mêmes recoins souterrains où rôdaient autrefois Chrome et Throbbing Gristle. Sungod Arena ne fait pas exception, au point où la rencontre violente de la batterie de sous-sol maladroite, des éruptions de cordes à la NZ Underground, des « sons de stationnement » et de la voix singulièrement affligée de Hughes crée une expérience particulièrement troublante qui ferait presque de Shearing Pinx une partie de plaisir.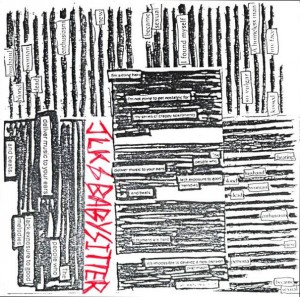 JLK & Babysitter
II
(Self Released)
Montreal, QC // Victoria, BC,
From the super highway of Eamon Quinn:
JLK & Babysitter's second collaborative release is every bit as gleeful as their first outing. This cassette documents the Victorian trio's trip down the rabbit hole as they and Jane L. Kasowicz wiled away a productive unofficial 2013 Montreal summer residency bein' illegal and developing a third eye revision of their sound. If previous releases showed off the group's lurching Bonehead Crushin' chops, even during the most song-oriented moments ("Super highway", "Fur rust ray shone"), II appears to hitch that vibe onto the cracked avant-garage of more emotionally-varied no-fi psych like Photograph Burns or, even more accurately, Cyborgs Revisited.
The rarest hear-it-to-believe-it takes, for my money, are on the spookier end of the affair. Here, JLK's voice is a standout: a downright chilling presence over the percussion-led unmade monster movie soundtrack "Humans are hard" or in her disembodied blues vocalizations on the way-gone lunar boogie of "A homeless man kissed my face". And finally, recalling the Haino / Fushitsusha school of world-embracing psych, the twin weepy balladeering guitars of album closer "All saints down" tunnel like two divining rods towards eerie, dizzying six-string excess. Nothing is left in its wake but the hope they've got their own Double Live in the works. Already sold out at the source, so look out for the upcoming reissue courtesy of Pleasence.
De la méga autoroute d' Eamon Quinn:
(Traduit de source sure par Nicolas Coutlée)
La deuxième collaboration entre JLK et Babysitter s'avère tout aussi jubilatoire que leur première. Cette cassette documente le périple du trio de Victoria jusqu'au fond du terrier du lapin, à l'occasion d'une résidence estivale non officielle d'une prodigieuse productivité à Montréal; en compagnie de Jane L. Kasowicz, les garçons se sont complus gaiement dans l'illégalité tout en révisant leur son à partir d'un tout nouveau troisième oeil. Si leurs parutions précédentes nous ont montré toute la brusquerie de leurs riffs à la Bonehead Crushers, II emboîte le pas (même durant les moments mélodiques de « Super Highway » et de « Fur rust ray shone ») et s'aventure sur les routes rocailleuses avant-garage au dénivelé émotionnel prononcé du no-fi psychédélique de Photograph Burns ou encore plus précisément de Cyborgs Revisited.
À mon avis, les morceaux qu'il faut entendre pour le croire se retrouvent du côté obscur de cette galette. La voix de JLK y est époustouflante : une présence à vous glacer le sang qui flotte sur la trame sonore percussive du film de monstres jamais tourné « Humans are hard » ou encore ces vocalisations blues désincarnées sur le [boogie lunaire] anémique de « A homeless man kissed my face ». Et pour finir, rappelant l'école psychédélique universelle de Haino/Fushitsusha, les guitares jumelles larmoyantes de la ballade ultime, « All saints down », s'élancent comme deux baguettes de sourcier vers un débordement étourdissant et effrayant de six cordes. Rien ne survit à cette éruption, sauf l'espoir qu'un Double Live soit en cours de production. Le tirage initial s'étant déjà écoulé, gardez l'oeil pour la réédition à venir sur Pleasence.
JLK & Babysitter – Super Highway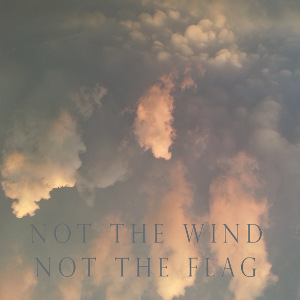 Not the Wind, Not the Flag
Garments of Light
Toronto, ON
De la cabane secrète d' Eamon Quinn:
(Traduit de la sonde spatiale de Justine Gabias)
Aussi expansif, mystérieux et joyeux que la pochette signée Victoria Cheong, le nouveau CD de Not The Wind, Not The Flag nous arrive gracieuseté des esprits allumés de chez Healing Power Records. Dans cette galaxie temporelle de nu jazz cosmique transporteur, on peut presque apercevoir Colin Fisher (cordes et autres trucs) et Brandon Valdivia (percussions) se retirer dans une cabane secrète, façon A Beautiful Mind. Là-bas, ils s'inspirent des liens dissimulés entre les piles savamment disposées d'émouvants ESP-Disks, de cassettes nouvel-âge égarées et de la collection personnelle Nonesuch Explorers de la sonde Voyager.
---