Tag: each other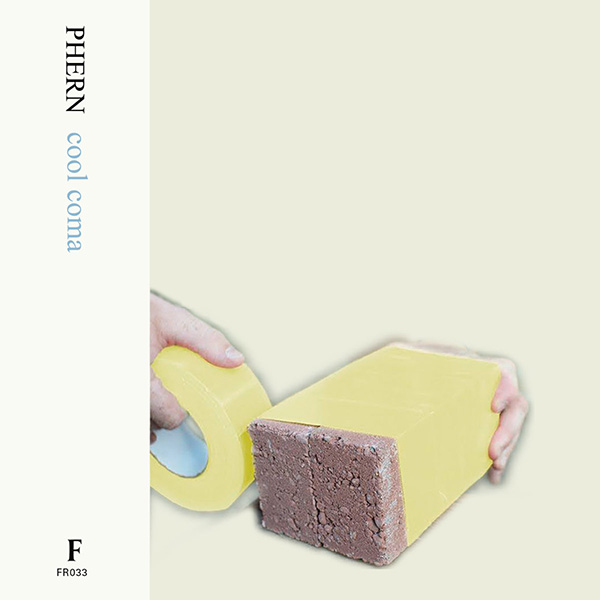 Phern
Cool Coma
Montréal, QC
From the chipped tooth of Katie Jensen:
Pass the sticky note salad. Chomp on words to compensate for gaps in conversation. A dinner party in honour of bobbing guitar necks, bratty bass lines and sloppy-kiss snares. Guests swapping Canadian Post Punk All Starz™ trading cards under the table. Vocals pushed backwards through a cigarette filter until they plant feet firmly on the nose. Serve a second helping of sour tones with angular guitars that lodge sideways. A miserable, memorable meal served on chipped ceramic and splintered toothpicks.
De la dent ébréchée de Katie Jensen:
(Traduit par Hugo Hyart-Dauvergne)
Passe la salade de note toute collante. Mache bruyamment les mots pour compenser les trous dans la conversation. Un dîner de gala en l'honneur des manches de guitares qui se balancent, des lignes de basses qui crânent et des caisses claires au baiser feignant. Les invités s'échangent des cartes à collectionner du jeu du All Starz™ du post-punk canadien sous la table. Les voix sont poussées derrières à travers un filtre de cigarette jusqu'à ce qu'elles plantent fermement leurs pieds dans le nez. Deuxième service en renfort de tons acides avec des guitares anguleuses qui se logent dans le trottoir. Un repas misérable, mémorable servi sur de la céramique ébréchée avec des cure-dents éclatés.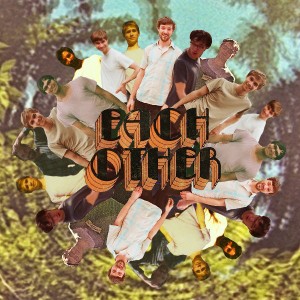 Each Other
Being Elastic
Montréal, QC
From the exploding elastic inevitable of Kevin Stebner:
These boys have been pumping out the jams for years with near unrivaled pedigree, and are now off on a tangent of Beatlesisms warring with Womenisms. Monotone harmonies reverberate atop plucky guitar lines and cracked cymbal, tambo-heavy percussion. Each Other hold sway over the mountains of kids mining the past. You can take the boys outta Halifax, but you can't stop them from pop exploding.
De l'inévitable explosion élastique de Kevin Stebner:
(Traduit par l'onomatopée percussive de Catherine Debard)
Durant des années, ces garçons ont jammé leur son avec un pedigree presque sans rival. Aujourd'hui, ils entament une bataille sonore entre Beatlesisme et Womenisme. Des harmonies monotones réverbèrent sur de courageuses mélodies de guitares, cymbales craquées et percussions lourdement tambourinées. Each Other ont de l'emprise sur la montagne de gamins qui déterrent le passé. Vous pouvez sortir ces types d'Halifax, mais ne pourrez les empêcher d'exploser dans la pop.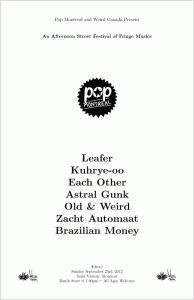 Weird Canada + Pop Montreal
Weird Pop MTL
Montreal, QC

In conjunction with Pop Montreal 2012 and the third annual Journée des bons voisins event, Weird Canada is excited to present a free outdoor show on Sunday, Sept. 23! To celebrate World Car Free Week, the street of Saint Viateur (between Jeanne Mance and Saint Urbain) will transform into a pedestrian zone closed to east-west vehicular traffic from 11 am to 7 pm.
The musical line-up curated by Weird Canada will include the following artists:
Leafer
Kuhrye-oo
Each Other
Astral Gunk
Old & Weird
Zacht Automaat
Brazilian Money
Other activities include Puces Pop taking place simultaneously within St Michael's church, Naada Yoga giving a class in the street (on a bed of sod) from 12 pm to 1:30 pm, bike repair workshops, and more all-ages fun from the YMCA du Parc. Hope to see you there!
# Event Details
– Date: Sunday September 23, 2012
– Location: Saint Viateur (263 Rue Saint Viateur), Montreal, QC
– Time: 1pm – 6pm
– Price: $(free)
– Set Times:
1:00 – Old & Weird
1:45 – Leafer
2:30 – Each Other
3:15 – Kuhrye-oo
4:00 – Zacht Automaat
4:45 – Brazilian Money
5:15 – Astral Gunk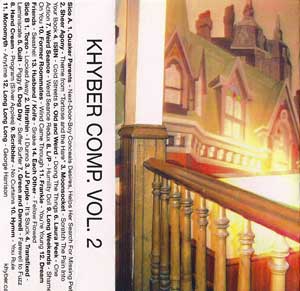 Various Artists
Khyber Compilation II
(Self Released)
Halifax, NS
From the monomythic archways of Alison Lang:
Halifax's most endearing/enduring art space, the Khyber, has once again been feted with a compilation of tape tunes from local artists and musicians, most of whom have played/jammed/come of age under the archways, the ballroom, the turret. As with last year's comp, this is a love letter to something fragile and beautiful and important – moreover, it's massive (27 songs!), thoughtfully curated and brilliant. There are so many meaty, gorgeous gems here – Monomyth's "Anytime" is soaring sweetgaze, while scene vets Scribbler reach achingly fuzzed-out heights with "No Curtains." The winsome youngsters of ISBN donate a slice of grainy, brainy twang-pop and there are similarly tasty outings from the now-defunct Long Long Long and its ashes, Each Other, risen in Montreal to smile and destroy. There's a ripper Dog Day track too, and a song from local supergroup Green and Darnelle that nods at the city's 90's ghosts and then gnashes them to shreds. Look, I could go on for fucking pages about this tape, I really could, but in the end, I'll leave with some words from a particular standout, the haunting lament "Wind Came Through" by Former Roommates (who, I think, actually are former roommates): The Khyber needs your love, always, and these songs do too. Listen and linger: this is a sound of a scene piled with riches.
Des porches voûtés monomythiques d'Alison Lang: (Traduit par les tourelles imaginaires de Maya Keshav)
L'espace d'art le plus attachant et le plus tenance de Halifax, le Khyber, est encore honoré avec une compilation de tounes cassette des artistes et des musiciens du coin, dont la plupart a joué, fait la bœuf, et est devenu majeur sous les porches voûtés, la salle de bal, la tourelle. Comme pour la compilation de l'année passée, celle-ci est un lettre d'amour à quelque chose de fragile et beau et important — en plus, c'est énorme (27 chansons!), brillant et choisi pensivement. Il y a tant de bijoux consistants et superbes ici— "Anytime" de Monomyth est le sweetgaze planeur, alors que les vétérans de la scène Scribbler atteignent les hauteurs fuzzées à pleurer avec "No Curtains." Les jeunes attachants d'ISBN fournissent une pointe de twang-pop granuleuse et futée, et il y a les balades savoureuses de même du maintenant-défunt Long Long Long et ses cendres, Each Other, qui ont apparu à Montréal pour sourire et détruire. Il y a un morceau balançant de Dog Day aussi, et une chanson du supergroupe du coin Green and Darnelle qui fait allusion aux fantômes de la ville des années 90, et puis les déchirent en éclats. Tu vois, je pourrais continuer pour les feuilles et les feuilles à propos de cette cassette, vraiment je pourrais, mais à la fin, je vais te laisser quelques mots d'une chanson remarquable, la lamentation obsédante "Wind Came Through" par Former Roommates (qui, je crois, sont vraiment les anciens colocs): Le Kyhber a besoin de ton amour, toujours, et ces chansons en ont besoin, aussi. Écoute et reste ici plus longtemps: voici un son d'une scène qui déborde de riches.
Green and Darnelle – Farewell to Fuzz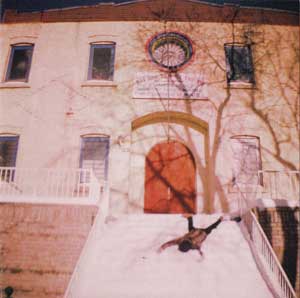 Each Other
Traces to Nowhere b/w Sit Still
(Crikey!)
Montreal, QC
From the encapsulated amber of Aaron Levin and Jesse Locke:
Moments pass; Each Other persists. The Nova Scotian wunderkinds have traversed twisted trails to arrive at these amber-encased oscillations, cramming a Rundgren-esque treasure trove of hooks into two new insta-classics. Paradigmatic pop moves that transcend an already-flawless discography.
De l'ambre encapsulée d'Aaron Levin et de Jesse Locke: (Traduit par Odile Leclerc)
Des moments passent; Each Other persiste. Les vents wunkers de Nouvelle-Écosse on traversé des chemins tordus pour arriver à ces oscillations enfermées dans l'ambre, forçant un trésor Rundgren-esque d'accroches en deux nouveaux classiques-instan. Des mouvements de pop paradigmes qui transcendent une discographie déjà parfaite.
Each Other – Traces to Nowhere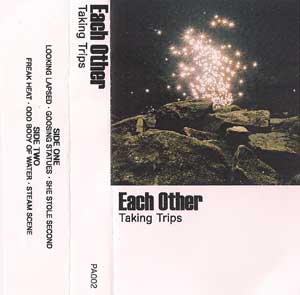 Each Other
Taking Trips
Montreal, QC
From the imaginary numerics of Aaron Levin:
The boys of Long have taken another extravagant excursion into progressive pop. Their lysergic sequencing of addictive time signatures reaches an all-time high on Taking Trips, as their heroin leads throw us deep into their opium sanctuary. While we dream along their subtle-island vibes, the slow churning fabric of our pop reality begins to fragment, buckling under weight of Each Other's glorious clamour. Crucial grip.
De la numérique imaginaire d'Aaron Levin: (Traduit par Maya Keshav)
Les gars de Long a fait une autre escapade extravagante dans la pop progréssiste. Leur séquençage lysergique des indications de la mesure atteint une nouvelle hauteur avec Taking Trips, pendant que leurs mélodies d'héroïne nous lancent au fond de leur sanctuaire d'opium. Pendant qu'on rêve à la bande-son de leurs ondes isle-subtile, le tissu lent et tourbillonnant de notre réalité pop commence de se fragmenter, de céder sous la pression du chahut glorieux de Each Other. Un achat impératif.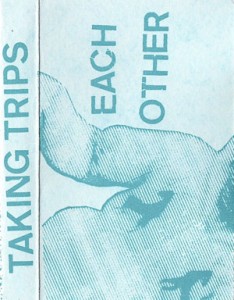 Each Other
Taking Trips
(Self Released)
Montreal, QC
From the odd future of Jesse Locke:
This one's a total "no duh." The latest subsidiary of the Long, Long, Long hit factory sheds a few layers of skronk while firing jangular hooks down the assembly line. Space echoes shimmer in an ocean of detached emotion while the tag-team harmonies sound positively fab. Drifting from the Maritimes to Montreal, our heroes have picked up a ringer to man the traps and cast this brilliant kahuna into the wild. A+++.
De l'avenir bizarre de Jesse Locke: (Traduit par les fleurs de Maya Keshav)
Ceci est complètement "non, sans déconner". La dernière filiale de l'usine des succès qui est Long, Long, Long perd quelques couches de skronk en lançant les accroches angulaires dans la chaîne de montage. Les échos de l'espace scintillent dans un océan d'émotion détachée pendant que les harmonies d'équipe ont l'air complètement extra. En vagabondant des Maritimes à Montréal, nos héros ont trouvé quelqu'un pour garder les pièges et ils ont lancé ce kahuna magnifique vers des régions sauvages.
---