Tag: dub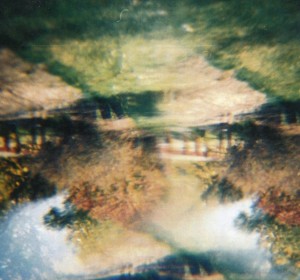 Body Lvl
Can't Slow Down
(Self Released)
Saskatoon, SK
From the synthesized tones of Joshua Robinson:
Converging at the point where looped ambient swells meet surging verbal incoherencies, Saskatoon's Body Lvl have ignited the proverbial plate tectonics that move one from spaces of tranquil calm to cascading perceptual locomotion. Unique combinations of synthesized tones and sampled found sounds move the duo beyond the realm of ambient drone and into space of the avant-garde. Aural wet dreams abound, and Body Lvl are the conjurers of spatial tricks that are sure to ruffle the sheets of your temporal lobe.
Des tonalités synthétisées de Joshua Robinson:
(Traduit par les bourdonnements d'Andréanne Dion)
Convergeant là où les gonflements ambiants en boucle rencontrent un déferlement d'incohérences verbales, Body Lvl, de Saskatoon, a enflammé les proverbiales plaques tectoniques qui vous transportent d'espaces paisiblement calmes à une cascade de locomotion perceptuelle avec leur album Can't Slow Down. Des combinaisons uniques de tonalités synthétisées et de sons réels échantillonnés transportent Body Lvl au-delà du royaume du bourdonnement ambiant jusque dans l'espace de l'avant-garde. Les rêves érotiques auditifs abondent, et Body Lvl exécutent des tours de magie spatiaux qui sont certains de froisser les draps de votre lobe temporal.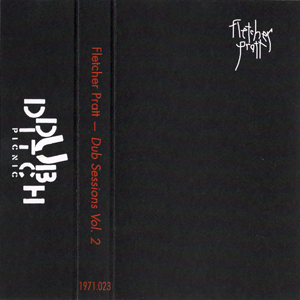 Fletcher Pratt
Dub Sessions Vol. 2
Winnipeg, MB
From the smoking chalice of Christopher Laramee:
Eschewing the murk and screwed stylings of his previous offering, Winnipeg's Fletcher Pratt spitshines a wonderful sheen on his second volume of excursions into inner space. "Huge Dub" starts the journey in a mid-80s Mad Professor style, were he scoring a John Carpenter flick about the Miami cocaine wars. Digi-warmth for miles on this tape, all wrapped up with Mr. Pratt's tightest arrangements to date. A stalking urban vibe staggers through quite a few of these tracks, broken up beautifully by the beatific piano stabs of side two's "Sunny Dub", a real dolphin watcher if there ever was one. "Odd Dub"'s warped keyboard textures and sub-bass wonk along heat-stricken before the alone-in-an-airport "Outro" drops you off at the side of the road, stranded and searching for your car keys. All you can find in your pockets is some dusted roaches and a strange phone number written on a Burger King receipt. Time to go home and sleep it off, brother.
Du calice chauffé de Christopher Laramee: (Traduit par Maya Keshav)
En évitant l'obscurité et le style foutu de sa dernière création, Fletcher Pratt de Winnipeg lustre merveilleusement son deuxième volume d'excursions dans l'espace intérieur. "Huge Dub" commence le voyage avec un ton à la Mad Professor des années 80, s'il composait la bande-son d'un film de John Carpenter à propos des guerres de la cocaïne à Miami. C'est la numéri-chaleur à travers les miles de cette cassette, tout emballé dans les arrangements les plus sensass de M. Pratt jusqu'à maintenant. Des ondes urbaines rôdeuses chancellent à travers nombreux morceaux, fragmenté merveilleusement par les éclats béats de piano de "Sunny Dub" à la face B, un vrai observateur des dauphins, s'il y en a jamais eu. Les textures déformés de clavier et la Sub-basse balançent, foudroyés de chaleur jusqu'à ce que l'"Outro" seul-dans-un-aéroport te laisse à côté de la rue, abandonné, en train de chercher pour tes clés de voiture. Tout ce que tu peux trouver dans tes poches, c'est quelques cafards poussiéreux et un numéro de téléphone que tu ne connais pas écrit sur un reçu de Burger King. Il est temps de retourner chez toi et cuver, mon ami.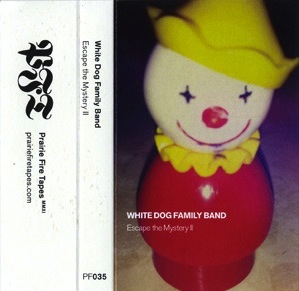 White Dog Family Band
Escape the Mystery II
Winnipeg, MB
From the munchkin motorik of Taylor Burgess:
Chris Jaax, the patriarch of Winnipeg's noise scene, is also the patriarch of the White Dog Family Band. More motorik than mere mortals, his eight-year-old munchkin Magnus meanly rocks the mic, mocking music as you know it. You'll be thrust headfirst into hypnotherapy through this cassette, the final White Dog release and one of his easiest on the ears. Obey the mountainous composition and its ganja man "de-mix" version on the flip to escape all mysterious matter into hyper-awareness of the meaningful mendacity of your senses. White Dog, what is your secret?
Du système moteur du gamin de Taylor Burgess: (Traduit par Odile Leclerc)
Chris Jaax, le patriarche de la scène du bruit de Winnipeg, est aussi le patriarche du White Dog Family Band. Plus de systèmes moteurs que de simples mortels, son gamin de huit and Magnus rock principalement le micro, moquant la musique telle que vous la connaissez. Vous serez poussé tête première dans l'hypnothérapie à travers cette cassette, la sortie finale de White Dog et une de leurs plus facile sur les oreilles. Obéissez les compostions montagneuses et sa version 'de-mix'' d'homme ganja de l'autre côté de la cassette pour échapper tout sujet mystérieux vers l'hyper-conscience de l'éloquente fausseté de vos sens. White Dog, quel est votre secret?
White Dog Family Band – Escape The Mystery II (Version) Pt. 1
---