Tag: dub ditch picnic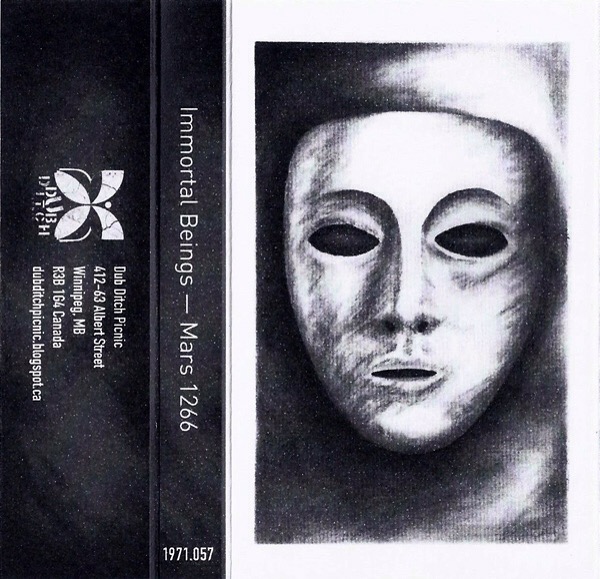 Immortal Beings
Mars 1266
Winnipeg, MB
From the accidental ejections of Doreen Girard:
Mars 1266, the 2 song limited edition cassette by Neil Burnby's Immortal Beings, presumably issued from inside an electron diffusion region somewhere above Winnipeg in an accidental ejection en route to new worlds. The songs fasten together early electronica-kosmische sensibility with overlying melodies, fluctuating tremolo and legato drones. This brace offers recall to an extract of mid-century earthly soundscape, which leaves you to suspect the traveler is here wandering not only through the vastitude of space.
Des éjections accidentelles de Doreen Girard:
(Traduit par les premiers cafés glacés de Marie-Pier Chevrier)
Mars 1266, la cassette de 2 pistes à tirage limité des Immortal Beings de Neil Burnby, nous arrive vraisemblabement d'une région de diffusion d'électrons quelque part au-dessus de Winnipeg, résultat d'une éjection accidentelle à mi-chemin vers de Nouveaux Mondes. Les chansons joignent à la sensibilité electronica-kosmische des mélodies flottantes, des trémolos fluides et des bourdonnements legato. Ce collage ravive un fragment des paysages sonores terrestres du milieu du siècle, laissant ainsi croire que le voyageur est ici même, errant dans plus que l'immensité de l'espace.
Immortal Beings – Side A (excerpt)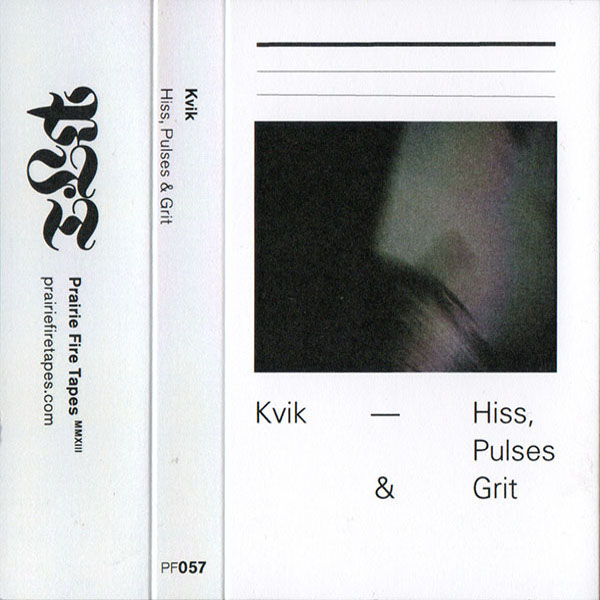 Kvik
Hiss, Pulses, & Grit
(Prairie Fire Tapes)
Montréal, QC
From the cold buzz of Kevin Hainey:
Kvik is the long running avant garde project of Montreal's Simon Thibaudeau, who I can profess is not only an outstanding crafter of drones, noises and compositional narratives, but a fine chef as well. Perhaps he treats sounds like foods, blending the right flavours and spices together, marinating, mixing and sautéing them to perfection. This latest tape showcases his brilliant knack for arranging organic compositions that heat up, fry, cool down and serve up fresh as a full course meal. Both of these sidelong pieces are testament to Thibaudau's calm and articulate skill at sculpting engaging arrangements out of otherwise alienating sounds.
Du bourdonnement glacé de Kevin Hainey:
(Traduit par Jessica Grenier)
Kvik est le projet de longe date du Montréalais avant-gardiste Simon Thibaudeau, qui est – je peux le certifier – non seulement un maitre du drone, du noise et de la composition narrative, mais en plus, un chef talentueux. Il apprête peut-être le son comme la nourriture, sachant incorporer les bonnes épices aux saveurs, avant de tout mélanger pour les faire sauter à la perfection. Cette cassette démontre son brillant savoir-faire pour les arrangements de compositions organiques qui vont réchauffer, faire frire, puis refroidir et servir l'équivalent d'un repas complet. Les pistes de chaque face sont la preuve du calme et de la compétence articulée de Thibaudau lorsqu'il sculpte des arrangements engageants à partir de sons qui, autrement, seraient aliénants.

Kvik – Dim Seen Through Cataracts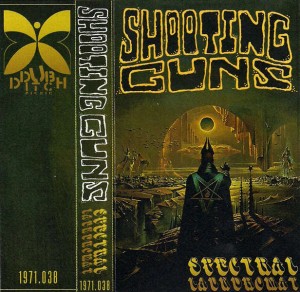 Shooting Guns
Spectral Laundromat
Saskatoon, SK
From the nuclear water of Jared Majeski:
A rare eyetooth of cutting room mayhem, Spectral Laundromat is another sludge-trudge journey from the Biggest Smoke in the prairies. Noticeably more shredding, delicate (enough) cymbal tins and straight-toed twangs blanketed by all sorts of atmosphere you likely won't hear again. What is this mystical cosmicity and where will it take us? Shred your skin, ryde the dragon and find out. It doesn't seem like the doom will end any time soon.
De l'eau nucléaire de Jared Majeski:
(Traduit par les déchirements d'Andréanne Dion)
Une collection de perles rares jamais parue sur un album auparavant, Spectral Laundromat est une autre traversée dans la boue venue de la plus grande ville des Prairies. Sensiblement plus de « shred », des cymbales (assez) délicates et des vibrations simples recouvertes de toutes sortes d'ambiances que vous n'entendrez probablement jamais plus. Qu'est-ce que ce cosmos mystique et où nous mènera-t-il? Déchiquetez votre peau, montez sur le dragon et découvrez-le. Il semble que le malheur ne se terminera pas de sitôt.
Shooting Guns – Deepest Purple (for Krang)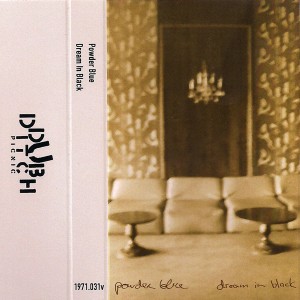 Powder Blue
Dream in Black
Saskatoon, SK
From the spectral musings of Joshua Robinson:
With quiet assuredness, Powder Blue have quickly emerged as a proverbial tour-de-force, catapulting themselves into the record collections of '80s dream-pop enthusiasts. On the footsteps of forebears My Bloody Valentine, they weaves tapestries of reverb-laden vocals, guitar swirls, heaving rhythm sections and ghostly key swells, reticulations born of the long winters and cold, dark evenings of prairie fame. As softly as cathedral specters, Powder Blue occupy the territory of wallowing heartbreak, as head bobs align with premature ventricular contractions; an introspective sepulchral dance begging for the solace and reprieve that hangs from the precipice of unnerving melody lines. The dangling participles that are the six songs comprising Dream In Black are as much a soundtrack for despair as they are for empowerment, an auditory leap of faith compelled by spectral musings.
Des méditations spectrales de Joshua Robinson:
(Traduit par les grandes chaleurs de Julie Mayer)
C'est avec une assurance tranquille que Powder Blue a émergé en tant que tour de force proverbial, se catapultant dans les collections de disques des fans de la pop onirique des années 80. Sur les traces du groupe chevronné My Bloody Valentine, le groupe tisse des tapisseries faites de voix saturées de réverbérations, de guitares tourbillonnantes, de fortes sections rythmiques et de déferlantes de notes fantomatiques, réticulations nées des longs hivers et des sombres soirées froides de gloire dans les Prairies. Aussi légèrement qu'un spectre cathédral, Powder Blue occupe le territoire du chagrin complaisant pendant que les dodelinements se synchronisent aux contractions prématurées du ventricule; une danse sépulcrale introspective implorant le réconfort et le sursis qui pendent d'un précipice de lignes mélodiques troublantes. Les locutions adjectivales à référence ambigüe que représentent les six chansons incluant Dream in Black sont tout indiquées pour se laisser aller au désespoir autant que pour se prendre en main, un acte de foi auditif imposé par des méditations spectrales.
Microdot
Middle-Age Dating
Winnipeg, MB
From the bittersweet beach of Taylor Burgess:
Kick the biggest flanger pedal around and kick back, because here comes Microdot's newest take on kiwi-pop. This time, Rob Nay and Bill Northcott are back with a vengeance for their relatively cold realities — they'd rather not impress prospective mates, they have no money for their broken car, and they just can't unwind. Don't worry though — what sounds like a heap of bummers actually makes for a heap of bittersweet beach tunes and you could easily run this tape thin by rocking it and rewinding it, which you probably already did to their first outing by now.
De la plage douce-amère de Taylor Burgess:
(Traduit par l'ex-Parisien Juitch)
Donne un bon coup de pied sur la plus grosse pédale de flanger à ta disposition et détends-toi, car voici la nouvelle attaque de Microdot contre la kiwi-pop. Cette fois, Rob Nay et Bill Northcott sont de retour pour se venger de leurs existences plutôt mornes (ils préféreraient ne pas faire bonne impression auprès d'éventuels amis, n'ont pas d'argent pour réparer leur char pété et sont tout simplement incapables de se calmer). Pas d'inquiétude, ce qui semble n'être qu'un tas de situations poisseuses est en réalité un tas de chansons de plage douces-amères rassemblées sur une cassette dont tu pourrais facilement ruiner la bande audio en l'écoutant en boucle, ce que tu as probablement déjà fait avec leur première parution.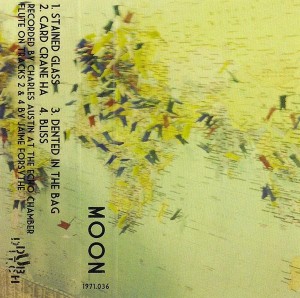 From the disaffected wash of Adam Bradley:
Moon by Moon, a morsel from Winnipeg's Dub Ditch Picnic. Springs twanging out from clocks to clang oil drums. Signature Krautrock drum/drone bass palpitates evenly like the wheels of a train over rusty Halifax rail. A slacker style delivery from all three vocalists across all songs colour them with a disaffected wash, though the musicianship is sharp and able. "Dented In The Bag" keeps it Kraut, but breaks down into early '90s alternative guitar dregs readily. Effects compound and swirl in the vial, but at no point spill the meniscus. Pastoral flute hovers atop the otherwise dire closer, "Bliss", and reversed vocals make an appearance elsewhere, though neither instance feels out of place or overdone. Every element feels effortlessly necessary.
De la désaffection délavée d'Adam Bradley:
(Traduit par le fût métallique de Stéphanie Trottier)
Moon par Moon, un morceau de Dub Ditch Picnic de Winnipeg. Des ressorts qui jaillissent des horloges au fracas de tonneaux d'acier. Un drone basse et batterie typique du Krautrock palpite d'un mouvement régulier telles les roues d'un train sur les rails rouillées d'Halifax. Les trois chanteurs aux voix blasées teintent les pièces de leur désaffection délavée, mais jouent de leurs instruments avec vivacité et maîtrise. "Dented In The Bag" sonne bien Kraut, mais se désagrège aussitôt en sédiments de guitares alternatives du début des années 90. Dans l'éprouvette, les effets tournoient et s'entremêlent sans jamais dépasser le niveau du ménisque. Tous les éléments se combinent sans effort. La flûte pastorale oscille par-dessus la funeste "Bliss" et des voix inversées font plus tard leur apparition, mais rien de tout cela ne semble hors propos ni trop excessif.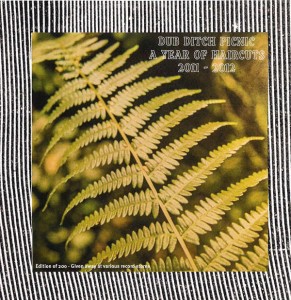 Various Artists
A Year of Haircuts
Asterisk, Canada
From the weathered report of Gregory Pike:
One 1936 July day, in Winnipeg, it was a record 42.2 °C (visualize: the hallucinatory sweat-fever of Shearing Pinx's "Violence"). On Christmas Eve 1879, it was -47.8 °C (visualize: the hypothermic chaos-scramble of Velvet Chrome's "Étude en Psychobilly"). That's a 90 °C disparity. A disparity large enough to match the range of kraut-drone, hypno-pop, and space-terror on this comp from Dub Ditch Picnic — the 'Peg's home of the strange. Somehow, all at the same time, it's the soundtrack to both lying in the summer sun on a patchwork quilt blanket, and going snow-blind in some prairie field, lost and kilometres from home.
Du rapport de Gregory Pike, exposé aux intempéries Gregory Pike:
(Traduit par le thé noir aromatisé à la confiture de bleuets de Julie Mayer)
En juillet 1936, Winnipeg a connu un record de chaleur atteignant 42,2 °C (imaginez la fièvre et les suées hallucinatoires de « Violence » de Shearing Pinx). En 1879, il a fait -47,8 °C à la veille de Noël, (imaginez le brouillage chaotique et hypothermique de « Étude en Psychobilly» de Velvet Chrome). Entre ces deux pôles, une variation de 90 °C ; un écart assez grand pour le comparer à l'éventail de drone allemand, de pop hypnotique et de terreur spatiale qui forme cette compil de Dub Ditch Picnic ? la maison de l'étrange de Winnie. D'une manière ou d'une autre, c'est à la fois le disque idéal pour lézarder sous le soleil estival, étendu sur une courtepointe en patchwork ou contracter la cécité des neiges dans une prairie perdue située à des kilomètres de chez soi.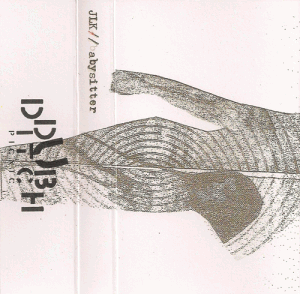 JLK & Babysitter
c30
Montreal, QC & Victoria, BC
From the garbage bag of Christopher Laramee:
Some more prime-ass outer limits holler courtesy of the fine folks at Winnipeg's Dub Ditch Picnic. The product of a healthy jam between Montreal's JLK and Victoria's Babysitter, this tweaker's moan sounds like they decided to do some straight up cover of Lynch's Eraserhead soundtrack, recorded inside of the chassis of some burnt out Greyhound bus. Not for the faint of heart or ear. Of these three tracks of lurker's compensation, this scribe's favourite has gotta be the last one, "Wanderings", a very apt description of what goes down. Is this blues? Yes it is, a very special and lonesome kind of blues. Sorta sounds like what it would be like to be a toddler and watch your favourite stuffed animal slowly light itself on fire. You've been warned…
Du sac poubelle de Christopher Laramee: (Traduit par la peluche brûlée de Maya Keshav)
Davantage de limites ultimes de choix hurlent grâce aux gens gentils de Dub Ditch Picnic à Winnipeg. Le produit d'un bon bœuf entre JLK de Montréal et Babysitter de Victoria, le grognement de ce morceau a l'air d'être une reprise exacte de la bande-son Eraserhead de Lynch, enregistré dans le châssis d'un autobus périmé de Greyhound. Ce n'est pour ni les faibles cœurs ni les faibles oreilles. Parmi ces trois morceaux de compensation rôdeuse, le préféré de l'auteur est certainement le dernier, "Wanderings", une description tellement approprié de ce qui se passe. C'est du blues? Bien sûr, une sorte de blues tellement spéciale et solitaire. Ça vous donne l'impression d'être un tout-petit qui regarde ta peluche préférée s'enflamme lentement. Vous êtes prévu…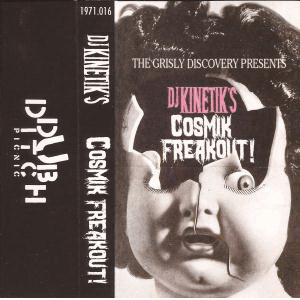 DJ Kinetik
Cosmic Freakout 1-3
Winnipeg, MB
From the hilarious hip-hoppitude of Taylor Burgess:
Finally, an after school special starring puppets of your favourite underground hip-hop producers beating each other with mallets, smarming their way through a poorly-written buddy cop/blaxploitation film, taking wikked long smoke breaks through the grainy orange-and-indigo sunset, and rolling their '82 Cutlass into the go-go dancer night. Mastermind producer DJ Kinetik is the man behind the mix; through these three 45-minute tapes, he has collected, cut, and crossfaded his way through piles of 45s to compile some of the most fantastic legit grooves with the relatively oblique. For those with a sense of humour and nostalgia, this should be a no-brainer.
De la hip-hoppitude hilarante de Taylor Burgess:
(Traduit par Maya Keshav)
Enfin, une émission spécial pour les enfants qui met en vedette les marionnettes de tes producteurs préférés de hip-hop avant-garde qui tabassent l'un et l'autre avec les maillets, qui fayotent dans un film mal écrit policier et blaxploitation, qui font des pauses méchamment longues pour fumer dans le crépuscule granuleux orange et indigo, et qui dansent avec leur '82 Cutlass dans la nuit go-go. Le producteur de génie DJ Kinetik est l'homme derrière le mix; avec ces trois cassettes de 45 minutes, il a ramassé, coupé, et fondent son chemin à traver les tas de 45s pour collectionner quelqu'uns des morceaux les plus légitement fantastiques ainsi que les relativement obliques. Pour ceux qui ont un sens de l'humour ainsi qu'un sens de la nostalgie, ça devrait être du gâteau.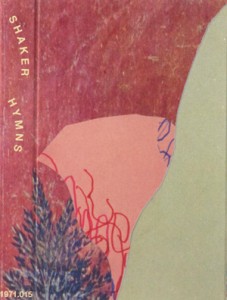 Shaker Hymns
Dub Sawyer EP
Montreal, QC
From the reggae rush of Pam Haasen:
Imagine following that silly rabbit down a hole and never finding the bottom. A soundtrack to your descent may sound frightening but in fact, after about two minutes of free falling, a sense of peace licks your brain and you forget what it feels like to keep two feet on the ground. Shaker Hymns whoop and flip chords to penetrate typical guitar riffs for the ultimate in desert spy movie darkness. A voice squelches from behind a dune but the bass 'n' drums are your canteen of agua. Lifesavers in a strange place that leave you afraid but intrigued. A plane in the sky writes a message that reads: "keep going".
De l'accès de reggae de Pam Haasen: (Traduit par les trous mystérieux de Maya Keshav)
Imagine que tu suis ce drôle de lapin dans le trou et tu trouves jamais le fond. Peut-être que la bande-son de ta descente a l'air éprouvant mais en fait, après environ deux minutes de chute libre, une sensation de tranquillité lèche ton cerveau et tu oublies ce qui c'est d'avoir deux pieds par terre. Shaker Hymnes hululent et renversent les chordes pour pénétrer les riffs typiques de guitare pour l'ultime du noir des films des espions dans le désert. Une voix piaille derrière une dune mais la basse et la batterie sont ton bidon d'agua. Les sauveteurs dans un endroit bizarre qui te font peur mais tu t'intrigues aussi. Un avion au ciel écrit un message qui se lit: "continue".
---