Tag: drum machine
Arbutus
Bedroom Safari
Vancouver, BC
From the swirling tongue of Katie Jensen:
Palm trees tickle the beach with long, feathery fronds. The golden sun drips slowly, like an egg slipping off the counter. A youthful relic floats; trapped in sea foam, bobbing like a toy. If you could ( rewind your life, where would you press pause? Would you pull out the magnetic ribbons by the handful, watch the plastic spools whir and try to smudge out the mistakes? No sung hymn is holy enough to purify your heart.
De la langue tourbillonnante de Katie Jensen:
(Traduit par Jason Rule)
Des palmiers chatouillent la plage avec leur long feuillage plumeux. Le soleil d'or s'égoutte lentement, comme un oeuf glissant d'un comptoir. Une empreinte de jeunesse flotte, piégée dans l'écume de la mer, dansant comme un jouet . Si vous pouviez revenir en arrière, où voudriez-vous appuyer sur pause? Est-ce que vous feriez sortir les rubans magnétiques par poignées, en regardant le bourdonnement des bobines de plastiques et en essayant de maculer les erreurs? Aucun hymne chanté n'est assez sacré pour purifier votre coeur.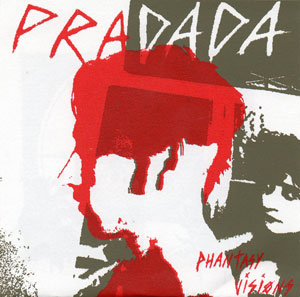 PRADADA
Phantasy Visions
Montreal, QC
From the phantastic visions of Aaron Levin:
Phantasy Visions commandeers the disturbed ritual-waves emanating from the depths of a cosmic jungle-vortex. Busted drums churn through a minor-key cult-fest that rivals The Pink Noise for its basement-macabre. PRADADA wins by reaching new levels of phantasmic antipathy within the layers of echo and destruction. A disturbing record not for the light of spirit and a certified contender for strangest album of the year. Forward all psychological damage claims to Hobo Cult mainstay Francesco de Gallo.
Des visions phantastiques d'Aaron Levin: (Traduit par les échos de Maya Keshav)
Phantasy Visions réquisitionne les ondes rituelles et perturbées qui émane du fond d'un tourbillon cosmique de la jungle. La batterie foutue célèbre un festival-culte de mode mineur qui rivalise avec The Pink Noise pour son sous-sol de macabre. PRADADA gagne par atteindre les nouveaux niveaux d'antipathie phantasmatique dans les couches d'écho et d'anéantissement. Un enregistrement perturbant qui n'est pas pour les esprits faibles et un concurrent certifié pour l'album le plus bizzarre de l'année. Envoyez toutes affirmation du psychotraumatisme à Hobo Cult a/s de Francesco de Gallo.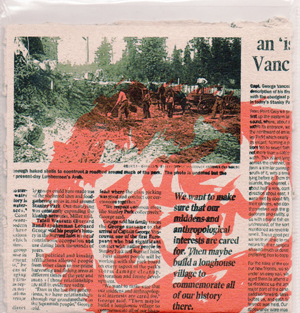 GR8-2000
Freedom
Vancouver, BC
Frantic, urgent basement drum-machine pop from the bowels of Vancouver, BC. The opening track on Freedom reminded me of Sean Savage's ode to Eamon McGrath (one of Sean's best songs, despite the lyrics) and I was immediately hooked. Contained within are imaginative combinations of mystery and electronics, acoustic reverberations and brooding stagnation, wasted solos and wrecked drumming; sounds that demand more and, dammit, I want it now. I'll have to settle for the "Candy" diskette single (yes, on old 3.5″ floppies) or the noisier Stamina Maggot cassette. I love you Casio.
Frénétique, une urgente batterie de sous-sol sort des entrailles de Vancouver, C.-B. La piste d'ouverture sur Freedom me rappelle l'ode à Eamon McGrath de Sean Savage (une de ses meilleures chansons, malgré les paroles) et je fus immédiatement accro. Contenu dans une combinaison imaginative de mystère et d'électroniques, de réverbérations acoustiques et de stagnation menaçante, des solos décharnés et des percussions accidentées; des sons qui demandent plus et putain, je le veux maintenant. Je vais devoir me contenter du solo de la disquette de ''Candy'' (oui, sur de vieilles disquettes 3.5'') ou la cassette plus bruyante de Stamina Maggot. Je vous aime Casio.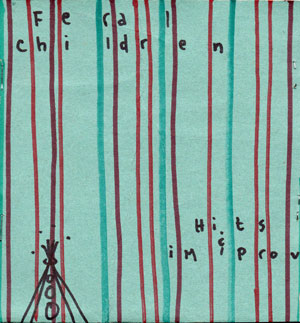 Feral Children
Hits and Improv
(Self Released)
Saskatoon, SK
Viewing the Feral Children spectacle is a truly singular experience; emotional bellowing from the bottoms of a psychedelic vortex. Creating detailed lysergic textures on the fly with the usage of a looping pedal and sampler whilst strumming his uniquely tuned, de-strung guitar. This album got heavy play while I was finishing my thesis, putting out a record, and working full-time. I managed to avoid dropping acid but the album was a certified trip each time I took a break from hell to listen. Highly recommended. A top release from 2008.

Voir la spectacle de Feral Children, c'est vraiment une éxperience singulière; le beuglement émotionel du fond d'un vortex psychédélique. En créant sur le pouce des textures détaillées à l'air LSD avec une boucle et un échantillonneur, il gratte sa guitare uniquement accordée, sans cordes. J'ai passé cet album à répétition pendant que je finissais ma thèse, et je sortais un album, et je travaillais plein temps. J'ai réussi à éviter la drogue mais l'album était un vrai trip chaque fois que je suis sorti d'enfer pour l'écouter. Un coup de coeur. Une grande vedette de 2008.
---