Tag: drone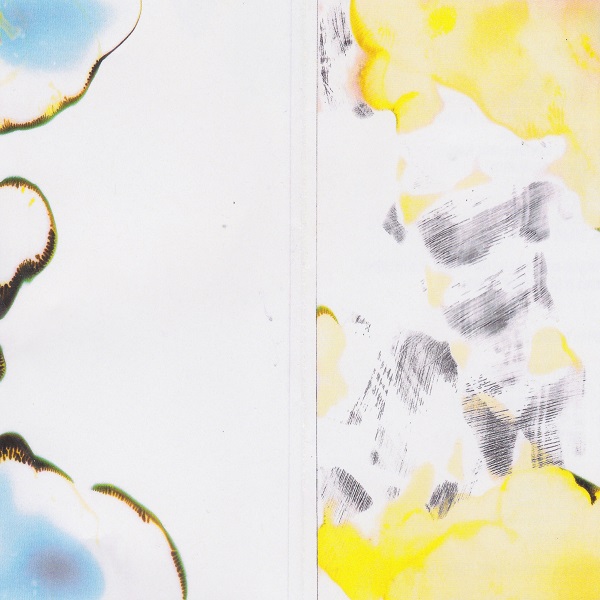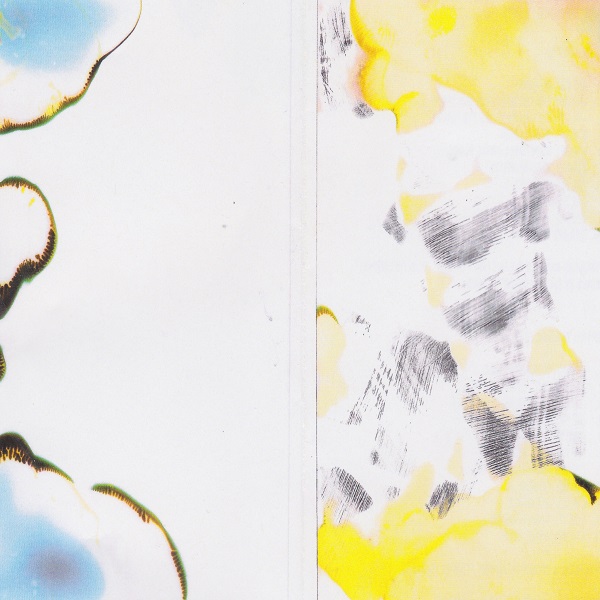 ILLER/VIRTUAL FLANNEL
ILLER/VIRTUAL FLANNEL
Saskatoon, SK
From the curated soft-serve of Joshua Robinson:
Compelled to the point of happy-stance, these electro-experimenters exhume the currential bravado of B(oh)r–lesque ingenuity and cast it in the au courant veil of colorful modalities. What remains after the lull… those carapaces of lurid and languid evenings; everything as one flying reel of a memory of a night. Dirty Tapes has done it again, our (not-so) southernly compatriots curating the soft-serve beats oftentimes lost to the whirling overture of everything else that we northernlies have to offer. Beats as currency, the dollar at an all-time high.
Extrait de la conservation glacée-molle de Joshua Robinson:
(Traduit par le tempo rubato cardiaque d' Émily Traichel)
Contraints avec plaisir, ces électro-expérimentateurs exhument le bravado mouvant d'ingénuosité B(oh)r-lesque et le jette dans le voile de modalités colorées connu. Ce qu'il reste après l'accalmie… ces carapaces de soirées obscènes et languides; des souvenirs qui passent aussi vivement qu'une pellicule cinématographique. Dirty Tapes nous épate à nouveau, nos compatriotes du (pas si loin au) sud agencent les rythmes glacés-mous souvent perdus parmi l'ouverture tourbillonnante de tout le reste que nous les nordistes avons à offrir. Le rythme en tant que monnaie, le dollar plus élevé que jamais.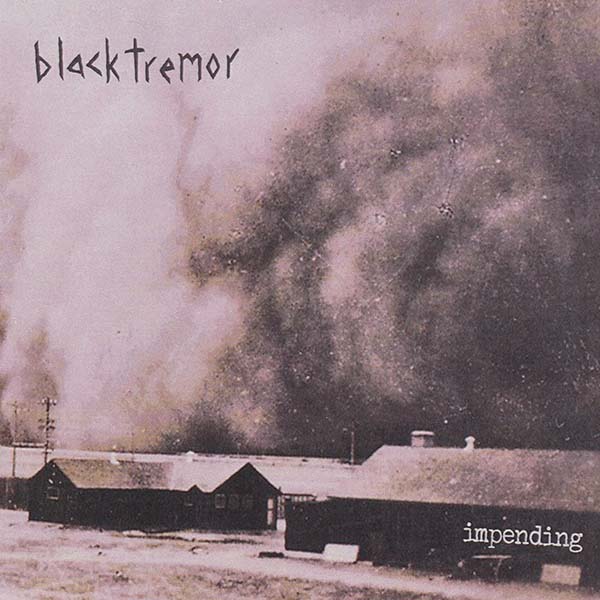 Black Tremor
Impending
(Self Released)
Saskatoon, SK
From the heavy, heavy light of Joshua Robinson:
Like older siblings, they are flame. Dancing at the mouth of the end of it all. Cracks in the welkin overhead; impending kismet. Noumena in mirrors. Siimilar yet singular, gaining reverence for a rapture forced rather than happened upon; conjured rather than readily given; spliced, destroyed and put back together again, all while calamity whispers unto itself that the break in the storm is the end of the beginning of the end. The blackening tremors below allude to the baser animism in us all; rattled, reckoned; the chasm is all that matters. We are all heavy in the light.
Par la lourde, lourde lumière de Joshua Robinson:
(Traduit par la tête animale d' Émily Traichel)
Comme les aînés de la famille, ils pètent le feu. Dansant là où la fin de tout débouche. Des fentes dans la voûte céleste; le destin imminent. Noumènes dans les miroirs. Semblables, mais singuliers, gagnant une révérence pour une extase forcée plutôt que tombée dessus; conjurée plutôt que donnée; épissée, détruite et à nouveau reconstruite, tandis que la calamité se chuchote que l'éclaircie après l'orage est la fin du début de la fin. Les tremblements noircissant d'en bas font allusion à l'animisme infâme à l'intérieur de nous tous; secoué, calculé; le gouffre est tout ce qui compte. Nous sommes tous lourd dans la lumière.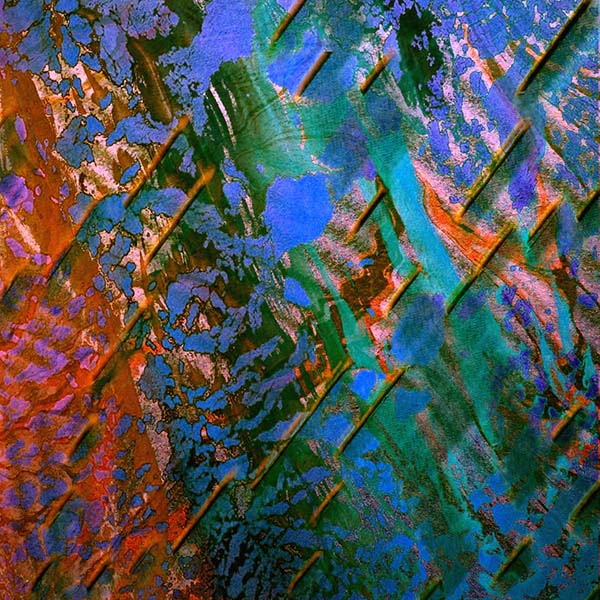 Sarah Davachi
Qualities of Bodies Permanent
Vancouver, BC
From the lobbed irises of Joshua Robinson:
This vibration. Brains, fevered. Resonance, numbing and spritely. We caper to a feel, rather than to a sound, while the surge is coloured in the tapestries of a dronery far too anomalous to recognize as being ours. Gyrating lungs; pyres in the sky, and the light in your eyes. When beauty both in sight and sound mixes, to turn away is be stunted. We see with our ears. Finger paintings coloured by sound, and heard as pigment. How fortunate we are to change one for the other: ears as eyes; lobbed irises. Everything at once; these dreams, they are.
Des iris à lobes de Joshua Robinson:
(Traduit par Julie Mayer)
Cette vibration. Des cerveaux, enfiévrés. Une résonance pleine d'esprit qui engourdit. Nous gambadons sous l'effet d'une sensation, plutôt que d'un son, tandis qu'une vague est colorée dans les tapisseries d'une dronerie bien trop anomale pour la reconnaître comme étant la nôtre. Des poumons tournoyants, des bûchers dans le ciel et la lumière dans tes yeux. Quand la beauté de la vision et celle du son s'entremêlent, s'en détourner revient à être attardé. Nous voyons avec nos oreilles. Les peintures à doigts colorées par le bruit se font entendre à titre de pigment. Quelle chance nous avons de pouvoir changer un sens par un autre : les oreilles en guise d'yeux, des iris à lobes. Tout en même temps; ces rêves le sont.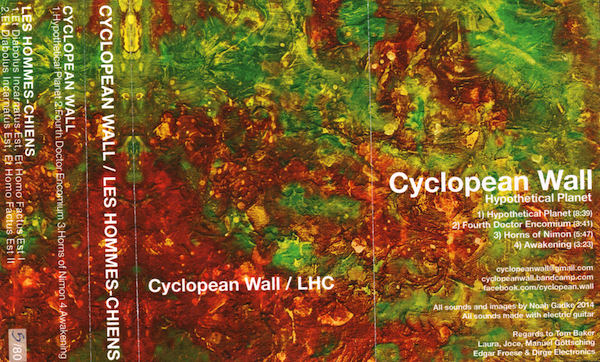 Cyclopean Wall
Hypothetical Planet
(Self Released)
Toronto, ON
From the outer limits of Katie Jensen:
Monophonic guitars swirl towards a silvery nexus like draining bathwater, sucking and sputtering into a hollow vortex.
Spirographic noumena orbit an event horizon, watching time crawl on its hands and feet as magnetic lovers are drawn together in polar opposition, ripping themselves free at the promise of a chance encounter with an alternating current.
Shaking fingers parse cohesion from meaningless conversations. Mouthless smiles leak familiar words; sneered jabs plunged deep into diaphragmatic cradles protecting cloistered emotional hospices. You grit your teeth, you growl. You chew on enameled dust. The moon glowers. It has seen it all before.
Par les limites externes de Katie Jensen:
(Par les contemplations au beurre de peanut d'Émily Traichel)
De guitares monophoniques tourbillonnent vers un noyau argenté comme l'eau du bain qui se vide, suçant et crachotant en un creux vortex.
Des noumènes spirographiques orbitent à l'horizon d'un évènement, observant le temps qui se déplace à quatre pattes tandis que les amoureux magnétiques sont attirés l'un vers l'autre en opposition polaire, s'affranchissant pour la promesse d'une rencontre fortuite avec un courant alternant.
De doigts tremblants examinent la cohésion des conversations dénuées de sens. Des sourires sans bouche laissent écouler des mots familiers; des coups moqueurs plongent profondément dans les berceaux diaphragmatiques qui protègent les hospices émotionnels cloîtrés. Vous serrez les dents, vous grognez. Vous rongez de la poussière émaillée. La lune jette un regard noir. Elle a déjà tout vu.
Cyclopean Wall – Hypothesized Planet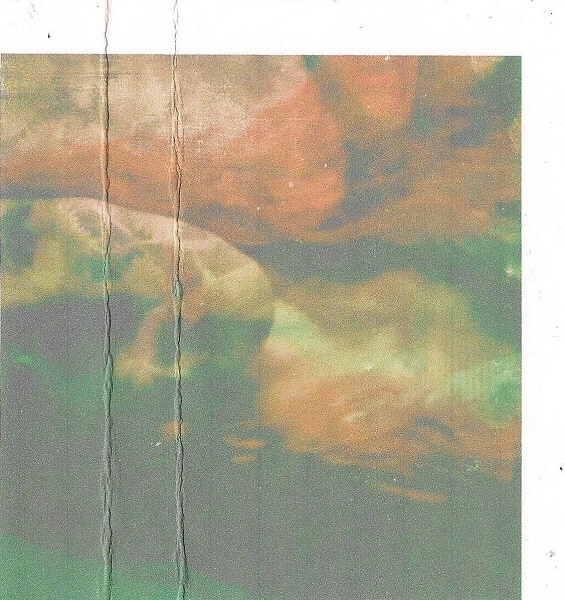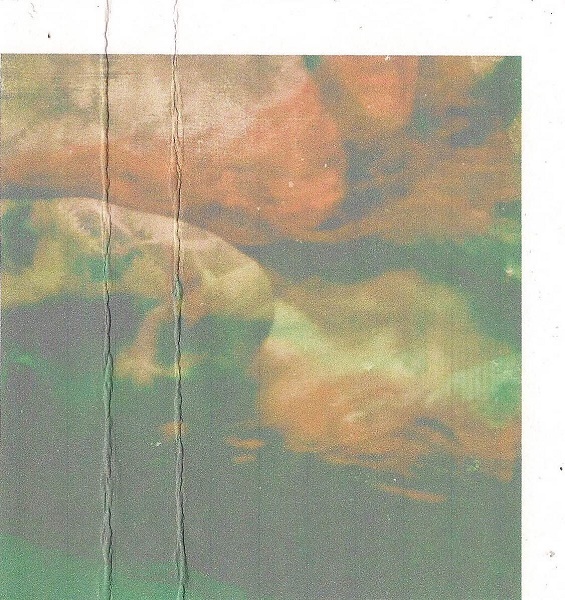 YlangYlang
Mutualism
Montreal, QC
From the gnawed appendages of Piper Curtis:
Don't be afraid. We are embarking on a celestial sojourn. Feel the waves of the cosmic sea washing gently over you. It is calm here. Floating naturally, we need no vessel in the astral plane. A glimpse into the future, or the past. Time here is an uneven flow, drifting in and out of sync with itself. Listen to the hum of the universe. Follow my voice.
All is ethereal. Beautiful. You are safe here.
Par les membres rongés de Piper Curtis:
(Traduction puisée du présent-passé d'Émily Traichel)
N'ayez pas peur. Nous embarquons pour un séjour céleste. Sentez les vagues de la mer cosmique qui vous saucent tout doucement. C'est calme, ici. Flottant naturellement, nous n'avons besoin d'aucun navire sur le plan astral. Un coup d'œil dans le futur, ou bien dans le passé. Le temps ici est un flux irrégulier, dérivant régulièrement de son auto-synchronisation. Écoutez le bourdonnement de l'univers. Suivez ma voix.
Tout est éthéré. Magnifique. Vous êtes en sécurité ici.
YlangYlang – Descent In A Feminine Breakdown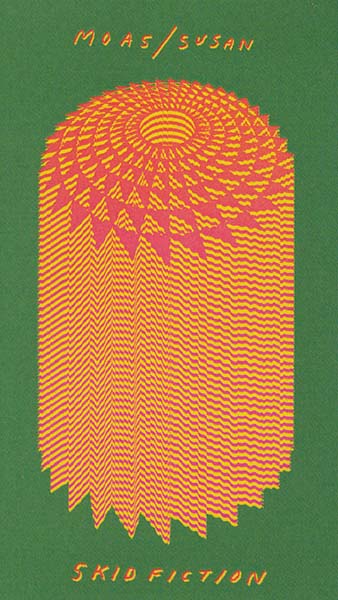 The Moas//Susan
Skid Fiction
Saskatoon, SK
From the crusty undulance of Joshua Robinson:
Dreamgaze. Post-finery. Soft tendrils emanating from an otherwise monstrous beast. This plastic coffer possesses a value equivalent to the effort required to reorient centripetal force. Its sinusoidal offering is the crispy clangor that all soft-served and crusty hounds too weak from offerings of stale scraps have been waiting for. It serves as testament to the fact that little is more important than the giants who walk among us: our peers as boisterous lo-fidelities too loud to ignore and too ardent to overlook. These minstrels are jovian in size; fictions factual; non-sequiturs whose static residuals entertain hopes for future Skid.
De l'ondulation croustillante de Joshua Robinson:
(Traduit par Julie Mayer)
Du dreamgaze. De la post-parure. De tendres vrilles émanant d'une bête par ailleurs monstrueuse. Ce coffre en plastique possède une valeur équivalente à l'effort requis pour réorienter la force centripète. Son offrande sinusoïdale est le beding-bedang croquant qu'ont attendu tous les enragés mous et croustillants rendus trop faibles à force de se contenter d'oblats de restes rassis. Cette cassette sert à témoigner du fait que peu de choses sont plus importantes que les géants qui marchent parmi nous : nos pairs, à savoir des chansons lo-fi chahuteuses trop bruyantes pour qu'on les ignore et trop passionnées pour qu'on n'en tienne pas compte. Ces ménestrels sont d'une taille jovienne. Des fictions factuelles, des coq-à-l'âne dont les résidus statiques entretiennent l'espoir sur le Skid à venir.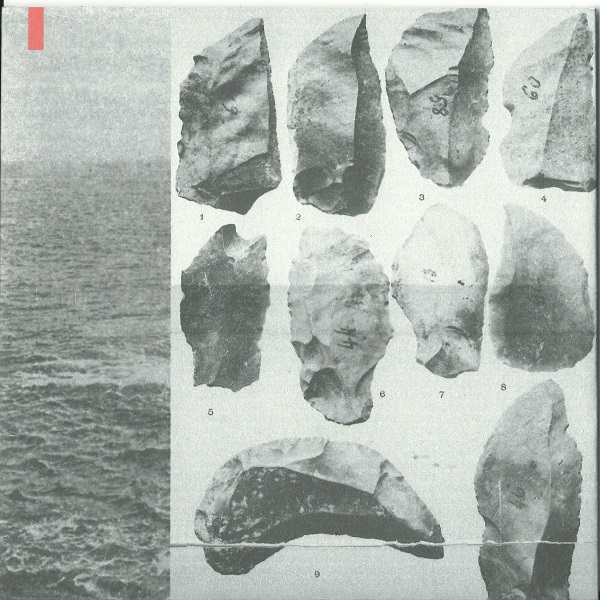 Isles Day
Monoculture
(Self-released)
Toronto, ON
From the dismally desolate & dreary desk of Mitch Jackson:
As many of us look towards the sky, perhaps it is time to consider that the reptilians among us may be emerging from subterranean bases. It is not outside the realm of possibility that our reptilian overlords have constructed these bases to carry out various drone and ambient projects. A majority of G8 countries have confirmed the existence of military drone squadrons and the installation of vast underground networks of modular synthesizers. They feed our fields. Isles Day is a product of Monoculture. The cultivation of the singular organism of sound.
Issu du bureau lugubrement désolé et morne de Mitch Jackson:
(Traduit par les méninges embuées d Émily Traichel)
Alors que plusieurs d'entre nous lèvent les yeux vers le ciel, il est peut-être le temps de prendre en considération que les réptiliens parmi nous pourraient êtres en train de surgir de bases souterraines. Ce n'est pas haut-delà du domaine de ce qui est possible que nos souverains réptiliens ont construit ces bases afin de réaliser divers projets drones et ambiants. Une majorité de pays G8 ont confirmé l'existence d'escadrons drones militaires et la mise en place de vastes réseaux souterrains de synthétiseurs modulaires. Ils alimentent nos champs. Isles Day est un produit de Monoculture. La culture de l'organisme singulier du son.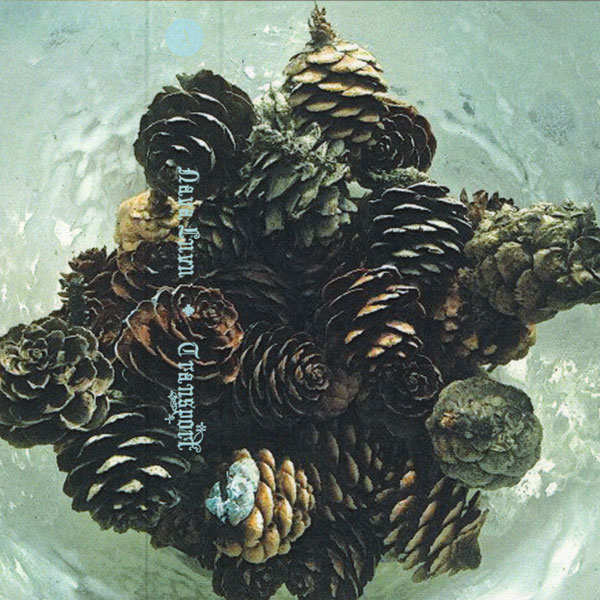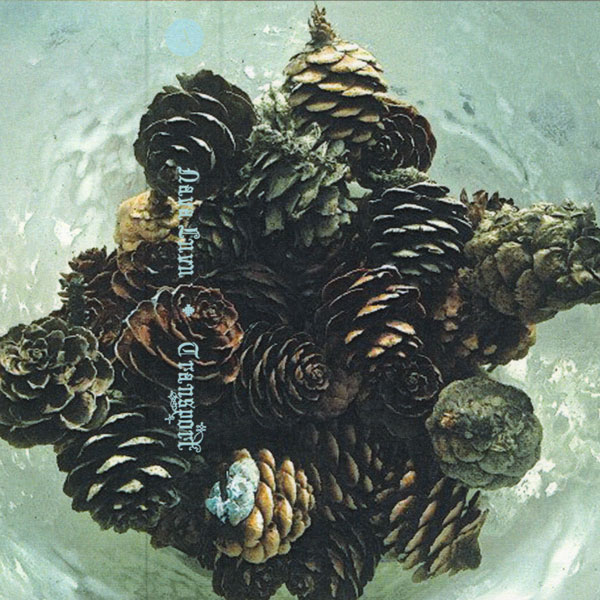 Nava Luvu
Transport
Yellowknife, NWT
From the illegible handwriting of James Beardmore:
Building on a prolific year and a half of self-released material, Transport is Nava Luvu's first release on Apothecary Compositions. The Yellowknife duo's process of improvising through headphones creates an intensely close and intricate experience that, despite playfully hopping between electronic genres, feels fluid and organic. Melodies mutate. Rhythms erode and unexpectedly give way to stuttering glitches. Synths bubble and seethe under washes of tape hiss. Themes emerge out of corroded loops. Interlocking layers and woozy panning create constantly shifting landscapes to explore.
De l'écriture illisible de James Beardmore:
(Par l'écriture en mouvance d Aliké Harel)
Après une année et demie généreuse en enregistrements indépendants, Nava Luvu livre Transport, son premier album avec Apothecary Compositions. Le duo de Yellowknife improvise par l'entremise d'écouteurs et fait vivre une expérience d'une proximité et d'une complexité de détails intenses, qui, malgré un jeu de va-et-vient entre les genres électroniques, reste fluide et naturel. Les mélodies entrent en mutation. Les rythmes s'érodent et font, sans prévenir, place à des accrochages saccadés. Les synthés bouillonnent et sifflent sous une pluie de bandes magnétiques chuintantes. Les thèmes émergent des boucles rouillées. Les couches entrecroisées et le fignolage abasourdissant créent un paysage en perpétuelle mouvance à explorer.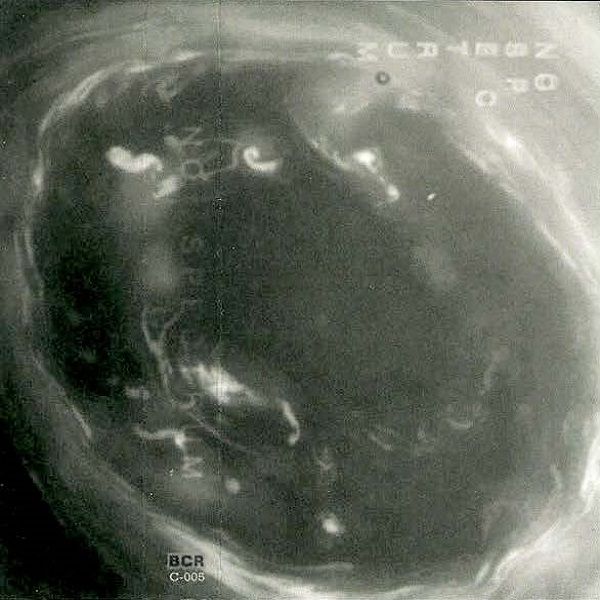 No Spectrum
No Spectrum
Kamloops,BC
From the crippling anxiety of Katie Jensen:
Like a twisting, reverberating steel wire strung between two skyscrapers, feedback loops from on high. Mangled fingers grasp the void, married to some unknown balance; estranged. The slow-motioned clawing frightens tropospheric zephyrs, skittering out of reach.
Beyond the mess of tangled, thrumming guitars, past the vertiginous dipping of your stomach, the melting point arrives.
De l'anxiété paralysante de Katie Jensen:
(Par les mots retors d'Aliké Harel)
Comme un fil de fer tordu et pris de vibrations suspendu entre deux gratte-ciel, l'accrochage acoustique fait de la haute voltige. Les doigts tailladés agrippent le néant, mariés à une sorte d'équilibre inconnu; à l'abandon. Les coups de griffe ralentis effraient les zéphyrs troposphériques, virevoltant hors de portée.
Par-delà les guitares enchevêtrées, après la chute vertigineuse et la peur au ventre, le point de liquéfaction est proche.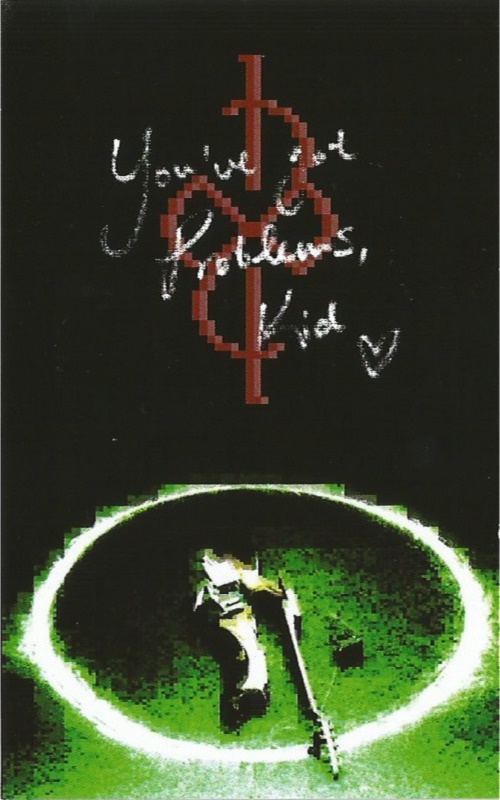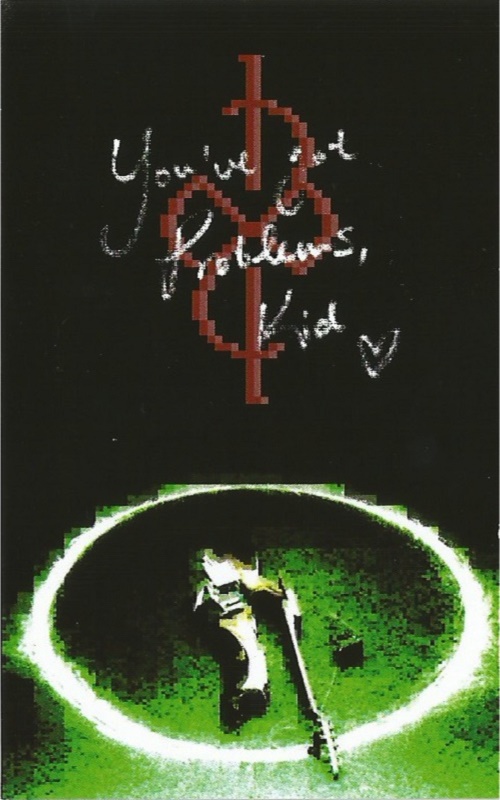 Homo Monstrous
You've Got Problems Kid
(Self-Released)
Regina, SK
From the mighty mitochondria of Mark Anthony Brennan:
It's a glorious mess. Synths shoot laser bolts left and right as the singer screeches with the dubious clarity of a glam rocker. She tries to make herself heard above the sound of power tools, which are out of tune but melodious nonetheless. A red-raw shambolic blast of sheer fucking genius.
Frankly, she sounds as if she could break your spine, but when she wails "I wish I were dead" you feel her pain. Homo Monstrous? It's us. We are the monstrous species for permitting such pain.
Yeah, you do have problems, kid. It ain't fair.
Par la toute-puissante mitochondrie de Mark Anthony Brennan:
(Traduit par la sanglante bouffée bordélique d' Émily Traichel)
C'est un glorieux désordre. Des synthétiseurs tirent au laser dans tous les sens tandis que la vocaliste hurle avec la clarté ambigue d'une glam rocker. Elle tente de se faire entendre au-dessus du boucan d'outils électriques, ceux-ci sonnant faux mais mélodieux malgré tout. Une sanglante bouffée bordélique de pur fucking génie.
Franchement, elle a l'air de pouvoir nous casser le cou, mais lorsqu'elle gémit "I wish I were dead" on ressent sa souffrance. Homo Monstrous? C'est nous. Nous sommes la monstrueuse espèce qui permet une telle souffrance.
Pour reprendre le titre de l'album, eh oui – t'as des problèmes, le jeune. C'est pas juste.
Homo Monstrous – Rat Tails//Painted Nails
---