Tag: drone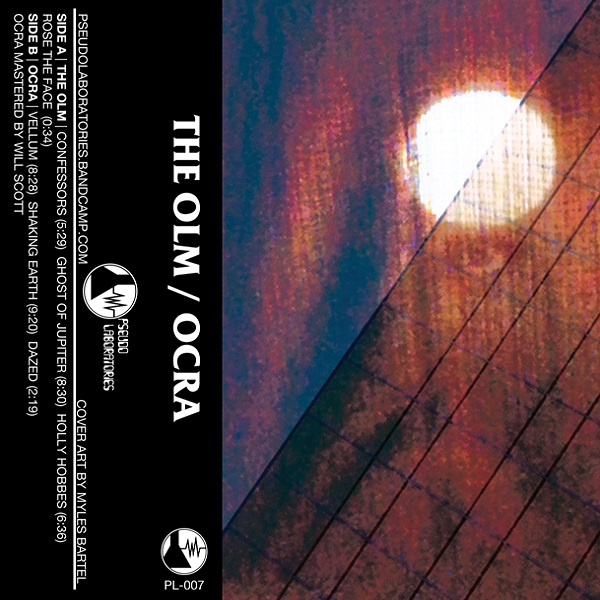 The Olm / Ocra
The Olm / Ocra
Edmonton, AB
From the timeluscent west of Heather Lune:
The Olm moans like a metal wraith, a fossil of the prehistoric ocean that lives in the mountains – badland epigrams malformed. They're a beacon sculling over the solid hide of the skyline, where the sea is held inside sun-risen fumes.
The Ocra hears a ghastly echo of our industrious carvings. Inscriptions knocking into the wind of falling bodies, the mechanisms used to slip through tap dancing waves. The scraping, digging, probing, mining. The generations, the millenia – waterbed bones compressing into an arid ocean floor.
Belonging to us, as we to it, a locked-soul.
Par l'ouest tempslucide de Heather Lune:
(Traduit par l'écho ésotérique des vents ténébreux d' Émily Traichel)
L'Olm gémit comme un spectre en métal, un fossile venu de l'océan préhistorique qui vit dans les montagnes – épigrammes malformées des badlands. Il y a un flambeau qui godille sur la peau solide de l'horizon, où la mer est enfermée dans des émanations solaires.
L'Ocra entend un écho épouvantable de gravures industrieuses. Des inscriptions cognent dans le vent de corps en chute, les mécanismes employés afin de glisser à travers les vagues qui dansent la claquette. Le grattage, creusage, sondage, l'exploitation minière. Les générations, les millénaires – les os du lit d'un fleuve qui se blottissent dans un fond d'océan aride.
Nous appartenant, comme on leur appartient, une âme-barrée.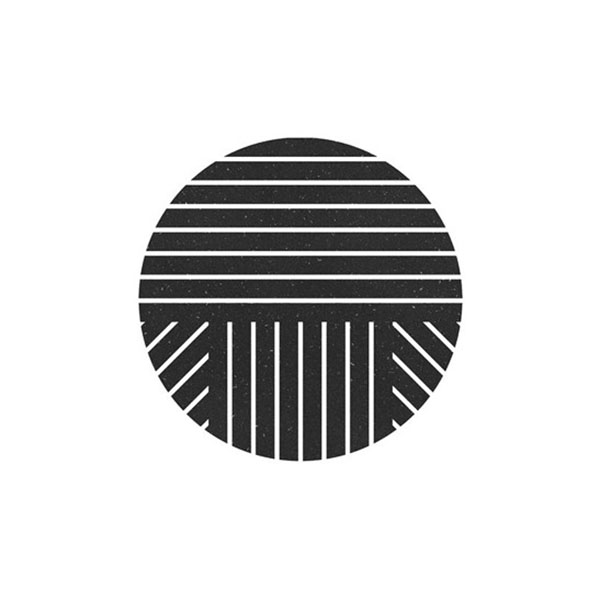 Tamara Filyavich
Return Fire
Montréal, QC
From the core vidal of Rolf Carlos:
Tamara Filyavich's audio collage "Return Fire" invites you to ponder that grim question: "Mom, what will happen to me if I die in a foreign land?" Radio transmissions, granulated synthesizers, and gorgeous Ukrainian choral music exchange gunshots from the bloodied trenches of your temporal lobe. The 17-minute piece introduces itself with ghostly samples of "Plyve Kacha" — a mournful Ukrainian folk song revived in light of recent conflicts — and slowly descends into the gutted cries of haunting synthesizers. Eventually, shots of crushed and hacked arpeggios fire from the ether, piercing your ear drum, as they might your torso; you fall on unfamiliar soil, curse your fortune, the absurdity of vengeance, and think of your mother as the sounds of return fire slowly dim: "My dearest child, you will be buried by other people."
Du coeur vidal de Rolf Carlos:
(Traduit par le lobe sanguinolent de Mathieu Bédard)
Le collage sonore de Tamara Filyavich, « Return Fire », vous invite à réfléchir à cette sinistre question : « Maman, qu'est-ce qui va m'arriver si je meurs dans un pays étranger? » Des transmissions radio, des synthétiseurs granuleux et de la magnifique musique chorale ukrainienne s'échangent des coups de feu entre les tranchées sanguinolentes de votre lobe temporal. La pièce de 17 minutes s'ouvre sur des échantillons fantomatiques de « Plyve Kacha » — une chanson funèbre du folklore ukrainien, ressuscitée à la lumière des conflits récents — puis décline lentement en des pleurs évidés venus de synthétiseurs entêtants. Éventuellement, des salves d'arpèges broyés, charcutés sont tirées de l'éther, perçant votre tympan comme ils perceraient votre torse; vous tombez sur un sol inconnu, maudissez votre sort, ainsi que l'absurdité de la vengeance, puis pensez à votre mère tandis que le son des tirs de riposte s'affaiblissent peu à peu: « Mon très cher enfant, tu seras enterré par d'autres gens. »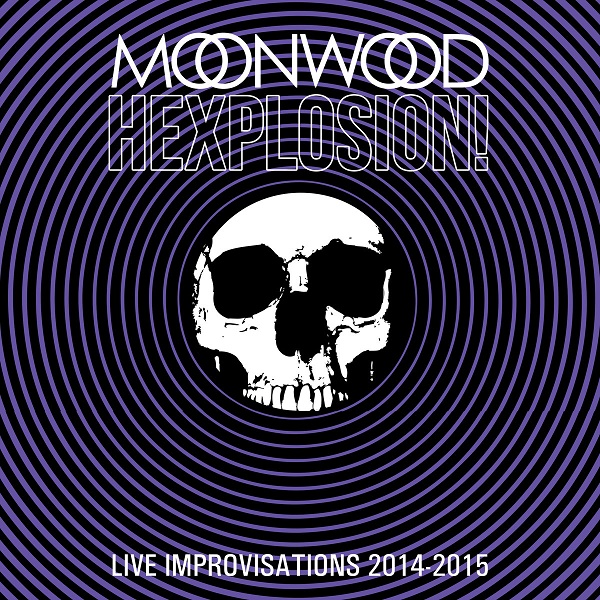 Moonwood
Hexplosion
Toronto, ON
From the impro-drone of Gabe Girard:
The world of improvised drone tends to employ the services of laptops, prerecorded samples and electronics in favour of live instrumentation. The world of impro-drone in the West is, for the most part, a digitized wonderland of electronics, synths and CPUS. Moonwood certainly use their share of binary vibrations, but to come across a live instrumental band that achieves that level of heart BPM reducing, out-of-body experience inducing, whimsically meandering drone that we all know and love is a rare thing indeed.
Par le drone-impro de Gabe Girard:
(Traduit par le méandrement fantasque d' Émily Traichel)
Le monde du drone improvisé a tendance à utiliser les services des ordinateurs portables, des échantillons pré-enregistrés et de l'électronique au profit de l'instrumentation en direct. Le monde du drone-impro dans l'ouest est, pour la plupart, un pays des merveilles de l'électronique, des synthés et des UCs. Moonwood se servent certainement de leur part de vibrations binaires, mais le fait de croiser un groupe live qui atteint un tel niveau de drone réducteur-de-BPM-du-coeur, inducteur-d'expérience-extra-corporelle et fantasquement méandre, que nous connaissons et aimons tous, est effectivement une chose rare.
Moonwood – Cosmic Ratio (2015.5.29)
Moonwood – Set the Overdrive For The Dark Side of the Nile (2015.01.09)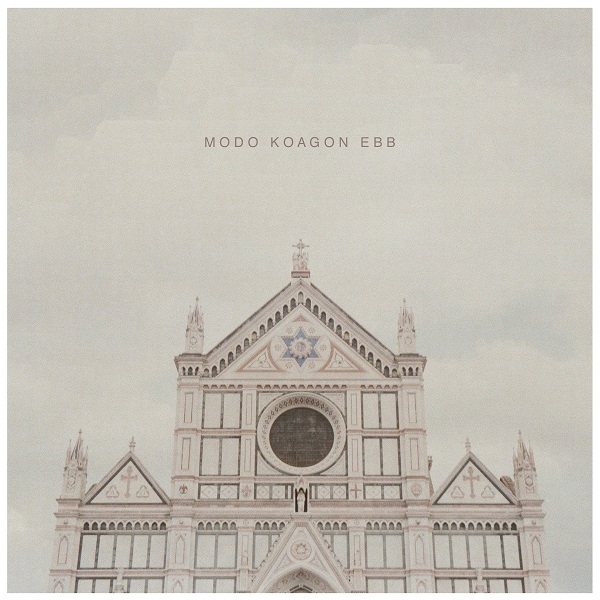 Modo Koagon
Ebb
(Self-Released)
Guelph, ON
From the last breath of Heather Lune:
The field recordist curls up after a long life and goes to sleep. The moment – the fall – the rise – the bridge – the break – eternally suspended in the midst of infinite sound.
A toy xylophone, screaming shoreline wind, liquid sliding on skin, dead radio whirling the drain, while stirring the spoon chinks the glass, razors buzz, the jazz cd skips, the car and the sound the land makes as you pass through it, insects in trees, blades on ice, the gutters melting, tapping typewriter, the beep of the life support machine, the clock on the wall.
You discover the moment of death – that split second before the jump, forever.
Du dernier souffle de Heather Lune:
(Traduit par le gargarisme salé de Julie Mayer)
Le preneur de son se pelotonne après une longue vie et s'endort. L'instant – la chute – l'ascension – la transition – la rupture – l'homme est éternellement suspendu au milieu d'un son infini.
Un xylophone jouet, le hurlement du vent en provenance du rivage, le glissement d'un liquide sur la peau, une radio à plat s'écoule en tourbillons par la bonde, la cuillère fait tinter le verre lorsqu'on la remue, des rasoirs qui bourdonnent, le CD de jazz saute, l'auto et le son que la terre produit alors que vous passez dessus, les insectes dans les arbres, des lames de patin sur la glace, des gouttières fondent, les bruits de frappe d'une machine à écrire, les bips de l'appareil veillant au maintien des fonctions vitales, l'horloge accrochée au mur.
Vous découvrez l'instant de la mort – cette fraction de seconde avant le grand saut, à jamais.
Modo Koagon – Ebb (For Wilhelm and Ellen)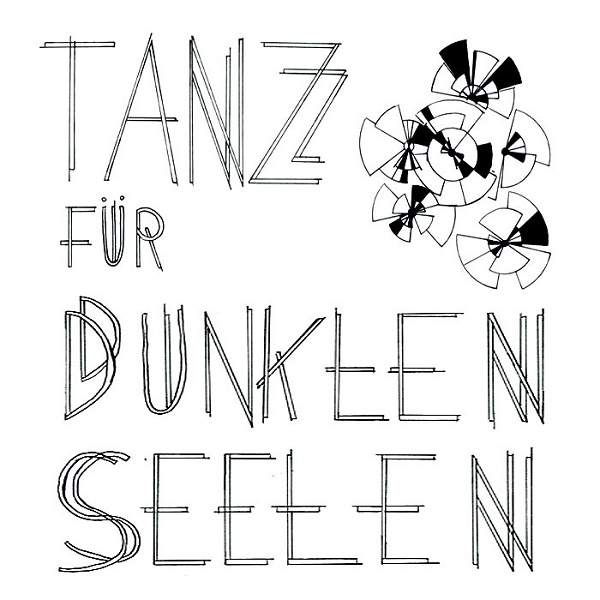 Psychic Pollution
Tanz Für Dunklen Seelen (Dance for Dark Souls)
(Eat Glass Records)
Victoria, BC
From the tonal recall of Johnnie Regalado:
Minimal homage. MIDI remembrance. Tonal recall. Behold, the next stage in the inevitable evolution of Psychic Pollution. An invitation to the cyberpunk after party of a cosmic century. Rub shoulders with the spectres of influence. William Gibson b2b Dieter Moebius. What they really need to know is: can you dance to this?
Du rappel tonal de Johnnie Regalado:
(Traduit par les mélodies programmées de Marie-Pier Chevrier)
Hommage minimal. Souvenirs MIDI. Rappel tonal. Voici la prochaine étape de l'évolution inévitable de Psychic Pollution. Une invitation à l'after party cyberpunk d'un siècle cosmique. Venez jouer du coude avec les spectres de l'influence. William Gibson et Dieter Moebius dos à dos. La question qui leur importe réellement: sauront-ils vous faire danser?
Psychic Pollution – Können Sie Dies Tanzen? (Can you Dance to this​?​)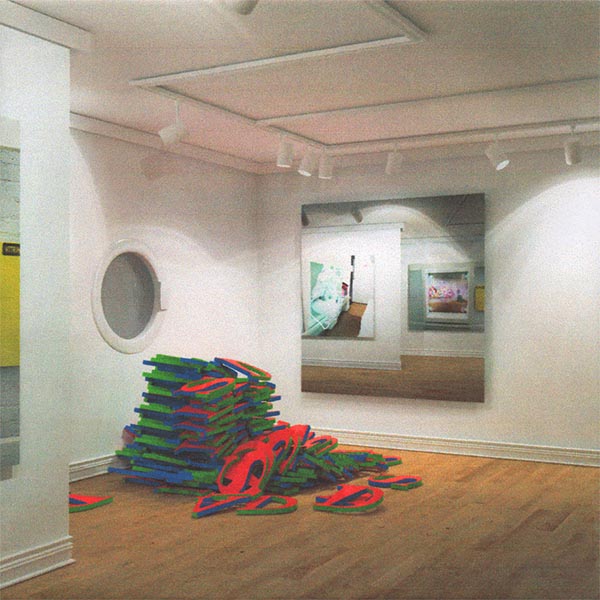 Fulldeck Subhuman
Distraction Motif
(Self Released)
Toronto, ON
From the eternal buffering of James Beardmore:
A fragment of sound has been looping in your head for days, you can't remember where from. It has mutated into an unsettling mantra.
Someone has extracted this sound from your skull and transcribed it into midi notation. The result combines with a scratched CDR of music for corporate motivational powerpoint presentations. It plays in an abandoned building and is currently livestreaming on the deep web.
Slices of glass with high-resolution artefacts hurtle towards an accelerando event horizon before succumbing to entropy. Chaos overlaps until it becomes meditative. Your senses adjust. Calm.
De l'éternelle mise en mémoire tampon de James Beardmore:
(Traduit par Julie Mayer)
Un morceau de son joue en boucle dans ta tête depuis plusieurs jours, tu ne peux pas te rappeler d'où ça vient. Ça s'est transformé en mantra perturbant.
Quelqu'un a extrait ce son de ton crâne et l'a transcrit en notation midi. Le résultat se combine à un CD-R de musique égratigné pour faire des présentations Powerpoint corporatives centrées sur la motivation de soi. Il joue dans un bâtiment abandonné et est actuellement retransmis en direct sur le web caché.
Des tranches de verre accompagnées d'artéfacts en haute résolution foncent à toute allure vers un gouffre en accéléré avant de succomber à l'entropie. Le chaos se chevauche jusqu'à en devenir méditatif. Tes sens s'ajustent. Calme.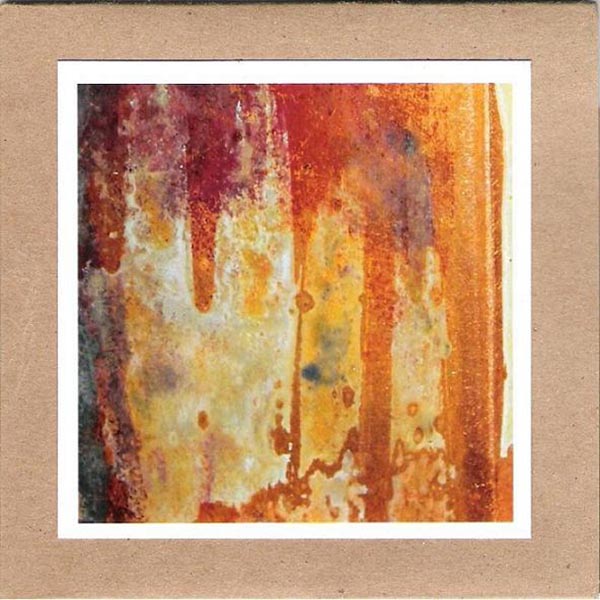 M. Mucci
Don't Be Afraid
Guelph, ON
From the dexterous string cycle laps of Trevor Angst:
"Starkest Darkness" is a song and an inspired cadence to an eponymous poem by Nathanael Larochette. It bands together the truth seekers who are boundlessly searching for pure self-expressionism, and calls to those who creatively jaunt through their unprecedented future. This extended collaborative intermezzo features the caesura of spoken word over M. Mucci's incessantly dexterous finger style pacing. It's your last impressioned coda. Don't Be Afraid is prominent in guitar and lap steel arrangements, assembling cymbal crashes and swells with orchestrated pipe organ drones.
De la corde qui tourne en boucle avec dextérité de Trevor Angst:
(Traduit par Moi Quevillon)
La chanson « Starkest Darkness » possède un rythme inspiré du poème éponyme écrit par Nathanael Larochette. Elle rassemble les chercheurs de vérité, ces êtres inlassablement en quêtent de l'expression personnelle la plus pure, et elle appelle ceux qui se baladent avec créativité vers un futur sans précédent. Cet intermezzo collaboratif prolongé nous offre une césure dans la création orale de M. Mucci constamment articulée virtuose du doigté avec cadence. C'est votre dernière impression – votre coda. La présence de guitare et d'arrangements lap-steel prévalent dans Don't Be Afraid, avec un drone ambiant d'orchestration de cymbales et d'orgue.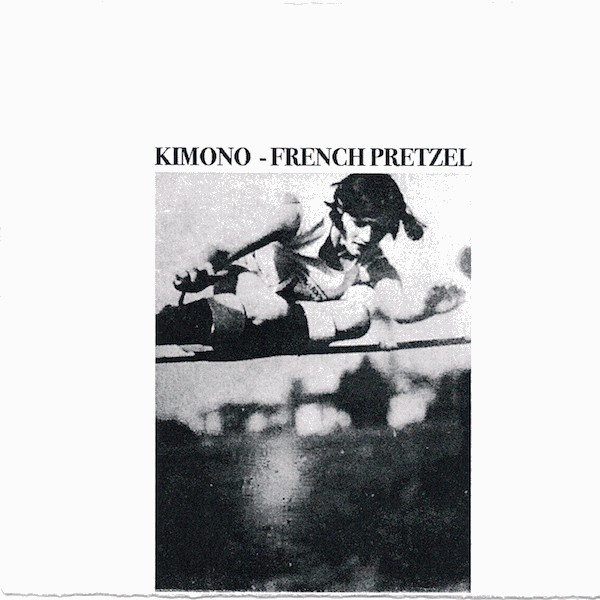 French Pretzel
Kimono
(Self-Released)
Halifax, NS
From the darkroom of Katie Jensen:
A militaristic march into a dark grove of trees, javelin spikes raised into the soft underbelly of clouds. Teeth bared, glinting like nacreous, dripping stalactites throwing diffused ire. Black trees shift like bad photocopies; migrating clusters of inky drops probe into smeared mountains and craggy falls. A metallic whirring tears open the sky, giving the thrumming bass and persistent drum cadence empyrean breathing room. Inside the forest, the mossy soil exhales into the folded hands of the canopy. A creeping mist wanders through spindly trunks, collecting samples that echo and absorb.
Par la chambre noire de Katie Jensen:
(Traduit par la forêt vrombissante d' Émily Traichel)
Un défilé militariste dans un bois sombre, pointes de javelots levées dans le bas-ventre doux de nuages. Les dents dévoilées, scintillantes comme des stalactites ruisselantes et nacrées, lançant de l'ire diffusée. Des arbres noirs se déplacent comme des photocopies ratées; des amas migrants de gouttes obscures sondent des montagnes brouillées et des falaises escarpées. Un bourdonnement métallique déchire le ciel, donnant à la basse vrombissante et à la cadence persistante de la batterie de l'oxygène empyréenne. À l'intérieur de la forêt, le sol moussu expire dans les mains repliées de la canopée. Une brume glissante erre à travers des troncs filiformes, recueillant des échantillons qui résonnent et absorbent.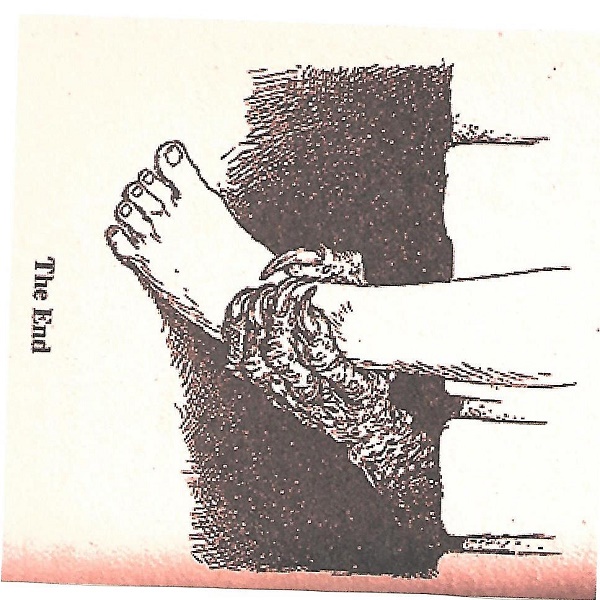 Shōgun
The End
(Self-Released)
Montreal, QC
From the of stirring spectres of Brian Fauteux:
Hiding in an empty room that is waiting to be filled, Shōgun's The End stirs the ghosts that rest under chipped baseboards and deep carpet that has never seen the sun. Some strings loop while others creep outwards, towing in the cloudy glow of the late summer sky. These five songs eagerly fill the imperfect spaces where we sometimes reside. And the corners of our mind that all too easily lay dormant.
Des spectres qui s'éveillent de Brian Fauteux:
(Traduit par le frisson automnal de Julie Mayer)
Caché dans une pièce vide qui n'attend qu'à être remplie, The End de Shōgun tire de leur repos les fantômes qui se trouvent sous les plinthes écaillées et la moquette épaisse qui n'a jamais vu la lumière du jour. Quelques cordes jouent en boucle alors que d'autres se glissent à l'extérieur et remorquent à l'intérieur la lueur ennuagée d'un ciel de fin d'été. Ces cinq morceaux remplissent les espaces imparfaits qu'il nous arrive d'habiter. Et les coins de notre esprit qui se laissent bien trop facilement gagner par le sommeil.
Shogun – Gazing At Your Face Reflecting the Beauty of the Moon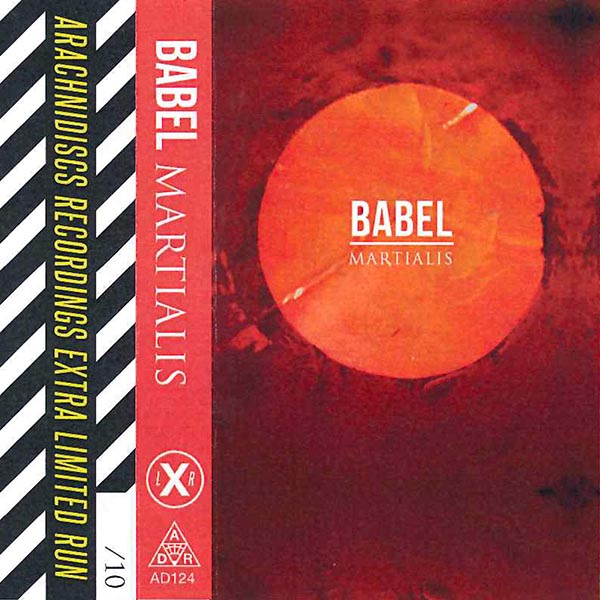 BABEL
Martialis
Toronto, ON
From the expeditions of Johnnie Regalado:
BABEL's meditations on Mars compose a world that does not get to change from red to green to blue. This Martian chronicle is one of a red world turning redder. A sonic world where isolation is salvation and the familiar story of human introduction of course leads to destruction. Curiosity, Odyssey, Orbiter, Spirit, Opportunity, give these exploits whatever name you want: they're all still drones.
Par les expéditions de Johnnie Regalado:
(Traduit par les méditations martiennes d' Émily Traichel)
Les méditations sur Mars de BABEL composent un monde qui n'a pas la chance de changer de rouge à vert à bleu. Cette chronique martienne nait d'un monde pourpré qui s'empourpre toujours. Un monde sonique où l'isolation est le salut et l'histoire familière de l'introduction humaine mène bien sûr à la destruction. Curiosity, Odyssey, Orbiter, Spirit, Opportunity, nommez ces exploits comme vous voulez: ils s'agissent tous toujours de drones.
---