Tag: drone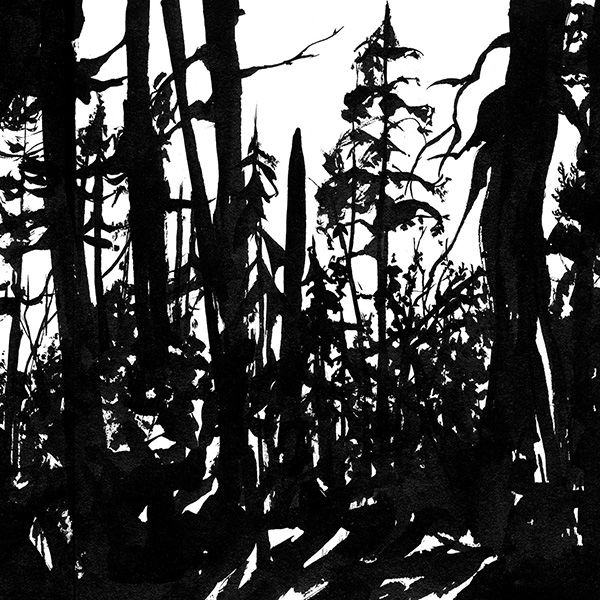 Totenbaum Träger
Ouverture du cadavre de Sade
Montréal, QC
De la kabbale morbide de Mathieu Bédard:
Replaçant Sade dans le contexte néolibéral, Ouverture du cadavre de Sade est un livre-disque qui se soustrait au ton gourmand des chercheurs de scandale et souligne plutôt le caractère sinistre du banquet. Dans son requiem pour trompette au « souffle malade » et pulsations de guitare lancinantes, Totenbaum Träger nous offre la trame sonore d'un saccage planétaire du point de vue de ses échos. Les collages des éditrices juxtaposant bribes d'actualités économiques et images dérangeantes forment quant à eux une kabbale morbide qui révèle, entre des pages que le lecteur doit déchirer, la réalité abjecte de nos pulsions collectives : des coulées d'or se substituent au sang, au sperme et aux larmes des illustrations de tortures. Le tout nous propose une alchimie renversée qui nous pousse jusque dans les derniers retranchements de la chair, là où de toute part ça crie « non ».
From the morbid Kabbalah of Mathieu Bédard:
(Translated by L. Langille)
Replacing Sade in a neoliberal context, Ouverture du cadavre de Sade is a book-album which focuses less on the gourmet elements of those looking for scandal and underlines instead the sinister character of the banquet. With its requiem for sick trumpet and darting guitar pulsations, Totenbaum Träger signs this sonic fabric with a planetary plunder from the point of view of its echos. The collages of the books juxtapose snippets of business news and deranged images to form a morbid Kabbalah which has, within the pages that the reader must tear apart, the abject reality of what we collectively draw on; streams of gold replace streams of blood, sperm and tears in these illustrations of torture. It is a reversed alchemy which pushes us until the edge of flesh, where we scream no from all sides.
Totenbaum Träger – Offertorium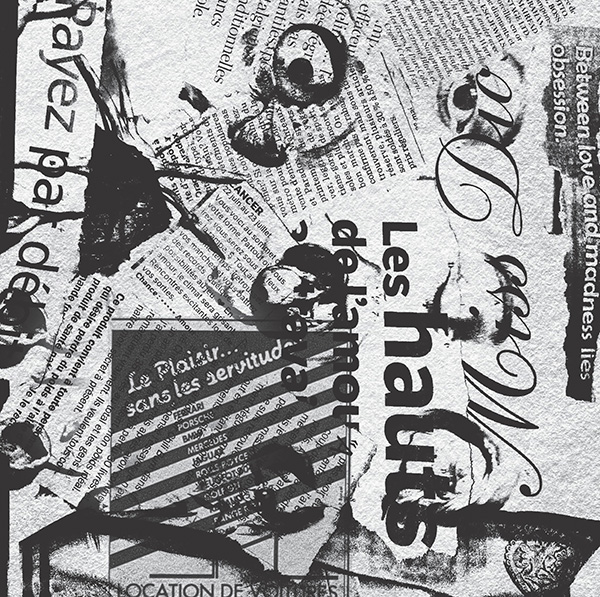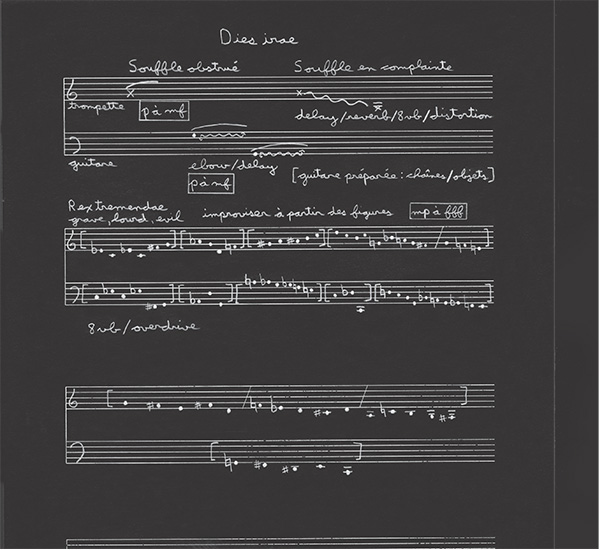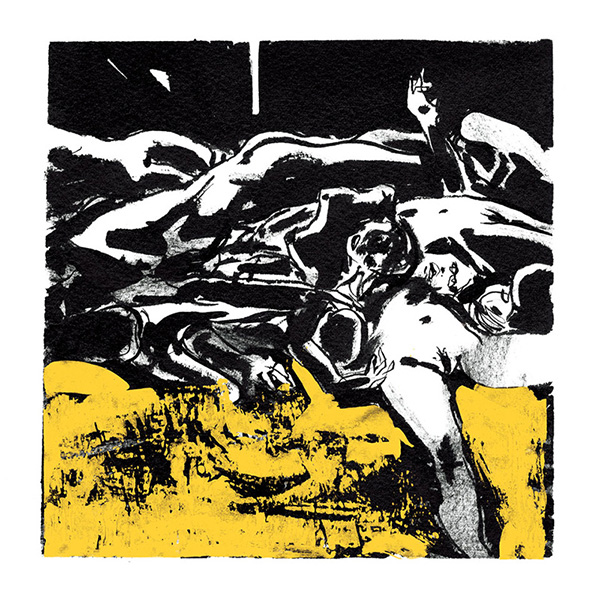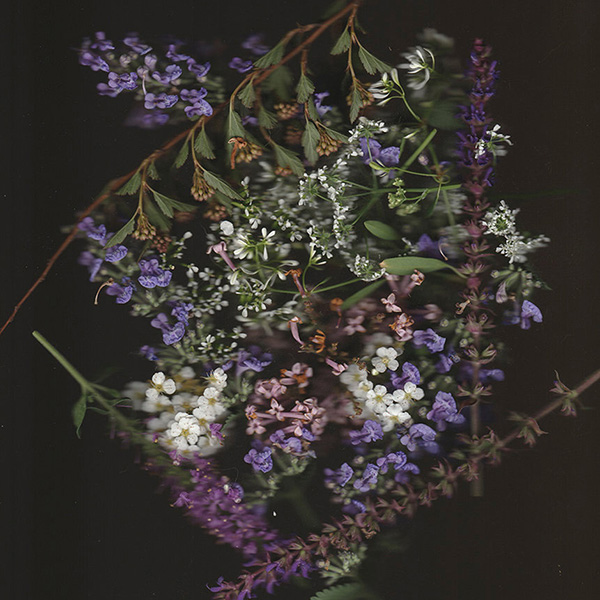 Pyramid//Indigo & SKIN
Split
Self-Released
Edmonton, AB // Montréal, QC
From the ever-expanding skies of Brian Fauteux:
Radio static is how we'll know we're eventually alone. That everything is over. Here is where Pyramid//Indigo's "Lydian Grains" begins. A slight crescendo, disconcerting, leads to "Hands, Bursting with Light." Sounds gleaned from frosted prairie fields build atmospheric swells that call the wild. A long final glance of pink and gold before the graying of sky.
Flip the split.
SKIN calls forth a soundscape marked by the hum of arthropod wings, wind seeping through a window's breach, and the lure of a music box melody. Perhaps there are signs of life after all.
Des cieux toujours grandissants de Brian Fauteux:
(Traduit par les lèvres gercées de Julie Mayer)
Des bruits parasites, voilà comment nous saurons que nous sommes éventuellement seuls. Que tout est fini. C'est ici que « Lydian Grains » de Pyramid/Indigo commence. Un léger crescendo, déconcertant, mène à « Hands, Bursting with Light ». Des sons glanés dans les champs de prairie givrés érigent des remous atmosphériques interpellant la campagne : un long coup d'œil ultime rose et or avant que le ciel vire au gris.
Changez de face.
SKIN évoque un paysage sonore marqué par le bourdonnement d'arthropodes ailés, le vent s'infiltrant par la craque d'une fenêtre et l'attrait suscité par la mélodie d'une boîte à musique. Peut-être y a-t-il des signes de vie après tout.
Pyramid//Indigo – Lydian Grains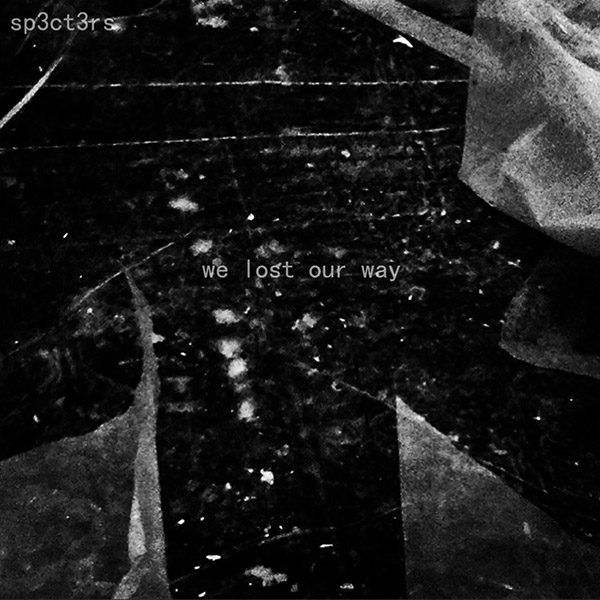 sp3ct3rs
we lost our way
Greenfield Park, QC
From the public appearance of Katie Jensen:
A glowing blue cloud suspended above a jagged metal junkyard. Abstract, scraped melodies rubbing together like the steel shoulders of old cars; rusted robin eggs rolling in a cream-spackled washbasin. The tenderness of fingertips drifting across peach-wrinkled eyelids, thin cotton sheets pulled over restless eyes. A mouth twitching and popping with tension, the copper tang of swallowed words, old scars where the teeth touched down, saving choice words for the lining of cheeks, clamp unyielding, pinching tighter and tighter, screams underwater converted into circular, silver bubbles, canine-gripped flesh, enamel instruments clattering, bowed instruments on metal, dried sand.
De l'apparition publique de Katie Jensen:
(Traduit par les quatre cents coups de Julie Mayer)
Un nuage d'un bleu éclatant suspendu au-dessus d'un dépotoir de ferraille dentée. Des mélodies abstraites et éraflées se frottent les unes aux autres comme les épaules d'acier des vieilles bagnoles; des œufs de merle rouillés roulent dans un lavabo colmaté au mastic. La tendresse des doigts flânant sur des paupières aussi ridées que la peau d'une pêche, de minces draps de coton tirés sur des yeux tourmentés. Une bouche tressaille et produit des bruits secs sous la tension, le goût ferreux de mots ravalés, d'anciennes cicatrices là où les dents se sont enfoncées, gardant des choix de mots à l'intérieur des joues, un serre-joint inflexible, serrant de plus en plus fort, des cris sous l'eau convertis en bulles d'argent sphériques, la chair mordue à pleines dents, le cliquètement d'instruments émaillés, des instruments à cordes sur du métal, du sable séché.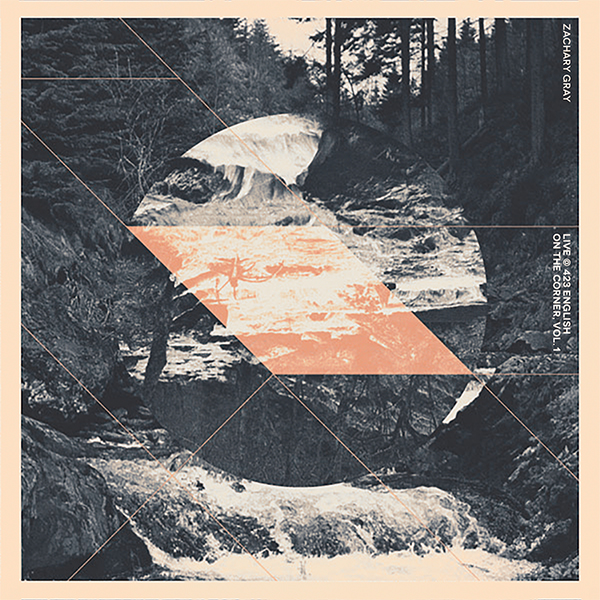 Zachary Gray
Live @ 423 English EP
Self-Released
London, ON
From the mental-pictures of Griffin Martell:
In an unassuming east end abode, Zachary Gray sits "cross-legged" on the floor, painting mental-pictures of the pastoral beyond. High-flying frequencies carry into the vacant lot next door where the legacy of the speed city went up in flames. Still, the warm glare of the horizon beckons us forward. Sepia-tinted scenes flicker in and out of consciousness while layers of modulated soundwaves envelop the room. For a moment no one stirs and time collapses into the present.
Des images mentales de Griffin Martell:
(Traduit par les yeux archi-secs de Julie Mayer)
Dans une humble demeure située dans l'est de London, Zachary Gray, assis « jambes croisées » sur le plancher, est en train de peindre les images mentales d'une pastorale d'antan. Des fréquences de haut vol se portent jusqu'au studio vacant d'à côté où l'héritage de la ville du *speed* est parti en fumée. Pourtant, la lumière vive et chaleureuse de l'horizon nous fait signe d'approcher. Des scènes vacillantes couleur sépia entrent et sortent de la conscience alors que des couches de vagues sonores modulantes enveloppent la pièce. L'espace d'un instant, personne ne bouge tandis que le temps s'écroule dans le présent.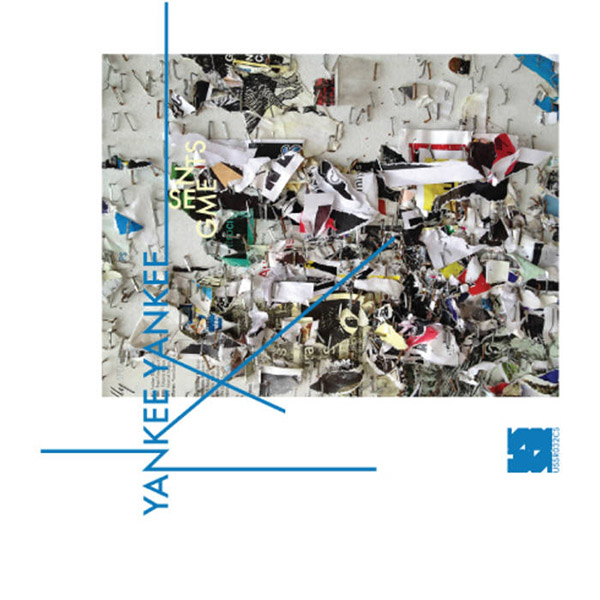 Yankee Yankee
Segments
Calgary, AB
From the guilty conscience of Katie Jensen:
Scram, scramble, flail. Slip into the grimy alley outside the reactor. Fingers digging into swirling space, mouths opening like dry fish. Waves of liquid synthesizers glide across polyphonic keys, drifting mercury desperately seeking cinnabar. Splintered chips making a slow transit across the sun, skin blistering, crust puckering. Rainbowed teeth floating into silicon space. Isolated letters tugged into orbit, tethered by minted floss. Thumbprint craters, alkaline water pooling in the hollows of eyes, a rippled disturbance, wobbling, tilted, reversing orbit. Eject into deep space via Calgary with the harsh ambient synths of Yankee Yankee's Segments.
De la conscience coupable de Katie Jensen:
(Traduit par les poissons de Maya Keshav)
Dégage, défile-toi, débats-toi. Passe dans la ruelle sale en dehors du réacteur. Les doigts puisent au fond de l'espace tourbillonnant, les bouches ouvrent comme des poissons secs. Les vagues de synthé liquide planent à travers les touches polyphoniques, le mercure vagabond qui cherche désespérément le cinabre. Les éclats qui font un voyage lent à travers le soleil, les ampoules sur la peau, les plis dans la croûte. Les dents arc-en-ciel qui volent dans l'espace en silicium. Les lettres isolées qui sont attirées à l'orbite, attachées à la soie dentaire à la menthe. Les cratères d'empreinte, l'eau alcaline qui s'accumulent dans les creux des yeux, un tapage ondulé, l'orbite chancelant, penchée, contraire. Propulse-toi en espace lointain via Calgary avec les synthés crus et enveloppants de Segments de Yankee Yankee.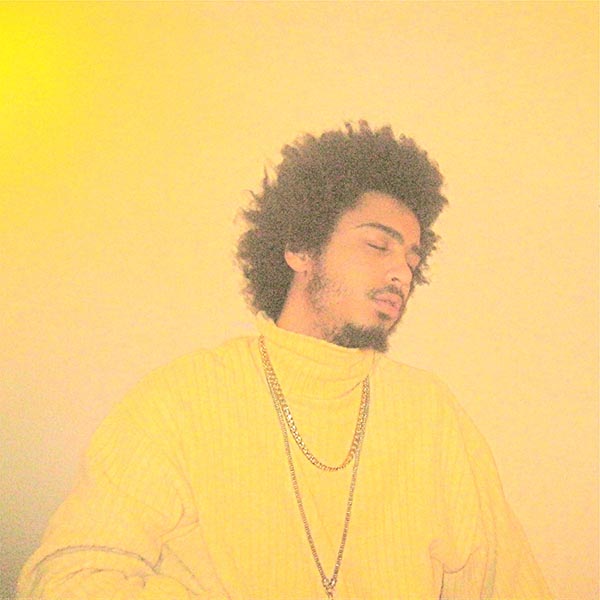 Un Blonde
Good Will Come To You
Montréal, QC
From the rusty sextant of Rolf Carlos:
Mythologies aren't reserved for dusty volumes, or shallowing scriptures on windswept sandstone; new legends are being furtively created by your next door neighbour, in their noisey downtown apartments, long after you've gone to bed. Good Will Come To You, the second in a trilogy of exploratory folk-gospel by Montréal's elusive Jean-Sébastien Audet offers just that. Laying naked at the crossroads of Art&B, spirituals, and Jobim, Un Blonde is reaching into the deep pockets of tradition, but pulling up his own currency. A cow-licked Phil Elverum, heartbroken, layering endless guitars as he builds The Glow Pt. 2; D'Angelo, possessed, determined to break the backbone of harmonic possibility as he croons 16-tracks deep on Voodoo; David Longstreth, strangling impossible chords from his Stratocaster with his middle finger aimed at Yale. This isn't comparison, so much as orientation. Triangulate your compass, and let it lead you to a new mythology; just trust your judgement.
Du sextant rouillé de Rolf Carlos:
(Traduit par le voisin élusif de Maya Keshav)
Les mythologies ne sont réservées ni pour les tomes poussiéreux, ni pour les textes sacrés qui déteignent sur le grès battu par le vent; les nouvelles légendes sont en train d'être créées en catimini par votre voisin d'à côté, dans son appartement bruyant du centre-ville, bien après que vous vous serez couché. Good Will Come To You, le deuxième dans une trilogie de folk-gospel exploratoire de l'élusif Jean-Sébasiten Audet de Montréal vous offre justement cela. Allongé nu au carrefour de l'Air&B, du spirituel et de Jobim, Un Blonde met les mains dans les poches profondes de la tradition, mais il en tire sa propre monnaie. Un Phil Elverum avec une rosette et un coeur brisé, qui étale des guitares interminables pendant qu'il construit The Glow Pt. 2; D'Angelo, possédé, résolu à casser l'épine dorsale de la possibilité harmonique quand il chante 16 morceaux de Voodoo profond; David Longstreth, qui étrangle les accords impossibles avec son Stratocaster en faisant un doigt d'honneur à Yale. Ceci n'est pas une comparaison, c'est plutôt une orientation. Triangulez votre boussole, et laissez-la vous mener à une nouvelle mythologie; faites-vous confiance.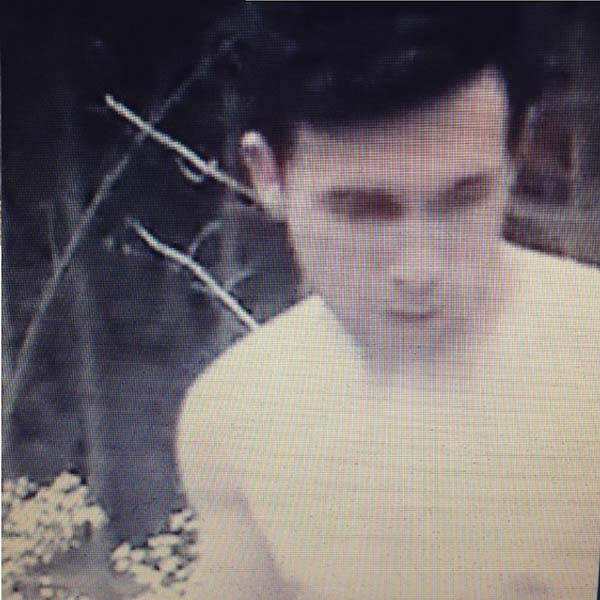 Alex Curtis
Sheer Curtain
(Self-Released)
La Ronge, SK
From the stop-start -isms of Joshua Robinson:
Icy wind and the whir of a stop-start motor on a frozen driveway. Broken is the one whose overtures are those of semi-northernly frigidity; intoned voices commixed to the point of spililng through the frosted windows of a basement too cold to keep itself warm. The yearning is obvious; spoken even. Pale blue eyes and the reckoning of humanity, fragile while loosening itself from the drapery of iconoclastic figures of the past. To breathe while sleeping is a gift, given that nihilism is the sad voyeur whose eyes frost the warm heart in the early dark of a prairie morning.
Des tressaillements de Joshua Robinson:
(Traduit par les yeux ni bleus ni pâles de Maya Keshav)
Le vent glacial et le ronronnement intermittent d'un moteur sur une allée gelée. Brisé est celui dont les ouvertures sont d'une frigidité quelque peu nordique, les voix qui s'élèvent se métissent jusqu'à ce qu'elles se renversent par les fenêtres givrées d'un sous-sol trop froid pour se garder au chaud. Le souhait est clair; même prononcé à voix haute. Les yeux bleus pâles et le jugement de l'humanité, fragile tout en se dénouant de la draperie des personnages iconoclastes du passé. Respirer en dormant, c'est un don, étant donné que le nihilisme est le voyeur triste, duquel les yeux gèlent le cœur chaud dans le noir de la prairie tôt le matin.
Alex Curtis – I Was A Bad Person Blues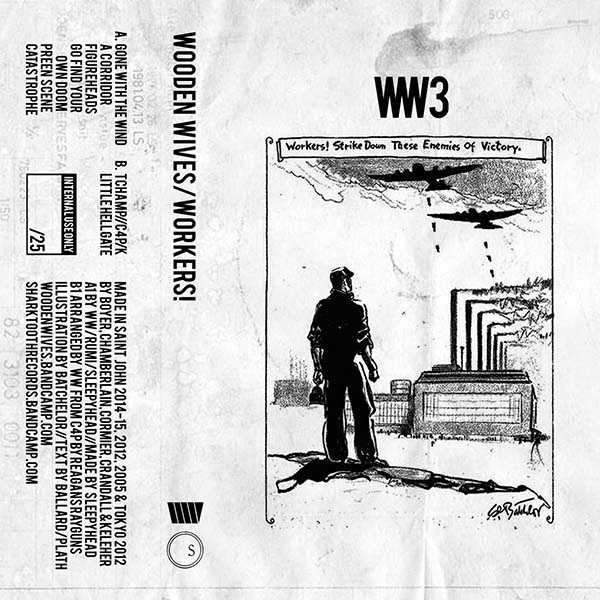 Wooden Wives
Workers! Strike Down These Enemies Of Victory
(Sharktooth Records)
Saint John, NB
From the calloused hands of Brian Cleveland:
WIVES IS OVER. With a decade-long presence that winds throughout Saint John's music scene, the Wooden Wives were unlikely to go out with anything but a bang as their ever-morphing, explosive presence comes to its inevitable conclusion. Despite containing mostly previously unreleased tracks, the final album from the Wooden Wives fittingly plays like a Best Of compilation, running the gamut between spoken word pieces, fast punk snippets, a cover, and long drone selections. Subverting the idea of what constitutes a song, the Wooden Wives relax the mind and energize the body. Influencing innumerable groups from the Maritimes and already splitting off to form a handful of their own exciting new projects, they are gone but hardly forgotten. Wooden Wives 2005-2015 RIP.
Des mains calleuses de Brian Cleveland:
(La sélection de drones d' Odile Leclerc)
Le temps des WIVES est fini Avec une présence sur presque toute la scène musicale de Saint-John's de 10 ans, il était peu plausible que les Wooden Wives n'allaient pas quitter sans frapper fort alors que leur présence explosive et toujours changeante vient à son inévitable conclusion. Malgré qu'il contient majoritairement des pistes précédemment non publiées, l'album final des Wooden Wives joue de façon appropriée comme un Best Of des compilations, dirigeant la gamme entre les fragments de mots parlés, les bribes rapides de punk, une couverture et une longue sélection de drones. Renversant l'idée de quoi constitue une chanson les Wooden Wives relaxent l'esprit et donnent de l'énergie au corps. Influençant d'innombrables groupes des Maritimes et s'étant déjà séparés pour former une poignée de leurs propres nouveaux projets excitants, ils sont partis, mais pas oubliés. Wooden Wives 2005-2015 RIP.
Wooden Wives – Gone With the Wind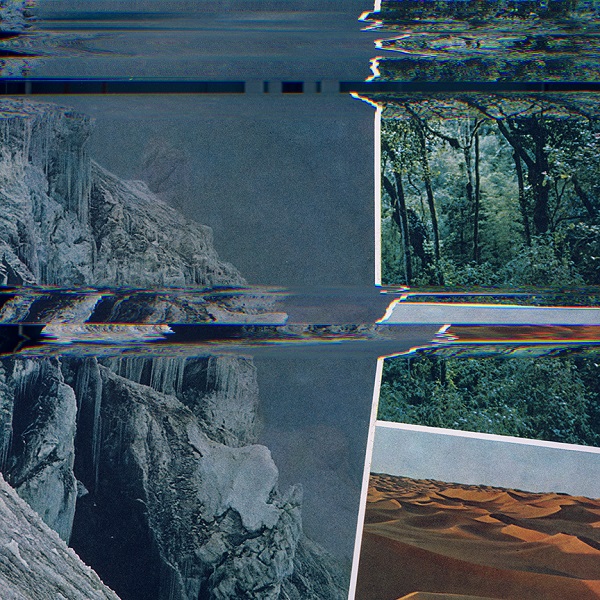 Sarah Davachi
Dominions
Vancouver, BC // Montreal, QC
From the deep chasms of Joshua Robinson:
Soft lulls nudge at the drone-ry of sinusoidal eupnea as electronic orchestration brings to light the staying power of a textured calm. The sonic palette is antiquated, but in being so is refined; the tools of bygone times exhumed to breathe once again, exhaling the fine tones of a mastered craft and the channeled voice of a resonant staticism. These compositions are as delicate as glass, as fragile as they are ethereal. Yet, they are elemental in their resonance; flowing structures and layered depths bridging chasms too deep to truly know.
Des abîmes profondes de Joshua Robinson:
(Traduit par la sérénité texturée de Maya Keshav)
Les tendres accalmies effleurent la drone-essence de la douceur sinusoïdale pendant que l'orchestration électronique met en lumière l'endurance d'une sérénité texturée. La palette des sons est vieillotte, mais en l'étant, elle est raffinée; on exhume les outils d'une époque revolue pour qu'ils respirent encore, en expirant les tons délicats d'un métier maîtrisé et d'une voix transmise, immuable. Ces compositions sont aussi délicates que le verre, aussi fragiles qu'éthérées. Mais, leur résonance est fondamentale; les structures fluides et les fonds superposés s'étendent sur les abîmes trop profondes pour vraiment les connaître.
Tidal~Signal

July 30th – 31st, 2016

Various Artists
Vancouver, BC
From the somnambulistic daydreams of Teddie Brock
Later this month, a wave of inspired currents will flood the West Coast soundscape. For two unprecedented evenings, listeners will be immersed in the visionary sound-worlds produced by local women, transgender, genderqueer and intergender artists. Exploring the diverse spectrum of music, encompassing noise, ambient, electronic, drone, experimental techno, improvised, sound and performance art, Tidal~Signal will emanate from within the anchorage of Selectors' Records in Chinatown, Vancouver on July 30th and 31st.
Des rêveries en somnambule de Teddie Brock:
(Traduit par l'onde phosphorescente de Maya Keshav)
Plus tard ce mois-ci, une onde phosphorescente de courants inspirés va innonder le paysage sonore de la côte ouest. Pendant deux soirées sans précédent, les auditeurs seront immergés dans les mondes sonores visionnaires produits par les artistes féminines du coin, les artistes les transgenres, le genre queer et intergenres. En explorant l'éventail divers de musique, y compris le noise, l'ambiance, l'électro, le drone, la techno expérimentale, l'improvisation, l'art sonore ainsi que l'art performance, Tidal~Signal va émaner du mouillage de Selectors' Records dans le quartier chinois de Vancouver le 30 et le 31 juillet.
---