Tag: dreamy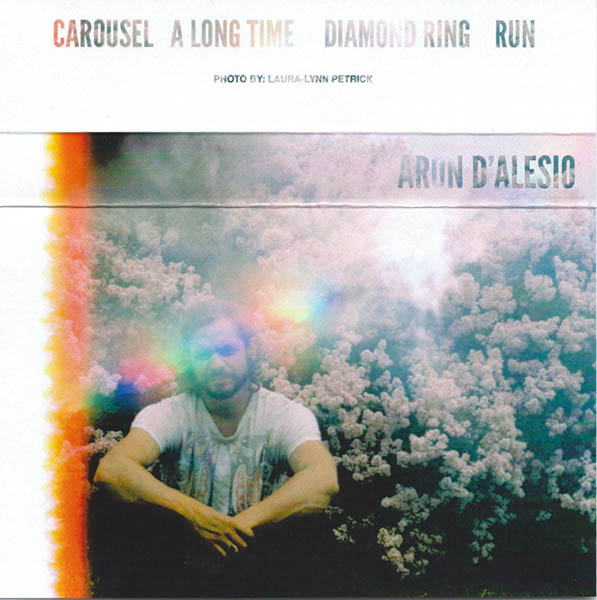 Aron D'Alesio
Cassette EP
(Self Released)
Hamilton, ON
From the dashboard confessional of Mike Roy:
A ride upon the carousel of Aron D'Alesio's Cassette will induce a retrospective haze carried over by jangly, 50s-inspired AM waves. Cassette feels like your parents' favourite Buddy Holly record soaked in bluesy psychedelia, but just as sweet and earnest as his predecessor. D'Alesio builds the soundtrack to help you through those late night drives mourning the end of summer romance without a tumble into total melancholy. Ride on.
Du confessionnal roulant de Mike Roy:
(Traduit par Aliké Harel)
Un tour sur le carrousel de Cassette, d'Aron D'Alesio, provoquera une rétrospective floue sur l'air jovial des ondes AM des années 50. L'album Cassette rappelle les albums préférés de Buddy Holly de vos parents, imbibé de psychédélique légèrement blues, mais aussi mélodieux et dévoué que son prédécesseur. D'Alesio construit la trame sonore qui traversera une nuit au volant avec vous, à écumer le deuil d'une romance de fin d'été sans dégringoler dans la mélancolie absolue. Allez-y, roulez.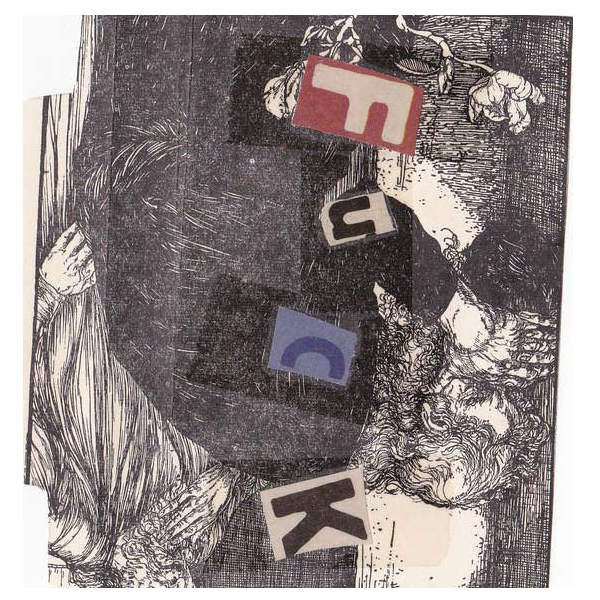 Charlotte Crow
Surrealist Bedroom
(Self Released)
Rodney, ON
From the steep incline of Marie LeBlanc Flanagan:
Soft night, sweet air, stoned harbours. There's a close aching in this small town, bite it to the quick. Warm bodies. Shimmering off strings, hips below shoulders, below eyes, below stars. Back door, fuck it, there's no one.
De la pente abrupte de Marie LeBlanc Flanagan:
(Traduit au clair de lunule par Nicolas Coutlée)
Douce nuit, air frais, port de pierres. Une douleur secrète hante ce petit village. Ongles rongés jusqu'au sang, corps tièdes. Miroitement de cordes, hanches alignées aux épaules, aux yeux, aux étoiles. Porte arrière, eh merde, il n'y a personne.
Charlotte Crow – Makeshift, Rosetint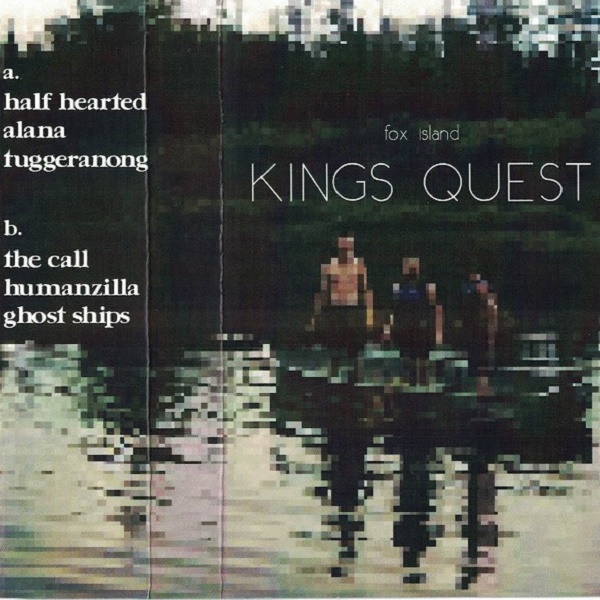 Kings Quest
Fox Island
(Self-Released)
Ottawa, ON
From the reverberated thoughts of Alec Lovely:
A date with friends turns into alone time on a heavy, grey afternoon. Wet concrete, streaky windows, hustle and bustle, flashing lights. No need or want to be with anyone on a day like this – just the right sounds to take you back to yesteryear, sharpened by a lo-fi nostalgia. Wondering how long the people around you will be there, the dream of youth feels like something finite. Spurred by the sounds that feel new and familiar, you wonder when the band in your headphones will be in your city, right in front of you.
De l'écho des pensées d' Alec Lovely:
(Traduit par Jessica Grenier)
Un après-midi lourd et gris. Un rendez-vous avec des amis qui devient un moment de solitude. Le béton mouillé, les vitres zébrées de pluie et de lumière, l'agitation des passants. Une journée où on n'a ni le besoin ni l'envie de côtoyer des gens – il faut juste le bon son pour un retour en arrière, accentué par un lo-fi nostalgique. Les rêves de jeunesse semblent restreints quand on se demande combien de temps les gens vont rester dans notre entourage. Les sons nouveaux mais familiers dans tes écouteurs te font t'interroger sur le moment où le groupe sera devant toi, dans ta ville.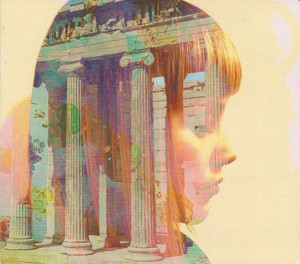 White Poppy
White Poppy
Vancouver, BC
From the post-existential reverie of Adam Bradley:
For White Poppy's eponymous Not Not Fun LP, Crystal Dorval transmutes the soft, grey clay of her shimmering ambience into sparkling, etch-textured gold. A splendorous idol aloft an ionic column, she looms down and imparts the power to dance upon its worshipers through the fog of a post-existential reverie. An impermanent rave in purgatory. The air becomes honey, sparks crackle from footfalls and the stirring clouds whorl with a pastel palette. Here, there is a distant joy and an eternal promise of beautiful things.
De la rêverie post-existentielle d' Adam Bradley:
(Traduit par l'instruction éphébique de Nicolas Coutlée)
Sur l'album homonyme de White Poppy paru chez Not Not Fun, Crystal Dorval transmue l'argile grise et friable de ses ambiances chatoyantes en lingots d'or ciselés et étincelants. Telle une idole sublime perchée sur une colonne ionique, elle pose son regard sur ses adorateurs et leur accorde le pouvoir de danser à travers le brouillard de cette rêverie post-existentielle. Un rave éphémère au purgatoire. L'air devient miel, des étincelles jaillissent de sous les pieds nus et des nuages s'élèvent en tourbillons pastels. Ici, le bonheur n'est jamais loin et promet à jamais la beauté infinie.
White Poppy – Darkness Turns To Light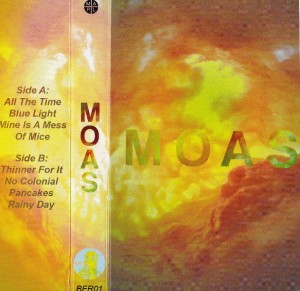 The Moas
The Moas
(Beaumont Records)
Saskatoon, SK
From the emancipation of Joshua Robinson:
Creative enclaves are as diverse as the territories breeding them, infusing artistries that are by no means bound to the hallowed grounds of the dimly lit streets and fractured skylines rendered so by the sonic stirrings of frantic limbs. The prairies, perhaps due to their endearing vastness, seem to be the breeding grounds for the upbeat melancholy sought by dream-pop addicts, whose starving ears can now lasciviously consume The Moas. With their self-titled debut, the band delivers a sonorous expansiveness that rises above the day's relative mundanity. Theirs is a quiet brilliance, conveying a dreaminess hitherto existing solely in the deepest recesses of our estranged sleep. This is a place where intelligibilities are blurred and The Moas reign supreme as the emancipators of the uninspired and dreamless.
De l'émancipation de Joshua Robinson:
(Traduit par le sommeil agité d' Andréanne Dion)
Les enclaves créatives sont aussi diverses que les territoires qui les voient naître, infusant les talents artistiques qui ne sont d'aucune façon liés au sol béni des rues faiblement éclairées et aux horizons fracturés par les vibrations acoustiques de membres effrénés. Les Prairies, peut-être à cause de leur immensité attachante, semblent être un terrain propice à la mélancolie enjouée recherchée par les accros de pop rêveuse, dont les oreilles affamées peuvent maintenant lascivement dévorer The Moas. Avec ce premier album éponyme, le groupe nous livre une exubérance retentissante qui s'élève au-dessus de la banalité relative de la journée. Leur génie est calme, transmettant un état rêveur qui n'existait jusqu'ici que dans les recoins les plus profonds de notre sommeil aliéné. C'est un endroit où l'intelligibilité est brouillée et où The Moas règnent en maîtres en tant qu'émancipateurs de ceux qui manquent d'inspiration et qui n'ont pas de rêves.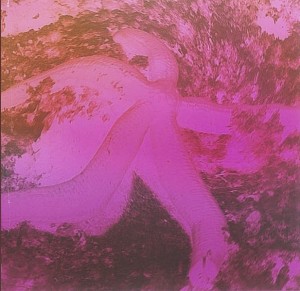 Lambs
Blister EP
(Self Released)
Cambridge, ON
From the dreamlike distance of Ajay Mehmi:
Lambs seek to paint their bright and vivid sound for the listener with tonal simplicity and emotional complexity. The music connects us with the psychedelic outfits of yesteryear, paying homage to an era of freedom and modernity. From the colourful and nostalgic sounds of "Palms of Your Hands" to the raw and expressive emotions of "Wolf," their sound is a reflection of those ideals. The Blister EP maintains a delicate interplay between what we observe as quintessential rock revivalism, and what we feel when dreamlike distance finds a place between, above and at the bottom of every note.
De la distance onirique d'Ajay Mehmi:
(Traduit par les idéaux modernes d'Andréanne Dion)
Lambs cherchent à peindre leur son enjoué et vif pour l'auditeur à l'aide de tons simples et d'émotions complexes. La musique nous met en contact avec les groupes psychédéliques d'autrefois, payant hommage à une ère de liberté et de modernité. Des sons colorés et nostalgiques de « Palms of Your Hands » jusqu'aux émotions à vif et expressives de «Wolf », leur musique est le reflet de ces idéaux. Blister conserve une interaction délicate entre ce que l'on considère être la renaissance du rock typique, et comment on se sent quand la distance onirique trouve une place entre, au-dessus et au fond de chaque note.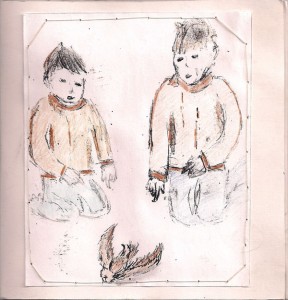 Poler Bear
So Long, Lonesome
(Self Released)
Saskatoon, SK
From the howling heart of Jesse Locke:
Poler Bear's So Long, Lonesome is the lamplight soundtrack for dark days and nights. There is so much evoked by these sparse compositions: quivering vocals inducing Elverum; field sampled children conjuring Camoufleur; austere acoustics providing the prairie response to Black Walls. File this labour of love under New New Sincerity and welcome an old friend inside from the cold.
Du coeur hurlant de Jesse Locke:
(Traduit par la froideur canadienne de Julie Forget)
L'album So Long, Lonesome de Poler Bear est la bande originale lumineuse pour les jours et les nuits sombres. Tant de choses sont évoquées dans ces compositions éparses : un chant tremblotant nous rappelle Elverum; des enfants qui batifolent dans un champ invoquent comme par magie Camoufleur; les guitares acoustiques austères offrent une réponse des Prairies à Black Walls. Classez ce travail fait avec amour dans New New Sincerity et accueillez un vieil ami provenant d'un monde froid.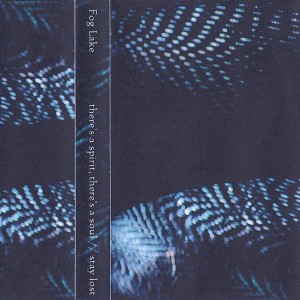 Fog Lake
There's A Spirit, There's A Soul // Stay Lost
St. John's, NL
From the glistening rays of Javier Fuentes:
Hailing from St. John's by way of an abandoned YouTube account, Fog Lake delivers two albums of ambient meditations and confessional pop songs. These songs offer up spiritual cleansing through synths and acoustic manipulations reminiscent of the more ambient leanings of one Connie Lungpin. Stay Lost opens up a dark sea of drones that slowly meander into glistening rays of reverbed sunlight. There's a Spirit, There's a Soul breaks away from the instrumental trip only to find itself back in a near comatose space of haunted melodies. Drift as far as you want with this one.
Des rayons étincelants de Javier Fuentes:
(Traduit par le rayonnement d' Audrey Roy)
Parvenu jusqu'à nous depuis St. John's grâce à un compte YouTube abandonné, Fog Lake nous livre deux albums de méditation ambiante et de chansons pop confessionnelles. Véritable cure spirituelle de synthés et de manipulations acoustiques, la musique rappelle les tendances plus ambiantes de Connie Lungpin. Stay Lost nous plonge au coeur d'une sombre mer de drones se métamorphosant peu à peu en d'étincelants rayons de soleil miroitant. There's a Spirit, There's a Soul délaisse le voyage instrumental, mais retourne aussitôt aux abords de la léthargie sous des cieux hantés de mélodies. Allez-y, dérivez aussi loin que vous voulez.
Fog Lake – If It's In Your Blood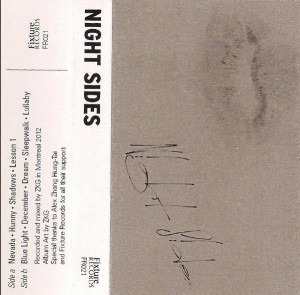 Night Sides
EP
Vancouver, BC
From the droning dream of Joel Thibert:
As Zoe Kirk-Gushowaty takes a break from her photography and film work to record as Night Sides, she gives us fortunate souls a glimpse into her minimalist, droning dream world. Vocals and instruments fade in and out of focus as you drift through these strange visions. "Hunny" is a lumbering giant marching past and howling indistinguishably as you look up in awe. In "Lesson 1", you become lost in an industrial train yard amongst the clanging metal. Then you wake up, only to have your mother sing you back to sleep with "Dream". "Lullaby" closes the tape with its staggering, flickering yearn, and offers another invitation into nocturnal reverie. Close your eyes and wander.
Du rêve bourdonnant de Joel Thibert:
(Traduit tard par Hugo Hyart-Dauvergne)
Faisant une pause dans son travail photographique et cinématographique pour enregistrer sous le nom de Night Sides, Zoe Kirk-Gushowaty offre à nos âmes veinardes un aperçu de son monde des rêves minimaliste et bourdonnant. Instruments et voix apparaissent et disparaissent fantomatiquement au cours de cette dérive au travers d'étranges visions. « Hunny » est un géant lourd, déambulant et hurlant de manière indistincte, que l'on regarde passer d'en bas, abasourdi. Dans « Lesson 1 », on se perd dans un dépôt de locomotives en pleine zone industrielle où le vent porte les cliquetis du métal. C'est à ce moment que l'on se réveille, pour mieux se rendormir au son d'une berceuse maternelle dans « Dream ». « Lullaby » clôt la cassette dans un soupir sublime qui vacille et lance une invitation à une nouvelle rêverie nocturne. Fermez les yeux et laissez vos pensées vagabonder.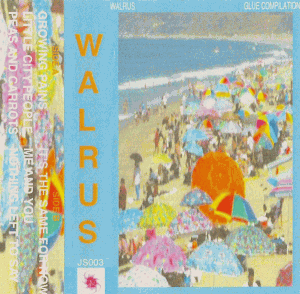 Walrus
Glue Compilation
Halifax, NS
From the martian sunrise of Aaron Levin:
Wrapped in a soupy gauze of slow-pitched delirium, Walrus' sophomore summertime creeper unravels the dormant fantasies deep within all of us. It's easy to waver within their cosmic surreality as you percolate through bubbling pop warbles and disparate vocals rooted deeply within the school of Brave Radar and the drug-ladled Amos & Sara. A superb beach-side jammer for the fantasian sunrise.
Du levé de soleil martien d'Aaron Levin:
(Traduit par Odile Leclerc)
Enveloppé dans une gaze liquide de délire en balle lente, le grimpeur d'été de deuxième année de Walrus dévoile les fantaisies dormantes profondément enfouies en chacun d'entre nous. C'est facile de vaciller dans la surréalité cosmique alors que vous pénétrer à travers des gazouillis de pop bouillonnant et de chants disparates enracinés profondément dans l'école de Brave Radar et d'Amos & Sara en louchées de drogue. Une superbe jammeur de bord de plage pour un levé de soleil de fantaisie.
---