Tag: dream pop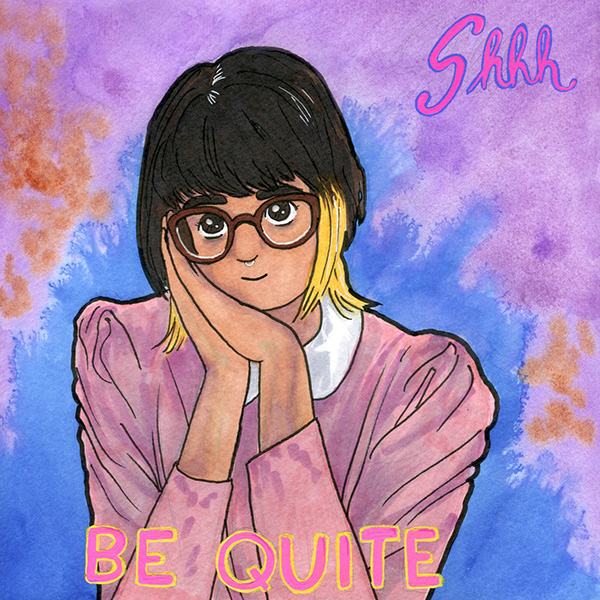 Shhh
Be Quite
Self-released
London, ON
From the tiniest lights of Eleanor Wearing:
Standing alone in a crowd, you close your eyes and search for a softer space. You find a bed, but is it yours? It is kind and strange, like an outgrown friendship or a childhood toy. Is it possible to feel this tired and still be alive? Cotton blankets scratch your skin, but you forgive them. Accept them. Their worn peaks and folds lay illuminated by flickering incandescent lights tacked against a velvet wall. A restless feeling floats in amongst the buzzing glow. It's time to leave. Back in the crowd, you are alone, but at peace.
Des lumières les plus petites d'Eleanor Wearing:
(Traduit par Alison McReynolds)
Debout seul(e) dans la foule, tu fermes les yeux en recherche d'un espace doux. Tu trouves un lit, mais est-il le tien? Il est gentil et étrange, comme une amitié passée ou un jeux d'enfance. Est-il possible d'être aussi fatigué et encore vivant? Couvertures en coton gratte ta peau, mais tu les pardonnes. Accepte-le. Leurs sommets et plis érodés pose illuminé par le vacillation des lumières incandescentes punaise sur un mur en velours. Une sensation sans cesse flotte parmi un lueur bourdonnant. C'est temps de partir. Retournant dans la foule, tu es seul(e), mais en paix.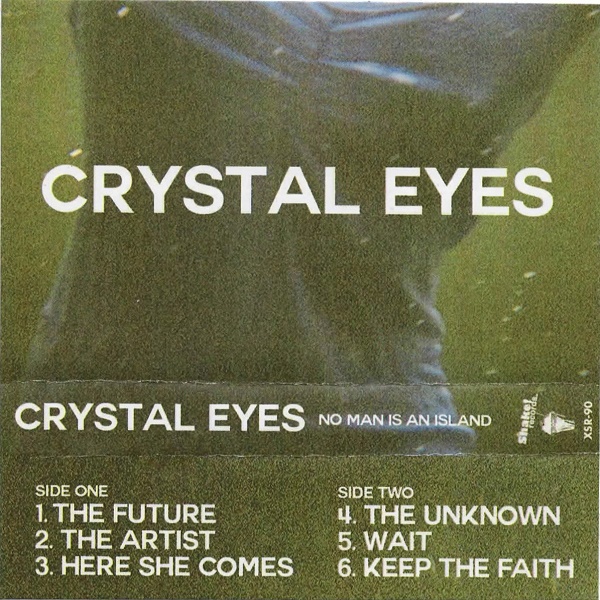 Crystal Eyes
No Man Is An Island
Calgary, AB
From the sticky note musings of Mackenzie Smedmor:
Goth kids have a romantic side. An afternoon of warm fuzzed guitar sunshine makes a great escape from the ceaseless marching of high school hallways, where you take your crush to the hillside and weave conversations into a euphonious scrapbook of everything from renaissance literature to rock'n roll.
Their sweet yet glassy eyes make you swoon and ponder just where these wonderful melodies form and where they will go. Will you ever dive to the depths of their dark sea of thought? Or will you float on this cloud of distorted ambiguity to the unknown…
Des rêveries de *Post-it* de Mackenzie Smedmor:
(Traduit par Julie Mayer)
Les jeunes gothiques ont un côté romantique. Un après-midi ensoleillé de guitare chaleureuse est l'occasion d'une escapade parfaite loin des marches incessantes dans les corridors de l'école secondaire, du genre de celles où vous emmenez votre flirt sur le versant d'une colline et tissez vos conversations en un scrapbook euphonique qui regroupe tout, de la littérature datant de la Renaissance au rock'n'roll.
Leurs yeux doux mais vitreux vous font pâmer et réfléchir aux endroits où ces merveilleuses mélodies se forment et où elles s'en iront. Plongerez-vous dans les profondeurs de leur sombre mer de pensées un jour? Ou flotterez-vous sur ce nuage d'ambiguïté distordue vers l'inconnu…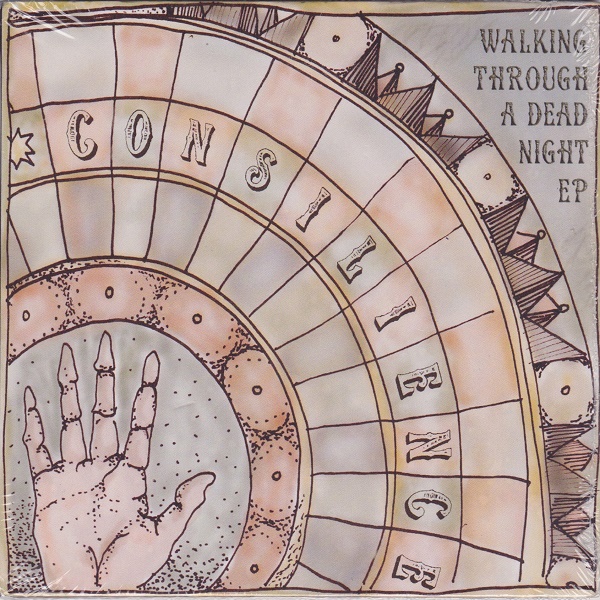 Consilience
Walking Through A Dead Night
(Self-Released)
Edmonton, AB
From the day-old cabinet of Jibril Yassin:
On Walking Through A Dead Night, Consilience are a band of gifted tricksters. What unfolds as gentle dream pop theatrics unfolds into something a lot more vital and energetic. Yet you can't shake off the hazy atmospherics sonic architect Tasy Hudson has grown so fond of incorporating into the songwriting. On "Proud Soul," the band cycle through its coda again and again, Hudson's vocals reaching for the sky as the band begins to erupt all around her. It's a conclusion that delivers.
Du cabinet d'un jour de Jibril Yassin:
(Traduit par Julie Mayer)
Sur l'album Walking Through A Dead Night, les membres de Consilience sont une bande d'arnaqueurs doués. Ce qui se dévoile comme étant une douce théâtralité pop onirique se révèle être une chose bien plus vive et énergique. Toutefois, tu ne peux pas te débarrasser de l'atmosphère brumeuse que l'architecte acoustique Tasy Hudson s'est peu à peu attachée à intégrer à la composition de ses chansons. Dans « Proud Soul », le groupe tourne autour de sa coda encore et encore. La voix de Hudson atteint les étoiles tandis que le groupe entre en éruption tout autour d'elle. Une conclusion libératrice.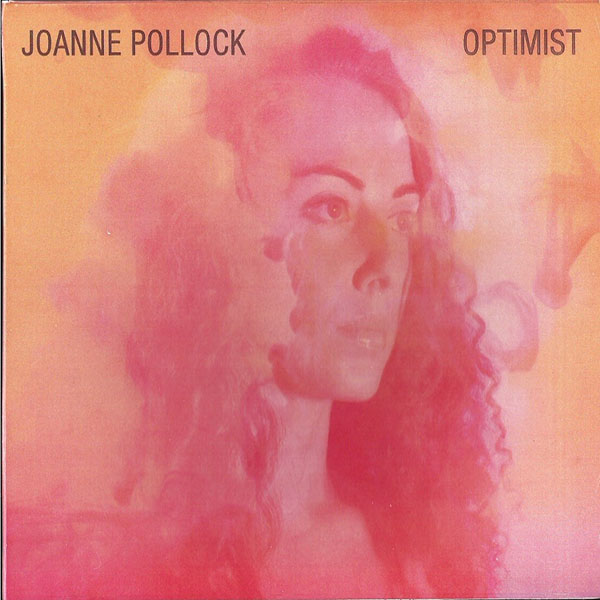 Joanne Pollock
Optimist
(Self Released)
Toronto, ON
From the galvanized ganglia of Mark Anthony Brennan:
No natural light penetrated as far as the street market where I tried on device after device. The voices of angels emanated from a probe injected into my ear. Inhaled vapours induced artificial euphoria. Plastic memories came to life. I sailed imagined oceans of dreams. "It all seems so real." The vendor laughed in the neon daylight. "It is real," he said. "As real as the sensations synthesized by chemical processes in your skull."
To this day I am not sure if my recollections of that day are genuine or just something that old scoundrel implanted in my brain.
Des ganglions galvanisés de Mark Anthony Brennan:
(Par le synapse à synapse d'Aliké Harel)
Aucun éclairage naturel ne pénétrait aux confins du marché forain où j'essayais en vain un appareil électronique, puis un autre. Des voix d'anges émanaient d'un instrument inséré au creux de mon oreille. L'inhalation de vapeurs avait provoqué une euphorie artificielle. Des souvenirs de plastique prenaient forme. Je voguais sur des océans imaginaires faits de rêves. « Ça semble si réel ». Le marchand riait dans la lueur néon du jour. « Mais, c'est réel! », répondit-il. « Aussi réel que les sensations produites par la synthèse de substances chimiques sous ton crâne ».
Aujourd'hui encore, je ne sais pas si mes souvenirs de cette journée sont authentiques ou simplement quelque chose que ce vieillard aurait implanté dans mon cerveau.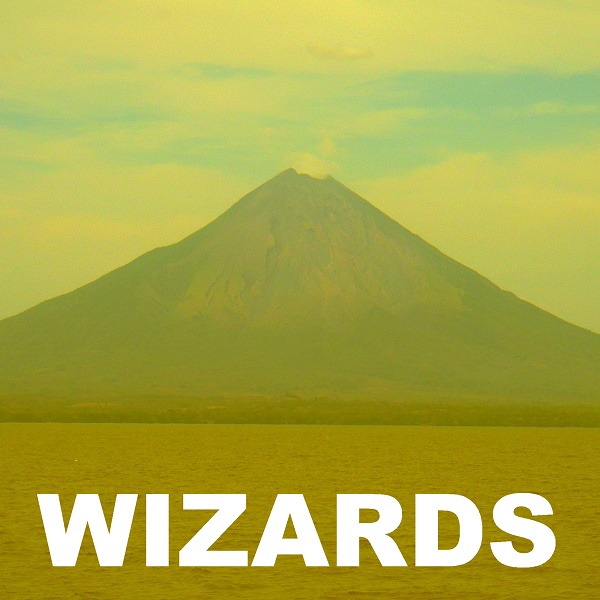 Wizards
SDRAZIW
Saskatoon, SK
The White Magic of Trevor Angst:
Bending out a few solo notes harder than any twelve year old ever could with his mountain bike's kickstand, Wizards croon immensely gothic. The guitar will meow and wisp dreamscapes. By the near end, Wizards will dispel your last impressions of that beauty.
SDRAZIW is a documented piece of Wizard's experimentation in action. Drifting away from the surf and shores of their EP and pulling towards the psych and ambient taproot, Wizards drop a collection of songs that stand individual, non adherent, riotous.
De la Magie Blanche de Trevor Angst:
(Traduit par l'hémisphère de Diane Beaupré)
En extirpant des notes plus tonitruantes qu'un enfant de douze arrive à le faire avec la béquille de son vélo de montagne, Wizards sonne gothique. La guitare miaulera et vous transportera aux pays des songes. Vers la fin, Wizards dissipera les dernières impressions de cette beauté.
SDRAZIW est la trace laissée par Wizard en pleine expérimentation. S'éloignant du surf et des rivages de leur EP et s'approchant des racines du rock psychédélique, Wizards nous offre une collection de chansons uniques et planantes.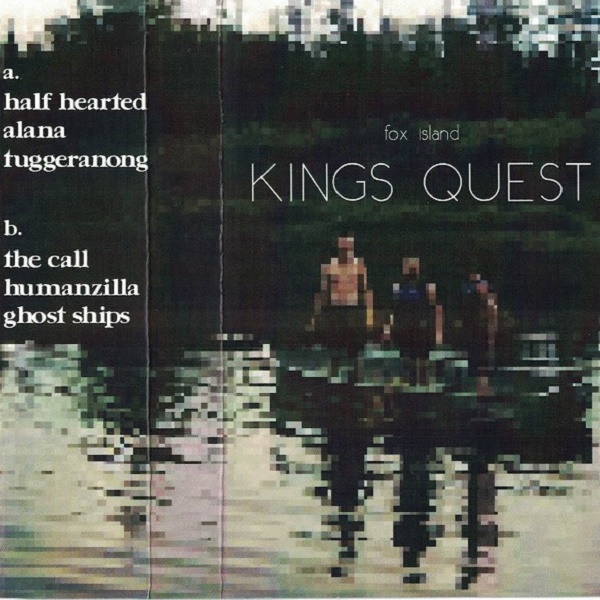 Kings Quest
Fox Island
(Self-Released)
Ottawa, ON
From the reverberated thoughts of Alec Lovely:
A date with friends turns into alone time on a heavy, grey afternoon. Wet concrete, streaky windows, hustle and bustle, flashing lights. No need or want to be with anyone on a day like this – just the right sounds to take you back to yesteryear, sharpened by a lo-fi nostalgia. Wondering how long the people around you will be there, the dream of youth feels like something finite. Spurred by the sounds that feel new and familiar, you wonder when the band in your headphones will be in your city, right in front of you.
De l'écho des pensées d' Alec Lovely:
(Traduit par Jessica Grenier)
Un après-midi lourd et gris. Un rendez-vous avec des amis qui devient un moment de solitude. Le béton mouillé, les vitres zébrées de pluie et de lumière, l'agitation des passants. Une journée où on n'a ni le besoin ni l'envie de côtoyer des gens – il faut juste le bon son pour un retour en arrière, accentué par un lo-fi nostalgique. Les rêves de jeunesse semblent restreints quand on se demande combien de temps les gens vont rester dans notre entourage. Les sons nouveaux mais familiers dans tes écouteurs te font t'interroger sur le moment où le groupe sera devant toi, dans ta ville.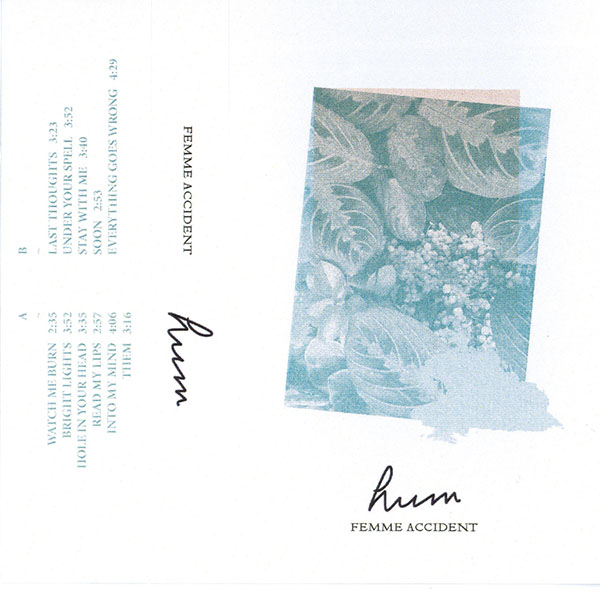 Femme Accident
Hum
Montréal, QC
From the attentive and bloody ears of Simon Provencher:
This Montreal trio Femme Accident plunges us into a strange momentum, giving us a desire to loosely watch kilometers pass from the window of a train, a bus, the subway. The density of the guitar chords, taken from a learned mix of chorus and distortion, seems to be a stumbling, out-of-breath dream, clarified only by a soft voice and the precision of drums. We discover with this band a familiar musical moment; a sensual, welcoming world, cloaked in magnanimous softness and disconcerting confused melodies and voices.
We are invited to observe, to appreciate a small jewel of serenity—an emotional storm calmly expressing itself in the streets of Montreal.
Des oreilles attentives et sanglantes de Simon Provencher:
Le trio montréalais Femme Accident nous plonge dans une étrange inertie, nous donne des envies de regarder lâchement les kilomètres passer à bord d'un train, d'un autobus ou d'un métro. La densité des accords de guitare, tirée d'un savant mélange de chorus et distorsion, semble être une un rêve haletant, titubant, éclairci seulement par une douce voix, et supporté par la précision d'une batterie posée. On découvre avec eux un moment musical familiar, un monde sensuel, chaleureux, enrobé de la douceur magnanime et déconcertante des voix et des mélodies confuses.
On est comme invités à observer, à apprécier un petit bijou de sérénité, une tempête émotionnelle s'expriment calmement dans les rues de Montréal.

Femme Accident – Hole in Your Head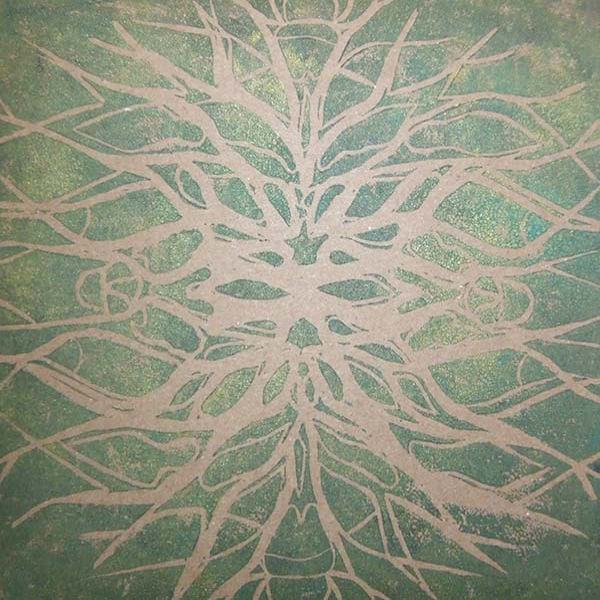 Twin Voices
Sing To Me
(Self Released)
Montréal, QC
From the freckled mien of Joshua Robinson:
Stilted hush and blurry breeze sweep across corrugated timber, the voice of the moon in the night sky. Fulgent pop-gazery housed in the open-hearted diaphragms that spread like mountains over the streets brought to life by the night sky's freckled mien. The silent spread of light bleeding from tears in the fabric overhead; these timbre colours of Twin Voices hold the sepulchral deep dark of night at bay, reclaiming from the stitched weight of night the opulent glimmer of beating hearts scattered amongst the herbage of dry bones and black holes.
De la mine tachée de Joshua Robinson:
(Traduit par Kevin Godbout)
Le silence guindé et le vent flou balayent au travers du bois ondulé, la voix de la lune dans le ciel de la nuit. Le regard "pop" aux milles feux habitant dans les diaphragmes aux coeurs ouverts qui s'étendent comme des montagnes au-dessus des rues, apportés à la vie par la mine tachée du ciel de la nuit. L'étendue silencieuse de la lumière qui saigne de tissus aériens déchirés; ces couleurs timbrées de Twin Voices poussent contre la noirceur sombre, profonde de la nuit, et ils réclament de la pesanteur tricotée de la nuit le scintillement opulent de coeurs battant étendus parmi l'herbage d'os secs et de trous noirs.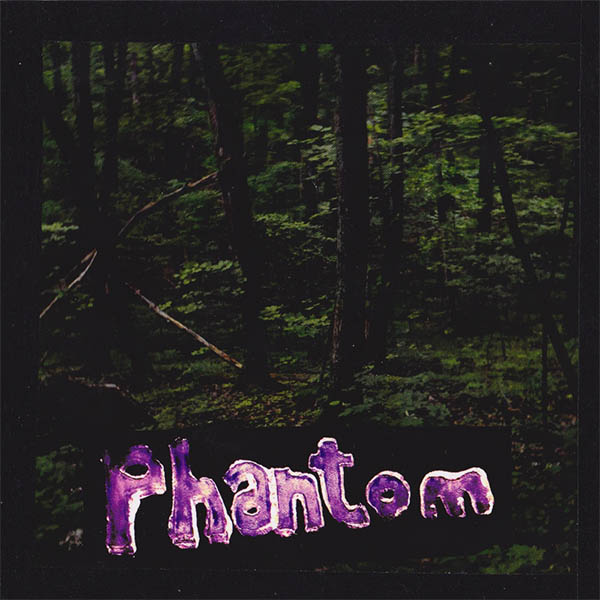 Herons Wake
Phantom
(Self Released)
Ottawa, ON
From the naturally magnetic mind of Matthew Blenkarn:
From the naturally magnetic mind of Matthew Blenkarn: Strap a magnet to a man and see what he draws in. Will his currents strike the earth's natural fields, ringing out like a climactic shot from a Spaghetti western? Or will the attraction be more subtle and fleeting, like wafting mist over a lake? If he interacts with electromagnets, will the alternating currents shimmer like a mirage? What's certain is that the sound will pull you through landscapes and waterways, seeking out its source.
De l'esprit naturellement magnétique de Matthew Blenkarn:
(Traduit par Jessica Grenier)
Attache un aimant après un homme pour voir ce qu'il va rapporter. Est-ce que son courant va heurter les champs naturels de la Terre, résonnant comme le moment culminant d'un western spaghetti? Ou l'attraction sera-t-elle plus subtile et fugace, comme la brume flottant sur un lac? S'il entre en contact avec des électroaimants, est-ce que les courants alternatifs vont chatoyer comme un mirage? Ce qui est sûr, c'est que le son va te guider, à travers paysages et cours d'eau, en quête de sa source.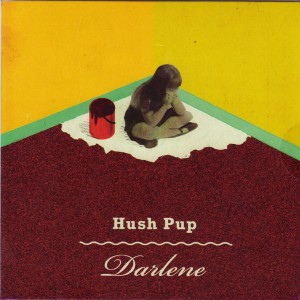 Hush Pup
Darlene
Toronto, ON
From the glittering sonics of Gabe Girard:
Hush Pup spring forth as a fully developed and actualized dream-pop band, with a sound that's cohesive and instantly recognizable. The swooning sustain of Torrie Seager's subtle guitar ornamentation and Ida Maidstone's vocals — at once whispered and crooned — wash away the mundane, eliciting a rainbow of colour in a monochromatic world. Hush Pup take their time, leisurely navigating through beautiful vocal textures and glittering sonic material. Like an exuberant take on Beach House, they exude something warm, flush and refreshingly sunny.
Des sons acoustiques scintillants de Gabe Girard:
(Traduit par les enjolivements subtils de Joannie Pharand)
Hush Pup surgit en tant que groupe parfaitement développé avec une musique alternative atmosphérique renouvelée, grâce à un son homogène et très facilement identifiable. Le maintien admirable des enjolivements subtils de la guitare de Torrie Seager, combiné à la voix de Ida Maidstone, qui chuchote et fredonne en même temps permet de taire le banal en soutirant un arc-en-ciel de couleurs dans un monde unicolore. Hush Pup prend son temps, naviguant de façon paisible à travers de jolies textures vocales et du matériel acoustique scintillant. Comme pour prendre part à la vidéo de Beach House, il en émane quelque chose de chaud, un état d'érubescence agréablement ensoleillé.
---