Tag: doreen girard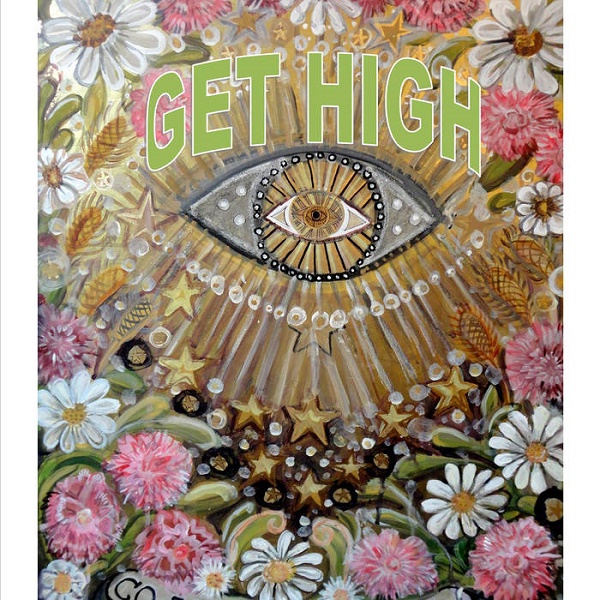 Juliana Lachance
Get High
(Self-Released)
Hamilton, ON
From the gentle whip of Doreen Girard:
Get High is a collection of eight songs from Hamilton, Ontario's Juliana Lachance. This Sweet Music springs from below the water, a distant sound you unconsciously follow while wading into shallow pools and marking the soft sand with smaller foot shaped pools. Anointed with the liquid timbre of reverb bathed bandura and vocals, you sink slowly into the warmth and current, feeling the gentle whip of a sturgeon across your skin as it endures its endless swim.
Par le léger fouet de Doreen Girard:
(Traduit par l'ivresse féérique d' Émily Traichel)
« Get High » est une collection de huit chansons par Juliana Lachance de Hamilton en Ontario. Cette belle musique jaillit des profondeurs, un son lointain que l'on suit par instinct, en traversant des étendues d'eau peu profondes et en marquant le sable mou de petites nappes d'eau en forme de pieds. Oint du timbre liquide de la bandura et du chant baignés dans la réverbe, on s'immerge tranquillement dans la chaleur et dans le courant, sentant le léger fouet d'un esturgeon nous frôler la peau, lui qui endure sa nage éternelle.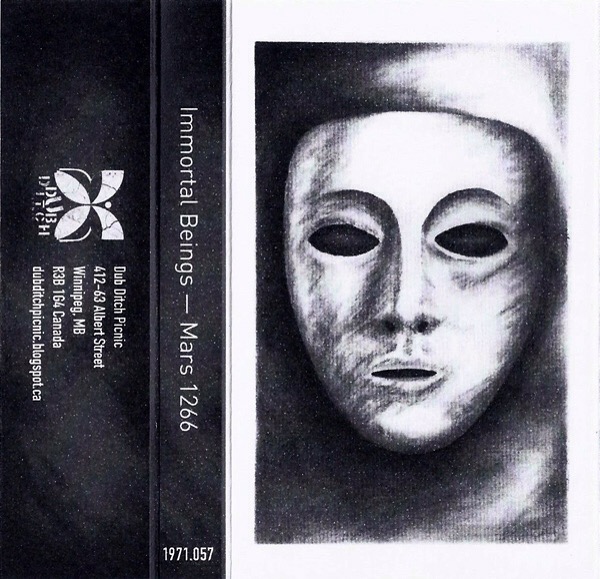 Immortal Beings
Mars 1266
Winnipeg, MB
From the accidental ejections of Doreen Girard:
Mars 1266, the 2 song limited edition cassette by Neil Burnby's Immortal Beings, presumably issued from inside an electron diffusion region somewhere above Winnipeg in an accidental ejection en route to new worlds. The songs fasten together early electronica-kosmische sensibility with overlying melodies, fluctuating tremolo and legato drones. This brace offers recall to an extract of mid-century earthly soundscape, which leaves you to suspect the traveler is here wandering not only through the vastitude of space.
Des éjections accidentelles de Doreen Girard:
(Traduit par les premiers cafés glacés de Marie-Pier Chevrier)
Mars 1266, la cassette de 2 pistes à tirage limité des Immortal Beings de Neil Burnby, nous arrive vraisemblabement d'une région de diffusion d'électrons quelque part au-dessus de Winnipeg, résultat d'une éjection accidentelle à mi-chemin vers de Nouveaux Mondes. Les chansons joignent à la sensibilité electronica-kosmische des mélodies flottantes, des trémolos fluides et des bourdonnements legato. Ce collage ravive un fragment des paysages sonores terrestres du milieu du siècle, laissant ainsi croire que le voyageur est ici même, errant dans plus que l'immensité de l'espace.
Immortal Beings – Side A (excerpt)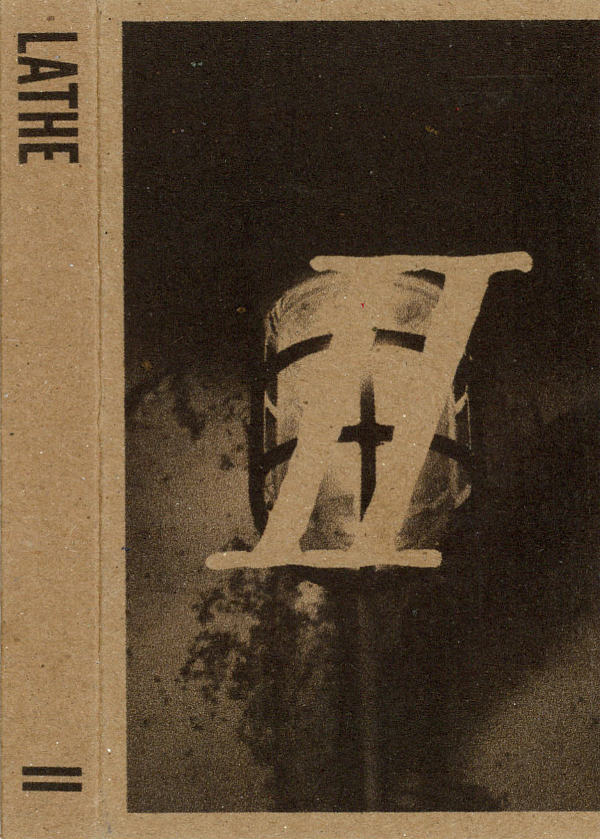 LATHE's two-song cassette takes its time warming up to you, never trying to overwhelm with its sparse, string-bending riffs and subdued drums, hazily evocative of latter-day Earth
LATHE
II
(Self Released)
Kingston, ON
From the power tower of Doreen Girard:
This live, two-song cassette takes its time warming up to you, never trying to overwhelm with sparse, string-bending riffs and subdued drums, hazily evocative of latter-day Earth. That's not to say it hangs back in the shadows, too timid to communicate with strangers. It listens patiently, is comfortable with silences, chooses its words thoughtfully. And anyway, once the ice is broken, it's clear that Lucas Huang (guitar/voice) and Liam Cole (drums) are deep in fervent conversation, and would rather not be disturbed.
De la tour électrique de Doreen Girard:
(Traduit par Andréanne Dion)
Cette cassette de deux chansons enregistrées live vous réchauffe lentement, sans jamais essayer de vous submerger avec ses riffs épars qui tordent les cordes et sa batterie feutrée, qui évoquent vaguement les derniers jours de Earth. Cela ne veut pas dire qu'elle se tient dans l'ombre, trop gênée pour approcher les étrangers. À l'aise dans le silence, elle écoute patiemment et choisit ses mots avec soin. Et de toute façon, une fois la glace brisée, il devient clair que Lucas Huang (guitare/chant) et Liam Cole (batterie) sont absorbés par une conversation passionnante et qu'ils préféreraient ne pas être dérangés.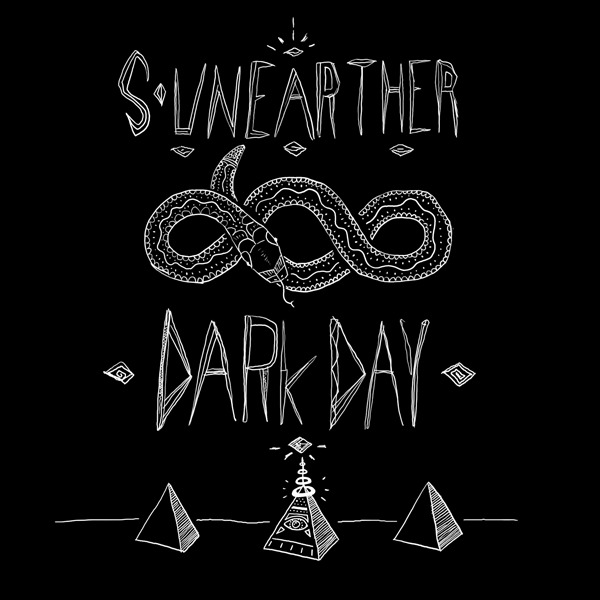 S-UNEARTHER
Dark Day
(Self Released)
Vancouver, BC
From the low chants of Doreen Girard:
This four-song cassette opens up in a hazy glow, searching for someplace to settle its beam across the fields it finds itself in. With its expansive textures, there are no easy hooks assembled here, but it finds itself rolling faithfully along, lulled by low chants and spare tones. At risk of drifting away, it's suddenly prodded along by the first sign of chord progressions and a drum beat. Almost as suddenly, it's over, deer scattered across the highway, farmers left interpreting the patterns left behind.
Des chants graves de Doreen Girard:
(Traduit de la plume enchantée de Geneviève Simard)
Cette cassette de quatre chansons s'ouvre dans une lueur floue, à la recherche d'un endroit où poser son faisceau dans les champs où elle se trouve. À l'aide de textures vastes, on ne retrouve pas d'accroches faciles, mais tout déferle fidèlement, bercés par des chants graves et des tonalités limitées. Lorsque le risque de partir à la dérive se présente, il cesse dès le premier signe de progressions des accords et le son de la batterie. Puis tout à coup, c'est fini, les cerfs se dispersent sur l'autoroute, laissant aux fermiers le soin d'interpréter les traces laissées derrière eux.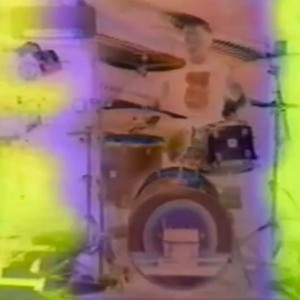 Shooting Guns
"No Fans"
(Directed by Tyler Baptist)
Saskatoon, SK
From the kaleidoscope eyes of Doreen Girard:
Inspired by '80s public access variety TV, Saskatoon's Tyler Baptist hatches a kaleidoscopic Beat Club-style video out of middle Canada's favourite psych-rock pentangle's anti-hit, "No Fans." Things get hammy with a generous use of greenscreen, broadcast switcher and video feedback overlay effects. Not to mention a prototypically listless introduction from the glacial host and actual news footage from the Martensville, SK Satanic ritual abuse daycare scandal, for which the album is named.
Des yeux kaléidoscopiques de Doreen Girard:
(Traduit par LL Francus)
Inspiré par la télévision communautaire de variétés des années 80s, Tyler Baptist de Saskatoon accouche d'une vidéo kaléidoscopique dans le style « Beat Club » pour l'anti-succès « No Fans » du pentagramme psych-rock favori du Canada central. Le ton devient théâtral avec l'utilisation généreuse d'un fond vert, d'un mélangeur vidéo et des effets de rétroaction-superposition. Sans compter l'introduction prototypiquement indifférente par une animatrice glaciale, accompagnée d'images réelles d'un reportage sur le scandale des abus rituels sataniques dans une garderie de Martensville (SK), d'où le titre de l'album.
Beard Closet
Latin
(Self Released)
Toronto, ON
From the hypnagogic succor of Doreen Girard:
The first funereal tone of this two-song cassette by Toronto's Beard Closet implies that you are about to enter a restful space, but it's an unsettled calm. Vocal disharmony and warbling guitar drift helplessly into a chasm, nudged along by the indifferent repeating drone. There's a drowsy hesitance to the guitar arrangements, broken up by fuzzed-out passages and incidental noise, but there's succor here, too. The bells chime, softening your hypnagogic stupor. This is new age music for the eternally hopeless.
De l'aide hypnagogique de Doreen Girard:
(Traduit par la dissonance de Julie Forget)
Avec la première tonalité lugubre de cette cassette de deux chansons par le groupe torontois Beard Closet, vous vous apprêtez à entrer dans un espace paisible, mais c'est un calme perturbant. Une dissonance vocale et un chant de guitare dérivent désespérément dans un gouffre, poussés par l'indifférent bourdonnement répété. On remarque une certaine hésitation somnolente dans les arrangements de guitares, brisée par des passages brouillés et des interférences noise, mais il y a aussi quelque chose d'apaisant. Les cloches sonnent, adoucissant votre stupeur hypnagogique. De la musique nouvel âge pour les éternels désespérés.
---