Tag: diy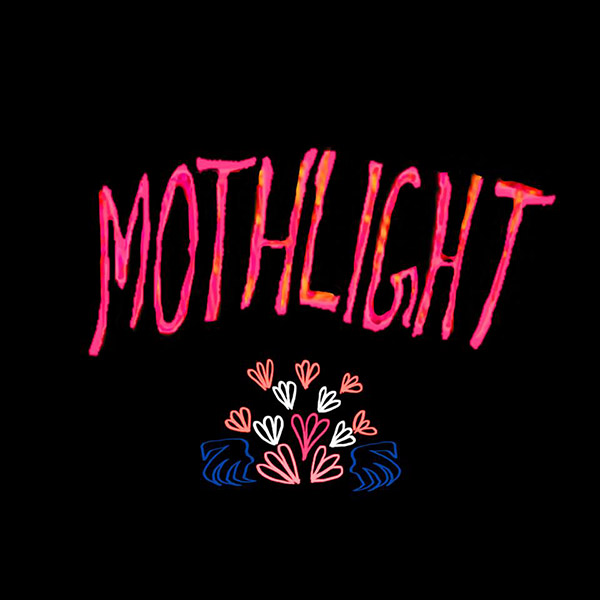 Mothlight
Daniela Madrid
(Photo credits: Chelsea Sweetin, Cecilia B., Kate Mada, Daniela Madrid & Jonathan Pawis)
Montréal, QC
From the safe happy heart of Gabe Girard:
Mothlight has been a fixture in the Montreal independent DIY music scene for years. Booking house shows, festivals, tours and sold out concerts in Montreal and across Canada, Mothlight has adhered to the vision of hosting community-oriented, not for profit events that showcase talent in relaxed, inclusive and safe(r)spaces. Not being able to distinguish whether you're in a friend's kitchen or at a concert has its advantages. We caught up with Daniela Madrid – the shadowy mastermind behind Mothlight – to shed some light on her creation.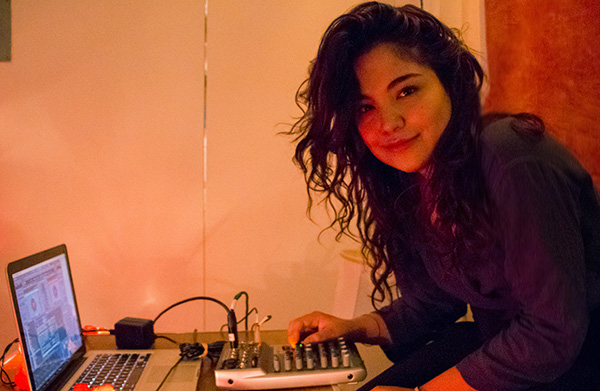 How did Mothlight begin?
Mothlight started out in November 2014, mostly as a house show concert series. We wanted to make an inclusive and serene space for people to play. The more shows we booked, the more a sense of community it started to build. From then on we branched out in Montreal with different DIYs and established organizations, communities, venues and galleries to book events. Some of these spaces were Le Plante, Poisson Noir, Articule and our own personal home that had a jam space in the basement (mothlight ☷ ʇɥƃılɥʇoɯ), . We also put on shows with local promoters Blue Skies Turn Black and Suoni per Popolo this past summer. We booked tours during that time and still continue to help bands touring Canada who reach out to us. Our latest event was in Vancouver at the Red Gate Arts Society on January 5th with Hallow Moon, Kim Gray & Zuzu's Petals.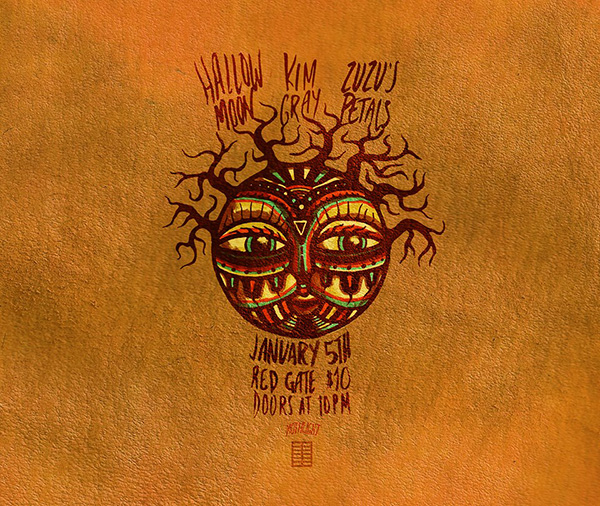 What are the motivating factors behind what you do?
I'm a freelance graphic designer, so it's a foundation for that. To be happy – Laughs – Our goal has always been to create an inclusive, comfortable performance space so that people who are anxious about displaying their music feel comfortable. We tend to focus on new and emerging musicians – Women/men, POC, non-binary people. We try to make a platform for artists, allowing them to be themselves. Having a safer space really helps the growth and evolution of music/arts. The music really blooms as a result.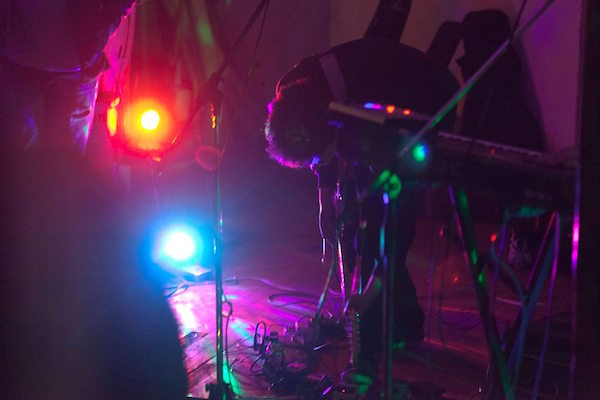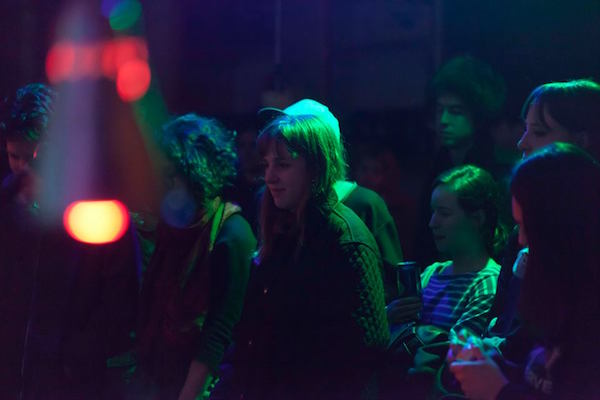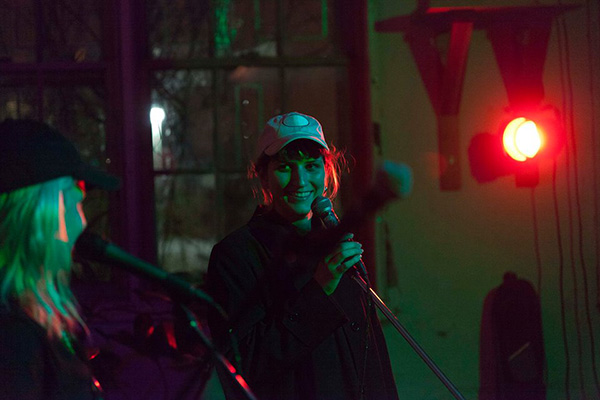 The intimate house show concept seems to really help with that.
We try to create a serene, vital setting. The atmosphere is important which is why each event brings in some aspects of herbal and aromatic medicine to set that ideal state. Very dim lighting with candles and herbal incense. It makes for a good feeling in the space for people to come into and makes them feel very much at ease. When people come in they talk about how relaxed they feel and sometimes even ask what is being used. We are bringing our lifestyle to the community in a sense — the shows draw from a lot of different crowds, every show is different. It's not just focused on one scene, there is a lot of variety.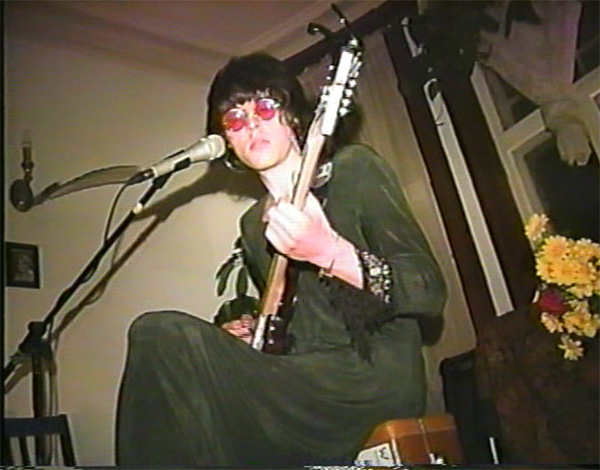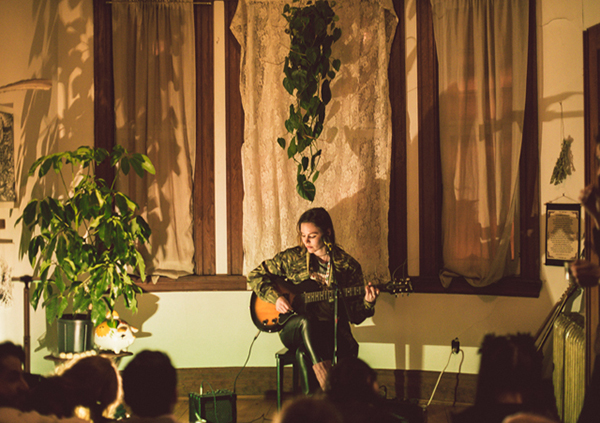 Is the house show aesthetic something you're still focused on?
Yes, a bit. Right now we're focused on booking events both in Montreal & Vancouver. Helping with bands who need assistance with their tours as well as new artists that would like to branch out. It's nice to help and makes it easier for emerging bands to make it across the country. The more we are expanding, the harder it can be to strictly adhere to the house show aesthetic – but whenever possible we bring the laid-back-calm atmosphere back, especially in Montreal which already has such a beautiful art community.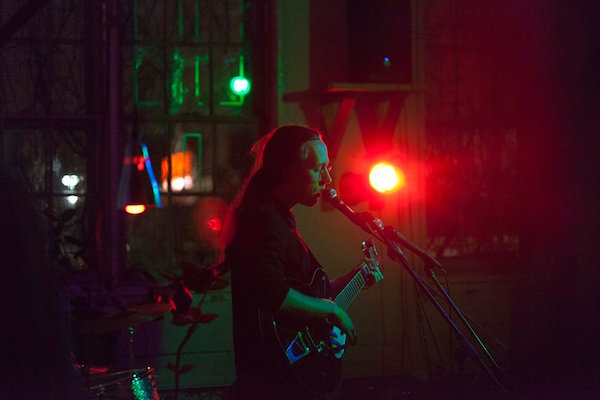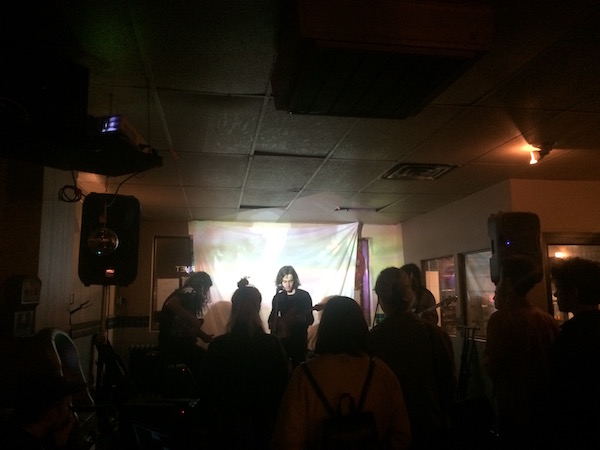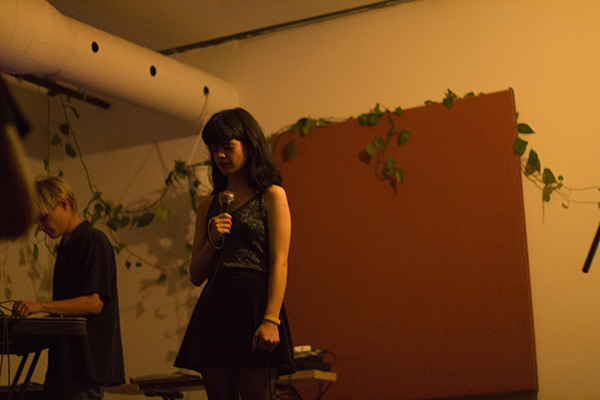 You decided to donate all of the proceedings from a recent show to the protestors at Standing Rock. Not a lot of bookers would do such a thing. Kudos!
Yes, fundraising is definitely something we are doing more and more of. The last show at Casa del Popolo with Kristian North was great! One of the members is about to head to the protest. I wanted to show support for their journey, the movement as a whole and in solidarity. In that same week we had also collaborated with the artist-run center known as Articule for a Feminist Cocktail Party fundraiser. One of the curators had mentioned that it was a first for the gallery to host music there and now we're looking forward to working with them again in the new year. At the end of the day, we pay all the artists as well as we can, trying to keep in mind the professional aspect and the artist's values. Having it DIY also makes it a lot easier.
If one were interested in booking a show with you, how could they get in touch?
If you're interested in booking a show or tour you can reach out to Daniela Madrid and her business partner SK (wishes to be anonymous but responds as well) at [email protected]
Website
FB Page
♡
Droit du coeur saint et sauf de Gabe:
(Traduit par les canicules de drone de Wyrd)
Mothlight représente un pilier de la scène musicale indépendante DIY de Montréal depuis des années. En organisant des « house shows », des festivals, des tournées et des concerts bondés à Montréal et à travers le Canada, Mothlight a maintenu sa vision d'origine, c'est-à-dire de promouvoir des talents émergents au sein d'évènements communautaires et sans but lucratif, toujours dans des environnements inclusifs, sécuritaires et détendus. Il y a des avantages à ne pas pouvoir distinguer si on est dans la cuisine d'un ami ou dans un véritable concert. On a rencontré Daniela Madrid – le génie énigmatique derrière l'opération Mothlight – afin d'y jeter un peu de lumière.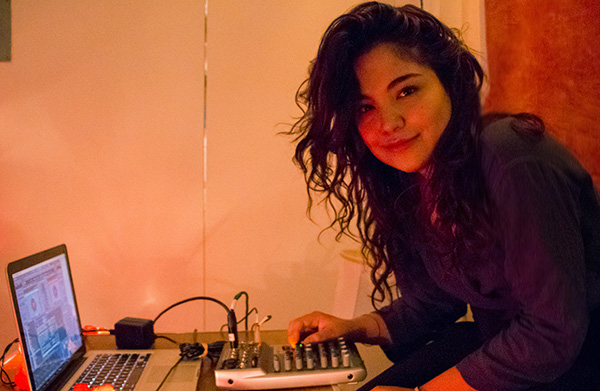 Comment Mothlight est né?
Mothlight a débuté en Novembre 2014, tout d'abord comme une série de « house shows. » On voulait créer un espace plus inclusif et serein pour que les gens puissent jouer. Plus on organisait des shows, plus on ressentait qu'on était en train de bâtir une communauté. De fil en aiguille, on a créé des liens avec d'autres organismes DIY, ainsi qu'avec des salles et des galeries plus établies. On a mis sur pied des shows à La Plante, au Poisson Noir, à Articule, et dans notre propre sous-sol, où il y avait un espace pour jammer (mothlight ☷ ʇɥƃılɥʇoɯ), On a aussi collaboré avec des promoteurs locaux comme Blue Skies Turn Black et Suoni per Popolo l'été passé. On a organisé des tournées, et on continue à aider des bands qui nous contactent lors de leur passage au Canada. Notre évènement le plus récent a eu lieu au Red Gate Arts Society, le 5 janvier avec Hallow Moon, Kim Gray & Zuzu's Petals.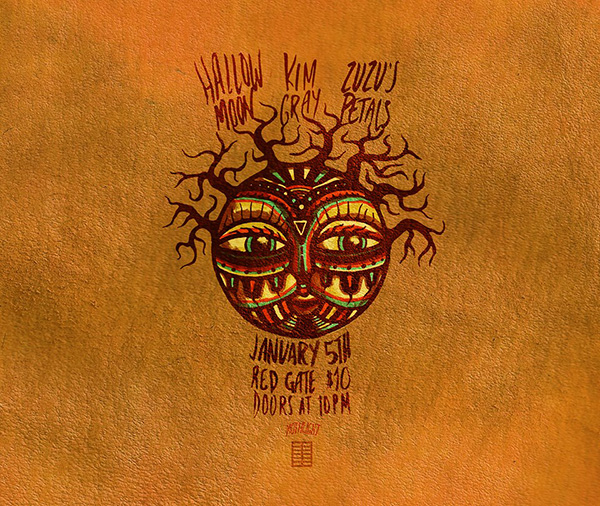 Quels sont les facteurs qui vous motivent à poursuivre Mothlight?
À la base, je suis conceptrice graphique indépendante. Afin d'être heureux – (rit) – notre but a toujours été de créer des espaces de concert inclusifs et confortables, pour que ceux qui sont anxieux d'afficher leur musique se sentent plus à l'aise. On se concentre sur les musiciens nouveaux et émergents – femmes/hommes, personnes racisées, personnes non-binaires. On essaie de créer une plateforme qui permet aux artistes d'être eux-mêmes. Plus les espaces sont sécuritaires, plus ils favorisent la croissance et l'évolution de la musique et des arts. Ça permet à la musique d'éclore.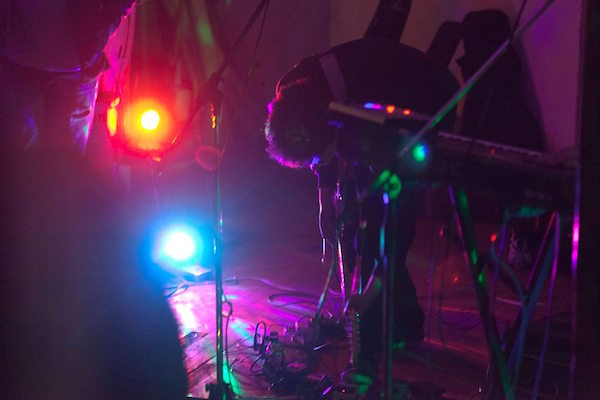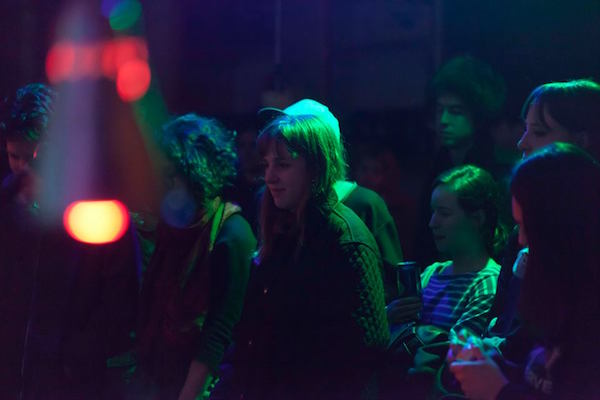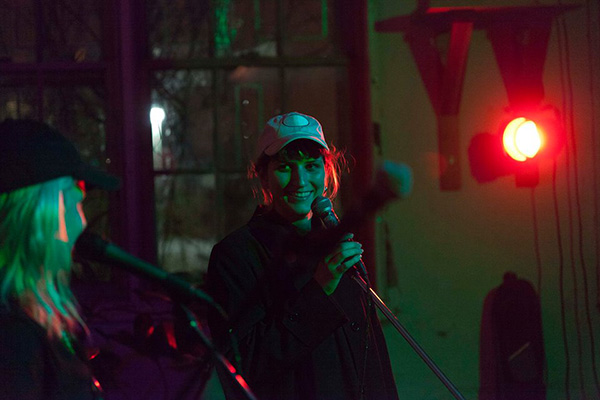 Le concept de « house show » intime semble aider avec ça…
On essaie de créer un contexte serein et vital. L'ambiance est primordiale – c'est pour cette raison qu'on agrémente chaque événement de plantes médicinales et aromatiques. On veut fournir les conditions idéales : lumière tamisée, chandelles, encens. Ça amène un bon feeling dans l'espace et ça met les gens à l'aise. Les gens nous parlent du fait qu'ils se sentent détendus et nous demandent le nom des herbes que nous utilisons. De cette façon, on intègre notre style de vie dans la communauté. Les shows rassemblent des gens de contextes divers, et chaque évènement est différent. On essaie de ne pas trop se restreindre à une seule scène, mais plutôt d'encourager la variété.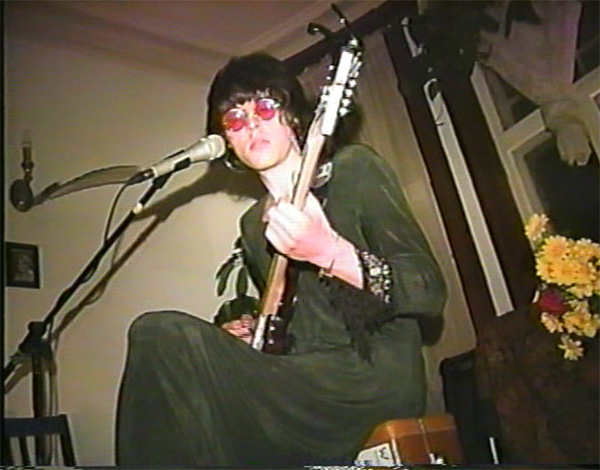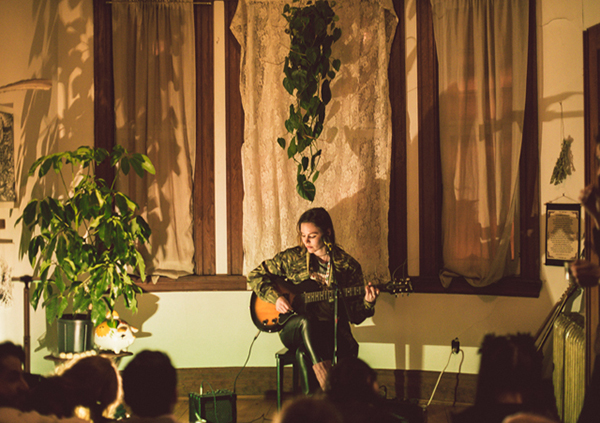 Êtes-vous toujours attachés à l'esthétique du « house show »?
Oui, un peu. Pour l'instant, on concentre nos efforts sur la planification d'évènements à Montréal et à Vancouver. Aider les bands qui ont besoin d'un coup de main avec leurs tournées, ainsi que les nouveaux artistes qui veulent se lancer. Ça fait du bien d'aider, et ça permet aux bands émergents de traverser le pays. Plus on grandit, plus c'est difficile d'adhérer strictement au model du « house show » – mais autant que possible, on ramène l'atmosphère décontractée et calme. C'est particulièrement simple à Montréal où il y a déjà une si belle communauté artistique.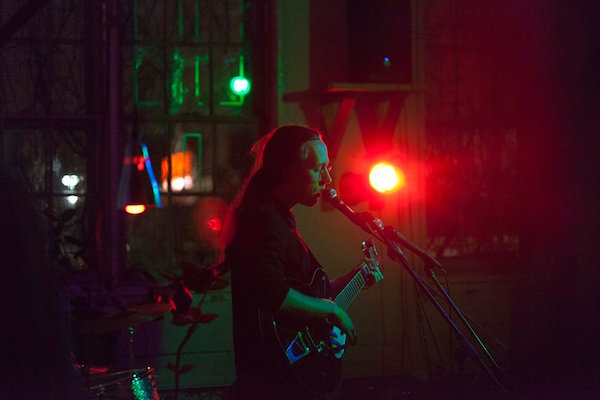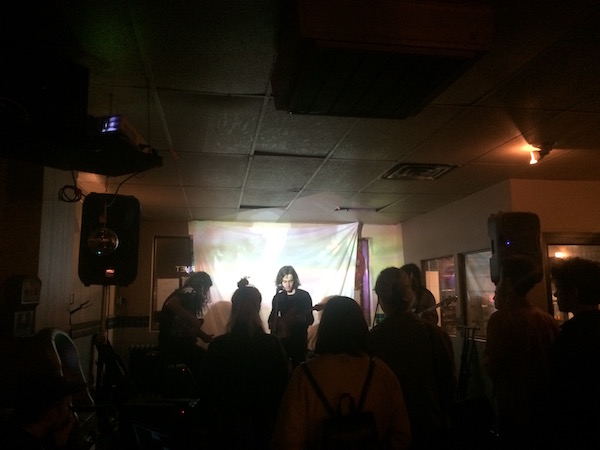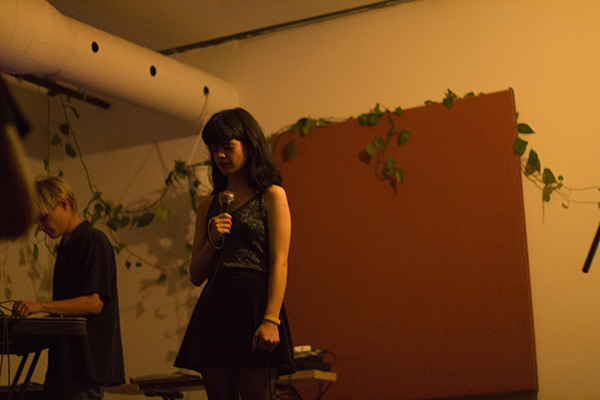 Vous avez décidé d'offrir tous les revenus d'un show récent aux manifestants de Standing Rock. Rares sont les bookers qui poseraient ce genre de geste. Kudos!
Oui, on entreprend de plus en plus de levées de fonds. Le dernier show à Casa del Popolo avec Kristian North était incroyable! Un des membres du band allait se joindre à la manif de Standing Rock. Je voulais soutenir son voyage et démontrer ma solidarité avec le mouvement en entier. Cette même semaine, on a collaboré avec le centre d'artistes autogéré connu comme Articule pour un cocktail party féministe – une autre levée de fonds. Une des curatrices a mentionné que c'était la première fois que la galerie accueillait un show. On a hâte de poursuivre notre collaboration avec eux dans la nouvelle année. Au bout du compte, on paie les artistes autant qu'on peut, en restant professionnels et en gardant les valeurs de l'artiste en tête. La vibe DIY facilite les choses.
Si quelqu'un veut booker un show avec vous, comment il/elle vous contacterait?
Si vous voulez organiser un show ou une tournée, vous n'avez qu'à contacter Daniela Madrid et son partenaire d'affaires SK (désire rester anonyme mais répondra aux courriels) à [email protected]
Site web
Page FB
♡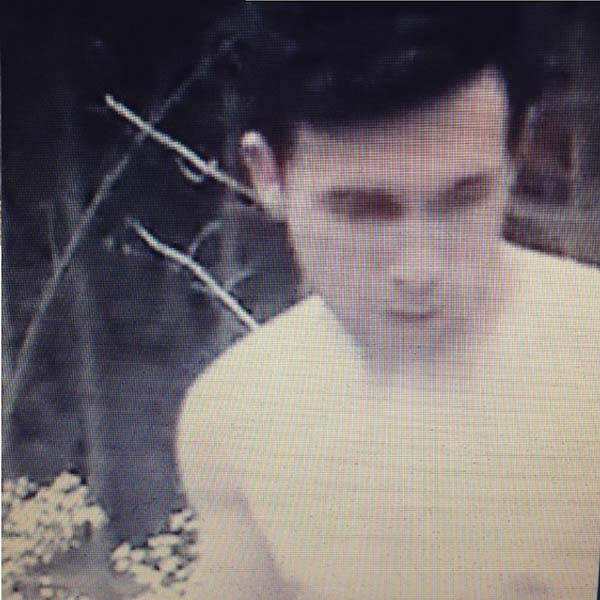 Alex Curtis
Sheer Curtain
(Self-Released)
La Ronge, SK
From the stop-start -isms of Joshua Robinson:
Icy wind and the whir of a stop-start motor on a frozen driveway. Broken is the one whose overtures are those of semi-northernly frigidity; intoned voices commixed to the point of spililng through the frosted windows of a basement too cold to keep itself warm. The yearning is obvious; spoken even. Pale blue eyes and the reckoning of humanity, fragile while loosening itself from the drapery of iconoclastic figures of the past. To breathe while sleeping is a gift, given that nihilism is the sad voyeur whose eyes frost the warm heart in the early dark of a prairie morning.
Des tressaillements de Joshua Robinson:
(Traduit par les yeux ni bleus ni pâles de Maya Keshav)
Le vent glacial et le ronronnement intermittent d'un moteur sur une allée gelée. Brisé est celui dont les ouvertures sont d'une frigidité quelque peu nordique, les voix qui s'élèvent se métissent jusqu'à ce qu'elles se renversent par les fenêtres givrées d'un sous-sol trop froid pour se garder au chaud. Le souhait est clair; même prononcé à voix haute. Les yeux bleus pâles et le jugement de l'humanité, fragile tout en se dénouant de la draperie des personnages iconoclastes du passé. Respirer en dormant, c'est un don, étant donné que le nihilisme est le voyeur triste, duquel les yeux gèlent le cœur chaud dans le noir de la prairie tôt le matin.
Alex Curtis – I Was A Bad Person Blues
Cuchabata Records
David Dion
(Header photo by: Mertin Hoëk)
Montréal, QC
From the national geography of Christina Bell:
Cuchabata records began approximately 25km away from the island of Montréal in a small francophone town called Salaberry-de-Valleyfield, Quebec. In the early 2000s, Valleyfield incubated a particular bout of weirdness resulting in some of the cool and unusual work featured on Cuchabata. This weirdness nurtured the strange sounds of Valleyfield native and Cuchabata founder David Dion.
Now residing in Montréal, Dion is the renaissance man organizing and operating most of this DIY dance voluntarily (and often single-handedly). He began the label, unbound by any expectations of gross success, as a means to put out his own work. Dion quickly partnered up with many like minded musicians to create a community based on spontaneity, experimentation, and DIY ethics.
We met to converse on getting started, building a community beyond the confines of monetary exchanges, and bridging the perceived void between Montréal's francophone and anglophone art scenes.

(Illustration by: David Dugas Dion)
Why did you start Cuchabata Records in 2003, and why do you keep going? Have the reasons changed?
In the beginning I wanted to produce my own stuff. I never had an expectation of making money or signing a huge number of bands; it was mostly just for my own bands and friends who play music.
Then I moved to Montréal and became friendly with many more musicians. I was interested in producing their work because the label had turned into a community, not a business. It's mostly about friendship. I still produce a lot of my own stuff, but I've also met a lot of new people and bands through the label. I want to put out bands that I think are great. Through this process, friendships grow. It's not much more complicated than that. It's really about passion.
What does curation mean to you when it comes to your label?
There isn't a typical style of music on the label. There's folk, noise, free improv, punk, etc. It's all about my own perception, because I like all of these genres. I mostly encourage music that is not conventionally considered "easy listening," because there are plenty of labels that produce music that's easy to listen to. However, I'm still open to conventional rock, folk, or whatever, if it's good and the people in the band are like-minded.
I don't really search for new bands, simply because I'm really busy with the label. I don't have to do a lot of searching – there is always new stuff to produce, even without bringing new people onto the label. Many people on the label have several bands. Sometimes it doesn't work, but most of the time it does, because people know what to expect.
Once you've determined that a band is a good fit, how do you decide how involved you will be in their process?
When I meet a band, I tell them that I will do what I can with the time and energy that I have. They tell me their plan for the next year, and I work with them to accomplish that. I can help them with booking, touring, recording, or mixing.
Outside of the label, I work 40 hours per week in an office, plus I have the bands that I play in. I also have a life.
The bands know it's a community, and they're expected to participate too. I try to put the same energy into every band, but it's easier if the band does a lot for the community by sharing on social media, mentioning the label frequently, supporting other bands on the label, and so on. There are some bands that don't do this as readily as others.
What advice do you have for a band who has never worked with a label before? What behaviours make a band easy or desirable to work with?
Everyone can give something. If a band is searching for a certain service, an artist might connect people. If a band is coming from out of town, someone on the label might offer a place to stay. For another example, if someone in a band also writes for a publication, I can give them a tape and they will definitely write about it. Just simple things that create relationships of sharing between people.
The only thing I ask of the bands is that I am the only person who manages outreach, like newsletters and emails. We don't want to flood people with information, so I know that if I'm the only one handling communications with media we won't overwhelm people with our outreach. I'm the sole communicator between media and the bands, and I'm the only one who manages the label's Facebook, Bandcamp, and newsletter.
After twelve years, it's getting to the point where people are beginning to know who our label is, and I'm really proud of that.

Photo by: Mertin Hoëk
Tell me about Cuch Fest.
In 2006 the first Cuch Fest took place. At that time, the label was still operating out of Valleyfield. I didn't plan to do it every year, but we have been doing it every year since. It's usually at the end of the year, and it's sort of a party to celebrate everything that we have done.
We host it in a different place every time. The first one was at a buffet restaurant in Valleyfield. Bars wouldn't host it because patrons at the bars would think that most of our music was garbage. They wanted ACDC cover bands – the kind of thing that's hot in Valleyfield.
Up until two years ago, it was always a one night thing.Two years ago it was two nights, and last year it was four nights. So it continues to grow.


(Poster by: Tommy Johnson)
What is it like working with both French and English bands in Montréal?
I think it's a reality that sometimes there are two solitary communities. However, there are some people who are making an effort to book these nights with French and English bands together at venues like Brasserie Beaubien. At these shows, people just have to be in the same room together and they have to meet each other. At one point they find out that it's only a language barrier and the cultural difference is not so big.
(For a cinematic exploration of the bilingual scene, you can check out the documentary Montreal Underground on Dion's recommendation.)
What other local, DIY-style labels are you excited about?
Misery Loves Company and Talking Skull.
So, where is Cuchabata Records at now?
When I started in 2003, I had a little 4-track at home. I wanted to record my music and produce it on a CD-R to send music to labels and things. But I realized that if I'm going to produce myself, it's cooler to have a label. I learned all of these things as I went. The first couple of years I sucked at everything. The recordings are awful and the artwork isn't great. I think that it took a good five to seven years to make something good. I took that time to learn about doing press, booking tours, and all of that kind of stuff, and I'm still learning. It's an ongoing process. The label is le petit train va loin: the small train doesn't go very fast, but it goes. In regards to Cuchabata Records: right now it's better than ever in every way.
De la géographie nationale de Christina Bell:
(Traduit par le très campivallensien Mathieu Bédard)
Cuchabata Records a démarré à 25 km de l'île de Montréal approximativement, dans une petite ville francophone appelée Salaberry-de-Valleyfield, Québec. Au début des années 2000, Valleyfield a couvé une poussée de bizarrerie particulière, qui a mené à certaines des oeuvres cools et insolites parues chez Cuchabata. Cette bizarrerie a façonné les sons étranges du fondateur de Cuchabata, David Dion, un natif de Valleyfield.
Résidant maintenant à Montréal, Dion est l'homme à tout faire qui organise et opère volontairement (et le plus souvent seul) le plus gros de ce ballet DIY. Libre de toute attente de succès brut, le label a été lancé initialement comme une façon de faire paraître son propre travail. Rapidement, Dion s'est allié à d'autres musiciens partageant des affinités d'esprit, pour créer une communauté fondée sur la spontanéité, l'expérimentation et l'éthique DIY.
On s'est rencontrés pour parler de se lancer et de bâtir une communauté par-delà les limites des échanges monétaires, ainsi que de combler le fossé qui est perçu entre les scènes artistiques francophone et anglophone de Montréal.
(Photo par: David Dugas Dion)
Pourquoi as-tu lancé Cuchabata Records en 2003, et pourquoi continuer? Les raisons ont-elles changé au fil du temps?
Au début, je voulais produire mes propres affaires. Je ne me suis jamais attendu à faire de l'argent ou à signer un grand nombre de groupes; c'était surtout juste pour mes propres groupes et des amis qui jouaient de la musique.
Puis j'ai déménagé à Montréal et je me suis lié d'amitié avec encore plus de musiciens. Produire leurs oeuvres m'intéressait parce que le label était devenu une communauté, pas une entreprise. C'est surtout une question d'amitié. Je produis encore beaucoup de mes propres trucs, mais j'ai rencontré aussi un grand nombre de gens et de groupes via l'étiquette. Je veux mettre de l'avant les groupes que je trouve très bons. À travers ce processus, des amitiés se développent. C'est pas bien plus compliqué que ça. C'est une question de passion.
Qu'est-ce que la direction artistique signifie pour toi, quand il s'agit de ton label?
Il n'y a pas un style de musique typique sur le label. Il y a du folk, du noise, de l'improvisation libre, du punk, etc. Ça repose sur ma propre perception, parce que j'aime tous ces genres. J'encourage surtout la musique qui n'est pas conventionnellement considérée comme « facile d'écoute », parce qu'il y a beaucoup d'étiquettes qui produisent de la musique facile à écouter. Néanmoins, je demeure ouvert au rock et au folk conventionnels – ou autres, peu importe – pourvu que ça soit bon et qu'il y ait des affinités avec les membres du groupe.
Je ne cherche pas vraiment de nouveaux groupes, simplement parce que je suis très occupé avec le label. Je n'ai pas à faire beaucoup de recherche : il y a toujours de nouveaux trucs à produire, même sans ramener de nouveaux individus au sein du label. Plusieurs personnes sur l'étiquette ont plusieurs groupes. Parfois, ça ne fonctionne pas, mais la plupart du temps ça marche, parce que les gens savent à quoi s'attendre.
Après avoir déterminé qu'un groupe a le bon profil, comment définis-tu ton niveau d'implication dans leur travail?
Quand je rencontre un groupe, je leur dis que je ferai ce que je peux avec le temps et l'énergie que j'ai. Ils me font part de leur plan pour l'année à venir et je travaille avec eux pour qu'il s'accomplisse. Je peux les aider avec le booking, les tournées, l'enregistrement ou le mixage.
En dehors du label, je travaille 40 heures par semaine dans un bureau, en plus des groupes dans lesquels je joue. Et j'ai une vie, aussi.
Les groupes savent que c'est une communauté et qu'il est attendu qu'ils participent également. J'essaie de fournir autant d'énergie à chaque groupe, mais c'est plus facile si le groupe en fait lui-même une bonne part pour la communauté en partageant sur les réseaux sociaux, mentionnant l'étiquette fréquemment, soutenant les autres groupes du label, etc. Il y a des groupes qui ne le font pas aussi volontairement que d'autres.
Quel conseil donnerais-tu à un groupe qui n'a jamais travaillé au sein d'un label auparavant? Quels comportements rend faciles ou désirables le fait de travailler avec un groupe?
Tout le monde peut apporter quelque chose. Si un groupe est à la recherche d'un service en particulier, un des autres artistes peut s'occuper de connecter les bonnes personnes. Si un groupe n'est pas de la ville, quelqu'un sur l'étiquette peut offrir le gîte. Pour donner un autre exemple, si quelqu'un dans un des groupes écrit aussi pour une publication, je peux lui donner une cassette et il va assurément écrire là-dessus. Des choses toutes simples qui créent des relations de partage entre les individus.
L'unique chose que je demande aux groupes, c'est d'être la seule personne qui gère les communications externes, comme les bulletins d'information et les courriels. On ne veut pas inonder les gens d'information, donc si je suis le seul à manier les relations médiatiques, je sais qu'on ne surchargera personne avec nos communications. Je suis le seul intermédiaire entre les médias et les groupes et le seul qui gère la page Facebook, la page Bandcamp et le bulletin d'information du label.
Après douze ans, on en arrive au point où les gens commencent à savoir qui nous sommes en tant que label et j'en suis très fier.

(Photo par: Mertin Hoëk)
Parle-moi du Cuch Fest.
Le premier Cuch Fest a eu lieu en 2006. À cette époque, l'étiquette opérait encore à partir de Valleyfield. Je ne planifiais pas de le faire chaque année, mais depuis on le fait tous les ans. C'est en général vers la fin de l'année; c'est une sorte de fête qui célèbre tout ce qu'on a réalisé.
On l'organise dans un lieu différent chaque fois. Le premier était dans un buffet, à Valleyfield. Les bars ne voulaient pas l'accueillir parce que leurs propriétaires trouvaient que notre musique méritait d'être jetée aux poubelles. Ils voulaient des groupes qui font des hommages à ACDC – le genre de chose qui avait la cote à Valleyfield.
Jusqu'à il y a deux ans, c'était toujours l'affaire d'une seule soirée. Il y a deux ans, ça a été deux soirs, et l'an dernier, quatre. Donc, ça continue de croître.


(Affiche par: Tommy Johnson)
C'est comment de travailler avec des groupes autant francophones qu'anglophones à Montréal?
Je pense que c'est bien une réalité, qu'il y a parfois deux communautés solitaires. Il y a toutefois certaines personnes qui s'efforcent d'organiser des soirées avec des groupes francophones et anglophones ensemble, dans des salles comme la Brasserie Beaubien. Dans ces concerts, les gens doivent partager la salle et se rencontrer. À un certain point, ils se rendent compte que ce n'est qu'une barrière linguistique et que la différence culturelle n'est pas si grande.
(Pour une exploration cinématographique de la scène bilingue, Dion vous recommande de jeter un coup d'oeil au documentaire Montreal Underground.)
Quels autres labels locaux de style « DIY » t'enthousiasment?
Misery Loves Company et Talking Skull.
Avec tout ça, où en est Cuchabata Records en ce moment?
Quand j'ai commencé en 2003, j'avais un petit « 4-track » à la maison. Je voulais enregistrer ma musique et la produire sur CD-R, pour envoyer de la musique à des labels, ce genre de choses. Mais j'ai réalisé que si j'allais m'autoproduire, c'était plus cool d'avoir mon label. Les premières années, j'étais nul dans tout. Les enregistrements sont terribles et le graphisme, pas génial. Je pense que ça a pris un bon cinq à sept ans avant de faire quelque chose de bien. J'ai pris ce temps pour apprendre à gérer les relations de presse, organiser des tournées, tout ce genre de trucs, et j'apprends encore. C'est un processus continu. Notre label est un petit train qui va loin : le petit train ne roule pas très vite, mais il roule. En ce qui concerne Cuchabata : c'est mieux que jamais, en ce moment, sur tous les plans.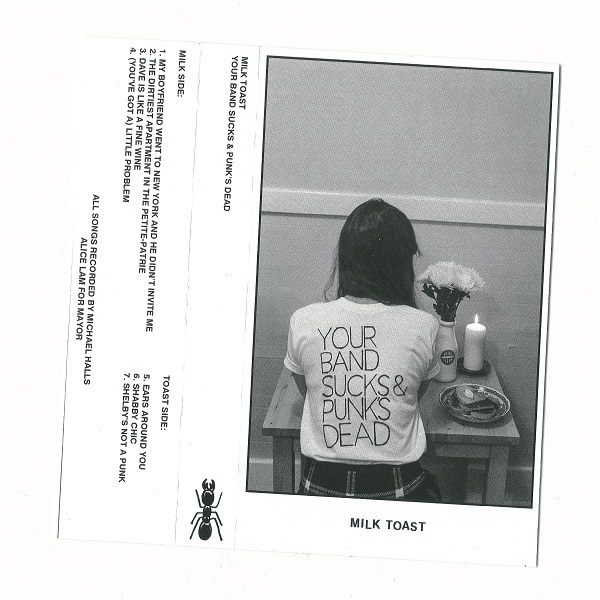 Milk Toast
Your Band Sucks & Punk's Dead
Calgary, AB
From the insulated Ontarios of Mitch Jackson:
What place does punk occupy within the spaces of aggregated, reblogged and retweeted content? Undead punks wander the streets of Canadian cities, looking like Canadian Classic cigs carrying Crass CDs, looking for authenticity. If Calgary's Milk Toast has any say, punk died, and it fuckin' sucked anyways. The only way to fight the surviving incestual punXXX and neo-grunge chic is snarky commentary and Montreal guitar pop with added bite from some westernly wit sculpted in the image of prairie circumpolar winds. Here is a much needed survival guide.
Par les Ontarios isolés de Mitch Jackson:
(Par les humeurs printanières d' Émily Traichel)
Quelle place occupe le punk parmi les lieux du contenu agrégé, rebloggué et retweeté? Les punks mort-vivants flânent dans les rues des villes canadiennes, avec l'air des cigarettes Canadian Classic portant des CDs de Crass, à la recherche d'authenticité. Si Milk Toast de Calgary a son mot à dire, le punk est mort, et c'était crissement nul de toute façon. Le seul moyen de combattre les incestueux punXXX et chic neo-grunge survivants, ce sont les commentaires narquois et le guitar-pop montréalais avec du mordant ajouté par un esprit de l'ouest sculpté à l'image des vents circumpolaires des prairies. Voici un guide de survie très attendu.
Milk Toast – My Boyfriend Went to New York and He Didn't Invite Me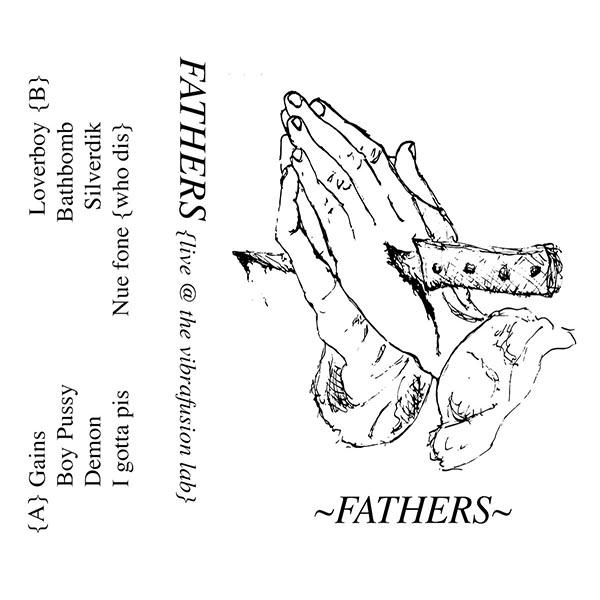 FATHERS
Live @ The Vibrafusion Lab
(Self-Released)
Toronto, ON
From the swollen finger muscles of Rachel Bellone:
Take your favorite dad jokes and turn them into dank memes. Then turn them back into dad jokes. In 30 years, dig them up out of a time capsule and write DIY punk riffs while eating a can of beans over the sink in your WW3 bunker. Even if you followed this recipe exactly, FATHERS could not be replicated. They were born from a web of underground Toronto punk bands and venues (RIP SHIBGB'S). FATHERS are both topical in content and timeless in style. I think it's safe to say we are all children of FATHERS.
Des muscles de doigts enflés de Rachel Bellone:
(Traduit par Julie Mayer)
Prends tes blagues poches préférées et transforme-les en mèmes d'enfer. Puis retransforme-les en blagues poches. Dans 30 ans, déterre-les d'une capsule temporelle et compose des riffs punk DIY tout en mangeant une boîte de haricots au-dessus de l'évier dans ton bunker de la Troisième Guerre mondiale. Même si tu as été fidèle à la recette, les FATHERS ne peuvent être reproduits. Le quatuor est issu d'une toile groupes et de salles appartenant au punk underground torontois (RIP SHIBGB'S). Les FATHERS ont à la fois du contenu actuel et un style intemporel. Je crois qu'on peut dire qu'on est tous les enfants des FATHERS.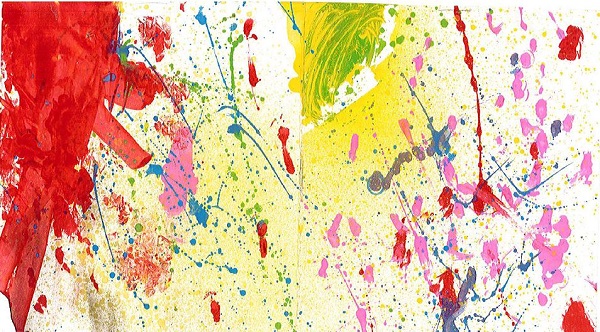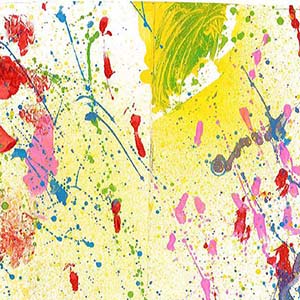 Virgins
Everyone Lost
(Self-Released)
Edmonton, AB
From the bleak worldview of Trevor Angst:
Be still, don't breathe. Doomsday is anthropogenic and takes the form of bio-cybernetic revolt. The planet is threatened and engages to resurrect its biomechanical engines of destruction from its underground dormancy to obliterate humankind. It's the found percussion of hard struck cathedral bells and the incline of a chain hill wooden roller coaster on Everything Dies that mimics dialogue and AI takeover. The droning, Tripod-bass growls are impending. Seismic strides can be mistaken for the sunken heart throbs of those who are enduring a post-apocalyptic world.
Du point de vue austère de Trevor Angst:
(Traduit par les soirées mentholées de Marie-Pier Chevrier)
Immobile, pas un souffle. L'apocalypse est anthropique et prend des airs de révolte biocybernétique. La planète est menacée et s'apprête à ressusciter de leur dormance souterraine ses engins de destruction biomécaniques pour anéantir l'humanité. La percussion retrouvée des cloches de cathédrale sonnées violemment et la pente d'une chaîne de montagnes russes de bois sur Everything Dies mimiquent les dialogues et conquêtes de l'IA. Le bourdonnement et les grognements de basse à Trépied survolent le tout, menaçants. Les éclats sismiques ressemblent à s'y méprendre aux battements de coeur en noyade de ceux qui perdurent dans un monde post-apocalyptique.
Virgins – The Air We Are Breathing (Be Still)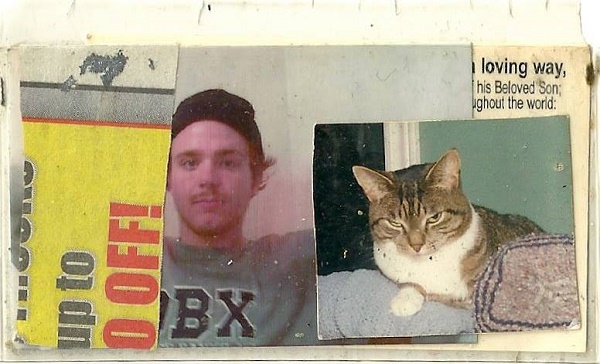 kurt
soft things
(Self-Released)
NFLD
From the cluttered desk of Katie Jensen:
Maybe water will fix everything that's wrong with you. Tighten your internal gears, shift the abstract thoughts, make you loveable. Underneath the surface, your limbs resemble fat peach stems green enough to bend in half.
You swipe your fingers, shooing away bubbles and resisting fluid friction. A fight you can win by yanking out the plug; a fantasy that doesn't translate to dry land.
Deprived of gravity's mulish tug, your face falls like magnetic alphabets slipping from a refrigerator. Plunk, plunk, plunk. They don't spell anything when they hit the ground, just a preschool jumble of half-articulated ideas.
Du bureau encombré de Katie Jensen:
(Traduit par la perspective enfantine de Mackenzie Smedmor)
Peut-être que l'eau réparera tout ce qui ne va pas chez toi; resserrer les engrenages internes, décaler les pensées abstraites, te rendre facile à aimer. Sous la surface, tes membres ressemblent de grosses tiges de pêche vertes que l'on pourrait facilement plier en deux.
Du bout des doigts, tu chasses les bulles et le fluide de friction qui résiste. Une lutte que tu peux gagner en arrachant le bouchon; une fantaisie que la terre ferme ne peut traduire.
Privé de la poigne entêtée de la gravité, ton visage tombe comme des lettres d'alphabet magnétiques glissant d'un frigo. Plouk, plouk, plouk. Elles n'épellent aucun mot en tombant sur le sol; rien qu'un méli-mélo préscolaire d'idées à demi-articulées.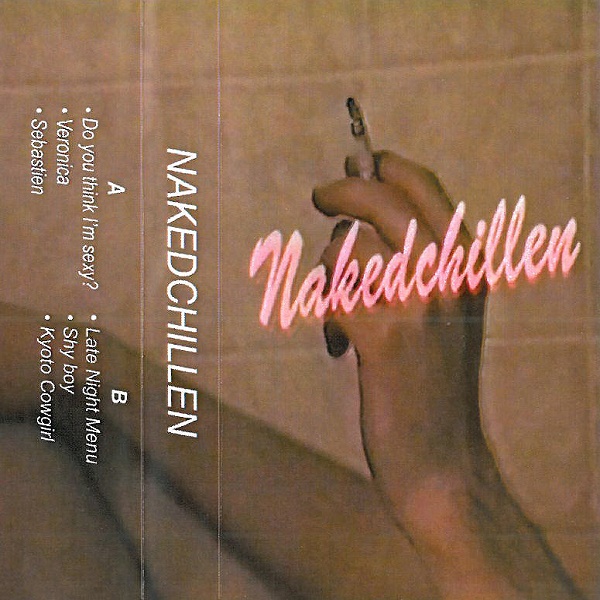 Naked Chillen
Man Dog Love
(Self-Released)
Victoria, BC
From the gilded horse's ass of Sam Joseph:
Another welcome addition to the Victoria DIY bedroom-jazz movement (See: Jons), the musings of Naked Chillen are an ode to fuzzy, booze-soaked memories forged in the sodium vapour-fueled delirium of the concrete jungle after sundown. Man Dog Love is an after-dark hop-skip-jump-and-stumble into a booth at your favourite greasy spoon after one too many libations. What item will you have off of the late-night menu?
Du cul de cheval en or de Sam Joseph:
(Traduit depuis la tête-de-cheval de Nicolas Coutlée)
Autre heureuse addition à la scène « jazz de chambre à coucher » de Victoria (voir Jons), les rêveries de Naked Chillen rendent hommage aux souvenirs flous, imbibés d'alcool, forgés à même les vapeurs de sodium illuminant la jungle de béton nocturne. Man Dog Love est un saut de nuit rapide à votre casse-croûte favori après de trop nombreuses libations. Qu'est-ce que vous prendrez sur le menu de fin de soirée?
Naked Chillen – Do You Think I'm Sexy?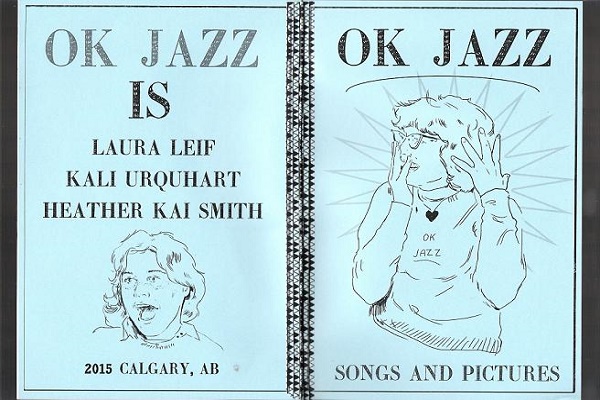 IMAGE
OK Jazz
OK Jazz
(Self-Released)
Calgary, AB
From the swollen biceps of Trevor Angst:
Who remembers weird Canadian sketch comedy Kids in the Hall? OK Jazz do, dedicating a jocular titled track to the pitiful sexist with vegetation for hair. OKJ knows what peeves Cabbage Head and do it best by diving into the fine art of tiered satire. OKJ chants for gender equality in harmonious solidarity. Clean guitar and complimenting overdriven bass tones slither underneath blissful singing. The sound is indefinite and signature throughout their debut. OKJ can belt a shrill voice to drive their take home message; to join their people's club. Anybody is invited. Embrace the state of mind and you won't be waitlisted.
Des biceps enflés de Trevor Angst:
(Traduit par la culture canadienne de Nicolas Coutlée)
Qui se rappelle de Kids in the Hall, cette émission canadienne à l'humour étrange? OK Jazz s'en souvient et dédie un titre plaisantin à ce pitoyable sexiste aux cheveux végétaux. OKJ sait ce qui se trame dans cette tête de chou et l'illustre parfaitement grâce à l'art fin de la satire à niveaux multiples, célébrant l'égalité des sexes dans la solidarité harmonieuse. Une guitare claire complémentée de tons de basse surmultipliée s'immisce sous un chant merveilleux. Sur ce premier album, le son reste indéfini tout en étant distinctif. Mais OKJ peut également scander son message d'une voix stridente : joignez-vous à notre club! Tout le monde est le bienvenu. En adoptant cet état d'esprit, vous pouvez oublier la liste d'attente.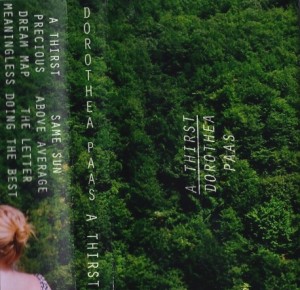 Dorothea Paas
A Thirst
(Self Released)
Kingston, ON
From the strange times of Javier Fuentes:
Kingston's enchanted waters have overflown and revealed another gem in the stream. Fuzzy channels have opened up and let sweet melodies filter through the bedrock. A tape found by the shore guides the way to a relaxing state known only as the end of the mind. The fluttering voice of Dorothea Paas acts like anesthesia as daylight is pushed out by memories emerging from cerebral dust. Pastoral zones are quick to shift back and forth between dreams of broken strings and damaged drum kits jostled by a pair of hands trying to awaken the dormant body. Unwind and immerse yourself in this dream map.
Des temps étranges de Javier Fuentes:
(Traduit par la poussière cérébrale de Virginie Langlois)
Les eaux enchantées de Kingston sont sorties de leur lit et ont révélé une nouvelle merveille. Des canaux flous se sont ouverts et ont laissé de douces mélodies filtrer à travers le substrat rocheux. Une cassette trouvée près de la rive nous guide vers un état de relaxation seulement connu comme la fin de l'esprit. La voix papillonnante de Dorothea Paas agit comme un anesthésique alors que la lumière du jour est expulsée par des souvenirs émergeant de la poussière cérébrale. Les zones champêtres se déplacent rapidement d'avant en arrière entre les rêves de cordes brisées et de batteries abîmées malmenées par une paire de mains qui essaie de réveiller le corps endormi. Détendez-vous et plongez dans ce rêve à l'autre bout du monde.
---