Tag: dirty beaches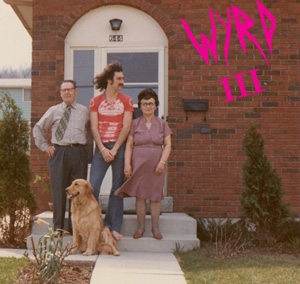 Today is your last day to vote. These final hours are ripe to give you one more reason to believe. BOOM: our keystrokes are bursting with galvanized fervor as we present the official traveling line-up for Wyrd III and the brand new Wyrd Montreal:
///// WYRD III /////
Red Mass
Dirty Beaches
GOBBLE GOBBLE
Wyrd Visions
Sex Church
Famines
Long, Long, Long
Hobo Cubes
Bernardino Femminieli
Velvet Chrome
Feral Children
Silver Dapple
Ketamines
Makeout Videotape
Role Mach
+
???Secret Surprise Guest??? (TBA May 10, 2011)
This wyld traveling caravan (plus local shreddery and other surprises) will be bursting through the following cities:
MAY 20 :: EDMONTON @ Dinwoodie
MAY 21 :: CALGARY @ No. 1 Legion
MAY 22 :: VANCOUVER @ Waldorf Hotel
Tickets for Wyrd III will be available April 1st, 2011! Full band bios, schedule, and other details will be posted next week! Please help us tell the world!
PS – We are doubly excited to let a little secret loose: many of these bands will be tearing through Montreal for a new incarnation of Wyrd. Details soon!
Hearts!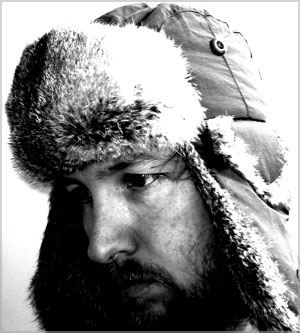 Interview with: Al Bjornaa
From: Scotch Tapes
(conducted by: Zachary Fairbrother)
Batchawana Bay, ON
Scotch Tapes has quickly become Canada's premier cassette label, pumping out thousands of tapes to brilliant minds all around the world. In addition to the plethora of magnetic strips crafted in the ghettos of rural Ontario, Scotch Tapes has been capturing Toronto's burgeoning underground punk scene via plastic lathe-cut brilliance in a collaborative series with Young Guv's Ben Cook. In 2011, they embarked on yet-another lathe-series with Montreal's No Vacation. As 2011 began with the redesign of Scotch Tapes' rather hilarious website and their subsequent world domination, we decided to link Zacharay Fairbrother with Scotch Tapes founder and sole-proprietor Al Bjornaa for a featured chat about his rural adventuring.
Aaron Levin
Weird Canada
www.weirdcanada.com
/////////////// AL BJORNAA INFERRED VIEWS ///////////////
Zachary: I'm into how landscapes and environment influence people's creativity. Why do you base your label where you do [Batchawana Bay]? How do the often cosmopolitan sounds play out in your environment
Al: I base Scotch out of Batchawana Bay because it's close to my family. I have lived all over the country but this has always been home. There have been some health issues in the Bjornaa family the past few years and its been nice to be able to help out. We run a family fishing business and I have had to take a larger role in that. Plus it's a beautiful area. I live on the beach! The north shore of Lake Superior is my favourite place on Earth.
I have always been a huge music fan. Both of my parents love music. Although their tastes may differ from mine, they passed on a passion for good music. Most of the people who live in my area think the music I release sounds like a "badger caught in a wood chipper" but most people from the area think its cool that I run a record label in such a small place. Whenever I go for coffee or breakfast at the local diner, everyone always asks how the label is doing.
I have heard of your beach shows. I hope you will you be doing more of this. Who has played? What was your favorite?
I haven't done an actual beach show in ages but I have had a lot of bands pass through here and hang out for a day or two. Its a tough area to get a decent show. I mean I could likely set up a show in Sault Ste. Marie (which is notorious for TERRIBLE shows) or they can hang out here for a night, have some drinks, go swimming and get a good meal. I am hoping that this year with a new space, I can host more bands and maybe do some recordings and send them back on the road with a new tape or lathe. Some of the best times I've had drinking/ hanging out/ recording have been with Play Guitar, The Famines, Dirty Beaches, Grown-Ups, Gobble Gobble, Nobunny… There are tons. I am hoping to make Batchawana Bay a "must-stop" for bands touring Canada. Not to play shows but to have a great day off mid-tour where they can do laundry, relax, jump in the lake, maybe practice some new stuff they have been working on. 2011 is already getting booked up at Casa de Al with Bucketseat stopping here in March.
I see that your label is doing some collaborative splits. How did this come about?
Yeah. I wanted to work with a few cool labels. I have a lathe series coming out with No Vacation Records (Brett Wagg from Pink Noise/ Campaign For Infinity) Brett basically just asked if I would be interested and since I love the music he puts out, I was totally in. I also put out a 7″ with No Clear Records from Florida. I imagine if any label contacted me and I liked the band, I would probably be interested. I know that Ben Cook (Fucked Up, Young Guv, etc) and I have a few co-releases lined up for his new label, Marvelous Music, as well. We will be co-releasing the Roommates LP this summer/ fall.
I see you have a vast list of upcoming releases. Are all these going to happen??!
You bet your sweet buttocks! In the first two years of Scotch, I released almost 200 tapes. I take the label very seriously. Its become more than a hobby. It's basically a second full-time job. I plan on putting out about 70 tapes, 30 lathes and 10 vinyl releases in 2011. There are times when I get tired and need a break… and those are the times where I just take like 2-3 weeks off, don't check emails and basically disappear. But when I do that, I normally come back with 4-5 releases at once.
What is up with the lathe series? Does the type of Lathe reflect the artist?
Well… I have two series going. There is the Scotch/ Young Guv series. Ben Cook [of Young Guv] records all the bands that share his jam space and then we release a song or two from them. So far, I have put flexis out for Huckleberry Friends, Tropics, Bruised Knees & Lonely Wholesome with Actual Water, Dentata, Wyrd Visions and I think 2 more to come. The other series is the aforementioned series with No Vacation. There are some pretty killer bands scheduled for that like FNU Ronnies and Factums (who I LOVE!) The type of lathe really doesn't come into play. I mean the one I did for We All Inherit The Moon HAD to be a square plexiglass lathe because of the ideas they had for the art but most bands don't really care that much. They just think lathes are fun.
Do you think there is a Canadian Sound? And what from your perspective are the sounds of the different scenes within Canada?
I don't think there is a specific Canadian sound. It's such a vast area geographically that it's tough to narrow down one sound. I think Vancouver has a great weirdo punk scene with bands like Shearing Pinx, Nu Sensae, Twin Crystals, etc. who really have their own genre that isn't like anything else in the country. When you move into the prairies you have bands like Myelin Sheaths, Fist City, Grown-Ups, Moby Dicks… sort of that heavy garage punk stuff. They all totally feed off of each other. Ontario is sort of weird. Toronto is just starting to get a good scene again. I think the bands that Ben and I are releasing on the lathe series are going to get big really fast this year. That jam space is oooozing talent. Montreal always has a great scene. I think that city spawns some of the most creative and unique artists. And the whole Halifax scene… that city reminds me of Portland, Oregon. EVERYONE is in a band and creates visual art and silkscreens t-shirts and makes zines and drinks good beer if they can afford it but will drink shit if that's all they have and dresses cool without thinking they dress cool. One of my absolute favourite cities on the planet!
What has got you most excited about 2011?
SUMMER! I hate winter more than anything! That and doing this interview for Weird Canada! Thanks, Zach…
(Traduit par Odile Leclerc)
Scotch Tapes est rapidement devenu le premier label de cassette au Canada, pompant des milliers de cassettes vers des esprits brillants tout autour du monde. En addition au pléthore de bandes magnétiques bricolées dans les ghettos de l'Ontario rural, Scotch Tapes a capturé la bourgeonnante scène punk clandestine de Toronto via la brillance taillé en plastique dans une série collaborative avec Ben Cook de Young Guv. En 2011, ils embarquaient encore sur une autre série de tour avec No Vacation de Montréal. Alors que 2011 commençait avec le plutôt hilarant site web reconçu de Scotch Tapes et leur domination mondiale subséquente, nous avons décidé de lier Zachary Fairbrother avec le fondateur de Scotch Tapes et unique propriétaire Al Bjorna pour une conversation en vedette à propos de ses aventures rurales.
Aaron Levin
Weird Canada
www.weirdcanada.com
/////////////// LES VUES INFÉRÉES D'AL BJORNAA ///////////////
Zachary: Je m'intéresse à comment les paysages et l'environnement influencent la créativité des gens. Pourquoi fondez-vous votre label où vous faites [Batchawana Bay]? Comment les sons très souvent cosmopolites se déroulent-ils dans votre environnement?
Al: Je fonde Scotch à Batchawana Bay parce que c'est près de ma famille. J'ai vécu partout au pays, mais cela à toujours été ma maison. Il y a eu quelques problèmes de santé dans la famille Bjornaa au cours des dernières années et ce fut bien de pouvoir aider. Nous avons un business de pêche familial et J'ai du prendre un rôle important dans celui-ci. Plus, c'est une belle région. Je vis sur la plage! La côte nord du Lac Supérieur est mon endroit préféré sur Terre. J'ai toujours été un grand fan de musique. Mes deux parents aimaient la musque. Malgré que leurs goûts pouvaient être différents des miens, ils ont passé une passion pour de la bonne musique. La plupart des gens qui vivent dans ma région pensent que la musique que je sors sonne comme ''un putois pris dans une déchiqueteuse à bois'', mais beaucoup de gens de la région pensent que c'est cool que j'ai un label d'enregistrement dans un si petit endroit. Peu importe quand je vais chercher un café ou un déjeuner au resto local, tout le monde me demande comment va le label.
J'ai entendu parler de vos spectacles de plage. J'espère que vous en ferez plus. Qui a joué? Qui était votre préféré?
Je n'ai pas fait un actuel spectacle de plage depuis longtemps, mais j'ai eu beaucoup de groupes qui sont passé par ici et qui sont resté pour un jour ou deux. C'est une région difficile pour avoir un spectacle décent. Je veux dire, je pourrais arranger un spectacle à Sault ste. Marie (qui est reconnu pour ces spectacles TERRIBLES) ou ils peuvent rester ici pour une nuit, prendre quelques verres, aller nager et avoir un bon repas. J'espère que cette année, avec un nouvel espace, Je pourrai accueillir plus de groupes et peut-être faire plus d'enregistrements et les renvoyer sur la route avec une nouvelle cassette ou tour. Quelque uns des meilleurs temps que j'ai eu à boire/sortir/ enregistrer ont été avec Play Guitar, The Famines, Dirty Beaches, Grown-Ups, GOBBLE GOBBLE, Nobunny…il y en a des tonnes. J'espère de faire Batchawana Bay un ''doit arrêter'' pour les gorupes en tournéee au Canada. Pas pour faire des spectacles, mais pour avoir une super journée de congé au milieu de la tournée où ils peuvent faire leur lavage, relaxer, sauter dans le lac et peut-être pratiquer quelque chose de nouveau qu'ils avaient travaillé. 2011 se fait déjà réserver à la Casa de Al avec Bucketseat qui arrête en Mars.
Je vois que votre label fait des séparations collaboratives, comment est-ce que c'est arrivé?
Yeah. Je voulais travailler avec quelques labels cool. J'ai des séries de tours qui sortent avec No Vacation Records (Brett Wagg from Pink Noise/ Campaign For Infinity) Brette m'a juste demandé si j'étais intéressé et puisque j'aime la musique qu'il fiat, j'étais totalement d'accord. J'ai aussi sorti un 7'' avec No Clear Records de Floride. J'imagine que si n'importe quel label me contactait et que j'aimais le groupe, je serais probablement intéressé. Je sais que Ben Cook (Fucked Up, Young Guv, etc) et moi avons quelques co-mise en vente en attente pour son nouveau label, Marvelous Music aussi. Nous allons faire une co-sortie pour le LP de Roommates cet été/automne.
Je vois que vous avez une vaste liste des futures mise en vente. Vont-elles toutes arrivées?
Vous en pariez votre joli derrière! Dans les premières deux années de Scotch, J'ai sorti presque 200 cassettes. Je prends le label au sérieux. C'est devenu plus qu'un hobby. C'est pratiquement un deuxième travail à temps plein. Je planifie de faire sortir 70 cassettes, 30 tours et 10 vinyles en 2011. Il y a des temps où je deviens fatigué et que j'ai besoin d'une pause…Et ces temps sont ceux où je prends juste comme 2-3 semaines de congés, je ne regarde pas mes e-mails, je disparais pratiquement. Mais quand je fais ça, je reviens normalement avec 4-5 sorties en même tmeps.
Que ce passe-t-il avec les séries de tour? Est-ce que le type de tour réfléchit l'artiste?
Bien…J'ai deux series qui s'en viennent. Il y a les séries Scotch/Young Guy. Ben Cook [de Young Guy] enregistre tout les groupes qui partagent son espace de jam et puis nous sortons une chanson ou deux de ceux-là. Jusqu'à maintenant, j'ai sortis flexis pour Huckleberry Friends, Tropics, Bruised Kness & Lonely Wholesome avec Actual Water, Dentata, Wyrd Visions et je pense que qu'il y en 2 qui s'en viennent. L'autre série est la série susnommée avec No Vacation. Il a quelques bons groupes à l'horaire pour ça comme FNU Ronnies et Factums (que J'ADORE!). Le type de tour n'a pas vraiment de rôle. Je veux dire, celui que j'ai fait pour We All Inherit The Moon DEVAIT être un carré de tour en plexiglas parce que les idées qu'ils avaient pour l'art, mais la plupart des groupes ne s'en soucient pas autant. Ils pensent juste que les tours sont amusants.
Est-ce que vous pensez qu'il y a un son Canadien? Et quelle parties de votre perspective sont les sons des différentes scènes au Canada.
Je ne pense pas qu'il y a un son Canadien spécifique. C'est tellement une vaste région géographiquement parlant que c'est difficile de rétrécir le tout à un son. Je pense que Vancouver a une super scène de punk bizarre avec des groupes comme Shearing Pinx, Nu Sensae, Twin Cristals, etc. qui ont vraiment leur propre genre qui n'est pas comme quelque chose d'autre au pays. Quand vous bouger dans les prairies, vous avez des groupes comme Myelin Sheaths, Fist City, Grown-Ups, Moby Dicks….ce genre de truc de lourd punk de garage. Ils se nourrissent tous les uns des autres. Ontario est genre bizarre. Toronto commence à peine à avoir une bonne scène à nouveau. Je pense que les groupes que Ben et moi mettons en vente sur la série de tour va rapidement devenir importante cette année. Cet espace jam déborde de talents. Montréal a toujours une super scène. Je pense que cette ville pond quelque uns des artistes créatifs les plus uniques. Et toute la scène d'Halifax…Cette ville me rappelle Portland, Oregon. TOUT LE MONDE est dans un bande et créer de l'art visuel et des t-shirts sérigraphiques et fait des magazines et boivent de la bonne bière s'ils peuvent se l'offrir, mais vont prendre de la merde si c'est tout ce qu'il y a et ils s'habillent cool sans même penser qu'ils s'habillent cool. Une de mes absolument villes favorites sur la planète.
Qu'est-ce qui vous excite le plus pour 2011?
L'ÉTÉ! Je déteste l'hiver plus que tout! Ça et faire cet interview pour Weird Canada! Merci Zach…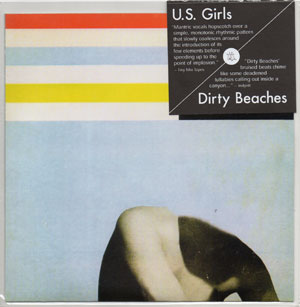 U.S. Girls // Dirty Beaches
Split 7″
Philadelphia, USA // Montreal, QC
From the american shunnery of Aaron Levin:
Dirty Beaches' low-bit explorations through reverb hell have reached an all-time high on the synesthesia scale. Bubbling, smokey pulses of burnt low-end colour his spectrum of hazy crooning and rolling bass-lines like never before. The proto-apocalyptic rock and roll has become a psychotic ride through slow, droning waves of mystery and fear. Songs like "16 Coaches Long Akai Tape" will permeate your grey matter and desecrate any low-light associations, mercilessly running through your mind onwards. The split 7″ is beautifully paired with Philadelphia's U.S. Girls.
De l'évitement américain d'Aaron Levin: (Traduit par les plages sales de Maya Keshav)
Les explorations des débit binaires faibles à travers l'enfer de réverbération de Dirty Beaches ont atteint un nouveau hauteur sur l'échelle de synesthésie. Les pulsations bouillonnantes et enfumées de low-end brûlé faussent son éventail de fredonnements flous et de mélodies déferlantes de basse comme jamais vu. Le rock proto-apocalyptique est devenu un voyage psychotique dans les ondes lentes et bourdonnantes de mystère et de peur. Les telles chansons que "16 Coaches Long Akai Tape" va imprégner ta matière grise et profaner n'importe quelle association de peu lumière, en courant impitoyablement à travers ta tête. Le 7" divisé est merveilleusement jumelé avec U.S. Girls de Philadephia.
Dirty Beaches – 16 Coaches Long Akai Tape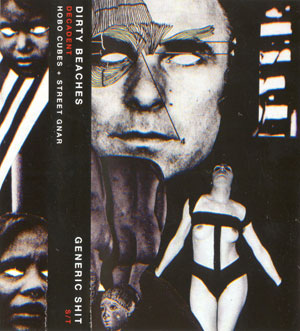 Dirty Beaches + Hobo Cubes + Street Gnar // GENERIC SHIT
Decadent // GENERIC SHIT
Montreal, PQ // Sydney, NS
From the street gnar of Gabriel Jasmin:
Soaked in foggy layers of synths and minimal percussion, Side A's bound-to-greatness collaboration of Montreal's underground champions Dirty Beaches and Hobo Cubes is deeply hypnotic. The flute and synth leads hit the spot and take you far into exotic dreams, while the Suicide-inspired "Stye Eye" pick up the pace, a true highlight on the tape. Nothing too affectionate to be found on Side B. Philip Tarr (from Mess Folk fame) growls his way through the merciless opener "Songs About Shooting Up Prescription Pills". The brain-melting, grueling material from his solo moniker Generic Shit doesn't stop there. Terror! Violence! Dirt! Destruction! Vomit! Death-noise-grind-punk? Yeah, something like that.
Des quelques neurones restantes de Gabriel Jasmin:
(Traduit par Odile Leclerc)
Un véritable rêve léthargique de claviers brumeux et de quelques percussions minimales, difficile de douter de la qualité d'une cassette où la face A est une collaboration de deux poids lourds de l'underground montréalais, Dirty Beaches et Hobo Cubes. Les leads de synthétiseur ou de flute plongent dans les profondeurs du néant hypnotique. Le rythme accélère dans la seconde pièce, Stye Eye, un morceau mémorable avec une performance vocale digne d'Alan Vega. Du bon stock. Rien d'affectueux au menu de la face B, qui fera plutôt fondre quelques neurones avant de tout anéantir sur son passage. Philip Tarr (membre de Mess Folk) gueule et rugit à travers la première pièce Songs About Shooting Up Prescription Pills. Tout est consommé dans cette unique parution solo sous le nom Generic Shit. La terreur! La violence! La saleté! La destruction! Le vomi! Du death-noise-grind-punk, disons ? Oui, peut-être.
Dirty Beaches + Hobo Cubes + Street Gnar – Stye Eye
Dirty Beaches + Hobo Cubes – Folding Landscapes
GENERIC SHIT – Songs About Shooting Up Prescription Pills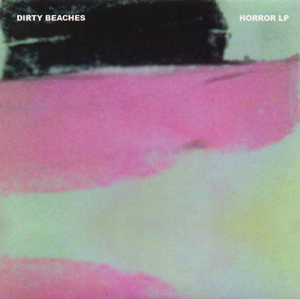 Dirty Beaches
Horror
Montreal, QC
Somewhere deep within the Montreal subway system lurks the one-man-chamber that is Dirty Beaches. I say "deep" because I cannot imagine Horror being recorded outside of some disturbing corner previously forgotten by civil servants and hobos. Harking back to the cavernous solitude of Arthur Russell, Horror departs from the reverb-bellowing to relish in minor-key melodica and hazy room-scapes. Anyone who has ever picked up a melodica has wanted to make this record. They've also realized how difficult it is to actualize these sounds; invitational rhythms to a ruptured dystopia built on echo and cosmic background radiation. You could play this in the most horrific and terrible place on earth and we'd still be curious enough to bare the environment just to see what's going on. Excellent material courtesy of Fixture Records.
Dirty Beaches – Window Rail Seats
Quelque part dans les fonds du métro montréalais se cache la chambre-solo qui est Dirty Beaches. Je dis "dans les fonds" parce que je peux pas imaginer que Horror est enregistré dehors d'un coin troublant auparavant oublié par les fonctionnaires et les clodos. En rappelant la solitude caverneuse d'Arthur Russell, Horror dévie des hurlements réverbérants pour savourer le mélodica en mode mineur et les paysages des salles floues. Quelqu'un qui a déjà touché un mélodica avait envie de créer cet enregistrement. Il s'est aussi rendu compte qu'il est super difficile de concrétiser ces sons; les rythmes attirants à une dystopie fissurée construite avec les échos et le rayonnement cosmique. Tu pourrais le passer dans l'espace le plus terrifiant et terrible et on sera assez curieux d'ouvrir l'environnement pour voir ce qui se passe. La substance excellente grâce à Fixture Records.
Dirty Beaches – Window Rail Seats
---