Tag: dirty beaches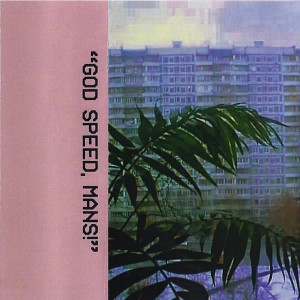 Dirty Beaches // Tonstartssbandht
Russian Tour Tape
Montreal, QC
From the wet-ass mornin of Javier Fuentes:
The Harlem Globetrotters of rock 'n' roll are back with a new highlight reel of no-look dunks and full court swishes. Hall of fame duo Tonstartssbandht stir the crowds into a frenzy with 12-string shred and psychedelic hymns. Dirty Beaches comes in fresh off an MVP effort and drops another statement game with help from The Offset: Spectacles. Don't miss this dream team's championship run.
Du matin pluvieux de Javier Fuentes:
(Traduit par les membres épuisés de Louis Warnock)
Les Harlem Globetrotters du rock'n'roll sont de retour avec une nouvelle collection de moments marquants constituée de dunks à l'aveuglette et de lancés du fond du terrain. Tonstartssbandht, un duo du temple de la renommée, soulève les foules jusqu'à la folie grâce à leur guitare à douze cordes et leurs hymnes psychédéliques. Dirty Beaches, tout frais d'un effort qui pourrait leur mériter la mention de joueurs du match, disputent une autre partie décisive avec l'aide de The Offset: Spectacles. Ne manquez pas cette équipe de rêve au championnat.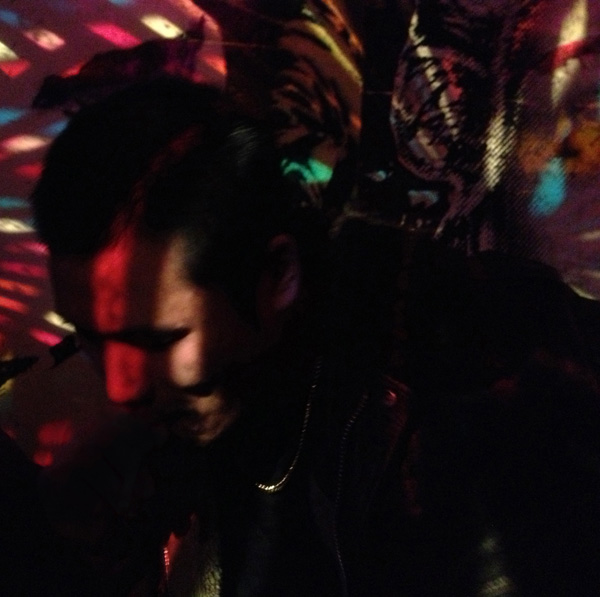 Dirty Beaches
Drifters / Love Is The Devil
Montreal, QC
From the gyrating jugular of Kevin Hainey:
The pain of experience comes at a heavy cost. Some feel better living to the fullest and suffering any consequences that may crop up, while other minds admittedly thrive in comfortable surroundings. Those who are inclined to give will often get burned, while those who seek to take will often gain benefit. Whether you're a giver or a taker, a mover or a shaker, your experiences will always show on your sleeve, and you can never throw away or lose what's yours and yours alone. You can try to hide it or you can get out there and share it, but we all carry our silent burdens and can only strive to be so pitiless as to abolish our guilt, forgive ourselves and appease our consciences.
This is just the kind of heavy shit Dirty Beaches causes me to ponder: personal paths, lost loves, tormented memories, open roads leading to salvation or damnation, and searching, searching, searching… Everybody knows you've got to live the blues to sing the blues. Hot damn, can Dirty Beaches' craftsman Alex Zhang Hungtai sing the blues! This could be why Hungtai has stood out so strongly as a truly new voice amid the endless rows of rock and roll malaise moppers: he's singing and playing from the tormented gut of painful heartbreak, whereas so many singers of today are doing little more than crooning complacent ballads of cheerful conformity from the nullifying navels of their upscale urban surroundings. Dirty Beaches isn't about sitting around, idly sipping tea and listening to records, like so many (myself included) are prone to do — this is music that came to life lurking in black-lit clubs after midnight, searching for salvation and lost desires.
For all his style, miles and miles, Hungtai isn't trying to impress anyone. There are no bells or whistles here, no sugary coatings, copped moves or attitudes. It's not music that's trying to be something, it just is. It is stark, emotional and naked, dripping with sweat and crying out in the night. It is a soul that is hungry, blind with fever and need. It is bloody melodies pumping thick and coagulating over stuttering, convulsing, heart-pounding rhythms. Hungtai moans and caterwauls his desirous murmurs of corrupted love and overbearing cityscapes with enough unbridled fervour and raw desperation to (hopefully) seduce his inner demons into giving him a few nights' peace. After racking himself so mercilessly on vinyl like this, that's all any listener should want for the guy. Of course, Hungtai couldn't have done Drifters without some of Montreal's finest players: Shubhayan Roy (ex of Grand Trine and The Pink Noise), Francesco De Gallo (a.k.a. Hobo Cubes), Bernardino Femminielli (a.k.a. Femminielli) and Toronto's resident lynchpin Jesse Locke (of the Ketamines and Weird Canada).
During the pop-packed opening side of this deservedly applauded masterpiece of a double album, Hungtai makes good and then some on the strong promise of his breakthrough Dirty Beaches effort Badlands by expanding ever so slightly (but just enough to feel the huge concert hall potential) upon his grimy homespun post-Suicide / lost Elvis stylings and Nebraska-bleak slices of narrative. The ache of Badlands might have struck amorously close to the bone at a time when most singers were barely cutting skin deep but this first side of Drifters, with its devilish cycle of stunning minimalistic pop songs, slashes that desirous neon wound to gushing and lets the black-lit lifeblood flow out by the gallon.
The reverb-soaked "Night Walk" gets this post-pop procession going on the good foot with its dub clatter, forward-driving bass-line and "with the radio on" refrains. This instant high-water mark continues with the hypnotic cruise of "I Dream In Neon" and strung-out back-alley atmospheres of "Belgrade," until surefire single "Casino Lisboa" offers the most cathartic emotional release of this entire double affair in the song's rare and highly charged chorus section — lit up by neon dreams on neon streets. Poetic and soft, "ELLI" thereon draws from the best aspects of early Orchestral Manoeuvres in the Dark (such as "Julia's Song") for a male fantasy of feminine yearning that fades out with the words "Don't you go…"
If Dirty Beaches' songs are broken-down portraits of modern day heartbreak and disillusion, they're told as though through the fragmented veil of a dream, or a fucking nightmare. The non-English second side of Drifters is where the intense romanticized ideal that's been established in the album's musical narrative warps inwardly on itself like a passionate affair taking a turn down a terribly dark path. The instantly accessible pop forms and pavement-pounding rhythms of side one give way to the berating monologic and percussive assault of "Aurevoir Mon Visage." This is closely followed by the album's confrontational centre-piece-de-resistance, "Mirage Hall," a 10-minute shape-shifter that's gloriously easy to liken to Sparks' brilliant "No. 1 Song In Heaven" being inverted into a psychotic couple's meltdown episode in hell. It's the album's "Frankie Teardrop". That said, the closing instrumental "Landscapes in the Mist" is as alienating as it gets, a desert-shore trip into Zoviet France's mystic territory that's astoundingly worthy of the heady comparison.
This monumental album plays through so akin to how a hot-blooded love affair can organically form only to go terribly wrong, end and dissipate, you have to wonder if it was intentional. If Drifters covers the steamy meeting, romantic twists and eventual heart-wrenching dissolution of a relationship, then the largely instrumental second record Love Is The Devil impressionistically tracks a solitary man's lonely road back to himself and his heart, across barren landscapes of personal reevaluation and self-discovery. One can only hope Hungtai's possible protagonist finds inner resolve in the repetitive, anaesthetizing strains of lengthy album closer "Berlin," as the lonely lyrics of the echoing ballad "Like Oceans We Part" (a song wonderfully reminiscent of acid folkies Jakob Olausson and Ignatz) only speak of drifting away, farther apart with the sea, away from true love.
Much like Dirty Beaches' output beyond Badlands and some of their many 7-inches, Love Is The Devil is incredibly personal instrumental music, but that only reflects another fine aspect of what love is: something incredibly personal you can't put into words. Lucky for us lovers, Alex Zhang Hungtai can express the inherent pain of love a whole lot better than so many of us, with or without words.
De la jugulaire giratoire de Kevin Hainey:
(Traduit avec le cœur brisé de Dominic Mpilé et les tripes néons de Hugo Hyart)
Il y a un prix à payer pour l'expérience. Certains préfèrent vivre le plus pleinement possible et en subir les conséquences, d'autres trouvent joyeusement leur compte dans un environnement confortable. Ceux qui ont tendance à donner sont souvent déçus, alors que ceux qui cherchent toujours à prendre en tirent souvent profit. Qu'on donne ou qu'on prenne, qu'on soit un voyageur ou un danseur, les expériences vécues collent toujours à la peau, et on ne peut jamais jeter ou perdre ce qui n'appartient qu'à nous-mêmes. On peut essayer de le cacher ou tenter d'aller le partager de par le monde, mais nous portons tous un fardeau en silence, tant et si bien qu'on ne peut qu'essayer d'être impitoyable au point d'éliminer notre culpabilité, de nous pardonner à nous-mêmes, d'apaiser nos consiences.
Tels sont les graves terrains de méditation sur lesquels Dirty Beaches m'entraîne : les parcours personnels, les amours perdus, les souvenirs tourmentés, les chemins menant au salut ou à la malédiction, et la quête sans fin : chercher, chercher, chercher… On sait tous qu'il faut vivre le blues pour chanter le blues, et Alex Zhang Hungtai, le maître d'œuvre de Dirty Beaches, sait chanter le blues! C'est peut-être pourquoi Hungtai s'est tant démarqué comme véritable nouvelle voix dans les rangs sans fin des chantres du malaise du rock'n'roll : il chante et joue avec les tripes des battements tourmentés de son cœur meurtri, là où tant de chanteurs aujourd'hui se contentent de ballades suffisantes, se conformant joyeusement aux standards nihilistes de leurs quartiers chics. Dirty Beaches, ce n'est pas rester chez soi à boire tranquillement du thé et à écouter des disques, comme beaucoup (moi y compris) sont enclins à le faire. Cette musique émerge des clubs obscurs où l'on traîne après minuit en quête du salut et des désirs perdus.
Malgré des kilomètres et des kilomètres de panache, Hungtai n'essaie d'impressionner personne. Aucun grelot ni tape à l'œil, aucun artifice, aucune gestuelle ou attitude préparée. Ce n'est pas de la musique qui cherche à être quelque chose, elle est tout simplement. C'est émotionnel, nu et cru, ça transpire à flots en criant dans son sommeil toute la nuit. C'est de l'âme qui a faim, aveuglée par la fièvre et le besoin. Ce sont des mélodies sanguines qui coulent dans les veines et coagulent au rythme bégayant et convulsant des battements du coeur. Hungtai gémit et miaule des murmures avides d'amour corrompu et d'oppression urbaine avec assez de ferveur débridée et de désespoir pour (espérer) séduire ses démons intérieurs afin qu'ils lui laissent quelques nuits paisibles. En l'écoutant se torturer ainsi sur vinyle sans merci, c'est tout ce que l'on peut lui souhaiter. Évidemment, Hungtai n'aurait jamais pu accoucher de Drifters sans le concours de quelques-uns des meilleurs musiciens de Montréal : Shubhayan Roy (ex-membre de Grand Trine et de The Pink Noise), Francesco De Gallo (alias Hobo Cubes), Bernardino Femminielli (alias Femminielli) et l'indispensable Torontois Jesse Locke (des Ketamines et de Weird Canada).
Tout au long de la première partie, chargée de pop, de ce chef-œuvre qui mérite décidément toutes les éloges qu'il a reçues, Hungtai surpasse les espérances gigantesques suscitées par Badlands, le premier disque de Dirty Beaches, en élargissant très légèrement (juste assez pour faire sentir le potentiel immense du son en salle de concert) son produit maison post-Suicide / Elvis perdu en tranches de vie sombres à la Nebraska. La douleur de Badlands a sans doute touché beaucoup très près de l'os à une époque où la plupart des chanteurs se taillent à peine l'épiderme, mais cette première moitié de Drifters, avec son cycle diabolique de superbes chansons pop minimalistes, plonge le couteau dans le vif jusqu'à ce que ça jaillisse et laisse s'écouler le sombre sang vital en cascade.
« Night Walk », ruisselant de réverbération, lance cette procession post-pop avec ses claquements dub et ses lignes de basse entraînantes. L'aventure se poursuit en promenade hypnotique dans « I Dream in Neon » puis en atmosphère de ruelle narcotique avec « Belgrade », avant que le single à coup sûr « Casino Lisboa » offre le moment le plus émotionnel et cathartique de cette double oeuvre dans son refrain, peu commun et très chargé, aux lueurs de rêves de néon dans des rues de néons. Poétique et douce, « ELLI » tient des meilleurs aspects des débuts de Orchestral Manoeuvres in the Dark (comme « Julia's Song ») : un fantasme masculin de désir feminin qui s'évanouit avec les mots « Don't you go… »
Si les chansons de Dirty Beaches déconstruisent les chagrins d'amour et les désillusions modernes, elles sont interprétées comme au travers du voile troué d'un rêve, ou d'un putain de cauchemar. La deuxième face de Drifters, qui est sans anglais, est celle où l'on voit l'intense idéal romantique établi dans la narration musicale se déformer vers l'intérieur, comme une histoire d'amour passionnée qui prend un virage à cent quatre-vingt degrés en direction d'un chemin terriblement sombre. Les formes pop facilement accessibles et le rythme à battre le pavé de la première moitié cèdent place à l'attaque percussive du monologue/sermon « Au revoir mon visage ». Suit rapidement la conflictuelle pièce de résistance « Mirage Hall », 10 minutes de métamorphose, qu'on associera facilement à la brillante « No. 1 Song in Heaven » de Sparks, transformée en un épisode de crise pour un couple psychotique en enfer. C'est le « Frankie Teardrop » de l'album. Ceci dit, la pièce instrumentale de clôture, « Landscapes in the Mist » est le comble de l'aliénation, une escapade dans le désert mystique de Zoviet France remarquablement digne de cette comparaison téméraire.
Cet album monumental ressemble tellement à la façon dont une histoire d'amour torride peut se former organiquement, pour finir affreusement mal et se dissiper, qu'on ne peut que se demander si ce n'était pas intentionnel. Si Drifters évoque les premières rencontres, les jeux d'amour romantiques et la déchirante dissolution finale d'une relation, le deuxième disque largement instrumental, Love Is The Devil, suit par impressions le chemin de retour d'un homme solitaire vers lui-même et son propre cœur, à travers les paysages dénudés et arides de la remise en question et de la redécouverte de soi. On ne peut qu'espérer que le protagoniste possible de Hungtai trouve la réconciliation intérieure dans les tensions répétitives et analgésiques du long morceau d'épilogue « Berlin », tandis que les paroles esseulées de la ballade « Like Oceans We Part » (un morceau qui rappelle merveilleusement le folk psychédélique de Jakob Olausson et Ignatz) ne parlent que de dériver plus loin sur l'océan, loin de l'amour véritable.
Dans la lignée de la production de Dirty Beaches après Badlands et leurs nombreux 45 tours, Love Is The Devil est instrumental et incroyablement personnel, un peu comme l'amour : quelque chose d'incroyablement personnel qu'on ne peut exprimer avec des mots. Heureusement pour nous autres amoureux, Alex Zhang Hungtai peut exprimer la douleur inhérente à l'amour bien mieux que la plupart d'entre nous, avec ou sans mots.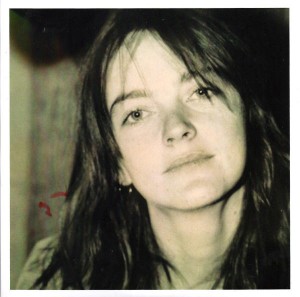 Dirty Beaches
Elizabeth's Theme
Montreal, QC
From the quiet storm of James Lindsay:
Alex Zhang Hungtai continues his lonely trek down the cinematic instrumental highway, a similar stretch of road that he drove with his synth-laden contribution to the Statement four-way split. For this one-sided 7", he makes a graceful left turn towards the quiet storm to a place few have been since the '70s, contemplative and almost completely obscured by clouds.
De la tempête tranquille de James Lindsay:
Alex Zhang Hungtai poursuit son périple solitaire le long de l'autoroute instrumentale cinématique, une portion de route similaire à celle qu'il a parcourue avec sa contribution saturée de synthés pour le split à quatre Statement. Pour ce sept pouces à face unique, il vire à gauche tout en douceur vers la tempête tranquille que peu ont daigné braver depuis les années 1970, un endroit propre à la contemplation et obscurci par les nuages dans sa quasi-totalité.
Dirty Beaches
On The Road To
God Knows Where 2
[Dir. By: Alex Zhang Hungtai]
(European Tour 2012)

For the past six weeks, my life flipped from Weird Canada editor to
Dirty Beaches
drummer/driver on a motorik expedition through Europe. The montage above (filmed by Alex Zhang Hungtai on iPhone's 8mm video app, 'natch) gives a glimpse into the 23 hours we spent each day in-between shows, including white knuckle mountain drives, parking lot slow dances, basement bro tats in Copenhagen, behind-the-scenes footage from a food blog in Belgium, sexy wallpaper in Rotterdam, and a potentially NSFW truck-stop washroom purchase. Meanwhile, the soundtrack provides snippets of our in-car listening: Alice Coltrane, Liaisons Dangereuses,
Mac DeMarco
, a Nick Cave audiobook, etc. Big ups to Elias, Jakob, Etienne, multiple Chrises, Francesco, Line, Edda, Brando, Michael, Yann, Tess, Tara, and anyone else who made this tour a blast. Viva Europa!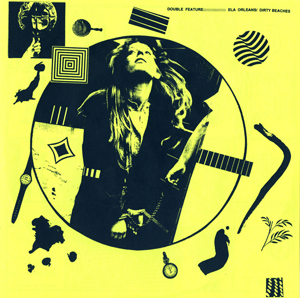 Dirty Beaches // Ela Orleans
Double Feature
Montreal, QC // Plymouth, UK

Canada's prime officer of cool meets
England's queen
(of baroque pop), sibling solo sculptors of static foggy goodness. Dirty Beaches'
Badlands
b-sides find a home here, living through Super 8 memories and dissolving time into slow swaying cigarette smoke. A strung out cinematic soundtrack for a long overnight
train ride
.
Des 18 ips de Gabriel Jasmin:
Une rencontre officielle entre le délégué national Canadien du Cool et la reine d'Angleterre (de la pop baroque), tous les deux sculpteurs solos de brouillard et d'énergie statique. Côté Dirty Beaches, on trouve les B-sides de Badlands, aériens et intemporels comme une fumée de cigarette projetée en Super 8. Des sons détachés et cinématographiques, du genre long trajet de train de nuit.
[audio:http://weirdcanada.com/wp-content/uploads/2011/12/Weird_Canada_-_Dirty_Beaches_-_Crosses.mp3|titles=Dirty Beaches – Crosses] Dirty Beaches – Crosses
[audio:http://weirdcanada.com/wp-content/uploads/2011/12/Weird_Canada_-_Ela_Orleans_-_Neverend.mp3|titles=Ela Orleans – Neverend] Ela Orleans – Neverend
[audio:http://weirdcanada.com/wp-content/uploads/2011/12/Weird_Canada_-_Dirty_Beaches_-_Death_Valley.mp3|titles=Dirty Beaches – Death Valley] Dirty Beaches – Death Valley
Dirty Beaches
White Sand
[Director: Tsien-Tsien Zhang]
[Cinema.: Christopher Doyle]
Vancouver, B.C.

Not exactly sure how the entire world missed this one. Very quietly sometime last week Alex Zhang Hungtai a.k.a.
Dirty Beaches
posted the final product of one of his dreams come true: a music video directed by Tsien-Tsien Zhang with cinematography by
Christopher Doyle
. Mr. Doyle is of course the man who helped give legendary Hong Kong director Wong Kar-wai's films their distinct look with his fast & loose approach to shooting. The result of this unique technique gives the work a very natural, human perspective. You quickly forget you are even watching a film and sink deep into the world they create.
Doyle & Kar-wai's collaborations include a long list of masterpieces such as Chungking Express (1994), Fallen Angels (1995), Happy Together (1997), In the Mood for Love (2000), etc, etc. The video for "White Sand" feels very much like a vignette from one of these films with its voyeuristic, fly-on-the-wall approach, moody drifting shots and abundant (but mild) NSFWisms. It's clear with the absence of >tired tropical tropes, that is to say the imagery that indie-rock has beyond pillaged in the last few years, that "White Sand" stands as simply a state of mind.
In the days where most young bands use old sourced footage to make quick videos on the cheap in a fast grab, the impact might not be as heavy seeing something so eloquent, warm grainy and hypnotic. Your connectopathic brain is trained to think that something so beautiful could not possibly be original. However when you are informed that this is original footage, shot and directed by professionals specifically to accompany the music it takes on a whole new life and meaning. We are simply not used to seeing this type of thing attempted by unsigned bands in the underground.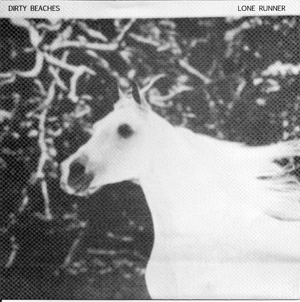 Dirty Beaches
Lone Runner b/w Stye Eye
Vancouver, BC
From the honkey-tonk minimalism of Jared Majeski:
Plodding along the unending hallways and caves of life, we lust for the sedatival inspyrations of happiness slung to the souls, throats and pasts of others. Alex Hungtai stars as Dirty Beaches and has for the past few years laid bare the minimalism that the over-saturated (that's you!) and inundated generation(s) crave. This new 7" (the haunting "Lone Runner" and a reissue of "Stye Eye") lets you slink into chicken wire honky-tonk darkness; like reverberated leather, Bakersfield-cum-Nayshville yelps all set to a comfort-drug soundtrack. With two, sometimes three psychedelic tongue-wagging crooners and percussive mutants as accompaniment, it's time for you to think less, listen more and step out from behind that beautiful shell into the great divide.
Du minimalisme honky tonk de Jared Majeski: (Traduit par les cavernes infinies de Maya Keshav)
En marchant dans les couloirs et les cavernes infinis de la vie, on a envie des influences soporyfiques du bonheur dans les âmes, les gorges et les passés des autres. Alex Hungtai est mis en vedette en tant que Dirty Beaches et depuis quelques années il dévoile le minimalisme dont les trop-saturés (c'est toi!) et les générations inondées ont envie. Ce nouveau 7" (le "Lone Runner" obsédant et une reprise de "Stye Eye") t'enveloppe dans le noir à la grillage honky tonk; comme le cuir réverbéré, Bakersfield-devenu-Nayshville jappe à une bande-son de drogue-confort. Avec deux, parfois trois chantonneurs psychédéliques et les mutants de percussion comme accompagnement, il est temps que tu penses moins, écoutes plus, et sortes de cette belle coquille pour entrer dans le grand vide..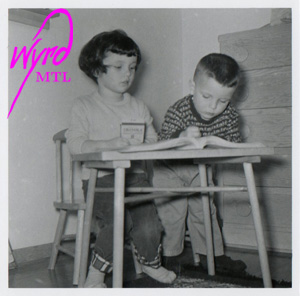 Wyrd MTL
2011 Mixtape
(Self Released)
Montreal, QC

With less than a week until
Wyrd MTL
we're excited to offer a quickie sampler mix spotlighting the 10 artists from this year's inaugural lineup. All have been previously featured on Weird Canada, and will appear in the flesh on Monday, June 20 at La Sala Rossa.
Grip your tickets
!
[audio:http://weirdcanada.com/binary/WYRD-MTL-2011-MIX.mp3|titles=Wyrd MTL 2011 Mix (track-listing below)] Wyrd MTL 2011 Mix
Track-listing
[00:00] :: Lantern – "I Don't Know"
[03:50] :: Ultrathin – "Glass City"
[06:40] :: Dreamcatcher – "Dr. Clawk"
[10:15] :: Hobo Cubes – "Through The Ages"
[12:57] :: Dirty Beaches – "Coast to Coast"
[17:17] :: The Friendly Dimension – "Executive Koala"
[20:25] :: Shortpants Romance – "Heatwave"
[21:15] :: Man Made Hill – "Er Her"
[23:20] :: D'eon – "Thousand Mile Trench"
[29:08] :: Headaches – "Poor Decisions"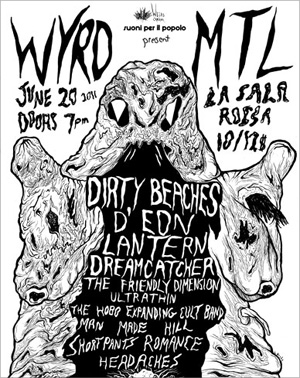 Wyrd MTL
Monday June 20, 2011
Montreal, QC

We're proud to officially announce the eastern expansion of the Wyrd cosmos. Thanks to the exceptionally hard-work of Jesse Locke, Gabriel de Jasmin, and Suoni Per Il Popolo, Wyrd MTL will invade Montreal on Monday June 20, 2011. The format and philosophy remain pure; a double-stage frenzy of fringe adjectives will blaze through an evening stacked with over ten performers. With a secondary stage built specifically for Wyrd MTL, the folks at La Sala Rossa have gone the extra-extra mile and are housing a "MEGA BAZARR" of merch featuring visual art, purveyors of printed matter and Canada's finest record labels. There is also tell of a taco truck hitting the pavement at 7pm. Full line-up and set-times below! For further information,
visit here
.
8:00 :: HEADACHES (Toronto, ON)
— Cortex dream jams from the cyborg mind of Landon Speers
— why we love them: here.
8:30 :: SHORTPANTS ROMANCE (Montreal, QC)
— Blitzkrieg garage punk and femme fatale charms
— why we love them: here.
9:00 :: ULTRATHIN (Montreal, QC)
— Scab-blasting noise-rock from three skinny dudes
— why we love them: here.
9:30 :: THE FRIENDLY DIMENSION (Halifax, NS)
— The black holy vortex into total freak-rock oblivion
— why we love them: here.
10:00 :: MAN MADE HILL (Toronto, ON)
— Dungeon dwelling one-man funk machine
— why we love them: here.
10:30 :: HOBO EXPANDING CULT BAND (Montreal, QC)
— A one-off collaboration from Hobo Cubes, Femminieli, JLK, Sundrips, Element Kuuda and more!
— why we love them: here.
11:00 :: DREAMCATCHER (Montreal, QC)
— Mind-smudging experimental spookery
— why we love them: here.
11:30 :: LANTERN (Montreal // Halifax // Philadelphia)
— Psych-blues freak-outs from the Zachary Fairbrother smoke ring
— why we love them: here.
12:00 :: DIRTY BEACHES (Vancouver, BC)
— Film noir nomad riding on a lonely highway
— why we love them: here.
12:30 :: D'EON (Montreal, QC)
— Terry meets Teddy Riley on a g-funk rollercoaster
— why we love them: here.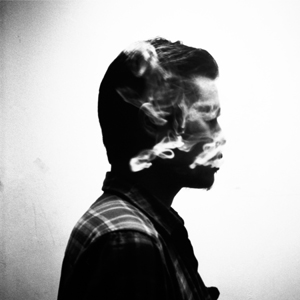 Dirty Beaches
Badlands
Vancouver, BC

Badlands
is quite a venture. From swaying croons to strenuous screams, we continue to follow Alex Zhang Hungtai's solo foray into personal fiction. More mature than
previous outings
, this LP contains his best songs yet, and reveals a more aggressive side to his traditional film noir chic. It's a scratchy and loopy ride,
revisiting the past
while staying firmly grounded in a singular breezy headspace of conceptual avant-garde. I'm so glad everyone seems to be enthused on just how good Dirty Beaches' sounds are right now.
Du kilométrage 16mm de Gabriel Jasmin:
Badlands est une expédition. Par la romance chancelante susurrée et les cris astreignants, on continue de suivre Alex Zhang Hungtai jusqu'au creux de sa fiction personnelle. Plus mature que sur ses parutions passées, on le trouve à son meilleur sur ce premier LP, en plus de lui découvrir une agressivité nouvelle à même son habituel chic de film noir. Égratigné et cyclique, le chemin revisite le passé pour le juxtaposer habilement avec une vision conceptuelle singulière et avant-gardiste. Récent favori des critiques, je ne peux penser à un artiste qui le mérite davantage.
[audio:http://weirdcanada.com/wp-content/uploads/2011/05/Weird_Canada-Dirty_Beaches-A_Hundred_Highways.mp3|titles=Dirty Beaches – A Hundred Highways] Dirty Beaches – A Hundred Highways
[audio:http://weirdcanada.com/wp-content/uploads/2011/05/Weird_Canada-Dirty_Beaches-Lord_Knows_Best.mp3|titles=Dirty Beaches – Lord Knows Best] Dirty Beaches – Lord Knows Best
---