Tag: diane beaupre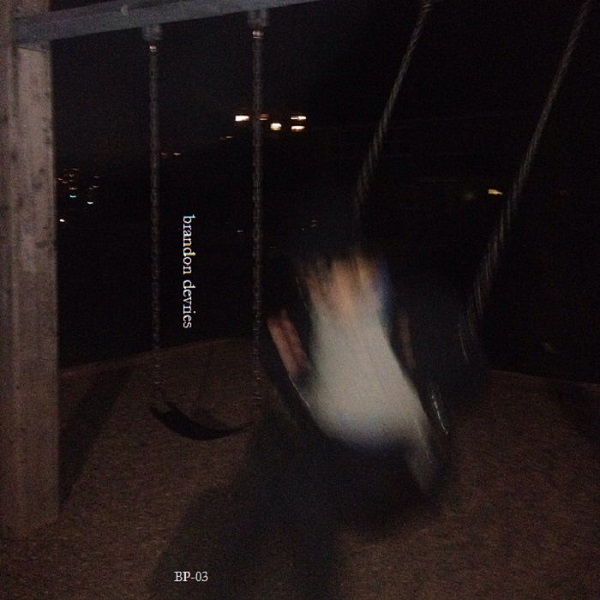 Brandon DeVries
Self-Titled
(Self-Released)
Halifax, NS
From the many couches of Eva Jane:
For a short sweet 12.1 minutes you get to join Brendan DeVries in their bedroom. The intimacy they have with their lyrics provides you with the sense that you're not in the room with them, but sitting outside, leaning against the wall by the door frame, listening in. And one gains an understanding that this is what they intended. They carry the light and delicate parts of an ethereal touch throughout this self titled album, bringing normal terrestrial business (such as in "Peach Pit" and "Shower Song") a little higher. Another good folk sharing their individual, natural feedback.
Des nombreux divans d' Eva Jane:
(Traduit par Diane Beaupré)
Pendant 12,1 brèves et charmantes minutes, vous avez le privilège d'être avec Brendan DeVries dans sa chambre. L'intimité qu'elli partage avec les paroles vous donne l'impression que nous n'êtes pas dans la pièce avec sol, mais assis contre la porte à l'extérieur de la chambre. Et vous réalisez que c'est ce qu'elli souhaitait. Elli donne à tout l'album éponyme une impression aérienne composée de parties légères et délicates, qui emporte les préoccupations terre-à-terre un peu plus haut (comme dans les morceaux "Peach Pit" et "Shower Song"). Un autre bon personne qui exprime ses propres opinions au naturel.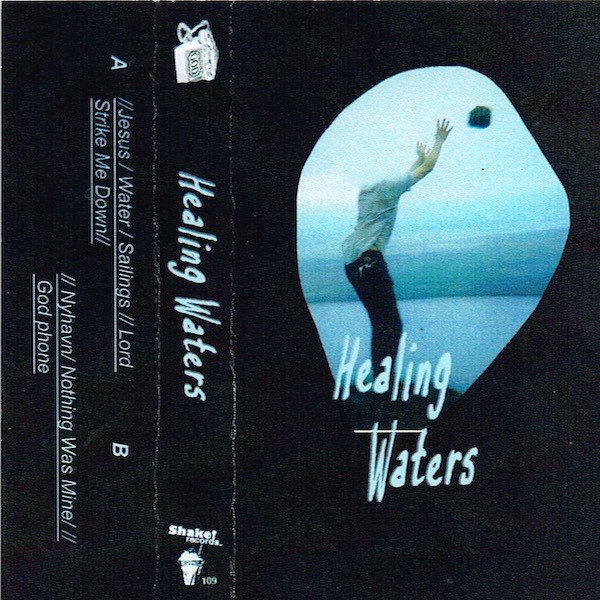 Healing Waters
Water
Victoria, BC
From the aquaphobic hallucinations of Sara Bortolon-Vettor:
Curves of black and blue fluid create a divine ripple effect. Sun sparkles. The water is warm. Our minds bloat and float away like abandoned canoes, left to drift. Passengers' punctured souls litter the water's floor. As the heaviness behind our eyes turns our gaze downward, staring into the water, we wonder whether our thoughts will drown. Be gone forever.
Des hallucinations aquaphobiques de Sara Bortolon-Vettor:
(Traduit par Diane Beaupré)
Des courbes de fluides noirs et bleus créent un effet d'ondulation divin. Le soleil brille. L'eau est chaude.. Nos esprits se gonflent et partent à la dérive comme des canots abandonnés à la merci du courant. Les âmes perforées des passagers jonchent le plancher des eaux. Alors que nos paupières lourdes nous font baisser les yeux et fixer les profondeurs de l'eau, nous nous demandons si nos pensées couleront. Disparaître à jamais.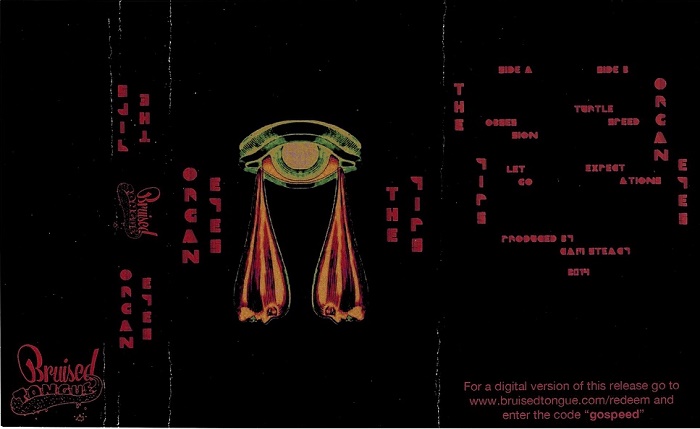 The Yips // Organ Eyes
Split
Ottawa, ON
From the new season of Matthew Blenkarn:
Winter's gone and colour's returned. Bleary-eyed yet bushy-tailed, people snow-crushed souls wake from hibernation and stumble from basement apartments onto clear, sunny sidewalks. Children spout popcorn refrains from recent blockbusters, as radio melodies float from passing cars to rest in pedestrians' ear canals. As bright days fade to humid nights, idle hooks from Centretown streets plants dreams of festivals and patio parties in residents' slumbering subconscious.
De la nouvelle saison de Matthew Blenkarn:
(Traduit par l'hémisphère gauche de Diane Beaupré)
L'hiver est parti, les couleurs reviennent. Les yeux bouffis, mais pleins d'énergie, les âmes des gens écrasées sous le poids de la neige sortent de l'hibernation des sous-sols et émergent sur les trottoirs dégagés et ensoleillés. Tandis que les chansons des radios des voitures qui passent se posent dans les canaux des oreilles des passants, les enfants chantent les refrains entraînants des récents succès. Alors que les journées illuminées se transforment en soirées humides, l'oisiveté s'accroche aux plantes du centre-ville qui rêvent de festivals et de partys sur le patio de résidents endormis béatement.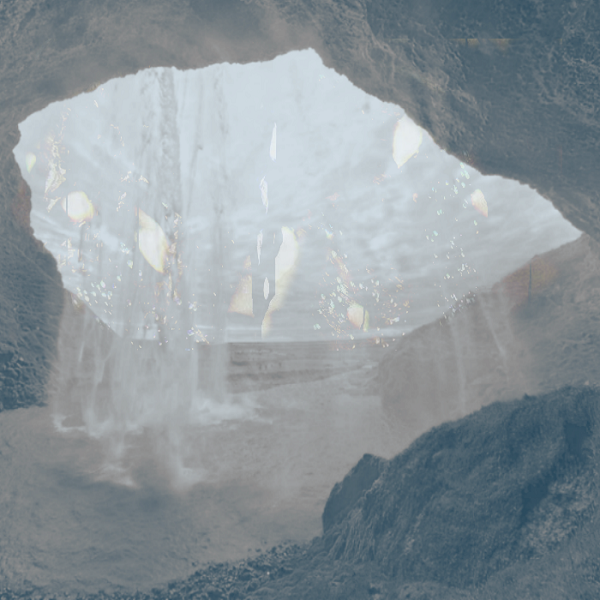 Supercooling
Wild Blue Yonder
Montreal, QC
From the night shift mind of Stefan Christoff:
Supercooling is a perfect nighttime listen, a radiant drone project between Catherine Debard and Matt May. Their layered soundscapes are ethereal while also suggestive of radio waves. The interplay between the artists is dynamic and beautifully entwined. As Matt's layered guitar creates landscapes, Catherine's electronics oscillate between, often acting as a voice. Sounds on this album really do evoke a voyage in the clouds, but beyond airplanes, the tracks are otherworldly. Wild Blue Yonder is a soundtrack for difficult to describe dreams: those crazy ones when you're flying above the earth, when all we are told is impossible is suddenly real.
De l'esprit nocturne de Stefan Christoff:
(Traduit par l'hémisphère de Diane Beaupré)
Supercooling est la musique parfaite pour une écoute nocturne, un éclatant drone bourdonnant entre Catherine Debard et Matt May. Les sons superposés évoquent à la fois une ambiance éthérée et des ondes radio. L'interaction entre les musiciens est dynamique et démontre une belle connivence. Souvent, telle une voix qui porte, le son électro de Catherine se faufile entre la guitare de Matt qui crée les paysages. Comme s'ils étaient d'un autre monde, les sons de cet album évoquent un voyage dans les nuages, bien au-dessus des avions. Wild Blue Yonder est la bande sonore de ces rêves difficiles à décrire, ces rêves fous où vous flottez au-dessus de la terre, où tout ce que vous croyiez impossible est tout à coup réel.
Supercooling – Our Shadows Are Made of Mist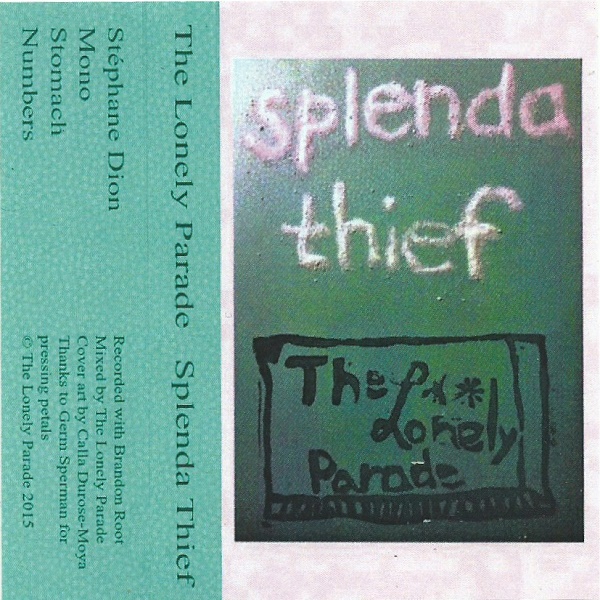 The Lonely Parade
Splenda Thief
(Self-Released)
Peterborough, ON
From the hive-mind of Mike Roy:
There is a desire for the real and the raw on "Splenda Thief," a title that reflects a need to strip away the artifice for an experience that can only be described as truthful. Slowly revealed over the course of the EP, The Lonely Parade use their music as a weapon of sonic destruction to strip away the feigned and the forced. The first half of their tape strikes physically, pulsating over a wall-of-sound and lo-fi vocals to awake the senses. Those physical sensations are brought into embracive light on the latter end, awakening a disclosure ceaselessly being uncovered but continuously being sought.
De l'esprit collectif de Mike Roy:
(Traduit par l'hémisphère gauche de Diane Beaupré)
On sent le désir de l'authenticité à l'état brut en écoutant Splenda Thief, un titre qui illustre la nécessité d'éliminer tout artifice d'une expérience qui ne peut qu'être qualifiée de vraie. Révélée lentement tout au long du EP, la musique de The Lonely Parade sert d'arme de destruction sonore pour éliminer tout ce qui est feint et faux. La première moitié de l'enregistrement vient nous chercher physiquement en faisant vibrer un mur de sons et de voix pour réveiller les sens. Ces sensations se transforment plus tard en lumière, réveillant l'inconnu qui se révèle constamment, mais que l'on cherche toujours.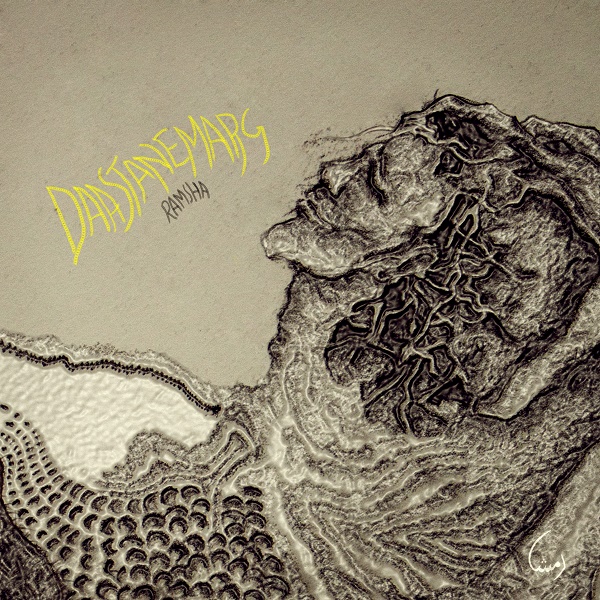 .ramsha
Daastanemarg EP
(Self-Released)
Mississauga, ON
From the sliding scales of Ana Lasevitch:
.ramsha journeys into the liminal state between wakefulness and sleep, bartering basslines for shreds of memories. The ebbs glaze your yawns and summon disquiet, preparing you for the drift into the hazy "other." As you lose sight of the shore, the skies glow with compassion. Dreams coil around your limbs, and keep you buoyed in the eye of the storm.
Des gammes galoppantes d' Ana Lasevitch:
(Traduit par l'hémisphère de Diane Beaupré)
.ramsha voyage entre le réveil et le sommeil, troquant une basse contre des bribes de souvenirs. Les marées étouffent vos bâillements et soulèvent l'inquiétude, vous préparant pour une dérive vers l'énigmatique « autre ». Alors que vous perdez de vue le rivage, les cieux brillent de compassion. Les rêves enveloppent vos membres et vous gardent à flot dans l'œil de la tempête.
.ramsha – Cosmic Meditation Killed Me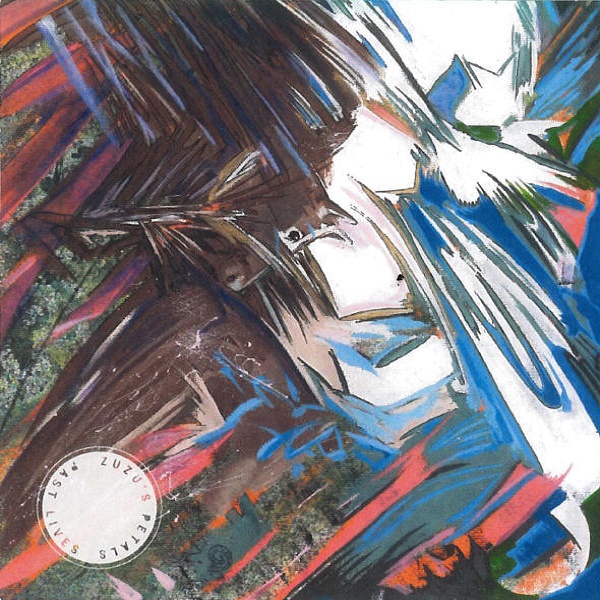 Zuzu's Petals
Past Lives
(Self-Released)
Duncan, BC
From the fey magic of Claire Marie Guimond:
A fast stream runs through two forest stands. This shore is all yellows and greens and tumbling helicopter seeds. The other side, white birch. My older sister told me streams can mark borders between our world and another. I didn't want anyone to follow me when I crossed, so I'd been waiting for the right afternoon to go see the fairies. Here, at last, I lie down on the moss bed. I give in to the daydreams. I wake up to a different light and the rushing sound of footsteps… Everything is real, for a moment.
De la magie féérique de Claire Marie Guimond:
(Traduit par l'hémisphère gauche de Diane Beaupré)
Un ruisseau coule rapidement à travers deux peuplements forestiers. D'un côté, diverses nuances de jaunes et de verts et des hélicoptères tournoyants colorent la rive. De l'autre, du bouleau blanc. Ma grande sœur m'a dit que les ruisseaux sont parfois les frontières entre notre monde et un autre. Je ne voulais pas que quelqu'un me suive quand j'allais traverser, j'ai donc attendu le bon après-midi pour aller voir les fées. Enfin rendue, je m'allonge dans un lit de mousse. Je m'abandonne à la rêverie. À mon réveil, la lumière a changé et j'entends des pas… Tout est réel, pour un instant.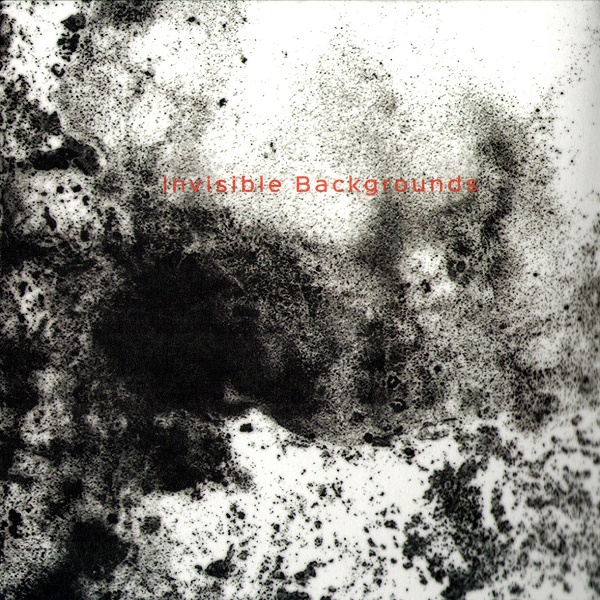 Philippe Battikha
Invisible Backgrounds
Montreal, QC
From the ruined pasture of Jesse Locke:
Philippe Battikha of CORSE and La Part Maudite steps out for an avant-serenade on this mournful solo offering. The granular tones and careening curlicues of his trumpet drift in slow-mo flow through soundscapes of bustling street corners, Super 8 camera whirr, and less recognizable squishes. Double bass saws through "Beyond You" while "Time For New Hands" casts a pall over haunted pianos, righteous vocals samples, and the soothing ASMR of rain on a windowsill.
Des pâturages en jachère de Jesse Locke:
(Traduit par l'hémisphère gauche de Diane Beaupré)
Philippe Battikha, membre des groupes CORSE et La Part Maudite prend une pause pour nous offrir une sérénade avant-gardiste sur cet album solo mélancolique. Les enjolivures de sa trompette s'égrènent en formant des spirales qui ralentissent à travers les bruits des coins de rue animés, le vrombissement de la caméra super 8, et autres sons non identifiés. La contrebasse évoque l'égoïne tout au long de « Beyond You » alors que « Time for New Hands » enveloppe de brouillard des pianos hantés, des bribes de voix moralisatrice et de réconfortants ASMR qui rappellent la pluie sur la fenêtre.
Philippe Battikha – Time For New Hands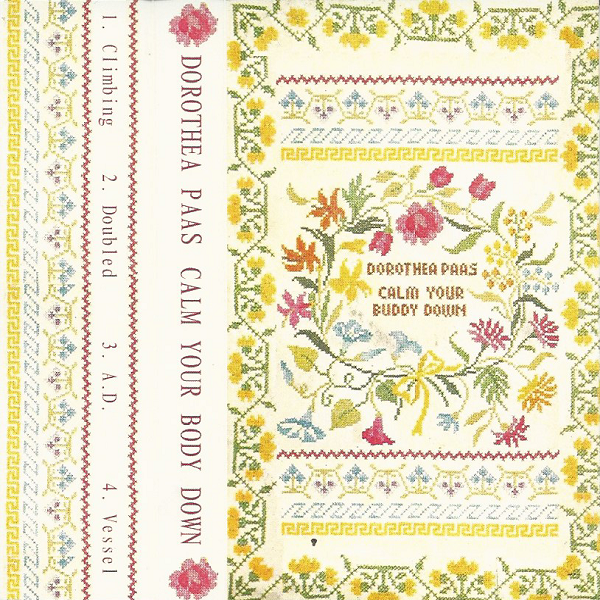 Dorothea Paas
Calm Your Buddy Down
(Self-Released)
Toronto, ON
From the pulsing skull of Adam Bradley:
Crunchy turtle Sunday mornings. Cold coffee sips and house plants swaying green in cool Spring window breeze. Swollen unsure memories pore over the night before. A small kiss, a rip in your favourite old t-shirt, accidentally smashed highball glass. Regretful rolling into wistful, the soft ache in the skull pulsing out questions. Denim and plaid clad reaper sits in a chair close by, whispering dead-leaf nostalgic elegies. Stained and heavy curtains billow while dust motes drift on yellow beams.
Sorti des pulsations du crâne d' Adam Bradley:
(De l'hémisphère gauche de Diane Beaupré)
Dimanches matins paresseux. Gorgées de café froid et plantes tirant sur le vert dans la fraîche brise printanière. Souvenirs confus de la veille. Un petit bec, un trou dans votre t-shirt préféré, un verre accidentellement cassé. Les regrets font place à la mélancolie, la douleur lancinante sous vos cheveux bat au rythme des questions. Jeans et chemise à carreaux jetés sur une chaise récitent un poème automnal. Les rideaux épais et tachés se gonflent tandis que la poussière est poussée par le vent sur les poutres jaunes.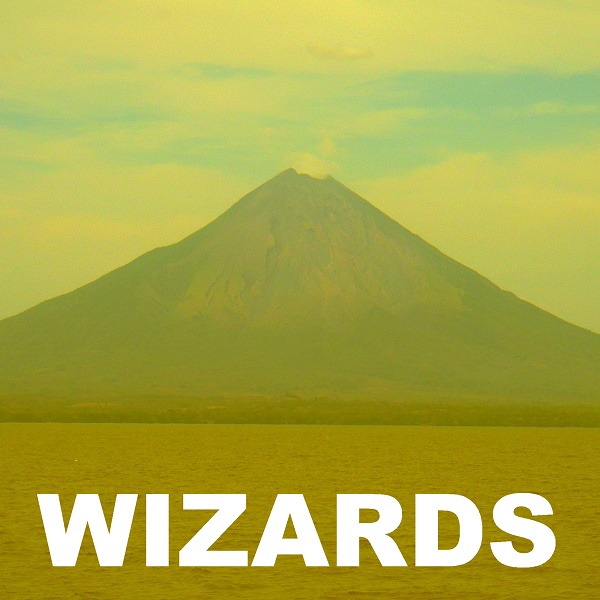 Wizards
SDRAZIW
Saskatoon, SK
The White Magic of Trevor Angst:
Bending out a few solo notes harder than any twelve year old ever could with his mountain bike's kickstand, Wizards croon immensely gothic. The guitar will meow and wisp dreamscapes. By the near end, Wizards will dispel your last impressions of that beauty.
SDRAZIW is a documented piece of Wizard's experimentation in action. Drifting away from the surf and shores of their EP and pulling towards the psych and ambient taproot, Wizards drop a collection of songs that stand individual, non adherent, riotous.
De la Magie Blanche de Trevor Angst:
(Traduit par l'hémisphère de Diane Beaupré)
En extirpant des notes plus tonitruantes qu'un enfant de douze arrive à le faire avec la béquille de son vélo de montagne, Wizards sonne gothique. La guitare miaulera et vous transportera aux pays des songes. Vers la fin, Wizards dissipera les dernières impressions de cette beauté.
SDRAZIW est la trace laissée par Wizard en pleine expérimentation. S'éloignant du surf et des rivages de leur EP et s'approchant des racines du rock psychédélique, Wizards nous offre une collection de chansons uniques et planantes.
---