Tag: david steinberg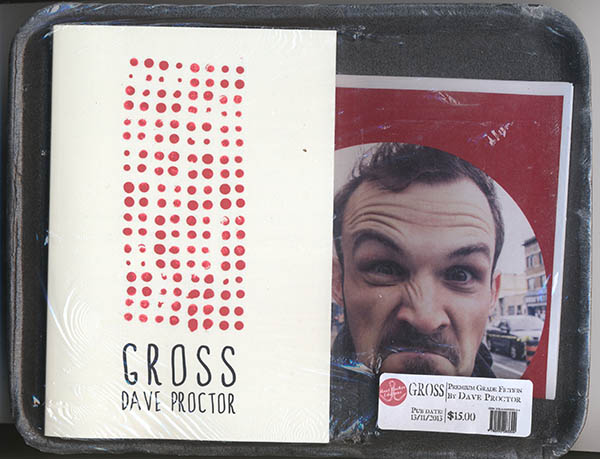 David Proctor's Gross shines a beacon of light, indicating the redemptive power of art as our generation's only hope. Proctor performs a post-mortem on western culture, opening us up, putting our hopes, fears, and values on display. Take a look at what you consume.
Gross
David Proctor
186 pages, perfect bound
Toronto, ON
2013
From the memorial hospital mortuary of David Steinberg:
You are sick. Maybe everyone is sick. Maybe our culture is sick, or maybe our culture is the sickness. All consumed, all consuming. And if consumerism is the sickness, then what is the cure? If the crucified working class can't rub the sleep from its eyes, who can? And if David Proctor's Gross never completely restores sobriety to our inebriation, in a moment worthy of Proust, it nevertheless shines a beacon of light, indicating the redemptive power of art as our generation's only hope. Proctor performs a post-mortem on western culture, opening us up, putting our hopes, fears, and values on display. Take a look at what you consume.
Du mortuaire de l'hôpital mémorial de David Steinberg:
(Traduction retrouvée sur le monument en la mémoire de Louis-Félix Pellerin)
Vous êtes malade. Peut-être que tout le monde, ou même notre culture l'est. Ou peut-être que la maladie est notre culture elle-même. Tarie par la consommation, elle est elle-même voracement consommatrice. Et si le consumérisme est la maladie, existe-t-il un traitement? Si la classe ouvrière lasse ne peut s'enlever la fatigue des yeux, qui pourra le faire? Et si Gross, de David Proctor, ne nous tire jamais complètement de notre état d'ébriété pour nous ramener vers la sobriété, dans un moment digne de Proust, il projette néanmoins la lumière d'un brillant fanal indiquant le pouvoir rédempteur de l'art en tant que seul espoir de notre génération. Proctor effectue une autopsie sur la culture occidentale, allant chercher en nous nos peurs, nos valeurs et nos espoirs pour les exposer. Regardez bien ce que vous consommez.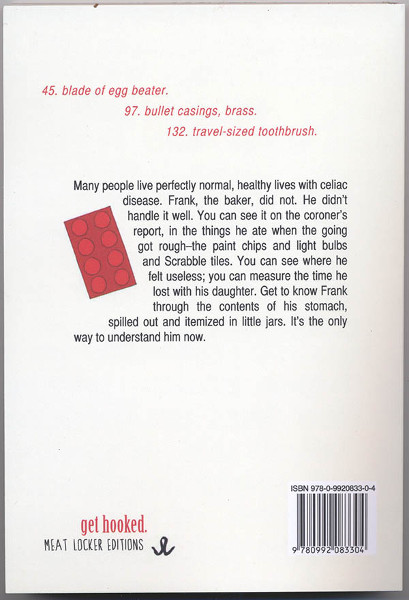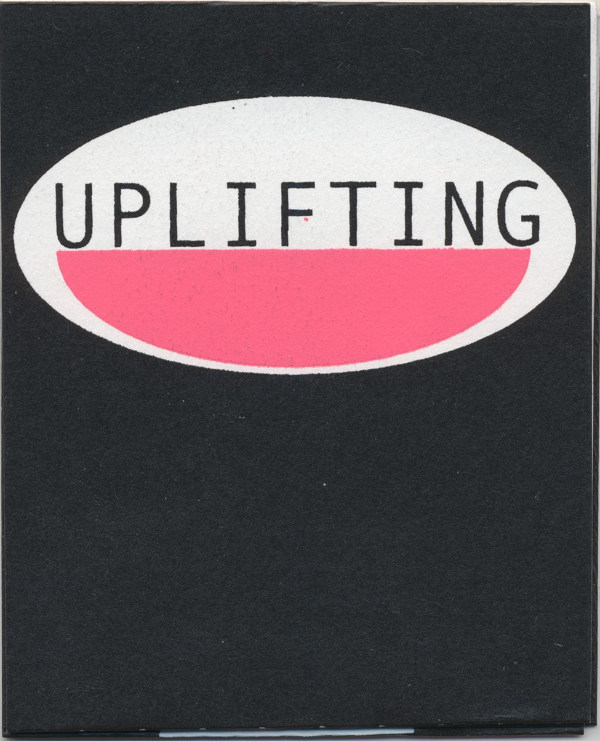 Pascaline Knight
Uplifting
(Self Published)
Montréal, QC
From the growing pains of David Steinberg:
You must be this high to ride. No admittance under eighteen years of age. Lights out by ten. And if the rules from above weren't bad enough when it was possible to obey them, what are we to do about the contradictions? The mutually exclusive laws of intersecting worlds, the vocalized "be yourself" and the implicit "fit in"? What then? Then what?
Pascaline Knight's accordion-bound Uplifting speaks minimally and ironically about the tensions of growing up. The hazards, the awkwardness, the impossible and the inevitable present in beautiful screen-printed black, white, and pink. Right in front of you, staring through your years: Straight to your acne, braces, and funny feelings. Are you ready to be sixteen again?
De la crise d'adolescence de David Steinberg:
(Traduit par/van de Elf Ranken)
Il faut être grand comme ça pour y monter. Entrée refusée pour les moins de 18 ans. Couvre-feu à 22 h. Et si obéir à ces règles était déjà un défi à l'époque, qu'est-ce qu'on fait des contradictions? Les lois mutuellement exclusives des différents mondes qui se croisent, le « reste toi-même » vocalisé et le « conforme-toi » implicite? Alors quoi? Quoi alors?
Uplifting par Pascaline Knight est nouée à l'accordéon et la pièce parle de façon minimale et ironique des tensions nerveuses de devenir adulte. Les dangers, la gaucherie, l'impossible et l'inévitable présent dans une magnifique sérigraphie de noir, de blanc et de rose. Directement devant vous, fixant au travers de vos années : regardant sans hésitation votre acné, vos broches et vos sentiments bizarres. Êtes-vous prêt à revenir à 16 ans?
Derivé // The Lifeguard Suite
Written by Trevor Barton
Illustrations for The Lifeguard Suite by Ezra Gray
(Arbutus)
[95 pp., perfect bound, black & white photos and illustrations, paperback]
Montréal, QC
From the flotsam & jetsam of David Steinberg:
The beach.
Look past the insect husks, the empty white windless coast holding the throne is paramount. The Lifeguard Suite projects a subconscious internal dialogue onto your parents' surreal post-war summer holiday, featuring the titular everyman, Death, Death's Wife, unseen teenage ne'er-do-wells, and traditional gender roles. The temporal tension is captured in a tragicomedic mirror, reflecting the skeletons in the reader's closet, prying open a third eye to inspect a self no one wanted to see.
Barton's masterfully written minimal nightmare-collage pushes the reader through the looking glass. Derivé demands the reader to catch up, wake up, get up, paradoxically forcing them to stay down, slow down, climb down, and even when the rooster crows and the rosy-fingered Dawn embraces the sky, even when sleep has ceased, the dreams continue unrelenting. Hustlers of the world, though you may travel far and wide, there is one mark that you cannot beat: the mark inside.
Des déchets flottants de David Steinberg:
(Traduit à grandes lampées d'eau salée par Nicolas Coutlée)
La plage.
Par-delà les carapaces d'insectes desséchées, la côte blanche, déserte, imperturbable règne sur l'horizon. Dialogue intérieur subconscient sur fond de vacances estivales d'après-guerre, The Lifeguard Suite met en scène l'homme de tous les jours, la mort et son épouse, une espèce nouvelle d'adolescents bons à rien, des hommes et des femmes prisonniers de leurs rôles traditionnels. La tension temporelle apparaît dans un miroir tragicomique, reflet des squelettes dans le placard du lecteur, et force l'ouverture d'un troisième œil qui s'abîme dans un pan de soi répudié jusque-là.
Écrit de main de maître, le collage cauchemardesque minimal de Barton pousse le lecteur au-delà du miroir. Dérivé exige de lui qu'il rattrape les nuits perdues, qu'il s'éveille, qu'il se lève, mais l'oblige paradoxalement à rester tapi, à ralentir, à s'enfoncer, et même lorsque que le coq vient à chanter, que l'Aurore aux doigts de rose embrasse les cieux et que le sommeil s'évanouit, les rêves poursuivent leur cours imparable. Arnaqueurs de ce monde, aussi loin pouvez-vous étendre vos tentacules, il demeure une victime qui échappera toujours à votre emprise : la victime en votre cœur.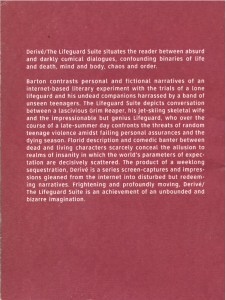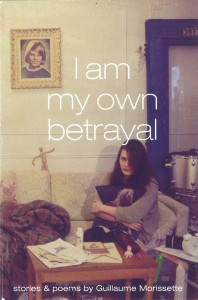 I Am My Own Betrayal
Written by: Guillaume Morissette
[102 pp., paperback, perfect bound]
Montreal, QC
From the resignation and resurrection of David Steinberg:
Sleepwalking through pop culture lugubriousnesses, avoidable faux-paux, and intentional bridge-burning, Guillaume Morissette's I Am My Own Betrayal rubs the dust from its eyes, confused, and with a bloody nose, but grinning upon the light of the new morning. Post-mortem, dream analysis, hung-over last-night-puzzle-piece configuring, the stories and poems within try to make sense of events, painful or pleasant, in the context of transitional analysis and Wrestlemania video games, though neither one more successful than the other. However, it would not be fair to paint too blue a picture of Morissette; you will find no self-pitying apathy here. There is pain and hope: "If life is a minefield, then happiness was probably running in it."
De la résignation et la résurrection de David Steinberg:
(Traduit par l'analyse des rêves de Vincent Rondeau)
Avançant à tâtons parmi la culture pop lugubre, les faux-pas faciles à éviter et les ponts brûlés, « I Am My Own Betrayal » de Guillaume Morrissette se frotte les yeux pour en ôter la poussière, confus et saignant du nez, mais souriant dans la lumière du matin. Post-mortem, à la manière de l'analyse des rêves ou d'un casse-tête intérieur de lendemain de brosse, les histoires et les poèmes de ce recueil tentent de donner un sens à des événements douloureux ou joyeux dans un contexte d'analyse transactionnelle et de jeux vidéo de Wrestlemania, même si ni l'un ni l'autre n'ont de succès. Mais il ne serait pas juste de montrer Morissette comme quelqu'un de trop las ou mélancolique : vous ne trouverez aucune apathie ni apitoiement ici. Il y a de la douleur comme de l'espoir : « si la vie est un champ de mines, le bonheur c'est de courir à travers ».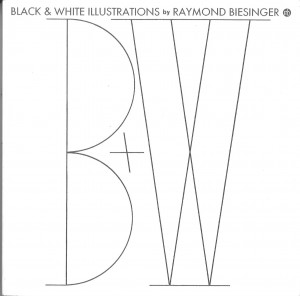 Black & White Illustrations
Illustrated by: Raymond Biesinger
[208pp. perfect bound; 70lb lynx paper interior]
Montreal, QC
From the facts & anecdotes of David Steinberg:
A surreal diary, scribed in cryptic hieroglyphs, bound in a beautifully embossed cheek-soft cover, Raymond Biesinger's Black and White Illustrations is an intricate network of intersecting histories. See: the editorial cartoons. See: the Wolfnote/Operators/7 And 7 Is poster. See: the New Year's Eve party invitations. The integration of personal, professional, and political is seamless. Encasing this complex cultural culicid is an amber cortex of endnotes, preserving facts and anecdotes, lending a sanguine human element to the chiseled illustrations. Excavate this book of relics. Bring it back to the lab and grip.
Des faits et anecdotes de David Steinberg:
(Traduit par Vincent Rondeau)
Un journal intime surréaliste, gravé en hiéroglyphes cryptiques et relié dans une superbe couverture gaufrée douce comme la joue d'un bébé : « Black and White Illustrations » de Raymond Biesinger est un réseau multidimensionnel d'histoires croisées. Des bandes dessinées, une affiche pour un concert de Wolfnote/Operators/7 and 7 Is, des invitations pour un party du jour de l'An… l'intégration du personnel, du professionnel, du culturel et du politique est entièrement cohérente. Cette bestiole culturelle complexe est enveloppée d'un cortex ambré de notes explicatives relatant faits et anecdotes qui confèrent un élément vital et sanguin aux illustrations finement ciselées. Excavez sans plus tarder ce grimoire de reliques et ramenez-le au laboratoire pour le saisir.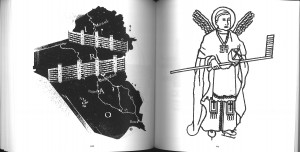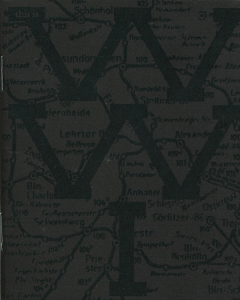 This is WWI
Illustrated by: Raymond Biesinger
[20pp. silkscreened; stapleback]
Montreal, QC
From the screen-printed gasmask of David Steinberg:
From the efficient, utilitarian, Hemmingway-adorned Plateau studio of Raymond Beisinger comes a cordial invitation for you to think for yourself, do your own research, make your own conclusions, and construct your own meaning of World War I. His paradoxically titled "This is WWI" is less a presentation of the Great War and more the physical manifestation of his gentle intellectual push encouraging you to learn about one of history's most pivotal conflicts. The push is strong in this one: See and feel the beautifully silk-screened gas masks, tanks, and zeppelins in satisfying fifteen aesthetic; maps and infographics abound. Let the push in. Grip and be pushed. In conclusion, a list of words that I had to look up while reading: Gavrilo Princip, Schieffen plan, Howitzer, Entente, Khartoum, Erich Von Falkenheyn, Cambrai, ASDIC, Spanish Flu, Mille Putois.
Le dernier produit du studio efficace, utilitaire et décoré de photos d'Hemingway, de Raymond Biesinger sur le Plateau-Mont-Royal est une invitation cordiale à repenser ses opinions, à chercher pour soi-même, à tirer ses propres conclusions et à donner un sens nouveau à la Première Guerre mondiale. Au titre paradoxal, « This Is WWI » est davantage une manifestation physique de l'incitation intellectuelle de Biesinger à en apprendre plus sur l'un des conflits les plus cruciaux de l'histoire qu'une simple présentation de la Grande Guerre. Les sérigraphies de masques à gaz, de tanks et de dirigeables dans l'esthétique fifteen sont superbes, et les cartes et graphiques ne manquent pas. En terminant, voici une liste des mots que j'ai dû chercher pendant la lecture : Gavrilo Princip, plan Schieffen, Howitzer, « entente », Khartoum, Erich von Falkenheyn, Cambrai, ASDIC, grippe espagnole, Mille Putois.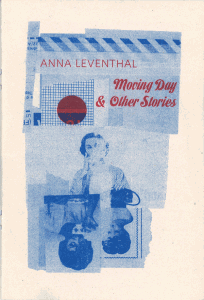 Moving Day & Other Stories
Written by: Anna Leventhal
[36pp. black risograph on newsprint]
Montreal, QC
From the indispossessiveness of David Steinberg:
Change and perseverance. Preposterous and indispensable. Anna Leventhal's "Moving Day & Other Stories," a specular collection from the ordinary out-of-the-ordinary, the familiar fantastic, might well have been titled The Montreal Trilogy. Bombing down the hills, careening through the streets on bikes, optimistic, and naive: It is summer. Moving Day is drinking beer on the patio, sweating in the heat, watching neighbours mow their lawns, catching pieces of others' conversations, not necessarily making sense of what was heard, not necessarily caring one way or the other. It is summer, and Moving Day is in the street jutting out its chin defiantly, in the kitchen preparing pain perdu, in over-alls, in summer dresses, indecipherable, indisposed, in the way. It is summer, and who knows if we're smiling from happiness or smiling from absurdity, but it is summer. And we are smiling.
De l'indispobsession de David Steinberg:
Changement et perséverance. Grotesque et indispensable. « Moving Day & Other Stories » d'Anna Leventhal, une collection spéculaire qui sort l'ordinaire de l'ordinaire et rend le familier fantastique, aurait pu s'appeler la Trilogie montréalaise. C'est l'été, on descend les côtes à toute vitesse, on dévale les rues à vélo, optimistes et naïfs. Le premier juillet, on boit de la bière sur les balcons, suant à grosses gouttes, en regardant les voisins tondre le gazon. On entend des bribes de conversations sans nécéssairement en comprendre quoi que ce soit, mais on s'en fout. C'est l'été et le premier juillet marche dans la rue le menton levé. Il prépare du pain doré dans la cuisine, il porte une salopette ou une robe d'été. Il est indéchiffrable, incommodé. Il fait obstacle. C'est l'été et nos sourires sont peut-être signe de bonheur ou d'absurdité, mais c'est l'été et on sourit.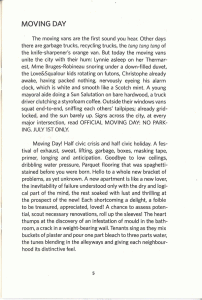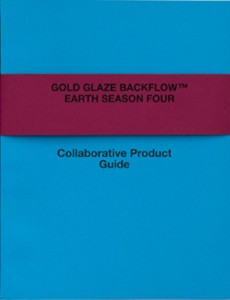 Gold Glaze Backflow™
Written by: Chris White
(Self Published)
Toronto, ON
Published: 2011
From the euphemistic suffocation of David Steinberg:
Eyes split open, awake in a cold sweat, the words throbbing saccharine in your head: Gold Glaze Backflow™ is excited about the new possibilities in store for the future. A frosty retrograde awaits us, and Chris White wants to show you all about it. Collaborative Product Guide sounds benign at first, but the euphemistic suffocation that it represents soon becomes clear. Inside the four beautifully / brightly bound guides are Brazil-esque juxtaposed illustrations, photographs, and text all pointing to a backwards-facing future, a yawning chasmic discord between progress and public benefit.
De la suffocation euphémistique de David Steinberg: (Traduit par Odile Leclerc)
Les yeux grands ouverts, réveillé en sueur sueurs froides, les mots saccharines palpitant dans votre tête : Gold Glaze Backflow™ est excité à propos des nouvelles possibilités en attente pour le futur. Une rétrograde givrée nous attends et Chris White veut tout vous montrer de celle-ci. Collaborative Product Guide sonne bénin en premier, mais la suffocation euphémistique que ça représente devient rapidement clair. À l'intérieur des quatre guides magnifiquement/ vivement liés se tiennent les illustrations Brazil-esque juxtaposées, des photographies et du texte pointant tous vers un futur faisant face à l'arrière, une discorde d'abîme baillant entre le progrès et le profit publique.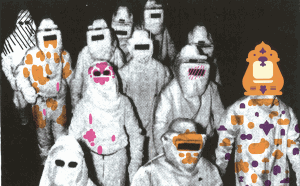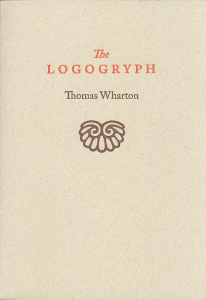 The Logogryph
Written by: Thomas Wharton
[236pp. Perfect Bound]
Edmonton, AB
Published: 2004
From the Odyssian proportions of David Steinberg:
Bursting into existence from the inscrutable mind/body syzygy of Thomas Wharton comes The Logogryph, a fictional work containing dozens of vistas and histories, marginalia and miscellanea, curiosities, obscurities, and impossibilities. It is a book of ideas, a book of metaphors, a book of questions. What is the origin of paper? What about Atlantean literature? What if you fell out of a novel? It is a Canadian book of stories, describing Stand By Me-framed digs in Jasper pizza joints circa 1981 complete with lame Terry Fox slams, else-referential culturial Canadiana, and Mexican excavations of Odyssian proportions. It is a collection of accumulated lacunae, a Borgesian beastiary, a labyrinth of Lynchian puzzles and problems, some unsolved, others unsolvable. The singular unifying light amidst this beautiful confusion is the common theme suggested by the subtitle, "a Bibliography of Imaginary Books."
A mystery wrapped in a riddle wrapped in a dust jacket wrapped in a sleeve, we would be remiss if we didn't take a moment to appreciate the physical splendor of The Logogryph. As always, Gaspereau Press has taken pains to make the reading experience a physical and aesthetic pleasure: the creamy textured paper, letterpress dust jacket, and sleeve will have you cozying up to this book after lights-out. Grip, read, and be read.
Des proportions d'odyssée de David Steinberg:
(Traduit par Odile Leclerc)
Explosant dans l'existence de l'inscrutable esprit/corps de la syzygie de Thomas Wharton vient The Logogryph, une œuvre de fiction contenant des douzaines de vues et histoires, marginalie et diversité, de curiosités, d'obscurités et d'impossibilités. C'est un livre d'idées, un livre de métaphores, un livre de questions. Quel est l'origine du papier? Et que dire de la littérature Atlantaine? Et si vous tombiez d'un roman? C'est un livre d'histoire canadien, décrivant les fouilles de Stand By Me-framed dans des joints de pizza de Jasper à l'entour de 1981 de proportions complètement Odysséennes. C'est une collection de lacunes accumulées, un bestiaire Borgésien, un labyrinthe de casse-têtes et de problèmes Lynchien, certains non résolus, d'autres insolubles. L'unique lumière unifiante parmi cette magnifique confusion est le thème commun suggéré par le sous-titre, ''une Bibliographie des Livres Imaginaires.'' Gaspereau Press en a bavé pour faire l'expérience de lecture un plaisir physique et esthétique: la texture crémeuse du papier, une jaquette de livre typographiée et une gaine qui va vous acclimater à ce livre après la fermeture des lumières. Saisissez, lisez, et soyez lu.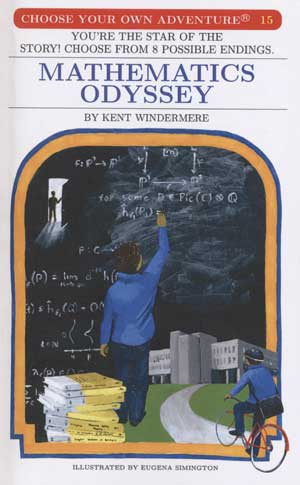 Mathematics Odyssey
Written by / Écrit par: Kent Windermere
(Self Published)
[93pp. Perfect Bound]
Vancouver, BC // Toronto, ON
Published: 2010
From the well-chosen adventuring of David Steinberg:
Clean, austere, marmoreal: the penetrating realism of the DIY choose-your-own-adventure Mathematics Oddyssey by Kent Windermere, illustrated by Eugena Simington, is the perfect fictionification of everyone's first real analysis professor. The author's outlook for the future treads a careful path between bleak and hopeful. Were he constrained to the typical linear narrative, he would have been forced to come to terms with the ultimate conclusions to which all stories refer: the continuity of life, the inevitability of death. From his own uncertainties Kent crafts something much more elusive: an expression of the stress that is caused by the knowledge that your life depends solely on your choices. Though focused tightly on mathematics throughout (and let me stress this point: contemporary research-level mathematics, and the style of life such research provides), the message applicable to you and I rings loud and clear: choose wisely.
Des aventures bien choisies de David Steinberg: (Traduit par le prof de maths de Maya Keshav)
Épuré, austère, marmoréen: le réalisme perçant de l'aventure DIY livre-jeu Mathematics Oddyssey par Kent Windermere, illustré par Eugena Simington, est la fictionification parfaite du premier prof réel d'analyse de tout le monde. La vision de l'avenir de l'auteur conserve un équilibre entre la désolation et l'espoir. S'il était limité au récit typique linéaire, il serait certainement forcé à accepter les conclusions ultimes auxquelles toutes les histoires font allusion: la continuité de la vie, le caractère inévitable de la mort. De ses propres incertitudes Kent crée quelque chose de beaucoup plus compliqué: une expression du stress qui vient de la connaissance que ta vie dépend complètement de tes choix. Même si c'est étroitement concentré sur les mathématiques partout (et laisse moi souligner ça: les mathématiques contemporaines et professionnelles, et le style de vie que la telle recherche fournit), le message s'applique à toi et il s'annonce haut et fort: choisis sagement.
---