Tag: david kohler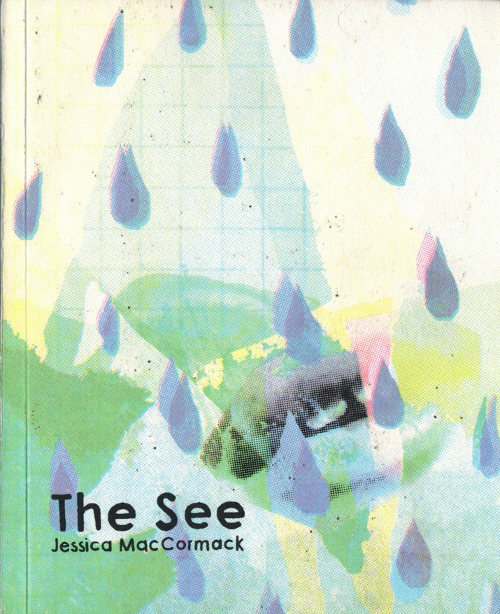 Before you, a stunning, violent bildungsroman that has sprung from a fantasy world wrought by tumblr-embroidery. The See's narrator begins by gesturing back "a long time ago" into "the 80s," when she and The Others went for drives and swims and sleepovers – "no boys allowed"– with gorgeously risographed images of fish wearing white socks and patent leather shoes reminding us of the double-entendre on "school." But Jessica MacCormack's beguiling visuals cannily combine naïve alt-culture regulars (kittens, flowers, a Wes-Anderson-y image of girlhood) with images of horrific trauma. As the images and passages accrete, The See reveals itself to be about growing-up through the normalization of abuse. A particularly affecting passage reads:
The See
Jessica MacCormack
96 pages, perfect bound with French flaps
Montréal, QC
From the foreboding fauna of David Hobbs:
Before you, a stunning, violent bildungsroman that has sprung from a fantasy world wrought by tumblr-embroidery. The See's narrator begins by gesturing back "a long time ago" into "the 80s," when she and The Others went for drives and swims and sleepovers – "no boys allowed"– with gorgeously risographed images of fish wearing white socks and patent leather shoes reminding us of the double-entendre on "school." But Jessica MacCormack's beguiling visuals cannily combine naïve alt-culture regulars (kittens, flowers, a Wes-Anderson-y image of girlhood) with images of horrific trauma. As the images and passages accrete, The See reveals itself to be about growing-up through the normalization of abuse. A particularly affecting passage reads:
The Missing One's Others were over for The Holidays and then Blam, 'My father raped me.' (That's how we say Happy Holidays around these parts.)
Or look at the poppies that suggest wounds on the bodies of her subjects. One naturally recalls the Canadian metanarrative of heroism and loss returned to every November. But the poppy is also operating as the smuggled signification of addictive opiates and, subsequently, the intravenous communication of HIV. If MacCormack's work is "precious," it is in the sense of its tremendous value and of the scarcity of such confident interrogations of our imbricated systems of health care, 'justice,' foreign policy and art. In a recent interview, MacCormack drew attention to the manner in which "structures of the art institutions are similar to the prisons, government, education and other systems: we need to actively shape them (or actively destroy them)."
De la faune prémonitoire de David Hobbs:
(Traduit au son assourdissant de la citrouille moisissante par David Kohler)
Devant toi un roman initiatique stupéfiant qui surgit d'un monde fantastique forgé en broderie à la tumblr. La narratrice de The See commence par réaménager « il y a bien longtemps » en « dans les années 80 », quand elle et Les Autres partaient en escapades, allaient nager, organisaient des pyjama party – « interdites aux garçons » – avec de splendides images risographiées de poissons portant des chaussettes blanches et des souliers en cuir vernis qui nous rappellent le double sens en anglais du mot « school ». Les visuels charmeurs de Jessica MacCormack combinent astucieusement les habituels icônes naïfs de la culture alternative (les chatons, les fleurs, une imagerie à la Wes Anderson de la jeunesse féminine) avec des images de trauma horrifiques. Au fil des images et des passages qui s'accumulent, The See révèle son sujet : grandir avec la normalisation de l'abus. Voici un passage particulièrement frappant :
The Missing One's Others were over for The Holidays and then Blam, 'My father raped me.' (That's how we say Happy Holidays around these parts.)
Les Autres de La Disparue étaient là pour les fêtes et vlan, 'Mon père m'a violée'. (C'est comme cela que l'on se souhaite de Bonnes Fêtes dans ce coin.)
Ou peut également regarder les coquelicots qui suggèrent les blessures sur le corps de ses personnages. On se rappelle alors naturellement la meta-narrative canadienne de l'héroïsme et de la perte qui revient chaque mois de novembre. Mais le coquelicot opère également en contrebande comme symbole des opiacés addictifs et par suite de la transmission intraveineuse du SIDA. Si le travail de MacCormack est « précieux », c'est pour sa formidable valeur et le manque d'interrogations audacieuses au sujet de l'imbriquement du système de santé, du système judiciaire, des affaires étrangères et du monde artistique. Récemment, dans une entrevue, MacCormack attirait l'attention sur la manière dont les structures des institutions artistiques sont similaires aux prisons, au gouvernement, à l'éducation et à d'autres systèmes, stipulant que nous devons activement les refaçonner ou simplement les détruire.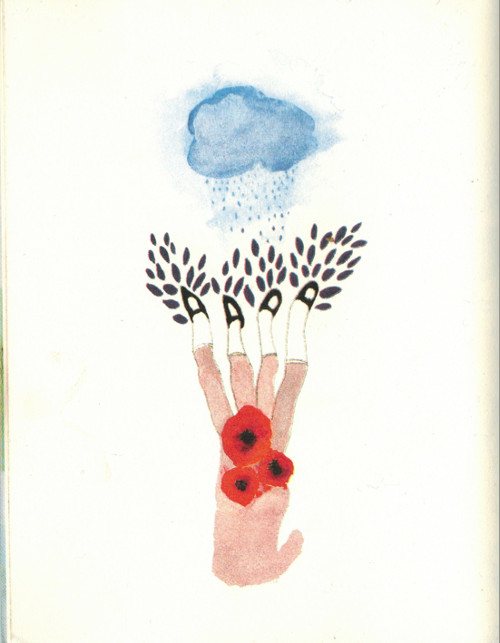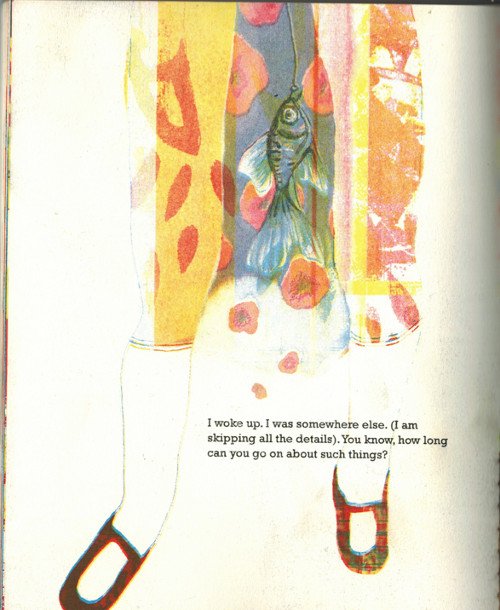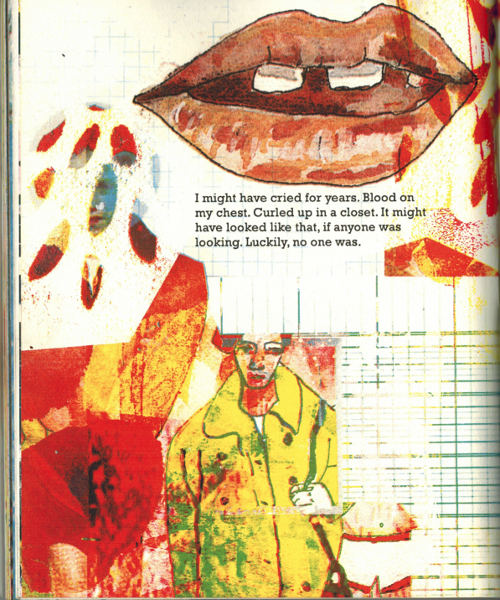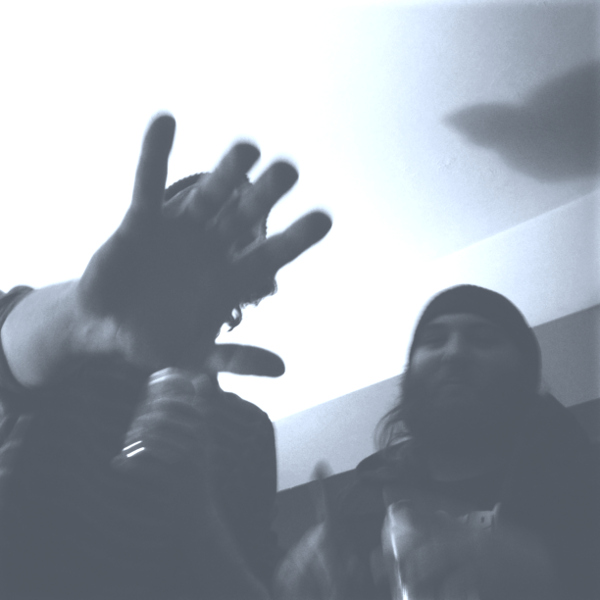 Walrus
Glam Returns
Halifax, NS
From the mammalian acidulousness of Joshua Robinson:
The East again beckons the distinguished reverie of post-altitudinous apperception. With Glam Returns, Halifax's mammalian high-risers render bounty unto the absenteeistic self-amity of those locked to the rhetoric-turned-chime of generations past. As a cannonade expounding the glorious return of acidulously spaced-out time-travel, this release heralds a return to the multi-dimensionality of the melting divides and superfluous colour-dreams of self-conceived introspection. Glam Returns in fine form, and psych-folk has again coalesced into that which is hypnotic.
De l'acidulité mammalienne de Joshua Robinson:
(Traduit dans l'hypnose absentéiste de David Kohler)
Une fois encore, l'Est attire notre attention sur ses rêveries distinguées à l'aperception post-himalayenne. Avec Glam Returns, les lits gigognes mammaliens de Halifax nous offrent leur générosité sous la forme de l'auto-amitié absentéiste de ceux qui sont prisonniers d'une rhétorique au goût de carillon des générations passées. Telle une canonnade battant le glorieux retour acidulé et stupéfiant du voyage à travers le temps, cette sortie annonce un retour à la multi-dimensionnalité des divisions fondantes et des rêves en couleurs superflus d'une introspection auto-conçue. Glam Returns en pleine forme, et le psych folk est à nouveau cristallisé en ce qui est hypnotique.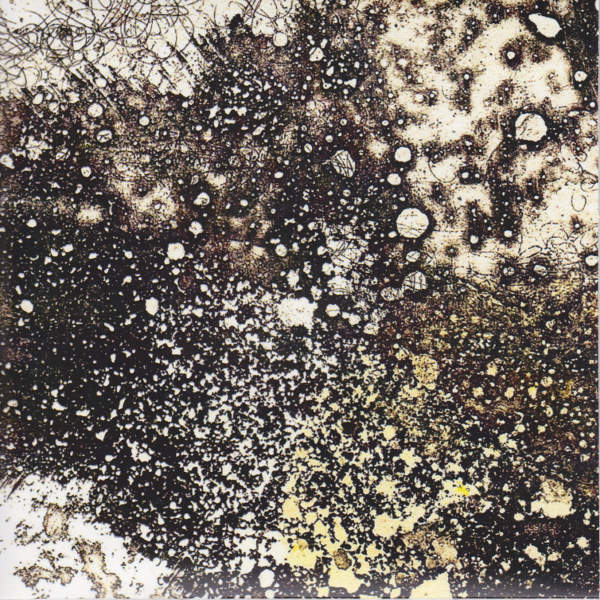 Le Pélican Noir
Le silence tendu au-dessus de nos têtes comme un orage en suspens
(Faff Records)
Montréal, QC
From the fulgent telescope of Joshua Robinson:
Celestial circumflexes as astral bodies collide to the subterranean syntax of voices registering an instrumental intonation, with arms and heads tilting skywards as the commiseration of the night wraps itself about the day. Take sartorial solace as bodies sway to the reassurances of the timbred phonetics that dance loosely on floors of imagined terrestrialism. The sky breathes heavily, exhaling a dusk that renders moot the muggy light emanating from dimly lit doorways, as denizens of Krautrock propinquities are captured in motion, swaying to the post-rock sepia of slow-form stellar dramatics. Projections of these asymptotic stargazers stand ghostly and translucent before the break of reverie, as the firmament collapses under the weight and provocation of stylistic convergence. Colours bleed into one another as telescopes turn inwards to capture the sights that are the sounds of the nothernly whispering amongst themselves.
Du brillant téléscope de Joshua Robinson:
(Traduit par les pulsations galactiques de David Kohler)
Circonflexes célestes pendant que des corps astraux entrent en collision avec la syntaxe souterraine de voix qui enregistrent une intonation instrumentale, avec bras et têtes inclinés en direction du ciel, alors que la commisération de la nuit s'enveloppe autour du jour. Consolez-vous alors que ces astres se balancent aux timbres phonétiques rassurants qui dansent nonchalamment sur des planchers au terrestrisme imaginé. Le ciel a le souffle lourd; il exhale un crépuscule qui rend discutable la lumière moite émanant des portes faiblement éclairées, tandis que les proches de Krautrock sont capturés dans le mouvement, balançant aux sépias post-rock d'un lent drame stellaire. Les projections fantomatiques et translucides de ces astronomes asymptotiques se tiennent à l'aube de rêveries alors que le firmament fléchit sous le poids et la provocation de convergences stylistiques. Les couleurs déteignent les unes dans les autres tandis que le téléscope se retourne contre soi pour capturer les vues que constituent les sons des chuchotements du Grand Nord.
Les Pélican Noir – …Et Les Arbres Déserteront Les Champs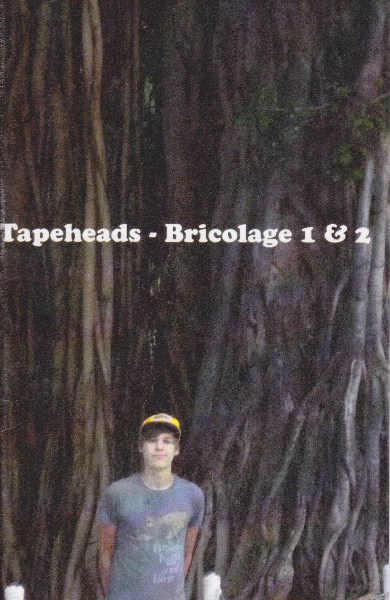 Tapeheads
Bricolage 1 & 2
Marieville, QC
From the rippled surface of Joshua Robinson:
Gone are the days of distinguishable form and figure, as tonal palettes become imbued with circumflexes of language too abstract to categorize as recognizably decipherable. These tonal tributaries branch and meander. They reach to a point that is unreachable, and then reach beyond, (de)constructing in their wake the avant-garde waterways that course through daydreamed reflections of the confluence sky, each ripple on its surface a space in the grand interstice between pointillistic familiarities.
De la surface ridée de Joshua Robinson:
(Traduit par la distortson gravitationnelle de David Kohler)
Les jours où l'on pouvait encore distinguer forme et figure sont bien loin, alors que les palettes tonales s'imprègnent d'accents circonflexes d'un langage trop abstrait pour être même catégorisé comme déchiffrable. Ces affluents tonaux se ramifient et serpentent. Ils atteignent un point inatteignable, puis vont encore plus loin, (dé)construisant dans leur sillage les voies navigables d'avant-garde qui traversent des réflections en rêveries à la confluence du ciel, chaque ride à leur surface étant un espace dans le grand interstice entre les familiarités pointillistiques.
Kira May
Health
(Self Released)
Toronto, ON
From the tonal shapes of Ajay Mehmi:
Kira May's sound is comprised of a seemingly colossal foundation, which allows for primitive utterances to surface above its texture and richness. She and instrumental collaborator Charles Tilden create earthy soundscapes that are driven by the beautifully manipulated notes responsible for breathing life and nuance into the core of the music. May's voice forms lush, tonal shapes ranging from ethereal hums to bold cries, effortlessly sliding from pitch to pitch. Each song on the Health EP unfolds to reveal a process guided by intuition, creating a natural and intimate vibe so the listener can follow every breath to the beating hearts at the centre of it all.
Des formes tonales d'Ajay Mehmi:
(Traduit par la litanie vibrante de David Kohler)
Le son de Kira May est composé d'une apparente et colossale fondation qui permet à des émissions sonores primitives de faire surface au-dessus de sa texture et de sa richesse. Elle et son collaborateur instrumentiste, Charles Tilden, créent des paysages sonores terreux dirigés par des notes magnifiquement manipulées, qui insufflent de la vie et de la nuance au coeur de la musique. La voix de May crée des formes tonales luxuriantes, qui vont du bourdonnement éthéré aux cris audacieux, glissant de ton à ton sans aucun effort. Chaque morceau du EP Health s'ouvre délicatement pour révéler un processus guidé par l'intuition, créant une ambiance naturelle et intime afin que la personne à l'écoute puisse suivre chaque souffle du coeur battant, au centre de toute chose.

Kira May – Cut Off Your Shadow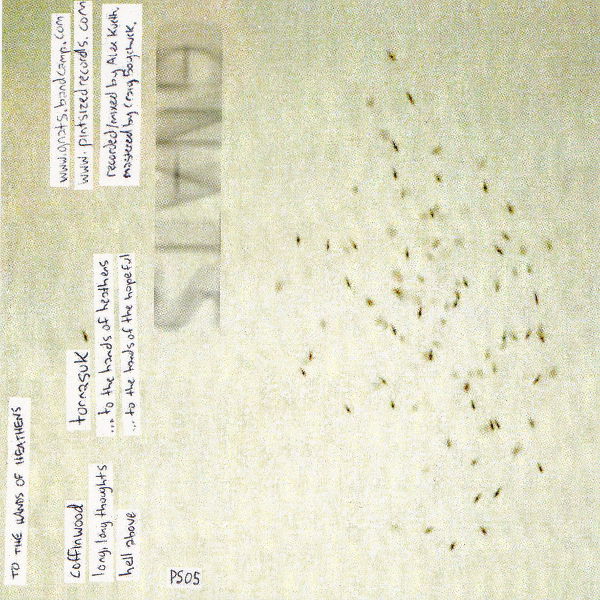 Gnats
To the Hands of Heathens
Calgary, AB
From the noumenal object of Josh Silver:
Gnats' layered noise-punk is a musical punch in the face, wrenching listeners into a frenzy of flailing instrumentation. The chaos is held in check by snare blasts through the storm of distortion, a swarm of unconventional musical runs with a logic of its own. As a necessary element of the music instead of mere ornamentation, the noise take precedence as it gains its own melodic nature. This forms a complex composition revealed through the sonic commotion.
De l'objet nouménal de Josh Silver:
(Traduit dans la pureté de l'abstraction par David Kohler)
Le bruitisme punk de Gnats est un coup de poing musical dans la face; il déchire les auditeurs dans une frénésie instrumentale déboitée. Le chaos est contenu par des pièges à souffles au travers d'un orage de distortion, un essaim de musique non conventionnelle s'envolant avec une logique qui lui est propre. En tant qu'élément nécessaire à la musique plutôt que simple ornement, le bruit prédomine et nous démontre sa propre nature mélodique. Ceci forme une composition complexe, révélée dans cette commotion sonore.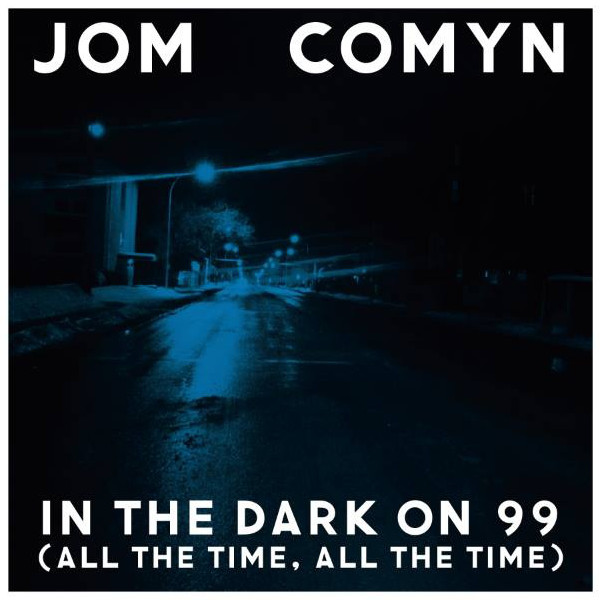 Jom Comyn
In the Dark on 99 (All the Time, All the Time)
(Value Records)
Edmonton, AB
From the snow covered streets of Tyler Butler:
Hood up against the driving snow, Jom Comyn takes another long walk in the buried Edmonton winter. Everyone is alone in these long months: 99th Ave is the eastern gateway to the river valley's boreal isolation, far from the packed bars of Whyte Avenue. Beard frozen on a long walk into that hinterland, he is a spectre gliding across icy sidewalks. This is the rise and fall of winter, the doldrums of the newborn year, the long dark: in Edmonton we are our gathering spaces and we are our friends.
Des rues couvertes de neige de Tyler Butler:
(Traduit flocon par flocon par David Kohler)
Le capot levé à l'encontre de la neige roulante, Jom Comyn se promène à nouveau dans l'hiver enseveli d'Edmonton. Tout le monde est seul durant ces longs mois : 99th Avenue est le portail de l'est qui nous sépare de l'isolement boréal de la vallée, bien loin des bars pleins à craquer de l'avenue Whyte. La barbe gelée durant une longue marche dans l'arrière-pays, il se glisse le long des trottoirs glacés tel un spectre. C'est l'arrivée et le départ de l'hiver, le marasme de la nouvelle année, la longue obscurité : à Edmonton, nous sommes nos espaces de rencontres et nous sommes nos amis.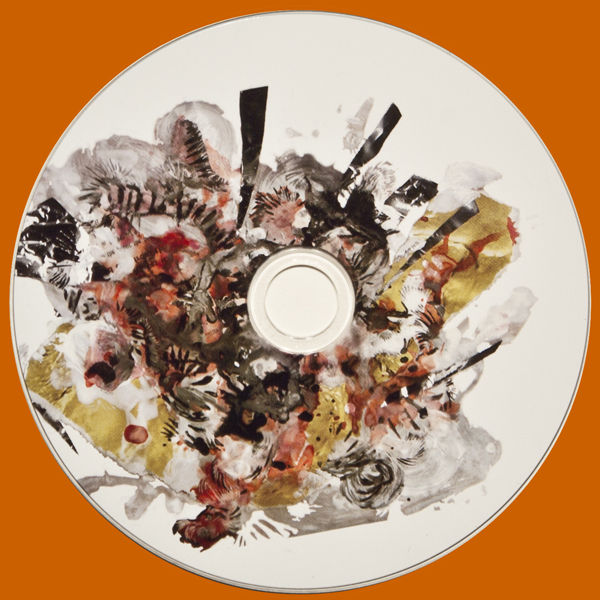 we just stole a car
CHAT TAMBOUR
Vancouver, BC
From the détournement of Josh Silver:
Vancouver's we just stole a car prance over notes on the staff, launching discrete elevations as paws blur into a whirlwind. Resting, they are framed in the inconsistent rhythm of pen on paper forming a new composition. Feline scales are caught in fleeting glances mediated by panes in mutation, an adventure in changing perspectives: narrow focus and fisheye. Each experience blends into the next but they remain solitary symbols, selfless signifiers preserving inspiration that has long since faded from memory.
Du détournement de Josh Silver:
(Traduit par l'évasive furtivité de David Kohler)
Les membres du groupe We just stole a car de Vancouver caracolent leurs notes sur la portée, lançant de discrètes élévations alors que les pattes se dissolvent dans un tourbillon. Au repos, ils sont limités par le rythme irrégulier du stylo sur papier pour former une nouvelle composition. Leurs gammes félines se jettent de rapides coups d'oeil au travers de plans en mutations, une aventure en termes de changement de perspectives: une focale étroite et un objectif fisheye. Chaque expérience se fond dans la prochaine mais toutes restent des symboles solitaires à la signification désintérésée, préservant une inspiration dont le souvenir s'est depuis longtemps estompé dans notre mémoire.

we just stole a car – The Sixth Time We Met

we just stole a car – The Third Time We Looked At Each Other Through The Window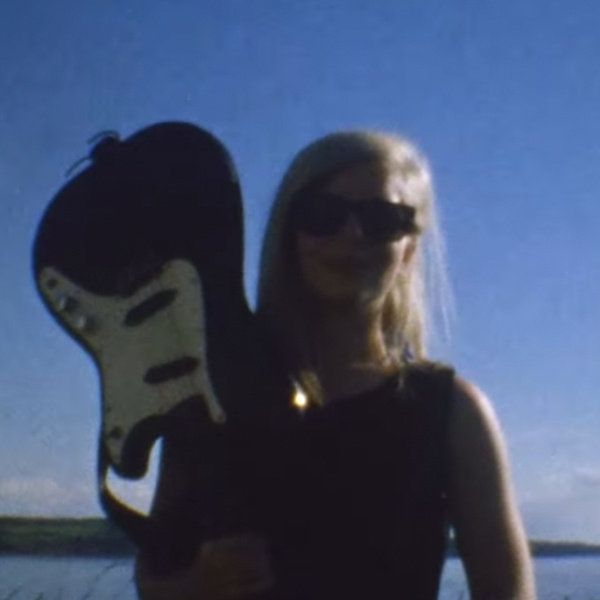 Alvvays
"Adult Diversion"
(Director: Colin Medley)
Vancouver, BC
From the homesick longings of Kevin Brasier:
Does the festival backdrop the song? Or does the song backdrop the festival? Both belong to the lovers and losers of the world. Director Colin Medley has the rare ability to transform swamp magic into celluloid without any degradation or loss. How does it make you feel, holding evidence of something impossible?
Par les désirs nostalgiques de Kevin Brasier:
(Traduit par les nuances quantiques de David Kohler)
Est-ce le festival qui constitue l'arrière-plan d'une chanson? Or est-ce la chanson qui est l'arrière-plan d'un festival? Les deux appartiennent aux amoureux et perdants de ce monde. Le réalisateur Colin Medley a cette rare capacité à transformer la magie d'un marais en celluloïd sans perte ou dégradation. Ça vous fait quoi d'avoir la preuve de quelque chose d'impossible?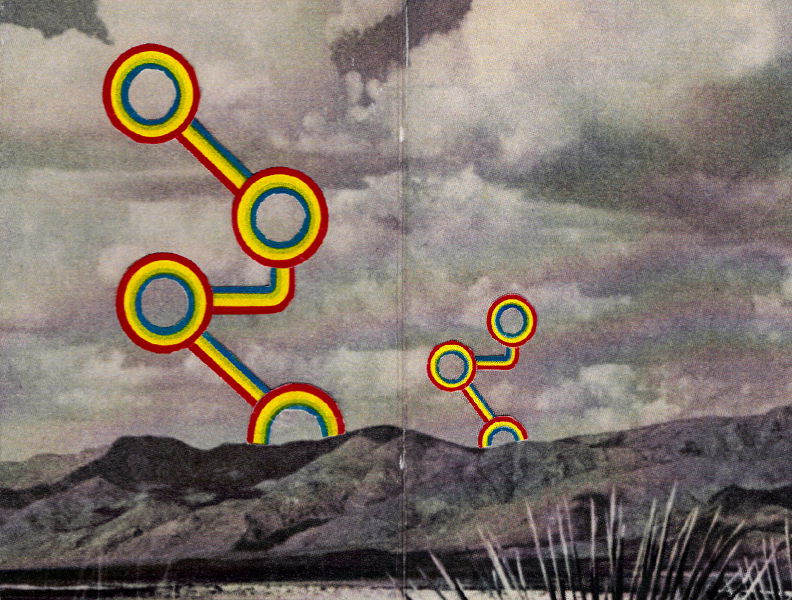 Various Artists
Prairie Shag
Regina, SK
From the tin can centerspace of Joshua Robinson:
Where artistries are as diverse as dancing night skies are multitudinous, Saskatchewan has long been that place of inferred absenteeism; the middle sibling to the East and West of Canada's outstretched arms.
Prairie Shag, a regional compilation of Regina artists, is infused with the same prairie sentimentally found in the frozen footsteps of wayward late-night stumblers. It provides us with a sonorous glimpse into the creaking gears and rusted-out tin can proclamations of the Queen City's rattling cage-ees (with the added bonus of a track by Saskatoon's Wizards). In the heart of the endlessly rolling fields, between the dilapidated grain silos and metallurgical life wounds of railcars past, and within the manic swinging of its seasonally bipolar countenance, Regina is that being below the permafrost; clawing methodically at the frozen earth overhead to break into the cold air of the very early morning.
What curator Carl Johnson (Library Voices, The Florals, and Coldest Night of the Year) has done with this comp is not unprecedented, but it is most certainly momentous. This is a mixtape made to be enjoyed and played to oblivion, to the point that it melts and conforms to the shape of its case, reconstituting itself as so much more than merely a medium. Rather, it is the time capsule-love-spawned offering of those same musicians who exist amidst the rolling fields of forever; who have embedded their intonations in the finer grains of those exhumed silos and railway carts previously regarded as eyesores for the eye-sorry; those who swallow the seasons as if they were merely the air that they breath.
Prairie Shag = Prairie Swag, and we, the undaunted denizens of our northernly centrespace, wear it well.
De l'espace central en boîte de conserve de Joshua Robinson:
(Traduit en hypodermie virtuelle par David Kohler)
Là où les artisteries sont aussi diverses que les cieux dansant sont myriade, Saskatchewan est depuis longtemps cet endroit à l'absentéisme inferé; l'enfant du milieu de l'est et de l'ouest des bras grand ouverts du Canada.
Prairie Shag, une compilation régionale d'artistes de Regina, est infusée de la même sentimentaité des prairies que l'on trouve dans les traces de pas congelées des fêtards de fin de nuit rentrant chez eux en titubant. Elle nous apporte un aperçu sonore des mécaniques craquantes et des proclamations de boîtes de conserves des encagés cliquettant de la Queen City (avec en bonus un morceau des Wizards de Saskatoon). Au coeur des champs roulant infinis, entre les silos à grain dilapidés et les blessures de la vie métallurgique d'un passé ferroviaire, et à portée des aléas maniaques de ses états saisonniers bipolaires, Regina est cet être en-dessous du permafrost; griffant méthodiquement la terre gelée du dessus pour pénétrer l'air froid du début de matinée.
Ce que le curateur Carl Johnson (Library Voices, The Florals, et Coldest Night of the Year) a fait avec cette composition n'est pas sans précédent, mais très certainement capital. Cette mixtape est faite pour être appréciée et jouée jusqu'à l'oubli total, au point où elle se fond et se conforme à la forme de sa boîte, se reconstituant en bien plus qu'un simple support. Plutôt, c'est la capsule temporelle engendrée par l'amour, offrande de ces mêmes musiciens qui existent au milieu des champs roulant de l'éternité; qui incorporent leurs intonations dans les grains les plus fins de ces silos exhumés et wagons ferroviaires précédemment regardés comme des horreurs visuelles; ceux qui avalent les saisons comme si ce n'est que l'air qu'ils respirent.
Prairie Shag = Prairie Swag, et nous, les habitants intrépides de notre espace central nordique, le portons bien.

Kitchen Party – We Need a Decision
---