Tag: david hobbs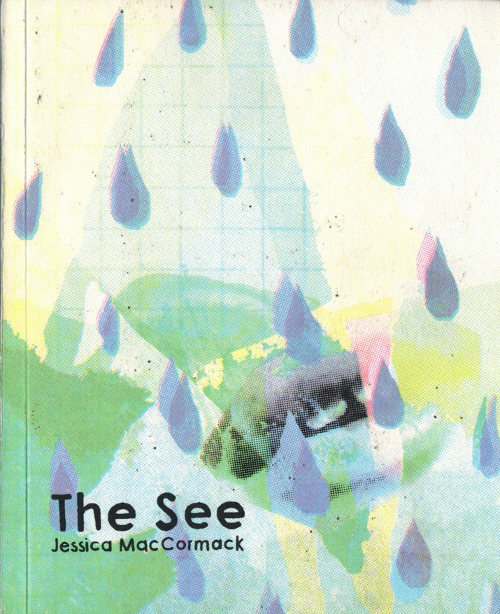 Before you, a stunning, violent bildungsroman that has sprung from a fantasy world wrought by tumblr-embroidery. The See's narrator begins by gesturing back "a long time ago" into "the 80s," when she and The Others went for drives and swims and sleepovers – "no boys allowed"– with gorgeously risographed images of fish wearing white socks and patent leather shoes reminding us of the double-entendre on "school." But Jessica MacCormack's beguiling visuals cannily combine naïve alt-culture regulars (kittens, flowers, a Wes-Anderson-y image of girlhood) with images of horrific trauma. As the images and passages accrete, The See reveals itself to be about growing-up through the normalization of abuse. A particularly affecting passage reads:
The See
Jessica MacCormack
96 pages, perfect bound with French flaps
Montréal, QC
From the foreboding fauna of David Hobbs:
Before you, a stunning, violent bildungsroman that has sprung from a fantasy world wrought by tumblr-embroidery. The See's narrator begins by gesturing back "a long time ago" into "the 80s," when she and The Others went for drives and swims and sleepovers – "no boys allowed"– with gorgeously risographed images of fish wearing white socks and patent leather shoes reminding us of the double-entendre on "school." But Jessica MacCormack's beguiling visuals cannily combine naïve alt-culture regulars (kittens, flowers, a Wes-Anderson-y image of girlhood) with images of horrific trauma. As the images and passages accrete, The See reveals itself to be about growing-up through the normalization of abuse. A particularly affecting passage reads:
The Missing One's Others were over for The Holidays and then Blam, 'My father raped me.' (That's how we say Happy Holidays around these parts.)
Or look at the poppies that suggest wounds on the bodies of her subjects. One naturally recalls the Canadian metanarrative of heroism and loss returned to every November. But the poppy is also operating as the smuggled signification of addictive opiates and, subsequently, the intravenous communication of HIV. If MacCormack's work is "precious," it is in the sense of its tremendous value and of the scarcity of such confident interrogations of our imbricated systems of health care, 'justice,' foreign policy and art. In a recent interview, MacCormack drew attention to the manner in which "structures of the art institutions are similar to the prisons, government, education and other systems: we need to actively shape them (or actively destroy them)."
De la faune prémonitoire de David Hobbs:
(Traduit au son assourdissant de la citrouille moisissante par David Kohler)
Devant toi un roman initiatique stupéfiant qui surgit d'un monde fantastique forgé en broderie à la tumblr. La narratrice de The See commence par réaménager « il y a bien longtemps » en « dans les années 80 », quand elle et Les Autres partaient en escapades, allaient nager, organisaient des pyjama party – « interdites aux garçons » – avec de splendides images risographiées de poissons portant des chaussettes blanches et des souliers en cuir vernis qui nous rappellent le double sens en anglais du mot « school ». Les visuels charmeurs de Jessica MacCormack combinent astucieusement les habituels icônes naïfs de la culture alternative (les chatons, les fleurs, une imagerie à la Wes Anderson de la jeunesse féminine) avec des images de trauma horrifiques. Au fil des images et des passages qui s'accumulent, The See révèle son sujet : grandir avec la normalisation de l'abus. Voici un passage particulièrement frappant :
The Missing One's Others were over for The Holidays and then Blam, 'My father raped me.' (That's how we say Happy Holidays around these parts.)
Les Autres de La Disparue étaient là pour les fêtes et vlan, 'Mon père m'a violée'. (C'est comme cela que l'on se souhaite de Bonnes Fêtes dans ce coin.)
Ou peut également regarder les coquelicots qui suggèrent les blessures sur le corps de ses personnages. On se rappelle alors naturellement la meta-narrative canadienne de l'héroïsme et de la perte qui revient chaque mois de novembre. Mais le coquelicot opère également en contrebande comme symbole des opiacés addictifs et par suite de la transmission intraveineuse du SIDA. Si le travail de MacCormack est « précieux », c'est pour sa formidable valeur et le manque d'interrogations audacieuses au sujet de l'imbriquement du système de santé, du système judiciaire, des affaires étrangères et du monde artistique. Récemment, dans une entrevue, MacCormack attirait l'attention sur la manière dont les structures des institutions artistiques sont similaires aux prisons, au gouvernement, à l'éducation et à d'autres systèmes, stipulant que nous devons activement les refaçonner ou simplement les détruire.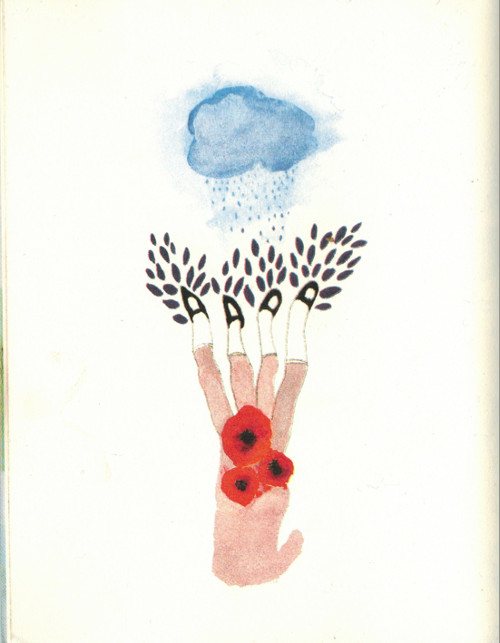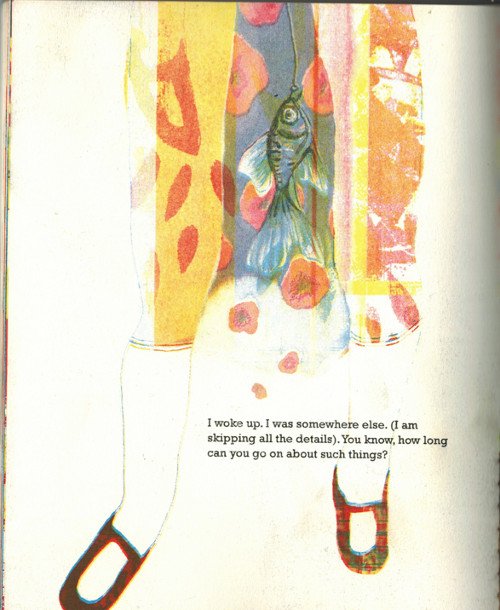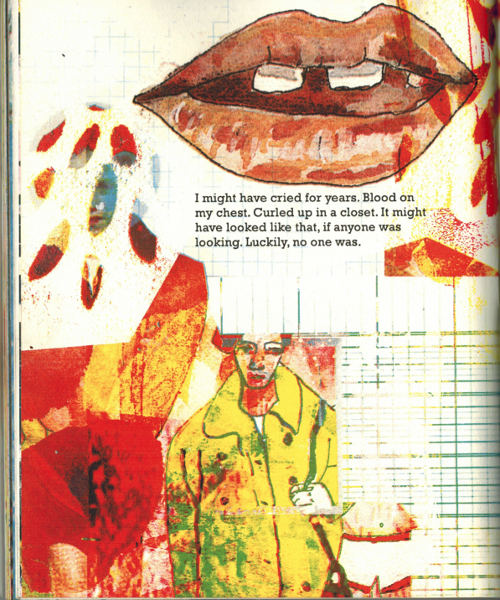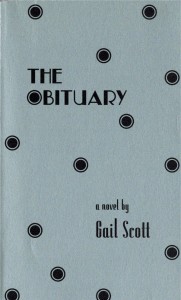 Gail Scott
The Obituary
Montréal, QC
From the kaleidoscopic third eye of David Hobbs:
In one of the footnotes that pepper Gail Scott's The Obituary – marked by little black hearts, rather than asterisks – she writes, "Reader, the past carries a secret index. Little by little revealing why one meandering in speaking". This could be a provisional artist's statement, as Scott's novel flutters through venetian-blinded apartments in Montréal's Mile-End neighbourhood, finding similar topics spoken in the voices of a queer Métis woman, a local gendarme, a therapist (auspiciously named MacBeth), a literal fly on the wall and others. But Scott's is not an ersatz Montréal; at least linguistically, she offers us the pulsing, shifting radiance of her "main port" in brusque descriptions and overheard franglais, connecting her characters with a past made presque neuf.
If readers find themselves struggling with Scott's prose, which in structure and syntax is more Joyce than her beloved Gertrude Stein, it is because The Obituary is a strange novel that demands strange reading. Careful reading gives rise to instances of what Canadian poet Steve McCaffery (Scott's label-mate at Coach House Books) refers to as a "momentary conjunction"– think of two seemingly unrelated stories that end-up beside each other in a newspaper. Read quickly, Scott's deft variations in grammar, slang, and typography are rendered with prismatic brilliance. Combining both approaches, and any and all others, is essential for experiencing the dizzying wonder of The Obituary.
Du troisième oeil kaléidoscopique de David Hobbs:
(Traduit par Natalie Binda)
Dans l'une des notes de bas de page qui parsèment The Obituary de Gail Scott – indiquées par de petits coeurs noirs au lieu d'astérisques – elle écrit : « Cher lecteur, le passé traîne avec lui un index secret. Peu à peu, il révèle ce qui pousse à se perdre en paroles ». Déclaration provisoire de l'artiste? Le roman de Gail Scott s'immisce à travers les stores vénitiens des appartements du Mile End à Montréal et y trouve des sujets similaires exprimés par les voix d'une Métisse homosexuelle, d'un gendarme local, d'un psychologue (convenablement appelé MacBeth), d'une mouche sur un mur et bien d'autres. Toutefois, le Montréal de Scott n'est pas une pâle imitation; d'un point de vue linguistique, elle convie la vibrance et les éclats changeants de son « principal port d'attache » par de brusques descriptions et quelques bribes de franglais, rattachant ses personnages avec un passé remis presque à neuf.
Si les lecteurs éprouvent de la difficulté avec la prose de Scott, dont la structure et la syntaxe ressemblent davantage à Joyce qu'à sa bien-aimée Gertrude Stein, c'est parce que The Obituary est un roman étrange qui se lit de manière étrange. Une lecture méticuleuse donne lieu à ce que le poète canadien Steve McCaffery (également chez Coach House Books, la maison d'édition de Scott) nomme des « connexions momentanées » – imaginez deux histoires sans lien apparent qui se retrouvent côte à côte dans un journal. En revanche, une lecture rapide dévoilera l'éclat prismatique des habiles variations de grammaire, d'argot et de typographie de Scott. Il importe de combiner ces deux approches, ainsi que toutes les autres imaginables, pour découvrir la magnificence étourdissante de The Obituary.
---