Tag: david ferris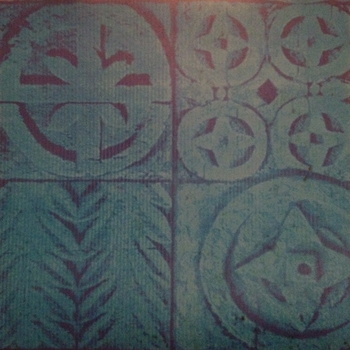 Crystal Swells
HarshSide/SludgeFreaks
(Self Released)
Vancouver, BC
From the flippant beach-combing of David Ferris:
This 7" find the freaks in heat thrashing in the surf. After the unruly throes and in-the-red Wray-blasts of the harsh side — with its 10/10 tremolo, shredding and bank heists — the band just has to hurl themselves under the perfect wave that is "Pacific Center Sludge." It's a fitting conclusion for eight-ish minutes of pure reverb-drenched bliss, creating something vital from a familiar framework of rapidly alternating string picks and bleeding fingers.
De la chasse aux trésors balnéaires désinvolte de David Ferris:
(Traduction issue de la caboche bronzée de Louis-Félix Pellerin)
Ce vinyle retrouve ces dingues en chaleur en train de s'éclater sur les vagues du surf. Après les turbulences et les Wray-blasts intenses de HarshSide avec son impeccable trémolo, son shred sublime et ses vols de banque parfaits, le groupe n'a plus qu'à attraper la vague parfaite qu'est « Pacific Center Sludge ». C'est une conclusion des plus adéquates d'environ huit minutes d'extase noyée d'écho qui crée, à l'aide de la méthode bien connue de l'alternance rapide entre des doigts écorchés et le plectre, quelque chose de vital.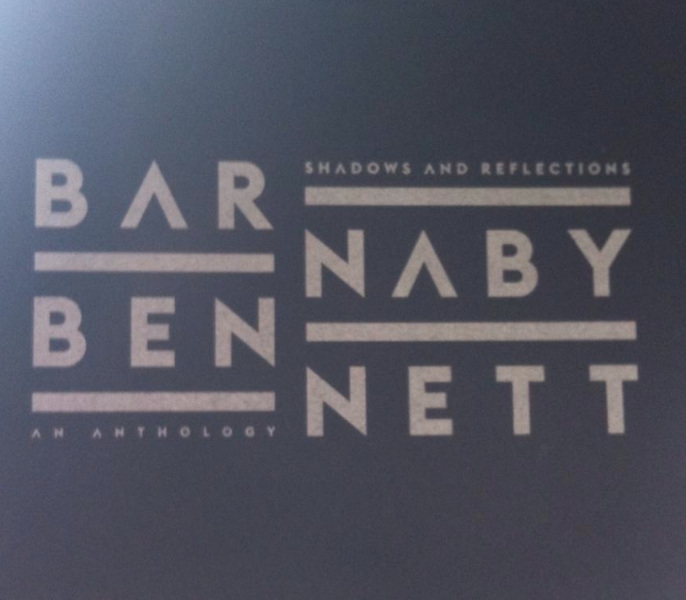 Barnaby Bennett
Shadows and Reflections
Calgary, AB
From the wistful murmurs of David Ferris:
This Calgarian cosmonaut and MTT-wunderkind sits a spell on the banks of the elysian ocean, strumming his guitar and occasionally dipping his toes into the celestial well-spring. His sound might seem paradoxical at first, but the goal here isn't to bury/subvert folk or country, instead seraphically lifting them up up up. In "A Satisfied Mind," chugging psychedelics, in the form of a burnt-out dub, give way to Bennett's cosmic croons — Flying Burrito Brothers comfortably in orbit. "Mystery Girl" does the opposite, with its hushed strums retreating back into the void. This anthology spanning six years and 20 (!) songs is lovingly delivered between worlds, outside the entrance to the Church of Parsons.
Des murmures nostalgiques de David Ferris:
(Traduit par les orteils mouillés de Vincent Rondeau)
Originaire de Calgary, le cosmonaute et organisateur prodige du festival MTT s'assoit brièvement sur les rives de l'océan élyséen, grattant sa guitare et se mouillant les orteils de temps à autre dans la source céleste. Si ses sonorités peuvent paraître paradoxales, son but n'est pas d'ensevelir ou de détourner le folk et le country, mais de les élever angéliquement vers le firmament. Sur « A Satisfied Mind », le souffle psychédélique d'un dub brûlé croûle sous le charme cosmique de la voix de Bennett, comme les Flying Burrito Brothers décrivant une orbite douillette. Les accords feutrés de « Mystery Girl » s'inscrivent dans un mouvement contraire, se repliant vers le néant. Cette anthologie de 20 (!) chansons, couvrant six ans de travail, vient au monde entre les mondes, sur le parvis de l'Église de Parsons.

Barnaby Bennett – A Satisfied Mind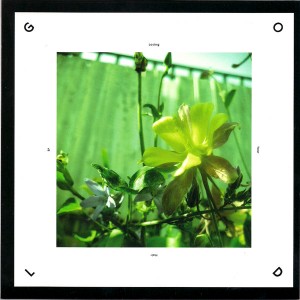 Gold
Losing Your Hair
Calgary, AB
From the gossamer yearnings of David Ferris:
When it's cold as fuck, put the top down and make a sojourn to a place which is beautiful, bittersweet and sepia-toned. The cymbals wash on forever and the almost-psychic interplay of guitars and harmonies chase each other, intertwining all plaintive and beautiful-like — all of this cast under a towering, sublime shadow.
In 2012, Kaelen Ohm and Rena Kozak, along with Chris Reimer and Matt Swann, recorded four excellent and affecting songs, and the context of the EP may be familiar to many of you.
The reason there are no proper synonyms for "bittersweet" is because these things seem obvious and natural to us until we attempt to nail them down. Breaking them up into smaller, more articulable components, we can never seem to capture it in the least, and all we are left with are gobbledygook fragments (like this very write-up). Let's just leave this for now with "Drugs" being a straight-up perfect pop song: the right people in a room at the right time.
Des aspirations étoffées de David Ferris:
(Traduit de la trajectoire douce-amère de Catherine Gaucher)
Lorsqu'il fait foutrement froid, descendez votre toit ouvrant et dirigez-vous vers un endroit magnifique, doux-amer teinté de sépia. Une ombre sublime imprègne le microcosme où des cymbales s'effacent éternellement et où une interaction quasi-psychique s'établit entre guitares et harmonies qui se pourchassent, s'entrelacent, toutes aussi plaintives et belles qu'elles soient.
En 2012, Kaelen Ohm et Rena Kozak, accompagnés de Chris Reimer et Matt Swann, enregistrent quatre excellentes et émouvantes chansons. Certains d'entre-vous êtes familiers avec le contexte du EP en question.
Aucun synonyme ne peut exprimer l'exactitude symbolique du mot «doux-amer» parce que les choses ne nous semblent évidentes et naturelles qu'avant que nous ne tentions de précisément les définir. Même en les subdivisant en composantes plus petites, plus précises, nous n'arrivons jamais à les capturer le moins du monde et au final, nous nous retrouvons avec des fragments de charabia (comme cette critique). Laissons cela de côté pour l'instant avec « Drugs », une parfaite chanson pop sans détour : être avec les bonnes personnes, au bon endroit, au bon moment.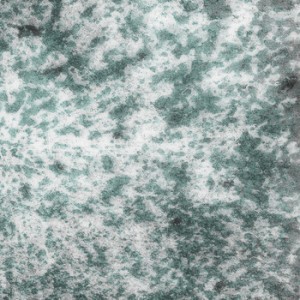 Pigeon Breeders
Luminous Debris
Edmonton, AB
From the fulgent wreckage of David Ferris:
Pigeon Breeders, one of the more meditative crown-jewels of Edmonton's experimental/free-improv scene, allow us to overhear their wide-screen conversation: a psychic space where vast celestial strings vibrate slowly, played by solar winds (which are actually disembodied vocals sent by astral projection), and the players float freely through the burnt-out husks of various interminable ruins. Luminous Debris is a truly singular beast: one-part expansive drone via Natural Snow Buildings, one-part empyrean searching via Cluster, and the rest comprised of various kitchen sink tomfuckery. The two pieces are called "Interior" and "Exterior", but this is a clever ruse. On the Cosmic Scale, one will eventually pan out far enough to notice that both topologically rest on the same side of some vast and ecumenical coin.
Du flamboyant naufrage de David Ferris:
(Traduit par la facette médusée de Nicolas Coutlée)
Les Pigeon Breeders, un des joyaux du versant méditatif de la scène de musique expérimentale et improvisée d'Edmonton, nous laissent surprendre leur conversation sur grand écran : un espace psychique où d'immenses instruments à cordes célestes retentissent doucement sous l'effet des vents solaires (de fait, il s'agit de voix désincarnées se déplaçant par voyage astral) et les musiciens flottent librement entre les décombres calcinés de ruines s'étendant à l'infini. Luminous Debris est réellement une bête singulière : une part de drone tentaculaire à la Natural Snow Buildings, une part de quête sidérale à la Cluster et du zigonnage d'évier de cuisine pour compléter le tout. Les deux pièces s'intitulent « Interior » et « Exterior », mais ce n'est qu'une habile supercherie. Sur l'échelle cosmique, le spectateur s'aventurera tôt ou tard suffisamment loin pour s'apercevoir qu'elles ne forment qu'une seule face topologique de quelque vaste écu œcuménique.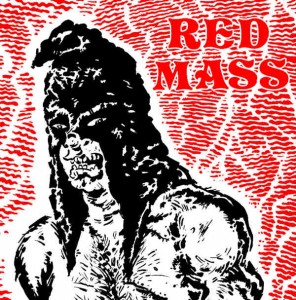 Red Mass
Television Personalities b/w Kill It From The Inside
Montreal, QC
From the shortwave vexation of David Ferris:
Red Mass's two-song single features formerly itinerant songs which have finally found a home on vinyl, thanks to the nurturing hands of Mammoth Cave. Unfortunately, even within his friendly new neighbourhood, Roy Choyce can't seem to turn over a leaf or curb his cur nature; he spends the duration of all seven inches scaring the neighbours and exploring the roles of bad cop integrator and fervent tormentor. You, dear reader, may think you're special, but make no mistake: you are all part of "the masses," and on "Television Personalities" our narrator's altered voice will crackle out of your speakers, enter your head and immediately begins to self-replicate, inducing lunatic bobbing and psychosis. B-side "Kill It From the Inside" reveals Choyce as harrier and hector, with sleazy and violent guitars wife-swapping channels while he announces his itinerary to the listener: killing, lies and lust. A must-get icy cold grip.
Du désarroi à ondes courtes de David Ferris:
Le simple de deux pièces de Red Mass regroupe des chansons orphelines qui ont finalement trouvé demeure sur vinyle grâce aux bons soins de Mammoth Cave. Malheureusement, même dans son nouveau quartier sympathique, Roy Choyce semble incapable de tourner la page ou de museler sa nature de chien enragé; il s'ingénie sur toute l'étendue de ces sept pouces à effrayer les voisins et à incarner les rôles de policier véreux et de fervent tourmenteur. Vous, chers lecteurs, peut-être vous croyez-vous spéciaux, mais n'allez pas vous tromper : vous faites tous partie « des masses », et, sur « Television Personalities », la voix altérée http://youtu.be/ypGxYM3MHqY du narrateur sortira grésillante de vos haut-parleurs, pénétrera votre tête et immédiatement commencera à se dédoubler, engendrant psychose et hochements de tête lunatiques. Sur la face B « Kill It From the Inside », Choyce se révèle tout aussi ravageur et tapageur, avec ses fréquences échangistes de guitares violentes et sordides, tandis qu'il annonce à l'auditeur son itinéraire : meurtre, mensonges et lubricité. À saisir absolument d'une poigne froide et glaciale.
Red Mass – Television Personalities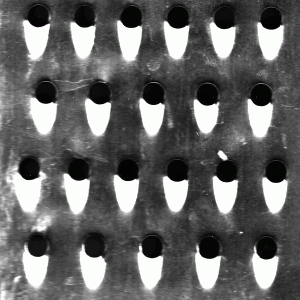 Various Artists
2012
Edmonton, AB
From the deaf ears of David Ferris:
In Edmonton — a city where the fringes often seem unusually frayed — there is a Galapagos-style splitting off from the rest of reality. This has clearly manifested itself in the sheer strangeness of its experimental/noise scene, which exists without any scene-politics, division or egos: just a bunch of genuinely weird people getting together once or twice a month to make some really "out-there" shit under the guise of the Ramshackle Day Parade shows. The 2012 Ramshackle compilation pulls a raw core-sample out of this underbelly of outsiders-among-outsiders.
Listen carefully and the following will eventually become quite audible, coming into focus like a Magic Eye: dads loading their massive home-made analog synthesizer rigs into the backdoor of Bohemia; stoned overtone singing in sewer pipes (perhaps the work of some C.H.U.D.-like entities); every fourth performer burning incense and every fifth performer requiring decoder rings and/or 3D glasses; classical composers trying to make your fucking ears bleed; people listening without earplugs, risking tinnitus but savouring it like sex without a condom; a strict 5:1 contact mike to saxophone ratio; dozens of people collaboratively blasting noise generated by custom software on their smartphones, which have been networked together by a performer; Fluxus gags; shows with loyal turnouts of 5-60; revisionist Noir and cosmic keys; sometimes a drunk random in the back, yelling "play some songs"; Potier piling layers of brutal scrapings onto further layers of brutal scrapings; performers with crippling stage-fright playing underneath blankets like trembling ghosts; a bizarro world where extended technique is the norm and normal musicianship has become alienating; the homeless and marginalized constantly pounding at the venue's glass window, peering in, drawn to something that sounds universally unfamiliar, then coming into the front door and trying to barge in for free. Check it out.
Des oreilles sourdes de David Ferris:
La culture d'Edmonton, dont les marges sont particulièrement éclectiques, semble aussi déconnectée de la réalité que les îles Galapagos. Ceci se manifeste nettement dans l'étrangeté pure de sa scène expérimentale/noise, sans division, ego ni politique : tout simplement, une ou deux fois par mois, une poignée de gens complètement bizarres se rassemblent sous la bannière Ramshackledayparade pour créer des sons excentriques. La compilation Ramshackle 2012 expose le noyau vital de ce groupe de marginaux de la marge.
L'écoute attentive révèle des images audibles, à la manière d'un autostéréogramme, de pères de famille transportant des installations massives de synthétiseurs analogues dans la porte arrière du Bohemia; de chants diphoniques intoxiqués dans les égouts (à la C.H.U.D.); de l'encens que le quart des artistes font brûler sur scène; d'anneaux de décodage et de lunettes 3D; de compositeurs classiques qui essaient de vous faire saigner des oreilles; d'auditeurs sans bouchons, risquant l'acouphène pour le plaisir; de pas moins de cinq micros contact par saxophone; de douzaines d'artistes émettant simultanément et sans coordination des bruits générés par des logiciels qu'ils ont eux-même construits sur leurs téléphones intelligents; de gags à la Fluxus; d'auditoires de 5 à 60 personnes; de claviers cosmiques et de styles film-noir révisionnistes; d'un ivrogne occasionnel au fond de la salle qui crie « Jouez des chansons! »; de Potier qui empile couche par-dessus couche de raclures sonores brutales; d'artistes qui jouent sous des couvertures, comme des fantômes tremblants, parce qu'ils ont un trac paralysant. C'est un monde de Bizarro où les techniques de jeu étendues et alternatives sont de mise et les musiciens « normaux » sont aliénants, et où les sans-abri et les marginaux frappent à la fenêtre du bar en regardant à travers, attirés par ce qui est universellement dépaysant, et essaient d'entrer gratuitement. Écoutez pour voir.
Meat Force – Drifting Towards Darkness At Noone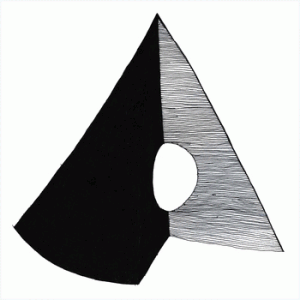 Wand
Mt. St. Helens
Victoria, BC
From the convivial ejaculations of David Ferris:
Mt. St. Helens sounds like it was recorded at the height of the summer solstice: hand claps and drum machines abound; fields of back-up singers, ebullient brass instruments and strings weep joyously; major keys melt over nooks and crannies; "Holy Mountain, Holy Ghost" crescendos victoriously; blithesome beach people frolic, experiencing spring and summer concurrently; Derek Janzen drops joyous vignette after joyous vignette; birds sing and fall passionately in love, fornicating wildly in the trees; drunken waltzes overtake those usually too shy to dance. Now that we have passed the tipping point and the sun has been appearing at its lowest altitude above the sweet horizon, put this on if you feel a longing for endless summer and the perfect wave.
Des exclamations conviviales de David Ferris: (Traduit par Maya Keshav)
Mt. St. Helens a l'air d'être enregistré au milieu du solstice d'été: les mains frappent et les boîtes à rythme abondent; les champs de choristes, les cuivres exubérants et les cordes pleurent joyeusement; les modes majeurs fondent sur les coins et recoins; "Holy Mountain, Holy Ghost" atteint victorieusement son crescendo; les gens insouciants gambadent sur la plage, en vivant le printemps et l'été simultanément; Derek Janzen sert une vignette heureuse après l'autre; les oiseaux chantent et tombent passionément en amour, en niquant follement dans les arbes; les valses d'ivrogne prennent le contrôle de ceux qui sont normalement trop gênés pour danser. Maintenant qu'on a dépassé le point critique et le soleil apparaît à l'altitude la plus basse au-dessus de l'horizon, passez cette musique si t'as envie d'un été interminable et l'onde parfaite.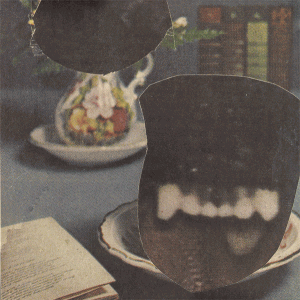 Fleshton Aura
On Rusticated Slant
Toronto, ON
From the snipped anxieties of David Ferris:
Remembering the often forgotten playfulness of early Musique Concrete, Fleshtone Aura liberates his sounds from the Dementor-like wraith of musical academia / boredom, as sounds of scrapes and buzzes jocularly rub shoulders with old soundtrack splinters and various cheeky ejaculations. On Rusticated Slant presents the blurred landscape of a clever but potentially unhinged mind, as viewed through the window of a high-speed train. Fragments of ideas speed by relentlessly, erupting and retreating with some unknown and disturbingly consistent self-contained logic inside a damaged aural kaleidoscope. Many times one will be lured into the dense succession of microsound, only to have it explode like a novelty-gag can of snakes. This beguiling record is a meditation on damage, rewarding decompression through close listening.
Des anxiétés coupées de David Ferris: (Traduit par les peurs sauvages de Maya Keshav)
En rappellant l'allégresse souvent oubliée des débuts de Musique Concrete, Fleshtone Aura libère ses sons du spectre détraqueresque du monde universitaire musical/ de l'ennui, quand les sons de grattements et de bourdonnements côtoyent joyeusement avec les extraits des vieilles bande-sons et diverses exclamations insolentes. On Rusticated Slant présente le paysage flou d'une tête brillante mais possiblement folle, comme vue de la fenêtre d'un train à grande vitesse. Les éclats d'idées passent à toute allure sans cesse, en explosant et reculant avec quelque logique inconnue, autonome et sinistrement concordante dans un kaléidoscope auriculaire brisé. Plusieurs fois on est attiré dans la série intense de microsons, mais soudainement elle explose comme un bidon d'enfant de serpents. Ce morceau séduisant est une méditation sur les dommages, qui récompense la décompression avec une écoute soigneuse.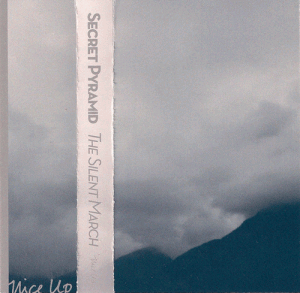 Secret Pyramid
The Silent March
Vancouver, BC

Seven achingly beautiful personal mantras for anyone who has ever wanted to
stare into the sun
painlessly; rapturous
cumulus
emanating from the third eye of Vancouver's Amir Abbey (also of
Solars
). There is a solatium to those who would wander through these insanely dense places: more always lying in the vast periphery, hazily unfolding horizons on the edges of perception. I promised myself that I would get through this without relying on Popol Vuh references, but I dare you to get through
The Silent March
without picturing Kinksi at the end of
Aguirre
, adrift in his search for El Dorado and in the process of being swallowed up by his environment.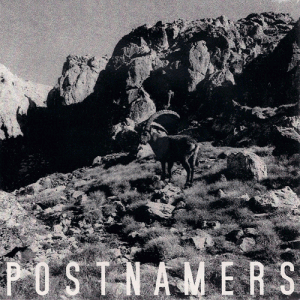 Matthew A. Wilkinson
Post Namers
(Self Released)
Winnipeg, MB

That
Post Namers
is an album full of electronics seems at first like a departure within a departure, but actually makes perfect sense for somebody with a penchant for sacred imagery. Who, if not
Wilkinson
, with his predilections towards the sacred and profane, would benefit more from having the ability of make sound reverberate through limitless space and virtual cathedrals? Just as places of religious significance were architecturally designed for
acoustics
, Wilkinson erects 13 places of worship for his songs; each a unique spiritual monument, jutting upwards like some ecclesial finger and decorated with demented frescoes. Perhaps he recorded "Last Summer I Moved Venus" in the Hagia Spohia, where the holiest of
Benedictine
vocals float through reverent chambers of seemingly infinite dimensions. "Skyscrapers in Paris", with its spindly
Deceit
guitars and unrelenting ghost chant, could have been recorded in the Wat Rong Khun or
St. Basilica
. Essential devotional listening.
---