Tag: das rad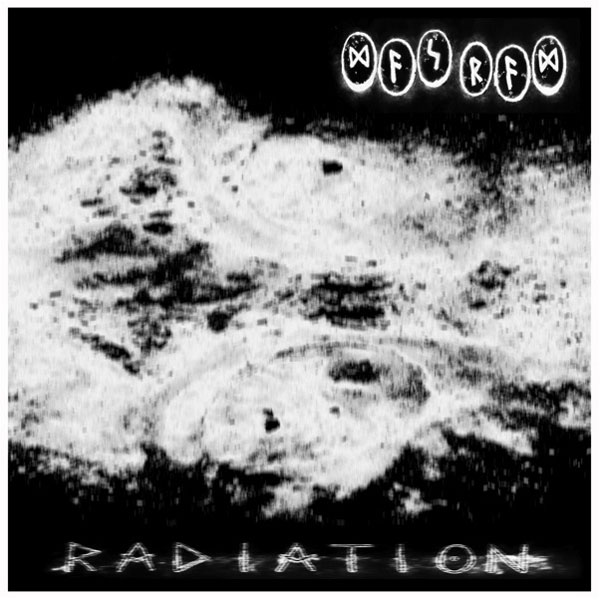 Das Rad
Radiation
Toronto, ON
From the drummed ears of Andy Clark:
The first two times I turned on Radiation, I immediately turned it down. After the initial blast of feedback subsided, the music became a wild expression of fuzz destruction: a truck driver drives their truck into the fog, later waking to find that they've arrived in a town where they are not the only visitor. "1331", "Sake of Sound" and "Afterbang" play like a gekiga comic: unassuming at first, until deep evil threads itself into reality. Beware the fog… was it a self-inflicted manifestation of guilt after all?
Des oreilles martelées d' Andy Clark:
(Traduit par Jessica Grenier)
Les deux premières fois que j'ai voulu écouter Radiation, j'ai immédiatement baissé le son. Mais une fois que la première explosion de feedback est passée, la musique devient l'expression sauvage d'un fuzz destructeur. Un camionneur conduit dans le brouillard, il est réveillé plus tard par la découverte qu'il est arrivé dans une ville où il n'est pas le seul visiteur. « 1331 », « Sake of Sound » et « Afterbang » ressemblent à un manga gekiga : des débuts sans prétention jusqu'à ce qu'une profonde noirceur se superpose à la réalité. Méfiez-vous du brouillard… est-ce qu'il s'agissait finalement depuis le début d'une culpabilité auto-infligée?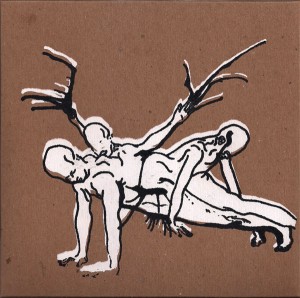 WTCHS // Das Rad
Split Lathe
(Perdu)
Hamilton, ON // Toronto, ON
From the brooding darkness of James Lindsay:
It's been a big year for Hamilton's WTCHS, whose mournful post-hardcore could be a soundtrack for Steeltown in decay. On "Overkilmer/Some Girls" they have a chilly, haunted echo like the members of Fugazi holding a séance to channel the spirit of young Robert Smith. This contrasts their live performances, where the lights go off, the bottom drops out, and all the shadows nod their heads in agreement with the brutish monster that broods in the dark. They're never afraid to share their releases with kindred souls, but hopefully there's a solo LP looming just over the horizon.
On the flipside, Toronto's morticians of rock 'n' roll, Das Rad, exhume their strongest work to date. Like a deranged surgeon sewing bits of bodies together, they graft the Cocteau Twins' romantic moods and non-lyrical vocalizations with Black Sabbath's cloak and cross wearing proto-metal. Surprisingly, the Promethean they create is anything but dour, loving life as it reenacts Saint Vitus's dance around the room, even though it dresses only in black.
Des ténèbres rampantes de James Lindsay:
(Traduit par la danse de Saint-Guy désapprise de Nicolas Coutlée)
Grosse année pour le groupe WTCHS de Hamilton, dont le post-hardcore mélancolique pourrait servir de bande sonore à la ville de l'acier en déclin. L'écho paisible et fantomatique de « Overkilmer/Some Girls » résonne comme si les membres de Fugazi tenaient une séance de spiritisme pour entrer en contact avec le jeune Robert Smith. Cette ambiance contraste avec leurs concerts, où les lumières s'éteignent, quelque chose se brise, et soudain les ombres se mettent à hocher de la tête à l'unisson avec la bête sauvage qui rôde dans les ténèbres. Le groupe ne craint pas de partager la vedette avec des âmes compatibles, mais heureusement un album solo point à l'horizon.
De l'autre côté, les croque-morts du rock and roll, les Torontois de Das Rad, exhument leurs meilleures pièces à ce jour.Tels des chirurgiens fous couseurs de bouts d'organe hétéroclites, ils greffent au romantisme et aux vocalisations sans paroles des Cocteau Twins le proto-métal à croix et tunique de Black Sabbath. Surprenamment, la créature prométhéenne qui voit le jour n'a rien d'effrayant, mais incarne plutôt l'amour de la vie alors qu'elle réinterprète [la danse de Saint-Vitus] tout de noir vêtue.Grosse année pour WTCHS de Hamilton dont le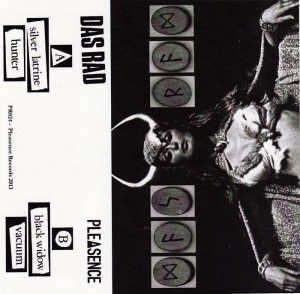 Das Rad
Das Rad
Toronto, ON
From the ethereal cavedom of Simon Frank:
Das Rad are Toronto's ethereal cavemen. The black denim-clad trio's wind tunnel rock is equal parts ecstatic chant and muddy trudge. Over rhythmic pummel, bass carries most structure and melody, leaving guitar and vocals to be united in waves of flange. "Silver Latrine" has the perfect title, dragging La Dusseldorf down to a filthy bathroom, while "Vacuum" pressurizes and tightens their approach to point that ghost harmonies emerge within the fuzz. Rad.
Des cavernes éthérées de Simon Frank:
(Traduit par les latrines argentées de Stéphanie Trottier)
Das Rad sont les hommes de caverne éthérés de Toronto. Habillé de denim noir, le trio nous présente un rock-ouragan qui est, d'une part, un chant exalté, et d'autre part, une marche pénible dans la boue. Accompagnée de trituration rythmique, la basse est centrale à la structure et à la mélodie, unissant la guitare et les voix par des vagues de brides mécaniques. Silver Latrine est le titre parfait, traînant La Dusseldorf jusqu'à de miteuses salles de bain. Quant à elle, Vacuum exerce de la pression et resserre son approche pour prouver que des harmonies fantômes peuvent bel et bien émerger de la poussière. Radical.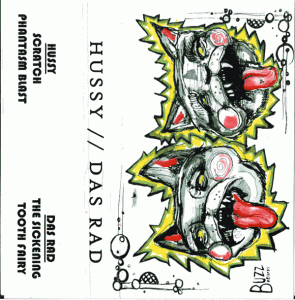 Hussy // Das Rad
Split Cassette
Toronto, ON
From the junkyard dog of James Lindsay:
This is a great example of the dark, noisy swamp-rock that's been brooding in the bowels of southern Ontario recently. It's almost as if the Soupcans and METZ had drunk sex and spawned a whole litter of bands that have deep roots in bleak, early post-punk nihilism and the hook-driven clamour of grunge and shoegaze. Das Rad get physical with their tough fuzz-pysch, sounding like MBV going minimal because they're playing our back alley party, and if the cops come, we'll all have to take off quick. Hussy brings the sleaze, the weed and a rare tape of Kurt Cobain (made after the faked suicide, living in hiding) covering Warsaw. This is the sound of 2013, or the end of the world, whatever comes first.
Du chien de dépotoir de James Lindsay:
Voici un excellent exemple du genre de rock sombre, bruyant et marécageux qui sort de nos jours du sud de l'Ontario. Comme si The Soupcans et METZ, complètement saouls, avaient conçu toute une portée de groupes qui s'inspirent à la fois du vieux nihilisme post-punk morne et des vociférations accrocheuses du grunge et du shoegaze. Le psychédélisme coriace et distordu de Das Rad évoque un MBV plus minimal, comme s'ils jouaient dans la ruelle, prêts à détaler si la police arrivait. Hussy fournit l'attitude scabreuse, la marijuana et une cassette rare de Kurt Cobain (enregistré en cachette après son faux suicide) qui chante Warsaw. De deux choses l'une : c'est le son de 2013, ou celui de la fin du monde.
---