Tag: daniel johnston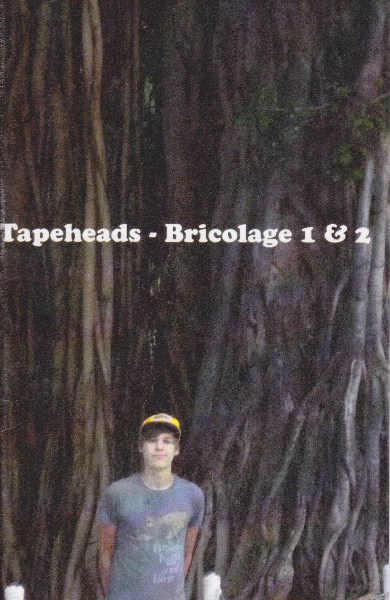 Tapeheads
Bricolage 1 & 2
Marieville, QC
From the rippled surface of Joshua Robinson:
Gone are the days of distinguishable form and figure, as tonal palettes become imbued with circumflexes of language too abstract to categorize as recognizably decipherable. These tonal tributaries branch and meander. They reach to a point that is unreachable, and then reach beyond, (de)constructing in their wake the avant-garde waterways that course through daydreamed reflections of the confluence sky, each ripple on its surface a space in the grand interstice between pointillistic familiarities.
De la surface ridée de Joshua Robinson:
(Traduit par la distortson gravitationnelle de David Kohler)
Les jours où l'on pouvait encore distinguer forme et figure sont bien loin, alors que les palettes tonales s'imprègnent d'accents circonflexes d'un langage trop abstrait pour être même catégorisé comme déchiffrable. Ces affluents tonaux se ramifient et serpentent. Ils atteignent un point inatteignable, puis vont encore plus loin, (dé)construisant dans leur sillage les voies navigables d'avant-garde qui traversent des réflections en rêveries à la confluence du ciel, chaque ride à leur surface étant un espace dans le grand interstice entre les familiarités pointillistiques.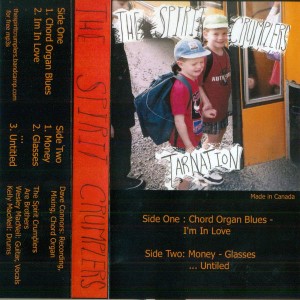 The Spirit Crumplers
Tarnation
(Self Released)
Halifax, NS
From the avenged sevenfolds of Farah Barakat:
The Spirit Crumplers define themselves as two vegan brothers playing garage-pop. And that they are, yet there's much more within their premiere release, Tarnation. There's a lot of spirit within their songs, and a strong sense that the brothers MacNeil poured their hearts and souls into this project. They even include their own zine with each cassette.
A certain sense of humbleness comes from the band's choice to open with a cover of the Daniel Johnston song ''Chord Organ Blues''. The MacNeils offer a beautiful rendition that does the original justice while simultaneously setting the tone for their own lo-fi sound. A comparison can be drawn between the higher pitched vocals of Johnston and singer-guitarist Wesley MacNeil (plus a little bit of John K. Samson of The Weakerthans). The Spirit Crumplers stick to an organic mix of guitar, drums and vocals, giving them a lot of room to toy with their sonic style. Tarnation tugs at your heartstrings, if not from the adorable lyrics, then maybe from the teeny guitar solo at the end of ''Glasses''.
De la revanche de Farah Barakat:
(Traduit par la rédemption de Catherine Gaucher)
The Spirit Crumplers se définissent comme deux frères végétaliens qui jouent du garage pop. Et ils le sont. Toutefois, il y a davantage de contenu dans Tarnation, leur première parution. Il y a beaucoup d'esprit au sein de leurs chansons et il nous reste un fort sentiment que les frères MacNeil ont versé corps et âme dans ce projet. Ils accompagnent même chaque cassette de leur propre zine.
On sent une certaine humilité dans leur choix d'une reprise de « Chord Organ Blues » de Daniel Johnston comme pièce d'ouverture. Les MacNeil offrent une interprétation magnifique qui rend justice à la version originale, tout en gardant le ton de leur son lo-fi. Une comparaison peut être faite entre le chant aigu de Johnston et celui du chanteur-guitariste Wesley MacNeil (avec aussi un peu de John K. Samson de The Weakerthans). The Spirit Crumplers construisent un mélange organique de guitare, batterie et chant, laissant beaucoup d'espace pour explorer leur style sonique. Tarnation atteindra les cordes sensibles de votre coeur. Si ce n'est pas grâce aux adorables paroles, alors peut-être que ce sera grâce au petit solo de guitare clôturant « Glasses ».

The Spirit Crumplers – Glasses
---