Tag: dance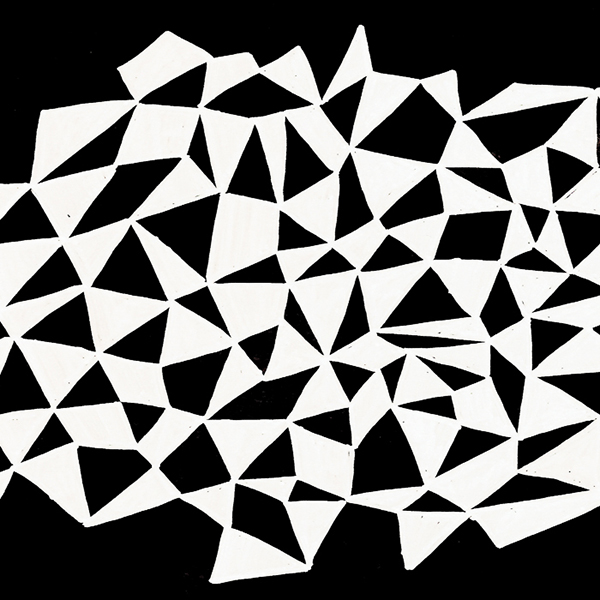 Eyeballs
Bad Art
(Self-Released)
Toronto, ON
From the feckless newsflash of Simon Petley:
The year: 2052. The headlines relay rumours. Trust is in precarious short supply. One thing is for sure: the primordial stannic sludge has finally begun its ascent from within the planet's molten core. It has equipped itself with arpeggiators, drum machines, tape loops and shows no signs of holding off until the entire population is shaking their hips in rhythm. It seems almost human in its undulations, more CH3 than C++, certainly. Soon you find the sludge echoing your desires. Anger, passion, and fear plait with gesticulation and form a cord strong enough to drag you across town in a fit of compassion.
De la nouvelle inefficace de Simon Petley:
(Traduit par la boîte à rythmes de Odile Leclerc)
L'année : 2052. Les grands titres rapportent des rumeurs. La réserve de confiance est moindre et précaire. Une chose est sûre : la boue stannique a finalement commencé son ascension depuis le centre en fusion de la planète. Elle est équipée d'arpégiateurs, de boîtes à rythmes, de cassettes et ne montre aucun signe d'attendre que la population entière secoue leurs hanches au même rythme. Elle semble presque humaine dans les ondulations, plus de CH3 que de C++, certainement. Bientôt, vous trouvez la boue faisant écho à vos désirs. Colère, passion et peur s'entremêlent avec gesticulation et forment une corde assez forte pour vous attirer à travers la ville dans un élan de compassion.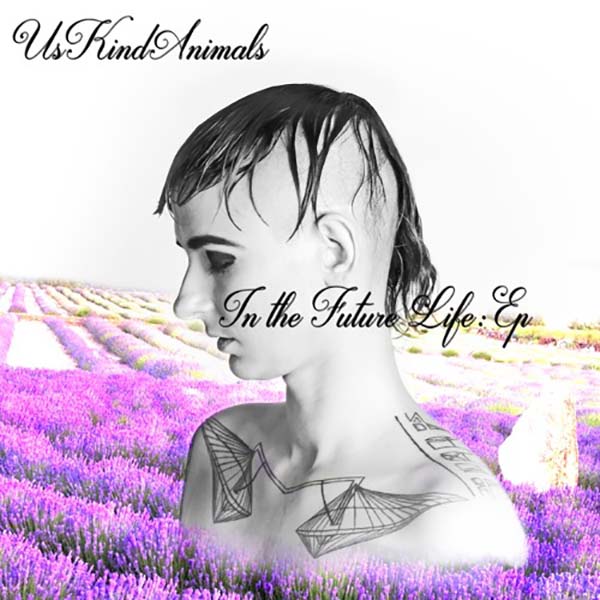 UsKindAnimals
In the Future Life EP
(Self-Released)
Montréal, QC
From the 4am catharthis of Heather Lune:
Is it holy to dance? Flee a frozen night in the dark underground chambers, to carve into the archaic beats and feel so new, so modern. And the summer comes: the long long sun, you need to get drunk in that hot light with desperation. But the anxiety as the frost creeps in again, the sun slips. In the manic chill, UsKindAnimals sing wild hymns to the soul over blindness-seeking carnal rhythms. Hear the auld disco dirge of ecstatic mourning? It's the death dance of winter, a skeleton shaking yourself out of your own cold corpse.
De la purge matinale de Heather Lune:
(Traduit par Sergio Calla)
La danse est-elle sacrée ? Fuir des tunnels souterrains pendant une nuit glaciale pour s'intégrer dans les sons archaïques afin de se régénérer et de se moderniser. Puis l'été arrive avec ses rayons de soleil étendus, donnant envie de se soûler désespérément dans cette lumière chaude pour encore une fois angoisser au départ du soleil et à l'arrivée du gel. Dans cette frénésie frisquette, UsKindAnimals chantent à l'âme des hymnes sauvages cherchant aveuglement des mélodies bestiales. Faire un deuil euphorique en écoutant de la bonne vieille musique d'enterrement? C'est la macabre danse hivernale. Un squelette qui vous secoue pour vous faire sortir de votre propre corps refroidi.
UsKindAnimals – Animal Dream feat. Emilie Monnet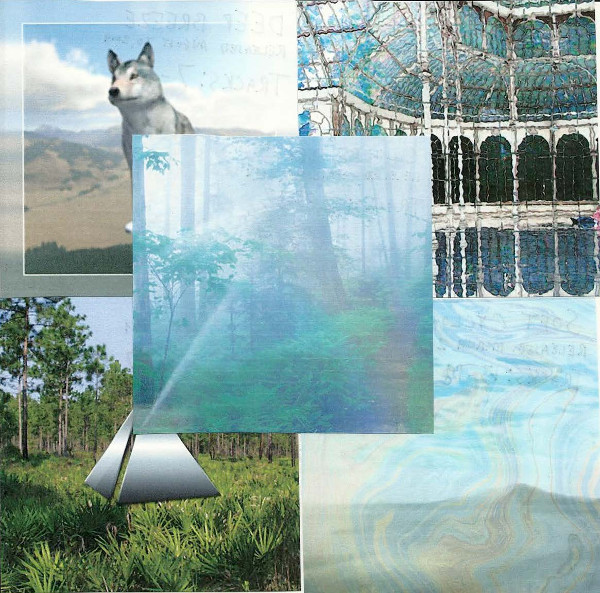 TELOZKOPE
Soft Cyclone
Winnipeg, MB
From the ghost level of Katie Jensen:
Supercharged rainbows push forward without knowing the outcome. A long, familiar road stretches into a glitching sunset, breaking apart with each shimmering, equal chord.
A tape rewinds to reveal the mundanity of your afternoon. Hesitantly at first, but then with more confidence, a zither takes up a slow dance with a harp, preoccupied with its own rhythms. The harp's lazy ramble finishes with a knowing wink, its smooth arm brushed by the side scrolling of toppling gold coins.
De l'étage fantôme de Katie Jensen:
(Traduit par les baies de genèvrier de Marie-Pier Chevrier)
Des arcs-en-ciel surchargés courent droit devant sans connaissance des conséquences. Une route longue et familière se perd dans un coucher de soleil clignotant, tombant en morceaux à chaque accord juste et chatoyant.
La cassette rembobine, révélant la banalité de votre après-midi. Hésitante d'abord, puis plus confiante, une cithare entame une danse lascive avec une harpe, suivant son propre rythme. Le discours divaguant et paresseux de la harpe se termine d'un clin d'oeil complice, son doux bras caressé par les pièces d'or y roulant.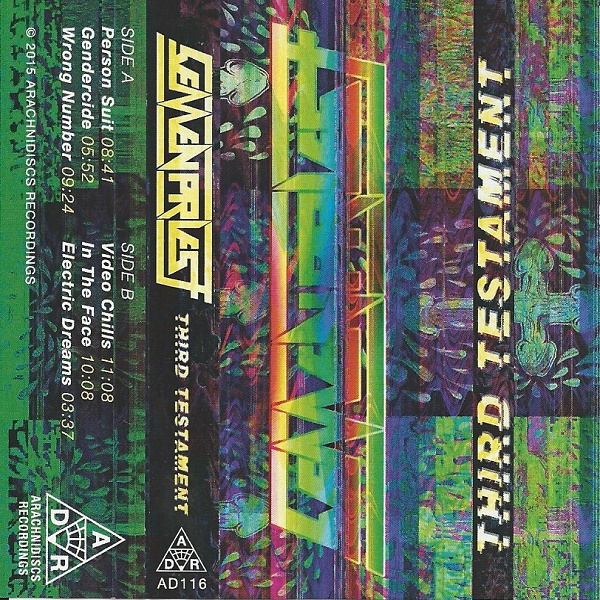 Semen Priest
Third Testament
Toronto, ON
From the masterful sleaze of Adam Bradley:
A grinning, skeletonized and sunglass-eyed Right Said Fred strutting through strobe lit hell-waste, lava sloshing to the groovy thrust. Rowland S. Howard rolled up in a rug made of disco ball shards, thwacked with sticks by little gremlin versions of A Certain Ratio. Masterful sleaze drips viscous. Fat cherry lips pout in the darkness and lick salaciously. Clammy palms rub together. Teeth gnash anticipation. The air is sulphur and cigarette.
De la savante débauche d' Adam Bradley:
(Traduit à grosses gouttes par Nicolas Coutlée)
Lunettes fumées et sourire aux lèvres, les squelettes des membres de Right Said Fred défilent dans une décharge infernale illuminée au stroboscope tandis que clapote la lave au rythme du groove. Rowland S. Howard enroulé dans un tapis de tessons de boule disco, fracassée à coups de bâton par les musiciens de A Certain Ratio version Gremlin. Savante débauche qui tombe en gouttes visqueuses. De pulpeuses lèvres rouge font la moue dans le noir et se pourlèchent d'un air salace. Des mains moites se frottent l'une contre l'autre. Des dents qui grincent d'anticipation. L'air n'est que souffre et cigarette.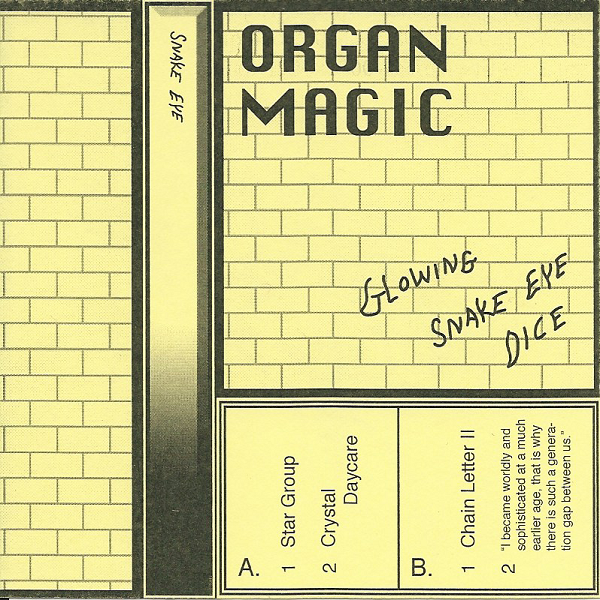 Organ Magic
Glowing Snake Eye Dice
(Self-Released)
Halifax, NS
From the solipsistic thwomping of Adam Bradley:
Stride into the house, the house built of interwoven, interlocking glowsticks, all activated and emanating a jumping energy. Fluorescence omnipresent save for the black of the hollow dancehall far ahead, flashing, heaving, thwomping. A mist of sweat travels through the maniac strobe and envelops like a druggy hug. Floor is condensation slick and rubbery like a dead balloon that's been sucked on. Ceiling is disco tiles, pulsing spastic morse. The atmosphere is dovetailed with a solipsistic confidence and the horn of plenty promises a bubbling bounty of vice.
Du *thwompage* solipsiste d' Adam Bradley:
(Traduit par l'optique épileptique de Julie Mayer)
Entrez dans la maison, la maison faite de bâtons lumineux entrelacés et interconnectés, tous activés et desquels émane une énergie bondissante. Une fluorescence omniprésente vous garde de la noirceur du dancehall creux qui clignote, se soulève et thwompe loin devant. Une brume de sueur voyage à travers la lumière stroboscopique maniaque et vous enveloppe comme un câlin de junkie. Le sol, rendu glissant par la condensation, est aussi caoutchouteux qu'un ballon dégonflé dont on a aspiré l'air. Le plafond aux allures de boule disco pulse du morse spasmodique. Une assurance solipsiste se joint à l'ambiance et la corne d'abondance promet une prime pétillante de vice.
Organ Magic – I became worldly and sophisticated at a much earlier age, that is why there is such a generation gap between us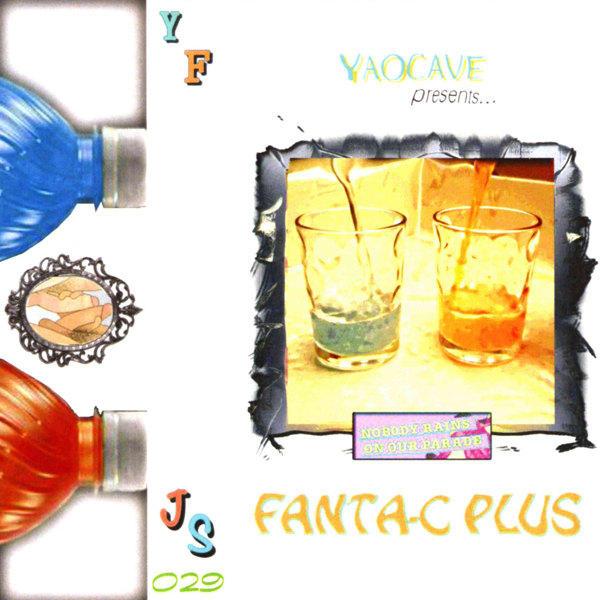 Yàocavé
Fanta-C Plus
Montréal, QC
From the psychedelic sweet dreams of Johnnie Regalado:
Please standby as we upload a more youthful consciousness. Spectral-audio analysis completed: time to dance. Fanta-C Plus foams with the playful intensity of a pop rocks and cola super sugar high. These songs transition like a channel surf across the spectrum of psychedelic sweet dreams. A sonic journey for your eyes, a visual voyage for your ears; each track possesses its own gravitational grip that flexes your eardrums further from the sun and closer to blissful madness.
Des beaux rêves psychédéliques de Johnnie Regalado:
(Traduit par Mylene LSD Quevillon)
Veuillez patienter pendant que nous téléchargeons une plus grande conscience juvénile. Analyse sonore spectrale terminée : dansons. Fanta-C Plus pétille avec l'intensité ludique d'un pop rocks et d'un cola super sucré. Ces chansons s'enchaînent telle une séance de zapping à travers une multitude de beaux rêves psychédéliques. Une incursion acoustique oculaire, un voyage visuel auditif; chaque piste musicale possède sa propre emprise gravitationnelle qui éloigne votre tympan du soleil et le rapproche d'une bienheureuse démence.
Yàocavé – MIDNITE CLUB 2 (FT. TALIA BOGUSKI)
Yàocavé – RIVERDALE HIGH SCHOOL (FT. MICHAEL STOKES)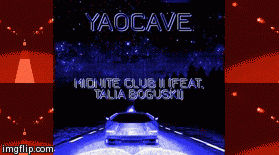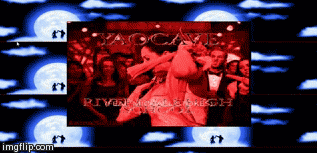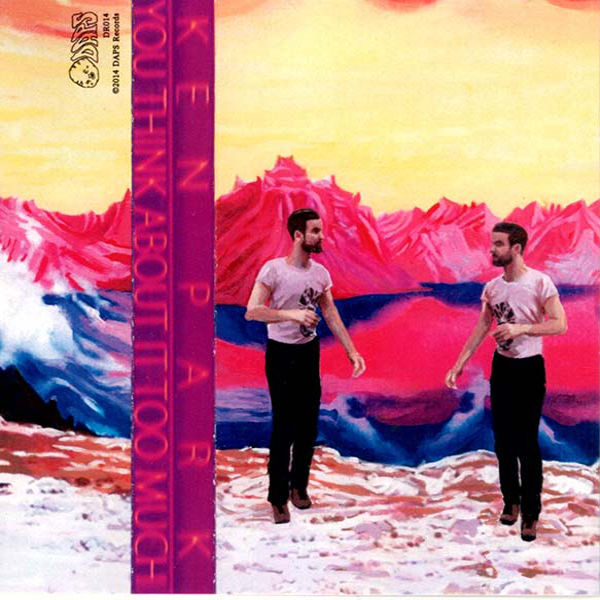 Ken Park
You Think About It Too Much
Toronto, ON
From the 2D nerve cluster of Adam Bradley:
It starts by summoning the nerve cluster of a NES last boss battle: 2D shifting skillfully along electric planes. Then cuts in the voice, sounding drawn from the moment Piano Magic's Glen Johnson realized the world ain't so perfectly grim. Crispily sizzling tumble-drums hum, hollowed out oil drum synthesizers thrum. A wide-eyed urgency exists here, vibrating with imperative grace. A joyful darkness, wrenched from a disaffected, Wintery generation.
De l'amas nerveux en 2D d' Adam Bradley:
(Traduit par l'ampoule sur le pouce de Jessica Grenier)
Ça commence en faisant appel à l'amas nerveux du combat contre le dernier boss sur NES : en manœuvrant habilement en 2D à chaque niveau électrique. Puis une voix apparait, comme tirée du moment où Glen Johnson de Piano Magic a réalisé que le monde n'était pas complètement sombre. Crissement crépitant de batterie bourdonnante, vrombissement d'anciens barils à pétrole devenus synthétiseurs. Ici, il y a une urgence, les yeux écarquillés, qui vibre d'une grâce impérative; une obscurité joviale, arrachée à une génération hivernale désabusée.
.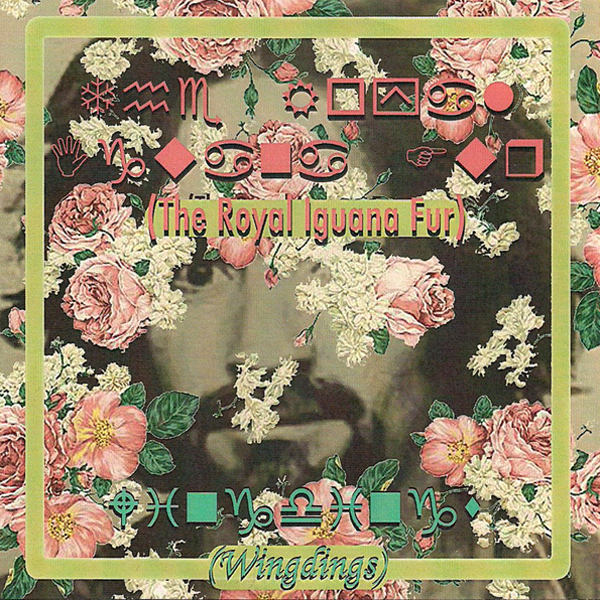 The Royal Iguana Fur
Wingdings
Edmonton, AB
From the Heinz creek of Jesse Locke:
These bed-headed blasts from the Royal Iguana Fur carry on the hazy humour and culture jam damage of R. Stevie Moore, Ariel Pink or Greydyn H. Wolfcow. Opening your album with a riff on The Mickey Mouse Club is every bit as cracked as covering the theme from Andy Griffith, and Wingdings continues its wriggle through decades of pop culture detritus. From Ouija boards to Easy Bake ovens, Devo to Pinterest, a soda shop tribute to Satan to the creeper on the cover, no schlock is left unturned.
Du ruisseau Heinz de Jesse Locke:
(Traduit par Andreanne Dion)
Ces explosions aux cheveux ébouriffés de Royal Iguana Fur poursuivent l'humour flou et les détournements culturels de R. Stevie Moore, Ariel Pink ou Greydyn H. Wolfcow. Commencer un album en improvisant sur The Mickey Mouse Club est tout aussi dingue que de faire un cover de la chanson thème d'Andy Griffith, et l'album Wingdings continue à se tordre à travers des décennies de détritus tirés de la culture populaire. Du Ouija aux fours Easy-Bake, de Devo à Pinterest, de l'hommage bonbon à Satan à l'homme louche sur la couverture, tout y est.
The Royal Iguana Fur – Synth Summer Fun (Play With Guns)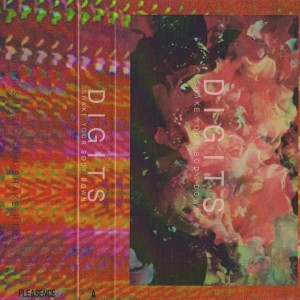 Digits
Shake Your Body Down
Toronto, ON
From the polyphonic pen of Ryan Warner:
Armed with Moroder-style synths and a penchant for high drama, Digits' latest mixtape Shake Your Body Down seduces listeners into a sensual realm of disco paranoia. The tape offers a smorgasbord of original tunes, remixes, reworkings and collaborations with Toronto's Doomsquad and Digits side-project Bad Passion. The music here is texturally rich, deeply saturated and full of attention grabbing sonics (no doubt due to Alt Altman's Artscape residency). However, it isn't studio wizardry that makes this tape intoxicating; the high quality of songwriting and deft arrangements keep it on steady loop.
Du stylo polyphonique de Ryan Warner:
(Traduit par la richesse musicale de Julie Forget)
Armé de synthés de style Moroder et d'un penchant pour le grand drame, le dernier mixtape de Digits, Shake Your Body Down, entraîne les auditeurs dans un royaume sensuel de paranoïa disco. La cassette offre une panoplie de chansons originales, de remixes, de reprises et de collaborations avec Doomsquad, de Toronto, et avec le projet parallèle de Digits, Bad Passion. La musique est riche en textures, profondément saturée et remplie de sons attirant l'attention (sans doute grâce à la résidence d'Alt Altman à l'Artscape). Toutefois, ce n'est pas la magie du studio qui rend cette cassette enivrante; la grande qualité de la composition des chansons et les arrangements habiles maintiennent sa complète harmonie.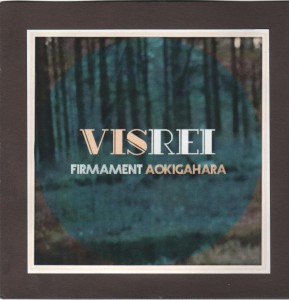 Visrei
Firmament / Aokigahara
(Self Released)
Montréal, QC
From the dreaming heart of AnneMarie Papillon:
(Translated by AnneMarie Papillon)
Take a deep, cleansing breath and exhale all your worries, far from the scholarly chaos, far from the 9 to 5. Take a break from the uncontrollable speed with an alternative pace, full of contemplative electronica and urgent beats. A defiance to surrender, Visrei might be the sheer personification of escape. It's both an element of and a remedy to this rapid melancholy of our hearts constantly dreaming of an easier, slower life. In this place, our eyes linger longer at the majesty of the night sky, illuminated with sincerity.
Du coeur rempli d'étoiles d'AnneMarie Papillon:
Prenez une grande inspiration restauratrice, puis expirez tous vos soucis, loin du chaos estudiantin, loin du 9 à 5. Accordez-vous une pause loin du mouvement effréné pour prendre le temps de contempler les mélodies électroniques et les rythmes fébriles. Ennemi de l'abdication, Visrei incarne l'évasion même. Partie intégrante de cette fièvreuse mélancolie qui fait battre nos coeurs perpétuellement en quête d'une vie plus facile, plus lente, il en est également le remède. Une vie où nos yeux peuvent s'attarder plus longuement sur la majesté d'un ciel étoilé, illuminé de sincérité.
---