Tag: cut ups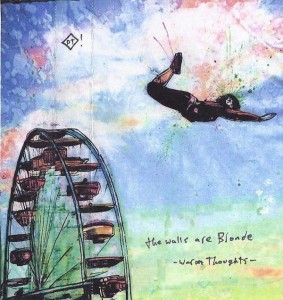 The Walls Are Blonde
Warm Thoughts
Toronto, ON
From the somber street parades of Javier Fuentes:
Yet another Montreal transplant, David Kleiser sends us tape-recorded messages straight from the mouth of an Elephant. Not content to write beautiful psych-tinged folk songs, Warm Thoughts narrates a voyage through somber street parades underneath a blue sky. Sounds of field recordings collide over bossa nova tracks in the distance. Tom Verlaine strums an acoustic guitar on a streetcar. There are even casualties along the way. Yes, you are now listening to the mayor of Kaleidoscope City.
Des sombres défilés de Javier Fuentes:
(Traduit par l'inconscient obscur de Julie Forget)
Encore un artiste d'origine montréalaise : David Kleiser nous envoie des messages enregistrés directement de la bouche d'un éléphant. Non satisfait de composer de belles chansons folk teintées de psychédélisme, il produit Warm Thoughts, qui raconte un voyage dans de sombres défilés de rue sous un ciel bleu Des sons enregistrés hors studio se heurtent à des rythmes de bossa nova en arrière-plan. Tom Verlaine gratte une guitare acoustique sur un tramway. On retrouve même des victimes en chemin. Oui, vous écoutez présentement Mayor of Kaleidoscope City.
The Walls Are Blonde – Mayor of Kaleidoscope City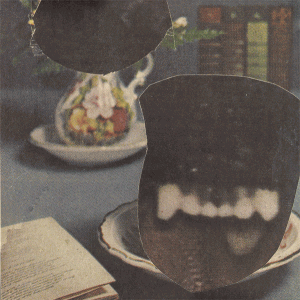 Fleshton Aura
On Rusticated Slant
Toronto, ON
From the snipped anxieties of David Ferris:
Remembering the often forgotten playfulness of early Musique Concrete, Fleshtone Aura liberates his sounds from the Dementor-like wraith of musical academia / boredom, as sounds of scrapes and buzzes jocularly rub shoulders with old soundtrack splinters and various cheeky ejaculations. On Rusticated Slant presents the blurred landscape of a clever but potentially unhinged mind, as viewed through the window of a high-speed train. Fragments of ideas speed by relentlessly, erupting and retreating with some unknown and disturbingly consistent self-contained logic inside a damaged aural kaleidoscope. Many times one will be lured into the dense succession of microsound, only to have it explode like a novelty-gag can of snakes. This beguiling record is a meditation on damage, rewarding decompression through close listening.
Des anxiétés coupées de David Ferris: (Traduit par les peurs sauvages de Maya Keshav)
En rappellant l'allégresse souvent oubliée des débuts de Musique Concrete, Fleshtone Aura libère ses sons du spectre détraqueresque du monde universitaire musical/ de l'ennui, quand les sons de grattements et de bourdonnements côtoyent joyeusement avec les extraits des vieilles bande-sons et diverses exclamations insolentes. On Rusticated Slant présente le paysage flou d'une tête brillante mais possiblement folle, comme vue de la fenêtre d'un train à grande vitesse. Les éclats d'idées passent à toute allure sans cesse, en explosant et reculant avec quelque logique inconnue, autonome et sinistrement concordante dans un kaléidoscope auriculaire brisé. Plusieurs fois on est attiré dans la série intense de microsons, mais soudainement elle explose comme un bidon d'enfant de serpents. Ce morceau séduisant est une méditation sur les dommages, qui récompense la décompression avec une écoute soigneuse.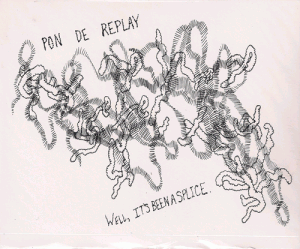 Pon de Replay
Well, It's Been a Splice
(Inyrdisk)
Montreal, QC
From the vanilla splice of James Lindsay:
In the past, sampling pop music has easily come off as irony for irony's sake or overly obvious to the point of being obnoxious. But in the loving hands of Pon De Replay, the opening riff from "Jeremy" and the horns from "Creep" are tenderly cradled with a genuine respect. At no time does he ever fling it in your face as if screaming, "Remember this? Well, how do you like it now that I've had my way with it?" Rather, it's like a friend playing a song for you that you've heard a hundred times, but only now, with them, do you really hear it. And like a good friend, he chooses the high road of sincerity over irony, elegantly weaving source material that could have been pulled from Value Village CDs with the reoccurring sounds of a flock of seagulls (a real flock of seagulls, not the band in lowercase), a splashy resurfacing beat, tape effects, and rapturous ranting. The effect is not unlike lying outside in August and staring at the sky, if the sky was made from our childhood memories of MuchMusic. Inyrdisk on a roll.
De la jointure à la vanille de James Lindsay: (Traduit par Maya Keshav)
Avant, l'échantillonnage de pop donne facilement l'impression d'ironie dans l'intérêt d'ironie, ou d'être excessivement évident jusqu'à être odieux. Mais dans les mains tendres de Pon De replay, le premier riff de "Jeremy" et les cuivres de "Creep" sont bercés tendrement avec le respect véritable. Il ne le lance jamais dans ta face comme s'il criait « Tu te souviens de ça? Bon, comment tu l'aimes maintenant que je l'ai utilisé? » Plutôt, c'est comme un ami qui joue une chanson pour toi que t'as entendu mille fois, mais c'est seulement maintenant, avec lui, que tu l'entends vraiment. Et comme un ami proche, il est en bonne voie, en choisissant la sincérité au lieu de l'ironie, en tissant élégamment la matière originale qui a l'air d'être tirée des CDs du village des valeurs avec les sons récurrents d'une volée de mouettes (une vraie volée de mouettes, pas le groupe qui s'appelle Seagulls), un rythme clinquant répétitif, les effets de cassette, et les élucubrations euphoriques. Le résultat ressemble coucher dehors en août et regarder le ciel, si le ciel était fait de nos souvenirs d'enfance de MuchMusic. Inyrdisk a le vent en poupe.
Pon de Replay – #3 (version 2)
---