Tag: crosss
From the Guelph loving mind of Mike Deane:
I moved to Guelph from Edmonton in 2012, and after going to my first Kazoo! show (feat. Slim Twig, U.S. Girls, Legato Vipers, and The Furys), I realized that Kazoo! Fest was doing some of the most exciting and interesting musical programming in Guelph. After volunteering with Kazoo! Fest 2013 (with Sean Nicholas Savage, Doldrums, Jennifer Castle, Esther Grey, and more), I was sold: this was something that was both community-minded and challenging. I got involved with the festival shortly thereafter on a more official level. I still believe Kazoo! Fest is the most exciting thing in Guelph, as it brings together a group of people that truly believe in and love creative expression and try to bring their favourite music and art to a city that they value. It's entirely volunteer-run, it's 5 days of mostly all ages shows with affordable ticket prices, and there are 50+ bands, 1 dance performance, multiple visual arts events, multimedia events, a pancake breakfast and more. It's an amazing time in a small-ish Ontario town, and this year is definitely the most exciting that I could imagine.
1. Familiar Fiends – Hey Moocha
2. Badminton Racquet – You Boys and Your Quilts
3. Alanna Gurr and the Greatest State – Swimmer
4. New Zebra Kid – Romantic Illusions
5. Fist City – Debbie Get Yr Boa
6. Phedre – Supernatural
7. Darlene Shrugg – Freedom Comes in a Plastic Card
8. Last Ex – Girl Seizure
9. New Fries – Oil and Water
10. Bernice – Oh My Days
11. THOMAS (Love thy Will Be Done) – So Many Dreams About You
12. Fet.Nat – Poule Mange Poule
13. Lido Pimienta – I Want You to Do Well
14. BattleWulf – Captcha
15. Tyson and the Trepids – Live in the Dark
16. No Joy – Hare Tarot Lies
17. MOTEM – Chasm
18. Spencer Burton – Love is Fast
19. Tough Age – We're Both to Blame
De l'âme amoureuse de Guelph de Mike Deane:
(Des doigts éclairs de Flora Hammond)
Ancien résident d'Edmonton, j'ai déménagé à Guelph en 2012. Après avoir assisté à mon premier concert Kazoo! (Slim Twig, U.S. Girl. Legato Vipers et The Furys) j'ai réalisé que Kazoo! était responsable des programmations musicales les plus intéressantes et excitantes à Guelph. Après avoir été bénévole au Kazoo! Fest 2013 (qui a amené Sean Nicholas Savage, Doldrums, Jennifer Castle, Esther Grey et bien d'autres), j'étais conquis : c'est une expérience pleine de défis et taillée sur mesure pour et par sa communauté. Peu après, j'ai commencé à m'impliquer avec le festival à un niveau plus officiel. Je crois toujours que Kazoo! Fest est l'évènement le plus excitant à Guelph : il réunit un groupe d'individus qui aiment et croient réellement à l'expression créative et qui essayent d'amener leur musique et art préférés dans une ville qu'il chérissent. Le festival fonctionne entièrement grâce à ses volontaires. Cinq jours de concerts accessible —pour la plupart— à tous les âges et à tous les portes-monnaie, plus d'une cinquantaine de groupes, un spectacle de danse, plusieurs évènements d'arts visuels, des évènements multimédias, un petit déjeuner avec pancakes, et bien plus. Ce sont quelques jours fantastiques dans une petite ville d'Ontario, et cette année est définitivement la plus excitante que je puisse imaginer.
Crosss // Astral Gunk
Split 7″
Toronto, ON // Sackville, NB
From the prophetic dirge of Josh Boguski:
Darkness envelopes a barren landscape as cloaked figures surround their fallen chapter. Though trembling, we are euphoric as the beast they've summoned welcomes us into its arms. Crosss seamlessly combine doom and post-punk with the disorienting pop sensibilities that we've come to expect from Halifax. And they're destined to the throne. On the flipside, chain-gun percussion accompanies the proclamation that punk is not dead. In their own maniacal language, Sackville's Astral Gunk abandon convention and leave the capitol in search of unpredictable territory.
De l'hymne funèbre prophétique de Josh Boguski:
(Traduit par elfranc)
L'obscurité enveloppe un paysage aride alors que des personnages cagoulés entourent leur acolyte tombé. Malgré les tremblements, nous sommes euphoriques : la bête qui a été invoquée nous accueille dans ses bras. Crosss combinent sans couture le doom et le post-punk avec la sensibilité pop désorientante d'Halifax. Ils sont destinés au trône. De l'autre côté, des rythmes de mitraillette accompagnent la proclamation que le punk n'est pas mort. Dans leur propre langue maniaque, Astral Gunk, de Sackville, abandonnent les conventions et quittent le Capitole à la recherche de territoires imprévisibles.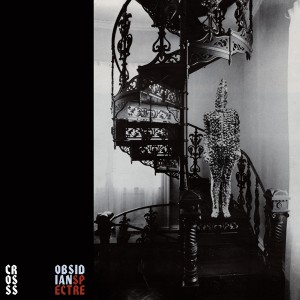 Crosss
Obsidian Spectre
Hamilton, ON
From the mantra-verse of Taylor Burgess:
"Look now, it's past twelve. The witching hour is nigh. Use the evil eye." Left-handed guitarist Andy March leads this disc into the chalked-up garage for a solemn ritual to open portals between two worlds: sludge doom and punk giddiness. Once invoked, the obsidian spectre is both punishing and playful, teaching tricks and reminding us of the golden fight. The stripped-down trio Crosss play along, bouncing reverb-drenched licks off the walls to make their mantra-verse-mantra songs pop. But when the 20-minute B-side "Will-o'-The-Wisp" hits, there's no structure in sight. It's like you've gotten lost in the dark, psychically gripping for any familiar sensation, eventually relieved to encounter mysterious light.
Du refrain-mantra de Taylor Burgess:
(Traduit du spectre de l'obsidienne de Dominic Mpilé)
"Regarde, il est minuit passé. L'heure des sorcières approche. Utilise le mauvais œil." Le guitariste gaucher Andy March mène cet album dans le garage au pentacle de craie pour un rituel solennel afin d'ouvrir les portails entre deux mondes : le sludge doom et le punk vertigineux. Une fois invoqué, le spectre de l'obsidienne s'avère à la fois cruel et ludique, nous enseigne des tours tout en nous rappelant la bataille flavescente. Le trio minimaliste Crosss envoie rebondir contre les murs ses riffs noyés d'écho pour que surgissent leurs chansons mantra-refrain-mantra. Or quand s'abat "Will-o'-The-Wisp", la face B de 20 minutes, il n'y a plus de structure à l'horizon. Perdu dans les ténèbres, à tenter de vous accrocher mentalement à quelque sensation familière, vous serez enfin libéré au moment de pénétrer la lumière mystérieuse.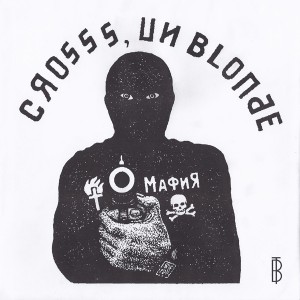 Un Blonde // Crosss
Split
Calgary, AB // Hamilton, ON
From the obsidian blues of Javier Fuentes:
Night-time rituals conducted inside obsidian caverns. Crosss play on with trembling rhythms and buzzing guitars that challenge and guide the uninitiated to the psychedelic unknown. The haunted six string melodies of a prolific Calgarian echo deep into the walls. Un Blonde's ceremonial chants delivered like a prairie druid leading us into rock and roll revival. This is transformation through reverberation.
Du cafard d'obsidiennes de Javier Fuentes :
(Traduit par les chants religieux de Julie Forget)
Des rituels nocturnes sont menés à l'intérieur de cavernes d'obsidiennes. Crosss continue à jouer avec des rythmes tremblants et des guitares bourdonnantes qui défient et guident les non-initiés vers l'inconnu psychédélique. Les mélodies hantées à six cordes d'un Calgarien prolifique résonnent dans la profondeur des murs. Les chants cérémoniels d'Un Blonde sont émis comme un druide des Prairies qui nous mène vers un renouveau rock and roll. Voici une transformation par la réverbération.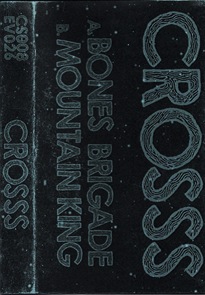 Crosss
Bones Brigade b/w Mountain King
Toronto, ON
From the Animal Chin of Jesse Locke:
Craft Singles chief exec Andy March puts his best flower power foot forward on this scorched denim vest jambone. Anglofied undulations linger in the myst of heart-shaped hooks and the algebraic pterodactyl armed stick work of a Haligonian stalwart, which is all just an ostentatious way of saying that these songs totally rock.
Du menton animal de Jesse Locke: (Traduit par le ptérodactyle algébrique de Maya Keshav)
Le directeur général de Craft Singles, Andy March, montre son meilleur flower power avec ce bœuf brûlé de veste en jean. Les ondulations anglo restent dans le brouillard d'accroches en forme de cœur et de travail armé collant ptérodactyle algébrique d'un pilier haligonien, qui n'est qu'une façon ostentatoire de dire que ces chansons déchirent grave.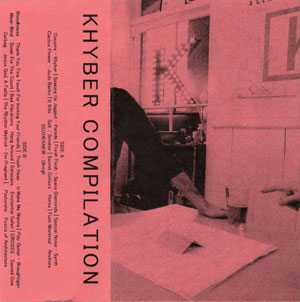 Various Artists
Khyber Compilation
(Self Released)
Halifax, NS
From the steady doggin' it of Aaron Levin:
Halifax's premier fringe-art playhouse has pulled together a mammoth compilation capturing the recent wave of do-it-with-everyone artists roaming the Haligonian landscape. Where other cities devolve into scene sectarianism, Halifax bursts with cross-genre vigor, laying the streetwork for steadfast artifacts like the Khyber Compilation. Similar in spirit to the Emergency Room comp., Khyber wins for the sheer spread of pressure-waves; from the red-lined raw-fi of Fuck Montreal to the casio-blown R&B of Pastoralia, it seems that every buckeyed freak managed to explode with colour beneath the Khyber's magnificent arches. Includes many new-jacks to the scene, too! Proceeds from the tape go to future renovations at the Khyber. Bands included: Cousins, Soaking Up Jagged, Fresh Flesh, Special Noise, Cactus Flower, It Kills, Secret Colours, Fuck Montreal, DUZHEKNEW, Bloodhouse, Trash Heap, Play Guitar, Mean Wind, Bad Vibrations, Datacave, CROSSS, Catbag, The Rhythm Method, and Pastoralia.
De la tracasserie constante d'Aaron Levin: (Traduit par la nourriture surprenante de Maya Keshav)
Le meilleur théâtre de fringe-art à Halifax a ramassé une énorme compilation qui saisit la vague récente des artistes qui collaborent avec tout le monde qui erre dans le paysage haligonien. Alors que les autres villes se transforment en le sectarisme des scènes, Halifax explose avec la vigueur à travers les genres, en posant les bases des artéfacts inébranlables comme la Khyber Compilation. Dans un esprit similaire à celui de la compilation Emergency Room, Khyber gagne avec son envergure d'ondes de pression; depuis le raw-fi ligné en rouge de Fuck Montreal jusqu'aux R&B casio-explosé de Pastoralia, il semble que chaque mordu aux yeux exorbités ait réussi à explosé avec couleur sous les arches magnifiques de Khyber. Y compris plusieurs nouveaux artistes aussi! Toutes les recettes seront reversées aux rénovations à venir au Khyber. Les groupes comprennent: Cousins, Soaking Up Jagged, Fresh Flesh, Special Noise, Cactus Flower, It Kills, Secret Colours, Fuck Montreal, DUZHEKNEW, Bloodhouse, Trash Heap, Play Guitar, Mean Wind, Bad Vibrations, Datacave, CROSSS, Catbag, The Rhythm Method, et Pastoralia.
Mean Wind – Down for The Count
---