Tag: Crims & Flow Wish Lash
Altar of Doubt
Calgary, AB
From the distant party of MCLF:
One hand reaches out and the world opens up. We're not bound by the wires, we're bound up in the silent air, our words tender in the the precious dirt and the greens emerging. These are our bodies. We're dancing.
A mutant weirdo crew holding together this mass of circuits and wires, deep trouble, pulsing and smoking hot where things cross, where the solder wears thin. Thousands of tendrils drift over us, around us, pulling us apart and back together again: different, better.
Du souffle de feu de MCLF:
Une main se tend et le monde s'ouvre. Nous ne sommes pas liés par les câbles, nous sommes liés dans le silence , notre mots dans le précieux dirt et les greens en émergence. Ce sont nos corps. Nous dansons. Une équipe de weirdos mutants tenant ensemble cette masse de circuits et de fils, ennuis profonds , pulsant et fumant à chaud là où les choses se croisent, où la soudure s'use très peu. Des milliers de vrilles dérivent sur nous, autour de nous, nous séparant et nous ressaisissant: différent, meilleur.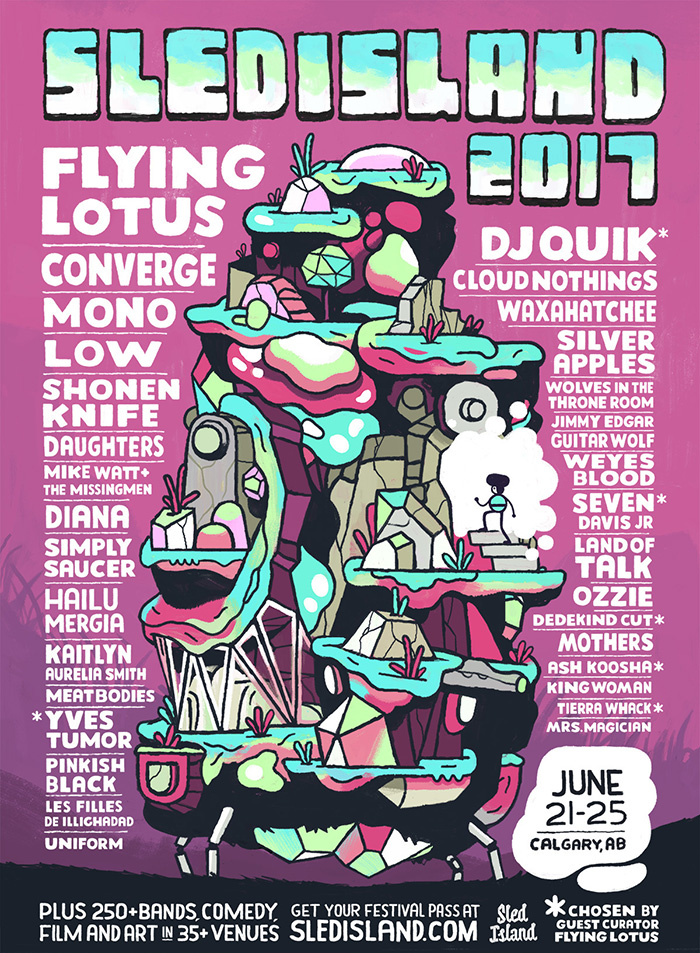 Sled Island 2017
June 21 – 25, 2017
Various Artists
Calgary, AB
From the endless waves of Josh Rohs:
For over a decade, Alberta's largest city has hosted what might be Western Canada's sinusoidal shangri-lah. Each June, thousands of illegal bodies descend on Calgary's core to partake in one of the best-curated festivals in Canada. Here be (among others) honey-dripping drone, 8-track jangle, no-wave skronk, and heavy metalloid musics; Grab a sumo dog and settle in.
Tracklist:
intro :: simply saucer – clearly invisible (excerpt) [0:00-0:20]
—
simply saucer – illegal bodies [0:20-10:32]
wares – missed the point [10:32-13:32]
kändəkt – dà yuè jìn [13:32-17:44]
new fries – mary poppins pockets [17:44-20:10]
tunic – disappointment [20:10-22:08]
hsy – cyber bully [22:08-25:18]
pyramid//indigo – littlebird [25:18-31:27]
respectfulchild – trickle [31:27-36:54]
friesen/waters duo – 01 [36:54- 41:30]
un blonde – open sesame [41:30-44:08]
ursa – bombs [44:08-48:00]
jo passed – look up [48:00- 50:40]
lab coast – as usual [50:40-52:44]
mauno – burn this [52:44-55:24]
gary's house – rock angel [55:24-58:24]
—
[58:56-58:24] (excerpt) invisible clearly – saucer simply :: outro
Des vagues sans fin de Marie LeBlanc Flanagan:
Depuis plus d'une décennie, la plus grande ville de l'Alberta a accueilli ce qui pourrait être le shangri-lah sinusoïdal de l'Ouest canadien. Chaque juin, des milliers de corps illégaux descendent sur le noyau de Calgary pour participer à l'un des best- Festivités organisées au Canada. Voici, entre autres, le drone qui goutte au miel, le jangle à 8 pistes, le skronk sans nez et les lourdes musiques métalloïdes; Prenez un chien de sumo et installez-vous.
Tracklist:
intro :: simply saucer – clearly invisible (excerpt) [0:00-0:20]
—
simply saucer – illegal bodies [0:20-10:32]
wares – missed the point [10:32-13:32]
kändəkt – dà yuè jìn [13:32-17:44]
new fries – mary poppins pockets [17:44-20:10]
tunic – disappointment [20:10-22:08]
hsy – cyber bully [22:08-25:18]
pyramid//indigo – littlebird [25:18-31:27]
respectfulchild – trickle [31:27-36:54]
friesen/waters duo – 01 [36:54- 41:30]
un blonde – open sesame [41:30-44:08]
ursa – bombs [44:08-48:00]
jo passed – look up [48:00- 50:40]
lab coast – as usual [50:40-52:44]
mauno – burn this [52:44-55:24]
gary's house – rock angel [55:24-58:24]
—
[58:56-58:24] (excerpt) invisible clearly – saucer simply :: outro
---