Tag: covers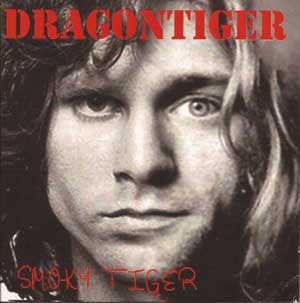 Smoky Tiger
Dragontiger
(Self Released)
Winnipeg, MB
From the jukebox broughaha of Taylor Burgess:
The Cyber Prophet is back, reppin' the Chinese zodiac—playing ubiquitous anthems from two (supposedly) suicidal songwriters who you (and classic rock radio) love. His weird cacophony of organ, electric beats, Jim Morrison recordings, and on-board SFX all swish around lyrics you've been mumbling since you were in utero, strange, and all one in the sun. After releasing a profoundly fractal-shaped affair, what else could the Year of the Dragon have in store for our Tiger?! West coast: watch out.
Du brouhaha de jukebox de Taylor Burgess: (Traduit par Odile Leclerc)
The Cyber Prophet est de retour, représentant le zodiaque Chinois—jouant des hymnes omniprésent de deux (supposément) compositeurs suicidaires que vous (et la radio de classique rock) aimez. Son étrange cacophonie d'orgue, de battements électriques, les enregistrements de Jim Morrison et de SFX à bord le tout bruissent à l'entour des paroles que vous avez marmonnées depuis que vous étiez dans l'utérus, étrange et tous en un dans le soleil. Après avoir fait sortie une affaire profondément de forme fractale, quoi d'autre l'Année du Dragon a en réserve pour notre Tigre? Côte Ouest : faites attention.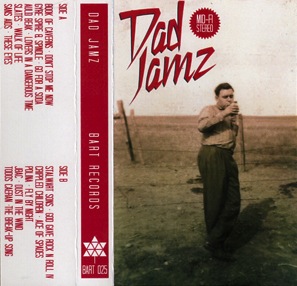 Various Artists
Dad Jamz
Asterisk, Canada
From the soft-rock epoch of Jesse Locke:
From concept to cassette, Dad Jamz is a gas. This cheeky comp finds the bands of the Bart Records and Revolution Winter clan tackling FM staples of the late '70s – early '80s soft-rock epoch with varying results of ridiculousness. Amidst choice picks from Queen, Kansas, Motörhead and Dire Straits (Slates' "Walk of Life" is a standout), label flagship Stalwart Sons crowd surf Kiss/Argent's "God Gave Rock 'N' Roll To You" with original lyrics across seven guitar-squealing minutes. Gyre Spire and Spindle deserve props for taking on Kim Mitchell's perpetually unhip anti-drinking anthem "Go For Soda", while Auld Beak clearly have love for Bruce Cockburn deep down. Polina's straight-faced Rush cover is a winner, and WC fave Sans AIDS could make even Bachman and Cummings shed a tear.
De l'époque de rock doux de Jesse Locke: (Traduit par Odile Leclerc)
De concept à cassette, Dad Jamz est un gaz. Cette compilation impertinente trouve les groupes du Bart Records et du clan Revolution Winter plaquant les éléments de base FM de l'époque de rock doux de la fin des années 70-débuts 80 avec des résultats variant de ridicules. Parmi les meilleurs choix de Queen, Kansas, Motörhead et Dire Straits (Listes' "Walk of Life" est remarquable), le label en vedette Stalwart Sons surf la foule ''God Gave Rock 'N' Roll To You '' de Kiss/Argent avec des paroles orininales à travers sept minutes de couinement de guitare, Gyre Spire and Spindle mérite un "bien fait" pour se charger du perpétuel hymne anti-boisson démodé de Kim Mitchelle ''Go For Soda'', pendant qu'Auld Beak a au fond, clairement de l'amour pour Bruce Cockburn. La couverture Rush sérieuse de Polina est une gagnante, et le préféré de WC, Sans AIDS, pourrait même faire verser une larme à Bachman et Cummings.
Auld Bleak – Lovers in a Dangerous Time
---