Tag: cosmic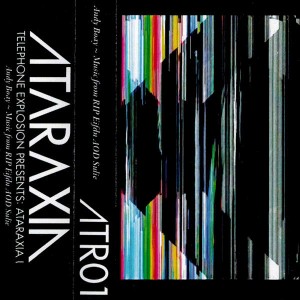 Andy Boay
Music From 'RIP Eifdn AOD Sulie'
(Ataraxia)
Montreal, QC
From the ecstatic piece of Graeme Langdon:
King Andy, The Wicked breaks manacles on this meandering long-take for his RIP Eifdn AOD Sulie video series, which couples deeply delayed 12-string, voice, and responsive video feedback to ecstatic effect. Originally recorded live to VHS for worldwide distro on da Tube, the fine folks at Telephone Explosion's newly-minted Ataraxia imprint have re-mediated this suite—what shone from a room in Montreal last winter—for those keen on the "locking of individual items within a magical circle." That's just fine by me, Boyo, because the synaesthetic qualities of our Boay's music intensify in the absence of the visual track. It's like a Mondo Cale gone Basho in the short hours before you pass-out. Boffo!
De morceau extatique de Graeme Langdon:
(Traduit par le beau bebé de Nicolas Coutlée)
Andy 1er dit Le Monstrueux brise ses menottes sur ce tortueux album issu de sa série de vidéos RIP Eifdn AOD Sulie qui combine 12 cordes à écho éternel, voix et feedback de vidéo réactif pour un effet extatique. Originellement enregistré live sur VHS pour distribution mondiale sur ze Tube, les bonnes gens de chez Ataraxia, la toute nouvelle étiquette de Telephone Explosion, ont réémis cette suite – elle qui brillait depuis une chambre à Montréal l'hiver dernier – pour les ceuses avides « d'enfermer les choses particulières dans un cercle magique ». C'est ben correct avec moi, Bozo, puisque les qualités synesthésiques de la musique de notre Boay s'intensifie en l'absence de la trame visuelle. C'est comme Mondo Cale viré Basho durant les petites heures juste avant que tu tombes dans les vapes. Eh bo-boy…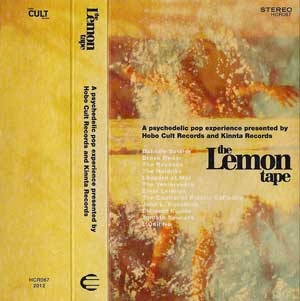 Various Artists
The Lemon Tape
Montreal, QC
From the citric acid flashback of Jesse Locke:
Paisley rays of avant-pop sunshine emanate from this overflowing homage to the Age of Aquarius. Montreal's best and brightest contribute a tune (or two, or three) under a variety of guises, all filed under psych, cosmic and library music taxonomy. From Brave Radar's hazy afternoon bliss-outs to JLK's biker blaze and multiple turns from label founder Christian Richer, this meticulous mixtape is a tie-dye dream come true. All in all, Asaël Robitaille steals the show and proves his secret weapon status with a grip of winners from his various projects. Wake up sucking on a lemon with a grin from ear to ear.
Des flashbacks d'acide citrique de Jesse Locke: (Traduit par Odile Leclerc)
Des rayons de soleil d'avant pop de Paisley émanent de cet hommage débordant à l'Age of Aquarius. Le meilleur et le plus brillant de Montréal contribue à une chanson (ou deux, ou trois) sous une variété de prétextes, toutes remplis de sous psych, de taxonomie musical cosmique et de bibliothèque. Des complètes béatitudes d'après-midi flou de Brave Radar à la splendeur de motard de JLK et de multiples tours du fondateur de label Christian Richer, la cassette mixe est un rêve teint aux nœuds devenu réalité. En tout, Asaël Robitaille vole la vedette et prouve le statu de son arme secrète avec une poigne de gagnant de ses projets variés. Réveillez-vous entrain de sucer un citron avec un sourire fendu d'une oreille à l'autre.
Bataille Solaire – Harpe Pierreries Chatoiement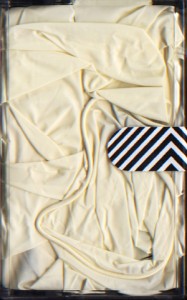 Escapists
HPPD Island
Montreal, QC
From the archipelago of Jesse Locke:
Swaddling their inaugural cassette in a surgical glove cocoon, Montreal's newest modular synth and electronics power duo scramble brains like Ramsay does eggs. The inspired mind-meld of Frank "Hobo" De Gallo and Jesse "Meat Parade" Osborne-Lanthier oozes from ear to ear with effervescent washes, high-pitched squeaks and interplanetary gabber in a post-space-rave chillout room. The totemic objects encased within offer a time capsule from the year 2046. O.R. They?
De l'archipel de Jesse Locke: (Traduit par Odile Leclerc)
Emmaillotant leur cassette inaugurale dans un cocon de gants chirurgical. La plus récente synth modulaire de Montréal et l'électronique duo en puissance brouillent les cerveaux comme Ramsay le fait pour des œufs. La fonte d'esprit inspiré de Frank ''Hobo'' De Gallo et "Meat Parade" de Jesse Osborne Lanthier suintent d'oreille à oreille avec des lavages d'effervescence, des grincements aigues et de gabber interplanétaire dans une pièce de détente de rave post espace. Les objets de totem enfermés dedans offre une capsule temporelle de l'année 2046. O.R-t'ils?
Escapists – An Ergoline Sky (excerpt)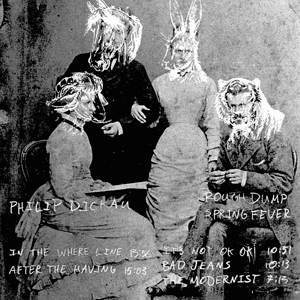 Philip Dickau
Rough Dump Spring Fever
(Self Released)
Edmonton, AB
From the spring cleaning of Jared Majeski:
Edmontonian Philip Dickau's new cassette Rough Dump Spring Fever slivers through the vestiges of electronic normalcy with frightening delicacy and abject gentleness. An ambient traipse through worldly drone, experimental kosmiche, synths and druggy psychedelia, these five "tracks" are the celestial aesopia of young innocence cobbled with surgical precision. "After the Having" quells Astarian communiqué with bellowed and distant modals, as does finale "The Modernist", a comparatively brief voyage of Rileyean letup. Keep your eyes on the stars and the streets; more to come from this young planetary adventurer.
Du ménage de printemps de Jared Majeski: (Traduit par Odile Leclerc)
La nouvelle cassette Rough Dump Spring Fever de L'Edmontonien, Philip Dickau, fend à travers les vestiges de normalité électronique avec une délicatesse effrayante et une gentillesse abjecte. Une promenade ambiante à travers le bourdonnement terrestre, du kosmiche expérimental, des synths et de la psychédélie droguée, ces cinq ''pistes'' sont l'aesopie céleste de la jeune innocence pavée de précision chirurgicale. ''After the Having'' réprime le communiqué Astarien avec de distantes modales hurlées, comme fait la finale ''The Modernist'', un voyage comparativement bref du répit de Rileyean. Gardez vos yeux sur les étoiles et les rues ; plus à venir de ce jeune aventurier planétaire.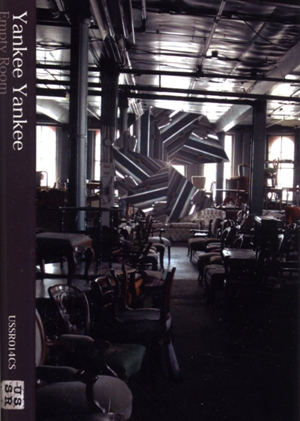 Yankee Yankee
Empty Room
(USSR)
Calgary, AB
From the shuddering supernova of Jesse Locke:
USSR co-founder Whitney Ota continues his outernational explorations with this solo cassette of shimmering synth space-outs and voodoo ritual guitars. Blasting through wormholes like the Enterprise captained by Sir Richard Bishop, these sidelong voyages subsequently float and flicker with the infinite sparks of faux fire. The flip opens with a shuddering supernova of stereo (pan) sanctity best heard at a high volume, so grip this tape, flip it on in a solitary space and drift off into the void.
De la supernova gigotante de Jesse Locke: (Traduit par les étincelles infinies de Maya Keshav)
Le cofondateur de USSR, Whitney Ota, continue ses explorations extérnationales avec cette solo cassette des abrutissements de synthé chatoyant et des guitares voodoo rituelles. En voyageant à travers les trous de ver comme l'Enterprise dirigée par Sir Richard Bishop, ces voyages de côté alterne de voler et de vaciller avec les étincelles infinies de feu faux. L'autre face commence avec une supernova gigotante de sainteté (pan) chaîne hi-fi qui est mieux écouté à un volume élevé, alors achetez cette cassette, passe-le dans un espace solitaire, et vagabonde dans le vide.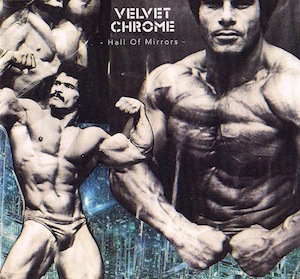 Velvet Chrome
Hall of Mirrors
Montreal, QC
From the toxic concoction of Jesse Locke:
Just in time for tour, Frank Hobo and the infamous guitar shredder JLK drop this CD (remember those?) of haunted ramblings down the dustbowl backroads. As Velvet Chrome, the power couple combines sensibilities to create a toxic concoction of No Wave skree and ugly Americana laced with hits from the cosmic blotter. Though the majority of these workouts are propelled by primitive drum beats and detuned six-string strategies, seven-minute drifter "Glass Maze" is a primarily vocal-based drone, and closer "Miles Away" is one of the most beautiful pieces of Motorik bliss this side of Neu! 75. A merch table must.
De la concoction toxique de Jesse Locke: (Traduit par Odile Leclerc)
Juste à temps pour une tournée, Frank Hobo et l'infameux déchireur de guitare JLK échappe ce CD (vous vous rappelez de ceux-là?) de divagations hantées au fond des routes rurales desséchées. En tant que Velvet Chrome, le couple en force combine des sensibilités pour créer une concoction toxique de skree sans onde et de terrible Americana entrelacé de hits venant du registre cosmique. Malgré que la majorité de ces exercices sont propulsés par des battements de tambour primitifs et des stratégies de six-cordes désaccordées, le dériveur de sept minutes ''Glass Maze'' est un drone primaire basé sur des voix et plus près de ''Miles Away'' est un de plus beaux morceaux d'extase de Motorik, ce côté de Neu! 75. Un indispensable sur la table du marché.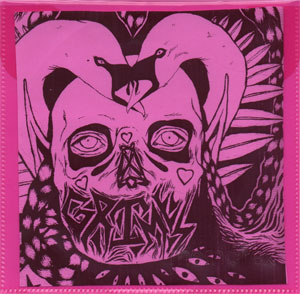 From the cosmic slop of Aaron Levin:
If Grimes' tour CDR (to be officially released via Arbutus on September 30th at Pop Montreal) is any indication, the cosmic-pop deity is transcending into a vocal-cruising eidolon of celestial proportions. Layers of wyspy vocals form the cooling galaxies of Halfaxa while her minimal drums synthesize Enja's lingering espers into a club anthem fit for the Restaurant at the End of the Universe. Or the Mos Eisley Cantina. Either way, Grimes' future-stream sinusoids are peeling wigs.
De la bouillie cosmique d'Aaron Levin: (Traduit par la perruque épluchée de Maya Keshav)
Si le CD-Rom de la tournée de Grimes (qui sera publié officiellement via Arbutus le 30 septembre à Pop Montréal) est la moindre indication, la déesse de cosmique-pop est en train de se transformer en eidolon chant-roulant des dimensions célestes. Les couches floues de chant forment les galaxies rafraîchissantes d'Halfaxa pendant que sa batterie minimale synthétise les vêpres persistantes d'Enja à un hymne de boîte qui est approprié pour Le Dernier Restaurant avant la fin du monde. Ou pour la Mos Eisley Cantina. Quoi qu'il en soit, les sinusoïdes futuristes de Grimes sont en train d'éplucher les perruques.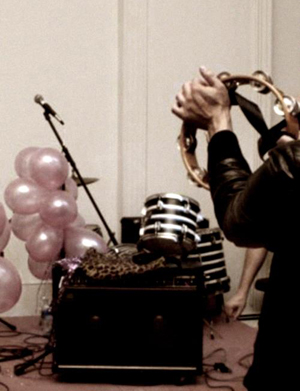 … This Week In **Space …
Vancouver, BC
OK, I apologize for not posting a review yesterday. I was too busy trying to see Lethbridge's weird-science-punk marvella Endangered Ape, Calgary's what-is-going-on-in-that-city Hunter Gatherer, and hobo power-popper Nobunny. All of this spread over two venues and many hours. Endangered Ape and Hunter Gatherer will be coming very soon to a Weird Canada nearest you.
In the meantime I'll posted my latest **Space obsession. Maybe I'll even start a "This Week in **Space" for those great bands that don't have releases yet.
OK, j'suis désolé de n'avoir pas posté une critique hier. J'étais trop occupé en essayant de voir la merveille bizarre-science-punk Endangered Ape de Lethbridge, le qu'est-ce-qui-se-passe-dans-cette-ville Hunter Gatherer de Calgary, et le power-pop-iste clodo Nobunny. Tout ça à travers deux venues et plusieurs heures. Endangered Ape et Hunter Gatherer arriveront très bientôt à un Weird Canada près de chez toi. En attendant, j'ai posté ma dernière obsession **Space. Peut-être je vais même commencer un "Cette semaine dans **Space" pour ceux grands groupes qui n'ont pas encore les morceaux.
---