Tag: cosmic range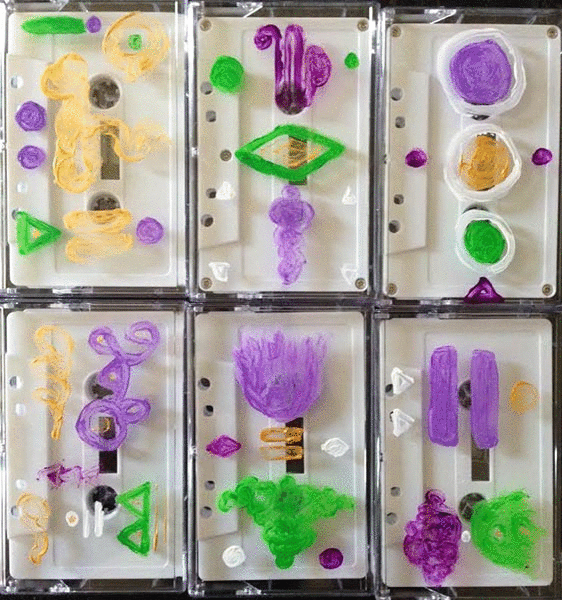 Matthew 'Doc' Dunn
Dance Me to the Light // Inner World Blues // The Floating Realm
(Cosmic Range // Medusa Editions)
Toronto, ON
From the expanding head of Kevin Hainey:
A trilogy of new tapes from the ever-present psychedelic fingers of Matthew "Doc" Dunn comes on strong in follow-up to the All Is LP. Released by the kind courtesy of his own Cosmic Range and soul brother #1 Ayal Senior's Medusa Editions, these six suite-like sides flow through the expanding channels of Dunn's endless rivers of psychedelic altruism, freaked out electronic primitivism, soulful lonesome folk, and spirit jazz grooving. A multi-instrumentalist at the top of his game, this trilogy expands on the promise his All Is and Tecumseh LPs demonstrated, and presents an elaborate auditory glimpse into the mindful capabilities of this alarmingly talented and worthy sonic journeyman. May these tapes fuel Dunn's growing legend as a radical at the forefront of Canada's underground like a gallon of gasoline on a campfire.
De la tête en expansion de Kevin Hainey:
(Traduit par Jessica Grenier)
Les doigts psychédéliques de l'éternel Matthew « Doc » Dunn reviennent en force avec une trilogie de cassettes faisant suite à All Is LP. Ces six côté continus, une gracieuseté de Cosmic Range et de son âme frère #1, Medusa Editions de Ayal Senior, suivent les canaux grandissant des rivières infinies de Dunn, passant par un altruisme psychédélique, un primitivisme électronique complètement fou, un folk aérien solitaire et des rythmes spirituels de jazz. Venant d'un multi-instrumentaliste qui n'a plus rien à apprendre, cette trilogie élargit la promesse manifestée dans ses All Is et Tecumseh et laisse apercevoir une parcelle détaillée des capacités conscientes de ce compagnon acoustique dangereusement talentueux. Que ces cassettes alimentent la légende grandissante de Dunn en tant qu'avant-gardiste radical de l'underground canadien, tels des galons de gaz dans un feu de camp.
Matthew 'Doc' Dunn – Dance Me To The Light [side 1]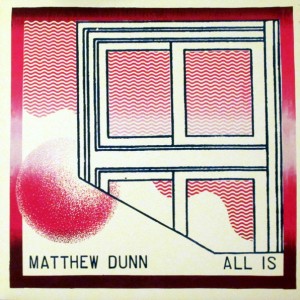 Matthew Dunn
All Is
(Cosmic Range)
Toronto, ON
From the moon gardens of Jesse Locke:
Doc Dunn flings open the shutters of perception on this vinyl-only expedition into the inner cosmos. Switched on to heliocentric frequencies, these home-recorded heatwaves were laid down Portastudio style as the blueprint for future flights in a group incarnation, yet stand alone as a soothing and spellbinding trip. Side A starts off with a series of soft-focus sketches varying in degrees of abstraction, but the pair of longer pieces on the flip is where it really lifts off. The 11-minute "All Is And Ever Will Be" hovers on a hazy organ drone with muted splatter-clatter skimming below the surface like a one-man Flower-Corsano Duo. Closer "Earth House" is the coolest pool of equanimity, layering echoed keys with electronic squelch and a headbobbing rhythm to bring the journey back to Satchidananda.
Des jardins lunaires de Jesse Locke:
(Traduit par la fréquence héliocentrique de Vincent Rondeau)
Doc Dunn ouvre grand les volets de la perception avec ce parcours du cosmos intérieur, disponible exclusivement sur vinyle. Ces vagues de chaleur sonores, réglées sur des fréquences héliocentriques et enregistrées maison à la Portastudio, constituent autant un modèle pour des explorations de groupe futures qu'un voyage en soi, à la fois envoûtant et apaisant. La face A présente une série de vignettes floues à degré d'abstraction variable, mais les deux longues pièces du verso décollent pour de bon. Sur « All Is and Ever Will Be », qui dure 11 minutes, la vibration d'un orgue vaporeux est troublée par le fracas d'une batterie sauvage, évoquant une fusion en un seul être du duo Flower-Corsano. La finale, « Earth House » est un lac frais d'équanimité aux sédiments de claviers réverbérés, de giclements électroniques et de rythmes entraînants qui vous ramènent vers le Satchidananda.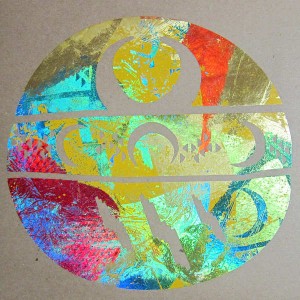 From the sky father yod of Jesse Locke:
The good Doc Dunn casts a sunbeam of soli on this transcendental rambler into the everloving dawn. Tecumseh is a double-dipped dose of avant-trad ecstasis and EZ listening lift-off for country-fried cosmonauts with a trusty harmonica as its guiding star. After years of percolation, this Healing Power platter is a gift for the ages, complete with art lovers' editions-of-one foil gleam sleeves. Read the full tale from the flowing pen of Kevin Hainey, get thee to a turntable and get gone.
Du père céleste de Jesse Locke:
(Transcendé par Vincent Rondeau)
Ce cher Doc Dunn nous revient en lançant des rayons de solos vers l'aube bienveillante avec cette collection de divagations transcendantales. Tecumseh offre une dose double d'extase avant-trad et d'easy-listening planant pour cosmonautes panés, sous l'égide vigilante d'un harmonica. Après des années de percolation, cette galette mémorable (sur Healing Power) est offerte dans une variété de pochettes uniques brillantes pour les amateurs d'art. Kevin Hainey raconte la légende en détail ; pour le reste, rendez-vous à une table tournante et partez à l'aventure.
---