Tag: compilation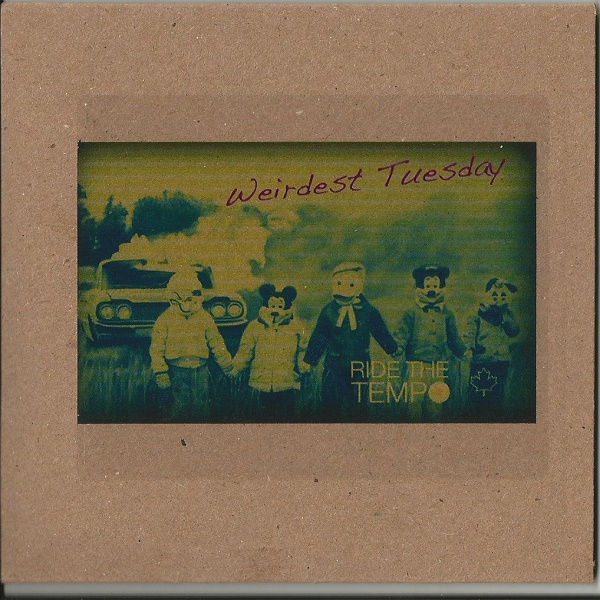 Various Artists
Ride the Tempo presents: Weirdest Tuesday
(Baffled Octopi Records)
Toronto, ON
From the deleterious delusions of Mark Anthony Brennan:
Light bounces over keyboards bringing to life a midway funhouse of irony. A beat poet feigns insult at proffered money as he fabricates a true account of lies. Everyone smirks. Screams rain down from roller coaster riders who allow themselves to be plunged into high definition hell. A thrown ball bursts through skittles, clattering them across the stall in manic discordance. Alarmed patrons feel relief at the sound of children singing. Short-lived. Not children, but wooden puppets with glass eyes. Strange, beautiful, entertaining, and terrifying.
Par les délires délétères de Mark Anthony Brennan:
(Traduit par la frénésie dissonante d' Émily Traichel)
La lumière rebondit sur les claviers donnant vie à un palais du rire ironique de mi-chemin. Un poète du mouvement Beat feint l'insulte vers de l'argent offert tandis qu'il fabrique un véritable rapport de mensonges. Tout le monde a un sourire narquois. Des cris dégringolent des passagers à bord de montagnes russes qui se permettent d'être plongés dans l'enfer haute-définition. Un ballon lancé jaillit à travers des skittles, les envoyant à l'autre bout du cabinet avec fracas, en dissonance frénétique. Des mécènes alarmés sont soulagés d'entendre des enfants chanter. Ça ne dure pas. Non pas des enfants, mais des marionnettes en bois avec des yeux en verre. Étranges, belles, distrayantes et terrifiantes.
Marie Davidson – Balade aux USA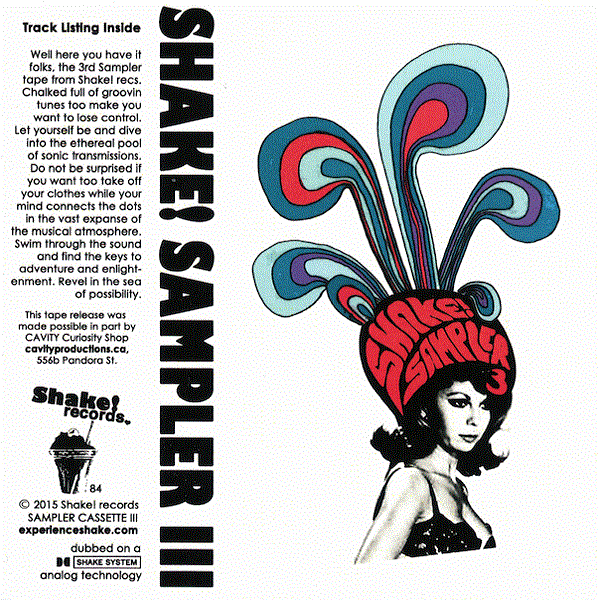 Various Artists
Shake! Sampler III
Victoria, BC
From the competing frequencies of Katie Jensen:
A junk store window gleaming with treasures. Dented jangle-pop cans burnished with gritty, syrup-stained rims. Sunbleached beach towels with familiar stains. A tambourine rattling coquettishly; the shopkeeper's purring pet. Tinted glasswear played like cowbells: hollow and true. A wooden bowl with a wide-mouthed brim, drooling with overflowing keys. Unopened letters. Leftovers from someone else's life.
A tiny handheld radio blares an anthem of discordant, slacker post punk. Twist the dial but stay between frequencies. Hover here. Hold your breath.
Des fréquences en compétition de Katie Jensen:
(Traduit par Julie Mayer)
La vitrine d'un bazar, étincelante de trésors. Des cannettes de jangle pop cabossées, polies, aux contours rugueux et maculés de sirop. Une serviette de plage blanchie par le soleil, couverte de taches familières. Un tambourin cliquète d'une manière aguicheuse; l'animal domestique ronronnant du commerçant. De la verrerie teintée jouée à la manière des cloches à vache : un son creux et vrai. Un bol en bois au large bord, dégoulinant de clés qui débordent. Des lettres non lues. Les restes appartenant à la vie de quelqu'un d'autre.
Une petite radio portative braille un hymne de slacker post punk discordant. Tourne la molette mais reste entre les fréquences. Fais du surplace ici. Retiens ton souffle.
Snooker Emporium – TökfQzelék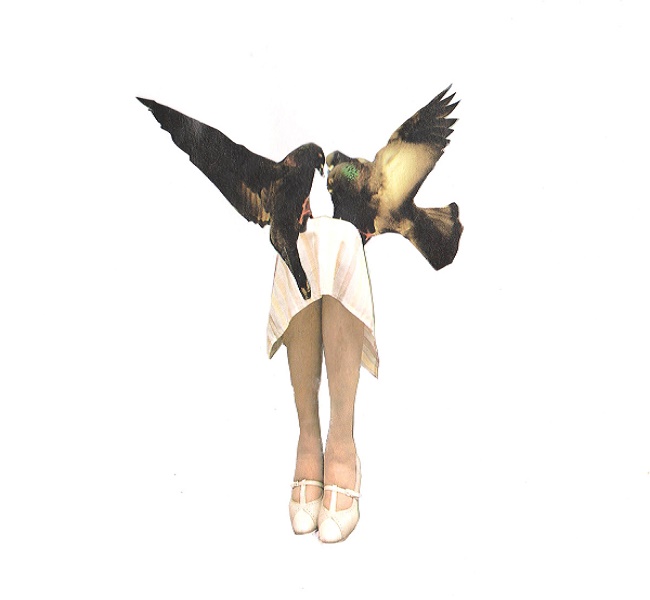 Various Artists
Fredericton's Mine
Fredericton, NB
From the Maritime motivation of Brian Cleveland:
Moncton isn't so bad, so what about the rest of the unfairly characterised No Funswick? Well, Fredericton is mine and it can be yours now, too. Motherhood blasted into our adoring ears in March, and now our tympanic membranes are vibing with a full-on Fredericton invasion. It's time to join the cult, sample the circus, and discover over three dozen new favourites in one fell swoop. So Funswick.
Par la motivation maritime de Brian Cleveland:
(Traduit par les oreilles adorantes d' Émily Traichel)
Moncton n'est pas si pire, alors qu'est-ce qui en est du reste du «Pas de Funswick,» ainsi injustement caractérisé? Eh bien, Frédéricton m'appartient et peut maintenant t'appartenir aussi. Motherhood s'est projeté dans nos oreilles adorantes au mois de mars, et maintenant nos membranes tympaniques vibrent avec une invasion frédérictonnaise totale. C'est le temps de joindre le culte, de goûter au cirque, et de découvrir plus de trois douzaines de nouveaux coups de coeur en un tournemain. Trop l'Funswick.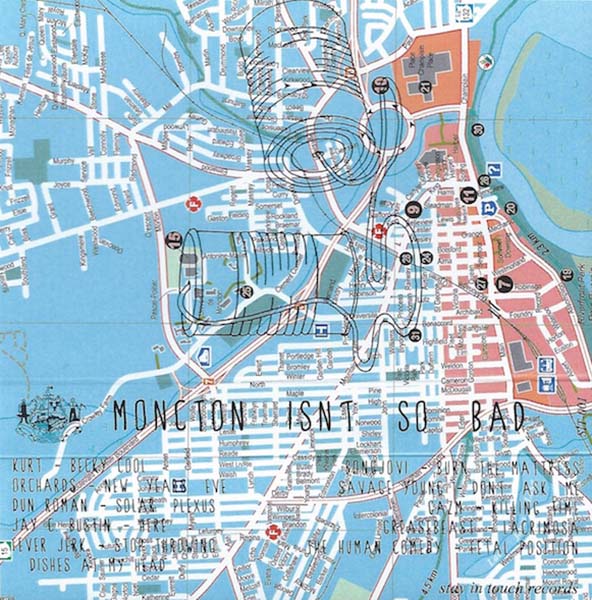 Stay In Touch Records
"Moncton Isn't So Bad" Compilation
Moncton, NB / Halifax, NS / Montreal, QC
From the poutine pizza of Mike Roy:
From the shadows of the East Coast rises Stay in Touch Records and their tribute compilation to the city that raised them, Moncton, NB. Moncton Isn't So Bad serves up a hot-and-ready, sonic pizza, its 10 slices topped with the tastes and flavours of a diverse community. The sweet and steamy bedroom pop from Kurt Inder will immediately entice you, while the piping hot garage riffs of Bong Jovi scorch at your tastebuds. Stay in Touch delivers the beautiful underbelly of a talented Moncton community simply bubbling with potential (and possibly mozzarella cheese).
De la pizza-poutine de Mike Roy:
(Traduit par le capharnaüm infernal de Julie Mayer)
Stay in Touch Records émerge des ombres de la côte Est et leur compilation rend hommage à la ville qui les a élevés : Moncton au Nouveau-Brunswick. Moncton Isn't So Bad sert de la pizza acoustique toute-chaude-toute-prête dont les 10 pointes sont garnies de goûts et de saveurs issus d'une communauté diverse. La pop de chambre douce et humide de Kurt Inder va vous allécher sur-le-champ alors que les riffs de garage fumants de Bong Jovi brûlent vos papilles gustatives. Stay in Touch livre la belle face cachée d'une talentueuse communauté monctonienne bouillante de potentiel (et sans doute de fromage mozzarella).
Fever Jerk – Stop Throwing Dishes at My Head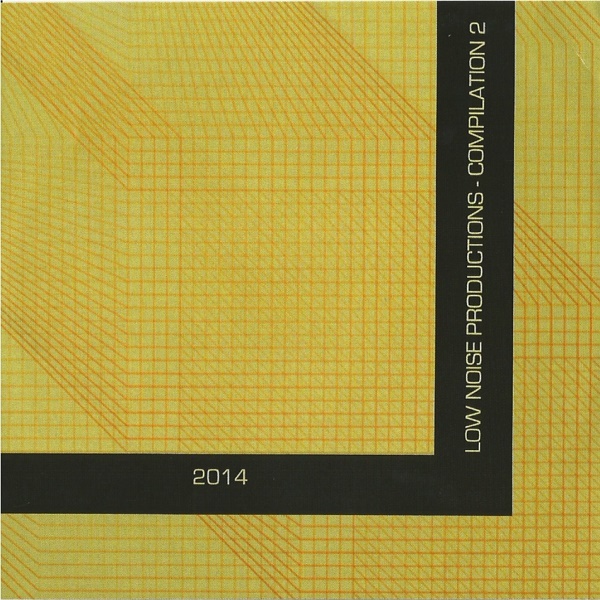 Various
LNP – Compilation 2
Ottawa , ON
From the motorik metabolism of Mark Anthony Brennan:
White. A cavernous room bathed in light. When you make your selection a drawer suddenly juts out from the infinite whiteness. Some selections gleam, like a brand-new super-efficient Porsche. Others are more clunky, but intriguing in their analogue peculiarity. Some remind you of sweaty nights on the techno dance-floors of Chicago. Then there's the one that brings back memories of the time in Berlin.
So many synths, so many styles. Finally, you decide. Yes, that one is perfect for your Terminator vs. Bladerunner flick.
Du métabolisme motorik de Mark Anthony Brennan:
(Traduit depuis la rutilante dystopie de Nicolas Coutlée)
Blanc. Une salle caverneuse baignée de lumière. Au moment de faire votre choix, un tiroir jaillit de la blancheur infinie. Certaines sélections brillent, comme une Porsche neuve et incroyablement performante. D'autres, moins rutilantes, vous intriguent par leur bizarrerie analogue. Quelques-unes vous rappellent ces nuits humides sur les pistes de danse techno de Chicago. Sans oublier cette dernière au contact de laquelle refont surface vos souvenirs du temps à Berlin.
Tant de synthés, tant de styles. Finalement , vous vous décidez. Oui, celle-ci sera parfaite pour votre prochain film, Terminator vs. Bladerunner.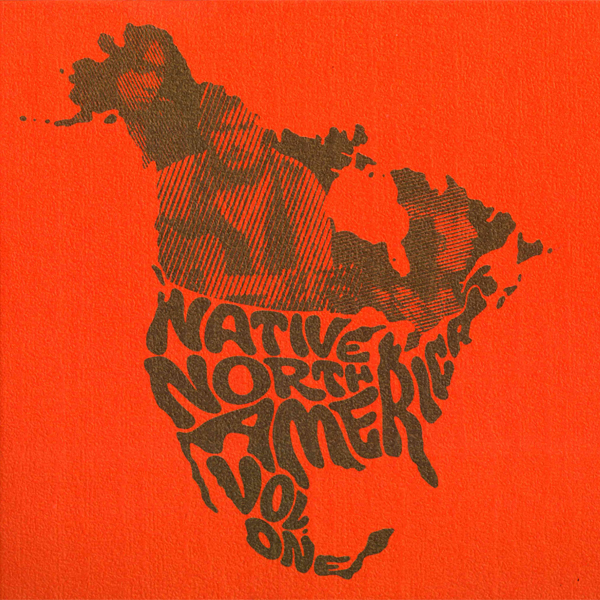 Various Artists
Native North America: Aboriginal Folk, Rock, and Country: 1966-1985 (Vol. 1)
Various,
From the anonymous fox that is Talia Jacob:
Like a reprieve from cold Canadian winters, Native North America easily enfolds you in its warmth, swaddling you in rich & deep melodies. From sea to sea, twenty-three Aboriginal artists & groups echo this land's rawest vistas; the rolling of prairies, the crispness of mountains, the coolness of woods, the smoking of cities, the choking of towns. Sonorous voices breathe a cold draft through the cozy acoustic folds of music, with rustling whispers of voicelessness, oppression, exploitation & vagrancy. In a very subtle & slow way, these songs reach deep inside of you. The compilation proves to be a beautiful intimation of music as a rediscovery of culture, voice & meaning.
De la part du renard anonyme qu'est Talia Jacob:
(En direct de l'hémisphère gauche de Diane Beaupré)
Pour vous donner un répit des froids hivers canadiens, laissez Native North America vous envelopper dans sa chaleur et vous emmitoufler dans ses riches et envoûtantes mélodies. D'un océan à l'autre, vingt-trois artistes et groupes autochtones font écho aux paysages les plus purs du pays; les immenses prairies, les montagnes majestueuses, les forêts apaisantes, les villes grouillantes, les agglomérations étouffantes. Les voix graves soufflent le froid sur la musique réconfortante, comme les bruissements murmurés de l'oppression, de l'exploitation et du vagabondage. Lentement et de façon très subtile, ces chansons vous atteignent profondément. La compilation se révèle être une magnifique invitation à redécouvrir la culture, la voix et le sentiment par la musique.
Willie Dunn – I Pity the Country
Lloyd Cheechoo – James Bay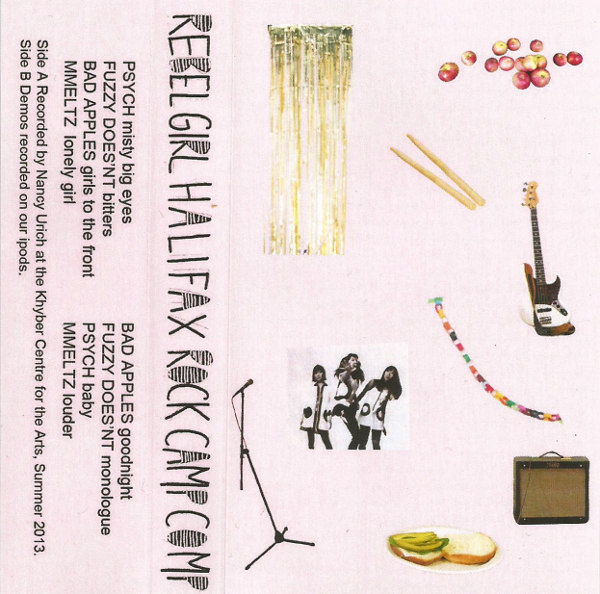 Various Artists
Rebel Girls Halifax Compilation
(Self Released)
Halifax, NS
From the allied arms of Kelly MacNeil:
'I'm just a girl alone in the world, alone in the world and I can't deal'. Walls are set, lines are drawn, expectations daunt and inhibit. It has been broken before, precedence has been set. Let us do it again. Empower the girls, give them the role models, the tools, and let their voices be heard! From the top of the Citadel, echoing in the Khyber long live!, and spreading through all age spaces. Spreads to basements and garages where friends sit slamming their hopes and fears on drums, bass, guitars, and microphones. Playing what you want, where you want, to the people you want.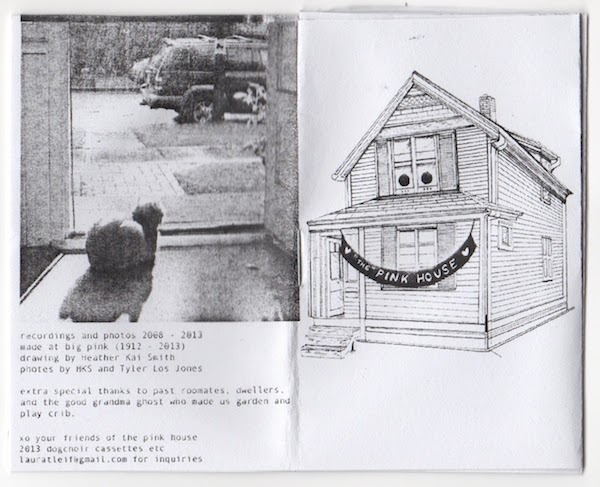 Friends of the Pink House
The Pink House
(Self Released)
Calgary, AB
From the forever house parties of Matt Swan:
Is there anything sweeter than friendship? Imagine if the dude from space oddity wasn't alone in that floating tin can, and instead had a case of wine and a couple of besties? What once was a solemn, oblivion bound meditation on loss quickly becomes a space party! The Pink House cassette, is like that, but instead of a tin can, it's a giant pink house in Calgary that has housed a rotating cast of some of the city's finest. This warped, blissful bricolage was recorded at various times by various artists under the same pink roof. The tracks run from silly to sublime – weird, blown out, and wrecked, to downright beautiful, and never boring – The Pink House documents how raw and whimsical creativity can be, particularly when combined with friendship.
De la maison aux fêtes éternelles de Matt Swan:
(Traduit par Jessica Grenier)
Il n'y a rien de mieux que l'amitié. Imaginez que le gars de Space Oddity n'ait pas été tout seul dans cette canne de conserve flottante, mais qu'il ait plutôt eu une caisse de vin et quelques bons amis. Ce qui était solennel au départ, une méditation sur la perte vouée à être oubliée, devient rapidement une fête spatiale! La cassette The Pink House est comme ça, mais au lieu d'une canne de conserve, c'est une gigantesque maison rose à Calgary qui a accueilli une distribution changeante composée de ce que la ville a de mieux à offrir. Ce bricolage tordu et merveilleux a été enregistré à divers moments et par différents artistes sous le même toit rose. Les pistes vont d'absurdes à sublimes – en passant par bizarres, éclatées, démolies et carrément belles, mais jamais ennuyantes. The Pink House démontre à quel point la créativité peut être crue et fantaisiste, particulièrement quand elle va de pair avec l'amitié.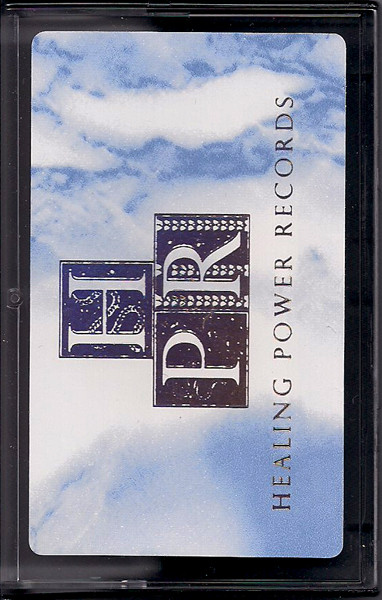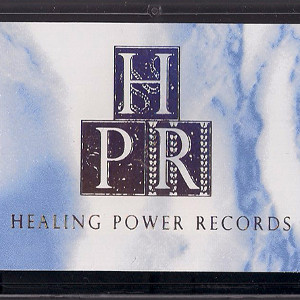 Various Artists
The Many Moods of Healing Power Records
Toronto, ON
From the many moods of Kevin Hainey:
Beating deeep within Toronto's vast underground for roughly half a decade, Healing Power has been shining strong with a sunny alternative to all manner of rock bands and the often stark and self-admittedly alienating experimental sounds permeating from the city. A small selection of the moods you'll find in this highly eclectic 80-minute flow include colourful electronic pop with daring vocals (Petra Glynt, Bile Sister), psychedelic synth showers (Wildlife Rodeo, Hover Puffin), soaring avant-folk (Jennifer Castle, IC/JC/VC), and post-jazz sub-bop (Brodie West, Gravitons). Stranger still, more undefinable drones, tones and sound poems are provided by long-running mainstays of the Toronto scene (Fleshtone Aura, Man Made Hill, Skull Bong). If you've ever needed a tangible connection to Toronto's heavenly underground, you couldn't find yourself a better obelisk than this cassette.
Des nombreux états d'âme de Kevin Hainey:
(Traduit par Jessica Grenier)
Les profonds souterrains de Toronto vibrent au rythme de Healing Power depuis près de cinq ans – faisant briller fortement sa solution ensoleillée à tous les types de groupes rock et aux tonalités souvent dures et volontairement aliénantes des sons expérimentaux qui s'infiltrent depuis la ville. Quelques-uns des états d'âme qu'on retrouve dans ces 80 minutes très éclectiques comprennent de l'électro-pop coloré avec des voix audacieuses (Petra Glynt, Bile Sister, des douches de synthétiseurs psychédéliques (Wildlife Rodeo, Hover Puffin), de l'avant-folk planant (Jennifer Castle), IC/JC/VC) et du post-jazz sub-bop (Brodie West, Gravitons). Plus étrange encore, du drone, des tonalités et des sons-poèmes indéfinissables sont offerts par des piliers vétérans de la scène torontoise (Fleshtone Aura, Man Made Hill, Skull Bong). Si vous avez jamais éprouvé le besoin d'une connexion tangible avec le souterrain céleste de Toronto, cette cassette est le meilleur obélisque que vous puissiez trouver.

<class="audioTrack">New Chance – Desperation

<class="audioTrack">Toblerone Boys – Nugget Vacancy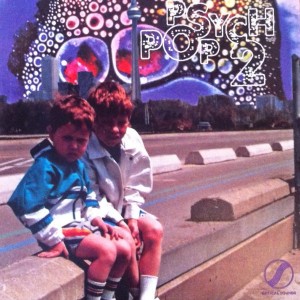 Various Artists
Psych Pop 2
Asterisk, Canada
From the kaleidoscopic wing of Brad Casey:
Go to Kensington Market. Fill your heart with no wave, baggy, Nico and the New York scene. Let it bloom with the drone of psychedelia. Optical Sounds will find you, take you under their kaleidoscopic wing, and if you make a sound, they'll nurture it. Their second label compilation showcases these kind adolescents still wanting for the romance of unknown pleasures while moving forward through the shapes that take form when you close your eyes for dreaming.
De l'aile kaléodoscopique de Brad Casey:
(Traduit par la dérive formatrice de Benoit Arcand)
Rendez vous au Kensington Market. Emplissez votre cœur de no wave, de baggy, de Nico et de scène new-yorkaise. Laissez fleurir en un bourdonnement psychédélique. Optical Sounds vous trouvera, vous prendra sous son aile kaléidoscopique, et si vous émettez un son, il le couvera. La seconde compilation de l'étiquette présente d'aimables adolescents toujours épris de plaisirs inconnus qui se meuvent parmi les formes qui apparaissent lorsque vous fermez les yeux et rêvez.
---