Tag: colonialism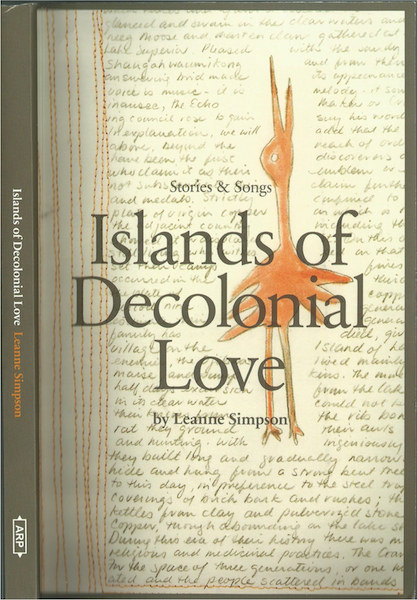 Islands of Decolonial Love
Leanne Simpson
143 pages, soft cover
Mississauga Nishnaabeg Territory
From the floating mind of Laura Stanley:
Islands of Decolonial Love, to use a phrase by its author Leanne Simpson, penetrates the aural perimeter. The narrative voice occupying her songs and stories sounds like a constant drum beat in your head, burrowing deep into your chest and stomach. Twisting and turning, the organs transform into a pulpy mass of knots where her words begin to move, slowly and surely rising up towards your mouth. You are afraid of what will come out and when it does, it offers only the slightest relief but it is one you need.
You laugh. A lot. In way that eases the pain by the knots that have formed. You laugh because Simpson discards tired ethnographic entrapments with ease. You laugh because her inclusion of the Nishnaabemowin language makes history jump from the page. You laugh because everything in these storied landscapes is clear and you understand. You laugh until the last of the slowly dissolving knots have moved to your throat and your eyes burn with tears.
You cry because colonial norms have ensnared western society for far too long and it's frustrating and exhausting. You cry because every one of Simpson's pieces are a unique celebration of Indigenous nationhoods and not enough people in this country will read them and change. You cry because Simpson shows that the same blood runs through everybody's veins, we all want to be loved, and we all ultimately share a desire to walk instead of float.
De l'esprit flottant de Laura Stanley:
(Traduit par Kevin Godbout)
Islands of Decolonial Love, pour se servir d'une phrase de l'auteur Leanne Simpson pénètre le périmètre auditif. La voix narrative qui habite ses chansons et ses histoires retentit dans le crâne comme le rythme constant d'un tambour qui s'enterre profondément dans votre poitrine et l'estomac. Tournant et retournant sur eux-mêmes, quand ses mots commencent à se déplacer, les organes se transforment en une masse de noeuds pulpeux qui montent lentement et sûrement vers votre bouche. Tu as peur de ce qui va sortir, et quand ça se passe, le moment offre un petit répit, mais c'est celui qui était nécessaire.
Tu ris. Beaucoup. Tu ris d'une façon qui soulage la douleur de ces noeuds qui se sont formés. Tu ris, car Simpson se débarrasse des pièges ethnographiques facilement. Tu ris, car elle inclut la langue Nishnaabemowin, car elle fait bondir l'histoire de la page. Tu ris, car tous les paysages historiques sont clairs et compréhensibles. Tu ris jusqu'à ce que le dernier des noeuds se dissolvant lentement passe par la gorge et que tes yeux brûlent de larmes.
Tu pleures parce que les normes coloniales ont enferré la société occidentale depuis trop longtemps, et c'est frustrant et épuisant . Tu pleures parce que chacune des oeuvres de Simpson est une célébration unique des Premières Nations et il n'y a pas assez de gens dans ce pays qui va les lire et changer. Tu pleures parce que Simpson démontre que le même sang coule dans nos veines à tous, nous voulons tous être aimés, et nous désirons tous marcher au lieu de flotter.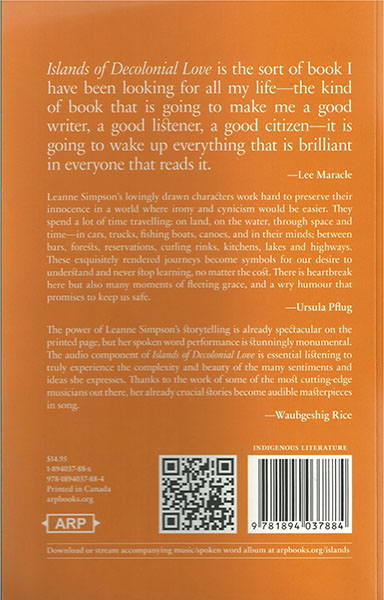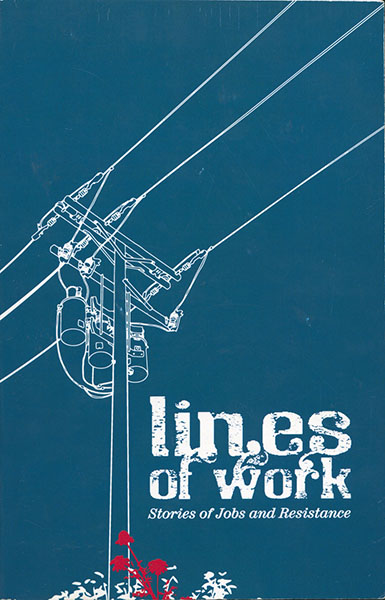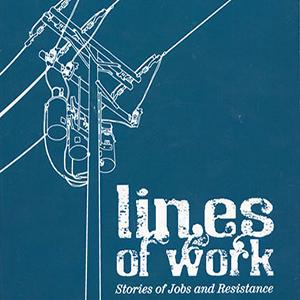 Lines of Work: Stories of Jobs and Resistance
Various Authors
Edited by Scott Nikolas Nappalos
236 pages; soft cover, perfect bound
Edmonton, AB
From the working class hands of Meghan Sangster:
Fuck work. Fuck feeling like shit and falling asleep at the wheel and almost crashing your truck. Fuck chronic pain and its accompanying short fuse that affects your relationships with friends, family, and lovers. Fuck not having a dental plan. Fuck the capitalist mechanization of care work that generates worker apathy and ableist assumptions about the elderly. Fuck depression, but first fuck the job insecurity and hounding poverty that keeps it so strong. Fuck the colonial borders that divide and destroy so many families. Fuck not-for-profits that mistake their neoliberal ethos for radical subversion. Fuck the managerial decisions that force genderqueer people to use washrooms that are not of their choosing (fuck gender binaries). Fuck racism and its constant, bone grinding assaults. Fuck misogyny and its ever-close companion patriarchy. Fuck how exploitive managerial techniques echo the emotional abuse and economic vulnerability that so often traps people in domestic violence. And fuck the alienation that tells workers there is nothing they can do about any of the above.
Misogyny is everyone's labour issue. Racism is everyone's labour issue. The continued colonization of Canada and the maintenance of colonial borders is everyone's labour issue. Lines of Work is a collection of beautiful testaments from people who are working everyday, constantly negotiating these tandem oppressive systems lodged in the sludge of capitalist machinery. Lines of Work shares what workers do against the deadening, indefinite assaults of labour's daily grind and the possibility for resistance in the very process of encountering something unknown and seemingly limitless. We can look at Goliath and tremble – sometimes there is no other choice – but well aimed rocks can accomplish incredible things.
Des mains ouvrières de Meghan Sangster:
(Traduit par la soif de justice de Louis-Félix Pellerin)
Fuck la job. Fuck manqué avoir un accident en s'endormant au volant parce qu'on se sent comme de la marde. Fuck la douleur chronique qui nous rend agressifs avec nos proches, nos amis et nos amants. Fuck pas avoir d'assurance dentaire. Fuck la mécanisation des services de santé qui entraîne l'apathie chez les employés et les préjugés découlant du capacitisme à propos des personnes âgées. Fuck la dépression, mais surtout, fuck la précarité d'emploi et la pauvreté rampante qui la nourrissent. Fuck les frontières coloniales qui divisent et détruisent un nombre incalculable de familles. Fuck les groupes sans but lucratif qui prennent leur philosophie néolibérale pour une subversion radicale. Fuck les décisions administratives qui forcent les personnes genderqueer à utiliser des salles de bain qui ne correspondent pas à leur identité (fuck le binarisme des genres en passant). Fuck le racisme et ses attaques qui nous broient les os. Fuck la misogynie et son horrible p'tit copain le patriarcat. Fuck la façon dont les techniques de gestion exploitatrices font écho à l'abus émotionnel et à la vulnérabilité économique qui confinent trop souvent les gens dans une situation de violence familiale. Et fuck le cynisme qui fait croire aux travailleurs qu'ils ne peuvent rien faire contre tout ça.
Nous sommes tous concernés par la question de la misogynie dans le monde du travail. Nous sommes tous concernés par la question du racisme dans le monde du travail. Nous sommes tous concernés par la colonisation constante du Canada qui maintient les frontières coloniales. Lines of work est une collection de poignants témoignages de gens qui luttent chaque jour contre ces systèmes oppressifs qui se chevauchent, embourbés dans la gadoue du capitalisme. Ce recueil parle du combat quotidien mené par les travailleurs contre les assauts incessants et abrutissants de la corvée qu'est le travail, ainsi que de la possibilité de résister face à quelque chose d'inconnu et d'apparemment sans limites. On peut continuer de trembler devant Goliath, on peut rarement faire autrement; mais parfois, une roche bien placée peut accomplir de grandes choses.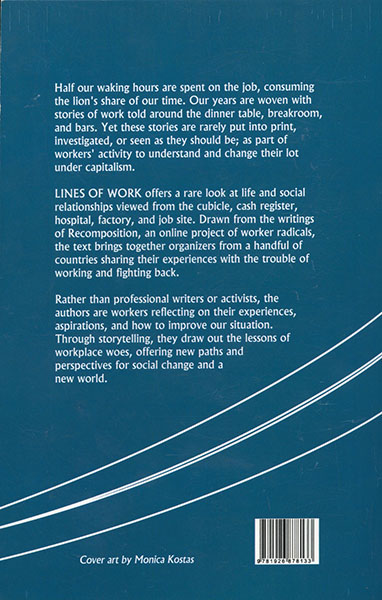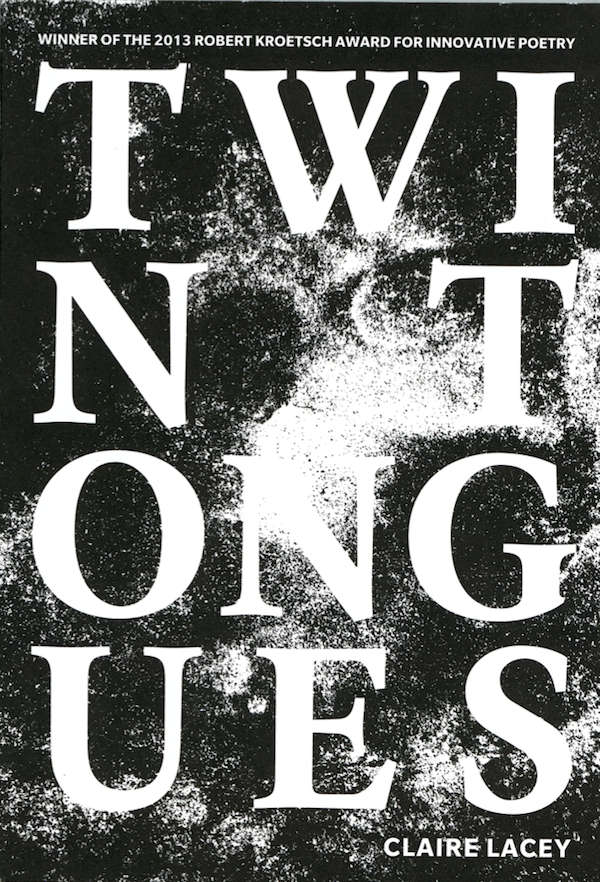 Claire Lacey's Twin Tongues is a tale of English the colonist, the alien species that eradicates the native fauna only to discover its own alienness.
Twin Tongues
Claire Lacey
Calgary, AB
80 pages, paperback, perfect bound
From the double-talk of Jenya Doudareva:
A Western teacher far in the Eastern hemisphere. She is unprepared for the monsoon season, for her skin getting all sticky with humidity, for the betrayal of her umbrella. A strange lost bird in her apartment – a crow – mocks the very concept of the teacher's teachings with relentless "Fuck you! I'm a crow! Fuck you! I'm a Crow! Fuck you! I'm a crow!…" Twin Tongues is a tale of English the colonist, the alien species that eradicates the native fauna only to discover its own alienness.
English is pervasive; it is easy to take its reach even to the most remote corners of the world for granted. Sometimes we vilify the tongue and blame its evil nature for the death of other languages. At other times we feel aggravated that not everyone in the world speaks English when we try and talk at them. How should one feel about this language? It's so confusing!
Twin Tongues – a chaotic blend of fragmented narration and poetry – personifies this confusion. English becomes a thoroughly well-intentioned lady who is on a mission to teach the tongue in Papua New Guinea, where Tok Pisin, a pidjin derivative of English, is already the primary lingua franca (By the way, Papua New Guinea has more indigenous languages than any other country – over 820. We learn that the conception of Tok Pisin helped the local population retain its own identity in the time of colonization. Now English is diluting this identity yet again).
But back to our nice lady – she is doing the best that she can. She is nursing a cursing crow back to health. The bird's repetitions of the heroine's native phrases sound ridiculous and arbitrary. You know that feeling when you say a word over and over until you are unsure if that word has any meaning? How bizarre that we have collectively agreed to call particular combinations of sounds English. Does it even matter that in its dreams the local crow speaks English?
Du double langage de Jenya Doudareva:
(Traduit par Alex Micati)
La langue anglaise étant omniprésente, il est facile de la voir étendre ses tentacules dans les recoins les plus éloignés de la planète. Nous jetons parfois le blâme sur celle-ci lorsque vient le temps de trouver un coupable responsable de la disparition d'autres langues. Il nous arrive parfois de sentir un certain agacement lorsque les interlocuteurs anglais sont aussi rares qu'une pluie dans le désert. Être ou ne pas être anglophone? Que de confusion.
Twin Tongues, un amalgame chaotique de prose et de poésie, personnifie cette confusion qui nous envoûte. Dans les pages de cet ouvrage, la langue anglaise prend les traits d'une vieille dame, pleine de bonnes intentions, partant propager la bonne parole en Papouasie Nouvelle-Guinée. Dans cette île du Sud se parle déjà un dérivé de l'anglais, le Tok Pisin, considéré comme la lingua franca du lieu. D'ailleurs, on compte 820 langues indigènes en Papouasie Nouvelle-Guinée, un nombre beaucoup plus important qu'ailleurs. Là-bas, le Tok Pisin était un moyen d'assurer la défense de l'identité locale, lors de la colonisation du territoire. On assiste aujourd'hui à un nouvel épisode d'anéantissement identitaire, sous l'égide de l'anglais.
Mais revenons à notre dame. Elle survit du mieux qu'elle peut. Elle offre des soins à un corbeau ayant perdu toute reconnaissance. Les mots de l'héroïne sonnent ridicules et arbitraires lorsqu'ils sortent de la bouche de l'animal. Avez-vous déjà eu le sentiment de répéter un mot ad nauseam, pour ensuite ne plus savoir s'il avait une quelconque signification? Le fait que la collectivité ait donné le nom d'anglais à un groupe de combinaisons sonores est bizarre. Dans ses rêves, le corbeau local est anglophone. Et alors?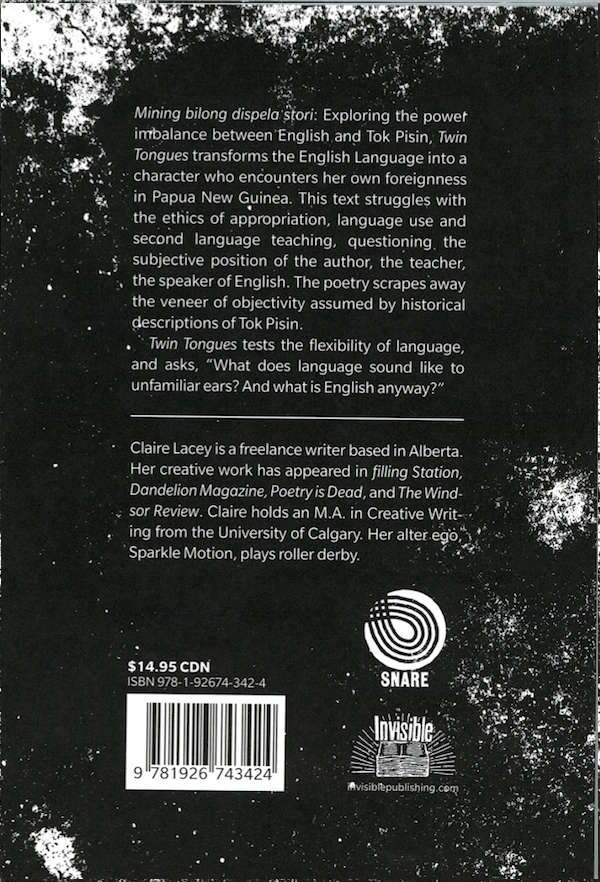 ---