Tag: collage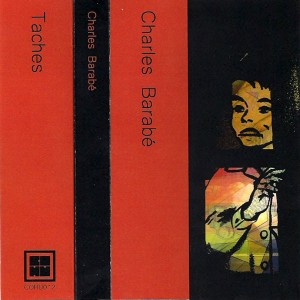 Charles Barabé
Taches
(La Cohu)
Victoriaville, QC
From the digressions and paintbrushes of Hugo Hyart:
(Translated by Hugo Hyart)
Charles Barabé filled 2013 with relentless discoveries and mind trips through his La Cohu imprint, including this standout solo release. High frequencies conjure an endless fall that makes you think you're moving forward, as deserted souls of all shapes welcome you to an Elysian field, going round this multi-coloured star at the speed of a tranquil rollercoaster wagon. Sometimes you meet hikers rambling on mountains with no top or base. On the eardrum canvas, the "taches" made by his aural paintbrushes shape a flow to help you find meaning or just contemplate in ataraxia. Much like everything in existence, huh? But beware, for the traps of generalization are numerous. Your mind is in space, yet your ears still hear bits from where you're sitting. Faraway places in our cranial box are right here. Look! This tape is yet another pair of glasses, showing us once again how the experimental music that seems to resonate so much in Quebec can be bewitchingly evocative. This one is sadly sold out, but we should be hearing more from Barabé in 2014. Dope!
Des digressions et pinceaux de Hugo Hyart:
Charles Barabé ne s'est pas épargné pour truffer 2013 de découvertes et de voyages de l'esprit à travers sa marque La Cohu, dont cette remarquable sortie solo. De hautes fréquences te portent dans une chute sans fin qui te fait penser que tu vas en avançant, tandis que des âmes désertées de toutes formes t'accueillent dans un Champ Elyséen faisant le tour de cette étoile multicolore à la vitesse d'un wagon de montagnes russes calme. Parfois tu rencontres des randonneurs se promenant sur des montagnes sans sommet ni base. Sur le canevas du tympan, les « tâches » laissées par des pinceaux auriculaires forment un courant qui t'aide à trouver un sens ou que tu peux contempler en ataraxie. Un peu comme tout dans l'existence, non? Mais prends garde, car les pièges de la généralisation sont nombreux. Ta tête est dans l'espace, mais tes oreilles entendent encore des bribes de là où tu es assis. Les endroits reculés dans notre boîte crânienne sont juste là. Regarde! Ce tape est encore une autre paire de lunettes, nous montrant une fois de plus comment la musique expérimentale qui semble tant résonner au Québec peut être aussi évocatrice et ensorcelante. Celui-là est malheureusement épuisé, mais on devrait entendre à nouveau parler de Barabé en 2014. Cool !
Charles Barabé – Taches A (extrait)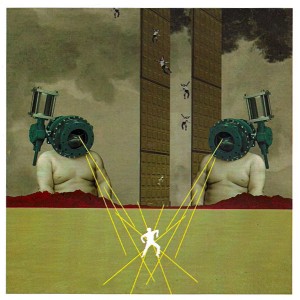 Zebra Pulse
Heh, Vay Bae-Bays
Edmonton, AB
From the bald ego of Jared Majeski:
Now comfortably ensconced in four-piecedom, Peace Country picaros Zebra Pulse have a new full length of electronic boundary-making: phonetic digital trills, cracked vinyl fuzz and percussive gangles steering the ship (close) to oblivion. Possibly less harsh but more layered and clear, Heh, Vay Bae-Bays is somewhat surprisingly their first studio recording, and if the song titles are any indication, proves to be a weird, funny and uncomfortably profound experience. This latest noise confessional was released to the world the only way possible: enlisting a droid-inspired street artist and hiding said droids along with cassettes of b-side studio recordings around the city for people to find.
Have you ever taken a trip and not known at all where you were heading? That's the kind of steeze oozing from the Zebra Pulse gaskets. Just another day in The City of Champs.
De l'ego flagrant de Jared Majeski:
(Traduit par Natalie Binda)
Maintenant confortablement constitué en quatuor, Zebra Pulse, les picaros de la Rivière de la Paix, repousse les frontières de l'électronique avec leur nouvel album : trilles vocales numériques, crépitements de vinyle fuzzé et rythmes dégingandés guidant le navire jusqu'à l'oubli (ou tout près). Sans doute moins cru mais plus limpide et texturé, Heh, Vay Bae-Bays, étonnamment leur premier enregistrement studio, se révèle, si on se fie aux titres de chansons, une expérience bizarre, drôle et inconfortablement profonde. Ce plus récent cri du coeur noise a été livré au monde de la seule façon possible : avec l'aide d'un artiste de rue passionné de droïdes, des cassettes de b-sides accompagnées des dits droïdes ont été dissimulées en ville afin d'être retrouvées. Avez-vous déjà fait un voyage en ignorant votre destination? Voilà exactement le genre d'attitude pénarde qui émane de la mécanique de Zebra Pulse. Un autre jour dans la Ville des Champions.
Zebra Pulse – The Rusted Bones of Home
Various Artists
Montreal Knows No Wave, No?
Montreal, QC

If Doc Brown had a tape label, he'd speed us straight back to healthier livers, slightly less wrinkled faces and bands who have now mostly disappeared, or evolved into new mutations. A time warp to five years past,
Montreal Knows No-Wave, No?
, captures two live happenings and many passing incarnations of Montreal swampy
noisenik lurkers
, anywhere from harsh to very harsh to noise-obliteration. Peep
the infomercial
and grip.
Full spread
.
Du rides de Gabriel Jasmin:
Si Doc Brown sortait des cassettes, on y retrouverait nos foies plus en santé, nos visages moins ridés et des bands qui ne survivront pas ou qui finiront transformés. Cinq ans en arrière, Montreal Knows No-Wave, No? capture deux happenings et une douzaine d'incantations locales de bébittes noise, tous perdus à quelque part entre bruitiste, très bruitiste et bye-bye-les-tympans bruitiste. Primo, voir l'infopub, deuzio, se le procurer.
[audio:http://weirdcanada.com/wp-content/uploads/2012/07/dreamcatcher-pothole-wilds.mp3|titles=Dreamcatcher – Pothole Wilds] Dreamcatcher – Pothole Wilds
[audio:http://weirdcanada.com/wp-content/uploads/2012/07/mondaymorningerection-radio-chaude.mp3|titles=Mondaymorningerection – Radio Chaude] Mondaymorningerection – Radio Chaude
---