Tag: Colin Medley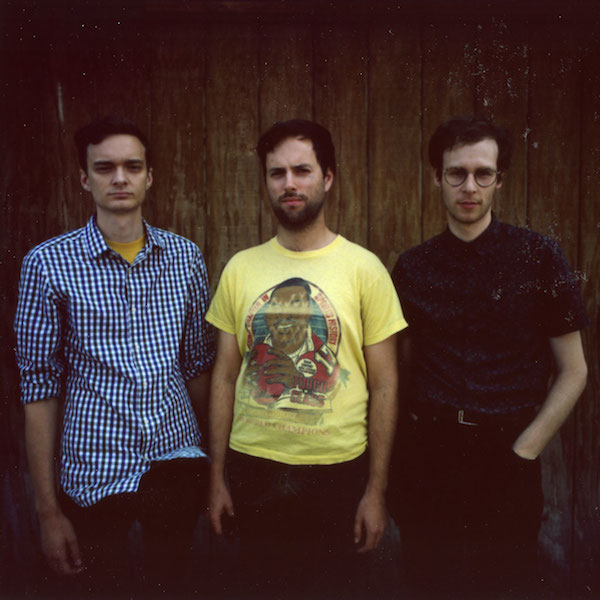 From the left – Mike Claxton, Matt King, and Moshe Rozenberg.
Ephemera of: Absolutely Free
Existing before, during, and after the recording of Absolutely Free
Toronto, ON
From the free mind of Colin Medley:
Toronto three-piece Absolutely Free just released their debut LP, Absolutely Free, so for this edition of Ephemera, the boys decided to look to the past, contemplate the present, and gaze towards the future.

Absolutely Free – Beneath the Air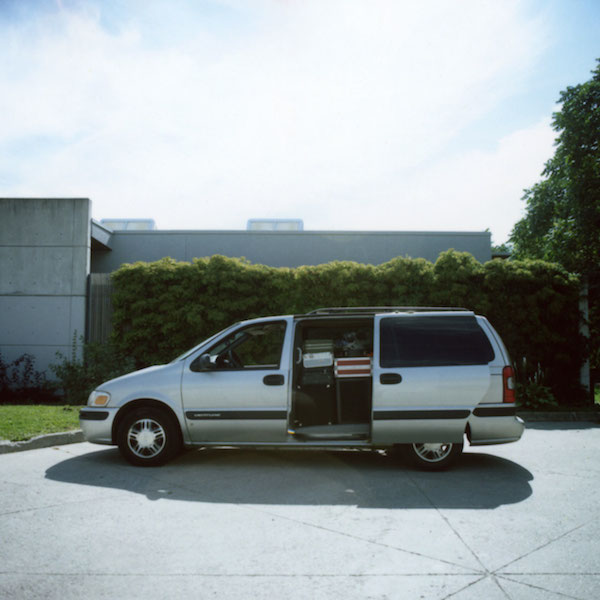 Van (Past)
This is our van. It's name is David Silver. At 9 yrs and 512000kms old, David has taken on many forms. At times it's been our office, living room, bedroom and bathroom (don't ask). But most of the time, David is our trusty steed. Taking us from point A to point B with minimal complaints. And like all trusty steeds, David will soon go off to pasture. Godspeed you silver steed!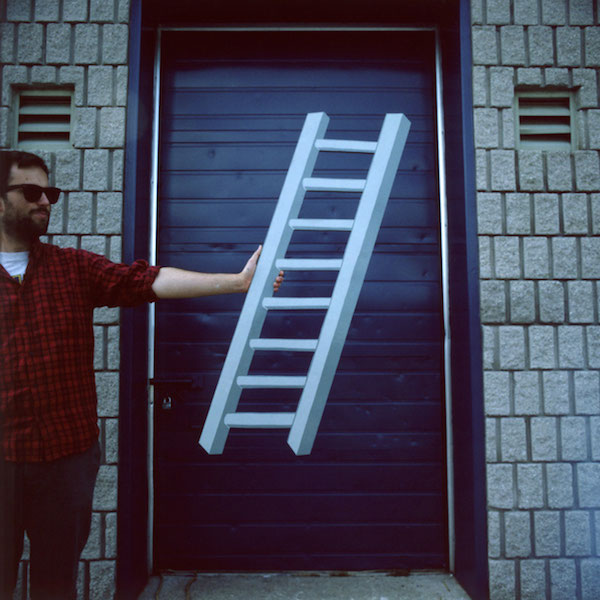 Ladder (Present)
The ladder is from a series of plywood signs that Matt made for his art practice. When conceptualizing the album art, we were interested in having something that created a subtle disruption of visual expectations, so the ladder in the corner creates this weird perception of depth. Correspondingly, the idea of a ladder is more often associated with ascension, but is just as possible to be a conduit for descending. This contradiction builds a grey area that our music and lyrics explore. Absolutism and freedom are contradictions. Nothing is absolute, nothing is free.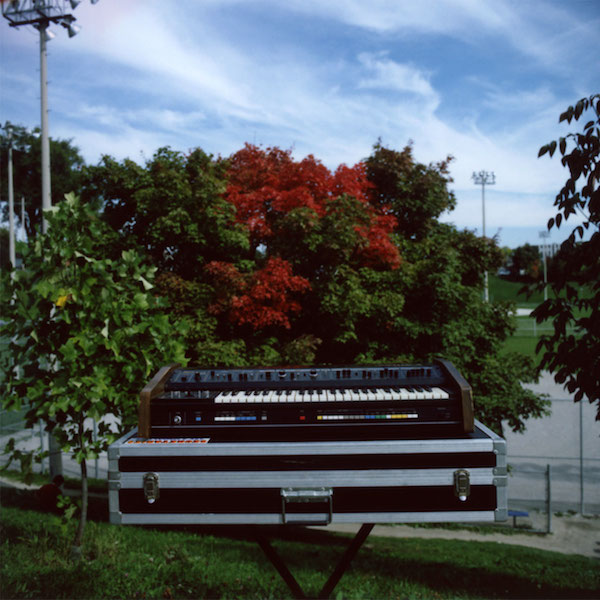 Jupiter-4 (Future)
This is a really beautiful synthesizer we just acquired. If we'd gotten it any sooner, our album would have turned out pretty differently; basically every song would have been Rio by Duran Duran. But honestly, the arpeggiator is really charming and the overall sound is somewhere between Terry Riley & Vangelis. We'll use it like crazy on Two Cares Due None (the feature film score we're working on) and it's also likely to springboard a handful of newer, possibly groovier Absolutely Free songs.
De l'esprit libre de Colin Medley:
(Traduit par Jessica Grenier)
Le trio torontois Absolutely Free vient de lancer son premier album, Absolutely Free; alors pour cette édition d'Ephemera, les gars ont décidé de regarder le passé, de contempler le présent et d'entrevoir le futur.

Absolutely Free – Beneath the Air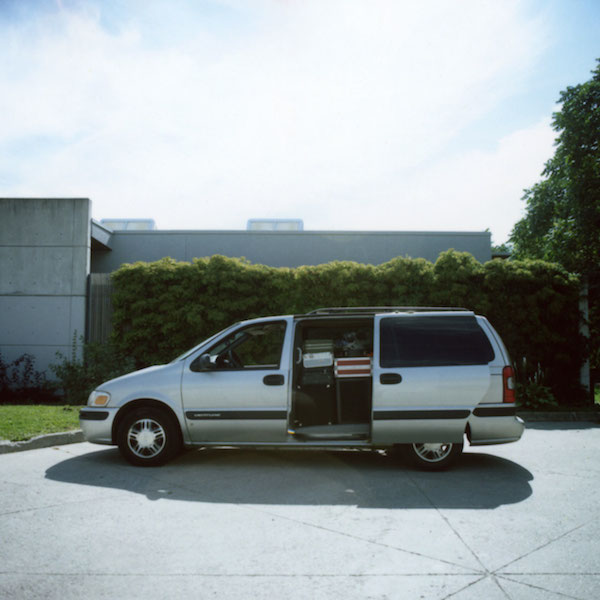 Van (Passé)
C'est notre van. Son nom est David Silver. gé de 9 ans et avec 512 000 km au compteur, David a connu plusieurs formes : c'était parfois notre bureau, notre salon, notre chambre et notre salle de bain (ne demandez pas de détails). Mais la plupart du temps, David était notre fidèle destrier, nous amenant du point A au point B sans trop se plaindre. Et comme tous les fidèles destriers, David partira bientôt vers des pâturages. Bon voyage, destrier grisonnant!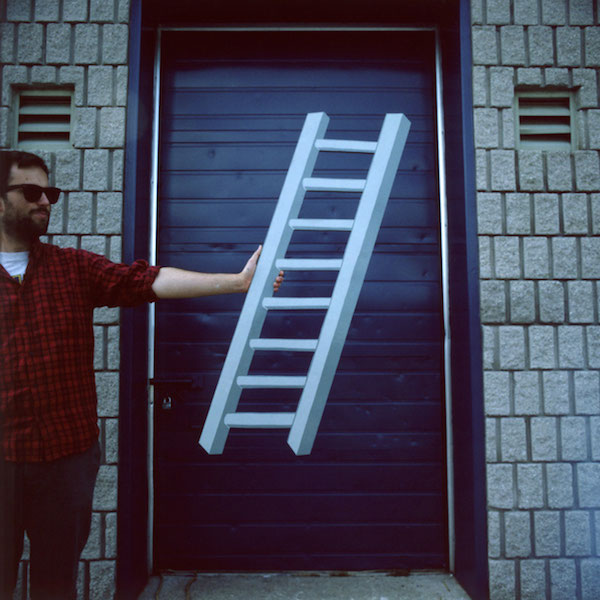 Échelle (Présent)
L'échelle est tirée d'une des œuvres de Matt – une série de panneaux en contreplaqué. Au moment de conceptualiser l'album, on voulait quelque chose qui vienne perturber subtilement les attentes visuelles, et l'échelle dans le coin fait qu'on perçoit une espèce de profondeur. Parallèlement, l'idée d'une échelle est plus souvent associée au fait de grimper, mais elle peut tout autant être un moyen de descendre. Cette contradiction construit une zone grise que notre musique et nos paroles explorent. L'absolutisme et la liberté sont des contradictions : rien n'est absolu, rien n'est libre.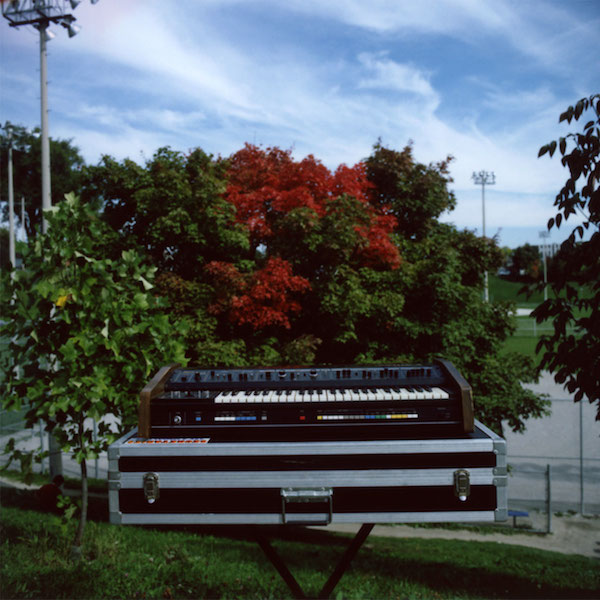 Jupiter-4 (Futur)
C'est un synthétiseur vraiment beau qu'on vient juste d'acheter. Si nous l'avions eu plus tôt, notre album aurait été très différent : presque toutes les chansons auraient ressemblé à « Rio » de Duran Duran. Mais honnêtement, l'arpégiateur est vraiment génial, et l'ensemble sonne quelque part entre Terry Riley et Vangelis. On va l'utiliser énormément sur Two Cares Due None (la musique de long-métrage sur laquelle on travaille) et c'est aussi possible qu'il fasse naître d'autres chansons tirées de Absolutely Free, nouvelles et plus rythmées.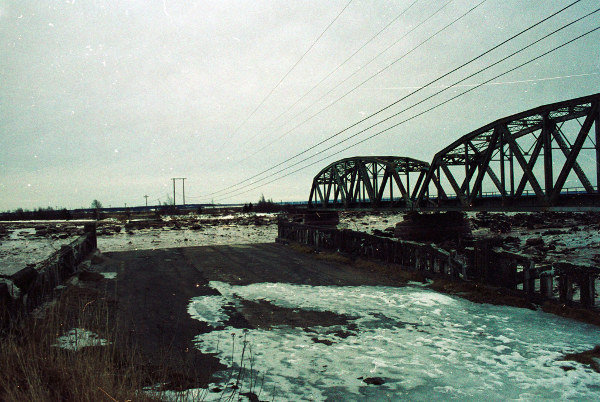 Stereophonic 12
January 22-24
Sackville, NB
Photo: Colin Medley
From the snow-flecked eyebrows of Kevin Brasier:
Stereophonic, is a winter fundraiser/hellraiser for Sackville's community station, CHMA 106.9FM. If you've ever wondered "what's in that Sackville water" that produces the finest bands in the land, the answer is CHMA's FM-freakuencies. Stereophonic is how Sackville says thank you to CHMA for offering the community free postering services, PA equipment for shows, and much more. Far from an ordinary fundraiser– co-directors Scott Brown and Ilse Kramer (also bandmates in the mighty Kappa Chow) are throwing a three-day rager featuring musical legends from bag-town and beyond including Astral Gunk, Bry Webb, Old and Weird, and Monomyth. Check out the release video for the full-line up, and listen to the festival mix-tape to preview the sweetest sounds of the marshes.
Des sourcils parsemés de flocons de neige de Kevin Brasier:
(Traduit par le nez incandescent de Jessica Grenier)
Stereophonic est une collecte de fonds infernale/hivernale pour la station radio communautaire de Sackville, CHMA 106.9FM. Si vous vous êtes déjà demandé ce qu'il y a dans l'eau de la ville pour qu'elle produise les meilleurs groupes du pays, la réponse se trouve dans les freakences de CHMA. Stereophonic, c'est aussi Sackville qui dit merci à CHMA pour le service d'affichage qu'elle offre gratuitement à la communauté, l'équipement de sonorisation lors des spectacles, et bien d'autres choses encore. Stereophonic est loin d'être un spectacle-bénéfice ordinaire : les codirecteurs Scott Brown et Ilse Kramer (aussi membres du grandiose Kappa Chow préparent une fête de trois jours avec des légendes de la musique povenant de la ville ou d'ailleurs, comme Astral Gunk, Bry Webb, Old and Weird et Monomyth. Regardez l'annonce vidéo pour savoir la programmation et écoutez la cassette du festival pour vous donner un aperçu des meilleurs sons du marécage.
1 Best Fiends – "Uh Huh"
2 Zakary Slax – "Remains"
3 Monomyth – "Candleholder"
4 Coach Longlegs – "Baycation With You"
5 Klarka Weinwurm – "TMSB"
6 Bry Webb – "Prove Me Wrong"
7 Corey Isenor – "Beneath The Bramble"
8 Jon Mckiel – "I Know, I Know"
9 Astral Gunk – "Astral Theme"
10 Heaven For Real – "Hard Done By"
11 Union Suit – "Delirious Vista"
12 Adam Mowery – "Follow Me To The Bottom*"
13 The Kavorkas – "The Grocery Store (demo)*"
14 Old and Weird – "She Seems Stressed"
15 Legendary Golden River Show Band – "Stay Yonder (Honeysuckle)"
16 Zachary Lucky – "Salty Air"
17 Old Bones – "I Can See Through You*"
18 Painful Shivers – "Blu"
* denotes that the track is unreleased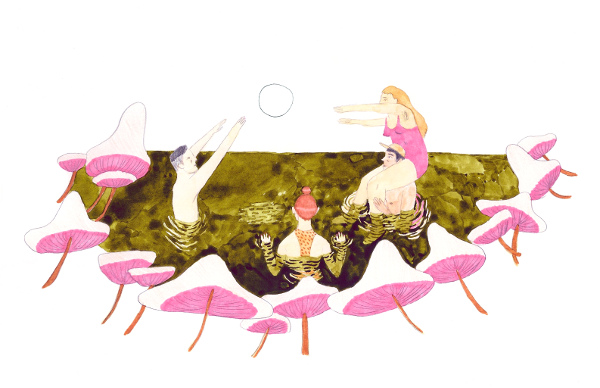 SappyFest 9 :: SappyFest is my favourite music festival in the whole wide world. I know many others who feel the same way. From the top of Bridge Street we exclaim, "As long as there is a SappyFest, I will be there!"
SappyFest 9
August 1-3, 2014
Sackville, NB
From the book of love of Kevin Brasier:
Illustrations by Louise Reimer
Photos by Colin Medley and Rico Moran
SappyFest is my favourite music festival in the whole wide world. I know many others who feel the same way. From the top of Bridge Street we exclaim, "As long as there is a SappyFest, I will be there!" It will always be more than the sum of its parts. It is a migration, a homecoming, and a reunion. And to think we nearly lost this piece of swamp magic.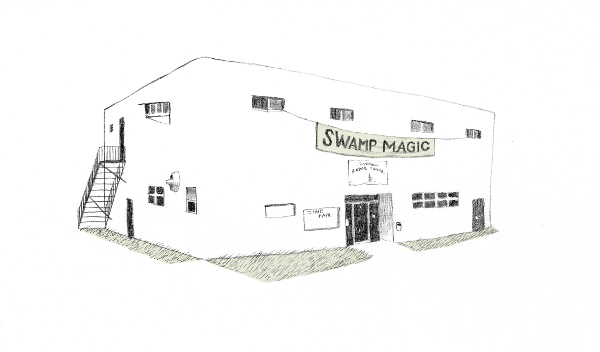 "Welcome Home!" – Jon Claytor (SappyFest co-creator)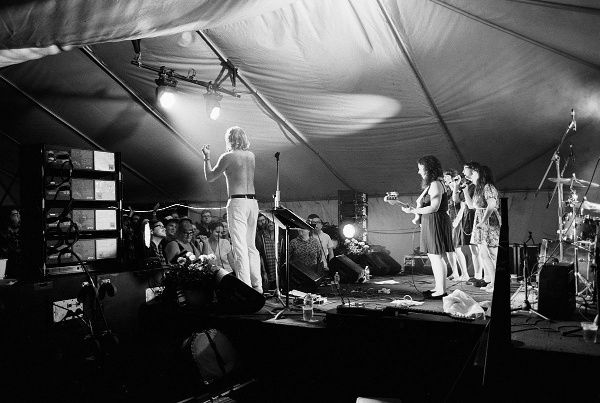 Photo: Colin Medley
"Is there any way we can get in to see COOL? I just want to see COOL!" – Jesse Locke
<<< read more >>>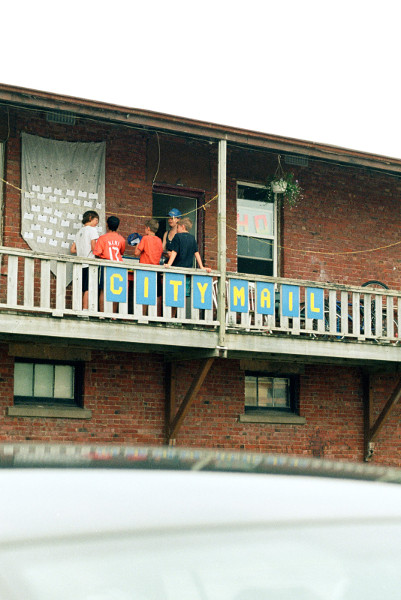 "You've got mail!" – City Mail delivery kids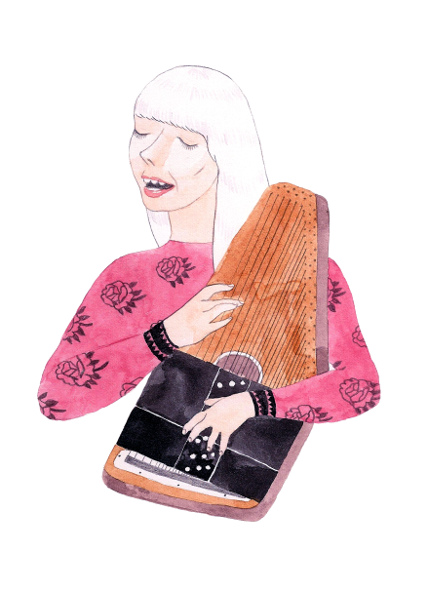 "Everyone I talked to had a different favourite band. That's what makes this an amazing festival." – David Lander (Kazoo)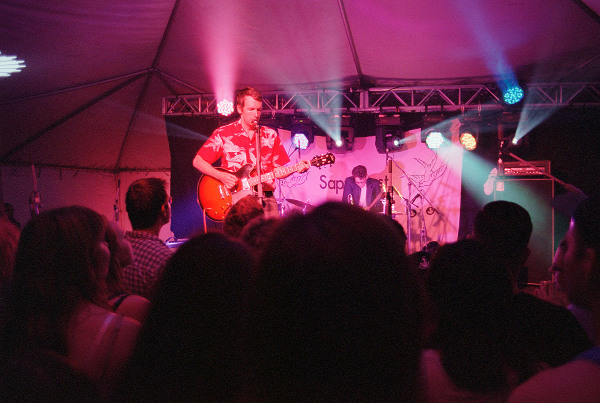 "Dude! I'm so happy and stoked that I'm, like, getting that pain in my chest like that time at Lawnya Vanya." – Lucy Niles (The Mouthbreathers)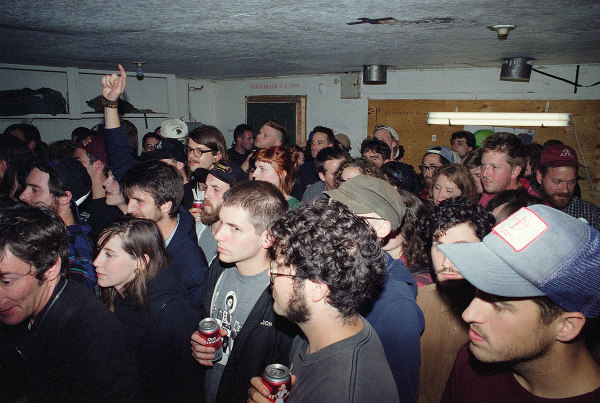 "I think I finally 'get' SappyFest" – Paul Lawton (The Ketamines)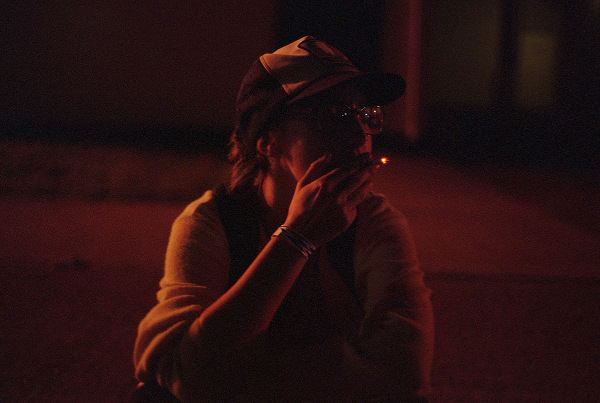 "When the festival was over, I couldn't stop sobbing. I went over to Thunder & Lightning, and Jon asked me what I was having. 'Gin and Tears'." – Joni Andrews (Sappy board member and organizer)
Tiré du livre d'amour de Kevin Brasier:
Illustrations de Louise Reimer
Photos de Colin Medley et Rico Moran
(Traduit par Virginie Langlois)
SappyFest est le festival de musique que j'aime le plus au monde. Et je ne suis pas le seul à le penser. Du haut de la rue Bridge, nous nous exclamons : « Tant que le SappyFest existera, je serai là! ». SappyFest sera toujours bien plus que la simple addition de ses composantes. C'est une migration, un retour aux sources et un rassemblement. Dire que l'on a failli perdre ce petit bijou…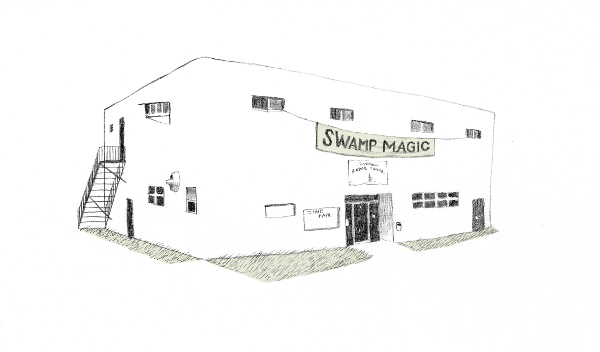 « Bienvenue chez vous! » – Jon Claytor (co-créateur de SappyFest)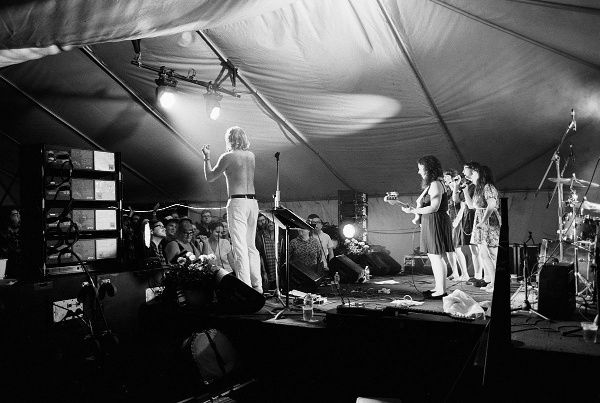 Photo: Colin Medley
« Est-ce qu'il y a un moyen d'entrer pour voir COOL? Je veux juste voir COOL! » – Jesse Locke
<<< la suite >>>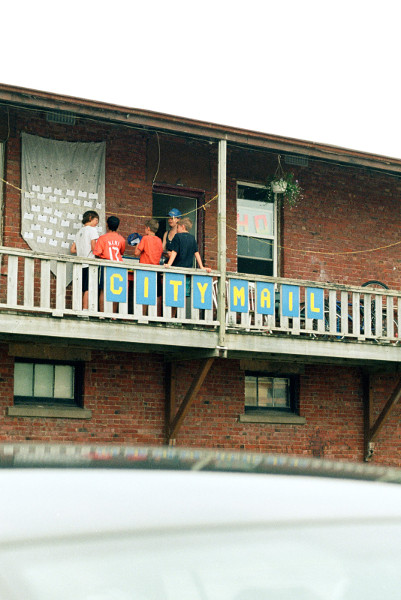 « Du courrier pour vous! » – Les enfants livrent le courrier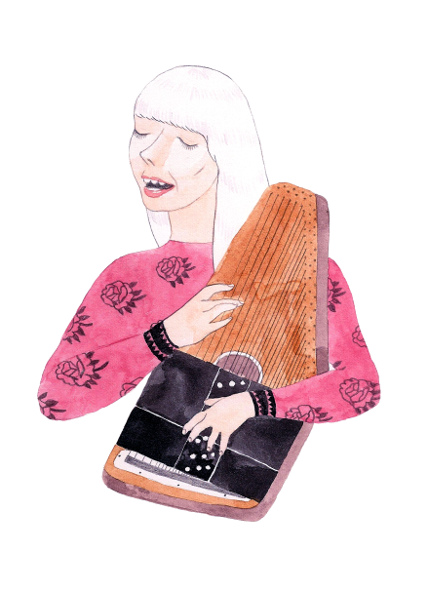 « Tous ceux à qui j'ai parlé avaient un groupe préféré différent. C'est cela qui fait que ce festival est génial. » – David Lander (Kazoo)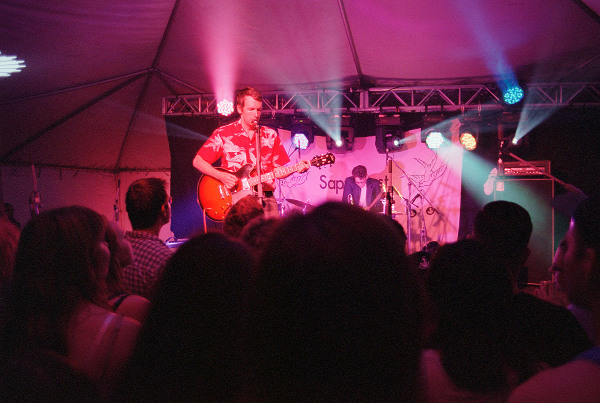 « Je suis tellement contente et excitée que je ressens la même douleur dans la poitrine que celle que j'ai ressentie à Lawnya Vanya. » – Lucy Niles (The Mouthbreathers)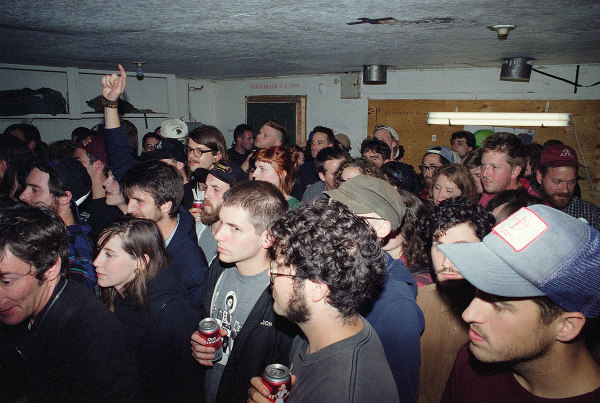 « Je pense que je comprends enfin SappyFest » – Paul Lawton (The Ketamines)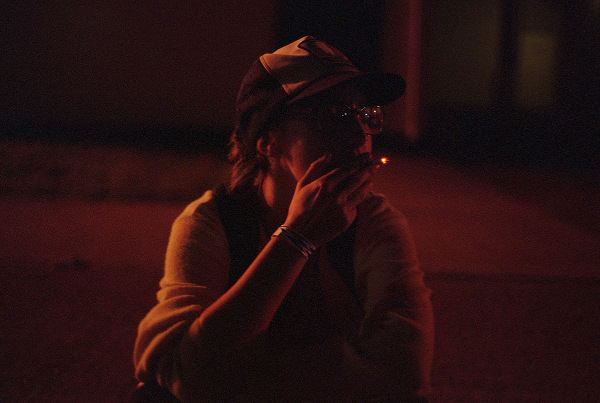 « Quand le festival s'est terminé, je ne pouvais pas m'arrêter de sangloter. Je suis allée à Thunder & Lightning et Jon m'a demandé ce que je voulais commander. Je lui ai dit : 'Gin and Tears'. » – Joni Andrews (membre et organisatrice de Sappy)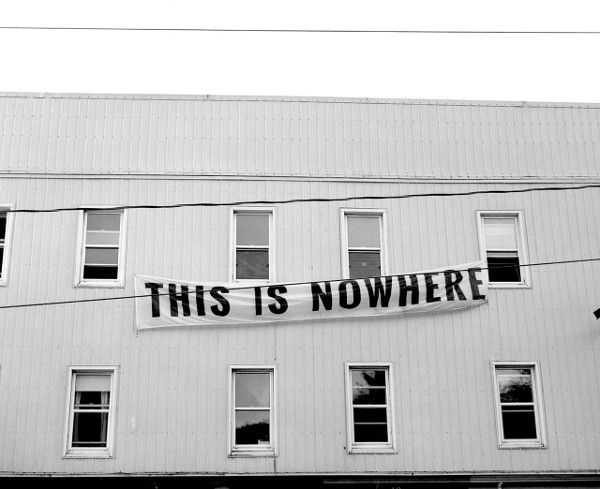 Sappy Fest 9
Various Artists
(August 1-3, 2014)
Sackville, NB
From the swamp-fever of Kevin Brasier:
SappyFest is a little music festival in the heart of the heart of the Maritimes: Sackville, NB. Sporting the tagline "Bring it on Home," expect to find a dreamy line-up made of old SappyFest friends like PS I Love You, Shotgun and Jaybird, Baby Eagle, Julie Doiron, Spencer Burton, Rae Spoon, Michael Feurstack, and the mighty Constantines. Stay up late enough and you might see the local punks do their thing on the outskirts of town. This compilation features a song from every artist playing SappyFest 9, and might contain some new and unreleased tracks (but don't get your hopes up).
Photo Credit – This is Nowhere by Colin Medley
De la fièvre des marais de Kevin Brasier:
(Traduit en solidarité par Nadine Tkatchevskaia)
Sappy Fest est un tout petit festival de musique au coeur des Maritimes, à Sackville au Nouveau-Brunswick. Avec le slogan "Rammenez-le chez nous" (Bring it on Home), attendez-vous à retrouver une programmation remplie d'anciens amis de SappyFest comme PS I Love You, Shotgun and Jaybird, Baby Eagle, Julie Doiron, Spencer Burton, Rae Spoon, Michael Feurstack, et les fameux Constantines. Restez debout suffisamment longtemps et vous pourrez voir les trucs des punks locaux. Cette compilation contient une piste de chaque artiste qui participe à SappyFest 9 et pourrait contenir de nouvelles pistes qui ne sont pas encore sorties (mais ne vous faites pas trop d'espoir).
Photo – This is Nowhere par Colin Medley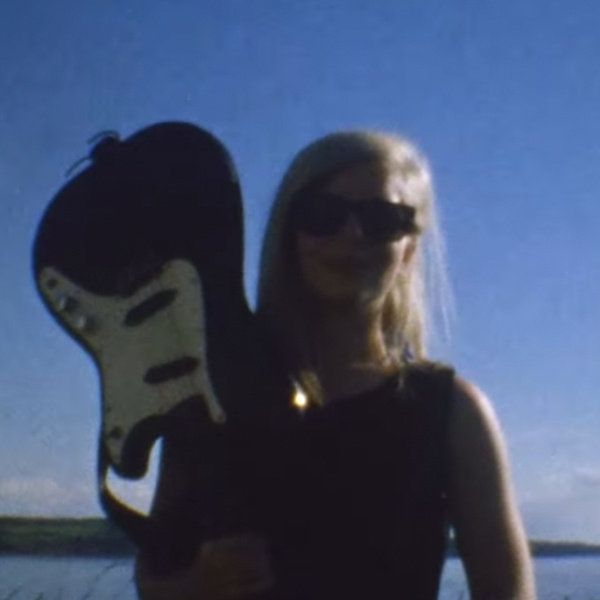 Alvvays
"Adult Diversion"
(Director: Colin Medley)
Vancouver, BC
From the homesick longings of Kevin Brasier:
Does the festival backdrop the song? Or does the song backdrop the festival? Both belong to the lovers and losers of the world. Director Colin Medley has the rare ability to transform swamp magic into celluloid without any degradation or loss. How does it make you feel, holding evidence of something impossible?
Par les désirs nostalgiques de Kevin Brasier:
(Traduit par les nuances quantiques de David Kohler)
Est-ce le festival qui constitue l'arrière-plan d'une chanson? Or est-ce la chanson qui est l'arrière-plan d'un festival? Les deux appartiennent aux amoureux et perdants de ce monde. Le réalisateur Colin Medley a cette rare capacité à transformer la magie d'un marais en celluloïd sans perte ou dégradation. Ça vous fait quoi d'avoir la preuve de quelque chose d'impossible?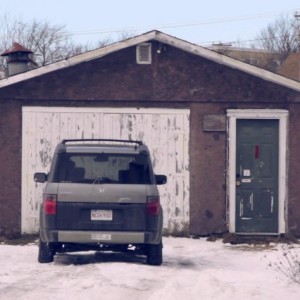 From the noise hounds of Jesse Locke:
This 12-minute doc on the modest but madcap community of Sackville, NB and its yearly Stereophonic Festival is a feel-good blast of East Coast inspiration. Set against a lulling dronescape from Mike Smith, the narration is provided by prime movers from the Killer Haze crew, Julie Doiron and other recognizable Maritime musical faces. Lensman Colin Medley shines a light on the town's current hotspots with the same subtle yet striking composition of his photographs and previous films. Everybody knows this is now here.
Stereophonic 11 runs from Wednesday, January 14 to Saturday, January 18, 2014 in various venues throughout Sackville, NB. For more info, visit the festival's website.
Des *noise hounds* de Jesse Locke Jesse Locke:
(Traduit par les images floues de Julie Forget)
Ce documentaire de 12 minutes sur la modeste mais folle communauté de Sackville, N.-B. et son festival annuel Stereophonic est un jet d'inspiration de la côte Est qui réchauffe le cœur. Accompagnée de l'apaisante musique drone de Mike Smith, la narration est assurée par les principaux membres de l'équipe de Killer Haze, Julie Doiron et d'autres visages connus de la scène musicale des Maritimes. Colin Medley, l'homme derrière l'objectif, met en lumière les endroits les plus fréquentés de la ville avec la subtile mais frappante composition déjà présente dans ses photographies et ses films précédents. Tout le monde le sait, c'est maintenant ici.
Le festival Stereophonic 11 se déroule du mercredi 14 janvier au samedi 18 janvier 2014 dans différents lieux de Sackville, N.-B. Pour plus d'informations, visitez le site du festival.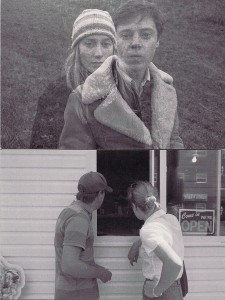 The Weather Station
Duets 1-3 feat. Baby Eagle, Daniel Romano and Marine Dreams
Toronto, ON
From the grateful hands of Joshua Robinson:
There is an unspoken beauty inherently embedded in creation. In this particular case, the beauty exists in a collaborative sense. With the Duets series, Tamara Lindeman (The Weather Station) invokes this collaborative breath of beauty, merging with Baby Eagle, Daniel Romano, and Marine Dreams to craft songs of longing, loneliness, and above all, growth.
In this vein, it is perhaps easiest to connect with Lindeman's approach to the project: to regard music, and indeed life, as a dynamic and fluid progression, infused by the comings and goings of those close to you, or perhaps even by those not so close to you. In some mysterious way, music conceptualized as such adopts a looking-glass significance, a way of regarding one's identity as a product of interaction. As a result of socialization by means of shared expression, this collaborative — and indeed social — element of music chisels at our seasoned exteriors to expose the soft underbelly of self-concept, shaped in and influenced by others.
And so it is with this that Lindeman and co. have come to define music for themselves in this context of friendship and of shared stories: living life for those fleeting moments in which one comes to understand one's self in the framework of the other, a process of opening doors and leaving them open, weathered floor mats collecting the dust of those who have come and gone, leaving their songs for the gathering of grateful hands.
Des mains reconnaissantes de Joshua Robinson:
(Traduit de la main dynamique d'AnneMarie Papillon)
Il y a inévitablement une sorte de beauté non dite dans la création. Dans ce cas-ci, la beauté existe dans la collaboration. Avec la série Duets, Tamara Lindeman (The Weather Station) évoque ce souffle de beauté relationnelle en s'alliant avec Baby Eagle, Daniel Romano et Marine Dreams pour fabriquer des chansons remplies d'attente, de solitude et surtout, de croissance.
Dans cet esprit, il est probablement plus aisé de connecter avec l'approche de Lindeman : en voyant la musique et bien sûr, la vie, comme une progression dynamique et fluide, infusée des allées et venues des êtres qui nous sont chers, et même de ceux qui le sont un peu moins. Mystérieusement, une musique conceptualisée ainsi adopte l'effet d'intériorisation, une manière de voir l'identité personnelle comme un produit de ses interactions. Et le résultat de ces expressions partagées par la socialisation, cette collaboration — cet élément social de la musique, gratte notre couverture pour exposer le doux secret de notre identité, influencée par les autres.
Et c'est de cette façon que Lindeman et co. en sont venus à définir la musique pour eux-mêmes; dans un contexte d'amitié et de partage d'histoires. Vivre pour ces moments éphémères où quelqu'un en vient à comprendre un autre par son inspiration, une manière d'ouvrir les portes et de les laisser ouvertes, là où les tapis usés ramassent la poussière de ceux qui y sont passés, laissant leurs chansons dans des mains reconnaissantes.
The Weather Station feat. Daniel Romano – Tomorrow Is Forever
The Weather Station feat. Marine Dreams – Good Bread
---