Tag: cold wave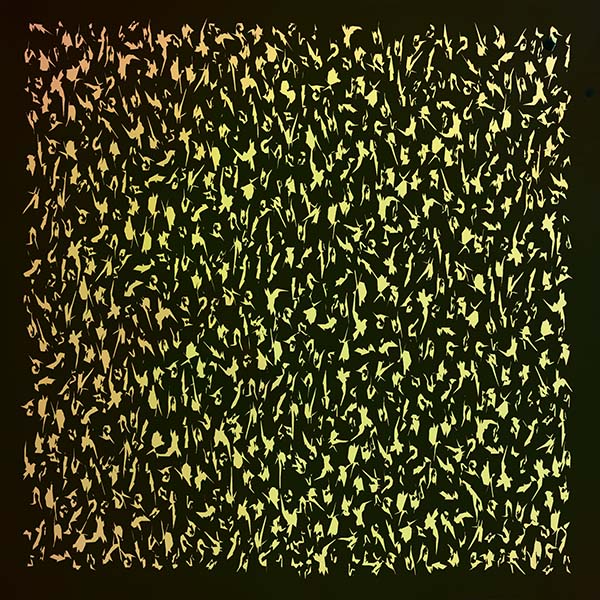 Bruised Knees
CASTINGS
(Self-Released)
Toronto, ON
From the hydrangea gel of Adam Bradley:
Magnetic metal bearings suspended in a translucent, lilac gel. Bass vibrations shuffle their symmetry, rumbling drums make them shake. A vast, cold room with no light. Heaving flashes slash the dark, and purple purse-lipped faces appear, diamond eyed and austere. Warbling synthetic tones echo to penetrate like alarms. Anxiety and urgency are the singular senses, limbs lashed to a metal slab. The ceiling shrinks closer, the music becomes louder. The floor rises, shouts are drowned. Room a slim rectangle, filling with water. Walls become porous with light and hydrangeas curl out to blossom in the pitch.
Du gel d'hortensia d' Adam Bradley:
(Traduit par Jessica Grenier)
Des billes de métal magnétiques, comme suspendues dans un gel lilas translucide. Les vibrations d'une basse les déplacent symétriquement; le grondement d'une batterie les fait frémir. Une pièce vaste et froide, sans lumière. Des éclairs nauséeux déchirent l'obscurité, révélant des visages cramoisis austères, les lèvres pincées et les yeux en diamant. L'écho de notes synthétiques chante comme une alarme. Le sentiment singulier d'une urgence anxieuse, les membres fixés à une table métallique. L'espace semble rapetisser à mesure que le son de la musique augmente. Le plancher se soulève, noyant les cris. La pièce n'est plus qu'un mince rectangle se remplissant d'eau. La lumière passe par les pores des murs, où des hortensias se mettent à fleurir.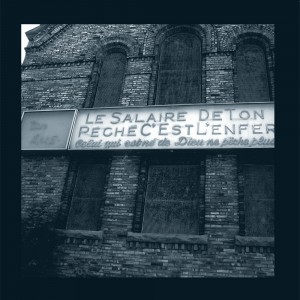 Police des Moeurs
Les Mécanismes de la Culpabilité
Montréal, QC
From the impeccable programming of Hugo Hyart:
(Translated by Hugo Hyart)
On their newest EP, Police des Moeurs explore universal feelings of unease. Internal accusations and pangs of guilt are narrated and dissected to the sound of impeccably programmed synthesizers. The band brings to mind a number of references without ever falling into simple emulation. Melancholic voices acknowledge situations where no happy ending can be expected. Maybe they can be overcome, or maybe not. There are blends of frustration ("Tu as honte parfois") and abandon ("Echéance"), with despair expressed by the slogan on the cover (The Salary for your Sin, it is Hell). A final tribute is paid to the Adverts, diverting our thoughts from these dark reveries. There is something cold at the heart of the EP's orchestration and themes, yet at the same time it is luminous and alive. A haunting collection of tracks.
De la programmation impeccable de Hugo Hyart:
Police des Moeurs énonce un malaise qui traverse souvent les êtres. L'accusation qui viens de l'intérieur, le sentiment de culpabilité disséqué par exemples narrés aux sons impeccablement programmés de synthétiseurs qui évoquent nombrede références sans tomber à pieds joints dans la simple émulation. Les voix mélancoliques font prendre conscience de situations qui ne peuvent que finir mal, peut-être pour mieux les surmonter, peut-être pas. Des mélanges de frustration (« Tu as honte parfois »), d'impuissance (« Echéance ») et de désespoir qui s'exprime jusque dans le slogan de la couverture … Un hommage rendu aux Adverts en postface nous tire de nos sombres méditations. Il y a à la fois quelque chose de très froid et sombre dans l'orchestration et les thèmes, mais en même temps c'est aussi lumineux et actif. Une collection de morceaux obsédante.
Police des Moeurs – Tu as honte parfois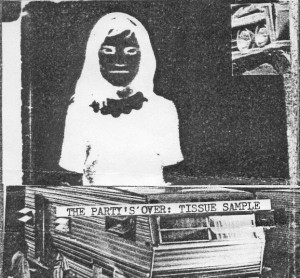 The Party's Over
Tissue Sample
(Some Records)
Toronto, ON
Originally Released: 1981

Decades before filesharing, Discogs and the 'Tube democratized musical knowledge, news of
the Industrial Revolution
could only arrive on this side of the pond through word of mouth or at the cost of pricey imports. Alongside contemporaries like March of Values, Diner's Club (featuring a nascent
Brian Ruryk
) and local legends Fifth Column (all of whom appear on
Urban Scorch
, Toronto's answer to
No New York
), The Party's Over were a gang of art-school insurgents who got the memo and decided to spread it around town however they could. The squelched electronics, Xerox paste-jobs (
1
,
2
) and lab horror imagery of their 1981 cassette not only point the way to countless post- and post-post-punk iterations, but also parallel the earliest budgeted efforts of
Cronenberg
. Though members would go on to achieve higher levels of notoriety in Kids on TV and the Cure-worshipping combo Century's End, it's the contagious
Tissue Sample
that's most likely to cause a future outbreak.
[audio:http://weirdcanada.com/binary/Weird_Canada-Partys_Over-Action_Seeks_Violence.mp3|titles=The Party's Over – Action Seeks Violence] The Party's Over – Action Seeks Violence
[audio:http://weirdcanada.com/binary/Weird_Canada-Partys_Over-Ken.mp3|titles=The Party's Over – Ken] The Party's Over – Ken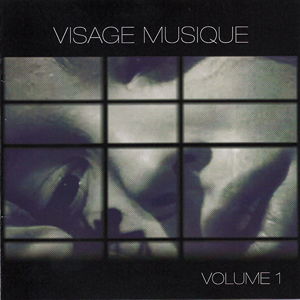 Various Artists
Visage Musique Vol. 1
Montreal, QC

Wipe that icy sweat off your brow and vogue like a
vampire
. Visage Musique's late 2011 salvo sends out a coldwave of shimmering shivers with
minimal emotion
and maximum satisfaction, spanning the label's extended family, WC fave
Femminielli
and a fresh cast of freaks. Black light aerobics and arena anthems pump it up like
Pavel Bure
while the witching hour survivors get their kicks. G to the RIP.
[audio:http://weirdcanada.com/binary/Weird_Canada-Visage_Musique-Monde.mp3|titles=Police Des Moeurs – Monde fallacieux (Extended)] Police Des Moeurs – Monde fallacieux (Extended)
[audio:http://weirdcanada.com/binary/Weird_Canada-Brusque_Twins-What.mp3|titles=Brusque Twins – What Else Is There To Say] Brusque Twins – What Else Is There To Say
---