Tag: coach house books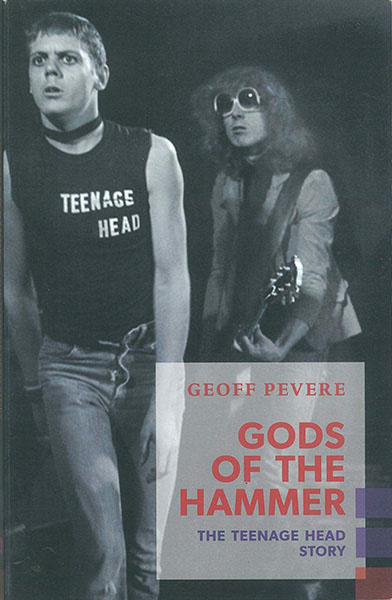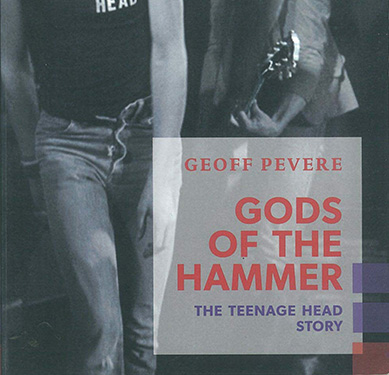 Gods of the Hammer: The Teenage Head Story
Geoff Pevere
136 pages, soft-cover, perfect bound
Toronto, ON
From the hormone-addled mind of Brian Fauteux:
From Hamilton to Toronto and beyond, Gods of the Hammer is a journey through the ups and downs of Teenage Head. With a basement-born work ethic Teenage Head emerged in the late 1970s with an urge to react against the "old ways of making noise". This reaction was propelled by sites that helped build a scene around the band. The Ontario College of Art, the basement of the Colonial Tavern on Yonge Street, and the Horseshoe Tavern.
Pevere is present in the story of Teenage Head, as a fan both then and now. He cuts in with thoughts on and memories of the band then and now. We experience the release of Teenage Head in 1979 when the recorded album was though to not match the intensity of the band's live show. Today, Pevere tells us that the album has reached "classic status." His "ears hear it differently now than they did back then."
Punk's place in popular music history is full of stories about sounds and scenes in New York and the U.K. but Canada remains fairly undocumented and under-appreciated. This is changing for the better with the help of Gods of the Hammer.
De l'esprit sous l'influence des hormones de Brian Fauteux:
(Traduit par la froideur logique de Louis-Félix Pellerin)
De Hamilton à Toronto et plus loin encore, Gods of the Hammer est un périple à travers les hauts et les bas de Teenage Head. Avec une déontologie qui a vu le jour dans un sous-sol, Teenage Head a émergé dans les années 70 avec une forte envie d'aller à l'encontre des "anciennes méthodes de création du son". Cette réaction a été amorcée par des sites qui ont contribué à créer une scène autour du band comme l'Université de l'École de l'art et du design d'Ontario, le sous-sol de la Colonial Tavern sur la rue Yonge et la Horseshoe Tavern.
Pevere est un fan, alors et maintenant, avec une présence intégrale dans l'histoire de Teenage Head. Il s'interpose avec les pensées et les souvenirs du groupe, alors et maintenant. On revit [la sortie de Teenage Head en 1979] (https://www.youtube.com/watch?v=v45OxMvZOpQ, lorsqu'il était dit que l'album studio n'accotait pas l'intensité des représentations en direct du groupe. Selon Pevere, l'album est aujourd'hui considéré comme un "classique". Ses "oreilles l'entendent différemment qu'ils l'entendaient dans le temps."
La place du punk dans l'histoire de la musique populaire est abondante d'histoires de sons et de scènes provenant de New York et du Royaume-Uni, mais le Canada reste non documenté et sa vraie valeur échappe à plusieurs. Mais, avec l'aide de Gods of the Hammer, la situation est en train de changer pour le meilleur.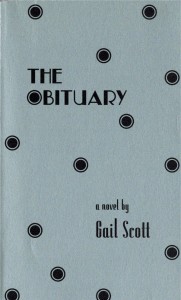 Gail Scott
The Obituary
Montréal, QC
From the kaleidoscopic third eye of David Hobbs:
In one of the footnotes that pepper Gail Scott's The Obituary – marked by little black hearts, rather than asterisks – she writes, "Reader, the past carries a secret index. Little by little revealing why one meandering in speaking". This could be a provisional artist's statement, as Scott's novel flutters through venetian-blinded apartments in Montréal's Mile-End neighbourhood, finding similar topics spoken in the voices of a queer Métis woman, a local gendarme, a therapist (auspiciously named MacBeth), a literal fly on the wall and others. But Scott's is not an ersatz Montréal; at least linguistically, she offers us the pulsing, shifting radiance of her "main port" in brusque descriptions and overheard franglais, connecting her characters with a past made presque neuf.
If readers find themselves struggling with Scott's prose, which in structure and syntax is more Joyce than her beloved Gertrude Stein, it is because The Obituary is a strange novel that demands strange reading. Careful reading gives rise to instances of what Canadian poet Steve McCaffery (Scott's label-mate at Coach House Books) refers to as a "momentary conjunction"– think of two seemingly unrelated stories that end-up beside each other in a newspaper. Read quickly, Scott's deft variations in grammar, slang, and typography are rendered with prismatic brilliance. Combining both approaches, and any and all others, is essential for experiencing the dizzying wonder of The Obituary.
Du troisième oeil kaléidoscopique de David Hobbs:
(Traduit par Natalie Binda)
Dans l'une des notes de bas de page qui parsèment The Obituary de Gail Scott – indiquées par de petits coeurs noirs au lieu d'astérisques – elle écrit : « Cher lecteur, le passé traîne avec lui un index secret. Peu à peu, il révèle ce qui pousse à se perdre en paroles ». Déclaration provisoire de l'artiste? Le roman de Gail Scott s'immisce à travers les stores vénitiens des appartements du Mile End à Montréal et y trouve des sujets similaires exprimés par les voix d'une Métisse homosexuelle, d'un gendarme local, d'un psychologue (convenablement appelé MacBeth), d'une mouche sur un mur et bien d'autres. Toutefois, le Montréal de Scott n'est pas une pâle imitation; d'un point de vue linguistique, elle convie la vibrance et les éclats changeants de son « principal port d'attache » par de brusques descriptions et quelques bribes de franglais, rattachant ses personnages avec un passé remis presque à neuf.
Si les lecteurs éprouvent de la difficulté avec la prose de Scott, dont la structure et la syntaxe ressemblent davantage à Joyce qu'à sa bien-aimée Gertrude Stein, c'est parce que The Obituary est un roman étrange qui se lit de manière étrange. Une lecture méticuleuse donne lieu à ce que le poète canadien Steve McCaffery (également chez Coach House Books, la maison d'édition de Scott) nomme des « connexions momentanées » – imaginez deux histoires sans lien apparent qui se retrouvent côte à côte dans un journal. En revanche, une lecture rapide dévoilera l'éclat prismatique des habiles variations de grammaire, d'argot et de typographie de Scott. Il importe de combiner ces deux approches, ainsi que toutes les autres imaginables, pour découvrir la magnificence étourdissante de The Obituary.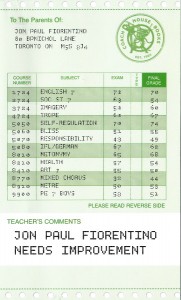 Needs Improvement
Written by: Jon Paul Fiorentino
[88 pp., soft cover, perfect bound]
Montréal, QC
From the needed improvement of Joshua Robinson:
Ethnomethodology is an interesting world: language and interpretation, semiotics and genealogy… the tenants of a socio-communicative dictum that regards speech, understanding, and response as being bound to our experiences and familiarities with what we are absorbing in an institutional context. Jon Paul Fiorentino's 'Needs improvement' is both illuminating and terrifying; an anthropological foray into the qualification of report cards, schematic renderings, and city mottos that are imbued with significance on the pretence of their communicating something meaningful… anything meaningful.
With his poetically phenomenological study of semantics, Fiorentino engages the (post)modern (post)structures representing the contradictions bound in interpretations of the written word. It is here that we find Fiorentino's premise behind 'Needs Improvement': how do we as a culture, having evolved socially to the point where the conveyance and interpretation of content and context should be a relatively simple process, engage with information? How do we choose which information to absorb, which to respond to, and how to respond to it? Language and written word, in this sense, becomes increasingly complicated. Our misunderstandings reveal an asynchronicity between our logocentric pursuit for a universal body and system of thought and our need as individuals to be able to construct our own systems of thought and meaning designation. His poetry holds enormous sociological weight, and we–as the anxiously disillusioned reader–are called to construct an identity of our own, one existing above the mess of the imparted elitist and institutionalized heteronormative conceptualizations of what it means to be 'informed'.
Des améliorations nécéssaires de Joshua Robinson:
(Traduit par le cerveau mis à l'épreuve d'AnneMarie Papillon)
L'ethnométhodologie est un monde intéressant : le langage et l'interprétation, la sémiotique et la généalogie… les partisans d'un dictum socio-communicatif qui considère la parole, la compréhension et la réaction comme étant liées à nos expériences et connaissances de ce que nous assimilons dans un contexte académique. Needs Improvement de Jon Paul Fiorentino est à la fois éclairant et terrifiant ; c'est une intrusion anthropologique dans l'utilisation des bulletins scolaires, des interprétations schématiques et des devises municipales grandement impregnés de leur prétention à communiquer quelque chose qui a du sens… n'importe quoi qui a du sens.
Dans son étude poétiquement phénoménologique de la sémantique, Fiorentino utilise les (post)structures (post)modernes pour représenter les contradictions contenues dans l'interprétation des textes écrits. C'est ici que nous comprenons la prémisse de Fiorentino derrière Needs Improvement ; comment envisageons-nous l'information, nous qui faisons partie d'une culture ayant assez évolué socialement pour faire de la transmission et de l'interprétation du contexte et du contenu un procédé relativement simple ? Comment choisissons-nous les informations à assimiler, celles auxquelles nous devrions réagir et même, la manière d'y réagir ? En ce sens, le langage et les écritures deviennent de plus en plus compliqués. Nos incompréhensions révèlent un manque de synchronisme entre notre poursuite logocentrique d'un système de pensées universel et notre besoin en tant qu'individu de construire nos propres systèmes de pensées et de significations. La poésie de Fiorentino contient un poids sociologique énorme, et nous – les lecteurs anxieusement désillusionés – sommes appelés à construire notre propre identité, identité qui existe malgré les dégâts des conceptualisations institutionnelles élitistes et hétéronormatives qui essaient de nous faire gober ce que c'est que d'être « informé ».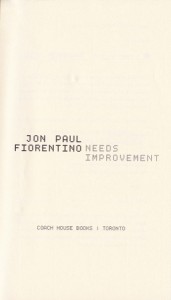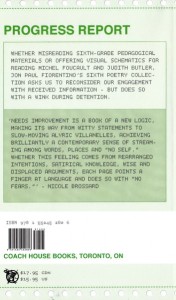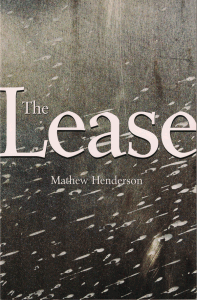 The Lease
Written by: Mathew Henderson
[72pp. Perfect Bound]
Toronto, ON
From the alien landscape of James Lindsay:
The voice of Mathew Henderson's The Lease is one of the thousands of young people who head to the Alberta oil fields in search of work, finding only endless labour, condensed male sexuality and constant physical pain. This is an alien landscape lit by the gas flare of the oil rigs where "you are the only thing with feet and hands / on a flat dying moon."
An Edward Hopper painting if he painted the rigs, these tight, narrative-driven poems are reminiscent of the traveler's estrangement felt in Antony Di Nardo's Alien, Correspondent and the overheard-dialouge-while-working-your-ass-off accessibility of Michael Turner's Company Town. And like those collections, it focuses on the day-to-day. The only thing that breaks up the apathy is when, for a moment, we turn away from the work and notice our surroundings: prairies as wide as the sky, cows grazing at night, "palm-sized moths", and the terrible cold letting us know we don't belong here this time of year. Nature reminds us that we are only barely tolerated.
Du paysage extraterrestre de James Lindsay: (Traduit par Odile Leclerc)
La voix de The Lease de Mathew Henderson est l'une des milliers de jeune gens qui se dirige vers les champs pétroliers d'Alberta à la recherche de travail, trouvant seulement du labeur interminable, de la sexualité mâle condensée et une douleur physique constante. C'est un paysage extraterrestre éclairé par les flammes de gaz des plates-formes de pétrole où ''vous êtes la seule chose avec des pieds et des mains / sur une lune plate mourante.''
Une peinture d'Edward Hopper s'il peignait les plates-formes, ces poèmes, serrés, menés en narration sont réminiscent de l'éloignement de voyageur ressentit dans Alien, Correspondent de Antony Di Nardo et le ''dialogue entendu par hasard pendant que tu travail comme une bête de l'accessibilité de Company Town de Michael Turner. Et comme ces collections, elle se concentre sur le jour-à-jour. La seule chose qui brise l'apathie c'est quand, pour un moment, nous nous détournons de l'œuvre et remarquons ce qui nous entoure : des prairies aussi vaste que le ciel, des vaches broutant durant la nuit, ''des mouches de la grosseur d'une paume'', et le terrible froid nous laissant savoir que nous ne devrions pas être ici à ce temps de l'année. La nature nous rappelle que nous sommes à peine tolérés.
---