Tag: cindy lee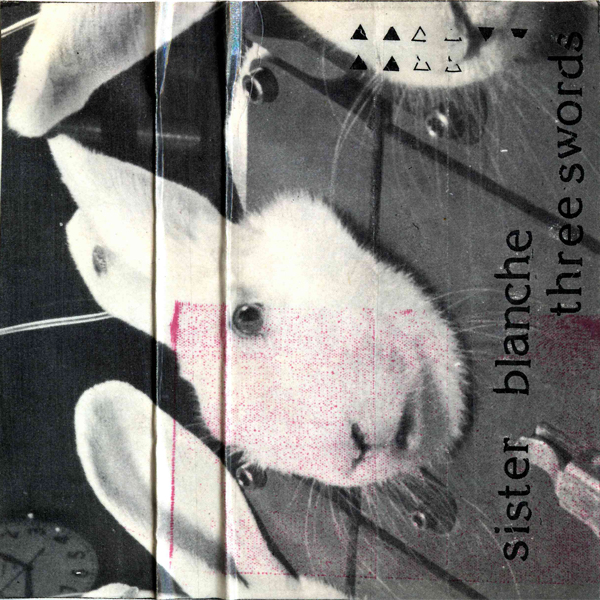 Sister Blanche
Three Swords
(Self Released)
Victoria, BC
From the overgrown backyard of Johnnie Regalado:
With an ear pressed against the wall, the throbbing loops of a neighbour's solo shed session reverberates through insulated plaster and skin. An audible distance makes the heart drone fonder. Tape decay mimics the falling ceiling tiles and peeling paint of our scruddy homes. When this building comes tumbling down, the cassette will be the only treasure worth saving.
De l'arrière-cour négligée de Johnnie Regalado:
(Traduit par la poussière accumulée sur Jessica Grenier)
Les boucles musicales lancinantes de ton voisin qui joue seul dans sa remise se répercutent à travers le plâtre et la peau de ton oreille, collée sur le mur – une distance sonore qui fait s'amouracher du drone. La dégradation de bande rappelle le son des tuiles du plafond s'écrasant par terre, de la peinture s'effritant dans des maisons abandonnées. Cette cassette sera la seule chose méritant d'être sauvée lorsque l'édifice s'effondrera.
Sister Blanche – I'm Also Sorry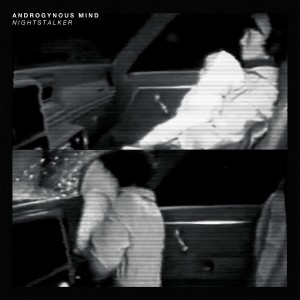 Androgynous Mind
Nightstalker
Vancouver, BC
From the molten tar of Javier Fuentes:
Patrick Flegel and Morgan Cook set their instruments to panic mode on this proto-Cindy Lee project. Every bit as moving as the songs on Tatlashea, this is a band that sounds like it's living in the present year, melting icecaps and all. Pulling no punches, the fast parts are heavy and the slow sections are crushing. Flegel shears and tears his guitar as he tries to grip the molten tar stuck by the neck, while Cook's destroyed drumset responds to these terrorizing calls with one last gasp. Mutant shrieks travel through plexiglass to reach the ears of some condo boss counting cheques by the pool. His attention is diverted by a knock on the door — someone's looking to make a deal. The jam continues on through the bitter cold of a winter's night, working through storm and stress. These transmissions travel from the west coast, so keep an eye out for distractions and make sure you don't miss them.
Du goudron en fusion de Javier Fuentes:
(Traduit par l'effet de serre de Catherine Gaucher)
Sur ce projet proto-Cindy Lee, Patrick Flegel et Morgan Cook ont mis leurs instruments en mode panique. Toujours aussi émouvant qu'avec leurs chansons de Tatlashea, ce groupe semble vivre dans l'époque actuelle, celle même de la fonte des calottes glaciaires et de tout le reste. Faites sans cachotterie, les parties rapides sont lourdes et les sections lentes sont écrasantes. La guitare de Flegel cisaille et déchire pendant que ce dernier tente de saisir du goudron en fusion et tandis que dans un dernier soupir, la batterie détruite de Cook répond à des appels terrifiants. Au-delà du plexiglas traversent des cris de mutants atteignant les oreilles d'un quelconque propriétaire de condos qui compte les chèques au bord de la piscine. Son attention est détournée par quelqu'un cognant à la porte — on cherche à conclure une entente. Affrontant tempêtes et anxiété, ce jam traverse le froid cinglant d'une nuit hivernale. Gardez l'œil ouvert et assurez-vous de ne pas rater ces transmissions qui nous viennent de la côte Ouest.
Androgynous Mind – Knock On My Door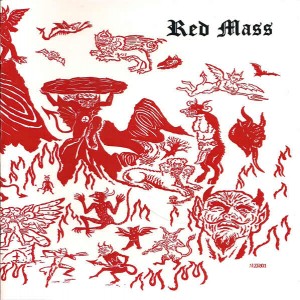 Red Mass // Cindy Lee
Candy b/w Holding The Devil's Hand
Montréal, QC // Vancouver, BC
From the hound's tooth of Jesse Locke:
The first vinyl release from Vancouver's Mongrel Zine is every bit as crucial as the mag. A-Side "Candy" is a star-studded affair with Red Mass main-man Choyce joined by Mark 'BBQ' Sultan on bongos and King Khan on theremin for a hippy-dippy, love bead smoke-out. Groovy times. Cindy Lee's tearjerker "Holding The Devil's Hand" has been a favourite at the HQ since the tape dropped a few months ago, so it's a real treat to have it pressed on 45. Word on the street is that Dirty Beaches has even been covering this number lately. Grip it here and find out why…
Du pied-de-poule de Jesse Locke:
(Traduit par Alex Gauthier en paisley, parce que le pied-de-poule me va pas tellement bien…)
Le premier lancement vinyle de Mongrel Zine est en tout point aussi important que le magazine vancouvérois lui-même. La face A, «Candy», en est truffée de célébrités, réunissant Choyce, le leader de Red Mass, Mark «BBQ» Sultan aux bongos, et King Khan au thérémine. Ça groove, avec un joint partagé entre des mains mi-hippies, mi-yuppies. Depuis l'arrivée de la cassette il y a quelques mois, «Holding the Devil's Hand» de Cindy Lee, qui tire les larmes des yeux, est l'élue des cœurs de nos quartiers généraux. C'est un bonheur de l'avoir maintenant en 45 tours. La rumeur selon laquelle Dirty Beaches en a même fait un cover court récemment. Découvrez pourquoi ici…
Cindy Lee
Tatlashea
Vancouver, BC
From the devil's handshake of Jesse Locke:
In a post-Women world, Pat Flegel has intermittently poked their head above ground with short-lived projects named after Sonic Youth and soap. Cindy Lee is their latest guise, and on top of a new gender-bending persona, it has also resulted in a downcast collection of stunners tucked amongst outbursts of ramshackle abrasion. The falsetto flutters of "Holding The Devil's Hand" hearken back to Women's downer deep-cut "Grey Skies", while "Promise of Loneliness" is made all the more crushing with its home-recorded warble. "Head Down" stretches out a desolate piano lament before devolving into a classic cop theme, and the 10-minute street hassle of "Find Another Man" is reportedly the result of a jam with smalltown firemen. This cassette is already long OOP, and the only relevant info comes from the unlikely source of a Japanese fan-site, yet sharp-eyed grippers can soon get their mitts on a 7" split from this shadowy shapeshifter.
De la main du diable serrée de Jesse Locke:
(Traduit par le sursaut déchaîné de Vincent Rondeau)
Depuis Women, Pat Flegel s'est occasionnellement fait entendre à travers des projets éphémères portant le nom d'une chanson de Sonic Youth ou d'une marque de savon. Sous la forme de Cindy Lee, sa nouvelle personnalité de scène androgyne, il nous offre une superbe collection de pièces sombres ponctuées de sursauts d'abrasion déchaînée. Le falsetto frémissant de « Holding the Devil's Hand » rappelle l'obscure complainte de Women « Grey Skies » tandis que sa qualité d'enregistrement maison rend « Promise of Loneliness » encore plus dévastatrice. Dans « Head Down », une mélopée morne au piano se fond en un thème musical de film de flics; les 10 minutes agitées de « Find Another Man » seraient apparemment le résultat d'un jam avec des pompiers ruraux. Cette cassette, dont la trace d'information pertinente sur Internet se limite étrangement à un fan-site japonais, n'est déjà plus disponible depuis un certain temps, mais les collectionneurs avides pourront bientôt se procurer un split en 7″ de cet esprit protéiforme.
Cindy Lee – Holding The Devil's Hand
---