Tag: christopher laramee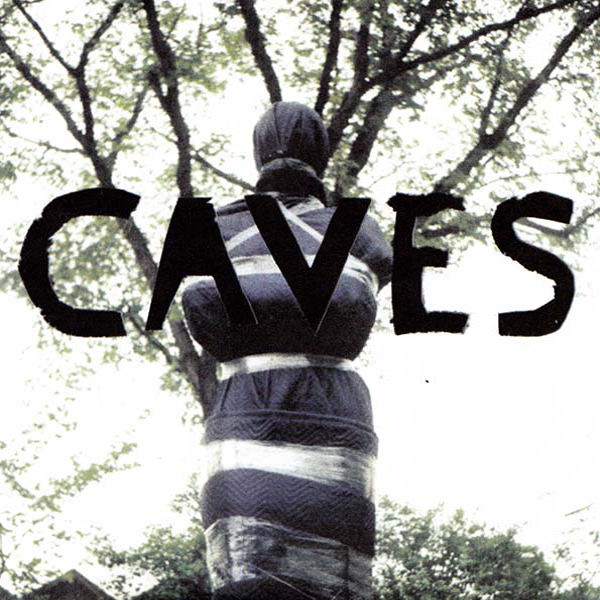 Caves
Idle Worship
(Self Released)
Saskatoon, SK
From the rot­gut of Christopher Laramee:
Home recorded power-pop with rough edges left intact, that's one way of saying it. Menthol smoked navel gazing trash heap living room inspired by Dada leanings, seasoned with extra PHASER. That's another. Peter, Angus, Jeremy and Stephen form the band here. Traditional song structures that emphasize the breezy, the sweet and the strange. "New One" sounds like Steely Dan fucked over by a drunken Orange Juice. Cave circa 2014 wouldn't have been out of place on Postcard in the early '80s. By that I mean they are reverent of classical rock, but not slavish and attendant. Lots of easy breathing here, remember, not EVERYONE needs to know just what exactly is going on. "Nirvanaman" is Pink Floyd circa­ A Momentary Lapse Of Reason falling asleep through airplane gas dreams, the one where the boat pulls into the dock and issues forth a stream of bile­-enraptured tourists who will never go away and die. Then they up the tempo and it ends. Nice one boys.
Du tord-boyaux de Christopher Laramee:
(Traduit par le foie malmené de Jessica Grenier)
Du power-pop un peu rêche sur les bords, enregistré à la maison, serait une façon de le décrire. Du nombrilisme à la fumée mentholée s'amoncelant en tas dans un salon d'inspiration Dada, relevé de PHASER – c'en est une autre. Le groupe est formé par Peter, Angus, Jeremy et Stephen. La structure traditionnelle des chansons souligne la désinvolture, la douceur, l'étrangeté. « New One » sonne comme Steely Dan qui se ferait prendre par un Orange Juice saoul. Le Cave de 2014 aurait été à sa place chez Postcard au début des années 80 – je veux dire qu'ils révèrent le rock classique, mais sans être serviles. On peut relaxer ici, il faut se rappeler que les gens ne sont pas OBLIGÉS de comprendre tout ce qui se passe. « Nirvanaman », c'est Pink Floyd époque A Momentary Lapse Of Reason, s'endormant en un rêve de gaz d'avion, celui où le bateau s'amarre au quai pour déverser un flot infini de touristes irascibles/enchantés qui ne vont jamais partir et mourir. Puis ils accélèrent le tempo, et c'est la fin. Elle était bonne les gars.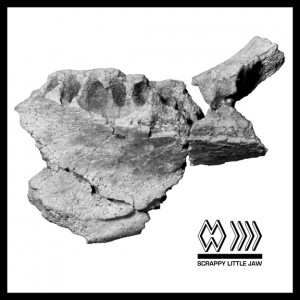 The Band Whose Name is a Symbol
Scrappy Little Jaw
(Self Released)
Ottawa, ON
From the tapered pants of Christopher Laramee:
Y'know the joy you get when you FINALLY check out a band that friends have been telling you to give a listen to for quite a while, then said band blows your head off? Ladies and gents, welcome to the pleasuredome, courtesy of Ottawa's THE BAND WHOSE NAME IS A SYMBOL (wicked nom de plume). These self-described "free psych rockers" achieve intense lift­off akin to some MAGIC LANTERN chatter, albeit sprayed with some noised boogie also reminding me of ETERNAL TAPESTRY. "Neu Sedan" goes quite a way to giving up the ghost as regards to the above inspiration. Hot spiral abounds here, sub­-metal riffage grabbing collars and shaking hard. TBWNIAS have released five albums in the last few years — vinyl only affairs, and whatever's on the Bandcamp. Sizzle away TBWNIAS, SIZZLE AWAY. Canada's best kept secret? No longer, folks. Also, any band that names jamz "Sask." and "Blues in Goddamn" has got their arrows pointed straight at my cold prairie heart. They should get together with Edmo's KRANG and trade eyeballs, NOW!!!
From the tapered pants of Christopher Laramee:
(Traduit avec la plume enthousiaste de Geneviève Simard)
Vous connaissez cette joie lorsque vous écoutez FINALEMENT un groupe de musique dont vos amis vous parlent depuis un bon moment et que leur musique vous jette par terre? Mesdames et messieurs, bienvenue dans ce lieu du plaisir, gracieuseté d'un groupe d'Ottawa, THE BAND WHOSE NAME IS A SYMBOL (super nom de plume). Ceux-ci, qui s'autoproclament des rockers « free psych », réussissent un décollage intense qui ressemble à du MAGIC LANTERN avec des mots, mais parsemé de quelques bruyants boogie qui font aussi penser à ETERNAL TAPESTRY. « Neu Sedan » fait beaucoup de chemin pour abandonner la ressemblance aux inspirations ci-dessus. De puissantes spirales abondent, des riffs sub-métal qui vous agrippent par le collet et vous tirent avec force. TBWNIAS ont sorti cinq albums au cours des dernières années, exclusivement sur vinyle, en plus de tout ce qui se trouve sur Bandcamp. Continue TBWNIAS, CONTINUE. Le secret le mieux gardé au Canada? Plus maintenant. En plus, un groupe de musique qui nomme ses chansons « Sask. » et « Blues in Goddamn », c'est comme une flèche pointée directement sur mon cœur froid des Prairies. Ils devraient rencontrer KRANG d'Edmonton et échanger leurs globes oculaires IMMÉDIATEMENT!!!

The Band Whose Name is a Symbol – Berlin, Ont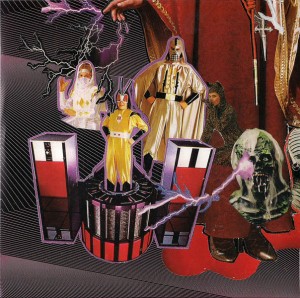 The Ketamines
So Hot!
Toronto, ON
From the spraying hose of Christopher Laramee:
They're dragging the bodies out of the basement again. The quadrilogy nearly complete, our buds in THE KETAMINES embrace the snot and blow it out strong on this HOSEHEAD seven incher. A-side "SO HOT!" pulls into the parking lot with some quality advice for the kidz: Get a job, ya lazy yobs. More Cosby than Cleaver, though. Wire plays blackjack with Count Five for luck, and comes up aces. Next blast "NEW SKULL TATTOO" deals drum machine tease and shit tattoo memories into something Ric Ocasek would be proud to mount above his fireplace. "SUMMER MOTHERS" ends the whole she-bang solid with a bittersweet backward glance on romance, twilight and heavy endings. Six minutes and change. Hits it out of the park like Ortiz. No offence, Jays fans. Next year…
Du pulvérisateur de Christopher Laramee:
(Traduit par Catherine Debard)
Ils traînent à nouveau des corps hors du sous-sol. La quadrilogie presque complétée, nos copains THE KETAMINES étreignent la morve, puis l'expulsent sur ce 7 pouces nommé HOSEHEAD. La face A, "SO HOT!", arrive dans le stationnement avec de bons conseils pour les gamins: Trouve-toi une job petit voyou fénéant. Plus Cosby que Cleaver, cependant. Wire joue au blackjack avec Count Five pour la chance, et nous sort des as. La détonation suivante, "NEW SKULL TATTOO" traite avec une boîte à rythmes racoleuse et des souvenirs de tattoos merdiques et en fait quelque chose que Ric Ocasek serait fier d'avoir au-dessus de sa cheminée. "SUMMER MOTHERS" conclut solidement avec un regard vers l'arrière doux-amer sur la romance, le crépuscule et les lourds dénouements. Six minutes et quelques pièces. Il cogne en dehors du terrain comme Ortiz. Sans vouloir vous offenser, fans des Jays. L'année prochaine…
The Ketamines – New Skull Tattoo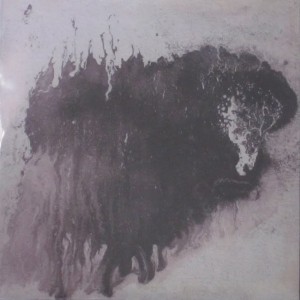 Ultra Bon Bon
Garbled Cassette Collection
Ponoka, AB
From the burning automobile of Christopher Laramee:
Culled from long out of print tapes released between 2008-2009 (the Garbled era), Danny Milanese graces us with seven tracks of threat and signal moan. I had the pleasure of writing about Ultra Bon Bon's Tape Hiss Abyss on Florida's Lavachurch label, and while that one drifted, this collection kicks. The fourth track "Mountain Fears" encapsulates what's going on here. Feedback loops wiping the floor clean while Danny plays the overlord janitor, screaming into the toilet bowl that is life. Place it nominally under the power electronics banner if you must. "Hose (Remixx)" plays like Pansonic pushed over a cliff, fried samples and keyboard textures ramping up the tension skyward, never quite loosening its grip. There's something about Ponoka, Alberta. Probably a quiet town, the kind of place you'd want to raise a family. Or a monolith.
De l'automobile en flammes de Christopher Laramee:
(Traduit tranquillement pas vite par Andréanne Dion)
Danny Milanese nous honore de sept morceaux de gémissements menaçants, choisis parmi des bandes longuement épuisées parues entre 2008-2009 (l'époque Garbled). J'ai eu le plaisir de critiquer Tape Hiss Abyss d'Ultra, paru sur le label floridien Lavachurch, et bien que celui-là dérapait, ces nouveaux morceaux sont excellents. La quatrième chanson, « Mountain Fears », résume ce qui se passe sur cet album. Du feedback en boucle nettoie le plancher, pendant que Danny joue au concierge en criant dans le bol de toilette qu'est la vie. Placez ce morceau sous la bannière du power electronics, si vous insistez. « Hose (Remixx) » sonne comme Pansonic poussé du haut d'une falaise : des échantillons crevés et des textures de clavier amplifient la tension vers le ciel, sans jamais vraiment relâcher leur emprise. Quelque chose à propos de Ponoka, Alberta. Probablement une ville tranquille, le genre d'endroit où l'on voudrait élever une famille. Ou un monolithe.
Ultra Bon Bon – Mountain Fears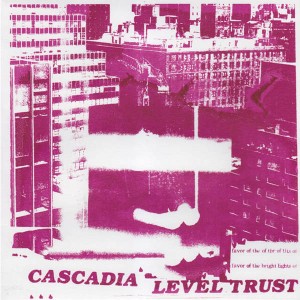 Cascadia
Level Trust
Vancouver, BC
From the passed deadlines of Christopher Laramee:
Here's a lean and mean one from our friends on the left coast. Melodic fury recalling Boston's finest, The Swirlies, duking it out with a punch-drunk and possibly deafened Jesus Lizard. Shoegaze (starting to hate that word) styled lackadaisical vocals push "Yours" into a sonic space few venture near. KARP meets MBV? Yeah, I'm down. Flip the fucker and the b-side's opener "Deny" hits all the right spots with railroad guitars nudging the vocals into a late-night meeting by the bridge for some FINALIZING of a situation. Closer "Ever" pulls the rug out with some neat sludge action and a speed-up that shows the folks to be no mere grunge (hate that one too) copyists. Check this Van City trio quick and maybe they'll drive you into the woods. And leave you there.
Du délai expiré depuis longtemps de Christopher Laramee:
(Traduit par la bougie enflammée de Julie Forget)
Voici tout un EP de nos amis de la côte Ouest. Une fureur mélodique rappelant les meilleurs de Boston, The Swirlies, jouant avec un Jesus Lizard sonné et possiblement assourdi. Les voix apathiques de style shoegaze (je commence à haïr ce mot) poussent « Yours » dans un espace acoustique que peu osent approcher. KARP rencontre MBV? Ouais, j'suis partant. Retournez ce connard de disque et la première pièce de la face B, « Deny », vise juste à l'aide de chemins de fer de guitares, encourageant les voix vers un rendez-vous de fin de soirée près du pont pour FINALISER une situation. Le dernier morceau, « Ever », coupe l'herbe sous le pied avec de l'action boueuse intéressante et une accélération qui montre que ces gens ne sont pas de simples copieurs de grunge (j'haïs ce mot-là aussi). Jetez un coup d'œil à ce trio de Vancouver, ils vous mèneront peut-être dans les bois. Et vous y laisseront.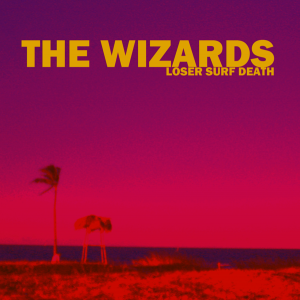 The Wizards
Loser Surf Death
Saskatoon, SK
From the tail fin of Christopher Laramee:
Sounding like an endless summer and riding into that old sunset, Saskatoon, Saskatchewan's The Wizards feel the beach and adjust for wind on this EP. Opener "Hank's Horn/Lunar Landing" breathes some much needed air into the hoary SURF ROCK corpse, starting out in a traditional DICK DALE vein only to veer for the aforementioned lunar sphere with only a quick drum roll for warning. As far as opening salvos go, these dudes are on to something. Third track "Fisheyed" puts some pasta on your plate, some dawn nightmare addled by too many rot-gut liquor shots. Draining fumes in the tailpipe is hard work, boys. Don't think we don't appreciate it. An all-too-brief five-song appetizer that will be followed by more madness soon. PRAIRIE SURF, MUTHERFUCKERS!
De la dérive de Christopher Laramee:
(Traduit les pieds dans le sable par Andréanne Dion)
The Wizards, de Saskatoon en Saskatchewan, se prélassent sur la plage et s'adaptent à la température sur ce EP, qui est l'équivalent musical d'un été sans fin et de jours heureux. La première chanson, "Hank's Horn/Lunar Landing" injecte de la vie dans le corps mort du vénérable genre SURF ROCK, s'inscrivant d'abord dans la tradition de DICK DALE avant de dévier vers ; la sphère lunaire, avec un roulement de tambours rapide comme seul avertissement. Le troisième morceau "Fisheyed" rappelle un cauchemar fait à l'aube, embrouillé par l'alcool trop fort de la veille. Là où les premières notes explosives sont concernées, ces gars sont sur la bonne piste. Les bruits de pots d'échappements demandent beaucoup de travail, après tout. N'allez pas penser que nous n'en sommes pas reconnaissants. Un premier album de cinq chansons trop court, mais qui sera bientôt suivi par une autre dose de folie. On surf dans les prairies, enfoirés!
The Wizards – Hank's Horn/Lunar Landing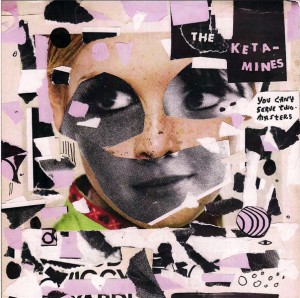 From the lonesome kite of Christopher Laramee:
Eleven songs shot straight to yer heart in the time it takes to make a well done cheese pizza. That's my real time summation of the newest Ketamines platter. Cleaner guitar tones than in the past, lots of fancy panning, a real classy affair and, above all, a step forward. TUNES, dude! The folks really stepped up the melodies and manicured some freaking grand pop confections this time. "Everybody Gets Down" has some horny Motown bump and snotty Archies snarl. Is that a thing? Well, it is now. The 'verb has been stripped back, letting the sunshine in. Lots of high points here, and it takes a few listens to horn it all into your noggin. Not cuz it's a prog-tastic burble-fest – quite the opposite, in fact. Brevity is the order of the day here, in and out, real sneaky-like. A ripped Paul Revere and the Raiders has words with Johnny Ramone lookalikes behind the 7-Eleven (DOUBLE ELEVENS). "Thank Me Forever" ends the whole enterprise with a nice kiss on the lips and some alligator tears raining down a neon street. Unexpected. Fun. Honest. Light a smoke and get out there. It's happening. Y'know what I mean? (Oh yeah, and I like my pizza WELL DONE).
Du cerf-volant esseulé de Christopher Laramee:
(Traduit à travers les larmes de crocodile d'Andréanne Dion)
Onze chansons tirées droit au cœur, dans le temps qu'il faut pour faire une pizza au fromage bien cuite. C'est la durée du nouvel album des Ketamines, en temps réel. Des tons de guitares plus définis que par le passé, beaucoup de panning extravagants, un truc qui a vraiment de la classe, et surtout, un pas en avant. De la musique, man! Cette fois, ils ont vraiment mis le paquet sur les mélodies et ont perfectionnés des confections pop vraiment grandioses. "Everybody Gets Down" a des rythmes cors Motown et les grognements prétentieux des Archies. Est-ce que ça du sens? Ça en a maintenant. Le verbe a été réduit à l'essentiel pour faire place au soleil. Il y a beaucoup de points culminants ici, et ça prend quelques écoutes avant de tout assimiler. Pas à cause de l'avalanche de jacassements prog-tastique – c'est en fait plutôt le contraire. La brièveté est à l'ordre du jour ici – c'est sournoisement rapide. Paul Revere and the Raiders qui discutent avec des sosies de Johnny Ramone derrière le 7-Eleven ("DOUBLE ELEVENS"). "Thank Me Forever" finit le tout avec un baiser sur la bouche et des larmes de crocodile qui pleuvent sur une rue éclairée aux néons. Inattendu. Agréable. Honnête. Allumes une cigarette et sors. Tout est en train de se passer. Tu sais ce que j'veux dire? (Oh, et j'aime ma pizza BIEN CUITE).
The Ketamines – Double Elevens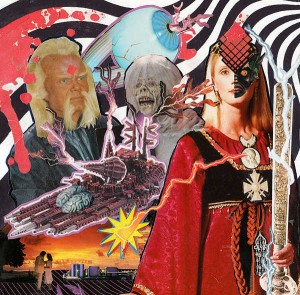 The Ketamines
All The Colours of Your Heart b/w Turning You On
Toronto, ON
From The Mortal Coil of Christopher Laramee:
Tired of smashing your head against the punk rock 'til it bleeds? Nah, me neither. Neither are The Ketamines. As always, they're up to their old tricks again. Side A kicks off proceedings with "Colours"'s wicked Steve-Cropper-jonesing GEETAR licks bumping with some uptight rythym urgency. Hit a sideways pogo to "chase away the gloom", as our heroes say. Besides being a nice (ahem) sexualized horizontal anthem, this punk-as-funk mover's got hooks aplenty. Imagine Sky Saxon lighting boards (JOINTS!, squares!) for The Meters, and you're almost there. Side B's "Turning You On"'s a teen monster movie throb, the one where the zombie rises off the floor and tries to grab some flesh before getting bounced out of the party. I feel like I've seen this show awhile back, but shit, I'm still gonna watch! This single's the first in a four-part series that, when all the covers are assembled, form a certain kind of Jedi-soft-core-daytime pleasure zone. Everyone stays safe, while still feeling threatened. Ummm, Rock'n Roll !?!??!
De l'Enveloppe Mortelle de Christopher Laramee:
(Traduit par le mambo de Hugo Hyart-Dauvergne)
Vous en avez assez de vous taper la tête contre le punk rock jusqu'à ce que ça saigne ? Nan, moi non plus, pas plus que les Ketamines. Comme toujours, les voilà de retour pour nous jouer leurs bon vieux mauvais tours. La face A lance les festivités en procédant avec un méchant jones-ment à la Steve Cropper et des coups de GUITARRRE bien léchés qui s'entrechoquent avec une envie pressante de rythme crispé. Lance-toi dans un pogo sur le trottoir « pour chasser la morosité », pour reprendre les mots de notre héros. En plus d'être une hymne sympa (ahem) sexualisée et horizontale, ce mambo aussi-punk-que-funk est largement fourni en airs entraînants. Imaginez Sky Saxon qui allume des oinjs (des JOINTS ! bandes de coincés du … !) pour The Meters et vous y êtes presque.
La Face B, « Turning On », est un bombardement de films de monstres pour adolescent, celui où le zombie sort du sol et essaie d'attraper un peu de chair fraiche avant de se faire éjecter. C'est comme si j'avais déjà vu ce truc il y a longtemps, mais merde, ça va pas m'empêcher de le reregarder. Ce single est le premier d'une quadrilogie qui quand on en assemble les couvertures forme une certaine sorte de zone de plaisir Jedi-softc¬ore-en-journée. Tout le monde est à l'abri, tout en se sentant menacé. Heeeeeeuuuum, Rock'n Roll !?!??!
The Ketamines – All the Colours of Your Heart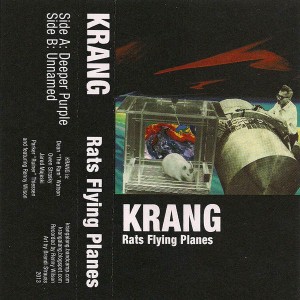 Krang
Rats Flying Planes
(Self Released)
Edmonton, AB
From the hot pants of Christopher Laramee:
Full disclosure: I've played a few shows with these fellows and had some great times with 'em. They're some of the finest gents you'll ever have the pleasure to meet! Now that that's out of the way, let's get to the meat of the matter: two long jams on this tape recorded by one Renny Wilson last October in ye olde Edmonton town (he slams some keys here as well). The first banger "Deeper Purple" ( ! ) creeps in from the cold streets and lays hands before raging out in a Duane Allman fronting Hawkwind vibe. Killer. The second pot-boiler "Unnamed" states the case for these dudes being one of Canada's finest live bands. Amazing interplay between all involved, they aim for the heart of the sun and attain o-mind gravity easily. Psychedelic blooz? All that and more, my friends. Keep an eye and an ear peeled. Y'all remember rock, don't cha? Welcome home…
Des culottes chaudes de Christopher Laramee:
(Traduit par la loi de la gravité de Stéphanie Trottier)
Divulgation entière : j'ai joué quelques shows avec ces jeunes bougres et j'ai passé de bons moments avec eux. Vous verrez que ce sont de vrais gentilshommes, si vous avez la chance de les rencontrer! Maintenant que tout ça a été dit, passons au cœur du sujet : deux longues pièces enregistrées par un certain Renny Wilson (qui y va aussi de quelques coups de clavier) en octobre dernier dans le vieux Edmonton. Le premier pétard « Deeper Purple » ( ! ) se faufile hors des rues sombres et s'étire les bras avant de s'écrier tel un Duane Allman à la tête de Hawkwind. Ça tue. La deuxième œuvre bouillante, « Unnamed », établit que ces mecs sont l'un des meilleurs groupes live au Canada. Il y a une réciprocité incroyable entre les membres, qui visent le cœur du soleil et atteignent facilement la gravité zéro de l'esprit. Le blooz psychédélique? Tout ça et bien plus, les amis. Ouvrez vos yeux et vos oreilles et restez à l'affut. Vous vous souvenez du rock, n'est-ce pas? Bienvenue chez vous…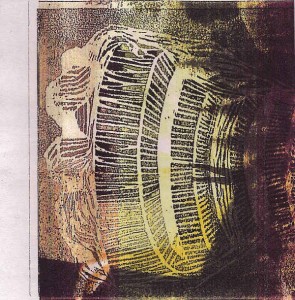 Highway X
Highway X
(Self Released)
Victoria, BC
From the eternal throb of Christopher Laramee:
Andy from Victoria BC's killer Babysitter lets one waft up to the ceiling in a full-blown drift study of wide and sky high proportions. Seven untitled parts slither into yer cortex and shake some serious dust from a bro's bootheels. The first near 11-minute epic sounds like being dragged underneath an 18-wheel semi trailer while some smartass trickles cough syrup and laughter on your forehead. Some dub shadows get thrown on the second track, Twin Peaks-stylee. Did I say this thing SLITHERS? Oh yeah, I did. For fans of strange late night pizza spots, tailpipes, fine cinema and even finer wine, throwing beers at buses and that thing that hurts so much, yet remains nameless. The second half of this fucker gets creepy quick, so make sure no Huns are present. We straight?
De l'éternel battement rythmique de Christopher Laramee:
(Traduit par Julie Forget)
Andy, du prodigieux groupe Babysitter (Victoria, C.-B.), vous fait flotter jusqu'au plafond dans une expérience complètement exaltante atteignant des proportions vertigineuses. Sept compositions sans titre se glissent dans votre cortex en soulevant brutalement la poussière de vos talons de chaussures. La fabuleuse première piste de presque onze minutes semble être traînée sous un 18-roues pendant qu'un petit malin fait dégouliner des gouttes de rire et de sirop contre la toux sur votre front. On reconnaît des traces de dub dans le deuxième morceau, Twin Peaks-stylee. J'ai dit se GLISSE? Oui, c'est bien c'que j'ai dit. Pour les fans d'étranges petites places à pizza de fin de soirée, de tuyaux d'échappement, de bons films et de vins encore meilleurs, pour ceux qui aiment lancer des bières aux autobus et cette chose qui fait si mal, mais qui demeure sans nom. La deuxième partie ne tarde pas à donner des frissons; il est déconseillé de l'écouter en famille. Vous m'comprenez?
---