Tag: christina bell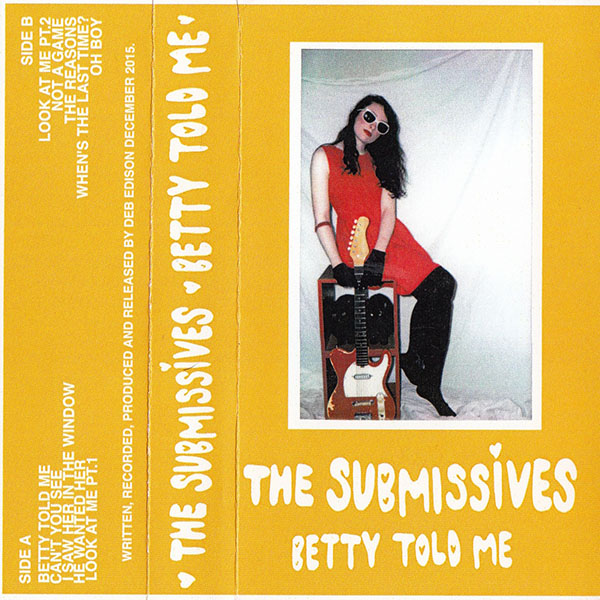 The Submissives
Betty Told Me
(Self-Released)
Montréal, QC
From the hesitating affections of Christina Bell:
Betty Told Me listens like an album-long conversation on the hazards of hesitating affection. It's a swaying drama, jangling out a breezy narrative on navigating the mean streets of fallin' in and outta love. Even though they're mostly singing about losing, The Submissives are an easy kind of cool. They are bent on telling it like it is. Simple. Straight forward. Unaffected? Aching.
De l'affection hésitante de Christina Bell:
(Traduit par le flafla douloureux de Mathieu Bédard)
Betty told me s'écoute comme une conversation qui durerait tout un album au sujet des dangers d'une affection hésitante. C'est un drame ondulant, un récit cliquetant et désinvolte sur le pilotage dans les rues périlleuses de l'amour et du désamour. Même si elles chantent surtout sur le fait d'être perdantes, The Submissives sont cools tout de suite en partant. Elles sont résolues à dire les choses comme elles sont. Simplement. Sans flafla. Sans être affectées? Douloureusement.
The Submissives – I Saw Her in the Window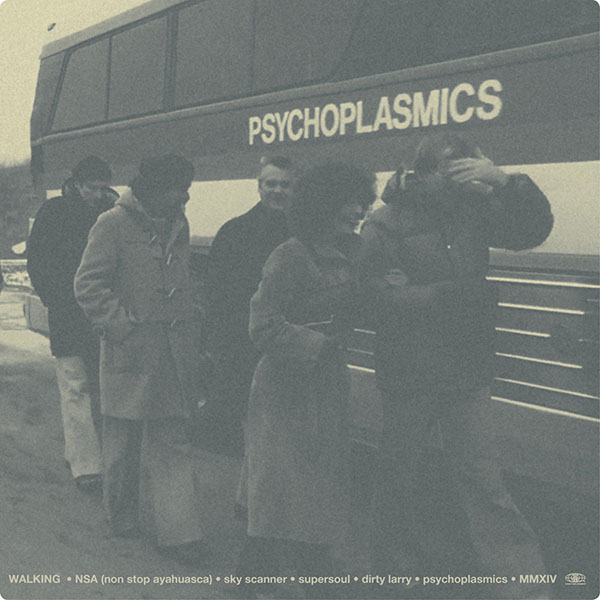 Walking
Psychoplasmics
(Self Released)
Montréal, QC
From the built up mystery of Christina Bell:
Psychoplasmics is a psychological technique wherein patients undergo treatment in the hopes that they will be freed from "troubling emotions." Obviously tuned into the deep healing power of their aural creations, Montréal duo Walking adopted the name as the title of their prolonged psyche-jam of an album. Aside from a bit of distant background chatter, the tracks are instrumental, leaving the extra smooth drum lines and guitar riffs to keep up the coolly sedated narrative of the album. Title track "Psychoplasmics" plays like it could be the soundtrack to a hazy quasi-western movie with an ultimately nonchalant feel. This album gives off the kind of kaleidoscopic positive vibes that you almost forget to notice because you're feeling so damn good.
Du mystère édifié de Christina Bell:
(Traduit par la paupière lourde de Jessica Grenier)
Psychoplasmics est le nom d'une technique utilisée lors du traitement psychologique des patients dans l'espoir de les libérer de leurs « émotions pénibles ». C'est aussi celui choisi par le duo montréalais Walking – manifestement concentré sur le pouvoir guérisseur de ses créations auditives – pour cet album de psyché-jam prolongé. Si ce n'est des murmures que l'on entend, les pistes sont instrumentales, laissant les riffs de guitare et la batterie très douce veiller à la narration sédative de l'album. La piste éponyme aurait pu être la trame sonore d'un quasi-western brumeux penchant vers la nonchalance. Cet album émet un genre d'ondes positives kaléidoscopiques qu'on ne remarque presque pas parce qu'on se sent juste trop bien.

Walking – NSA (non stop ayahuasca)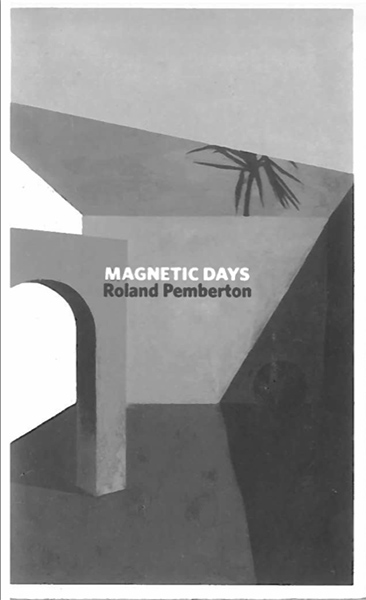 Magnetic Days
Roland Pemberton
(Metatron)
52 pages, perfect bound
Montréal, QC
From the lucid daze of Christina Bell:
Flowing like a perfectly lucid day, this adroit body of poetry is boldly personal and principally concerned with observing the public. Roland Pemberton's "Magnetic Days" is flush in athletic motifs and cryptic references to the city, the seasons, ephemeral relationships and dubious art. The short poems accelerate effortlessly—phrases break into a lyrical run and just as readily reach a choreographed stop. In this creation he takes on a flaneur-esque slant that is clear-minded and hyper-observant. However the work is not free of vulnerability, allowing for the, at times unexpectedly funny, narrating voice to encourage an easy empathy. The diverse collection ends with its eponym, an optimistic explanation of the good fortune that is a "magnetic day."
Des vapes lucides de Christina Bell:
(Traduit par l'étourdissement citadin de Louis-Félix Pellerin)
Fluide comme une journée parfaitement lucide, cet adroit recueil de poésie est audacieusement personnel et s'intéresse principalement à l'observation du public. « Magnetic Days », de Roland Pemberton, est rempli de motifs athlétiques et de références cryptiques à la ville, aux saisons, aux relations éphémères et à l'art douteux. Ces courts poèmes accélèrent aisément, sans le moindre effort; des phrases s'élancent dans une course lyrique et réussissent un arrêt tout aussi chorégraphié. Dans cette création, l'auteur adopte un point de vue de flâneur urbain qui est clair d'esprit et hyper-observateur. Pourtant, l'œuvre n'est pas sans vulnérabilité, permettant à la narration d'encourager une empathie facile, et ce, parfois même de manière amusante. Cette collection diverse se termine avec un poème éponyme qui fait office d'explication optimiste de la bonne fortune qu'est un « jour magnétique ».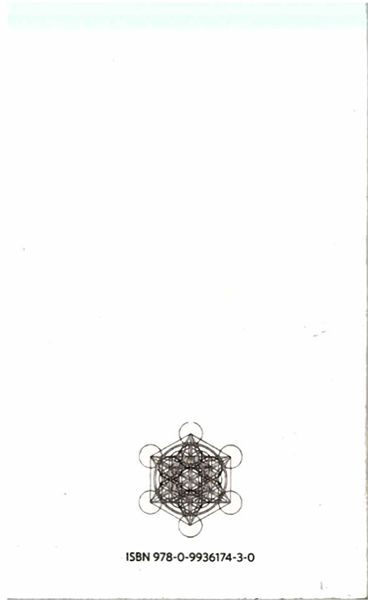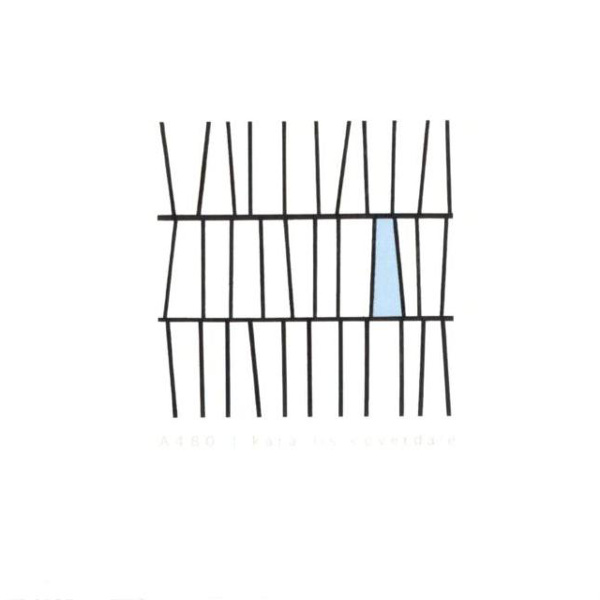 Kara Lease
A 480
(GATE)
Montréal, QC
From the astral intuition of Christina Bell:
A 480's overtly optimistic sound blurs the boundary between the human and the electronic machine by manipulating choral lines to convey a brightly methodical other-world. This album tows an inspired line between astral intuition and the perfectly planned. Kara-Lis Coverdale effectively and informedly orchestrates a flawless nod to classical avant-garde composition. Her ambiguously titled tracks draw on a Steve Reich-inspired methodolgy by sampling vocal recordings that have been artfully displaced, reused and ultimately upcycled to create a new sound. Every so often different loops spontaneously collide and coincide in the album's aural atmosphere. A mesmeric listen is unavoidable.
De l'intuition astrale de Christina Bell:
(Traduit par le sens commun cosmique de Louis-Félix Pellerin)
La musique ouvertement optimiste de A 480 floue les barrières entre humain et machine en manipulant les lignes chorales pour exprimer un sentiment d'outre-monde méthodiquement éclatant. Cet album fait la différence entre l'intuition astrale et la planification parfaite. Kara-Lis Coverdale fait un clin d'œil bien placé à la composition classique d'avant-garde. Ses chansons aux titres ambigus s'inspirent d'une méthodologie à la Steve Reich en échantillonnant des enregistrements vocaux qui ont été réutilisés et surcyclés d'une main habile pour en faire un son nouveau. De temps en temps, différents clips entrent en collision spontanée et s'entremêlent dans l'atmosphère auditive de l'album. Lorsqu'on l'écoute, ce n'est qu'une question de temps avant que l'on succombe à la fascination.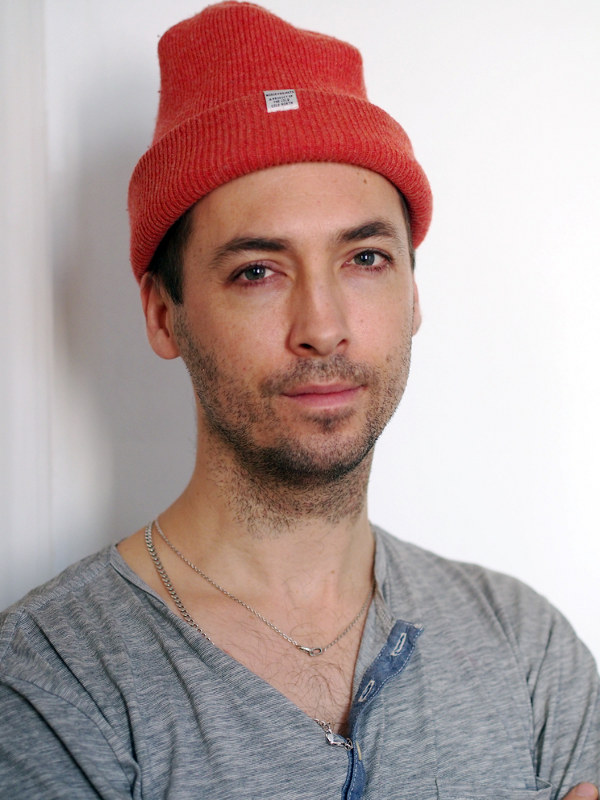 From the constant plasticity of Christina Bell:
Intricate electronic sound experimentation is the lifeblood of Tim Hecker's ambient creations. His most recent release, Virgins, is an album composed with the refined musicality of an academic that also effectively taps into an aural world of static-drenched, emotionally charged, melodic noise. As a result of the involved process of treating and re-treating sound, the whole album steadily resonates with a majestic and eerie luminosity. Weird Canada met up with Hecker to explore some of the ways in which the physical world inherently shapes his final product.
Tupac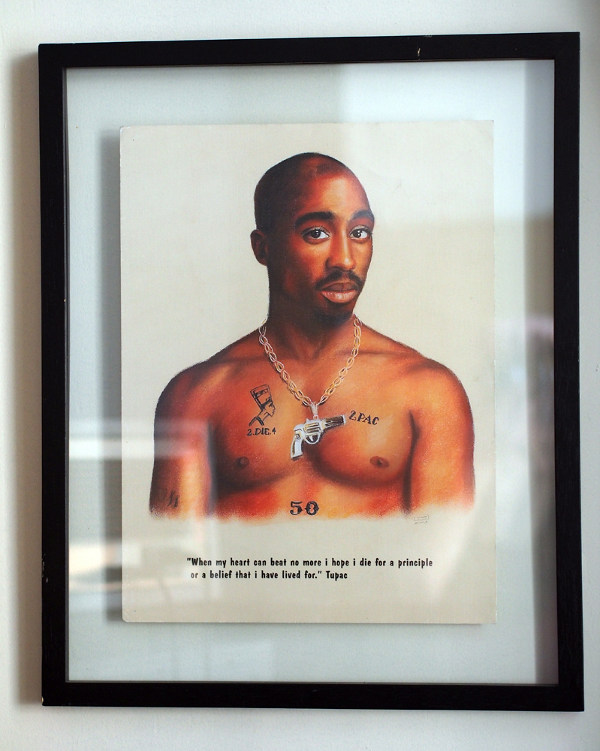 I have this picture of Tupac over my speakers. When I'm doing a mix or something, I actually look at the speakers to zone in on the sound and when I look up, he's always peripheral, just out of the plane of vision. His eyes are sort of floating too [Ed: Think the Mona Lisa], so it always encourages me to not step back [from what I'm doing], but push it because [the picture] makes me think "what would Tupac do?" I'm not making music like Tupac but there is a certain shared spirit.
ARP Omni MkII String Synthesizer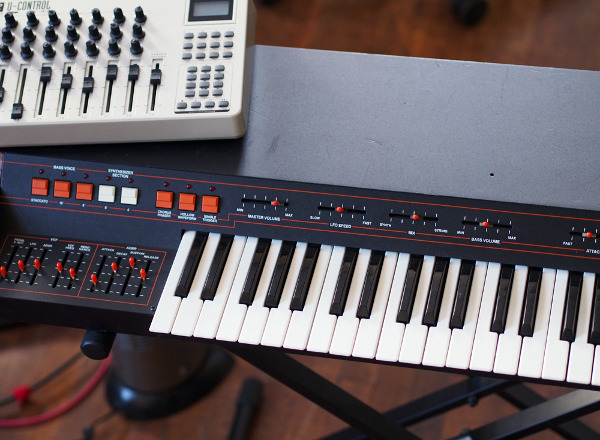 This is a vintage string synthesizer that I used a lot on this record. It's a synthesizer that specifically plays string sounds and I would treat it a lot. It's a big aspect of some of the pieces. The synth has this kind of weird creepy presence to it. It's a strange, very simple synthesizer that is relatively cheap compared to a lot of vintage things. It has a very limited purpose. It's not that flexible, but I love it.
Traynor Studio Mate Amplifiers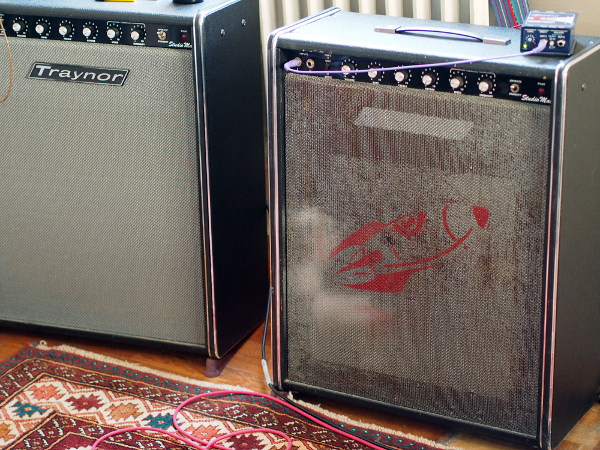 I use these a lot to move digital audio into a room and then re-record. I moved the more digital pieces I was working out through the amps and hit them pretty hard, then re-record them with microphones and bring [the sound] back in. It's this constant plasticity of taking sound and pushing it, and pushing it, analog to digital, digital to analog until it starts to take a weird uncanny specialness that's different than what you started out with. That's my general way of working.
The Studio Next Door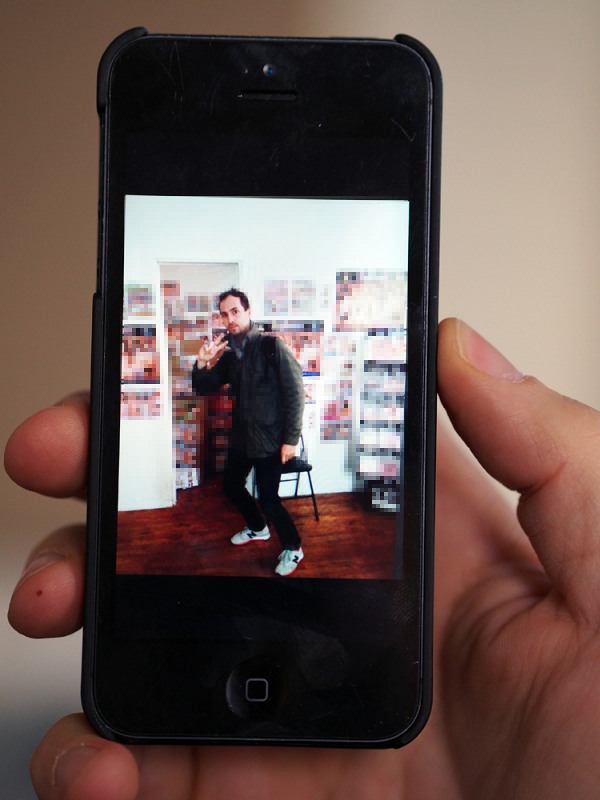 The tenants have changed in this building. The fact that next door became a casting couch at the end of my time here has led to an energy that affects how I work. You can hear the coming and going on the other side of the door and even though I tried to soundproof the room, it's not soundproof at all. The energy bleeds through. It's a give and take. I've received a lot of sonic energy. The presence of neighbours has an effect…
De la plasticité constante de Christina Bell:
(Traduit par l'analogie audionumérique glauque de Julie Mayer)
L'expérimentation à base de sons électroniques complexes est le souffle des créations ambiantes de Tim Hecker. Composé avec la musicalité raffinée d'un académicien, son album le plus récent, Virgins, rejoint de manière efficace un monde auditif formé de musique bruitiste inondée d'électricité statique et chargée d'émotivité. Après un processus complexe de traitement et de retraitement sonore, l'album ne cesse de résonner d'une luminosité mystérieuse et majestueuse. Weird Canada a rencontré Hecker afin d'explorer en quoi le monde physique façonne l'essence de son produit fini.
Tupac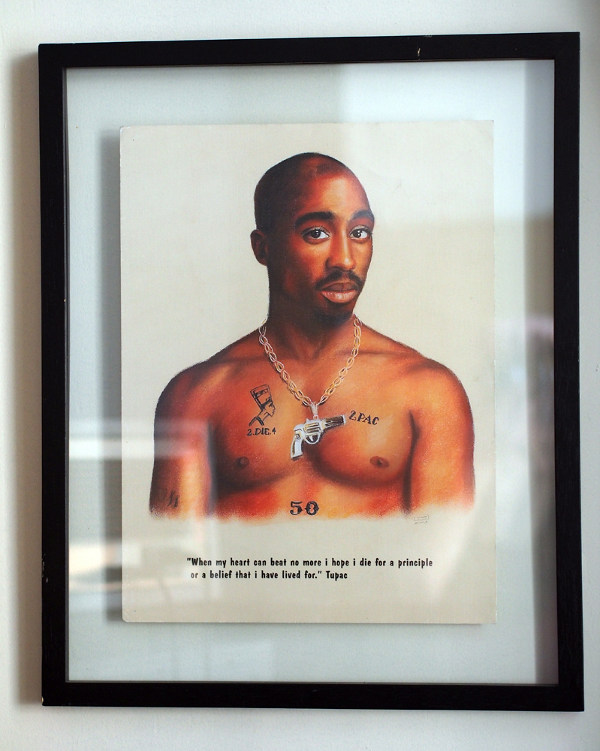 J'ai cette photo de Tupac au-dessus de mes haut-parleurs. Quand je fais du mixage ou quelque chose du genre, je fixe attentivement les haut-parleurs pour contempler le son et quand je regarde vers le haut, il est toujours en périphérie, tout juste hors de mon champ de vision. De plus, ses yeux sont animés d'une sorte de mobilité [N. D. É. : pensez à la Joconde]; ça m'encourage à ne pas m'éloigner [de que je suis en train de faire], à aller plus loin parce que [la photo] me fait penser : « Qu'est-ce que Tupac ferait? » La musique que je fais n'est pas comme celle de Tupac, mais il y a une certaine ressemblance dans l'esprit.
Le synthétiseur ARP Omni MkII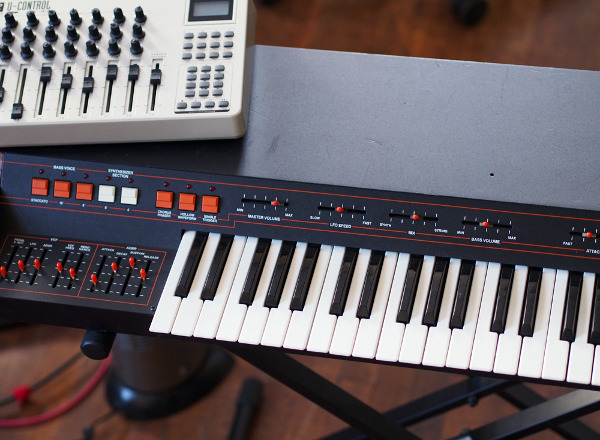 J'ai pas mal utilisé ce synthétiseur de cordes vintage sur cet enregistrement. Il joue exclusivement des sons d'instruments à cordes auxquels j'ai fait subir de nombreux traitements. C'est un aspect majeur dans quelques-uns des morceaux. Le synthé y ajoute une sorte de présence louche qui fiche la trouille. C'est un synthétiseur étrange, très simple, relativement bon marché comparé à bien d'autres trucs d'époque. Il a très peu d'utilité. Il n'est pas si flexible, mais je l'aime.
Les amplificateurs Traynor Studio Mate?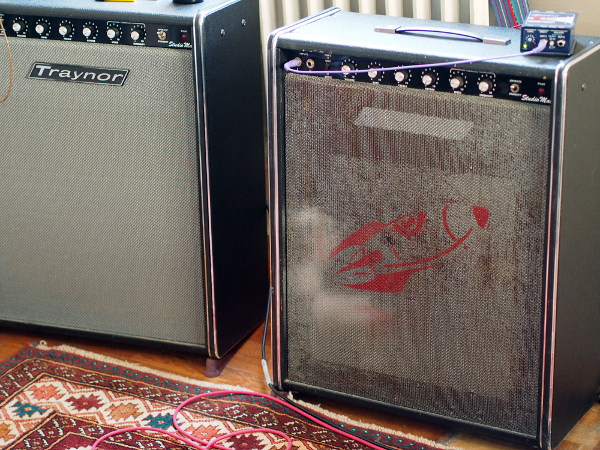 Je les utilise souvent pour transférer de l'audio numérique dans un espace avant de le réenregistrer. J'envoie à travers les amplis les morceaux les plus numériques sur lesquels je planche, puis je les joue assez fort pour les enregistrer à nouveau avec des microphones et ramener [le son] dans le tout. C'est un mouvement de plasticité constante : prendre le son et le forcer encore et encore, de l'analogique au numérique, du numérique à l'analogique jusqu'à ce qu'il commence à prendre une tournure singulière et troublante, différente du son d'origine. Voilà comment je travaille en général.
Le studio d'à côté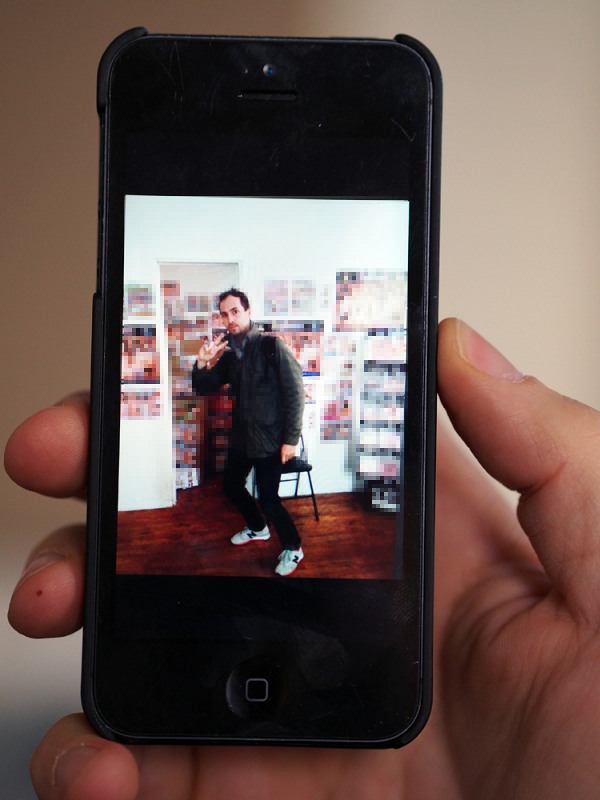 Les locataires de ce bâtiment ont changé. Le fait que le local voisin soit devenu un studio de « promotion canapé » vers la fin de mon séjour a apporté une énergie qui affecte la manière dont je travaille. On peut entendre les va-et-vient de l'autre côté de la porte et même si j'ai essayé d'insonoriser la pièce, elle n'est pas insonorisée du tout. L'énergie passe au travers. C'est donnant, donnant. J'ai reçu beaucoup d'énergie sonore. La présence des voisins me fait un certain effet…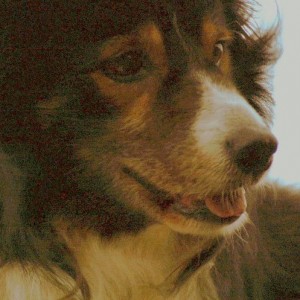 Dog Day
"In Another Life"
(Directed by Seth Smith)
Halifax, NS
From the surreal feel of Christina Bell:
Seth and Nancy's particularly adventurous, superstar pup Woofy is front and centre in this cute dog video made for "In Another Life." The roaming rock 'n' roll track is fresh off their 2013 album Fade Out. Acid aesthetics give the majestic landscape in the video a certain surreal feel. The visuals lend themselves to a hypnagogic atmosphere that is typical of director Seth Smith. The melancholic rock riffs and longing vocals play perfectly with entrancing imagery resulting in a complete dream drenched package.
De la sensation surréaliste de Christina Bell:
(Traduit par les rêves acides de Catherine Gaucher)
Woofy, le chien particulièrement aventureux de Seth et Nancy, est la vedette de ce vidéo de chien mignon tourné pour « In Another Life ». Cette chanson de rock 'n' roll déferlant est fraîchement tirée de leur album Fade Out, paru en 2013. L'esthétique acide du vidéo donne au paysage majestueux une certaine touche surréaliste. L'imagerie se prête à une atmosphère hypnagogique, typique du réalisateur Seth Smith. Ces images envoûtantes s'agencent parfaitement avec les riffs de rock mélancolique et les chants nostalgiques, le résultat étant tout entier imbibé de rêve.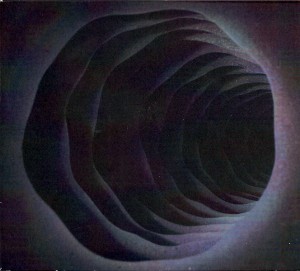 Dog Day
Fade Out
(Fundog)
Halifax, NS
From the ciphers of Christina Bell:
In the advent of what is threatening to be Dog Day's last release in a long while, the band remains both unassumingly cool and characteristically hazy. Listening to Fade Out is a vivid out of body experience defined by sharp guitars and looming drumbeats: a joyride through romantic, garage-style gloom-rock. Lyrically, the songs are sanguine, low-key poetic musings. Phrases like "All of my friends are in sandwiches / Who am I eating this time?" and "As we lay here to rot / It's not over yet" are so dark yet so perfectly playful. This album solidifies a spot for Dog Day as the roof and foundation of the wayward mansion that is Fundog.
Des codes secrets de Christina Bell:
(Traduit par Jacinthe Laplante)
Sur ce qui pourrait être la dernière parution de Dog Day avant un long moment, le groupe reste modestement cool et typiquement obscur. Fade Out est une intense expérience extra-corporelle induite par des guitares tranchantes et une batterie menaçante : une promenade gloom-rock romantique de style garage. Les paroles sont fougueuses, des rêvasseries poétiques sobres. Des phrases comme "Tous mes amis sont des sandwiches / Qui est-ce que je mange cette fois-ci ?" et "Alors qu'on s'allonge pour se décomposer / Ce n'est pas encore terminé" sont à la fois sombres et délicieusement amusantes. Cet album fait assurément de Dog Day le toit et les fondations de la maison de fous qu'est Fundog.
Ephemera of Francesco de Gallo
Existing during the recording of Hobo Cubes // Taiwan – Split 12"
Montréal, QC
[photos: Aliya Kahsay]
From the happy hunting ground of Christina Bell:
The dogma of slowing right down is at the root of the symphonic revelation that is Hobo Cubes' Francesco de Gallo's recent work. The new sound is an experiment in deliberate unhurriedness. Inspired by artistic connections, de Gallo paired up with Edmonton's Taiwan to release a 12" split. Things that are independently constructed can merge together in magical ways. Fully succumbing to the wayward spirit of collaboration, the 12" released by Toronto's Pleasence Records demonstrates physical proof of this phenomenon in the fluid conjoining of artists — but also in Hobo Cubes' approach to his contribution. Through the involved process of collaging, deconstructing and layering, intricate soundscapes emerged. And although this variegated sound occupies a world of its own, we indulgently explored the nexus of "stuff" that contributed. Align your senses. Listen to this track while you float through these gorgeous photos.
Labyrinths by Jorge Luis Borges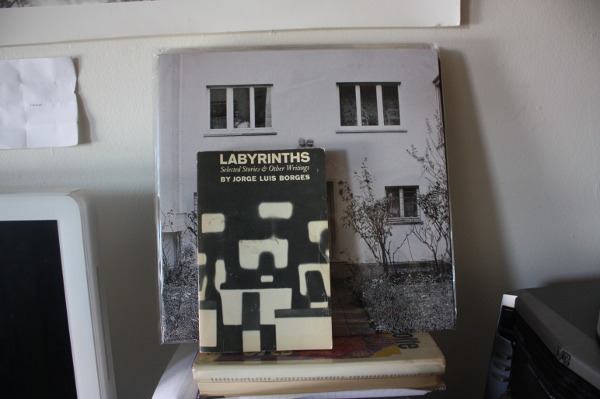 My friend Ryan lent me this Borges book before I knew his writing at all. It doesn't really directly have anything to do with the album but I just feel like after I read this I had a different state of mind. I wanted to go into more minimal but deeper sounds conceptually. Borges' stuff is super illustrative but almost abstract. Also, I just love labyrinths and the concept of the maze. Maybe this marked the beginning of the slowness in my life. I recently found this copy for sale and it has the same cover as the one my friend lent me.
Synthesizer (Roland JX-3P) // Controller (PG-200)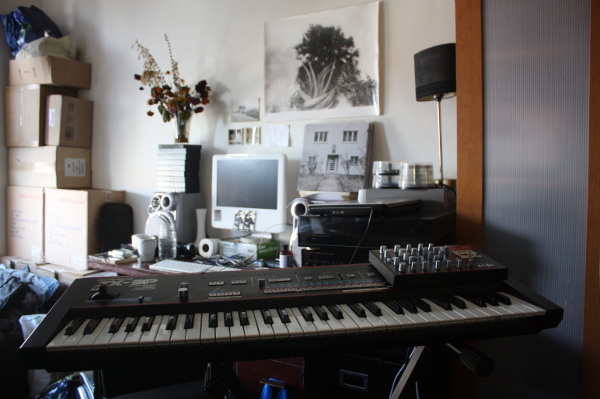 I bought the synth from a guy in Montreal. It had been in storage for 10 years and I bought it really cheap but then had to get it fixed and that cost a lot of money. The controller, which you can buy separately, I got from my friend Christian. His friend found the controller, and gave it to him, so he just gave it to me. But, I had to get a specific cable from Italy. Unfortunately this was during a time when Canada Post was on strike, so I had to wait for like two months until I could even use it. [The controller] truly opened up a different world of sounds because I could manipulate the synth more. It's possible to manipulate the synth from inside but I don't have that logic. I don't want to get inside the synth. The controller is just hands-on. You hear it a little bit on the album.
Alto-Sax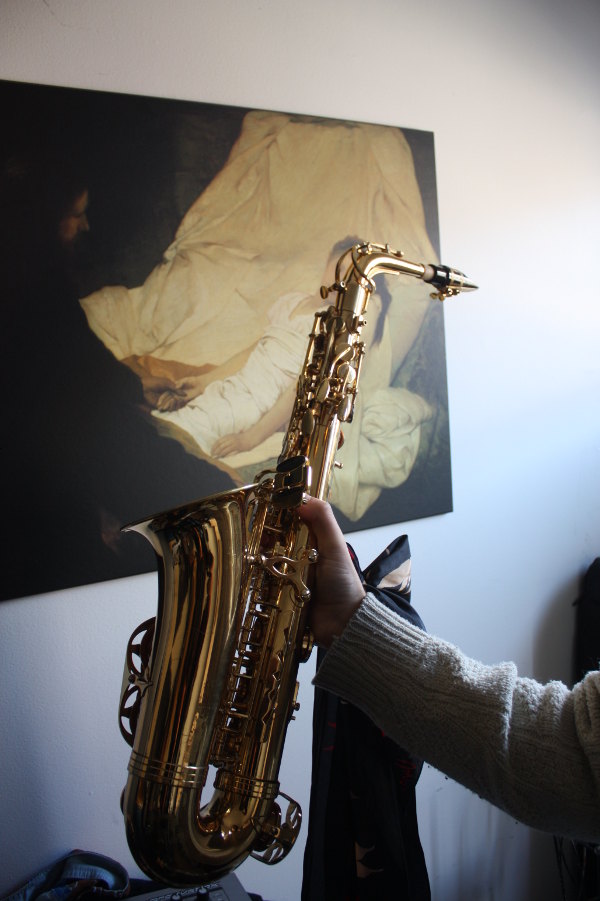 I learned on this saxophone. This is the one I was using to tour a little bit and it's what Alex Dirty Beaches saw me playing in Calgary when he said we should tour together. The first tour [with Dirty Beaches] was done with this sax. One show in France we were playing in this small venue inside a boat. The show was so crazy and at the end of the set I pulled off this weird punk move and dropped the sax. During the next show I was like "why is the sound all… fuck, I broke the sax." It sucked, but it's something that people remember from that show. I could get it fixed, I just never have, because in my heart I know I want a tenor sax — that heavier sound.
"Focus" Tattoo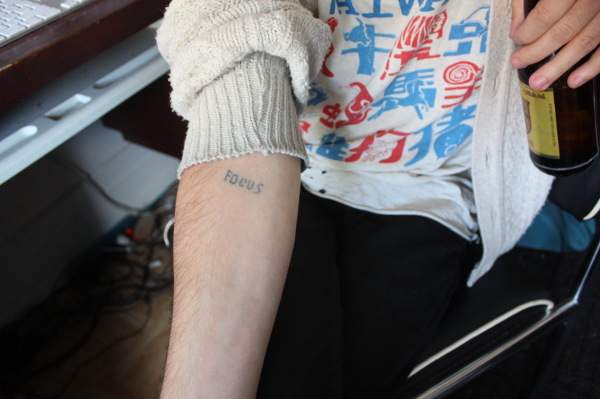 When I got it, I was really in that focus zone. Now it's harder to focus in general. But I have it here, so now I can't not focus. At the same time, the tattoo is sort of blurry. So it becomes this double-edged message. Sometimes life is pretty fucked, but you just gotta see what's in there anyways — and sometimes you have to focus.
Tapes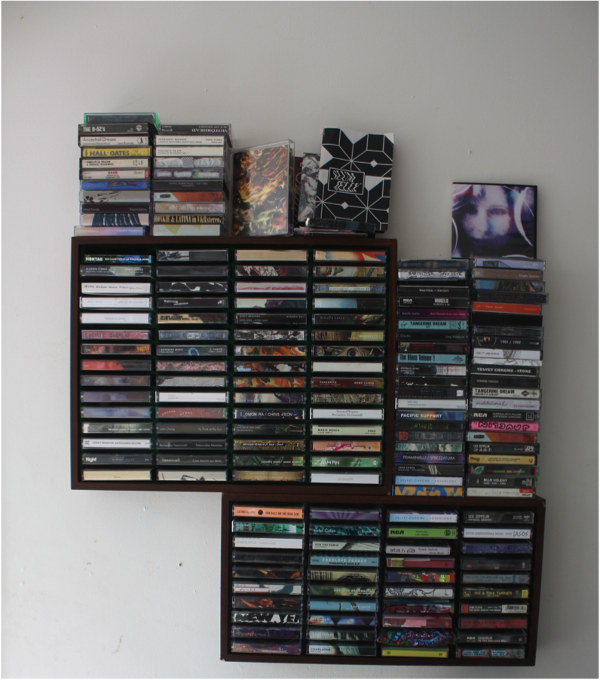 Du joyeux terrain de chasse de Christina Bell:
(Traduit par les retours d'électricité d' Aliké Harel)
« Ralentir radicalement », c'est le dogme au cœur de la révélation symphonique qu'est l'œuvre récente de Hobo Cubes de Francesco de Gallo. Ce nouveau son est une expérience dans l'art de prendre délibérément son temps. Inspiré par leurs connexions artistiques, de Gallo s'est joint à Taiwan d'Edmondton pour nous offrir un split sur vinyle. Des éléments élaborés séparément peuvent fusionner de façon magique. Fruit d'un abandon total aux aléas de la collaboration, ce 12 pouces du label torontois Pleasence Records est la preuve concrète de ce phénomène, d'abord dans la fluidité de cette rencontre entre artistes, puis dans l'approche collaborative même d'Hobo Cubes pour ce projet. Du processus complexe d'assemblage, de déconstruction et de mise en couches, émerge un paysage sonore complexe. Bien que ce son bigarré subsiste dans un monde qui lui est propre, nous avons exploré avec indulgence la constellation de « choses » ayant contribué au tableau. Ajustez vos sens. Écoutez cette piste tout en laissant planer votre regard sur ces images magnifiques.
Labyrinths de Jorge Luis Borges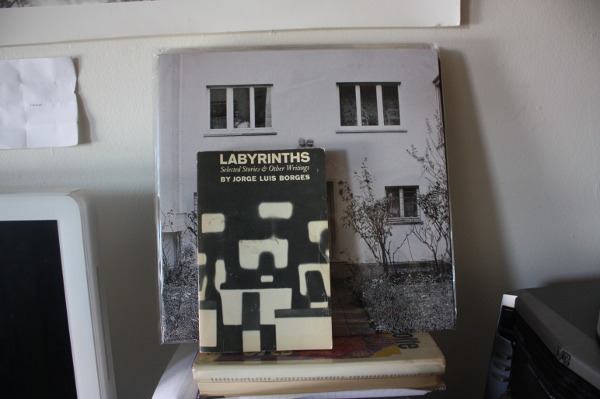 Mon ami Ryan m'a prêté ce livre de Borges avant même que je connaisse l'auteur. Il n'y a pas vraiment de lien avec cet album, mais je sens simplement qu'après cette lecture, je n'ai plus été dans le même état d'esprit. J'ai voulu explorer un son minimaliste mais de conception plus profonde. Ce qu'écrit Borges est hyper illustratif, mais presque abstrait. De plus, j'adore les labyrinthes et le concept de dédales. C'est peut-être le point de départ de la lenteur dans ma vie. Récemment, j'ai trouvé cette édition à vendre et elle a la même couverture que celle que mon ami m'avait prêtée.
Synthétiseur (Roland JX-3P) // Contrôleur (PG-200)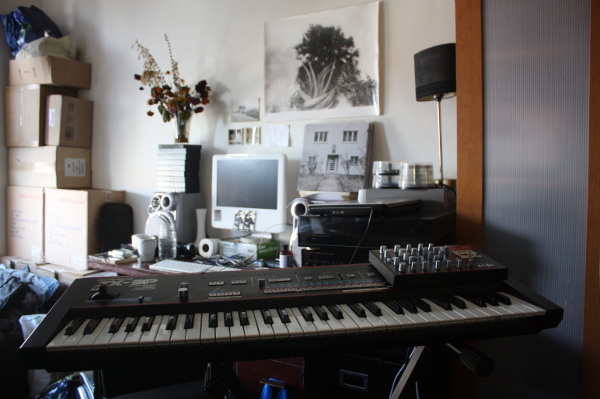 J'ai acheté ce synthétiseur d'un gars à Montréal. Il était entreposé depuis dix ans et je l'ai eu pour pas cher du tout, mais j'ai ensuite dû le faire réparer, ce qui a coûté vraiment cher. Le contrôleur qu'on peut acheter séparément, je l'ai eu de mon ami Christian. Son ami l'avait trouvé et le lui avait donné, et il me l'a donné par la suite. Par contre, j'ai dû obtenir un fil spécial d'Italie. Malheureusement, tout ça se déroulait au moment où Poste Canada était en grève. J'ai dû attendre deux mois avant de pouvoir m'en servir. Le contrôleur m'a ouvert la porte sur un nouveau monde sonore en me permettant de manipuler davantage le synthétiseur. C'est possible de faire ça en jouant avec les circuits du synthétieur, mais je ne suis pas doué avec ces trucs. Le contrôleur est plus pratique. On peut l'entendre un peu sur l'album.
Le sax alto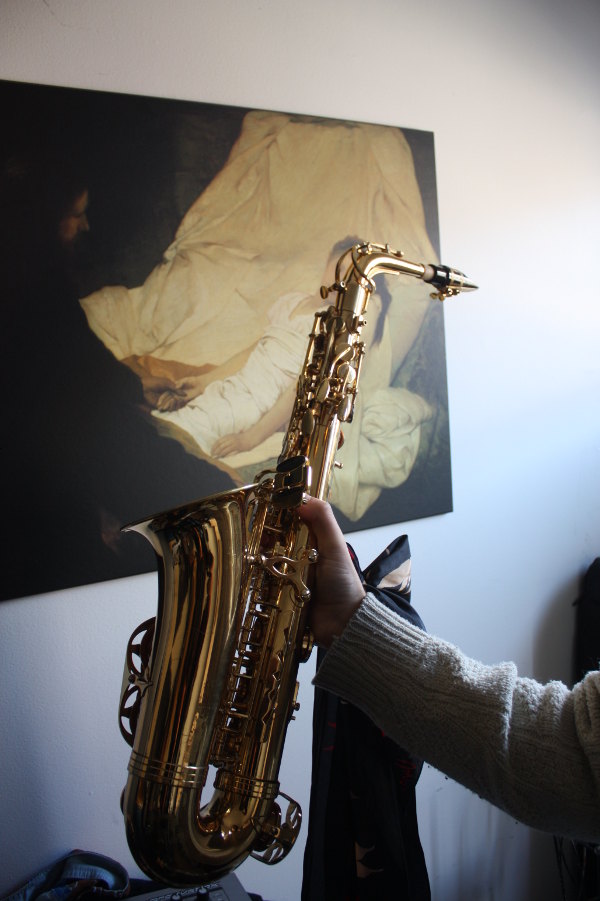 J'ai appris avec ce saxophone. C'est celui que j'utilisais en tournée et c'est celui avec lequel je jouais à Calgary le jour où Alex Dirty Beaches(http://weirdcanada.com/tag/dirty-beaches/) a proposé qu'on fasse une tournée ensemble. J'ai joué avec ce saxophone lors de ma première tournée avec Dirty Beaches. Pendant un concert en France, nous jouions dans une petite salle sur un bateau. L'ambiance était malade et à la fin j'ai fait une genre de pirouette punk bizarre et je l'ai échappé. Au concert d'après, je me demandais « pourquoi est-ce que le son est tout… merde, j'ai brisé le sax ». C'était chiant, mais c'est quelque chose que les gens ont retenu du spectacle. Je pourrais le faire réparer mais je ne l'ai jamais fait, parce qu'au fond de mon cœur, je veux un saxophone ténor — pour ce son plus grave.
Le tatouage « Focus »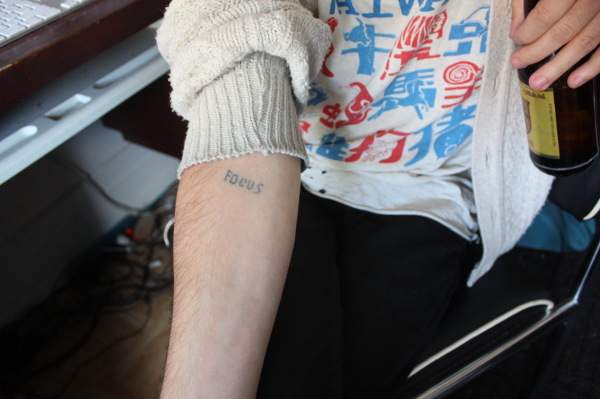 Quand je l'ai fait faire, j'étais vraiment dans une phase de concentration. Maintenant, c'est généralement plus difficile de rester concentré. Mais je l'ai, donc je ne peux pas ne pas être concentré. En même temps, le tatouage est un peu flou. Donc, ça devient un peu un message à double sens. Parfois, la vie est un vrai foutoir, mais tu dois quand même voir ce qui s'y trouve malgré tout — et parfois il faut se concentrer.
Les cassettes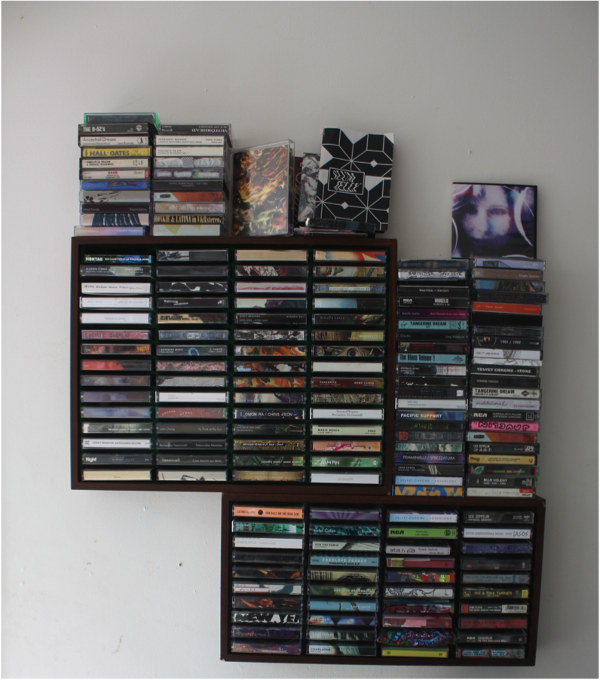 Seth Smith
Lowlife OST
(Fundog)
Halifax, NS
From the anti-melodies of Christina Bell:
This psychotropic cassette complements the cinematic experience that is Seth Smith's same-titled, equally hazy, DIY-style film Lowlife. The soundtrack is an extension of some of Smith's previous allusions to noisy experimentation with the prominent rumble of a blisteringly solemn tuba. Severed guitar twangs and aluminum effects ripple and crash over (mostly) marine-themed songs, oozing between a vividly dark musicality and murkily minimalistic anti-melodies. Relish in the slug-licking haze.
Des antimélodies de Christina Bell:
(Traduit par la trame sonore de Julie Forget)
Cette cassette psychotrope complémente l'expérience cinématographique que propose le film bricolé du même nom et tout aussi trouble Lowlife de Seth Smith. La trame sonore est une extension de certaines allusions antérieures de Smith à l'expérimentation bruyante moyennant le célèbre grondement d'un tuba solennellement foudroyant. Des sons tranchés de corde pincée de guitare et des effets d'aluminium se propagent (pour la plupart) parmi des chansons à thème marin, glissant entre une musicalité sombre avec éclat et des antimélodies d'un minimalisme obscur. Prenez grand plaisir au brouillard léchant les limaces.
Dumb #1 and #2
Illustrated by: Georgia Webber
(Self Published)
[16 pp., staple bound]
Toronto, ON
From the black, white, and red pages of Christina Bell:
Georgia Webber's new comic series Dumb delightfully documents what happens when your body becomes your enemy and stubbornly refuses to cooperate. Webber uses her literary voice to tell the story of how she physically loses her voice. The first two editions of Dumb are beautifully composed, featuring pristine red, black, and white illustrations. Webber's clean-lined approach is endearingly infused with emotion, perfectly portraying her frustrating situation. Luckily Dumb #2 leaves the story's issue unresolved, allowing comic lovers to gleefully anticipate more of these charming comics to come!
Des pages noires, blanches et rouges de Christina Bell:
(Traduit par la minute de silence de Nicolas Coutlée)
Dumb, la nouvelle série bédé de Georgia Webber, documente avec brio ce qui se produit lorsque votre corps devient votre ennemi et refuse obstinément de coopérer. Weber utilise sa voix littéraire afin de raconter comment elle a perdu l'usage de ses cordes vocales. Avec ses illustrations épurées en rouge, en noir et en blanc, les deux premiers numéros de Dumb présentent une belle composition. Infusés d'émotion, les traits nets de Webber illustrent parfaitement sa frustrante situation. Heureusement, Dumb #2 se termine de manière irrésolue et laisse donc les amoureux du neuvième art anticiper avec joie la suite de cette charmante bande dessinée.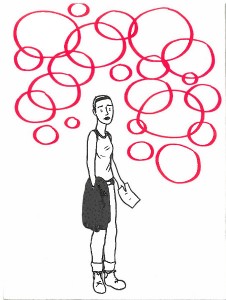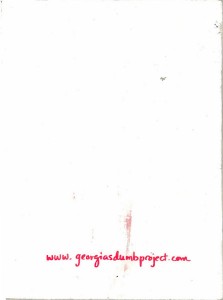 ---