Tag: chris deon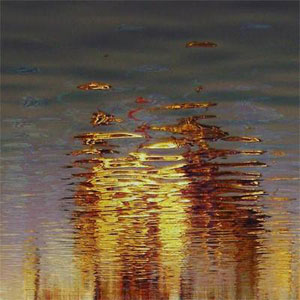 D'EON
Palinopsia
Montreal, QC
From the plainopsimania of Jesse Locke:
In the months after melting minds during Wyrd Alberta this April, Haligonian turned Montrealer Chris D'eon has ascended to new levels of spiritual unity. This week sees the long-awaited physical manifestation of the Palinopsia LP, and unsurprisingly, it's just as beguiling as catching the cosmic joker in the flesh. Cleanse yourself in the shimmering waters of the broke-but-blissed anthem "Recession Proof ($40 Pay Cheque)" and incandescent g-funk of "Keep The Faith", then level-up for the war-as-videogame banger "Kill a Man With a Joystick in Your Hand." Refracting the squiggly synths of A Rainbow In Curved Air through the prism of 1990s House and R&B, D'eon conjures a kaleidoscopic ying yang of the past and future in posi vibed embrace. [Levin's Note: GOAT 2010. Grip an album with a credit card in your hand.]
De la plainopsimanie de Jesse Locke:
(Traduit par le yin et le yang de Maya Keshav)
Dans les mois après avoir fondu les visages à Wyrd Alberta cet avril, l'haligonien-devenu-montréalais Chris D'eon s'est élevé aux nouveaux niveaux d'unité spirituel. Cette semaine on verra la manifestation physique longuement attendue du LP Palinopsia, et il n'est pas surprenant qu'il est aussi séduisant que voir le plaisantin cosmique en chair et en os. Lavez-vous dans les eaux dansantes de l'hymne fauché-mais-bienheureux "Recession Proof ($40 Pay Cheque)" et le g-funk incandescent de "Keep The Faith", puis passez au niveau supérieur pour le chahut guerre-en-tant-que-jeu-vidéo "Kill a Man With a Joystick in Your Hand." En réfractant les synthés ondulés d'A Rainbow In Curved Air à travers le prisme de la house des années 90 et des RnB, D'eon fait apparaître un yin et un yang kaléidoscopiques du passé et de l'avenir dans une étreinte d'ondes positives. [Levin ajoute: GOAT 2010. Achetez un album avec un carte de crédit dans votre main.]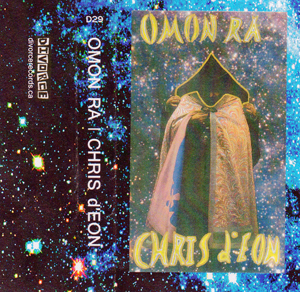 Omon Ra // Chris d'Eon
Omon Ra // Chris d'Eon
Vancouver, BC
Aaron Levin:
Divorce Records found an odd paring between Omon Ra and Chris d'Eon. In what will likely become a flag-ship release within Canada's psychedelic tapestry, we (finally) see the benefits of our quilting of culture. Within both sides of this cassette are woven threads of proven psychedelic fybre: Chris d'Eon channeling streams from the Eastern source and Omon Ra from the western rhythmic pop-lysergia. Chris d'Eon occupies the entirety of Side A with a long, progressive track based around (what I'm assuming is) guitar, tabla, and sitar. It's a classic trip that reaches quick perfection as it touches on John Fahey, Sandy Bull, and Shawn Philips, amongst other masters of the folk communion. Side B captures Omon Ra conjuring ethereal, western acid with layered vocals, distorted drones, and subdued-pop. It's catchy, droney, vaguely-emotional, and a certified trip. Omon Ra will become a leading creative mind in Canada and I'm assuming there's a lot more at the source. Grip it before it's sold out and let it resonate with the subtleties of your subconscious, causing vibrations within your inner-mind; channel the stars, night, and that weird star-wars looking dude on the cover. Recommended for late-night listening. Alone.
Aaron Levin:
(Traduit par les oreilles contentes de Maya Keshav)
Divorce Records a trouvé un jumelage bizarre entre Omon Ra et Chris d'Eon. Avec ce qui va probablement devenir un enregistrement vedette de la fresque psychédélique du Canada, on voit (finalement) les avantages de notre matelassage de la culture. Sur les deux côtés de cette cassette il y a les fils tressés de la fibre prouvée d'être psychédélique: Chris d'Eon fait couler les flots d'une origine orientale alors que Omon Ra est inspiré par le pop-LSD rythmique occidental. Chris d'Eon prend l'entier de face A avec un morceau longue et progressif construit autour (je suppose) de la guitare, du tabla, et du sitar. C'est un voyage classique qui atteint rapidement la perfection quand il touche John Fahey, Sandy Bull, et Shawn Philips, parmi des autres maîtres de la communion trad. À la face A, Omon Ra fait fait apparaître l'acide occidental aérien avec les couches de chant, les drones déformés, et le pâle-pop. C'est entraînant, dronesque, vaguement-émouvant, et un trip certifié. Omon Ra sera un génie créatif éminent au Canada et je suppose qu'il y a beaucoup plus à la source. Achète-le avant qu'ils soient tous vendus et laisse-le résonner avec les subtilités de ton subconscient; fait acheminer les étoiles, la nuit, et ce gars bizarre à l'air star-wars sur la couverture. Recommandé pour l'écoute en nocturne. Tout seul.
Omon Ra – It's So Nice To See You All Again
---