Tag: choral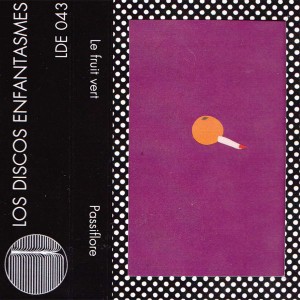 Le fruit vert
Passiflore
Montréal, QC
From the misted eclipse of Nick Schofield:
This rapt cassette of forlorn vocal incantations wades into myriadical mires of keyboard vexations. Honourary enchantresses-de-Montreal, Andrea-Jane Cornell et Marie-Douce St-Jacques, raise our gaping eyes to a misted sonic eclipse while slowly uncloaking their sounds of the witching hour at the pace and shade of pitch itself. Mood-wise, gravity is buoyed by sprite celestial baby giggles and earthly cricket chirps amid improvised urban modes. For this release, eeriness abounds and melodies bow down. Take the time to reap the passionfruits of this labour.
De l'éclipse dans la brume de Nick Schofield:
(Traduit à l'heure de la sorcellerie par Hugo Hyart)
Cette cassette contemplative imprégnée d'incantations vocales désespérées patauge dans une myriade de vexations de clavier. Les enchanteresses honoraires de Montréal Andrea-Jane Cornell et Marie-Douce St-Jacques lèvent nos yeux béants vers une éclipse solaire embrumée tout en dévoilant lentement leurs sons ensorcellants au rythme et à la nuance du pas. Du côté de l'humeur, la gravité est balisée par des éclats de rires de bébés farfadets célestes. Pour cette parution, le frisson abonde et les mélodies se courbent. Prenez le temps de cueillir les fruits de la passion de ce labeur.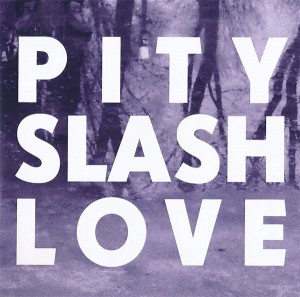 Prince Nifty
Pity Slash Love
(Self Released)
Toronto, ON
From the double double dose of Javier Fuentes:
To envision the sound of this record is to imagine a soulful sermon being delivered from a cathedral lost in a separate galaxy. Here a charismatic preacher of royal descent tells tales of travels on public transportation and to destinations as far as the Sahara. From the automaatian synth wizardry of "Glass Figurines" to the medieval acapella of "O Sluggard", Pity Slash Love builds an incredible sonic world where tradition and experimentation share much of the same meaning.
De la double double dose de Javier Fuentes:
(Traduit dans la repentance par Audrey Roy)
Afin de bien saisir cet enregistrement, imaginez-vous un sermon particulièrement profond prêché dans une cathédrale perdue aux confins d'une autre galaxie. Un charismatique pasteur de descendance royale y raconte des histoires de voyages en transport public vers des contrées aussi lointaines que le Sahara. De la sorcellerie du synthétiseur automaat de "Glass Figurines" au style a capella des temps médiévaux de "O Sluggard", Pity Slash Love bâtit un incroyable monde sonique où tradition et expérimentation sont sur un pied d'égalité.
Prince Nifty – Vox News Double Double Dose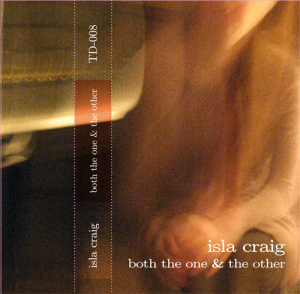 Isla Craig
Both The One & The Other
Toronto, ON
From the croaking heavens of Kevin Hainey:
Isla's crystal pipes have flexed far and wide o'er the years with such diverse local groups as dub-wise slow-grinders The Deeep, indie gospel urbanites Bruce Peninsula, psychedelic living theatre Transcendental Rodeo, smooth soul slingers O.G. Melody, or her own tantric folk meditation ensemble The Continental Drift. Still not convinced Craig is a humble underground sensation around these parts? This latest tape is a testament to her strongest asset. Recorded largely a cappella, accompanied by an intimate choir of pitch-point friends and only the faintest musical accents, Craig spins an intimate yarn with brooding groove. The flipside of this fabulous tape graciously includes Craig's 4-track demos for the album, providing an even warmer glance into her meditative creative process.
De la voix rauque de Kevin Hainey:
(Traduit par la sensation underground de Vincent Rondeau)
Isla est une diva de la région au coeur plein d'âme. Sa voix de cristal a beaucoup voyagé durant plusieurs années, s'intégrant à des formations locales allant du dub lent et intense de The Deep au soul satiné de O. G. Melody en passant par le gospel indie urbain de Bruce Peninsula, le théâtre psychédélique vivant de Transcendental Rodeo et même son propre ensemble de méditation tantrique folk, The Continental Drift. Si cela ne vous convainc pas encore de l'ampleur de la sensation underground qu'est Craig, cette nouvelle cassette met en valeur son plus grand atout : sa voix. Largement a cappella, avec l'accompagnement d'une chorale intime d'amis et quelques nuances musicales, la chanteuse déroule le fil d'un récit complexe sans pour autant paraître [prétentieuse](http://timheinthinks.files.wordpress.com/2012/05/pretentious.jpg). Sur la face B, on a la chance de pouvoir entendre les démos 4 pistes de l'album, question de jeter un coup d'oeil au processus créatif minutieux de Craig.
---